Explore some of France's most picturesque and awe-inspiring landscapes on a Provence day trip from Nice. Visit the dramatic gorges of the Verdon River and see the rows of lavender fields nestled at the foot of the alps.
Explore timeless and picturesque villages such as Moustier-Sainte-Marie and Castellane, and sample the famous wines of the Côtes de Provence. This is Southern France at its very finest.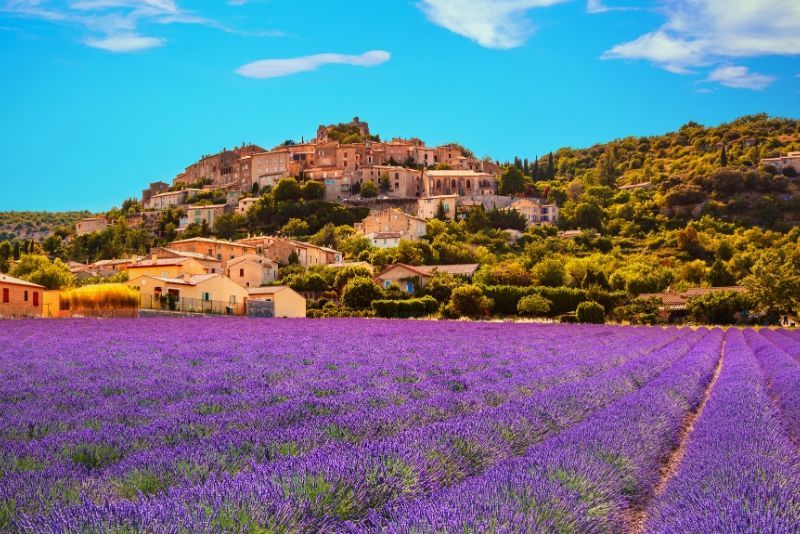 How to get to Provence from Nice?
Provence is quite a large region and the city of Nice is actually part of it. If you want to discover it thoroughly you'll need to explore by car or hop on one of the Provence day trips from Nice.
From Nice to Provence by car
One of the most spectacular routes through Provence passes through the town of Castellane and the Verdon Gorge. The journey covers around 150 kilometers and can be reached by car in around 2.5 hours from Nice.
The route is pretty straightforward, simply take the D2085 from Nice to Grasse then the D6085 and D4085 northwest to Castellane. When you arrive at Castellane, take the D952 which winds by the Verdon Gorge to Moustiers. The D952 is one of the most picturesque roads in Provence but is definitely not for nervous drivers.
Guided tour to Provence from Nice
If you don't fancy driving yourself it is worth taking one of the full-day excursions from Nice. These trips offer small-group or private transportation with pickup and drop-off at your hotel/accommodation or a convenient meeting point.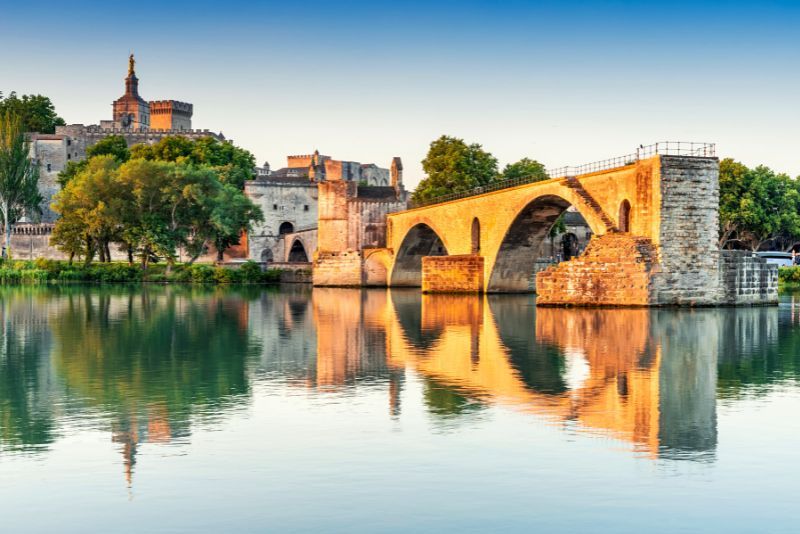 What is the typical itinerary of a day tour to Provence from Nice?
A typical Provence day trip from Nice is all about taking in the awesome scenery of the region. It will start with pickup from your hotel or accommodation by private car or minivan.
You will then begin the drive towards your first destination and can enjoy views of the rugged mountain scenery of the natural parks you pass through.
In the summer months, you may visit the colorful lavender fields while they are in full bloom in the mountain plateaus. Take some time to snap incredible photos of the scenery you pass by such as the crystal clear Lake of St. Croix and the steep Gorges du Loup.
Explore picturesque villages surrounded by towering mountains such as Castellane and Moustier-Sainte-Marie. Discover a bit about the local culture and its ceramics industry and grab lunch in one of the local cafes.
Visit the region's most picturesque landscapes and see the incredible Verdon River, named for its luminescent turquoise color, and the deep rocky gorges that surround it. There are lots of things to see and do on a Provence day tour.
What kinds of tours are available to go to Provence?
There are many Provence day tours from Nice to choose from. Whether you're seeking a half-day wine tour of the Côtes de Provence or looking for some sightseeing around the Verdon River Gorges there is a tour to suit every budget and taste.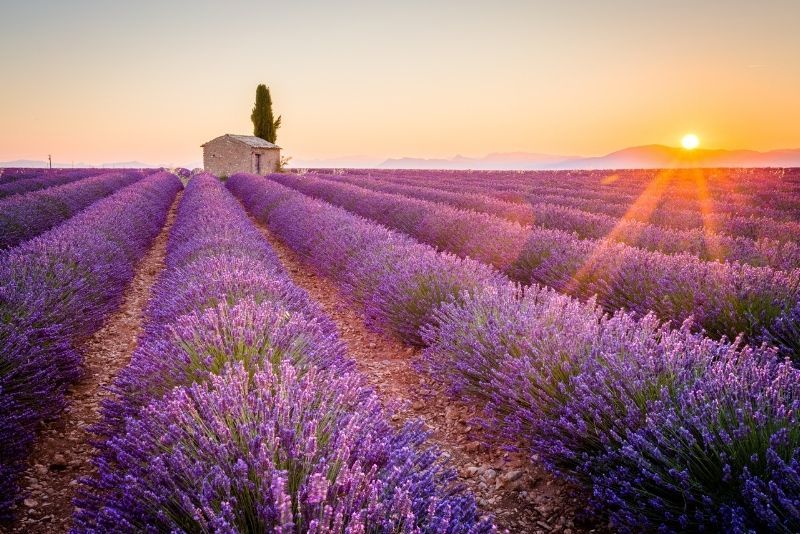 Guided tours to Provence from Nice
Take a guided sightseeing tour of the Provence region from Nice. Visit dramatic gorges, mountains and the charming villages tucked away beneath them. Explore the fragrant lavender fields of Luberon or chic coastal towns on the French Riviera.
These group tours include a driver and guide and all transportation for your day out.
Guided wine tours to Provence from Nice
Discover the wine district of Provence on a day tour from Nice. These excursions call at vineyards and wineries, and include winetasting sessions and even lessons on winetasting. Sample the famous rosé wine varieties that are the main produce of Provence vineyards.
Enjoy the ambiance and rural scenery of this picturesque part of Southern France and learn a little about its wines. These fun informative tours include transportation and a guide.
Private tour to Provence from Nice
Enjoy a private guided Provence day tour from Nice and discover the best the region has to offer. Explore the Provence countryside and some of its most beautiful towns and villages, including Cannes, Grasse, Antibes and Saint-Paul-de-Vence.
Travel by private car or minivan with your own personal guide to keep you informed and bring the region to life.
How much does a tour to Provence from Nice cost?
The price of Provence day trips depends on what activities you wish to try and if you choose a private or small-group tour.
Small-group guided tours are the most budget-friendly and range from around €70 to €100 per person.
Guided wine tours cost in the region of €80 to €280 per person.
Private tours cost in the region of €80 to €250 per person.
What will you see and do in Provence?
There's is plenty to see and do in Provence so your day trip is sure to be action-packed from start to finish.
One of the most popular reasons people visit Provence and this part of Southern France is for the majestic beauty of its scenery. Here you will find some of Europe's most stunning and dramatic landscapes strewn with towering mountains, deep gorges, shimmering rivers and seemingly endless lavender fields.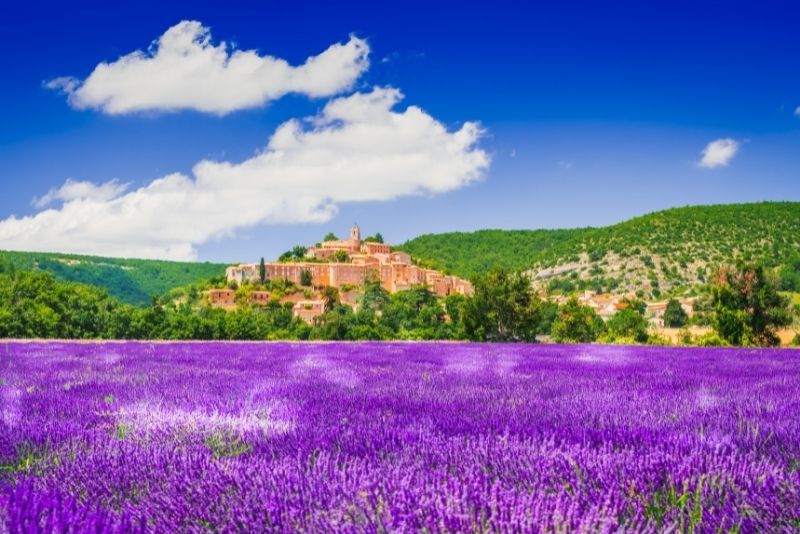 There are plenty of attractive towns and cities to discover from the glamorous beach towns of the Cote d'Azur, including Cannes and Antibes, to the peaceful vineyards which produce the region's famous rosé wine varieties.
The picturesque town of Grasse, known around the world for its perfume production, can be found in the hills above Cannes. Saint-Paul-de-Vence is another notable village in the region that once attracted famous artists and writers, including Picasso and Chagall.
The village of Moustiers-Sainte-Marie is known for its pottery and can be found at the entrance to the dramatic Verdon Gorge, which is an absolute must-see while visiting the area. The Gorges du Loup is another stunning natural landmark with sheer deep caverns and plummeting waterfalls.
From epic mountain scenery dotted with peaceful villages to rolling hills of olive groves and glamorous cities, the region of Provence has it all.
When is the best time to visit Provence?
The best time to visit Provence is undoubtedly between the months of June to August. This is when the region is blessed with its warmest weather and the lavender fields, and everything else for that matter, are in full bloom.
Are there any tours to Provence from other cities in France?
Travel tips
Book your Provence day trips in advance to be sure the tour you prefer is available during your time in the area.
Don't forget your camera, as Provence is blessed with incredible scenery that you'll want to remember forever.
Wear comfortable shoes and clothing, as the day trips can involve plenty of walking and traveling for long periods.
If you struggle with travel sickness, bring some medication as some of the roads can be incredibly curvy.