A day trip from Nice to Monaco is the perfect way to relax, let loose and enjoy yourself during your time in France. Join a boat tour and see the area from the water, get to know the historic architecture and spend some much-needed time in the sun.
A jaunt from Nice to Monaco is the perfect excuse to get a glimpse of one of Europe's most exclusive and luxurious cities.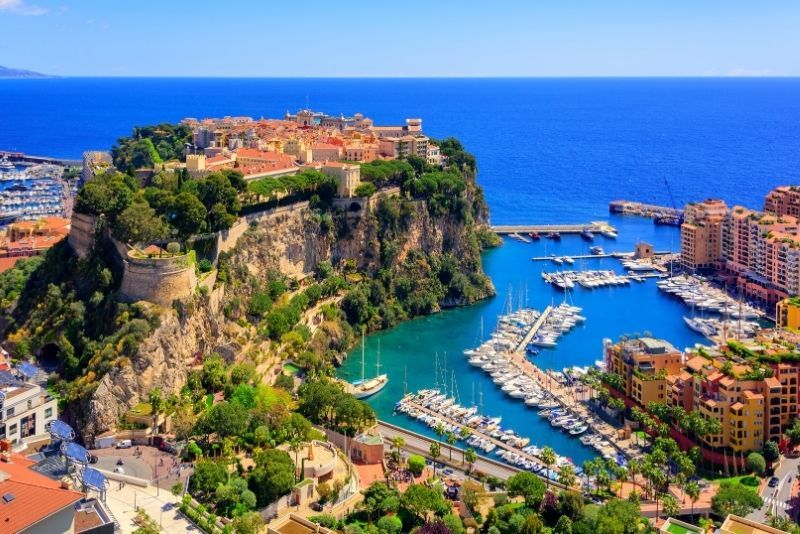 How to get to Monaco from Nice?
Monaco is located less than 20 kilometers east of Nice and a day trip excursion here is an absolute must-do. The two cities sit very close to each other and are frequently visited together.
From Nice To Monaco By Car
The journey from Nice to Monaco is quite scenic and renting a car locally will be a fantastic experience. The fastest route will be taking Highway 8, which goes through the mountains and past La Trinité.
A much more exciting choice is the breathtaking coastal route which might take a little longer but will leave a lasting impression. You could even stop by Saint-Jean-Cap-Ferrat, a beautiful little village on a peninsula on the way.
From Nice To Monaco By Bus/Public Transport
If you are traveling to Monaco on a budget excursion, taking the bus is a smart choice as it only costs a few euros per person and will take you along the scenic route. The TER bus connects the two busy cities and departs from the Nice-Ville Station, arriving at Monaco's Monte Carlo Station.
During the day, the bus from Nice to Monaco leaves every 20 minutes making the journey easy and convenient. The 30-minute ride is comfortable and straightforward. Make sure to sit on the right-hand side by the window for the best views along the way.
Guided Tour To Monaco From Nice
Make your day trip from Nice to Monaco even more fun by joining a guided tour. There is no need to plan your own transport, attractions and itinerary, your professional tour guide will have everything prepared. See places like the Princess Grace Japanese Garden, the Monaco Cathedral and the Prince's Palace of Monaco.
What Is The Typical Itinerary Of A Day Tour To Monaco From Nice?
Monaco is a relatively small city, meaning most attractions are conveniently located very close together. There are many different day trip options for Monaco and itineraries will vary greatly. A large number will follow an itinerary similar to the following.
Begin your day early in the morning in Nice. You'll be picked up at your hotel or meet your group at a central location in the city. Before you head to Monaco, you'll make a stop at the little village of Eze. This tranquil place is located approximately halfway between the two cities and is a favorite among tourists. Stroll through the streets and enjoy the beautiful French countryside.
Next, you'll be headed to a local perfumery, where your tour guide will explain the intricacies of the perfume-making process to you. If this interests you, you can book a spot in a perfume-making workshop for another time.
After an opportunity to purchase some souvenirs and gifts, you'll finally be headed to Monaco itself.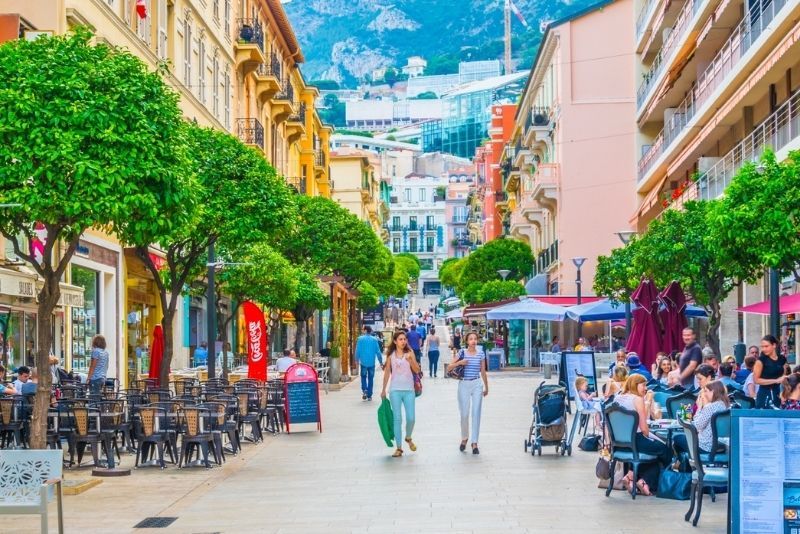 Join your tour group on a walking tour of the old town. Learn about Monaco's fascinating history and visit locations like the Prince's Palace, the Monaco Cathedral and the Monte Carlo Casino. After some free time in the center of Monaco, you'll be starting your journey back to Nice.
What Kinds Of Tours Are Available To Go To Monaco?
Choose from one of the many available day trips and excursions from Nice to Monaco.
Guided Tours To Monaco From Nice
Join a half-day excursion or full-day tour from Nice to Monaco. You'll be accompanied by a professional tour guide and joined by a group of 15 to 30 people. Transport is usually by bus and lunch or drinks are not included.
Ferry Without Guide To Monaco From Nice
Make the most of your journey from Nice to Monaco and hop on a ferry. This transfer does not include a guide but will be a far more exciting experience than a normal bus. Don't forget to book your return ticket to make sure you'll be able to get back to Nice in the evening.
Private Tour To Monaco From Nice
Monaco is a city of luxury, making it the perfect location for an exclusive, private tour. Your guide will make sure you're comfortable every step of the way. Have a say in what you want to do and decide on your own itinerary.
Day Trip To Monaco and the French Coastline From Nice
What better way to get to know Monaco than from the comfort of a luxury boat? Depending on your budget, you can rent small yachts for the day or join a group on a larger boat tour. You'll get to spend some time in Monaco as well as at secluded beaches and coves along the French coastline.
How Much Does A Tour To Monaco From Nice Cost?
A half-day tour from Nice to Monaco costs between €40 and €80 per person. Full-day trips are priced close to €100 per person. Lunch or drinks are usually not included in this price and must be purchased separately.
Private trips cost approximately €700 per person and will have everything included. If you're interested in going on a boat tour in Monaco, plan to spend around €60 per person for budget-friendly boats. The journey to Monaco on a ferry costs €46 per person, not including a guide.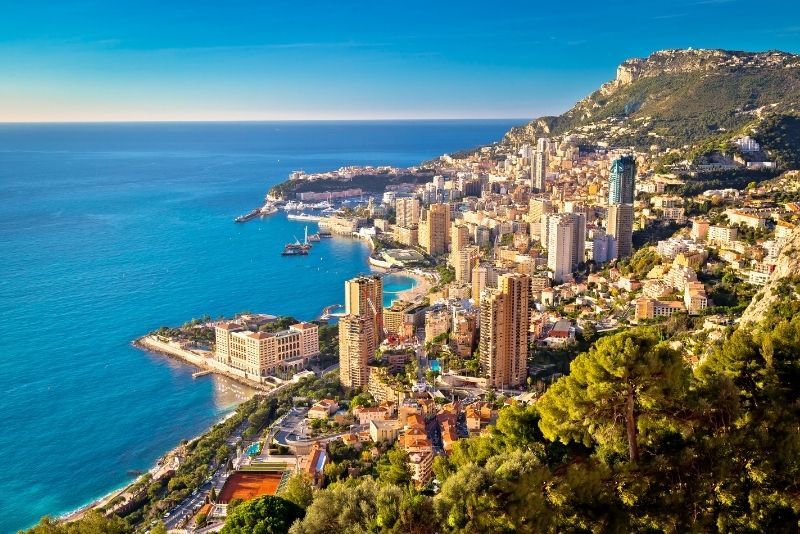 What Will You See And Do In Monaco?
Monaco is a glamorous and wealthy place. Between shiny sports cars and expensive hotels, there are other things to do in the city as well, though. Enjoy some time in nature or go for a swim at the beach. Here are some common things to do in Monaco on a day trip or fun jaunt.
Palais du Prince
This historic palace was constructed in the 12th century and has been the location of many sieges and battles. Your tour guide will be able to tell you all about the complicated history of this impressive place which is still being used as a royal residence today.
The Rock, Old Town of Monaco
This is the oldest part of Monaco and has always been a favorite among tourists. Enjoy walks through the narrow streets, stop by local cafes or have lunch at a restaurant in the area. This is where most tours will give their group some free time to explore independently.
Monte Carlo Casino
Considered one of the most famous casinos in the world, the casino of Monte Carlo should be high on your list of things to see in Monaco. The impressive architectural style is one of the major attractions in the city and even if you do not plan to gamble, you'll enjoy taking photos of the beautiful exterior of the building.
Musée Oceanographique
Monaco is known for its extravagance and the Musee Oceanographique, is no exception. Towering high above the rocky shores of the ocean, this breathtaking building is dedicated to marine conservation and preserving the history of underwater exploration.
This is an attraction both families and independent travelers will enjoy, and is one of the most well renowned museums in Monaco.
Jardin Exotique
See over 7,000 species of exotic plants at this beautiful green location in the heart of Monaco. If you've had enough of historic architecture, this lush garden is the ideal place to reconnect with nature and spend some time outside.
Larvotto Beach
As the only public beach in the area, Larvotto Beach is rarely empty. Join a cheerful crowd of tourists and locals who come here to sunbathe, swim and enjoy the sun. This is the perfect place to try water sports such as jet skiing. You can rent equipment from vendors along the bay.
Travel Tips
Make sure you have an ID with you as some bus companies might require it to book tickets.
Many day trips from Nice to Monaco include hiking, so wear comfortable shoes. You'll most likely be walking a lot.
Monaco is a very expensive place to visit. Make sure to budget extra spending money for food and drinks. Since hotels are very pricey in Monaco, a day excursion might be more budget-friendly and the journey is still more than worth it.
Using a bus to get around Monaco is recommended. Some streets are very steep and you might get tired from walking uphill in the hot sun.
Bring a swimsuit in case you will have a chance to swim or spend some time at the beach. Monaco is famous for its beautiful coastline and especially during summer, this is a lovely place to spend time by the water.
Keep an eye out for special events that are taking place in Monaco when you are visiting. The city can fill up fast for things like conventions, festivals, or Formula 1 races. If you happen to be in Monaco during this time, expect to experience higher prices and sold-out attractions.