No visit of Marrakech is complete without a camel ride. Get acquainted with this elegant animal and walk the tracks through the stone desert and a portion of the palm grove.  
Escape the bustling souks, busy streets, and palaces of Marrakech, and hop on the back of a camel to ride through the fantastic Palmeraie situated on the outskirts of the city.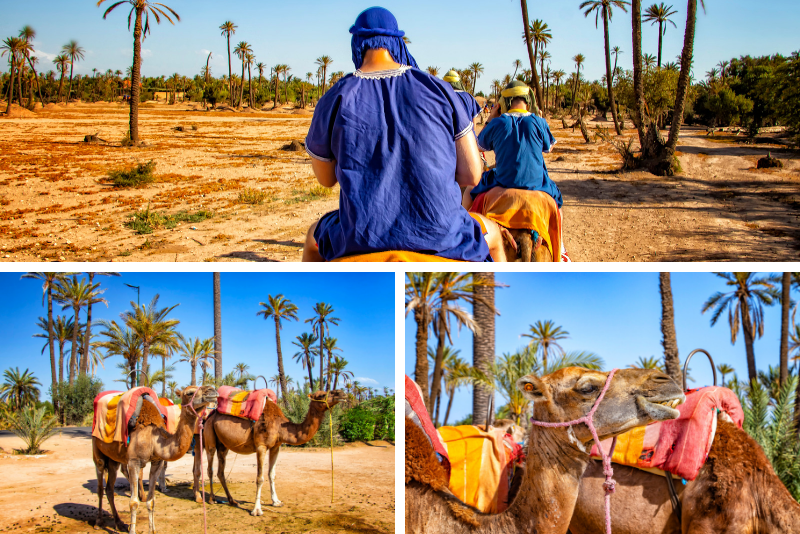 About 20-minute drive away lies an oasis of stunning gardens, orange trees and palm groves which make it ideal terrain for camel riding.  
For centuries, these hardy creatures provided the primary means of transport through the endless deserts of the continent. The culture of the nomadic herders and traders who practiced this lifestyle has changed over time, but the traditions have been preserved.  
A camel ride offers a great way to experience Moroccan culture at a leisurely pace.
The perspective you'll get from high on the humped back of one of these animals is like no other. Who knows? You might find yourself yearning for the life of a Bedouin.  
If you've never ridden a camel before, Marrakesh might be the ideal place to try it out. Depending on your budget and available time, there are several options for your camel riding adventure. Short 3 hour rides through the palm groves outside Marrakech offer a quick taste of this traditional way of life. Often, these tours include a visit to a Berber house that will give you an insight into the way of life of real Moroccans. North African hospitality is legendary!  
While the majority of camel rides take place in the Palmeraie nearby Marrakesh, you could also opt for a camel riding in the Sahara desert, five hours away. For a more immersive experience, embark on a multi-day camel trekking adventure deep into the desert. Traveling the same routes as ancient Arab traders through the desert is an experience you'll never forget.  
If you are traveling to Marocco, camel riding is one of the coolest things to do at least once in your lifetime. Try it now!
How much does camel riding in Marrakech cost?
Unless you wish to travel to the Sahara desert, camel riding takes places in the Agafay Desert nearby Marrakech, a beautiful palm grove.  
Camel riding is quite affordable. Price range from less than 10€ up to 50€. The price for camel riding varies according to the route, standard of food and comfort provided.  
If you wish to ride a camel in dunes, you will need to take a tour to the Sahara desert. Head to Merzouga and enjoy camel riding in Erg Chebbi dunes or head to Zagora and try camel riding in Erg Chegaga dunes. A typical tour to either area includes one night's accommodation, food, hotel pick up from/to Marrakech, and from the dunes a camel ride. Price ranges from 70€ up to 250€, depending on the duration, if it is a private tour or not, and the amenities included.
What is the best time to to experience camel riding?
If you love the sunshine and the heat, you have chosen the right place. With its location in the north-west in Northern Africa, Marrakech has a very hot and dry climate that lasts all year-round.  
The best times to enjoy camel riding in Marrakech are from March to May and between September and November. These shoulder seasons are known for their pleasant weather and affordable hotel rates. Avoid visiting Marrakech during the hot summer. Temperatures can go up to 50 degrees.
What will you see?
The Agafay desert is situated thirty kilometers in Southern Marrakech and extends over hundreds of acres. This rocky desert can also be likened to a sand desert. Indeed, its landscape is similar to the Sahara dunes.  
In the middle of the desert, you will find a lovely oasis named the enchanted oasis, a haven of tranquility and peace, where the fauna and flora easily develop. Lost in the dunes are still some Berber villages that continue to exist in this austere but sublime nature.
Are there any combined tours available?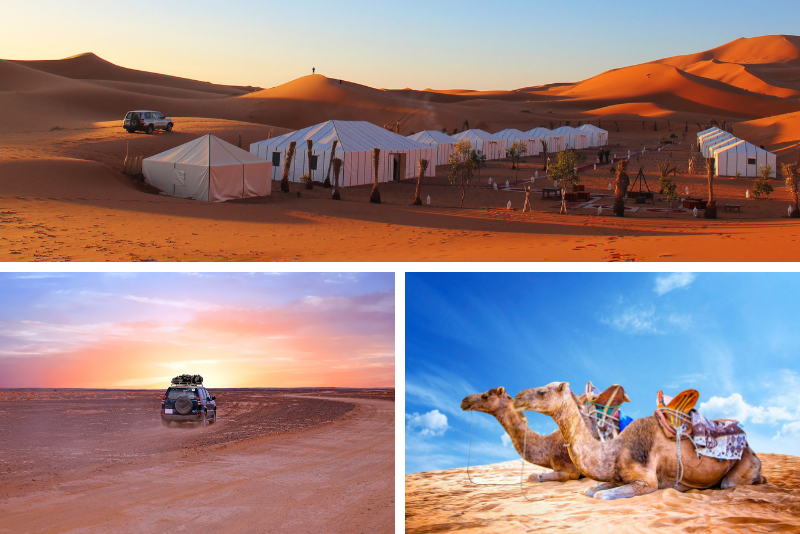 Camel riding can be combined with other activities to make the most of your time in Marrakech. You can begin your day with a stroll through the serene Majorelle Garden, go on an adrenaline-fueled ATV bike tour of the deserts outside the city, or try hot air ballooning before heading to the Palmeraie for your camel ride.
If you wish to experience camel riding in the Sahara Desert, either if you are visiting Merzouga desert or travelling to Zagora Desert, there are many stunning places to visit along the way. Ask your driver to make stops so you can visit the village of Ait Benhaddou, discover the Atlas Film Studios, explore Ouarzazate, admire the Dades Valley and much more.
Is camel riding safe?
There is no better animal to traverse the desert than the camel. While you will be uncomfortable at first, riding a camel is not a difficult skill to pick up. Safety-wise, camels are languid souls and are fairly safe to ride.
Approach slowly and confidently the sitting camel from the side. Throw your leg over the camel humps and quickly mount it. Then lean backward as the camel starts to stand. Once it has a sure footing with the back legs, it will move to the front. Slowly bend forward as the camel pushes up so that you end up with your back straight. The Camel then finally stands up on it's front legs and stabilises.  
You are finally ready for your camel riding experience. :)
What should you bring?
Wear long pants and long socks to protect your skin, a hat and sunglasses to protect your face from the sun, and a long scarf a to protect your face in case of a dust storm.
Travel tips
Go on a sunset camel riding, this is probably the best time of the day to head to the desert.
Travel light, just carry a small backpack with you.
Ensure that your travel insurance covers you specifically for camel riding.
If you have time, head to the Sahara Desert and spend an overnight in a Bedouin camp.
Explore local villages, meet Berber people, share their way of living and traditions and sip a warm glass of mint tea.