Adventure enthusiasts can get their fill of stimulating activities while in London. This buzzing metropolis is home to world-famous attractions, such as the London Eye and Buckingham Palace, which you can explore on a jeep, bike or boat tour.
More extreme outdoor and sport activities in London include heart-racing bungee jumps over the Thames River, and abseiling from the tallest sculpture in the UK.
If you're looking for an unforgettable and special experience, you can opt for a helicopter tour over the city's remarkable skyline.
Boat tours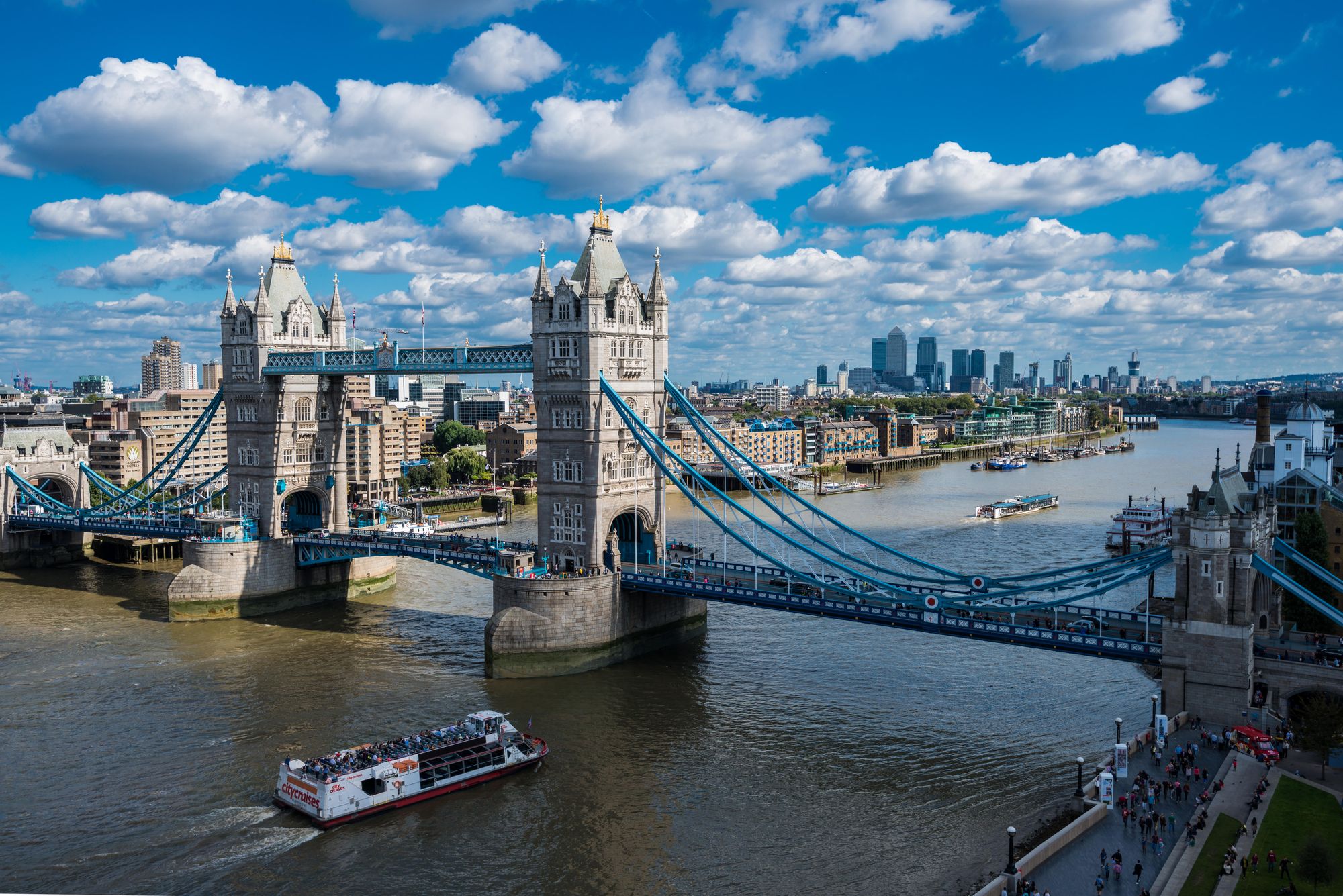 The Thames River slices through the center of London, meandering across eight other counties and out to the North Sea.
Along with being the longest river in England, the Thames River hosts an impressive array of monuments on its banks, which you can see on a boat tour along its calm waters.
Some of these attractions include the historic Tower of London, which was built in the 11th century, and the iconic London Eye.
Whether you travel along on a gentle cruise or race down the river on a jet boat tour, you'll have the opportunity to learn about how London was built up over the last 2,000 years.
Bike tours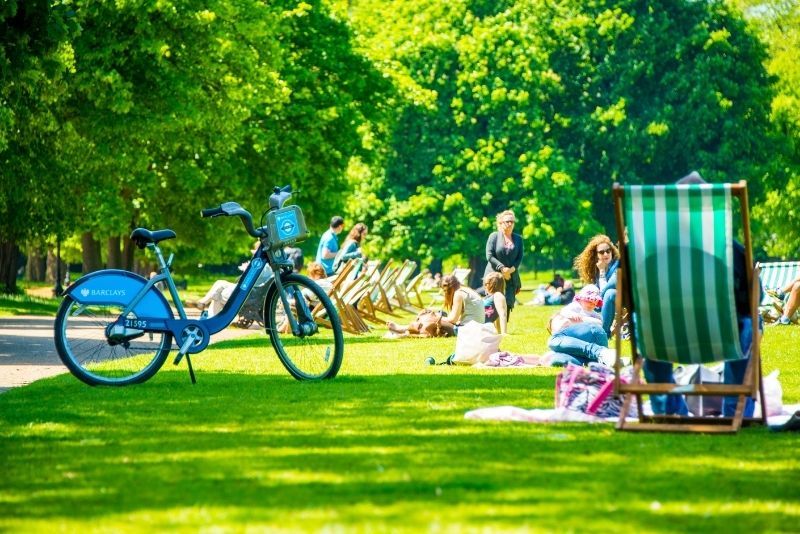 Another way of navigating the "Big Smoke" is on two wheels. London is a bicycle-friendly city and by cycling along its river banks, and through its plazas, you'll see the very best of its landmarks.
Many bike tours take you on a loop of the most famed attractions in the city, including St. Paul's Cathedral, which hosted the royal wedding of Prince Charles and Lady Diana in 1981, and the unmissable clocktower of Big Ben.
If you want to gain a deeper insight into local life, choose a secret bike tour of London in which you'll cycle through the back streets to come across the city's hidden gems.
You can also participate in a themed city tour of London if you're looking for a more light-hearted excursion.
These include beer bike tours, which are ideal for those who get a little thirsty while pedaling, or a ride through the best Christmas lights in London.
Abseiling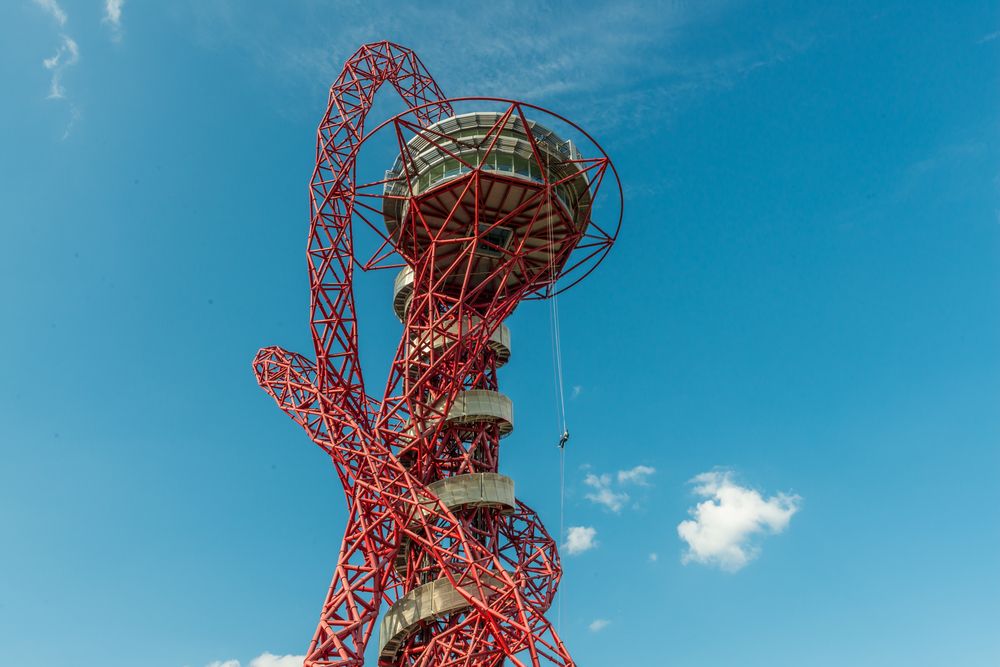 When you think of London, abseiling isn't the first thing to come to mind. However, its towering ArcelorMittal Orbit makes this one of the best destinations in the UK for daredevils to test their courage with an adrenaline activity.
The ArcelorMittal Orbit is a looping red sculpture, originally built by two artists for the 2012 Paralympic Games, which were held in London.
Located in Stratford's Queen Elizabeth Olympic Park and standing over 110 meters high, the ArcelorMittal Orbit is the tallest statue in the UK.
Those who abseil from its abstract build can see for more than 30 kilometers over London and far beyond. Whether you're an abseiling expert or a total novice, you can participate in this thrilling activity, safely in the hands of an expert.
With adrenaline pumping through your veins and memories of spectacular views sealed in your mind, an abseiling tour is bound to be the highlight of your London vacation.
Helicopter tours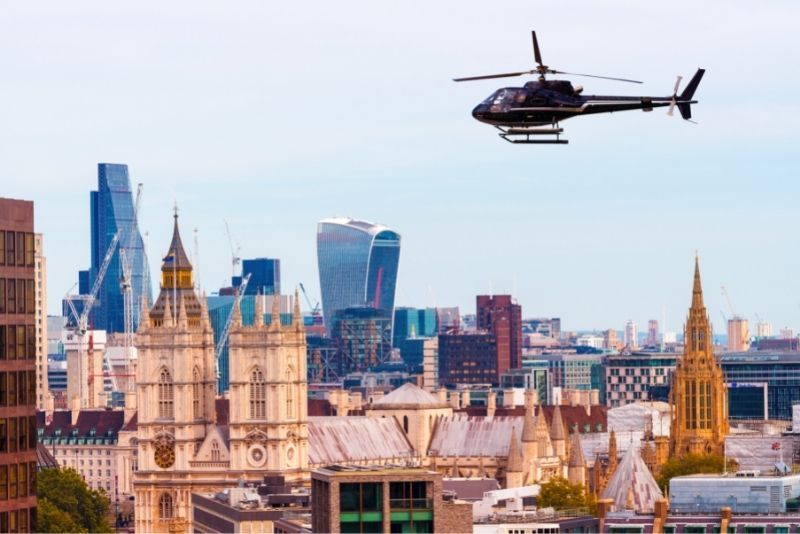 Those who want to discover as much of the city as possible in a short amount of time may choose to don a headset and take to the skies on a helicopter tour of London.
From this bird's eye perspective, you'll gain a crystal clear view of the city's tallest and most recognizable monuments.
Admire the 11,000 glass panels that create the Shard, watch the London Eye as it spins on the banks of the Thames River and see the magnificent dome that forms St. Paul's Cathedral.
You'll also travel over the rolling hills of Britain's countryside, experiencing the calm and the chaos of the southeast of England on this adrenaline activity in London.
Bungee jumping
If admiring the view of London from the ground isn't enough for you, why not see it upside down as you plummet toward the earth on a bungee jumping tour?
Head to Battersea Park, on the south bank of the Thames River in the district of Wandsworth, where you can journey up to heights of almost 50 meters above the city in order to make your electrifying jump.
With professionals surrounding you every step of the way of this outdoor activity, you have nothing to worry about as you prepare for your once-in-a-lifetime experience.
Alternatively, you can head to Coram's Field for a tandem bungee jump and share the spine-tingling sensations with your loved one.
Quad tours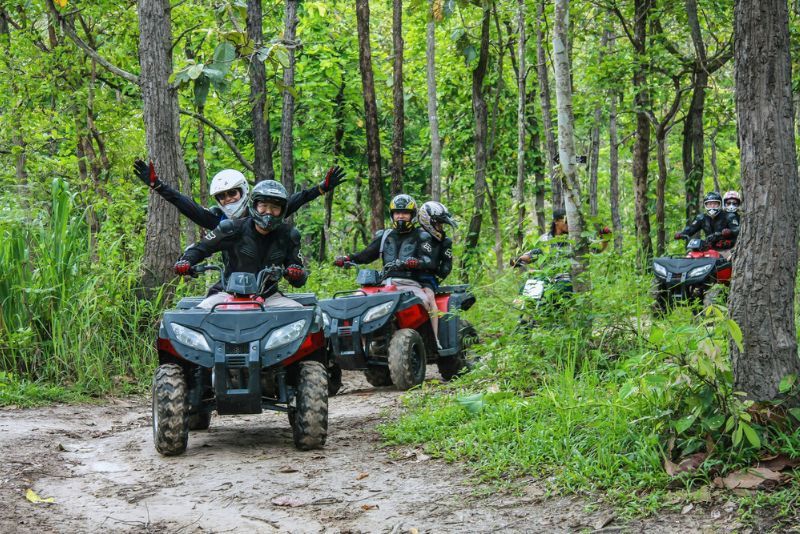 Just outside the hustle and bustle of the inner city lies the West London town of Northolt. This area is filled with large green spaces, and muddy bogs — the ideal place for a spot of quad biking.
Race your loved ones through fields and woods on a quad tour through this idyllic corner of London. This activity is perfect for everyone with excursions available for couples looking for a novel date idea to up the romance ante.
Friends and families can also enjoy the thrill of an ATV ride through the countryside, exploring the outer edges of the city. Children don't need to miss out on this gripping adventurous outdoor activity in London.
In fact, you can enroll teenagers between the age of 12 and 16 in a junior course.
While these tours are altered to make them suitable for youngsters, they don't skip out on the action, and your child will have the time of their lives whooping their way over hills, and through puddles.
Jeep tours
While jeep and luxury don't usually accompany each other in the same sentence, London jeep tours are a far cry from the bumpy, and uncomfortable experiences you may be thinking of.
These city tours of London take place in a luxury vehicle, such as a Land Rover or Porsche, and transport you through the streets in style. You'll feel like a VIP as you make your way through the inner city and watch as iconic sights unfold before you.
You'll stop at several attractions to take pictures to show your loved ones at home, including Shakespeare's Globe Theatre — a remodel of the venue that once performed the writer's masterpieces.
See the Tower of London, which is famed for its collection of ravens and has served as both a palace, and a prison since it was built by William the Conqueror.
See if you can spot the king as you try peeking in the windows of Buckingham Palace and admire the royal red uniforms of the palace guards.
In just a few short hours, you'll feel as though you know the city in depth as you check all of the tourist favorites off your bucket list.
Horse riding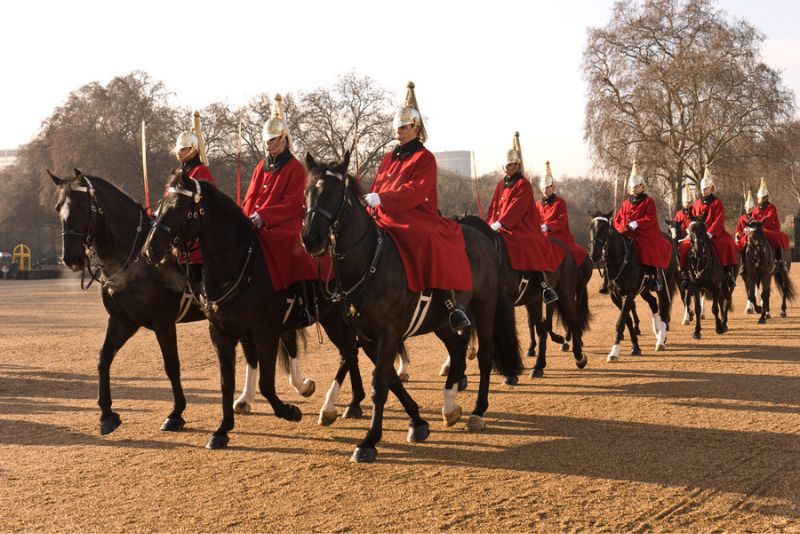 Royal fanatics can deepen their knowledge of the inner working of Britain's palaces as they watch the Changing the Queen's Lifeguard ceremony.
This procession takes place daily at the Horse Guard Building, where spectators can watch the dismounting of the Household Calvary Mounted Regiment.
Alternatively, try your hand at horse riding yourself as you attempt to play the royal sport of polo. Beginners will have a professional polo player to show them the basics and help them adjust to life on horseback.
Experts on the other hand can simply mount their horse and take off with their mallet in hand to enjoy this leisurely outdoor activity in London.