Located on the sunny shores of the South China Sea, Hoi An was once one of the busiest ports in all of Southeast Asia. Today, the vibrant Vietnamese city attracts thousands of international and domestic tourists every year.
Over the years, Hoi An's local cuisine has evolved to adapt to many international influences. However, you can still find a good mixture of modern and traditional Vietnamese delicacies on offer.
Joining a cooking class in Hoi An is a great way to become familiar with traditional cooking techniques, as well as get a taste of the local way of life and learn more about the city from your professional guide.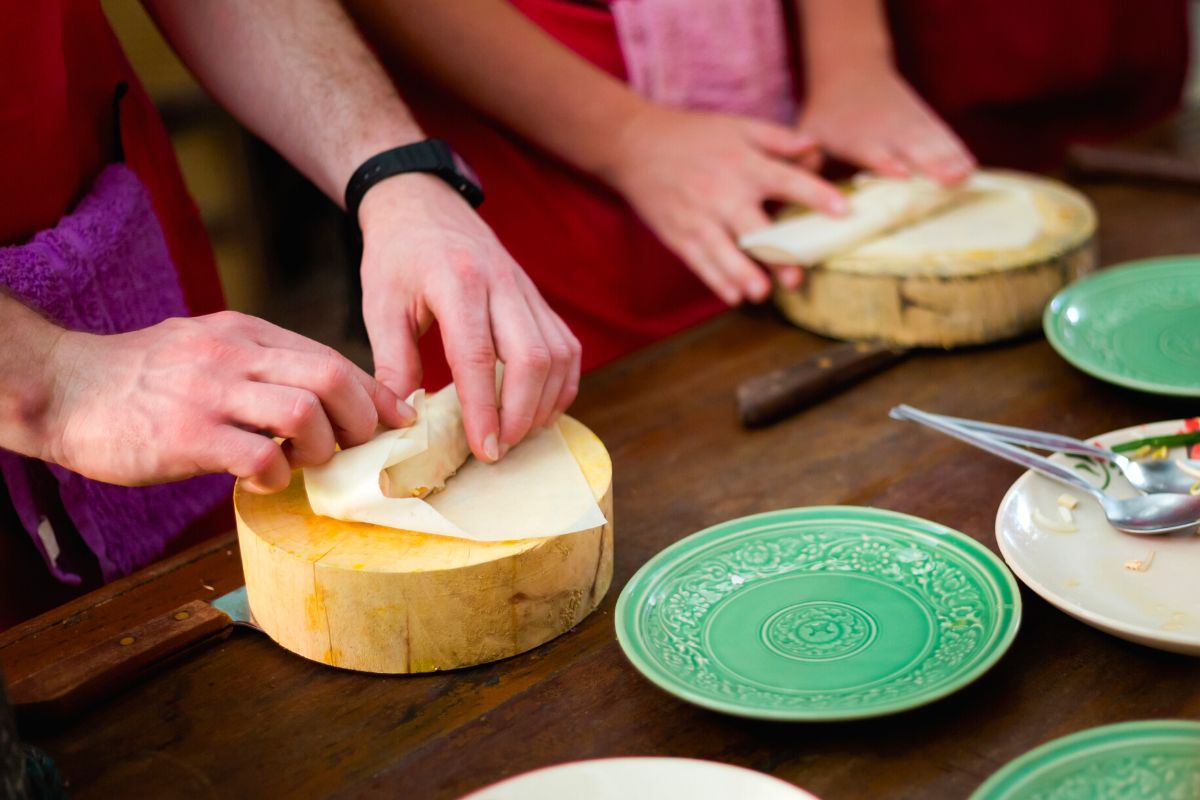 Here's all you need to know about cooking classes, one of the most captivating gastronomic experiences in Hoi An.
What are the best cooking tours in Hoi An?
Local market, basket boat ride and cooking class in Hoi An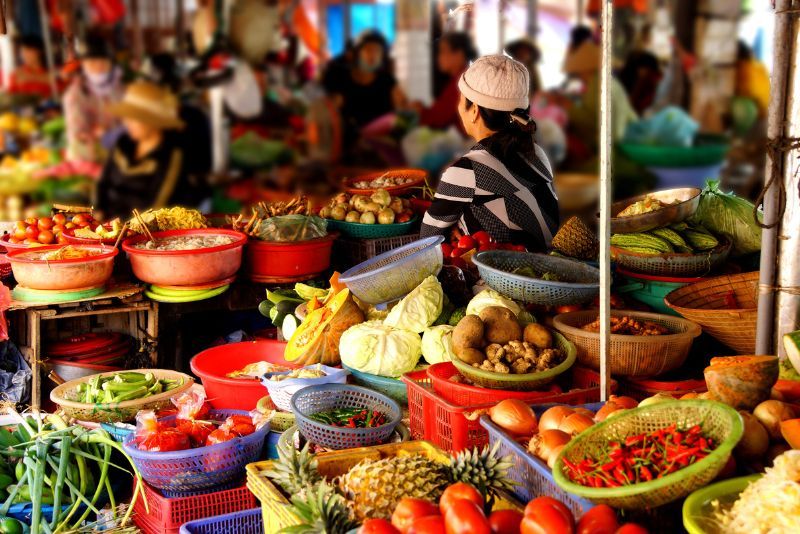 This cooking tour in Hoi An's countryside starts by taking you to where your ingredients are sourced— the local market.
You'll get to see all the seasonal fruits, proteins, vegetables, herbs and other traditional ingredients supplied by local vendors.
The next activity on the tour's itinerary is paddling through the coconut palms on a bamboo basket boat, where you will get taught how to fish as you sing some popular local folk songs with your guide.
The tour ends with you learning to cook Vietnamese steamed rice rolls, Hoi An rice pancakes, Pho noodles and sweet bean soup. Enjoy the fruits of your labor as you sit down to enjoy the delicious lunch or dinner that you have made yourself!
Sabirama cooking class in Hoi An
Gain the full local experience when you join this cooking class that takes place in Cam Thanh Village (just 4 kilometers away from Hoi An's town center).
Begin your tour by visiting the local market and picking out some fresh ingredients for your cooking class.
Next, you'll enjoy a relaxing boat ride down the Thu Bon River before you hop into a water buffalo cart that takes you to Sabirama Cooking School— where your culinary instruction will take place.
Before you begin cooking, you'll enjoy a head, foot and shoulder massage to ensure that you're ready to slice, dice and fry.
You'll create an array of Vietnamese dishes, including mango and shrimp salad, wet rice paper rolls, beef noodle soup and Vietnamese chicken curry.
Water Wheel organic cooking class in Hoi An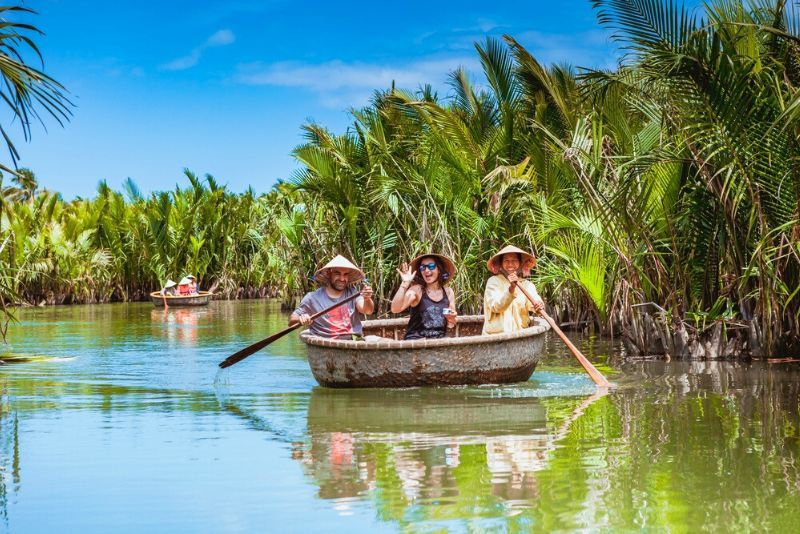 Meet Mr. Hoang and his friendly family at their rustic restaurant, The Water Wheel, where you'll be welcomed with tasty drinks and a tour of the farm where most of their produce is grown.
In addition to your rice-paper making and cooking class, you'll also get to ride bicycles and buffalos, as well as row a bamboo boat. This tour promises a day full of fun and adventure where you are treated like family.
You'll make spring rolls, salad, fish in banana leaves and Vietnamese pancakes.
Vegetarian cooking class in Hoi An
Hoi An is known for its incredible vegetarian cuisine and this tour celebrates the fresh vegetables grown in the region.
You'll get to explore the quaint village of Cam Thanh and go basket boating before you begin your hands-on cooking class. Your instructor will teach you to make 4 different Vietnamese dishes, all of which are vegetarian.
End off the experience by enjoying the meals that you have created in relaxed surroundings.
Which places are visited/seen?
While each cooking tour in Hoi An is slightly different from the next, most tours begin the experience by taking you to the local market where ingredients are sourced.
From here, you'll be taken to where the cooking class is held— usually in a restaurant, eatery or local home. Many of these tours take place outside the city center, so you get to see Hoi An's beautiful countryside and rural areas.
As much of Hoi An is located on the river banks, and crab is a popular protein used in Vietnamese cooking, many cooking tours also take you down to the river and show you how crabs are caught.
How much do cooking tours in Hoi An cost?
Basic cooking classes in Hoi An cost around US$40 per person for a group experience. This includes lunch or dinner and some bonus activities.
For a more comprehensive cooking experience, you can expect to pay around US$50 per person. These tours are usually slightly longer and give you the opportunity to learn to cook 3 or 4 different meals.
Private tours, in which you'll get to enjoy a Vietnamese cooking experience with just you and your travel companions, typically cost around US$70 per person.
Private tours usually include everything that group tours do, but with the added convenience of hotel transfers.
What is included?
Local guide
Transport to and from the meeting point
Lunch or dinner
Any bonus activities mentioned in the tour's itinerary
Hotel transfers (some tours)
Where does it start?
Cooking tours in Hoi An usually begin at centrally-located meeting points in the city, such as Godiva Coffee Shop and other well-known cafes.
Remember to arrive at the tour's meeting point at least 5 minutes before the stipulated meeting time, so that you do not keep your tour guide and other participants waiting.
Some private tour operators offer roundtrip hotel transfers from your accommodation in Hoi An (sometimes limited to certain areas in the city).
How long does it last?
While there are a few compact 2-hour cooking classes available in Hoi An, the typical duration of a cooking tour is between 4 and 5 hours.
When is the best time for a cooking tour in Hoi An?
When it comes to time slots for cooking tours in Hoi An, there are both morning and afternoon tours available.
Most tour participants prefer to join an afternoon tour as they get to sleep in and, avoid the hottest part of the day. Best of all, dinner is taken care of.
Are there any combos available with cooking tours in Hoi An?
Cooking and lantern-making class in Hoi An
Learn how to make Vietnamese lanterns and food with a friendly local guiding you every step of the way. The experience takes you to a beautiful farm, a bustling market and your tour guide's home.
Walking tour and cooking class in Hoi An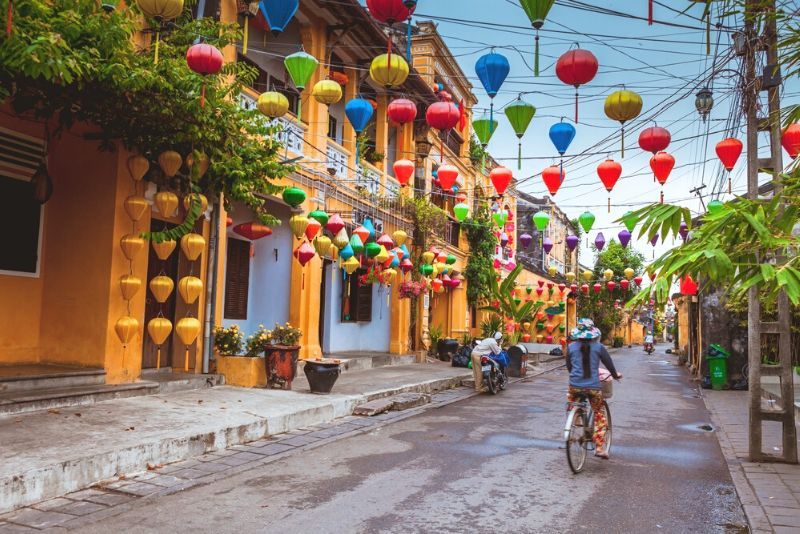 Join a small walking tour group and explore Hoi An Ancient Town with a knowledgeable tour guide before you embark on your culinary experience. You'll learn to cook a delicious Vietnamese lunch in the comfort of a local home.
Farming and cooking class in Hoi An
The rural areas surrounding Hoi An are celebrated for the fresh fruit, herbs and vegetables that the local farmers produce all year round. Gain some insight into different farming techniques before your in-depth cooking class begins.
Which other gastronomixc experiences can be done in Hoi An?
Travel tips
Be sure to let your tour guide know ahead of time if you have any food preferences or allergies.
Don't arrive on a completely empty stomach as you may only end up eating toward the end of your cooking tour.
Book your cooking tour in Hoi An ahead of time so that you can secure your spot on your preferred tour.
Wear comfortable shoes and clothing for your cooking experience in Hoi An.