The ancient city of Hội An is sandwiched between the sandy Quang Nam province beaches and the Thu Bon River. Exploring the city and the surrounding countryside by bike gives you a chance to appreciate the atmosphere and beauty of the region at a slower pace.
Bike tours from Hội An take in many of the top attractions and sights and make it easy to engage with local residents and participate in many of the activities on the tour routes.
In addition to the appeal of allowing an immersive experience, cycling tours offer a sustainable and environmentally friendly way to sightsee.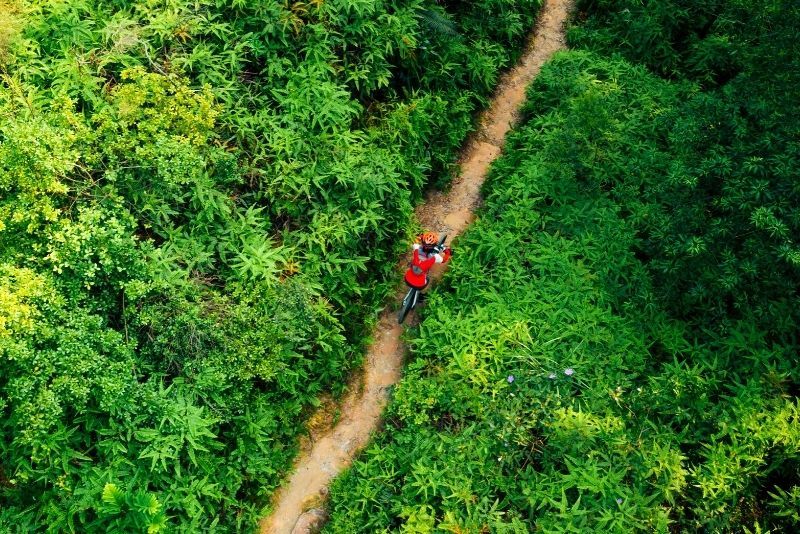 Here's all you need to know about bike tours, one of the most exhilarating outdoor activities in Hội An.
What are the best bike tours in Hội An?
The relatively flat and scenic countryside around Hội An is ideal for leisurely bike tours. You can choose between several different types of tour. These are some of the most popular bike tours in Hội An:
Hội An countryside bicycle tours
Hội An countryside bike tours are offered on a half day and a full-day basis for up to 10 participants. Tours begin at the operator's offices, where you will have a bike fitting and safety briefing.
Half-day morning tour
Your itinerary includes memorable interactions with local residents and stories about local cultures and traditions. The route passes the area's many waterways and canals and you may witness fishermen cleaning and repairing their nets.
After stopping at a traditional mat weaving shop and family distillery, you will board a ferry for the return to Hội An.
Full-day tour
A full-day cycling tour winds from the bustling streets of Hội An to the tranquil Song Thu River Delta. This 6 to 8-hour trip covers around 10 kilometers, which you can cycle at a leisurely pace.
The tour offers a chance to glimpse rural life and indulge in a delicious traditional lunch. The return journey to Hội An takes place by boat.
Full-day My Son bike tour from Hội An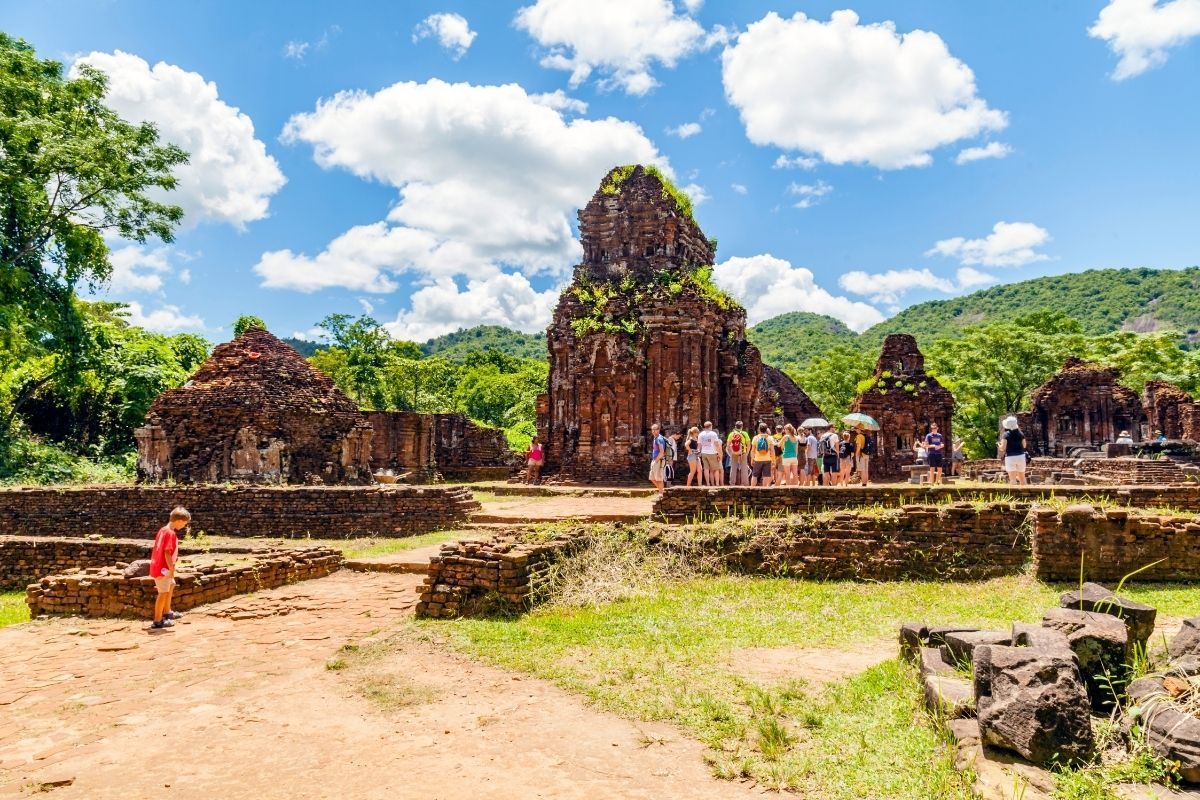 A small-group half-day bike tour to the UNESCO World Heritage listed My Son Sanctuary covers roughly 25 kilometers of country roads and paths from Hội An.
With a maximum of eight people on the tour, your experienced and knowledgeable guide will ensure your safety and comfort on your ride, while sharing the history of the ancient sanctuary. After exploring the ruins and temples, you return to Hội An in a private minivan.
Tra Que Village bicycle tour
On a bike tour to the Tra Que Village you will get to immerse yourself in the farming traditions of northern Vietnam. Your guide will keep you entertained along the route and will describe the local farming practices.
The excursion includes the chance to plant or harvest crops and master the art of making rice paper. After lunch and a chance to discover what makes Hội An Pho (a popular soup dish) different, you will begin your return bike ride to Hội An.
Mountain bike riding from Hội An
A small-group mountain biking experience is a great way to explore the north Vietnamese countryside. Suitable for cyclists of all ages and abilities, this professionally guided 5-hour activity takes you along rural roads, through lush rice fields and past small, peaceful villages.
Depending on your fitness level and ability, your tour will cover between 30 and 50 kilometers. The tour includes a picnic lunch.
How much do bike tours in Hội An cost?
Hội An countryside bicycle tours are priced from US$30 per adult for a half day morning tour to US$60 per adult for a full-day tour. Tours that permit children charge from US$20 per child.
A full-day My Son bike tour from Hội An costs from US$90 per person. Entry fees, snack and water, minivan transfer back to Hội An and a guide throughout the day are included in the price.
Tra Que Village bicycle tours start at US$25 per adult and US$20 per child between 4 and 8 years old.
Mountain bike riding trips from Hội An are available only to people over the age of 14 and cost from US$50 per person.
What is included?
Bike tours offer different routes and activities and so inclusions may vary, but you can expect the following to routinely be included in the cost of bike tours:
Bicycle hire
Helmet
Guide
Bottled water
Entry fees (where applicable)
Activities (where specified)
Lunch, snacks or tastings (as specified)
If the tour ends outside of Hội An, a boat or minivan return transfer is also included.
Where does it start?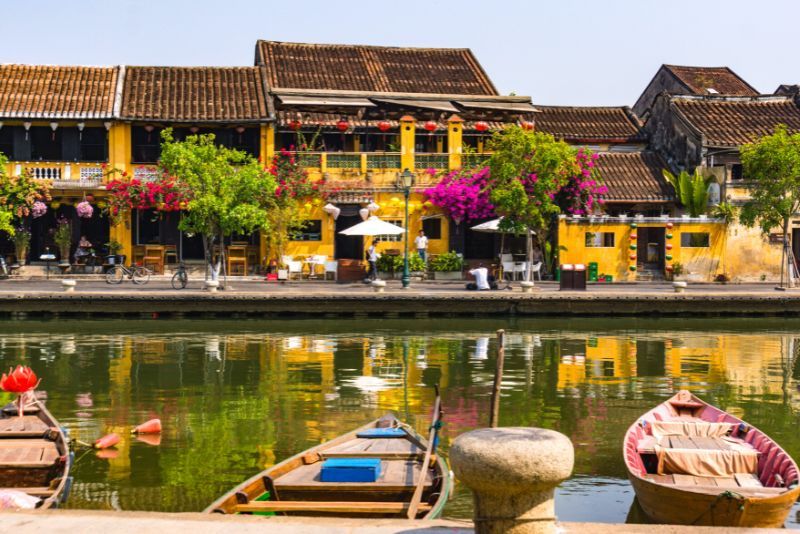 Private tours and some small-group tours will collect you from your hotel. Alternatively, you will be asked to meet at the tour operator's offices to collect your bike and helmet.
How long does it last?
Bike tours can be as short as one hour, however, half-day tours typically last around 4 hours while full-day tours take 7 to 8 hours.
When is the best time for a bike tour in Hội An?
The best time for a bike tour in northern Vietnam is between October and February. The weather during these months is cooler and there is less chance of rain. During the warmer months, try to book your tour for earlier in the day.
Bike tours are great to orient yourself, so book one early during your stay in Hội An.
Are there any combo available with bike tours in Hội An?
There are a variety of full and half-day combo bike tours available for you to choose from.
Bicycle and boat tours in Hội An
Full or half-day tours that include biking in and around Hội An and a basket boat trip or river cruise on the Thu Bon River or Hoai River.
Bike and cooking class tours in Hội An
A countryside bicycle ride to a local village for a traditional Vietnamese food cooking experience.
Bike tour from Hội An plus boat tour and cooking class
Full-day tours from Hội An that include a bike tour, trip in a basket boat and a cooking class at a nearby village.
Bike and kayaking tours in Hội An
Cycle from Hội An to Duy Vinh on this private tour, before heading to the Hội An mangrove forests.  Then go kayaking along the Thu Bon River to the Coconut Pam forests of Cam Thanh for lunch.
Lantern making class and bike tours in Hội An
A short bike ride to Tra Que Vegetable Village. After exploring the village and enjoying a light lunch, participate in a lantern making class before returning to Hội An.
Bike tours to Thanh Ha Pottery Village and Cam Kim Island
A private bike tour from Hội An visiting villages in the Quang Nam province. The tour includes a visit to the Kim Bong Carpentry Village and the Thanh Ha Pottery Village.
Are children allowed on a bike tour in the city?
Some bike tours accommodate children and may provide child carriers of kids bikes. Other tours have minimum age limits. Check with the tour operator when making your booking.
What happens in case of bad weather?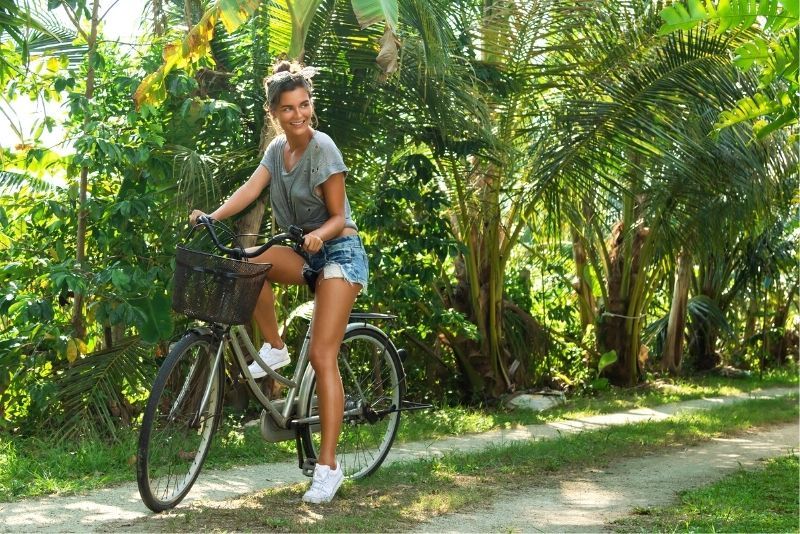 In the event of cancellation due to bad weather, you will be offered a full refund by your operator or helped to reschedule on an alternative date.
Which other outdoor activities can be done in Hội An?
Travel tips
Wear closed shoes with good grip.
Pack sunscreen and a hat.
Advise the operator if you have any food or other known allergies.
Carry bottled water with you.
Check for any optional activities and bring cash if necessary.