The historic city of Hội An is a UNESCO World Heritage Site and part of the Cu Lao Cham-Hoi Biosphere Reserve. It is close to the Hoai River, with the peaceful Cham Islands only a few kilometers away in the South China Sea.
Explore this well-preserved South-East Asian trading port on a boat tour in Hội An, which lies on the northern bank of the Thu Bon River.
Located at the river mouth, Hội An is perfectly situated for a boat trip along the Thu Bon River and Hoai Rivers or out into open waters and towards the Cham Islands and their protected aquamarine underwater environment.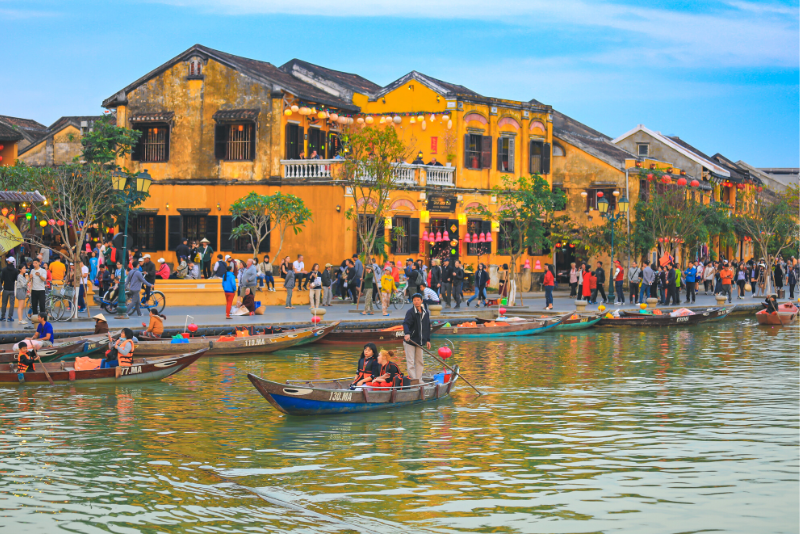 Here's all you need to know about boat tours, one of the most captivating outdoor activities in Hội An.
What are the most popular boat tours in Hội An?
After deciding whether to head upstream from Hội An or sail towards the Cham Islands, you have several types of tour to choose from. Here are the most popular types of  boat trips:
Basket boat rides along the Thu Bon River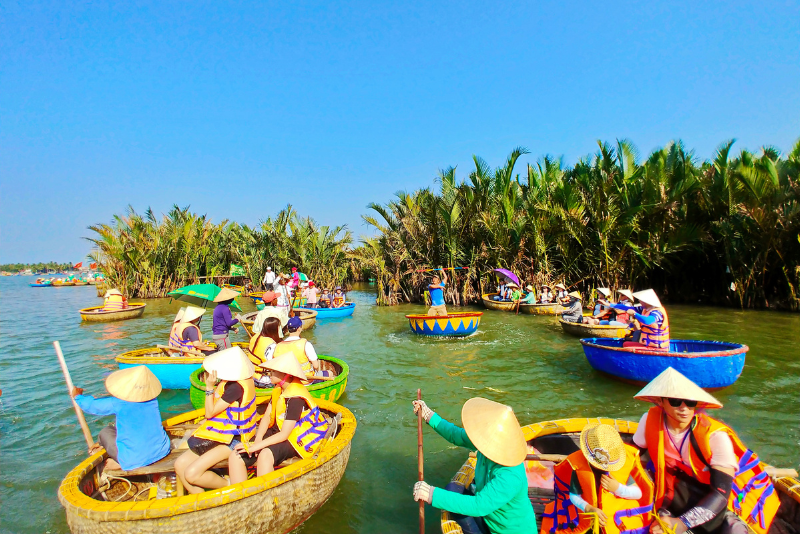 A half or full day tour from Hội An on an unusual basket boat. Basket boat trips offer various itineraries and pass through mangrove and coconut palm forests in the area.
On this type of tour, activities like a cooking class, fishing, a buffalo ride, a tour of My Son Sanctuary, a bike ride or a lantern-making experience might be included. Entry fees and optional activities will need to be paid for on the day.
Thu Bon River cruise to My Son Sanctuary
On a guided Thu Bon River cruise to the My Son Sanctuary, your small group will learn all about the ancient Champa Kingdom's history and culture. The half-day tour is operated on a small-group basis, and depending on where you are staying, you might be collected from your hotel.
This tour includes an entertaining dance performance at the sanctuary before returning to Hội An after lunch.
Sunset Dinner cruise
For a stylish and elegant dining experience, you can opt for a relaxing 2-hour cruise along the Thu Bon and Hoai Rivers. Complimentary cocktails and snacks are served upon boarding the boat.
Standing on the observation deck, you will have a great view of Hội An as you cast off from the pier. Dinner on the cruise is served at your private table, and you can expect a delectable seafood menu, a selection of fine wines and tasty tropical dessert.
Cham Islands boat trips
Depart from Hội An and travel to Cham Islands by Speedboat or traditional Vietnamese boat. Snorkeling, fishing and relaxing on the island's pristine beaches are among the activities included in a Cham Islands boat trip.
This type of boat cruise typically includes lunch and equipment for snorkeling or fishing activities. Beach umbrellas and deck chairs are provided at some of the island beaches.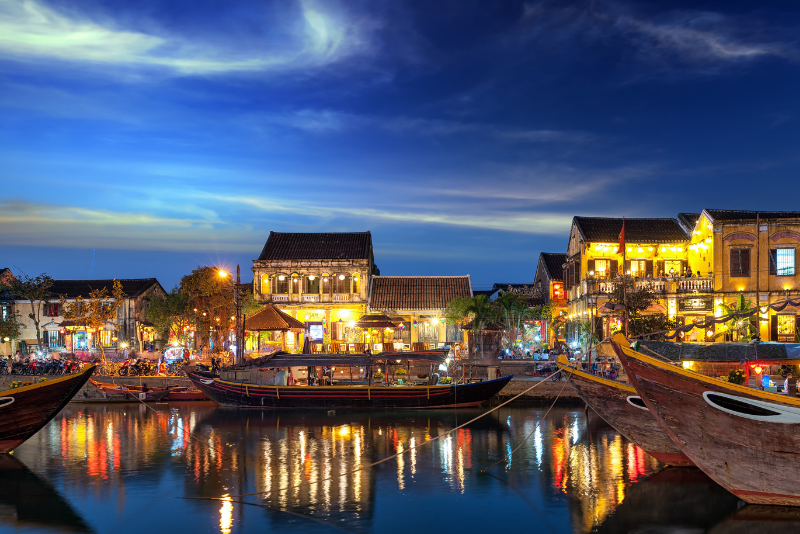 Sampan boat rides
Experience Hội An from a different perspective with a tour that includes a night tour of the city and market, and a boat ride on the Thu Bon River.
Unlike other tours, you will be transported by sampan – a narrow flat-bottomed boat that often has a shady canopy for protection from the elements.
This memorable night-time experience is worth considering as the city has quietened down and has a completely different atmosphere.
How much do boat tours in Hội An cost?
Basket Boat rides along the Thu Bon River start at US$15 for a one hour tour. Longer tours including a cooking class cost from US$35. For a trip that includes cycling or a heritage tour prices range from US$80 per person to US$120 per person. These tours are on a small group basis.
A Thu Bon River cruise to My Son Sanctuary costs from US$35 per adult and US$20 for children aged five to eight years. The tour is approximately five hours long and includes lunch.
Sunset Dinner cruises from Hội An cost roughly US$40 per adult and US$30 for children between the ages of six and 11. For children under the age of six, US$15 is charged.
Half day Cham Islands boat trips start from US$40 per person and include snorkeling equipment. Full day tours and tours that include a sea-bed walk can cost from US$65 per person.
Tours including Sampan boat rides cost from US$70 per adult and US$35 per child over the age of six. Children under six and not permitted on this type of tour.
Which places are seen with a boat tour in Hội An?
A Hội An boat tour along the river passes through the tropical mangrove and coconut palm forests. Trips that include a buffalo ride will stop at one of the rice fields for this experience. Certain tours travel to the My Son Sanctuary to tour the ancient Cham temples.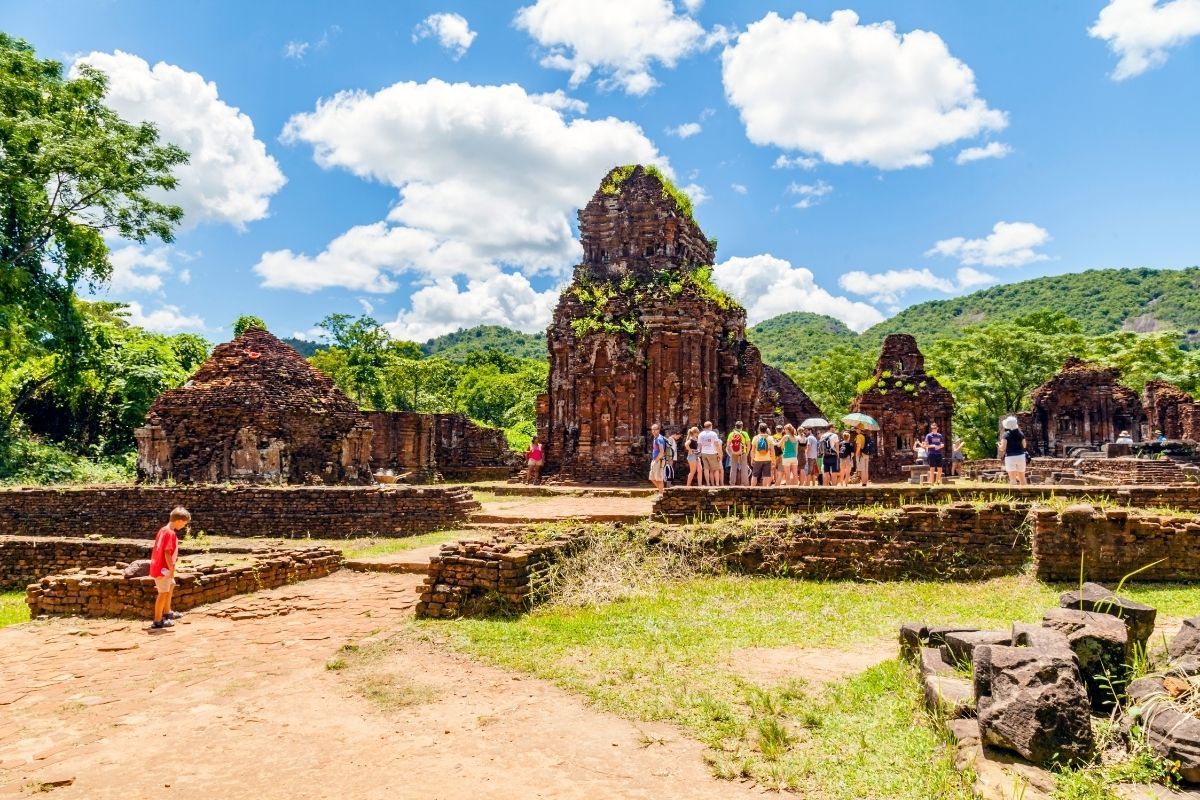 Certain tours include visits to a market in Hội An, a local village for a cooking class or a lantern-making experience.
Boat trips that head toward the Cham Islands may moor to allow for oceanside relaxation on one of the palm-lined beaches, or you may sail around the islands, stopping at some of the prime snorkeling locations throughout the day.
How long does a boat trip last?
Boat tours in Hội An vary in length. A sunset dinner cruise lasts around 2 hours, and a short basket boat ride is one hour long. Half-day trips take between 4 and 5 hours, while full-day tours can take up to 8 hours.
Where do boat tours leave from?
Boat tours to the Cham Islands depart from the Cua Dai Wharf. For river tours, you will be collected from your hotel, or asked to meet at a central meeting point in Hội An. where is the port where the boat tours leave. Explain how to reach it if the pickup is not included in the tours.
When is the best time for a boat trip in Hội An?
The best time for a Hội An boat tour is January to March, as the weather is moderate and relatively dry and comfortable.
For boat tours to the Cham Islands from Hoi An, the best time for swimming and snorkeling is from May to November. The water is warmest then, but it can be very rainy in October and November.
Travel tips
Pack your valuables in a waterproof bag.
Bring swimwear for boat tours to the Cham Islands.
Advise your tour operator if you have any food allergies.
Pack a light-weight rain jacket.
Remember to bring cash to pay for refreshments, entry fees and tips.