To make the most of your time in Switzerland, boat tours in Geneva are highly recommended. You'll get to experience the majesty of the Alpine scenery while cruising along in style.
The shoreline is dotted with charming villages and inlets, while photo moments await around every headland. Keep your eyes peeled for Mont Blanc too!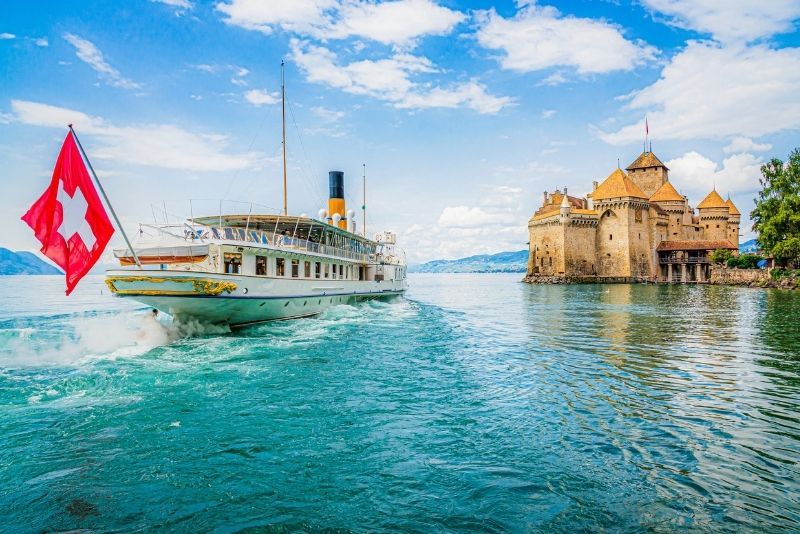 Here's all you need to know about boat tours, one of the most invigorating options for sightseeing tours in Geneva.
What are the most popular boat tours in Geneva?
Geneva boat excursions are all similar in format, offering a sightseeing cruise around the southern part of the lake. You can choose to couple the tour with a city excursion for a longer day out.
Sightseeing lake cruises
Once you've taken in the city highlights, it's time to head out onto Lake Geneva for a different perspective.
The most common tours are the sightseeing cruises, which operate throughout the day. It's a group affair, so you'll be sharing the experience with other passengers.
These boat trips are a relaxing way to soak up some of Switzerland's most spectacular landscapes, with the Alps and Mont Blanc never far away.
Audio guide commentary is available during the tour to help you understand what you're seeing. You'll be given instructions on how to download the app on your phone after booking.
During the trip, you'll tick off several iconic landmarks, including Pointe à la Bise and the city's Jet d'Eau fountain. These are round-trip tours, so you'll finish back where you started, ready for your onward adventures.
Boat tour with city sightseeing excursions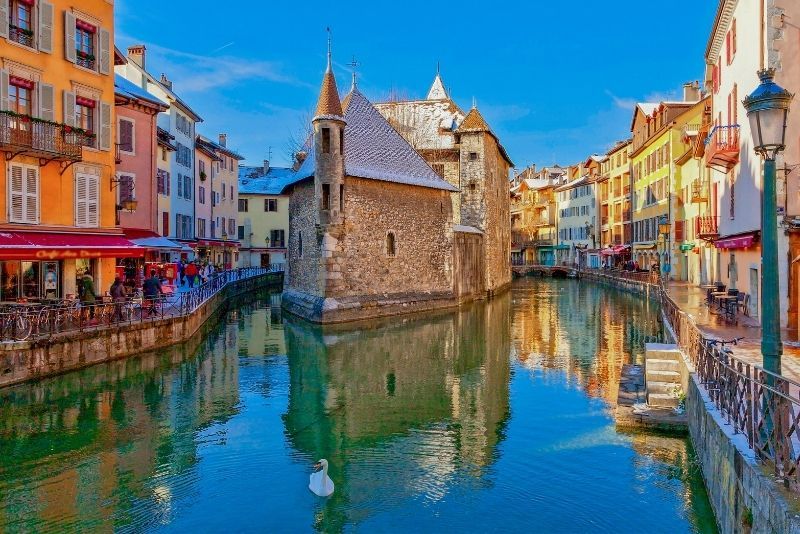 For the best of both worlds, you can couple Geneva boat tours with land-based sightseeing too. Your day begins in the city, with a tram ride and walking excursion through the Old Town.
You'll then take in the famous Flower Clock before heading by bus to the United Nations Office in the international district. This is a great way to learn about the city's history.
After exploring the cobblestone streets, it's time for a boat ride on Lake Geneva. The trip lasts around an hour and takes you past famous sights like Villa Diodati, the Castle of Bellerive and the Geneva Mermaid.
Some excursions also visit the beautiful city of Annecy, which is known as the "Venice of the Alps". Both shared and private packages are available.
How much do boat trips in Geneva it cost?
An hour-long sightseeing cruise on Lake Geneva costs €20 per passenger and includes the use of an audio guide.
Combination tours that include Geneva boat trips and a city excursion start at €80 per person.
The price covers a tramway tour, a guide and the boat ride. If you want to add a visit to Annecy, the cost rises to €110 per participant. Road transfers between the cities are provided.
For a private package, expect to pay €210 per person for 2 hours. Note that while the city walking tour is exclusive, the lake excursion takes place on a public boat.
Which places are seen?
Lake Geneva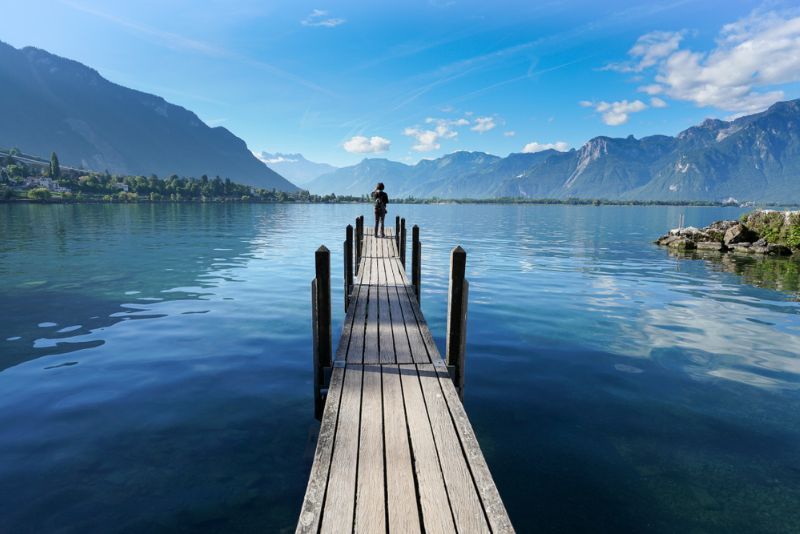 Also known as Lac Léman, Lake Geneva is one of the most-visited places in Switzerland. This moon-shaped lake is surrounded by the Alps and is watched over by Mont Blanc, the highest peak in western Europe.
The Swiss-French border runs lengthways through the middle of the lake. This makes Geneva a great place to visit if you want to tick off a couple of countries on your travels.
Carpeting the undulating shoreline are manicured gardens that burst with color during the summer. You'll also spot elegant mansions and traditional villages, giving a glimpse into everyday life here in the Geneva region.
Geneva landmarks
Boat tours in Geneva are an excellent way to take in some of the city's most recognizable sights. Highlights include the United Nations building and the towering cascade of the Jet d'Eau fountain.
You'll also see the Geneva Mermaid sculpture, which was created in 1965 and can be found resting on a rock just off the shore. Perhaps she is a sister of the mermaid statue in Copenhagen!
The Pierres du Niton (Neptune's Stones) are among the more unusual landmarks you'll encounter during your cruise along the lake. They've been here since the Ice Age and have been used for centuries as the basis of the Swiss height measurement system.
Other places to look out for include Villa Diodati, where English poet Lord Byron once stayed, and the 17th-century Castle of Bellerive.
How long does it last?
Boat cruises on Lake Geneva generally last about an hour, taking in some of the most scenic spots along the way. If you fancy adding on a city tour of Geneva, expect to be out and about for around 3 hours.
The trips that also include a city excursion in Annecy last a full day, which is usually around 9 hours long.
Where do boat tours leave from?
The Mont-Blanc ferry terminal is the most common departure point for sightseeing cruises on Lake Geneva. It's easily accessed by buses 6, 8, 9 and 25 – just jump off at the Mont-Blanc stop.
If you're doing a combined city tour and boat trip in Geneva, the central bus station is the usual meeting location.
When is the best time for a boat trip in Geneva?
Boat tours in Geneva are best enjoyed between spring and fall, with the summer months being the warmest. This is a great time to take a city sightseeing excursion too, which is often combined with a lake trip.
A few boat cruises run over winter when the snow-capped mountains make the scene even more enchanting. Just make sure you wrap up warm!
Cruises depart throughout the day, so it's easy to fit a spin on the lake into your touring schedule.
Which other water activities can be done in Geneva?
Travel tips
Most Geneva boat tours have audio guides which work via a downloadable app so make sure your phone is fully charged.
There are seats up on deck as well as inside the cabin onboard the boat. It can get breezy outside so it's a good idea to take a jacket.
Food and drink are not included on the tours so bring some snacks and water to keep your energy levels topped up.
The mini tram ride in Geneva is seasonal, so if it's not running during your visit, you will enjoy a walking tour instead.