A day trip to Samaria Gorge from Heraklion is sure to be one of your favorite experiences on Crete. This wild and isolated gorge boasts some of the island's most dramatic scenery and offers a full immersion into nature.
You'll enjoy a scenic hike along the gorge before finishing your trek beside the Libyan Sea. Reward yourself with a swim at the beach and a slap-up traditional lunch in a local taverna.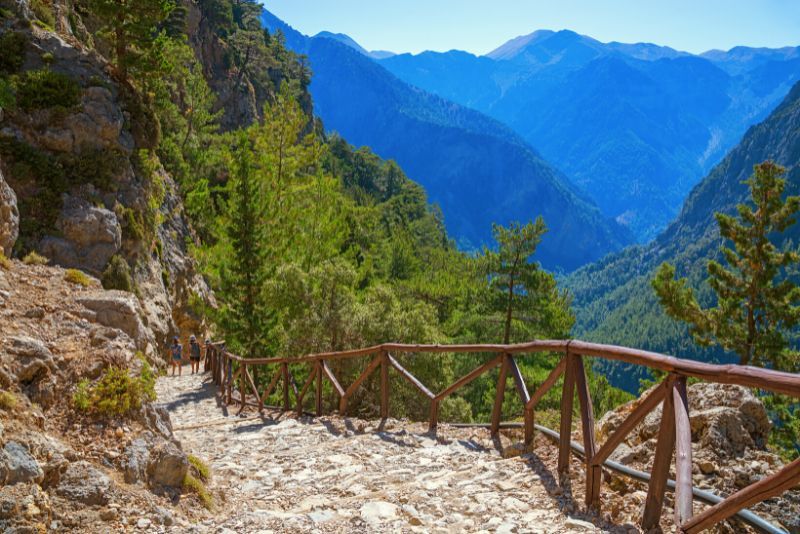 Here's all you need to know about Samaria Gorge, one of the most exciting day trips in Heraklion.
How to get to Samaria Gorge from Heraklion?
Samaria Gorge lies in the White Mountains of the Chania region in southwestern Crete.
Heraklion to Samaria Gorge by car
It is possible to visit Samaria Gorge independently if you have a car. However, complicated public transport logistics to return to your vehicle after the hike mean that a guided tour is by far the better option.
Guided tour to Samaria Gorge from Heraklion
Hotel pickups and drop-offs are often provided on a day tour to Samaria Gorge, so you won't need to worry about arranging any transport. The journey to Samaria Gorge from Heraklion takes around 2 hours and 40 minutes, depending on traffic.
Excursions usually last around 15 hours, to help you make the most of your experience. You will be accompanied by a local guide who will ensure the trip runs smoothly.
How much does the entrance ticket to Samaria Gorge cost?
Entrance to Samaria Gorge costs €5 per adult. This is not generally included in your tour package so take some cash with you. Children aged 15 years and younger can access the gorge for free.
Make sure you keep hold of your ticket as this will be checked again at the exit.
What is the typical itinerary?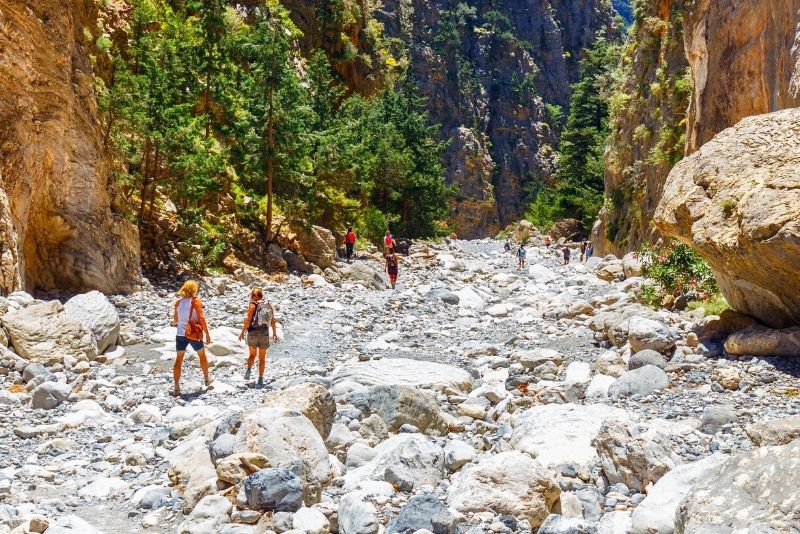 Your day trip to Samaria Gorge from Heraklion is a long one, but you'll experience tons! Some operators will collect you from your hotel while others ask you to meet at a pre-arranged location in the city. Check the tour details in good time so you know where to go.
You'll then travel by air-conditioned bus down to Samaria, stopping along the way at the Plateau of Omalos to admire the mountain views. Here, you will have the opportunity to buy supplies before heading into the gorge.
Then it's time for your hiking excursion, which usually takes between 6 and 7 hours including stops. You will be accompanied by a guide during the trek, so you know you'll be in safe hands. Enjoy being immersed in the White Mountains as you walk along the valley and keep watch for the famous wild goats.
At the end of the gorge, you'll emerge in the village of Agia Roumeli. You can explore the pretty settlement or take a dip in the sea to cool down after your adventure. This is a great spot for lunch in a local taverna too.
In the late afternoon, you'll take a boat trip along the coast to Hora Sfakion, where the bus will be waiting. You will be driven back to Heraklion in the evening.
What kind of tours are available to go to Samaria Gorge?
There are a couple of different options for a day tour to Samaria Gorge from Heraklion. Group trips are the most common while private excursions offer an added level of luxury.
Guided group tour to Samaria Gorge from Heraklion
Guided group excursions to Samaria Gorge are what most visitors choose. These trips are a budget-friendly way to travel, and you'll meet new companions along the way too.
Group sizes vary, but you can expect up to 50 people on any one tour as this is the capacity of the bus. A guide will hike down the gorge with the group and will be on hand to tell you about the area.
Private day trip to Samaria Gorge from Heraklion
Book a private Samaria Gorge day trip from Heraklion if you don't fancy walking in a group. These excursions offer more flexibility and independence and are perfect for couples, families and groups of friends.
On your exclusive Samaria Gorge day tour, you'll have private road transfers and a personal guide. Note that the boat trip at the end of the hike from Agia Roumeli to Hora Sfakion will be on a shared basis.
How much does a day trip to Samaria Gorge from Heraklion cost?
Guided group excursions to Samaria Gorge from Heraklion cost €50 per person. The price includes round-trip transfers by bus and a multilingual tour guide. Hotel collection is sometimes provided, depending on the operator.
For a private jaunt to Samaria Gorge, expect to pay €750 for two people. This covers luxury chauffeured road transfers, hotel pickups, a private guide, plus mineral water, fresh fruit and snacks. There will also be USB sockets and WiFi on board the vehicle.
For all tours, you will need to pay separately for boat tickets, gorge entry fees and meals. The boat transfer costs around €13 for adults and €6 for children aged between 5 and 12 years.
What will you see and do?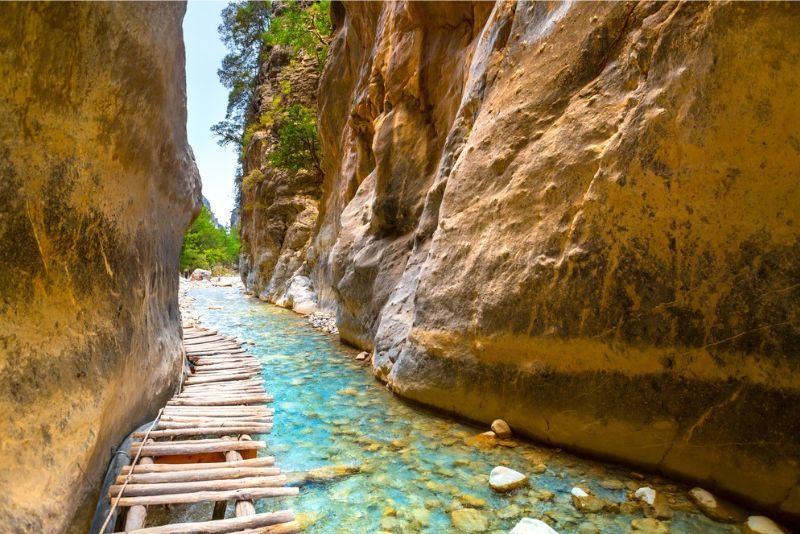 Samaria Gorge is a dramatic canyon that plunges you deep into the Cretan wilderness. The trail isn't difficult, but it can take up to 7 hours to walk, so this isn't for the faint-hearted. After all, at 18 kilometers in length, this is the longest canyon in Europe!
The path follows the ancient route of the River Taras, and you'll see several naturally formed caves along the cliffs. Locals used to hide in these caves during times of war, but now it's wild goats that take refuge here. Spotting these iconic animals will be a highlight of your Samaria Gorge day trip.
About 3 kilometers before the end of the gorge, you'll come across the deserted village of Samaria. The residents used to be woodcutters and beekeepers, and you can still see some of their old olive groves. The village was abandoned in 1962 when the gorge became a national park.
What are the opening times?
Samaria Gorge is usually open between May and October, depending on the weather conditions. Check current dates on the official website if you plan on visiting at the start or end of this period.
When is the best time to visit Samaria Gorge?
The ultimate time for a day trip to Samaria Gorge is during the spring. This is when the wildflowers are blooming, and the summer heat hasn't yet taken hold of the island.
September and October are also good months to visit when the temperatures are cooler, making hiking more pleasant.
Are there any tours to Samaria Gorge from other cities in Crete?
Yes, there are other tours departing from several other cities in Crete:
Travel tips
A good level of fitness is a must as you'll be hiking for several hours down the gorge.
Book your day trip to Samaria Gorge from Heraklion in advance to avoid missing out on your chosen date.
Carry water and snacks with you to stay hydrated and fueled during the walk.
Sunscreen and sunhats are advised, especially if you are visiting during summer. Take your swimming gear and a towel if you plan on enjoying a dip in the sea at the end.