Immerse yourself in history and culture by joining a Jewish Quarter tours in Barcelona. As you wander around the streets located within the Gothic Quarter, you'll pass by Spain's oldest synagogue and several landmarks that tell the story of ancient communities and long-lasting traditions.
A popular location for walking tours, the Jewish Quarter is one of the oldest parts of the city, with a long and fascinating history dating back to the 1st century AD that is still evident today. From the ancient Roman walls to the winding medieval alleys, this area captures Barcelona's unique culture and heritage to a tee.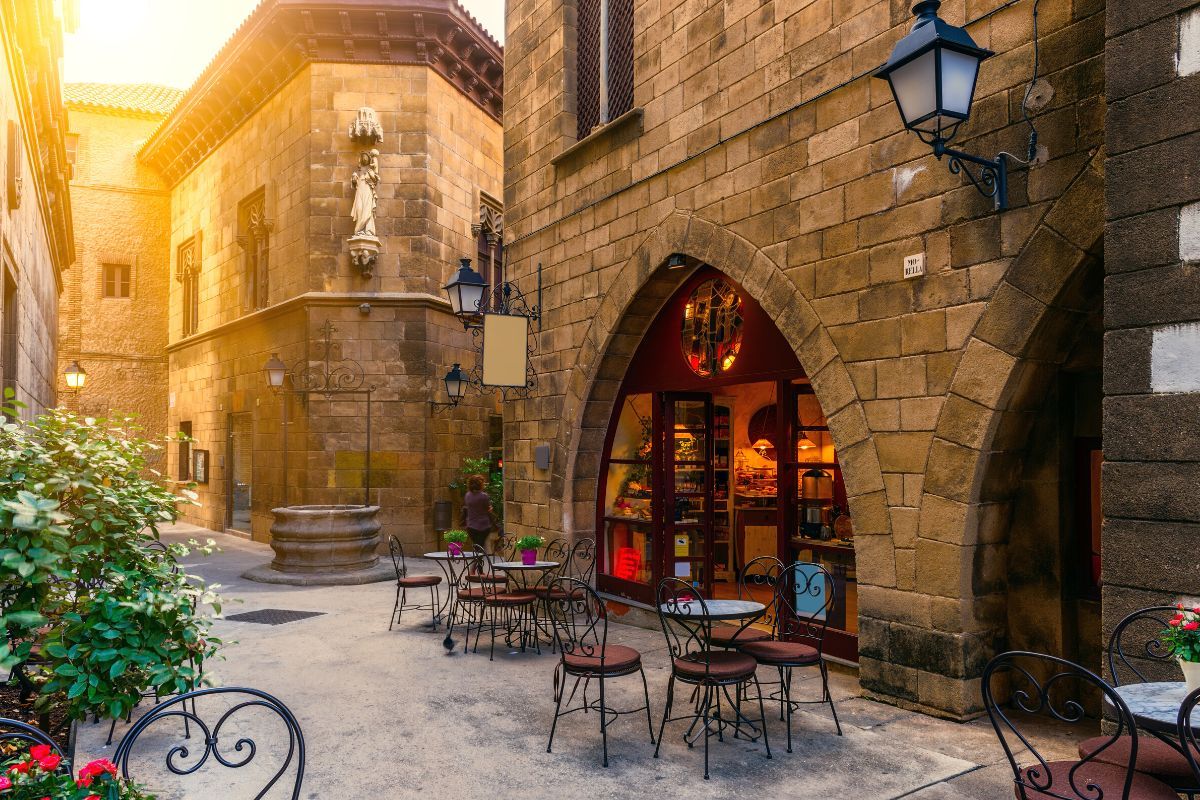 Here's all you need to know about Jewish Quarter tours, one of the most captivating sightseeing tours in Barcelona.
What are the best Jewish Quarter tours in Barcelona?
There are a few types of tours available to those wishing to visit the Jewish Quarter. From walking tours alongside fellow history-savvy travelers to more comprehensive combination tours that cover everything from the history of Barcelona to its culture and art, there's something for everyone.
Some of the most popular options are guided walking tours with a local guide who can not only provide you with insight into the area's past but also share their personal stories and anecdotes about life in Barcelona. The main Jewish Quarter tours in Barcelona are described in detail below:
2-hour small group Jewish Quarter walking tour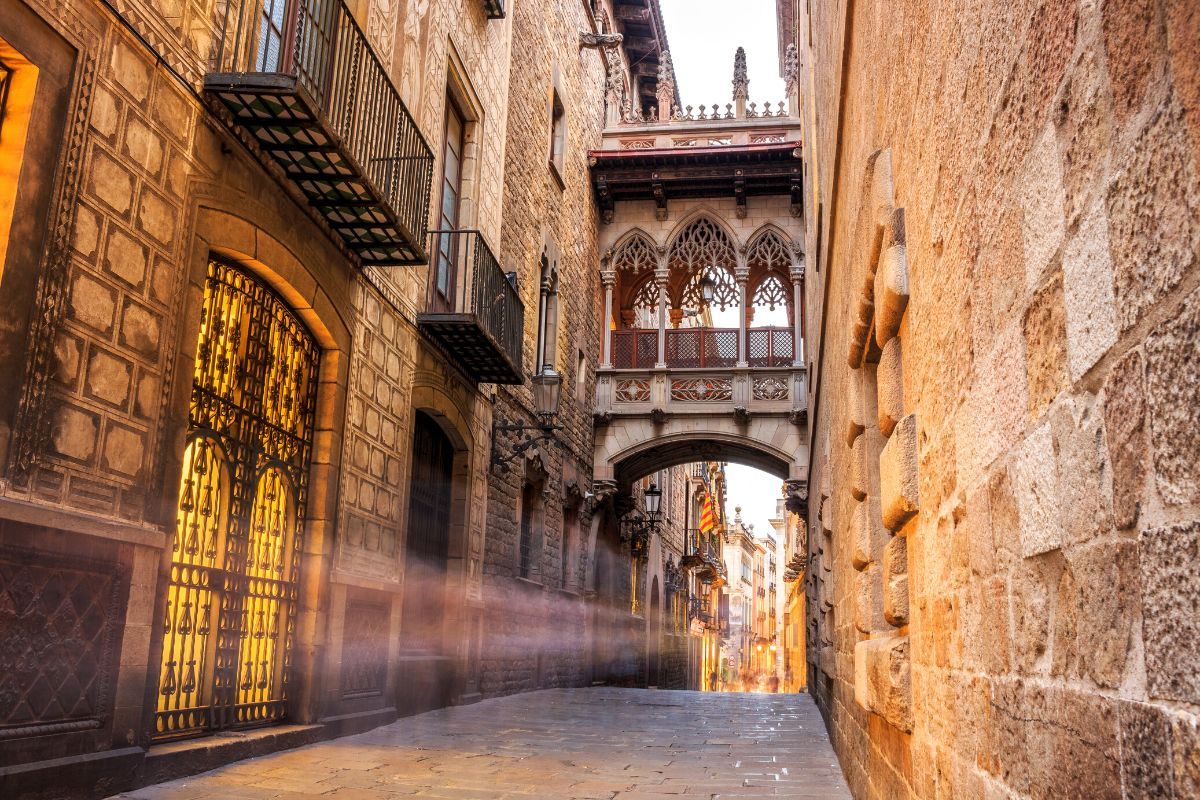 Uncover the vibrant, decades-long history of Barcelona's Jewish community with a fascinating walking tour through the city's Gothic Quarter. You'll have an experienced guide bring this remarkable story to life as they explain how integral the Jewish community was in shaping Barcelona's diverse culture.
Visit the Shlomo Ben Adret Synagogue, Spain's oldest synagogue, pass by the Jewish History Museum and the remains of Castellnou, explore ancient alleyways that date back centuries, and come away with an appreciation for this incredible chapter of European heritage. The kind of tour usually lasts for around two hours, so you'll be sure to cover a lot of ground!
Private tour through the Jewish Quarter
For those that want a more intimate, tailored experience, you can book a private tour. You'll usually be met at your accommodation by your guide before being taken on a roughly 1.5-hour tour through all the most important sights in the area.
While private tours can be tailored to your own interests, generally, you can expect to visit the same places as on a standard tour, such as the Sinagoga Mayor (Shlomo Ben Adret Synagogue) and, upon request, the Jewish cemetery on Montjuïc.
Jewish Quarter and Old Town combination tour
On top of a guided walking tour through the Jewish Quarter, you'll have the opportunity to make your way through the streets of Barcelona's decorated Old Town — the Gothic District — checking off several other attractions throughout the excursion.
Alongside your guide, you'll explore the city's main boulevard, La Rambla, home to several shops, restaurants and bars; check out Barcelona's Cathedral, visit bustling food markets, and admire the ancient Roman walls. Collectively, there's tons to see on this comprehensive walking tour.
Which places are visited?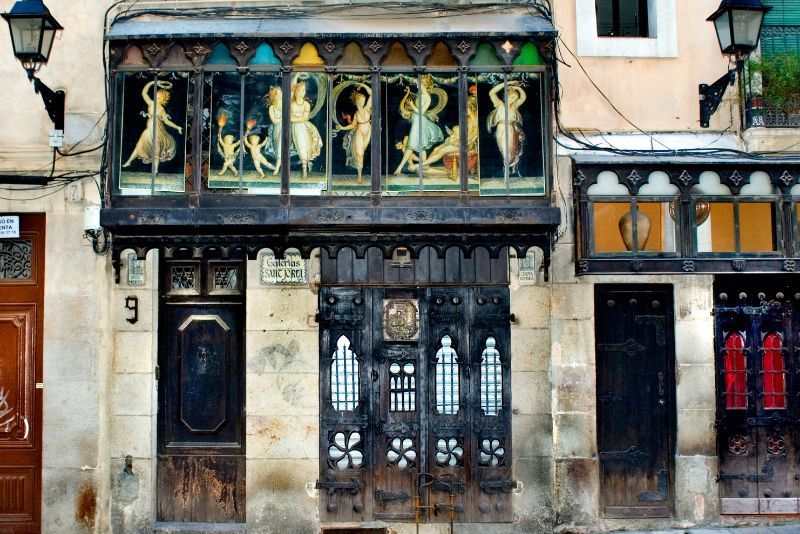 Although tour providers have slightly different itineraries, you can expect all tours to pass some combination of the main attractions in the area. One of the most famous is the Shlomo Ben Adret Synagogue, which is the oldest synagogue in Spain and one of the oldest in Europe. The synagogue is open to the public as a museum and occasionally hosts religious ceremonies.
There's also the Jewish History Museum (MUHBA El Call) which houses many old relics and archaeological artifacts. You might also find yourself exploring the remnants of the Roman empire, as much of the Jewish Quarter was built by the Romans, giving you the chance to see the famous ancient Roman walls that line some of the streets.
If you make your way through Carrer de la Palla, you'll also pass by two buildings — the Caelum cake shop at number 8 and the Casa Journet furniture shop at number 10 — believed to contain the remains of what are believed to have been mikvehs (Jewish ritual baths).
While not specifically in the Jewish Quarter, the Jewish cemetery on Montjuic can also provide excellent insight into ancient Jewish traditions and is a popular destination for tourists.
How much do Jewish Quarter tours in Barcelona cost?
While the price of every Barcelona Jewish Quarter tour is different, prices can start as low as €15 for a short small group walking tour.
More comprehensive guided walking tours will generally cost around €55 to €70 person.
The tour which includes an added stroll around Old Town costs around €65 per person, while a private tour of the Jewish Quarter in Barcelona can cost up to €130 per person.
What is included?
What's included varies between tour providers. Some tour costs simply include the cost of the guided tour itself. However, some included hotel pickup and drop-off, as well as the cost of a glass of wine at a pit stop.
The price will always include the cost of your local guide, however, it may not include an expected tip at the end of the tour.
It is always best to check the inclusions of your specific tour to ensure you've got everything you need!
Where does it start?
Start points differ depending on the tour, however, they will always be in a central, accessible Barcelona location such as the Plaça Nova or the Plaça Sant Jaume.
Sometimes, you'll be picked up from your accommodation – this is usually the case with private tours. It's best to double-check meeting points before you book.
How long does it last?
Jewish Quarter tours in Barcelona usually run for around 1.5 to 2 hours and even up to 4 hours. There is a slight difference between tour providers, but you'll always have plenty of time to explore the Jewish Quarter on any given tour.
The tour will usually end at a central, popular landmark, from which you can explore neighboring areas at your own pace.
When is the best time for a Jewish Quarter tour in Barcelona?
There really isn't a bad time to explore the Jewish Quarter. In a city as vibrant as Barcelona, there is something happening at all times. You can often choose between morning, afternoon, or even evening time slots on your tours so you can really choose whatever lines up with your other adventures!
As for the time of year, Barcelona is blessed with warm weather year-round, so tours run all during all seasons. Peak tourist season is generally summertime, so expect more crowded streets between June and September.
What other sightseeing tours can you do in Barcelona?
Travel tips
Bring plenty of water to stay hydrated on your walking tours.
Book online and ahead of time to make sure you have your preferred time slot as tours can book out quickly.
If you choose a free walking tour, remember that tips are expected, so always carry a small amount of cash with you.
Put a time buffer in place after the tour so that you can keep exploring the area, and visit any recommendations provided by your guide.