Hot air balloon rides in Barcelona are a fun way to get out of the city and experience rural Catalonia. This is one of the best places in Spain to enjoy an aerial adventure, with natural parks and mountains creating the perfect backdrop.
Listen to the roar of the burners as you float through the silent sky, taking in the scenery unfolding far below. Your Barcelona balloon flight promises to be the highlight of your trip!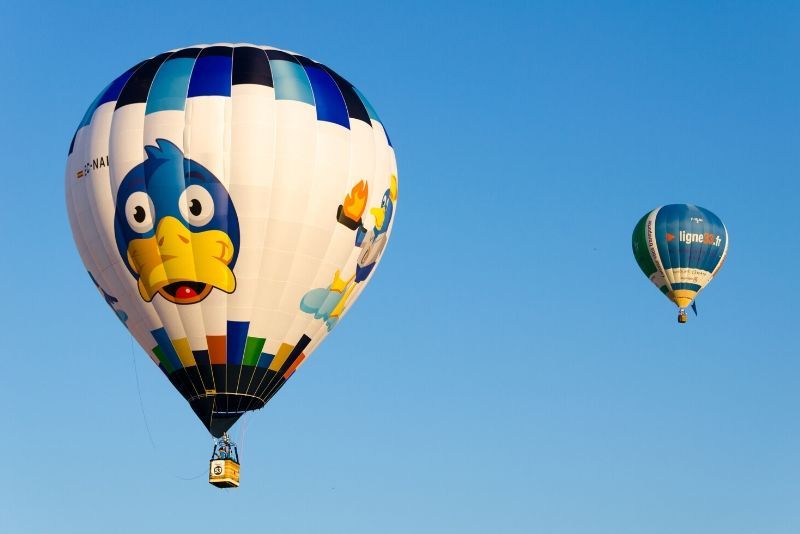 You will find below everything you need to know about dolphin watching, one of the most breathtaking outdoor activities in Barcelona.
Where can you take a hot air balloon ride in Barcelona?
Barcelona hot air balloon rides take off from outside the city, with launch sites dotted around the countryside.
Popular locations include Montseny Natural Park, which is 30 minutes from Barcelona, and a site near Montserrat that lies an hour away from the city. Some of the Montserrat flights include an optional guided tour of the mountain monastery.
You will not be flying over Barcelona itself but may see the city on the horizon during your balloon ride.
How can I get there?
Hotel transfers are included with many hot air balloon rides in Barcelona or are offered as an optional extra.
Some operators specify a central meeting point in the city and then provide the onward transport. Check your joining instructions carefully for further details.
What to expect on a Barcelona hot air balloon ride?
Your adventure starts with an early morning pickup at your hotel or pre-arranged meeting point in Barcelona. You'll then be driven out into the countryside where your balloon awaits in the designated take-off area. Depending on the launch location, the journey will take between 30 minutes and an hour.
Before your flight, the balloon crew will deliver a short safety briefing, so you know what to expect during the ride. Watch the balloon being inflated while you listen to the instructions. Then it's time to climb into the basket and take to the skies.
Barcelona hot air balloon flights last between 1 and 2 hours, depending on weather conditions and the tour schedule. Once you're up in the air, there is no set itinerary – the wind dictates your direction!
Scenery highlights can include Montseny Natural Park, the mountains of Montserrat, and the Pyrenees. You'll also be able to see the Mediterranean and the city of Barcelona itself on a clear day.
After landing, you'll celebrate with a sparkling wine toast and a flight certificate. Some tours also offer a traditional Catalonian breakfast to finish your morning off in style. You will then be returned to your original departure point back in the city.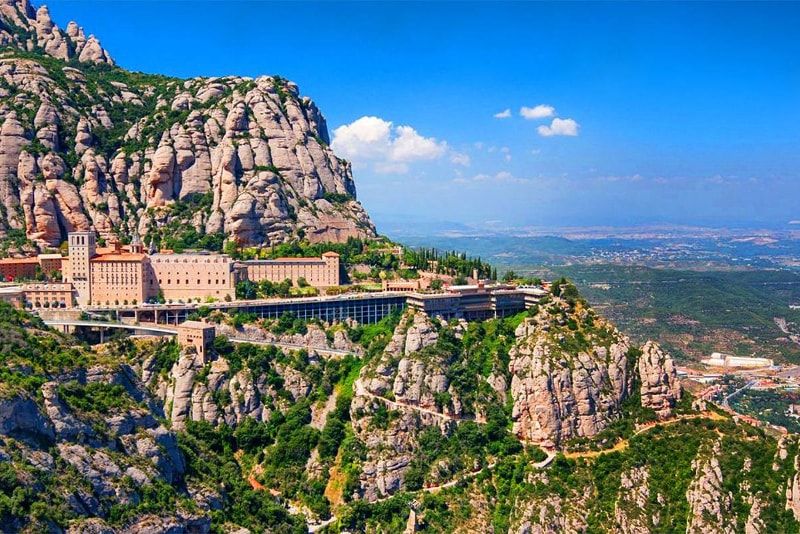 How much does a Barcelona hot air balloon ride cost?
The price of hot air balloon rides in Barcelona varies according to destination and group size.
Small group flights over Montseny Natural Park cost €175 per person, or €195 with hotel pickup included. Meanwhile, Montserrat balloon excursions cost €170 plus an additional €30 per person if a pickup is required.
For a private Barcelona hot air balloon ride, prices start at €300 per person with a minimum of two participants. For the full package with a flight, sparkling wine toast and breakfast provided, tours are around €535 per passenger.
Is it safe to go ballooning in Barcelona?
Absolutely! Hot air balloon excursions in Barcelona are adventurous but safe, with expert pilots being in control at all times. The weather presents the most significant risk, but if conditions are unfavorable the flight will be postponed.
What restrictions are there for participants on a Barcelona hot air balloon flight?
Pregnant women and those with heart conditions or serious health issues should not undertake hot air balloon rides in Barcelona.
You will need a reasonable level of fitness to climb into the balloon and exit quickly should an emergency landing be required. Due to the physical nature of the activity, balloon flights are unfortunately not wheelchair accessible.
For safety reasons, all passengers will need to provide their weight to the operator. This will inform the pilot about the number of participants that the balloon can carry.
All children under 18 years must be accompanied by an adult.
What is the minimum age to fly in a hot air balloon in Barcelona?
The minimum age for Barcelona hot air balloon rides is 4 – 6 years old, depending on the operator. Check the provider details before booking for clarification if you are traveling with young children.
How to dress for a hot air balloon flight in Barcelona?
Even in the summer, it can get chilly during early morning hot air balloon rides in Barcelona. As you ascend into the sky, temperatures drop, so dressing in warm layers is advisable. You might want to take a hat and gloves too, especially if your flight is in winter.
Wear comfortable, flat-soled shoes to make your experience more enjoyable. High heels, sandals and flip-flops are not permitted on board.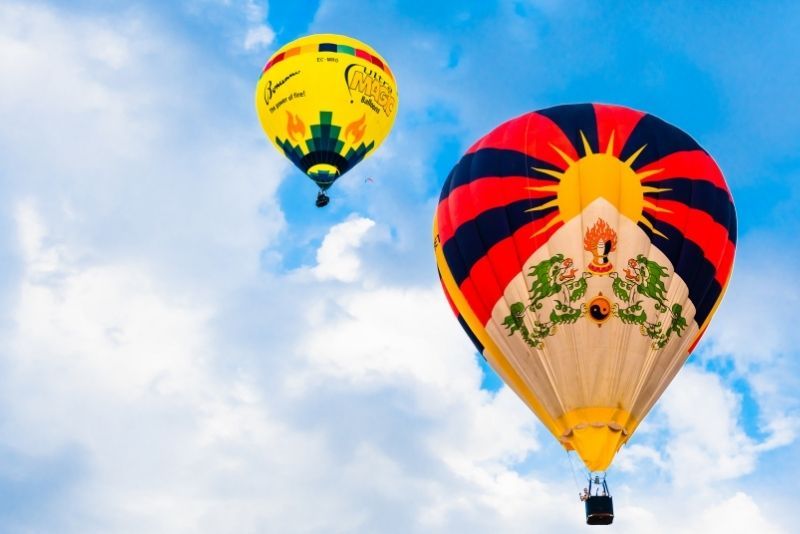 How long does a Barcelona balloon ride last?
The length of Barcelona balloon flights varies depending on the location of the ride and the prevailing weather conditions.
You'll usually spend around an hour up in the sky, which is plenty of time to soak in the scenery. Some operators offer an upgrade option which gives you two hours of flying time.
The tours themselves can last up to 6 hours as this includes travel and preparation time before your flight. You should allow at least half a day for the experience.
What is the best time to take a hot air balloon ride in Barcelona?
The optimum time for hot air balloon rides in Barcelona is during the morning. This is when atmospheric conditions are at their best, and the light is great for photography. On some trips, you'll be able to capture the sunrise!
Tours take place out in the countryside or over near Montserrat, so an early start is required as the trips are often several hours long.
Barcelona hot air balloon excursions operate throughout the year. If you're traveling in winter, remember to wrap up warm!
What happens in case of bad weather?
Like all aerial activities, Barcelona hot air balloon rides are weather dependent. If conditions are unsuitable, then your tour will be canceled – often at short notice. You will be given the option to postpone the trip or receive a full refund.
It's a good idea to book your flight toward the start of your visit so there is time to reschedule if required.
What other outdoor activities can you do in Barcelona?
Travel tips
On the day before your flight, contact the tour operator to confirm that weather conditions will be favorable for the balloon ride.
Book your Barcelona hot air balloon flight in advance to avoid missing out as places are limited.
Wear warm clothing as it does get cold up at altitude. Layers are best as they allow you to regulate your body temperature.
Charge up those camera batteries the night before so you can capture those epic views. You might want to carry your camera on a strap for safety.