Bali might be a place to seek respite from the hustle and bustle but it is far from a one-trick destination. With plenty of outdoor activities in Bali you can look forward to, the possibilities for adventure are seemingly endless.
Visitors spend most of their time outdoors, exploring the wilderness and breathing in the fresh air.
Top that off with some of the best surfing conditions in the world and vast underwater communities and you have a world-class destination for fun activities and sports. Bali has everything from wild rainforests to craggy volcanic landscapes.
Hiking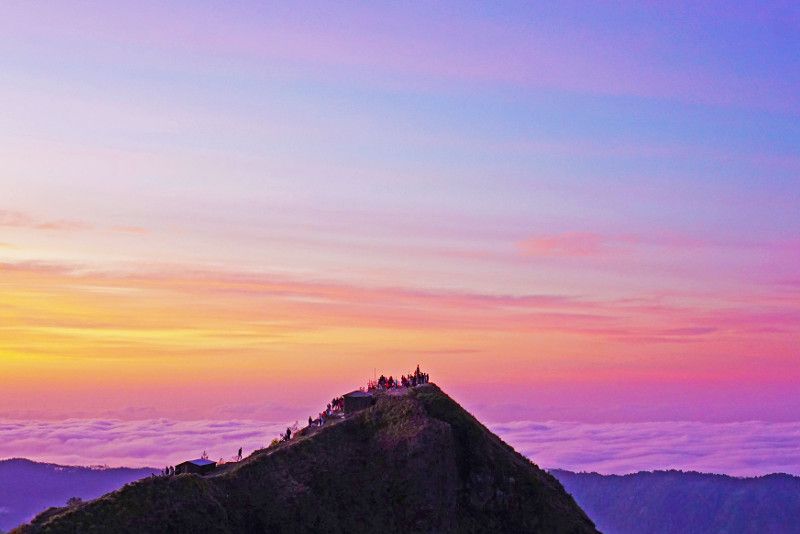 Every corner of Bali begs to be hiked. From emerald green forest paths to other-worldly volcanic planes, it is a playground for the actively inclined.
The most popular hiking tour in Bali is undoubtedly a sunrise trek up Mount Batur. Conquer the volcano and walk on the edge of the caldera before soaking your sore muscles in a natural hot spring at the foot of the mountain.
Alternatively, you can take on any number of waterfall treks winding through the jungle. Pay a visit to some of Bali's most beautiful and tranquil waterfalls and admire the verdant plants and wildlife of the island.
Cycling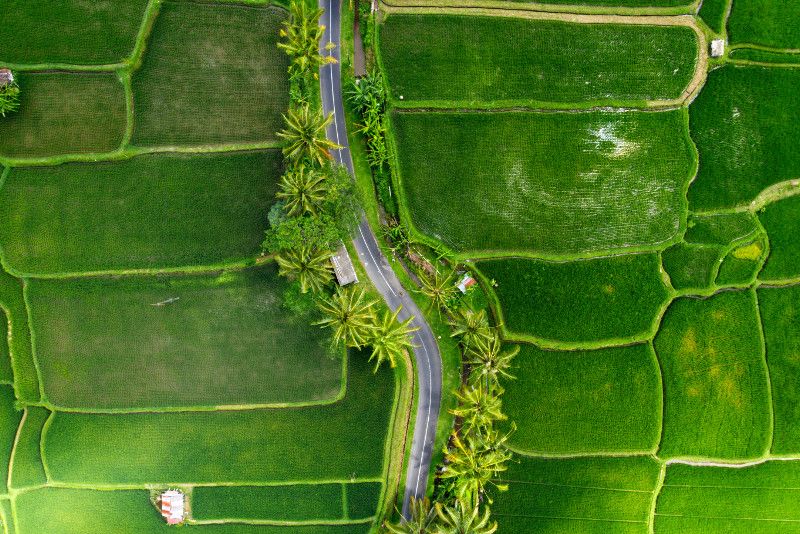 Cycling through rural Bali is an outdoor activity characterized by its serenity and jovial atmosphere.
A Bali cycling adventure takes you downhill through rice farms and through craft villages to learn more about the vast cultural heritage of the island. You will be engulfed by verdant surroundings, feeling energized by the tranquil environment.
You can also cycle through the volcanic areas around Mount Batur for a contrasting experience. On this trip, you will stand in awe of the destructive force of mother nature and soak in more panoramic views from the elevated vantage points around the mountain.
Dolphin watching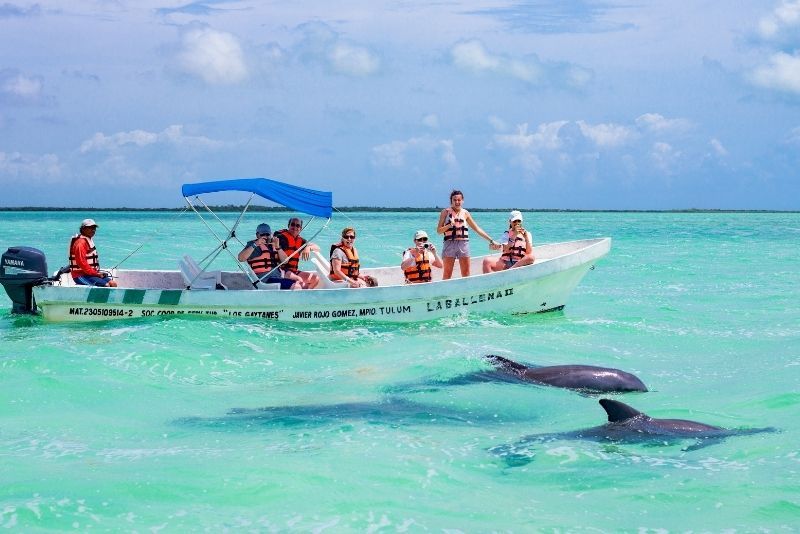 Dolphin watching in Bali whisks you away from the usually bustling beaches around the island and launches you from the iconic black beach of Lovina. As the sun peeks over the horizon, painting the sky at dawn, you take to the water in a traditional outrigger boat in search of dolphins.
As if from nowhere, their dorsal fins break the surface and these friendly mammals play in the water around you. For as little as US$30 you can live the dream and see dolphins up close in their natural habitat in an authentic and non-invasive way.
Snorkeling
Snorkeling in Bali is one of the most anticipated outdoor activities on offer and top of the bucket list for many visitors. The tropical climate of Bali ensures the water stays between 27°C and 30°C all year and in the dry months between April and September you can enjoy the clearest conditions.
You can expect vast tropical reefs but at certain times of the year you can also encounter manta rays and mola mola, some of the largest visitors in these waters. Bali also has shipwrecks and sunken statues that you can reach from the beaches for an ultra-memorable underwater experience.
Scuba diving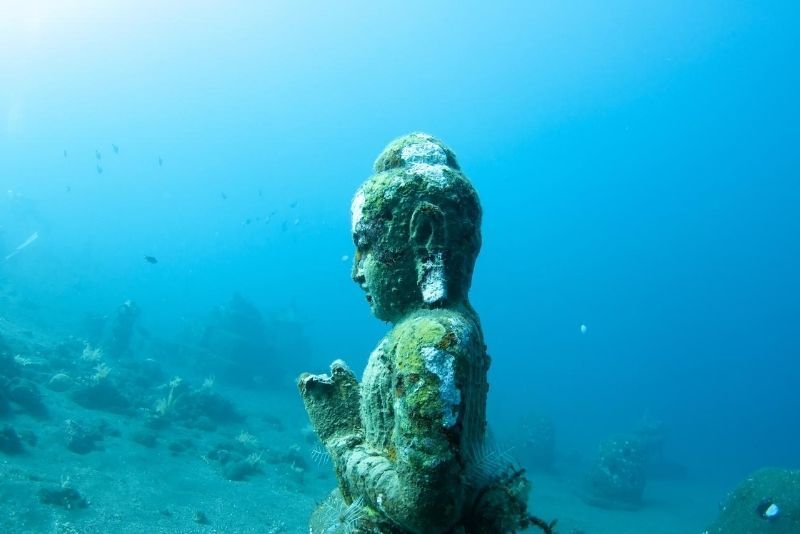 Bali is one of the most accessible places for scuba diving with affordable certification courses and majestic underwater landscapes. This is also one of the few places where you can get scuba training in the ocean instead of in a pool, allowing you to see reefs from the moment you enter the ocean.
Scuba diving in Bali is great for people of all experience levels and there are tons of dive sites all around. Dive into dramatic shipwrecks in Tulamben or spend your time among giant mantas flying through the water of Nusa Penida.
Expert local guides know all the best spots to find what you are looking for during your diving experience and will be by your side every step of the way.
River rafting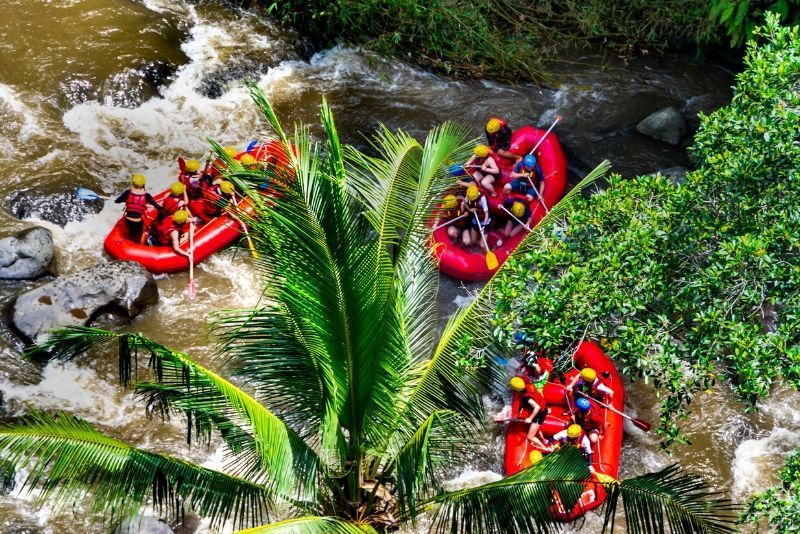 River rafting in Bali might not be the first adrenalin-fueled adventure you might think to do on the island but it more than deserves a spot on your to-do list. Set out for an adventure on the Ayung river, the longest river in Bali, and rip through the tropical rainforest to see the lush greenery from a different angle.
The rushing rapids are usually rated as a class 2 but during the wet season from October to March they can rise to an exhilarating class 4. In case you are already experienced in river rafting and would like to try more challenging rapids you can take a look into Telaga Waja river rafting tours.
This unforgettable ride can cost as little as US$30 per person along with a scrumptious Balinese lunch so you won't break the bank to get your adrenaline fix.
Quad adventures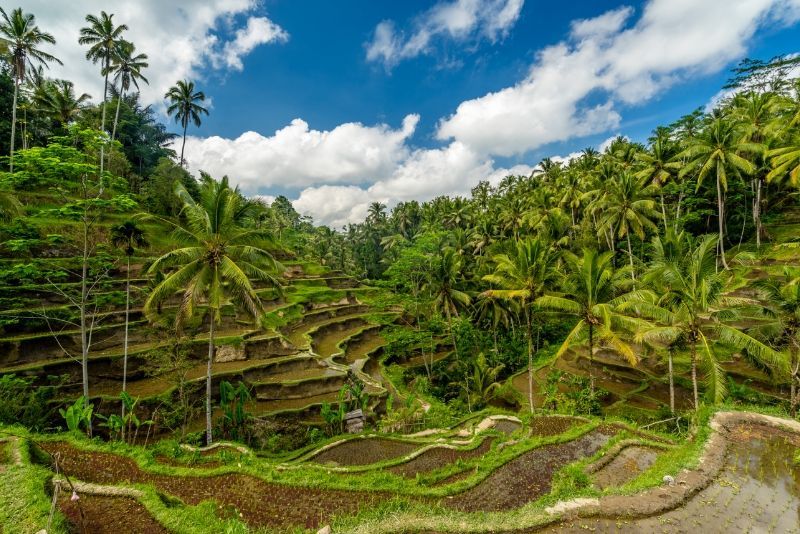 The roar of ATVs is sure to get your heart racing as you make your way through the heart of Bali. On a quad tour you will cruise past rice paddies and rural villages and make your way through the dense jungle trails of Ubud to see some of the less accessible areas of the island.
Drive in the hills of Kayu Pandak and tackle the challenging Devil's rock before racing a few laps at The Green Circuit so truly get your heart racing. An ATV tour in Bali takes you off the beaten track and deep into the rugged central jungles of the island, the perfect adventure activity.
Surfing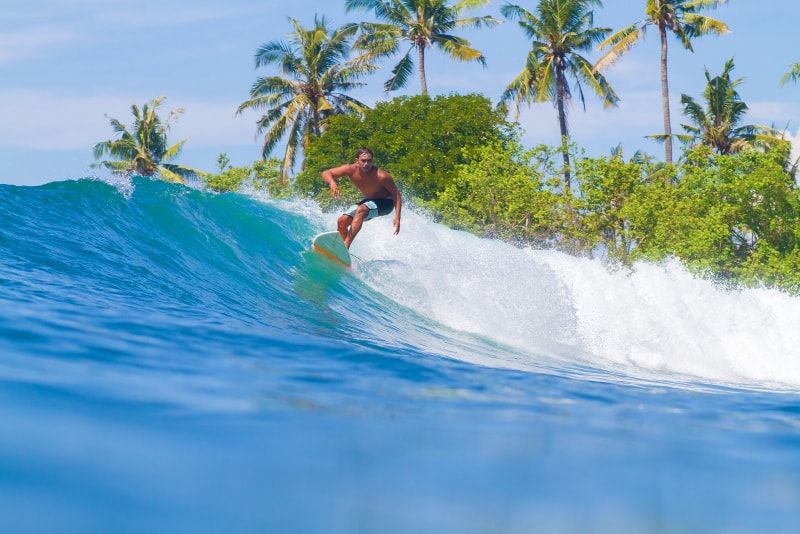 Bali is widely known as one of the best surfing destinations in the world so why not see if you can hang ten with a professional surfing lesson? Surfing in Bali is perfect for beginners as you will have your pick of beaches with a good swell and intermediate surfers can sharpen up their technique with the help of professional coaches.
Lessons in Canggu and Kuta are among the most popular as you can follow up your lesson with a leisurely day on the beach or a visit to the vibey beach-side restaurants. Learn to paddle and perfect your surf stance before hitting the waves and putting your pop-up technique to the test.
Boat cruises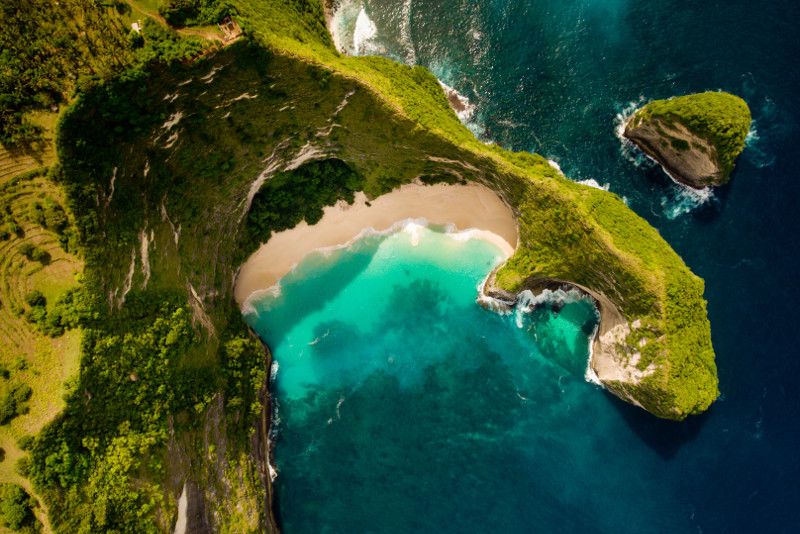 With a vast crystal clear ocean as far as the eye can see, Bali is the place to take a boat cruise and make some lasting memories. Hop onboard a luxury yacht and set off to one of the picturesque islands around Bali.
Both Nusa Penida and Nusa Lembongan are lively playgrounds for water enthusiasts with snorkeling, kayaking, banana boats and more on offer.
You can also opt for a more relaxed experience aboard an elegant catamaran. Lunge on the sun deck, enjoy a buffet lunch and snorkel in the tropical water around the island for the ultimate luxury boat trip in Bali.
Jeep tours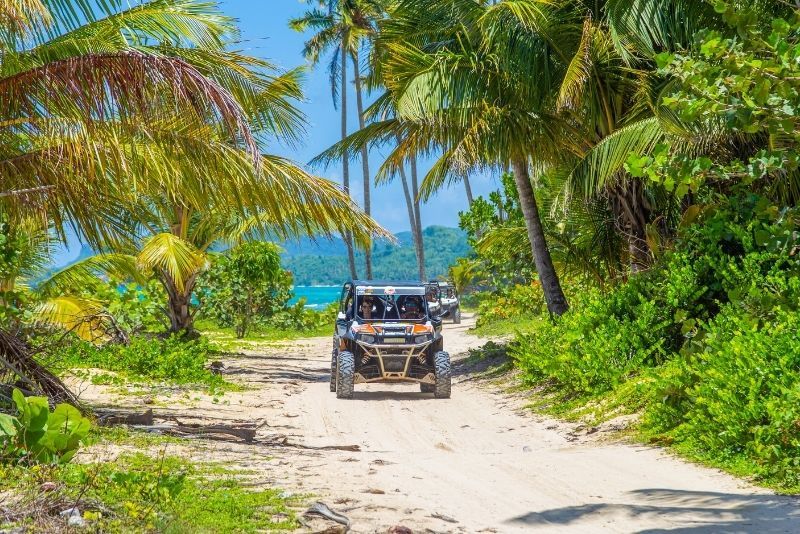 If you want to explore the volcanic landscape of Bali but breaking a sweat isn't your style, opt for an exclusive Jeep safari. You will be driven around the karst planes of Mount Batur, learning about the ever-changing environment and visit relaxing hot springs to soak away your troubles.
You can also combine a jeep tour with a visit to a coffee plantation, a stop at Ubud's iconic jungle swings or a cruise through Jatiluwih Rice Terraces to make the most of your trip. A jeep tour in Bali offers hours of adventure with the least amount of effort.