New Zealand's South Island gets most of the attention; but there's no shortage of spectacular attractions on its northern counterpart — case in point, remarkable Rotorua.
Renowned for its Māori culture, adrenaline-fueled activities, wellness therapies and mesmerizing geothermal wonders. Plan a day trip to Rotorua from Auckland if you're looking to explore the wonders of the North Island.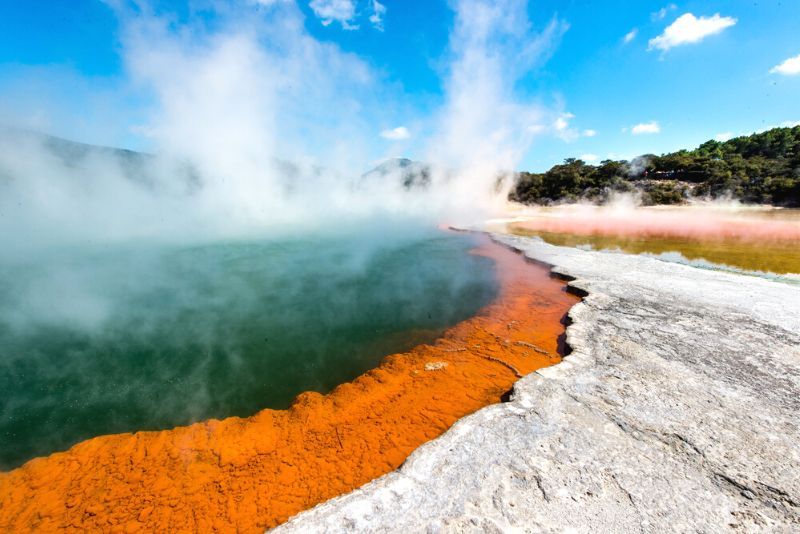 Here's all yoou need to know about Rotorua, one of most exciting options for day trips from Auckland.
How to get to Rotorua from Auckland?
Rotorua is located around 200 kilometers (125 miles) south of Auckland, in the heart of New Zealand's northern island. It sits at the southwestern end of Lake Rotorua and acts as the gateway to several central destinations on the island.
From Auckland to Rotorua by car
To reach Rotorua from Auckland by car, take State Highway One South. You'll pass through several small towns along the way and will be able to enjoy some of New Zealand's most spectacular views.
The entire journey takes around 2.5 hours, depending on traffic.
From Auckland to  Rotorua by bus
Getting to Rotorua by public transport is easy and convenient. Buses run daily from Auckland, with several companies offering a range of services.
The Auckland - Central - Rotorua or Auckland - Central - Gisborne routes stop in Rotorua, with journeys taking approximately 4 hours including stops.
Guided tour to Rotorua From Auckland
The easiest way to experience Rotorua on a day trip is by taking a guided tour. These tours usually depart Auckland in the morning and return in the evening, with stops at all the most popular attractions along the way.
You'll be picked up directly from your hotel on most Rotorua day trips.
What is the typical itinerary?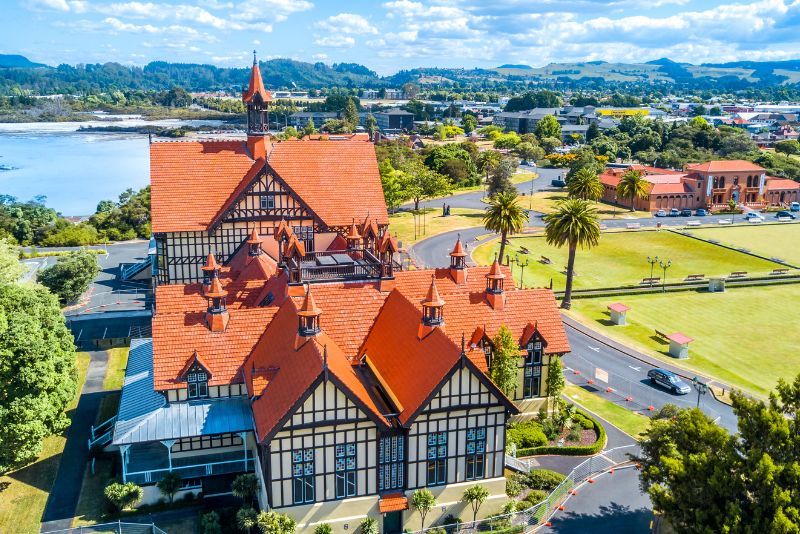 The typical Rotorua day trip itinerary starts with convenient hotel pickup before heading south through the stunning Waikato countryside toward the city.
After passing through towns like Tirau you'll arrive in Rotorua, where you'll be able to explore the city's geothermal wonders.
You'll most likely visit Te Puia — home of the famous Pohutu Geyser and Maori Arts and Crafts Institute — as well as the Wai-O-Tapu Thermal Wonderland and Rainbow Springs Wildlife Park.
You can also take a dip in the rejuvenating hot springs of the Polynesian Spa or explore Rotorua's city center — home of the Rotorua Museum and Government Gardens — and learn more about its Māori culture.
After all that, you'll be taken back to your hotel in Auckland at around dinnertime.
Throughout the day tour, your friendly guide will be on hand to answer any questions you may have about the geology, culture and history of the region, and to provide additional information about the attractions you visit.
What kinds of tours are available to go to Rotorua?
There are several amazing Rotorua day tours available, so it's easy to find one that suits your interests and budget.
Whether you're looking for an adrenaline-filled adventure or a relaxing thermal experience; public or private, there's something for everyone.
Guided tours to Rotorua From Auckland
This tour is the most popular and most budget-friendly. You'll be picked up from your hotel in the morning and driven to Rotorua alongside other travelers, with stops at popular attractions along the way.
The tour usually includes Te Puia, Wai-O-Tapu Thermal Wonderland and Rainbow Springs Wildlife Park, to name a few of the stops.
Private tour to Rotorua From Auckland
Suited to couples, families and small groups who want a more personalized experience, private tours to Rotorua offer a more flexible itinerary.
You'll be picked up from your hotel in the morning and driven to Rotorua by your own guide who will help you customize the day according to your interests.
2-Day tour to Rotorua From Auckland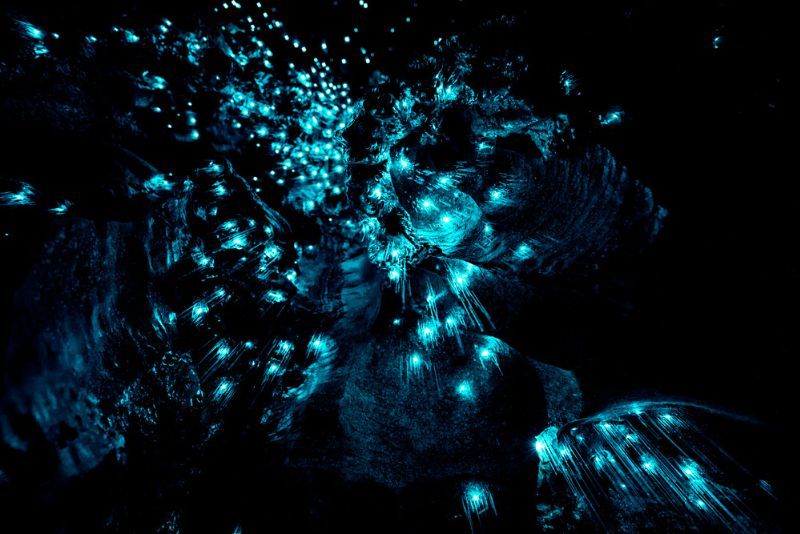 For those who want to explore Rotorua in more depth, there are several 2-day tours available.
These longer excursions include stops at popular Rotorua attractions as well as places such as the Waitomo Glowworm Caves, Whakarewarewa Maori Village and Rotorua Canopy – which can't be all done on a single-day trip.
They also feature overnight stays in Rotorua so you can experience the city's nightlife.
Day trip to Rotorua plus Hobbiton From Auckland
In addition to exploring Rotorua, you can also take a special combo tour which includes visiting the Hobbiton movie set.
This day trip is perfect for any Lord of The Rings fans, as it not only allows you to explore Rotorua's geothermal wonders but also visit the famous film set and learn more about the making of the movies.
Day tour to Rotorua plus Hobbiton and Waitomo From Auckland
This option is the ultimate experience for anyone looking to get the most out of their Rotorua day trip from Aukland. It includes visits to both the Hobbiton movie set and the Waitomo Glowworm Caves.
The caves are famous for their glowworms, which light up the cave in a mesmerizing neon blue display.
How much does a day trip to Rotorua From Auckland cost?
The price of a day trip to Rotorua from Auckland varies depending on the type of tour you choose, but starts at around US$150.
Generally, small group guided tours range from US$150-US$230 per person while private tours typically cost around US$400-$600 per person.
2-day trips are usually priced between US$650-US$900, including accommodation; and combo tours featuring Hobbiton and/or Waitomo Glowworm Caves hover between US$200-US$300 per person.
What will you see and do?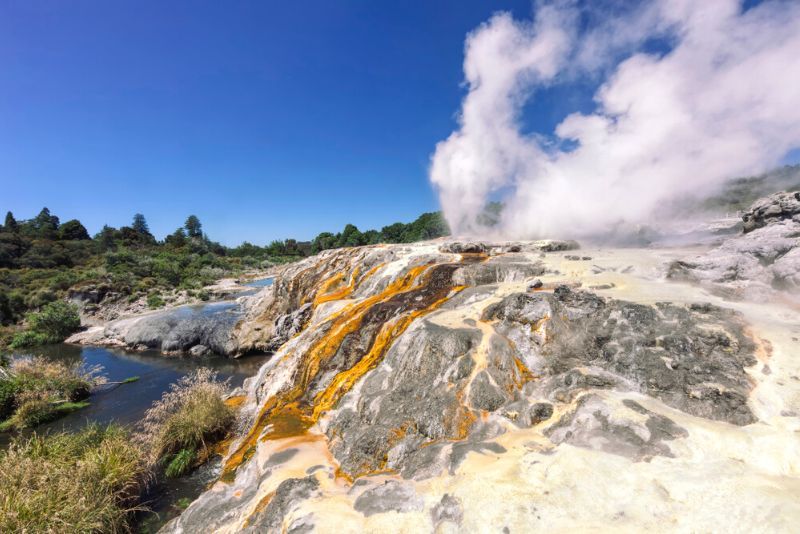 On a day trip to Rotorua from Auckland, you'll get the chance to explore some of New Zealand's most incredible natural attractions.
You may visit Te Puia, a geothermal park where bubbling mud pools and geysers are set against an awe-inspiring backdrop of native bushland.
Alternatively, you could take a walk through Wai-O-Tapu Thermal Wonderland and admire its surreal landscape of boiling water, steaming vents, bubbling mud pools and terraces of multicolored silica.
Other popular sites include the spinning Rainbow Springs Wildlife Park, where you can see native New Zealand species such as tuatara lizards; or journey to the Waitomo Glowworm Caves, home to an ethereal natural phenomenon of glowworms that light up the dark underground caverns.
And if you're a Lord of The Rings fan, don't miss out on a visit to the Hobbiton movie set – an iconic and immersive experience for any film buff!
Around the town of Rotorua, you'll likely visit some of the region's Maori cultural sites for a glimpse into traditional customs.
You can also explore the town's stunning lakes and gardens — such as Lake Rotorua — soak in some of Rotorua's natural hot springs, wander through the Whakarewarewa Forest or sample local cuisine at one of the city's many restaurants.
When is the best time to visit Rotorua?
The best time to visit Rotorua is in the summer months, from November through April. Temperatures are warmer during this period, making it ideal for outdoor activities such as hiking or exploring nature. Plus, the days are longer.
Travel tips
Bring layers of clothing when visiting Rotorua, as the weather can change quickly from hot and sunny to chilly and damp.
Make sure you wear comfortable shoes for any walking tours or outdoor activities.
Book your tour online and in advance to ensure you get the best value for money.
Finally, don't forget your camera! You'll want to take plenty of photos of the stunning scenery and cultural attractions that make up this special part of New Zealand.