A paradise for surf, sand and sun, Piha is an iconic beach destination just 45 minutes from Auckland. Home to the famous Lion Rock, Piha is a haven for surfers, sunbathers and nature lovers alike.
With its rugged coastline, picturesque black-sand beaches and untamed native bush, there is plenty to enjoy on a day trip to Piha from Auckland!
Offering a relaxed and vibrant atmosphere, this coastal village serves as the perfect spot to take in some of New Zealand's most stunning scenery — making it a quintessential Auckland day trip option.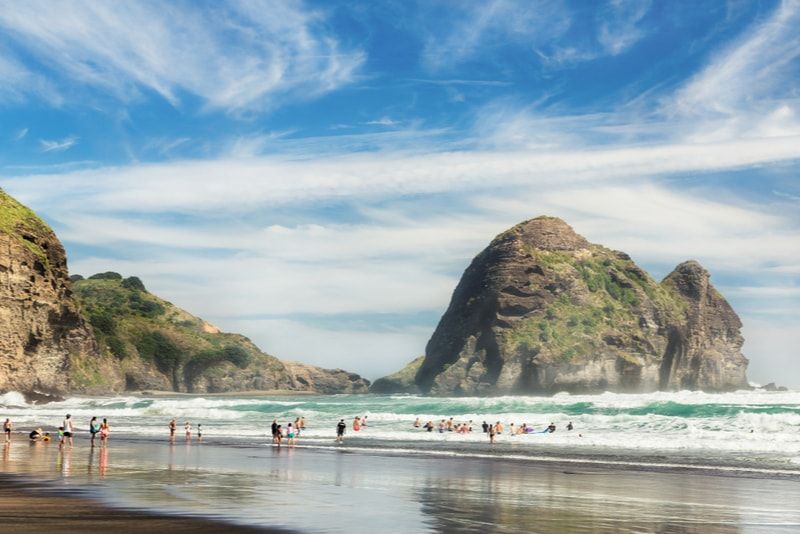 Here's all you need to know about Piha, one of the most exciting day trips from Auckland.
How to get to Piha From Auckland?
Piha is located on the western coast of the Auckland Region on New Zealand's North Island, flanked by the Waitakere Ranges Regional Park. It's an easy 45-minute journey — around 40 kilometers or 25 miles — from Auckland, making it a great option for an Auckland day trip getaway.
From Auckland to Piha by car
There are several routes to Piha by car, all of which involve driving west out of Auckland and through the Waitakere Ranges Regional Park. The fastest route uses State Highway 16 and Route 13, but arguably the most scenic is Piha Road. All routes take between 45 minutes and 1 hour.
From Auckland to the Piha by public transport
Unfortunately, there is no direct transport system from Auckland to Piha. However, you can take the train to Henderson Station, Glen Eden station, or Swanson Train Station and then take the taxi to Piha.
Guided tour to the Piha From Auckland
The most popular and most convenient way to explore Piha is through a guided tour. There are many operators who offer tours from Auckland to the beach, taking you directly there from your hotel and giving you plenty of time to enjoy the sights and activities at your leisure. Guided day tours from Auckland to Piha usually last between 5 and 7 hours.
What is the typical itinerary?
Day tours from Auckland to Piha typically start at around mid-morning, with convenient pickup departing from either the city center or your hotel. From there, you will make your way to Piha via car or air-conditioned minibus, taking in the sights of the beautiful Waitakere Ranges Regional Park along the way.
Once arrived at Piha Beach, you'll have plenty of time to explore the rugged coastline, picturesque black-sand beaches and stunning native bush. Depending on your tour type, duration and interests, you may have the chance to go swimming in the ocean or take a hiking tour along one of Piha's beautiful nature trails.
You can also enjoy some bird watching at the rare Muriwai Gannet Colony, soak up the views of Lion Rock, or have a meal and glass of wine at Kumeu, home to several world-famous wineries.
Throughout the day, you'll be joined by a knowledgeable guide who will provide interesting facts and stories about the local landscape, as well as answer any questions you may have. At the end of your tour, you'll be returned directly to your hotel in Auckland.
What kinds of tours are available to go to Piha?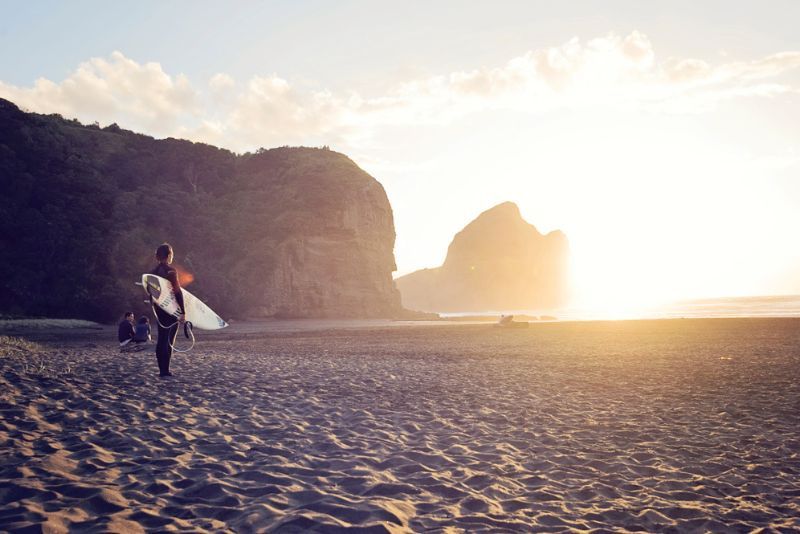 Guided tours to Piha from Auckland – beaches and rainforests
This is the most common tour type, where you can enjoy your own shared day tour led by a knowledgeable guide. These usually last 5 to 7 hours, with convenient pickup departing from Auckland. Following a pre-determined itinerary, you'll visit places like rainforest trails, black sand beaches, wineries, lookouts and the Arataki Visitor Centre.
Shuttle transfer without guide to Piha from Auckland
Suited to those with a more independent spirit, shuttle transfers are available from Auckland directly to the beach. You'll be dropped off and picked up at your chosen destinations, but you'll have plenty of time to explore on your own.
Some travelers choose to combine shuttle transfers with Piha surfing lessons or stargazing tours.
Private tour to Piha from Auckland
Ideal for couples, families or small groups of friends, private day tours from Auckland to Piha offer a more personalized experience. With your own guide and vehicle at your disposal, you can create a custom itinerary that suits your interests, while also having plenty of time to relax in the beautiful surroundings.
Day trip to the Piha plus the Karekare rainforest from Auckland
Famous for its wineries, Karekare is the perfect spot to enjoy a day trip from Auckland. This tour combines the best of Piha and Karekare, including stops at its iconic beaches, waterfalls and rainforest trails.
You'll also have time to taste the region's most notable wines, as well as learn more about the Maori culture and history.
3-day surfing tour to Piha from Auckland
For those seeking adventure, a three-day surfing tour to Piha is the perfect way to experience the region. Your guides will show you all that this wild landscape has to offer, while teaching you how to surf at one of New Zealand's most stunning beaches.
Every day features around 3 hours of guided surf lessons, with equipment, photos accommodation and return Auckland transport included.
How much does a day trip to Piha From Auckland cost?
The price of a Piha tour from Auckland starts at around US$40, but largely depends on the type of tour you choose. The cheapest option is a shuttle transfer, for around US$25 per person.
Small group guided tours range from US$40-US$130 while private tours cost around US$500 per group of up to two people.
Day trips that combine Piha with nearby Karekare cost around US$190 per person and 3-day surf tours cost around $280, inclusive of transport and accommodation.
What will you see and do?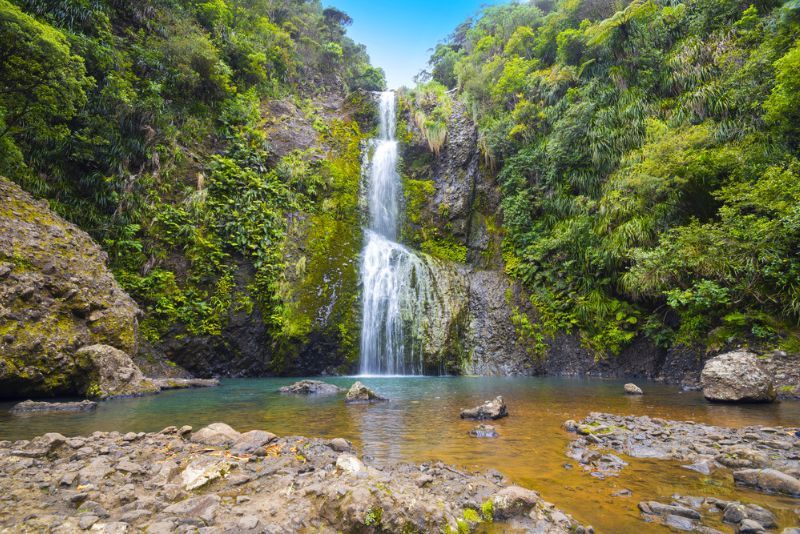 Piha Beach
Famous for its black sand, Piha Beach is a must-see for anyone visiting the Waitakere Ranges Regional Park. The beach is largely unspoiled, with rugged, wild beauty and vast ocean views. You can take part in different activities such as surfing, swimming or simply relaxing on the sand.
Lion Rock
Located on the south end of Piha beach, Lion Rock is a distinctive basaltic rock formation that resembles a lion's head. The surrounding area offers stunning views of the beach and ocean, as well as plenty of opportunities for photo-taking.
Waitakere Ranges Regional Park
The Waitakere Ranges Regional Park is a vast stretch of native forest and parkland that covers the western part of Auckland, spanning nearly 16,000 hectares. It's home to many rare species, with visitors able to take part in activities such as bush walking, bird-watching and mountain biking.
The Arataki Visitor Center within the park also offers educational and cultural programs for visitors.
Karekare region wineries
Karekare is a small township located just north of Piha. It's home to several vineyards and wineries, offering visitors the chance to sample some of New Zealand's most renowned reds, whites and sparklings.
When is the best time to visit Piha?
The best time to visit Piha would be during the summer months, between December and March. This is when temperatures are at their highest and the days are long, with plenty of sunshine for beach trips and other outdoor activities.
Travel tips
Bring a change of clothes and plenty of sunscreen for your day trip to Piha.
The sun can get quite strong during the summer months, so wear a hat and sunglasses to protect yourself from UV radiation.
While some day tours include lunch and snacks, it doesn't hurt to bring a picnic lunch or snacks with you in case you get hungry.
Book your tour online and in advance to ensure you get the best deal and your spot is secure.