A trip to Auckland isn't complete without a visit to Hobbiton, one of the major film sets from the popular "Lord of the Rings" and "The Hobbit" trilogies. Book a Hobbiton day trip and travel through lush countryside to the 12-acre set.
Experience a guided walking tour of the Shire past hobbit holes, the Old Mill, the Stony Bridge and the famous Green Dragon Inn.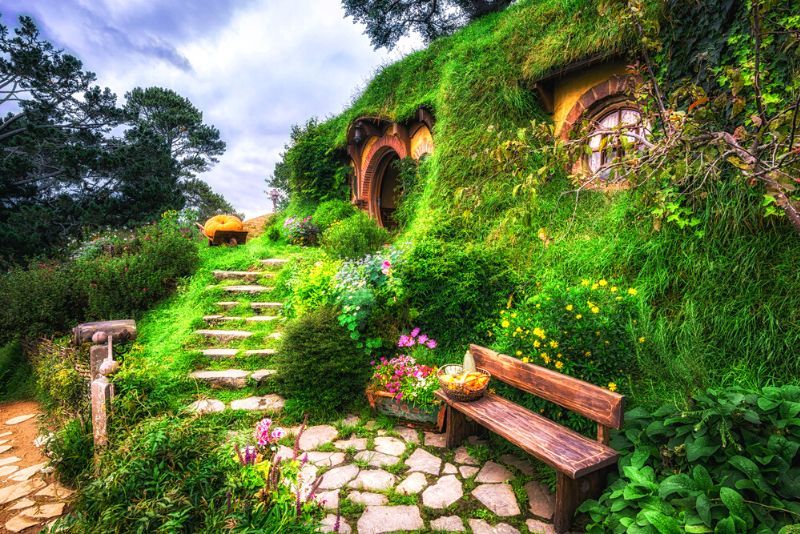 How to get to Hobbiton from Auckland?
Hobbiton is located about 10 kilometers southwest of the town of Matamata on the North Island of New Zealand in the heart of the Waikato region.
From Auckland to Hobbiton by car
Hobbiton is 170 kilometers south of Auckland. It takes around two hours to get there by car. Head south on Highway 1 until just before Hamilton. Follow Highway 1B until Morrinsville from where it is only a quick drive to the movie set.
From Auckland to Hobbiton by public transport
It is possible to get from Auckland to Hobbiton by public transport although it may take some time. Take the train from Britomart Train Station in Auckland to Papakura, which is a 50-minute journey.
Then change at Papakura station and begin the journey to Hamilton Frankton station which will take approximately one hour and 40 minutes. After that, you'll have a taxi journey of 50 minutes to the Hobbiton Movie Set.
Another option is to go by bus. The journey from Auckland Central bus station to Matamata takes around 3.5 hours. Then take a taxi for 30 minutes to Hobbiton. There is also the option of taking a night bus.
The journey from Auckland Central bus station to Cambridge takes just over two hours. Then you'll have to factor in a 30-minute taxi journey to Hobbiton.
Guided tour to Hobbiton from Auckland
Many tourists traveling around New Zealand decide to go on a guided tour from Auckland to Hobbiton. You'll get to spend the day with a group of like-minded travelers and enjoy convenient and comfortable transport. You'll be picked up at your hotel in the morning and dropped back there at the end of the day.
How much does the entrance ticket to Hobbiton cost?
Adults (17 and over): NZ$89 (US$55)
Children (9 to 16): NZ$44 (US$27)
Children under 8: free
Family pass (two adults and two youths): NZ$225 (US$140)
NZ Gold Card holder: NZ$79 (US$49)
What is the typical itinerary of a day tour to Hobbiton from Auckland?
Most Hobbiton day tours include hotel pickup and drop-off, often in a luxury van which sometimes even has Wi-Fi. Many Hobbiton day trips include scenic stop-offs for photographs en route to the Waikato region, which boasts some of the best scenery that New Zealand has to offer.
Expect an early start, as many Hobbiton day tours leave Auckland at around 6:30 AM. The two-hour Hobbiton journey at the movie set will start around 9:30 AM and finish at 11:30 AM, which includes a 30-minute guided walking tour.
Many Hobbiton day tours start with time in the gift shop and an opportunity to grab a drink or food in the Shire's Rest Cafe before the walking tour starts.
After experiencing the delights of Hobbiton, stop for lunch in the Green Dragon Inn, which has great views of the site. Then enjoy more scenic views on the return journey to Auckland. Expect to get back to Auckland from your Hobbiton jaunt at around 2:30 PM.
What kinds of tours are available to go to Hobbiton?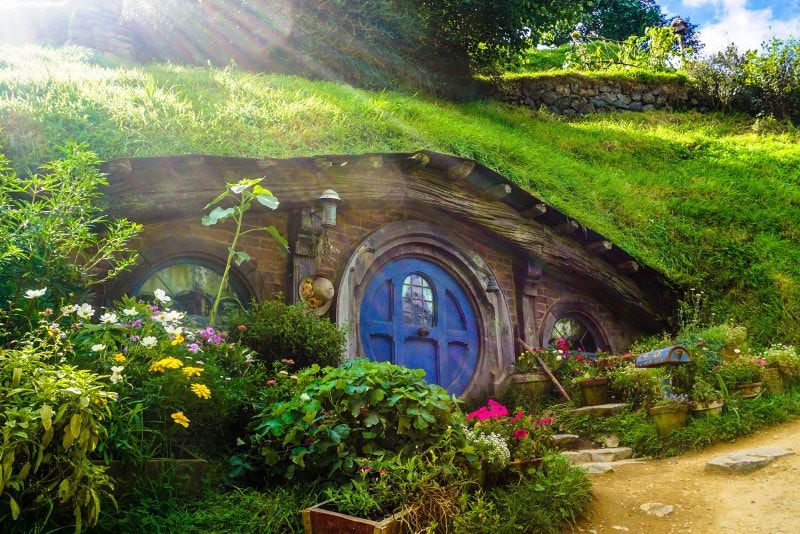 Hobbiton day trip from Auckland
This Hobbiton day trip leaves early but returns to Auckland mid-afternoon, leaving more time for sightseeing. Pickup is between 6 AM and 6:30 AM, and includes luxury transport to Hobbiton and a two-hour tour of the 12-acre Hobbiton site, including a 30-minute guided tour.
Hobbiton day tour plus Waitomo Caves from Auckland
This Hobbiton journey includes two of the most famous sites on the North Island, as well as a scenic journey through the mountains of the Kaimai Range. It includes a two-hour tour of Hobbiton plus a tour of the Waitomo Caves, which are famously lit by thousands of glowworms.
Hobbiton excursion plus Rotorua tour with lunch at Te Puia Maori Village
This Hobbiton and Rotorua day trip includes the two-hour Hobbiton tour and complimentary drink in the Green Dragon Inn. You'll also enjoy a trip to the colorful mud pools and hot springs of Rotorua. Learn about Maori culture with a visit to a local village, and enjoy a Hangi lunch featuring traditional Maori food.
Hobbiton excursion plus cave rafting day trip from Auckland
This Hobbiton and rafting jaunt includes a two-hour walking tour of the Hobbiton set and a complimentary drink at the Green Dragon Inn. Then travel to the Waitomo Caves for the three-hour Black Labyrinth tour, an adrenalin-pumping experience featuring cave tubing and river caving.
Relax afterward by floating through a glowworm grotto.
How much does a tour to Hobbiton from Auckland cost?
Expect an eight-hour Hobbiton day tour from Auckland to cost around US$160. This includes the Hobbiton Movie Set tour price of US$89.
A luxury Hobbiton journey from Auckland costs around US$330 which includes transport in a luxury car or van and hotel pickup.
Hobbiton day tours, which include two or more sites generally last longer and include multiple entry fees. Expect multi-site tours, including a Hobbiton jaunt, to cost in the range of US$300 to US$500.
What will you see and do in Hobbiton?
The Shire's Rest
As well as being the departure point for the tours, the Shire's Rest is home to the ticketing center, retail shop and cafe. All entrants need to check in at the ticketing center to receive their tour tickets. Check-in is at least 15 minutes before the departure time.

The Shire's Rest Cafe offers home-cooked food with views of the rolling hills. The menu includes dishes such as a country breakfast, fish and chips, and pizzas.
Hobbit holes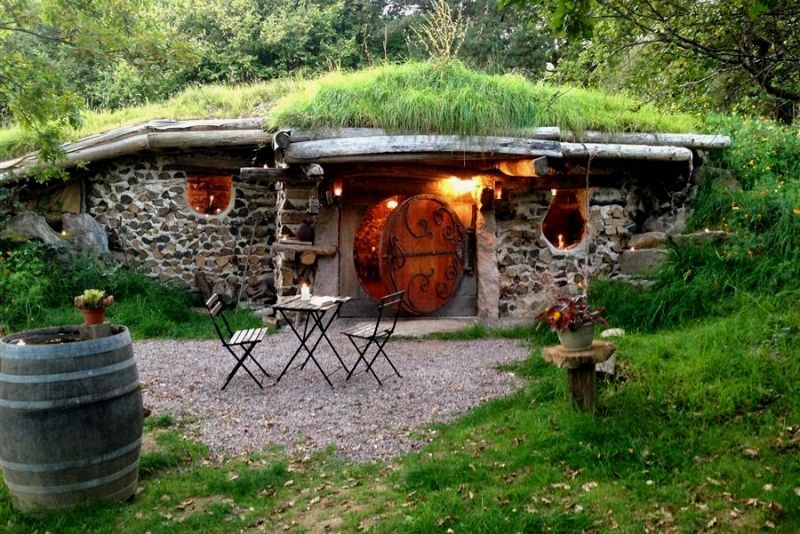 Make sure you take time to take photos with the hobbit holes, which are all different shapes, colors and sizes. Do not miss the most famous hobbit hole belonging to Bilbo Baggins which was featured heavily in several of the movies. Nearby, you can keep an eye out for the Old Mill and the double-arched bridge.
Expect between 10 and 30 people joining you on the walking tour if you booked one. The tour guides like to test the tour participants' knowledge with all sorts of "Lord of the Rings" questions.
The Green Dragon Inn
After the tour, you can enjoy a complimentary drink at the Green Dragon Inn, where the hobbits would congregate to chat about their day. This pub has been fully reconstructed to appear as it did in the films and a drink here is the ultimate experience for any fan of the series.
Visitors can choose between two traditional ales, an apple cider or non-alcoholic ginger beer. Food is also available here, including pies, scones, muffins and sandwiches. Enjoy your food and drinks by the roaring fire or in the beer garden overlooking the enchanting village.
The Hobbiton gift shop
Don't forget to buy some souvenirs in the Hobbiton gift shop where you can find everything from Gandalf's hat to an elven brooch. The store also sells a range of products, including location guidebooks, Tolkein books and branded clothing.
What are the opening times?
The Hobbiton Movie Set is open from 9 AM to 5 PM daily, seven days a week.
When is the best time to visit Hobbiton?
The best time for your Hobbiton jaunt is on the first tour of the day, as the set is much less crowded. Make sure to arrive early if you want to take photos and enjoy a peaceful experience.
The best time of year for a Hobbiton day trip is spring, as the gardens are in bloom and the weather is generally good in this part of New Zealand. Summer, which takes place between December and February, is the most popular time for visitors and when it gets the most crowded.
The weather will be warm and you'll have a good chance of sunny days.
Travel tips
Book Hobbiton day tour tickets in advance, especially in peak tourist season which is October to March. Popular tour times can sell out fast.
Wear comfortable walking shoes, as the trip includes a two-hour walking tour. You'll be on your feet all day.
If visiting in the summer, wear sunscreen and a hat, as it can get quite hot. If visiting in autumn, winter or spring, bring a rainproof outer layer and appropriate shoes, as it can get muddy.
Make sure your phone is charged, as there are a lot of photo opportunities. If you have one, bring your camera.