Aside from being Greece's largest city, Athens is also the country's tourism capital. You can never run out of things to see and learn about in the capital. The city offers everything from historical and cultural sites to iconic neighborhoods and delicious food.
Athens is a popular stop on many passenger cruises, providing thousands of visitors a few hours to explore all the city has to offer.
These tours take you to all the city's major attractions in a condensed time. Shore excursions in Athens allow you to make the most of your time in the city, even if it is just for a few hours!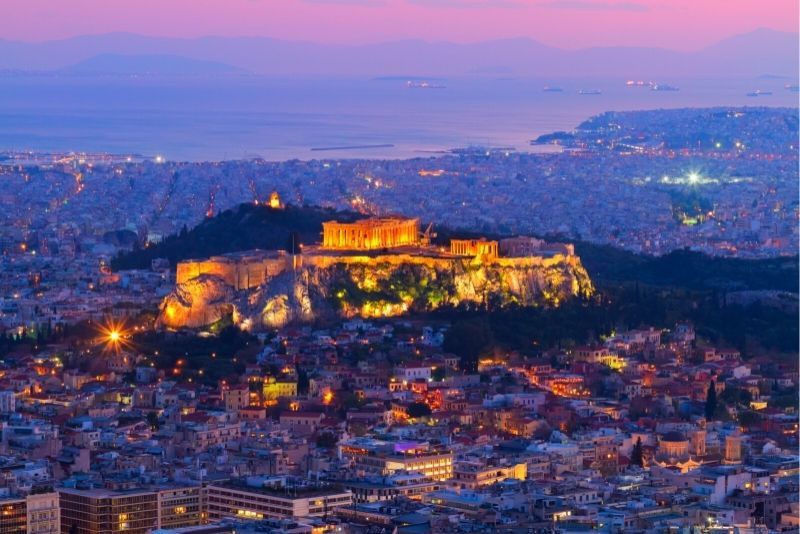 What are the best shore excursions in Athens?
Every minute spent in Athens makes you want to stay even longer. While you can explore the city independently, guided tours take the stress out of planning.
The tours will take you to the most popular attractions in Athens, so you don't have to worry about transportation or travel logistics! Whether you're traveling alone or with a group, you can find a shore excursion that suits your needs.
Athens monuments with street food by electric bike
This half-day Athens shore excursion is the perfect way to see the city up close and personal while stretching your legs on land! A local guide will take you to the most popular attractions in Athens on a bike tour while providing relevant commentary through an earpiece. You will experience the life of a local with lunch at a traditional cafe.
Highlights of Athens private shore excursion
Private shore excursions in Athens are great options for small groups because they are priced per group, not per person. This eight-hour private tour of Athens introduces you to the city's beauty through visits to popular spots such as the Monastiraki flea market, the Acropolis and the lovely Plaka neighborhood.
This Athens shore excursion is an excellent option for visitors in town for only a few hours.
Athens private group shore excursion
This group Athens shore excursion takes you and your friends on a four-hour tour of the city's historic sites, including the Cycladic Museum, Panathenaic Stadium and the Temple of Zeus. You will enjoy skip-the-line services and a tour led by a professional guide.
Cultural tour in Athens and Nemea
This eight-hour tour allows visitors to explore Athens's major historical sites and sample some of the best local wines. Your professional guide will take you to top attractions like the Acropolis, the Parthenon and Corinth Canal. After exploring Athens, you'll make your way to the Nemea wine region to enjoy a local wine tasting.
A combined excursion is the best option if you want to see more of Athens. You can find combo tours that take you to the most popular sites for the price of just one tour.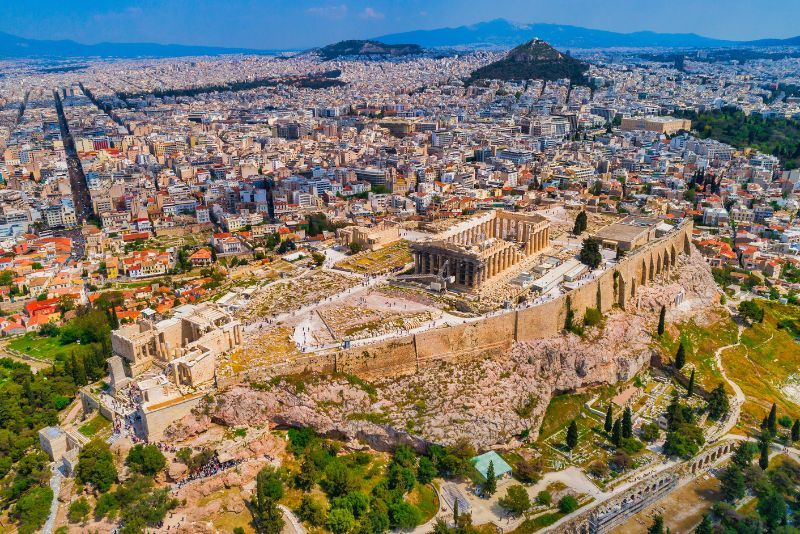 How much do shore excursions in Athens cost?
You can get transportation from Piraeus Port to Athens city center for €20 per person. These bookings do not include city tours, but some excursions allow you to add a city tour for an additional cost.
Athens group shore excursions start at €20 per person. These are a cheap solution if you don't mind joining other travelers on your Athens day tour. These trips allow you access to the Athens hop-on hop-off bus tour for 24 hours.
Private Athens shore excursions cost €120 to €650 per group. They offer greater scheduling flexibility and can be good value for larger groups.
The price for public and private Athens shore excursions also varies based on the duration of the tour.
Half-day Athens shore excursions start at €80 per person for public tours and €120 per person for private tours.
Full-day Athens shore excursions start at €90 per person for public tours and €160 per person for private tours.
What is included in a shore excursion in Athens?
Every shore excursion in Athens provides guests with a unique experience. No matter which tour you book, you can expect them all to include the following:
Visits to the Acropolis and Acropolis Museum
Skip-the-line access to major landmarks
Tour guides
Pick-up and drop-off at the Port of Piraeus
Drinking water
Luxurious, air-conditioned transportation within the city
Where do shore excursions in Athens start?
All of the shore excursion tours start at Piraeus Port. Once your ship arrives at the port in Athens, you can follow the instructions provided by your tour operator to find them.
How long do shore excursions in Athens last?
A shore excursion in Athens can last for as long as you want. Tour operators offer a variety of tours that explore the city in a limited time. Most tours are three to eight hours. You can decide which tour to book according to your schedule and how much time you have in the city.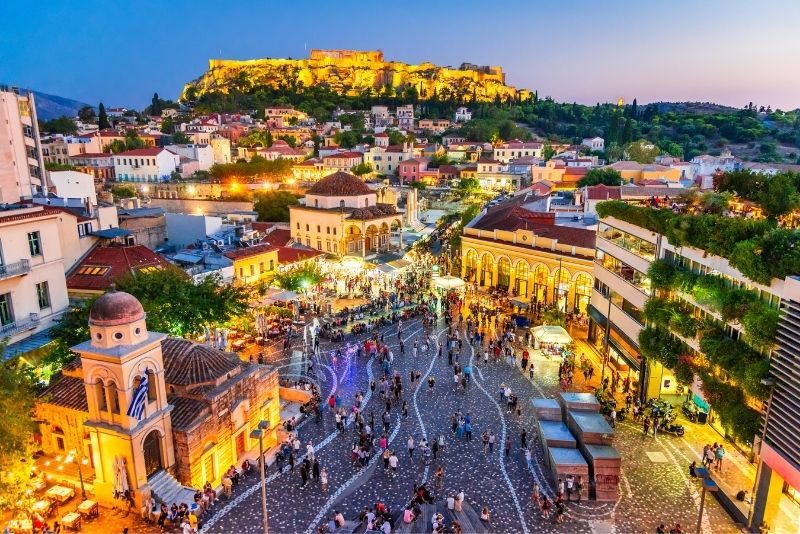 When is the best time for a shore excursion in Athens?
The best seasons for a shore excursion in Athens are from March to May and September to November. The weather is more pleasant, you can expect smaller crowds, and the sun shines frequently.
Most shore boat tours start in the morning and end in the afternoon to ensure you have time to complete the tour during your limited stay in the city. You do not have a lot of flexibility regarding what time of the day you can take a tour, but no matter what time you select, you can't go wrong!
Are there any combos available with shore excursions in Athens?
Combination tours provide you with the experience of multiple tours, but you only have to book once. They can save you money and the trouble of arranging separate tours. Combined tours are ideal for visitors who only have a short stay in Athens. Consider booking one of the following combined shore excursion tours:
Shore excursion and private sightseeing and Acropolis tour: Discover the beauty of Athens with this 12-hour private tour that includes the Acropolis, the Panathenaic Olympic Stadium and Syntagma Square, among other historic Athens sightseeing experiences.

Acropolis, Acropolis Museum and Athens city tour: Get the most bang for your buck on this combo tour! A professional guide will take you to some of the city's top attractions in under six hours. The tour comes with round-trip transportation from the port, a professional guide, a driver, a map, skip-the-line service and a guided tour of the Acropolis.
Are children allowed on a shore excursion in Athens?
Most shore excursion tours in Athens do not have age restrictions. Children of all ages are welcome to participate in a tour of one of the most beautiful places in the world. Adults must accompany children at all times.
Travel tips
Research the weather conditions and forecast for Athens before traveling and pack appropriate clothing.
Stay close to your belongings at the port and be aware of your surroundings.
Don't stray too far from your group when ashore, especially if you're unfamiliar with the area.
It is a good idea to bring cash with you as many people prefer cash payments.