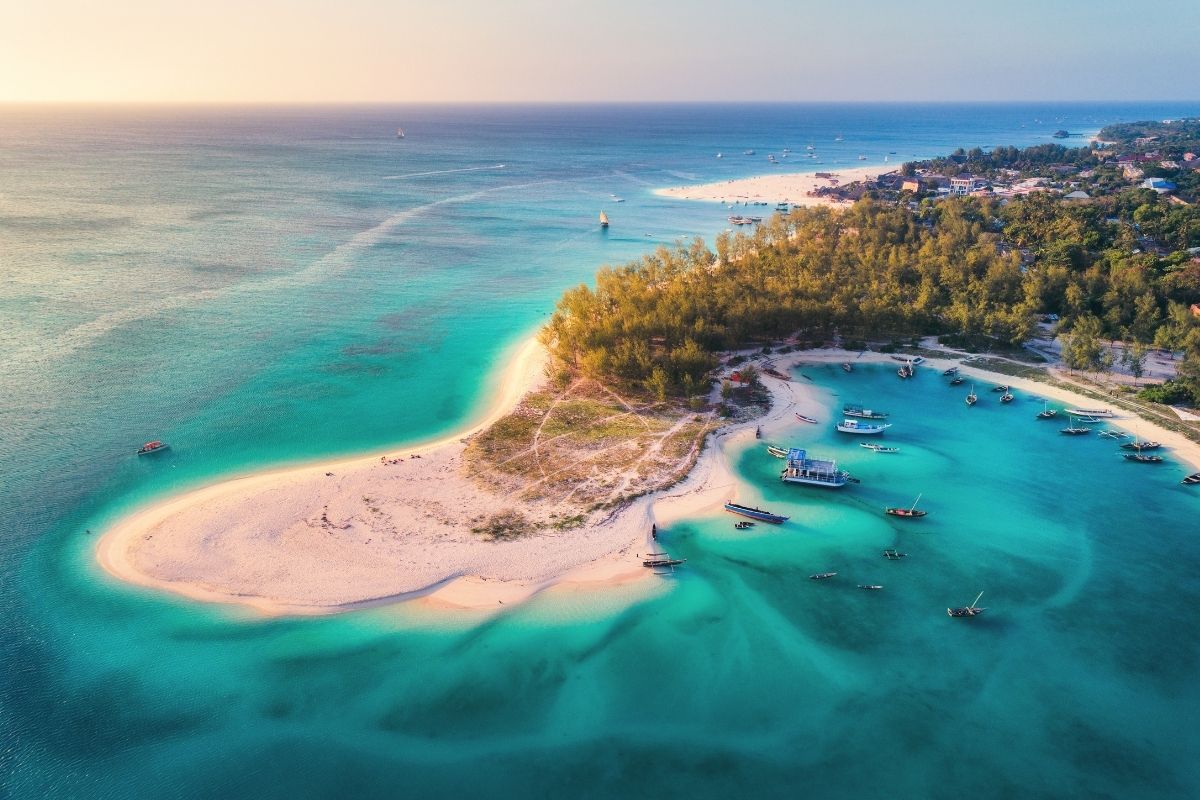 The water is perfectly clear.
The sand is soft and almost unbelievably white.
The buildings look like they've been plucked from another time, and the designs seem to come from every corner of the globe.
You're not in an old-time adventure movie… you're in Zanzibar!
For centuries, this dynamic archipelago has been frequented by traders, sailors, and explorers from all over the world, and you can still see evidence of this in the local culture.
With heavy influences from Europe, Asia, Africa, and the Middle East, it's a wonderful hodgepodge of different foods, architecture, and art.
And in the last few decades, this cosmopolitan atmosphere has been paired with a reputation as one of the best vacation spots in East Africa.
From snorkeling and scuba diving to kitesurfing and jet skiing, this is the perfect spot for some fun in the sun – and when you're done for the day, there are tons of great beaches to relax on.
This Indian Ocean getaway, which is just off the coast of mainland Tanzania, looks like it was lifted straight from a postcard, with its serene shorelines and wonderfully warm weather.
But dig a little deeper, and you'll find an abundance of treasures: buildings influenced by a dozen cultures, vibrant stories and celebrations, and the rich scents of fantastic spices.
Keep exploring, and you might find lush ecosystems, playful monkeys, stately tortoises, and even some of the personal belongings of one of history's most famous musicians.
There's no end to the amazing things to do in Zanzibar… so let's get started!
1 – Embrace the flavors on a spice tour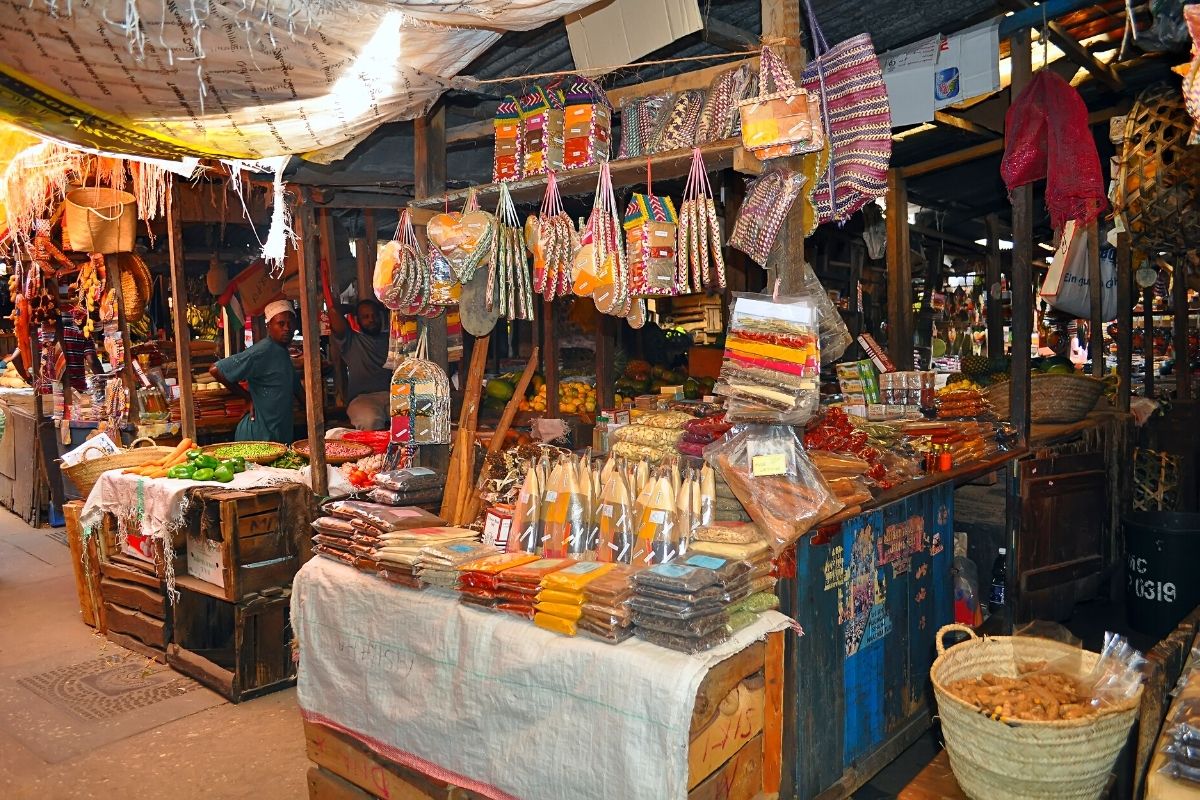 Spices are often the first thing that gets associated with this charming island, and for good reason – they've been here for nearly 1,000 years!
Zanzibar's illustrious trade history mostly revolved around its remarkable local seasonings, including such staples as turmeric, vanilla, nutmeg, and pepper, which were grown and sold by the many different cultures that ruled the area over time.
And you can experience these delicious aromas – and their equally savory stories – for yourself with a spice tour.
Darajani Market – which is located in the middle of Stone Town, the main cultural and tourism hub –  is one of the most famous spots for this activity, with row after row of vendors selling every type of seasoning imaginable, along with meats, fresh produce, and even some electronics.
You can also swing by the Zanzibar Spice Community Shop, which offers both whole and powdered specimens, along with an excellent selection of native fruit seeds.
And if you want to see where it all starts, take a trip to some of the nearby growing areas, and see the literal roots of the industry.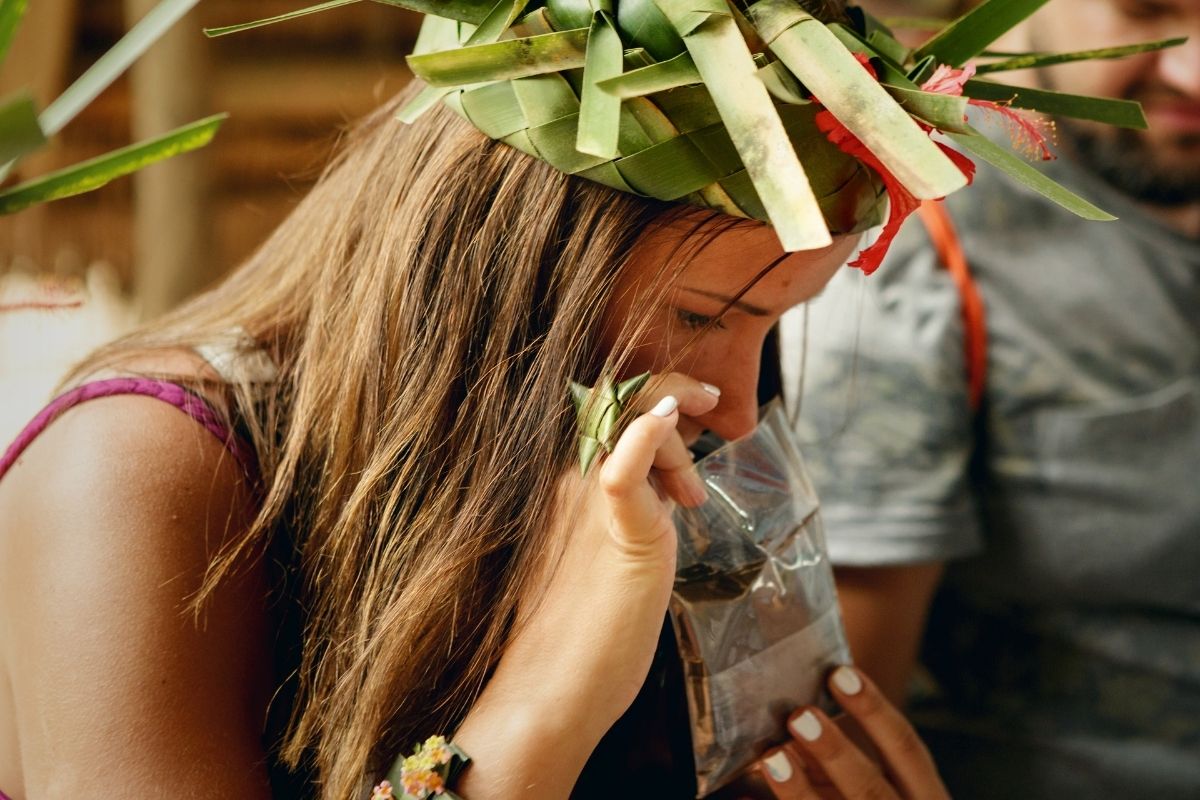 At Jambo Spice Farm, you can learn about the seasonings firsthand as they get incorporated into delicious local dishes.
While at Siso Spice Farm, the focus is more on the Indigenous cultures, and their relationship to the different crops.
And at Tangawizi Spice Farm, you can combine your tour with other adventures such as henna painting sessions or cooking classes, all while learning about the different spices and fruits – and even sampling a few!
And if all of this leaves you wanting more, there are some fantastic food tours where you can learn even more about these marvelous seasonings and their many uses.
You'll never see your spice rack the same way again!
2 – Visit the House of Wonders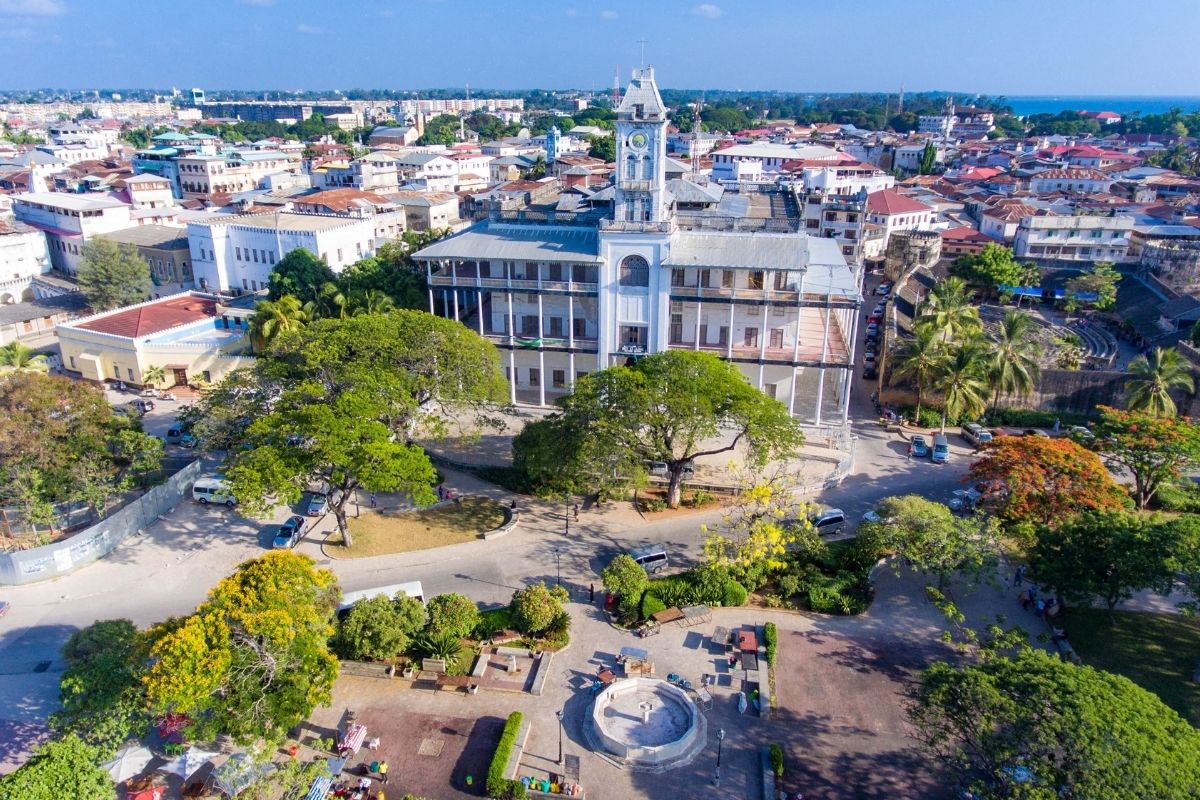 As you embark on one of the many excellent walking tours in Zanzibar , you'll pass a pretty remarkable structure.
Fittingly, it's called the House of Wonders, and it has a history as distinguished as its title.
Constructed in 1883 for the Omani sultan who ruled the region at the time, it was known as much for its technological marvels as its beautiful designs.
The building featured the first elevator in East Africa, and was also the first building in Zanzibar to have electricity!
Its architecture is also a crash course in local history, with a unique blend of standard materials like iron and concrete, and local elements like mangrove and coral.
Although there has been significant structural damage to the building in recent years, repair efforts are underway, paying tribute to the original fascinating and opulent structure.
You can visit this site on your own, but it's well worth seeing it with one of the many excellent Stone Town tours, so you can get more context for its role in city life.
These excursions also stop at many of the area's top attractions, including the Anglican Cathedral (see #18), the Hamamni Persian Baths (see #31), and the Freddie Mercury Museum (see #38).
You'll also have plenty of time to explore the streets and open-air markets, and even take a look at the area's famous doors – yes, you read that correctly!
Boasting a variety of unique decorations and color schemes, these entryways are a vital part of the city's story, and they've also become popular Instagram backgrounds.
Whether you're checking out the buildings, snapping photos, or both, these tours are not to be missed!
3 – Embark on a Dhow cruise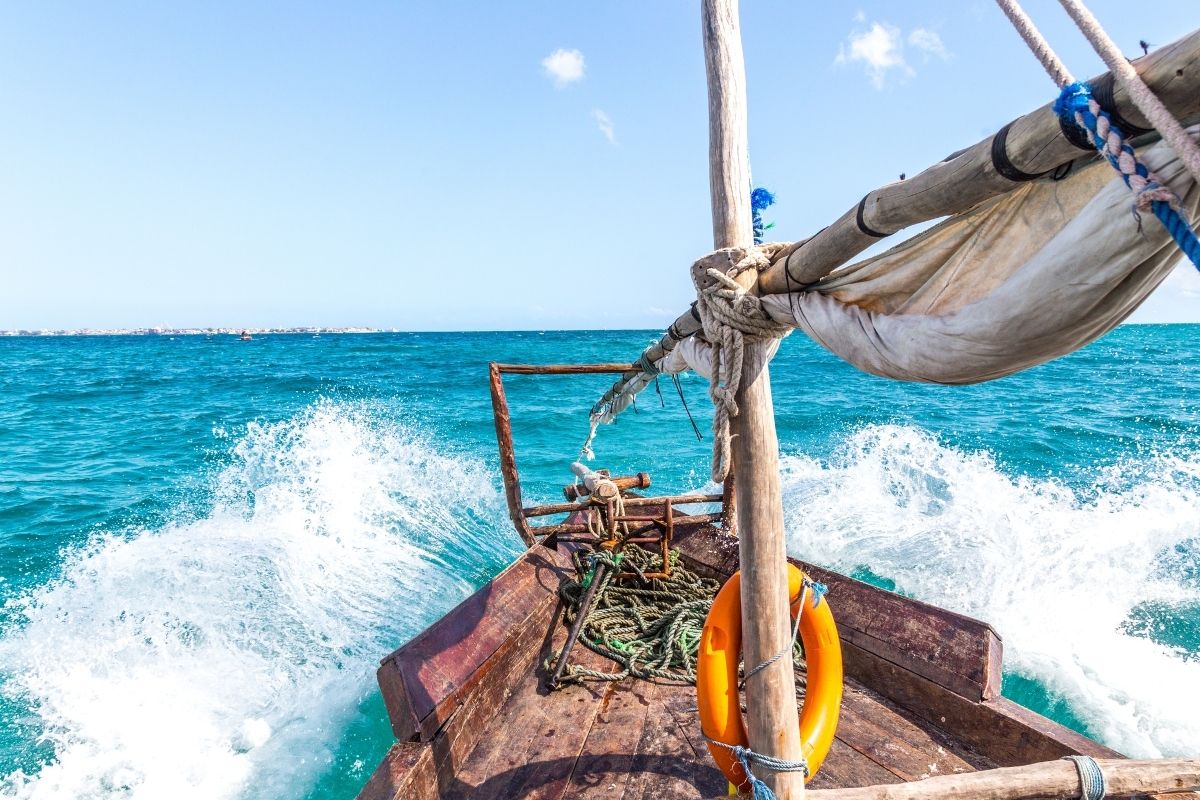 While there are tons of awesome boat tours in Zanzibar, a trip on a dhow is not to be missed!
These traditional wooden vessels have long been used by fishermen in the area, and they're a great way to enjoy the scenery.
Cruise out to sea and enjoy the views, then visit some fascinating local attractions, from picturesque swimming areas to ancient baobab trees.
Take a leisurely tour around some of the smaller islands, or head over to the quiet village of Jambiani to see how the local women produce their distinctive, colorful craftworks.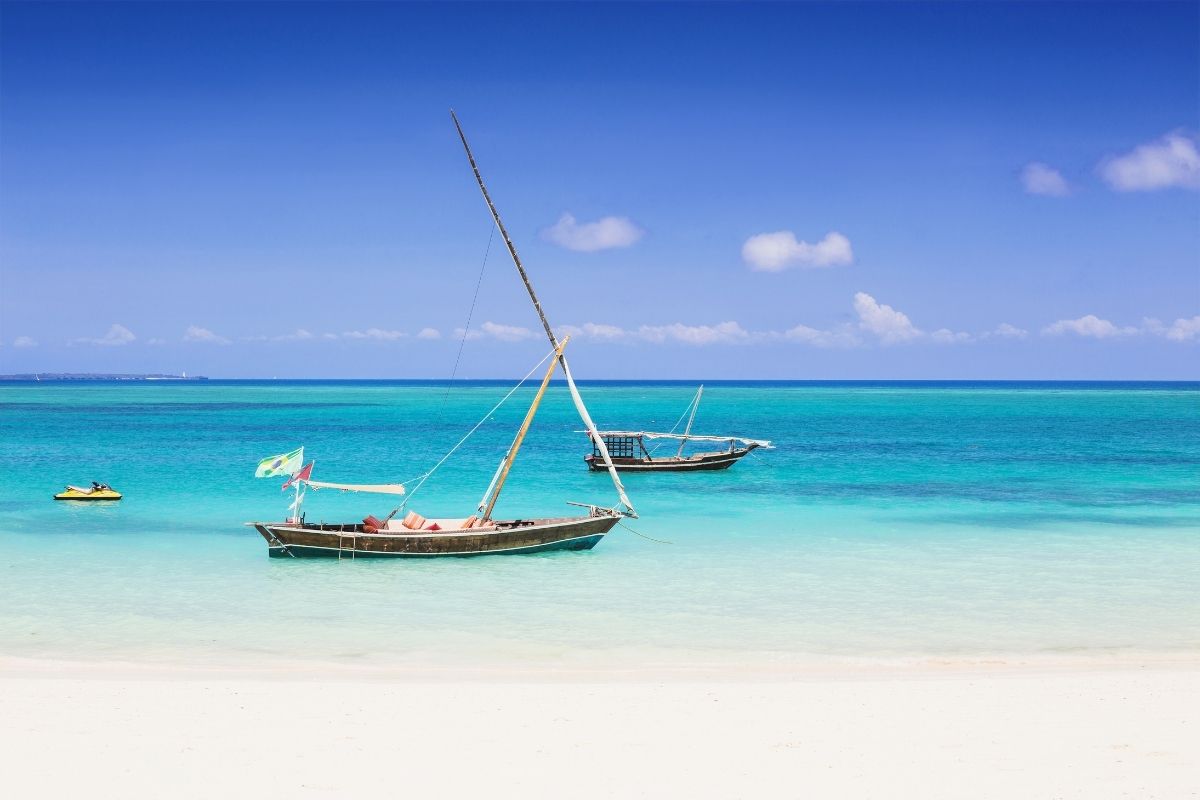 And if you're looking for a truly memorable evening, be sure to book a sunset cruise, and enjoy the magnificent colors of the sky aboard one of the area's most beloved boats. (See #49 for more details).
You'll get a real feel for how the locals commute – and see some amazing things as part of the bargain!
we will mention the sunset cruises at the end.
4 – Head out on a horse ride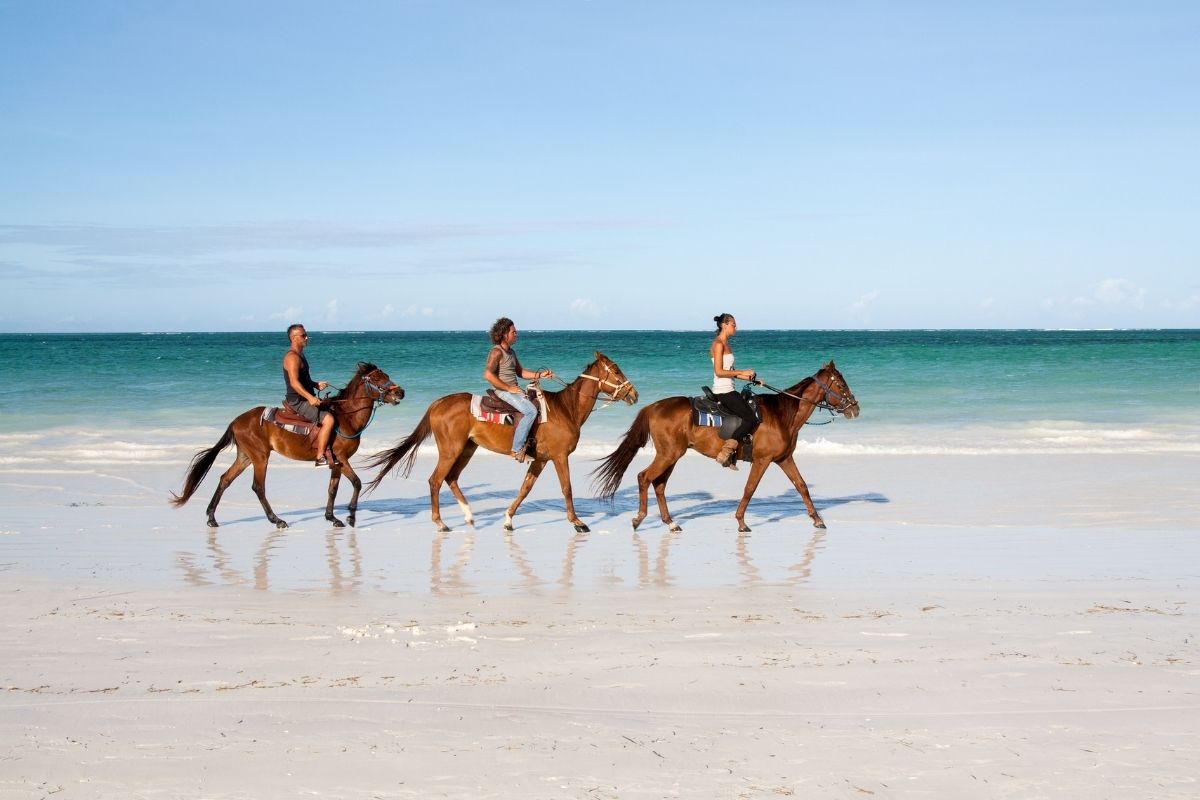 After getting out on the water, take some time to enjoy the land with a horseback ride!
Zanzibar Horse Club is the perfect place to go for this activity, with their expertly curated stable of well-trained, friendly animals.
And along with the horses themselves, the areas that you'll be riding through are truly spectacular, offering a nice cross-section of the island's natural beauty that can be enjoyed at a leisurely pace.
Hop aboard your steed and explore local villages, rural trails, and beautiful stretches of shoreline.
Depending on the tides, you can even go for a swim!
It's one of the best ways to see some sights off the beaten path – and you'll get to spend time with some pretty cool equines as well!
5 – Explore the underrated delights of Pemba Island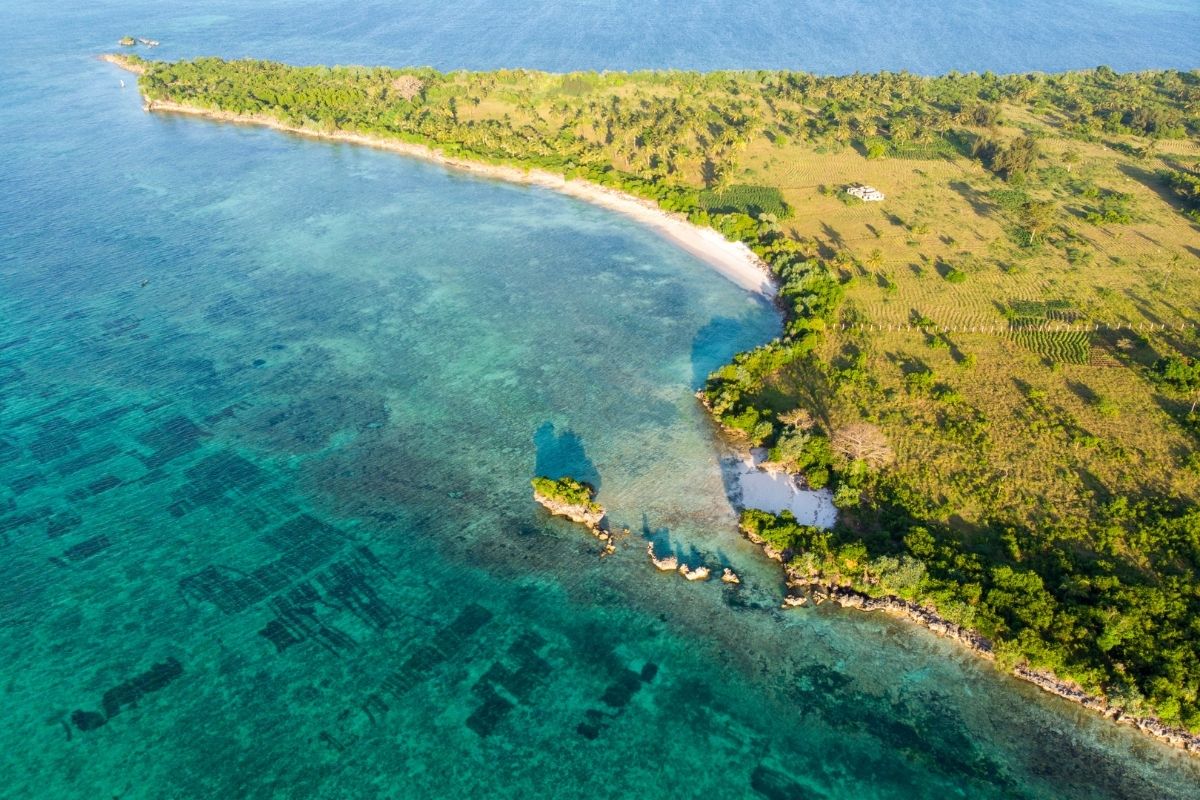 A little bit north of the main island of Zanzibar, Pemba Island boasts unspoiled wilderness, fascinating historical artifacts, and some unique vacation vibes.
Aquamaniacs, rejoice: this is an ideal spot for snorkeling and scuba diving, with some of the most vibrant wildlife and coral in the whole area.
It's also a great option for those seeking a less touristy experience; there are none of the high-end resorts like the ones in Stone Town, and this island is more known for its farming and fishing industries.
And if you really want to absorb yourself in nature, this is a great place to explore some of the most pristine ecosystems in the area, including Ngezi Forest Reserve, which is filled with hiking trails and wildlife.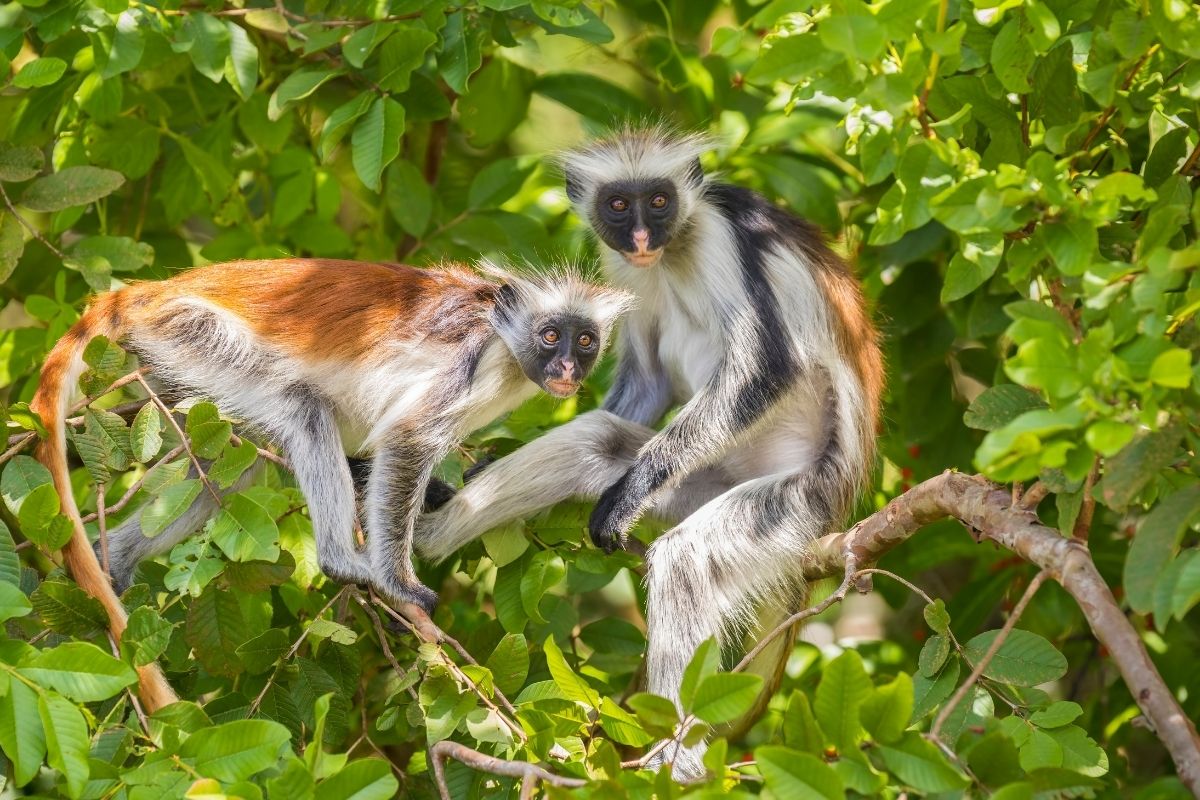 Keep an eye out for monkeys, bats and birds as you stroll through the canopies, and get a feel for how the region looked before widespread human colonization.
On the cultural side of things, you can explore the striking remains of mosques and burial sites, relics from the earliest days of Omani rule.
Or breathe in the spectacular aroma of fresh cloves, which still grow in abundance here; in fact, the island is one of the largest producers of the crop in the entire world!
For a quieter, less touristy experience that still offers plenty of adventure and intrigue, this hilly little haven can't be beat!
6 – Frolic on Matemwe Beach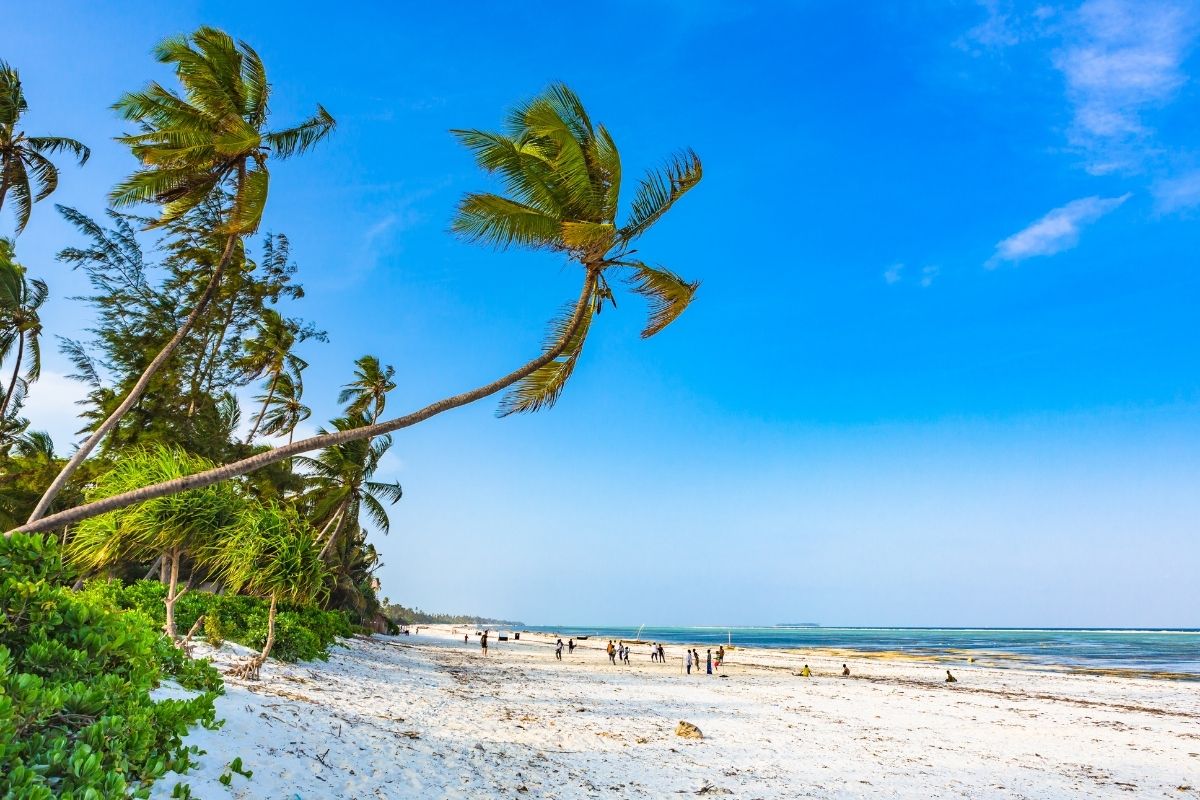 If you want that classic sunbathing experience, head to Matemwe Beach.
Tucked along the northeastern side of the main island, it's the perfect place to relax, swim, and watch the ebb and flow of local life.
It's an especially good place to observe the seaweed gatherers going about their work; much of what they harvest during low tide will eventually find its way into unique products all over the world!
And with the gorgeous Mnemba Atoll just offshore, this is another great place for snorkeling, with rainbows of fish weaving through the coral.
If you happen to be visiting between November and March, you might even catch sight of some migrating humpback whales!
After all of the day's excitement, grab a bite to eat at one of the local eateries, kick back at one of the nearby lodges, which offer comfort and class… and killer views, of course!
7 – Shop in Stone Town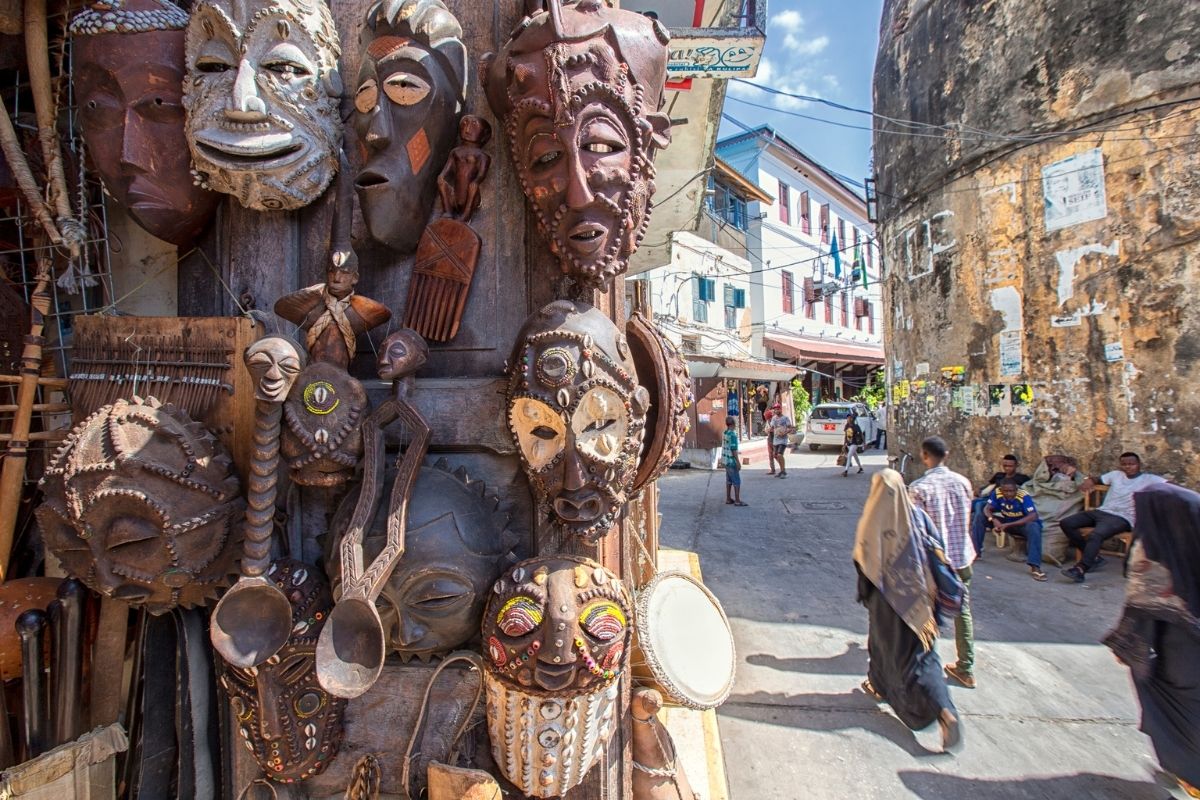 As the main tourist hub of the islands, Stone Town bursts with history and culture… and it's also packed with excellent souvenirs!
The bustling hub of the island has carried on its fine trading tradition, with upscale stores and local boutiques alike.
Whether you want some gorgeously patterned garments, lovely paintings, or some intricately carved items, the many markets and stands around town are perfect for scoring something unique.
The local fabrics are especially distinctive; keep an eye out for kangas and kitenges, the gorgeous, boldly colored garments that are worn throughout many African countries.
If you're looking for more culinary keepsakes, you can scoop up a selection of fresh spices, or some savory coffee.
And if jewelry is more your speed, you're in luck; this is an excellent place to purchase tanzanite, a stunning blue gem that hails from a small section of Tanzania.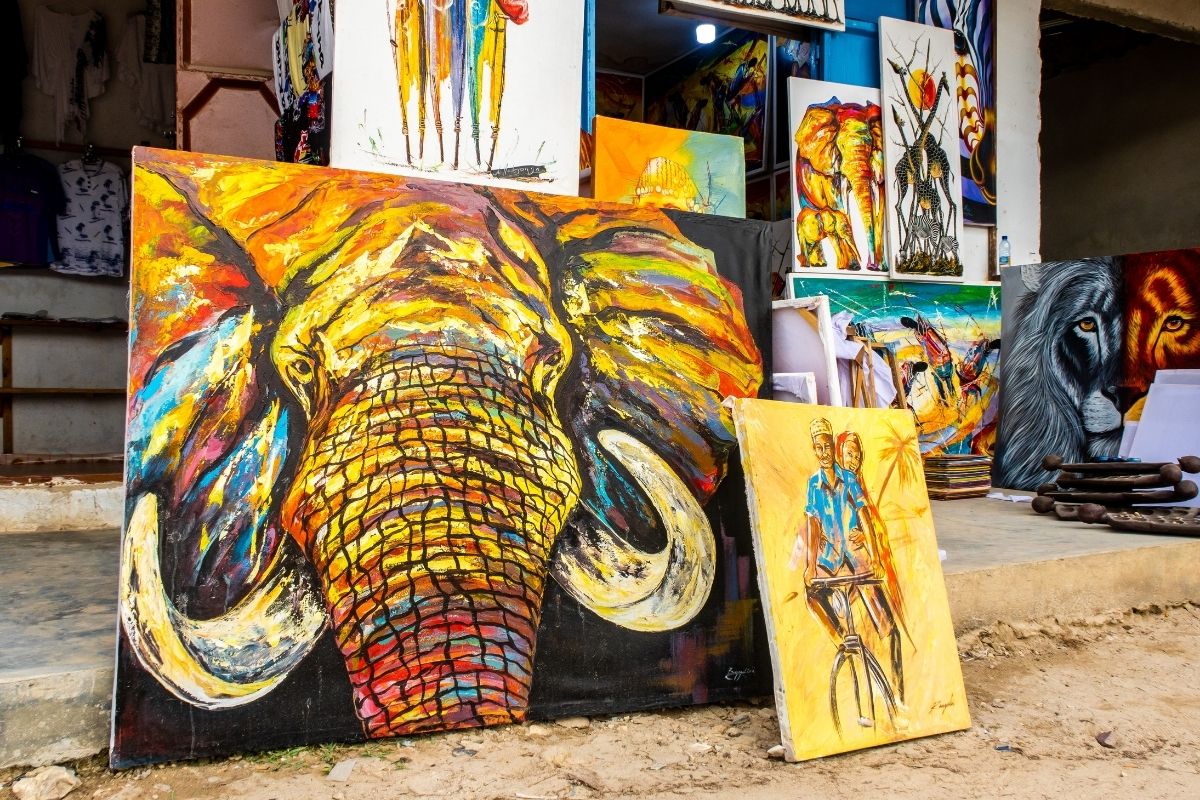 While the open-air markets are great places to explore, there are also plenty of art galleries and other stores along many of the other thoroughfares in town, such as Gizenga Street and Hurumzi Street.
The latter road is also home to the Zanzibar Curio Shop, a massive antique store full of unique keepsakes and items from all over the world.
It's well worth a browse, and maybe you'll find something to buy!
Whether you want a pocket-sized knickknack or a brand-new outfit, you'll find plenty of treasures all over town… so leave some room in your suitcase!
8 – Visit the buildings (and tortoises) of Prison Island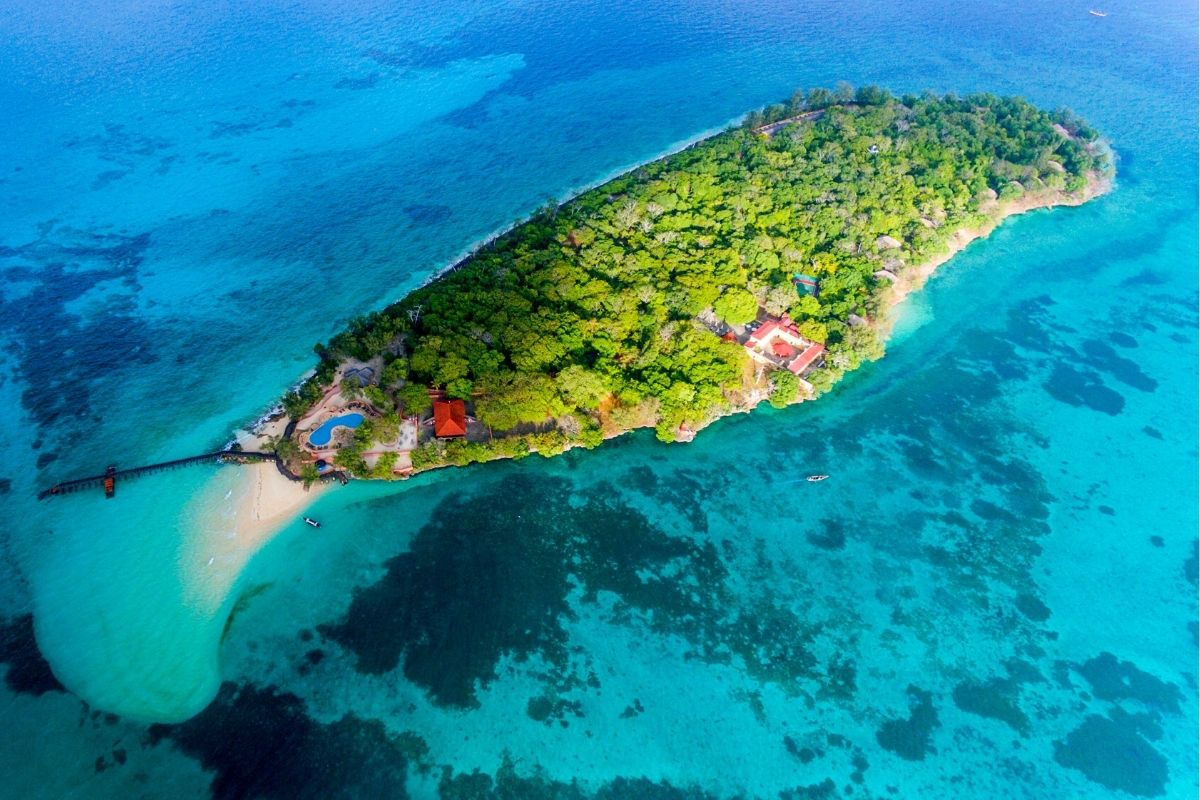 As the name suggests, Prison Island was originally designed to hold felons – but today, its main residents are a bunch of reptiles!
The island, which is half an hour offshore from Stone Town, never actually held any prisoners; after development started in 1893, its main purpose was as a quarantine post for sufferers of yellow fever.
But even during its era as a hospital, the island was already becoming a popular spot for tourists that wanted a relaxing destination close to the main town.
Although the quarantine days are long over, the hospitality side of things is alive and well, with a lovely hotel on the grounds.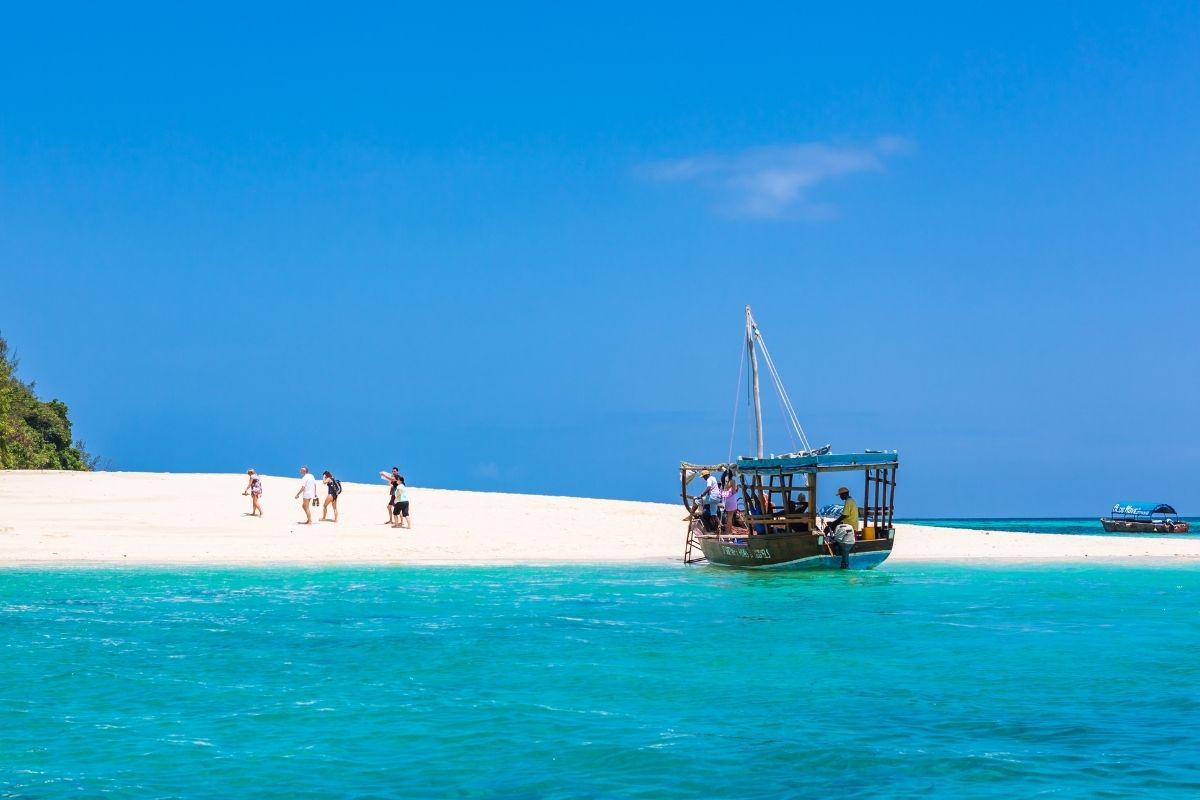 And you can still tour the island's abandoned buildings as well, including the former sickbed areas and the cells that were once intended for inmates.
But the biggest draw today is probably the Tortoise Sanctuary, where nearly one hundred of the fascinating reptiles make their home.
The refuge started when four giant Aldabra tortoises were donated to the island as a gift from the governor of the Seychelles, where the animals are originally from.
Today, you can get up close and personal with hatchlings, youngsters, and some genuine old-timers, feeding them lettuce and posing for pictures.
One of the animals is thought to be almost 200 years old – talk about a living piece of history!
It's all part of a memorable day on one of the area's most fascinating islands.
mention the Tortoise Sanctuary
9 – See capoeira on the beach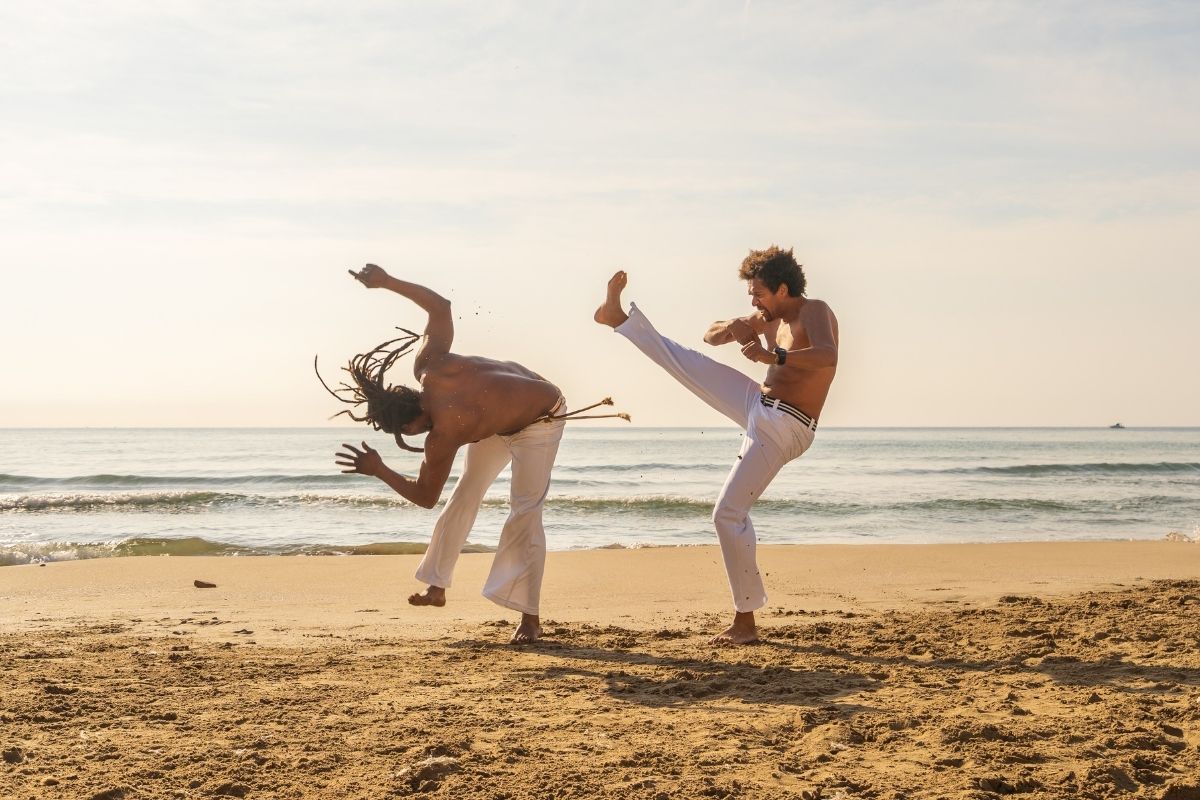 There are tons of cool cultural things to do in Zanzibar, but one of the most popular ones actually comes from Brazil!
Capoeira – a unique form of martial arts that blends dancing and music with acrobatics and self-defense – is one of the most famous artistic exports from the South American country, and it has a lively following on this East African archipelago.
Head down to the public beach and watch some performances in action – the perfect view while you're enjoying a meal or cocktail.
And if you feel inspired to try the sport for yourself, there are some excellent schools in the area, including ZanFit and Zanzibar Stone Town Capoeira Project.
Whether you're joining in or just watching the show, it's a lively and memorable experience!
10 – Enjoy some watersports at Nungwi Beach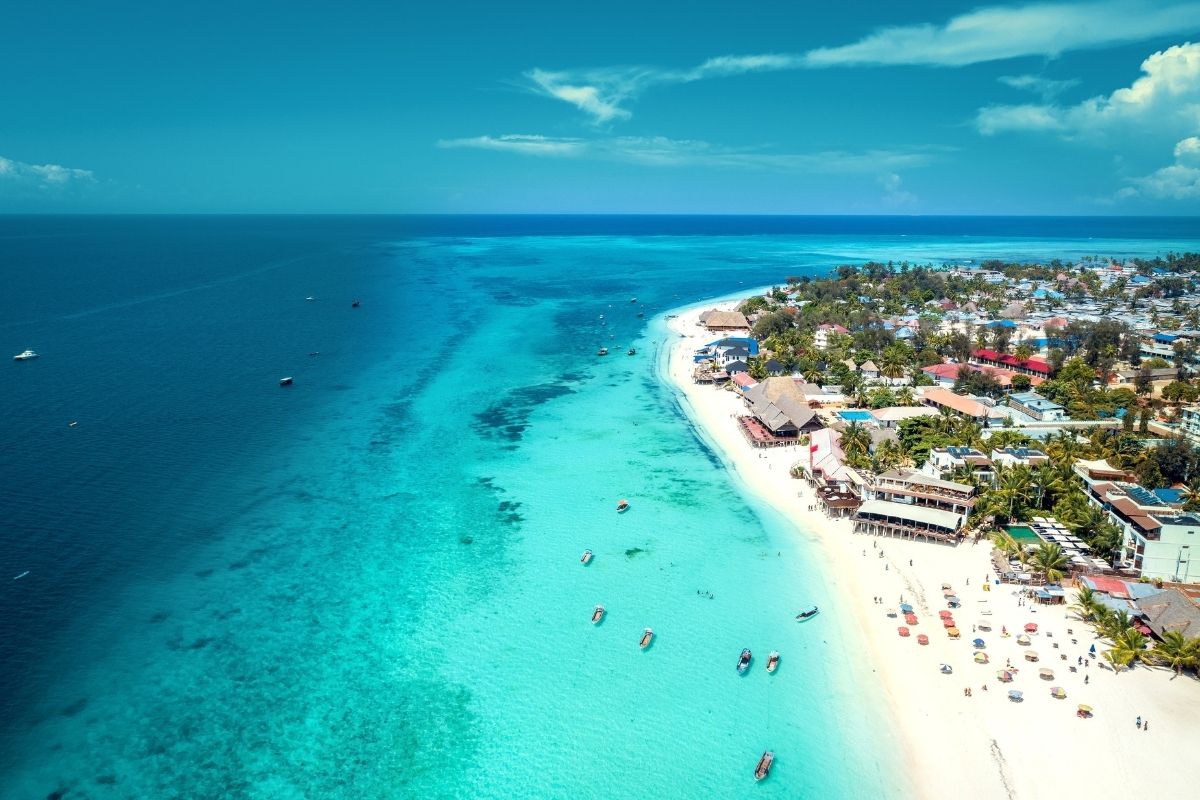 If you like to mix your relaxation with a little bit of action, Nungwi Beach is the perfect spot!
Along with warm waters and that terrific stretch of sand, it's the perfect place for deep sea fishing, scuba diving, parasailing, and snorkeling.
Best of all, the calm tides mean that you can keep playing all day long!
Out of the water, there's lots to do as well; you can watch some dhow boats being built, explore nearby Nungwi Village, or mix and mingle with the fascinating blend of visitors that flock to its shores.
After all of your adventures, head over to the nearby town to eat, drink, and recharge, because the nightlife scene is just as popular as the daytime offerings!
Swing by the thriving local bars, and cap off a memorable day at one of the area's best beaches in style!
11 – Dine in style at The Rock Restaurant Zanzibar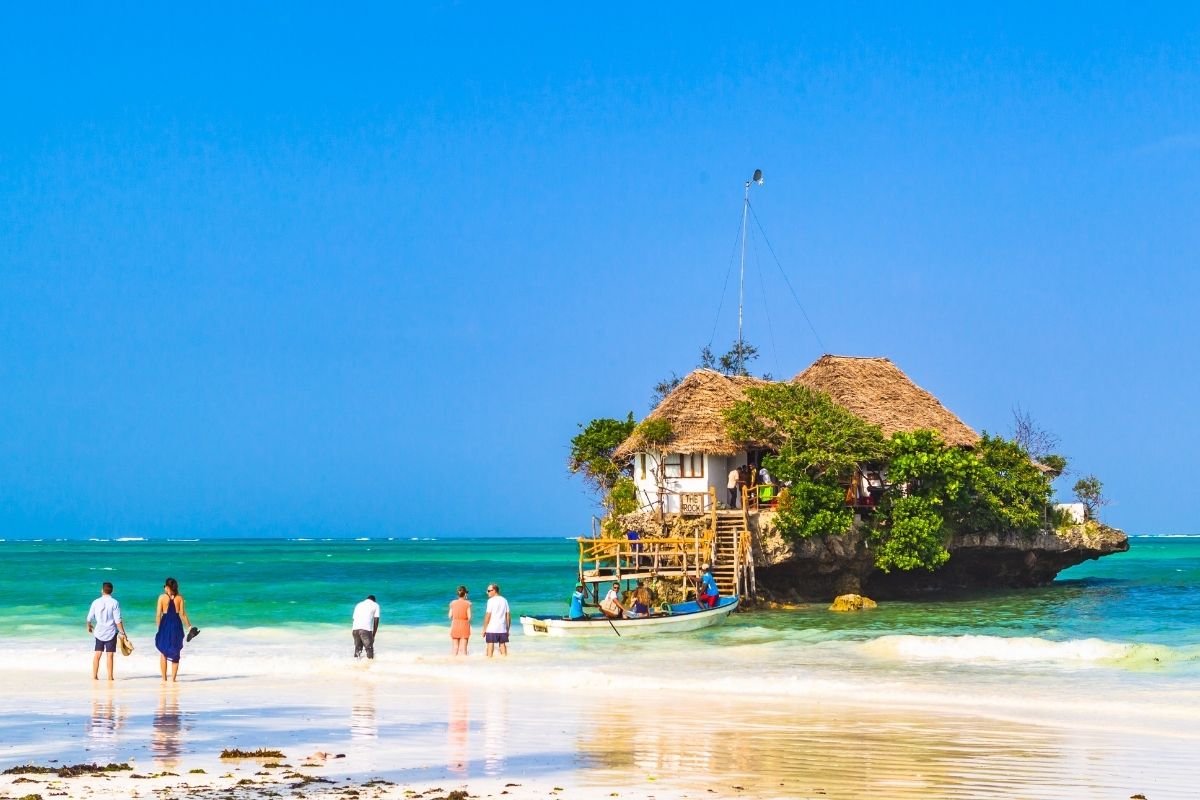 While it's hard to find a bad meal on the island, The Rock Restaurant Zanzibar is an especially excellent specimen.
Along with delicious local ingredients and regional dishes, the location itself is phenomenal – perched on a large stone outcrop in the middle of the water, it offers terrific views from every angle.
This distinctive design is matched by a wonderful atmosphere; enjoy the small, intimate setting of this former fishing outpost, which feels like a little world all its own.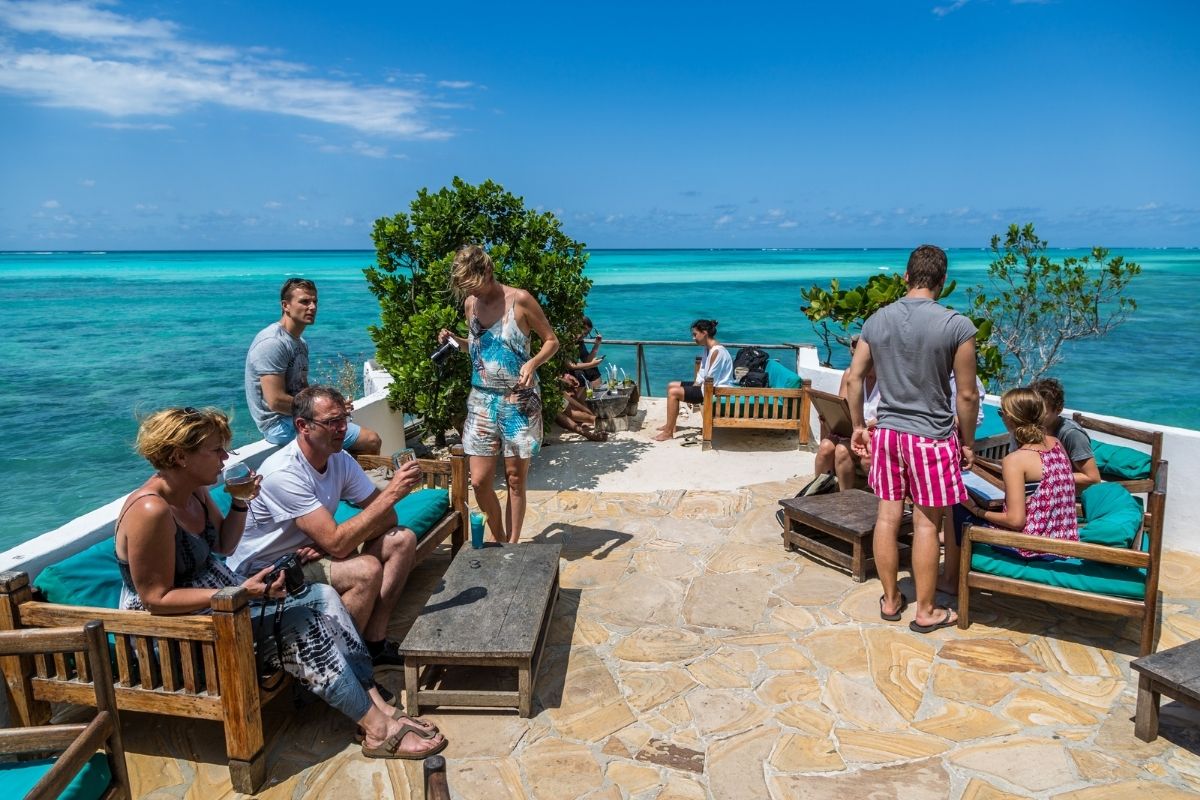 The only thing better is the food itself; don't miss the lobster, octopus, and other catches fresh from the water!
It's a meal to remember, in an unbeatable location!
12 – Snorkel at Mnemba Island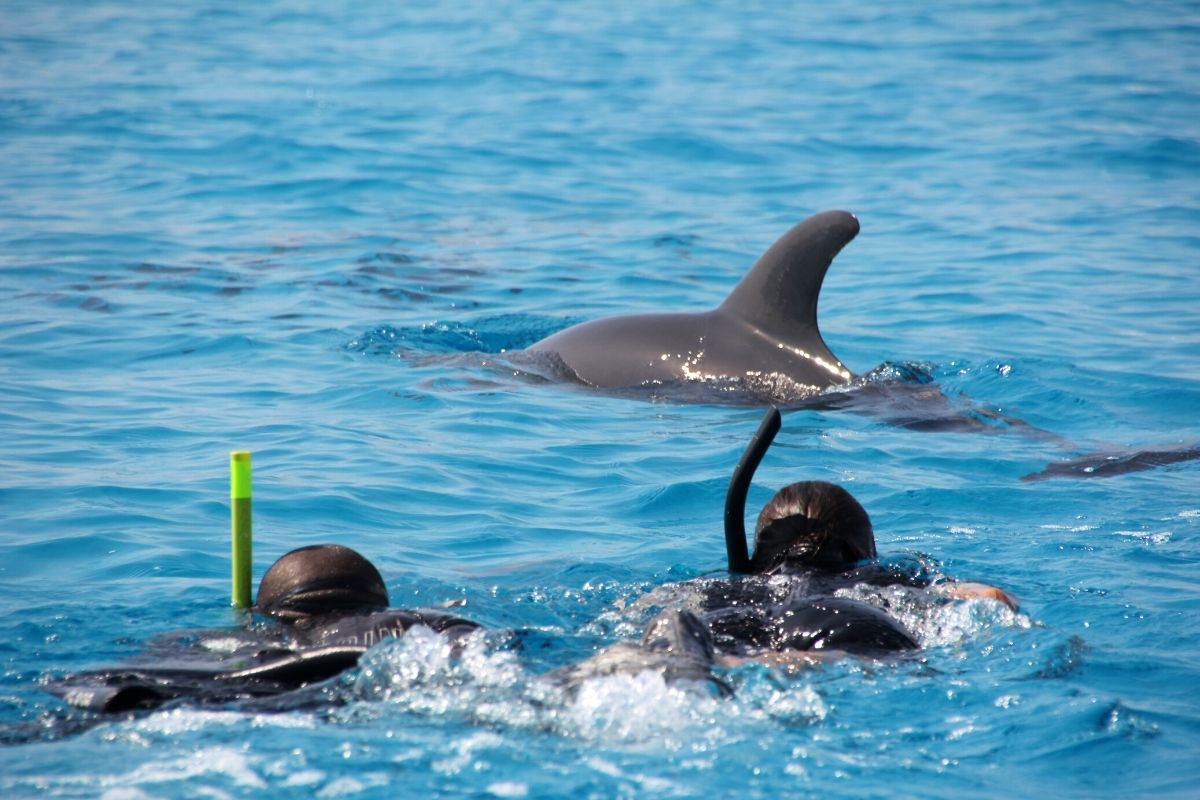 With its biodiversity and fabulous scenery, Mnemba Island is a little slice of aquatic Eden.
As another access point to the Mnemba Atoll Marine Reserve, it offers some of the best snorkeling in the region – and given how scenic the waters are here, that's really saying something!
Weave through intricate coral formations, watch for vibrant schools of tropical fish, and enjoy the lush ecosystem under the surface.
Scorpionfish, nudibranchs, crabs, and blue-spotted rays are just some of the many amazing species that you may see during your visit.
You might even catch a glimpse of some turtles or dolphins!
It's an incredible opportunity to see some of the Indian Ocean's dynamic residents up close.
13 – Go dolphin watching
When you're ready to see some even bigger creatures, head out for some dolphin watching!
From the lush environment of Mnemba to the striking waters off the coast of Kizimkazi, there are tons of amazing spots around the island to catch a glimpse of these playful, energetic creatures.
Cruise around the water and watch for pods swimming and frolicking in the waves – and you may even be able to get into the water and swim alongside them!
It's definitely one of the most delightful things to do in Zanzibar.
14 – Learn about a local crop at Mwani Zanzibar (Seaweed Center)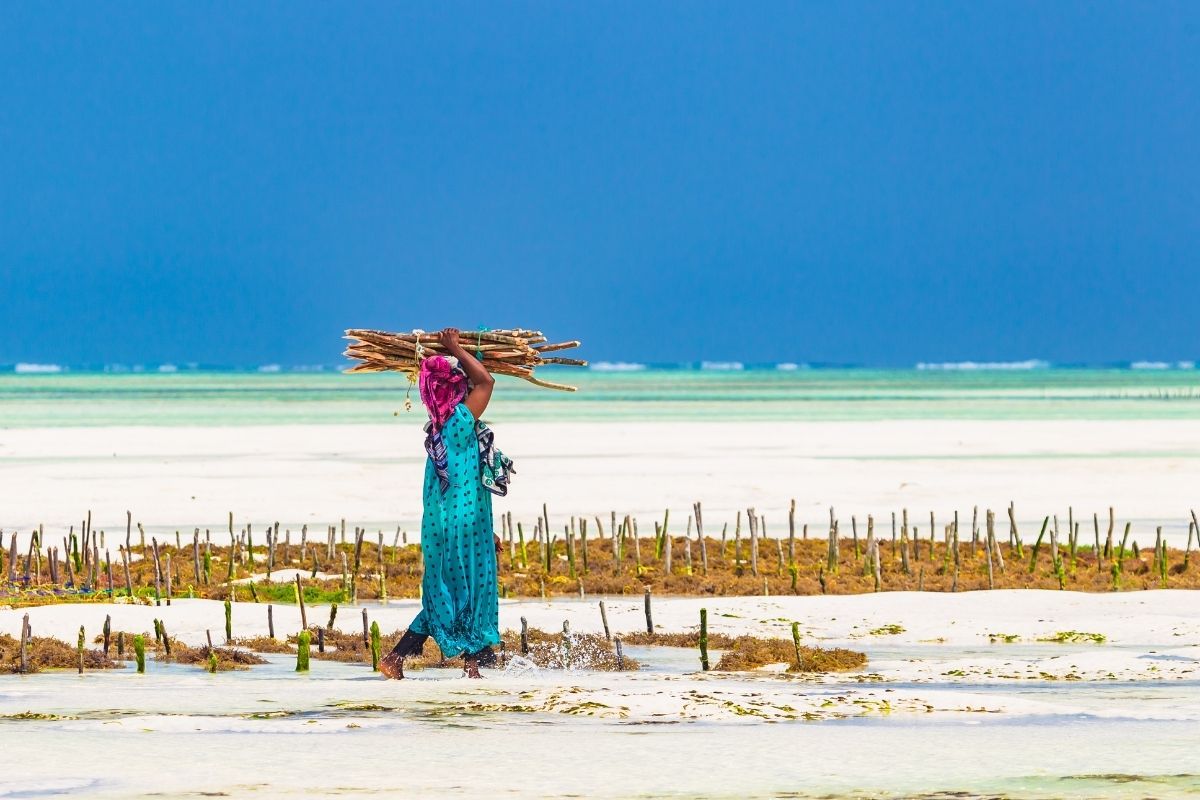 You'll see it along the shore at every low tide: seaweed, heaps of it.
This gorgeous plant is not just a vital part of the local ecosystem, but also an economic stronghold, used in a variety of fascinating products.
And you can learn all about the unique crop at Mwani Zanzibar, one of the top seaweed businesses on the island.
Located in Paje, this facility is the perfect place to witness the harvesting and production process in action, from the farming and gathering procedure to the development of unique skincare products.
After all of that learning, browse through their store and see what fits your fancy – there are tons of great options, all plant-based and wellness-focused.
Educational, healthy, and environmentally friendly? It's a winning combo for a tour!
15 – Explore the Jozani Forest
While the waters around Zanzibar (rightfully) get a lot of attention, there's plenty to enjoy on land as well.
With a walk through Jozani Forest, you'll get a great taste of the local wilderness, with the added bonus of expert guides to help you search for animals.
As you wind through the thickets of eucalyptus trees, you might see lizards or insects; look upwards, and you may spot some monkeys jumping around!
The area is especially renowned for its population of red colobus monkeys; these beautiful lively animals are extremely endangered, so seeing them is a real treat!
And the more time you spend in the forest, the more you'll find to love in this lush, fascinating environment.
Along with the wooded areas, it's also home to a beautiful mangrove swamp, which helps connect land and sea into one ecosystem.
And it isn't just primates that make their home here; you may also spot duikers, birds, and over 50 colorful butterfly species frequenting the area.
It's all part of the adventure at the only national park in Zanzibar – and one of its greatest natural gems!
16 – See the specimens at Nungwi Mnarani Aquarium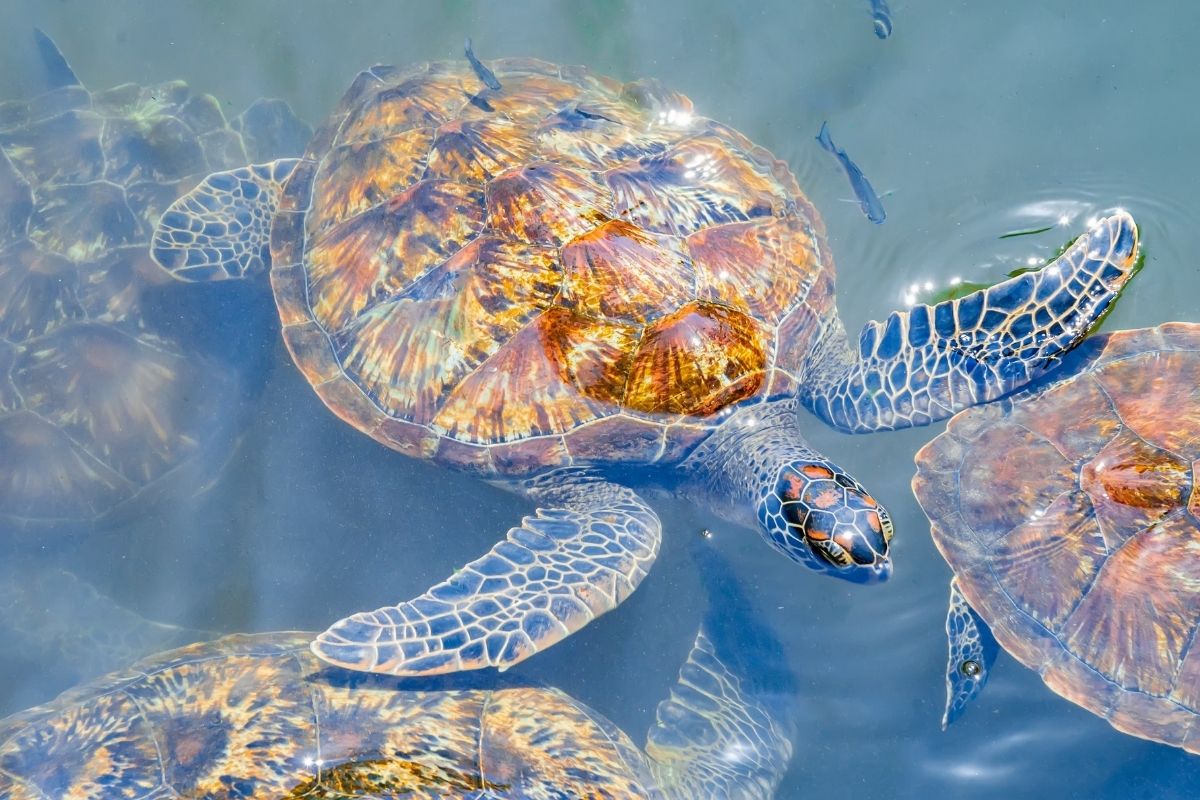 If all of the snorkeling and scuba diving got you amped up for sea creatures, then the Nungwi Mnarani Aquarium is a perfect stop.
This lovely natural rehabilitation center focuses on preserving and protecting injured wildlife in the area.
It's especially known for its green sea turtle and hawksbill sea turtle rescue program, and you can meet some of their residents at the Mnarani Marine Turtles Conservation Pond.
Wade into a shallow pool for a chance to see these lively reptiles up close; depending on when you visit, you may even get to see some being released back into the wild!
Along with the novelty of hanging out with these remarkable creatures, your visit will help to protect them – two great things in one!
17 – Pay a visit to the Old Slave Market and Anglican Cathedral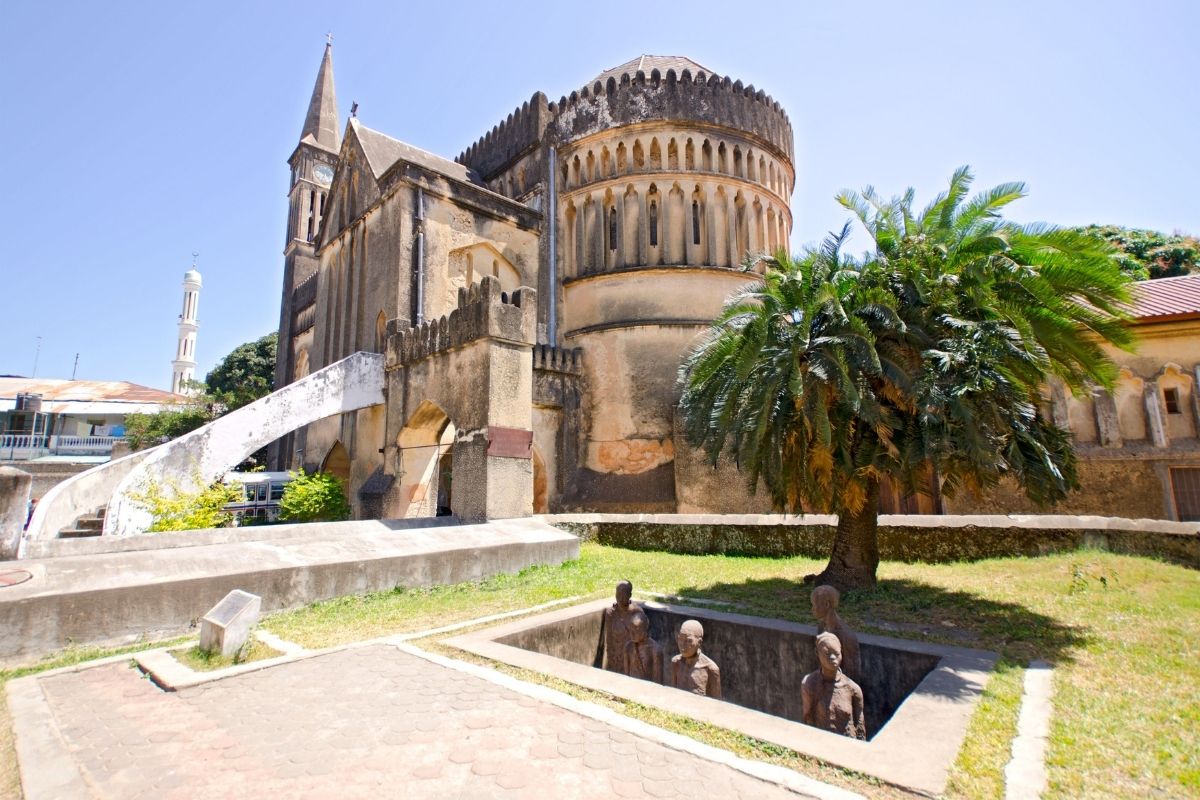 Smack dab in the middle of Stone Town, you'll find a striking monument to the city's complicated past.
While Zanzibar built its name on trade, it wasn't always good; for many years, it was a major hub for the international slave trade.
Up until 1873, thousands of captives were shipped over from the mainland, where they would later be bought and traded to outposts all over the Indian Ocean.
Today, you can see the remnants of it at the Old Slave Market, where people were brought from all over the region to be sold to markets around the globe.
Take some time to explore its many nuances, from the whipping posts to the chambers where captives were held before being sold.
There's also a particularly moving monument that features statues of chained slaves standing in a pit, a sobering reminder of the reality of the industry.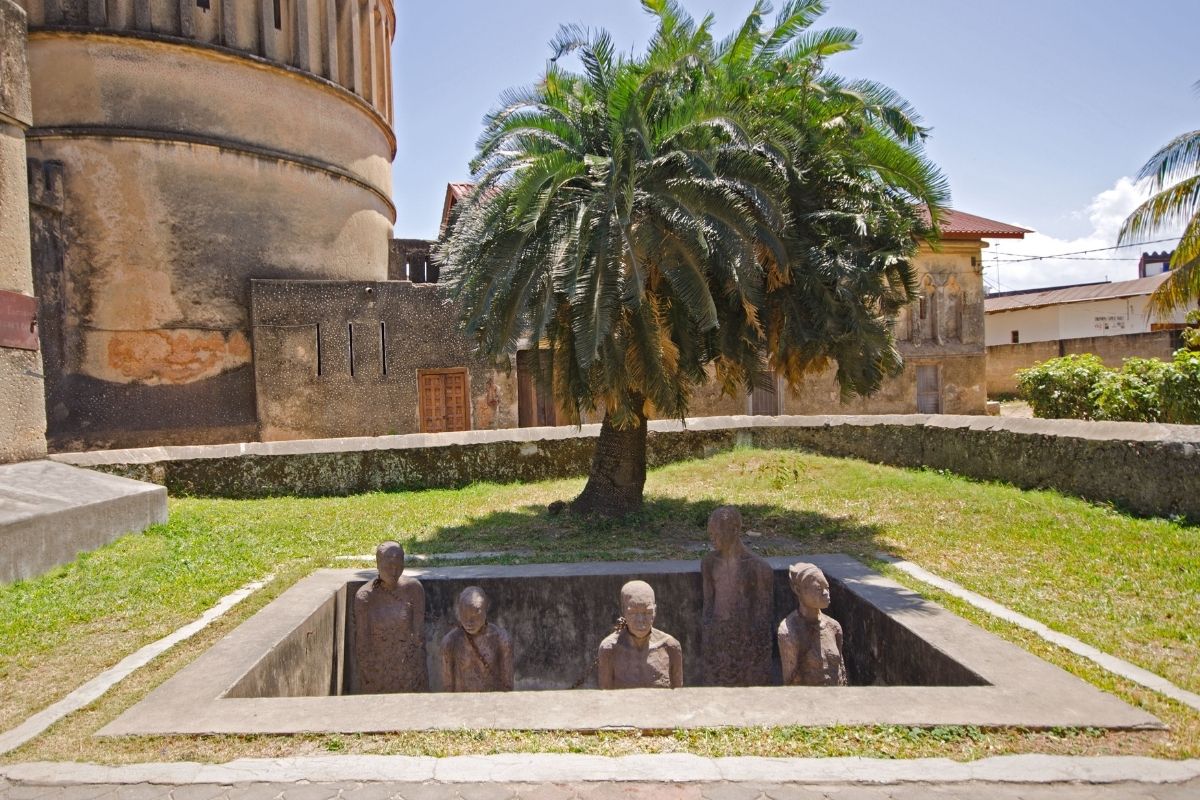 As you see the inhumane conditions firsthand, you'll gain a greater understanding of this complicated chapter in human history.
Then take some time to visit neighboring Christ Church Cathedral, an Anglican outpost with unique designs and an impressive story of its own.
Built shortly after the slave trade was dissolved, it was seen as a symbol of freedom, taking over some of the space once used for holding cells.
Along with its fascinating history, the church's construction elements – an eye-catching mix of Victorian, Middle Eastern, and East African styles – are another prime example of the area's distinctive cultural blends.
While these sites may be a little more somber than most of the nearby tourist attractions, they offer a powerful perspective on the region's history, so be sure to stop by.
18 – Relax at Jambiani beach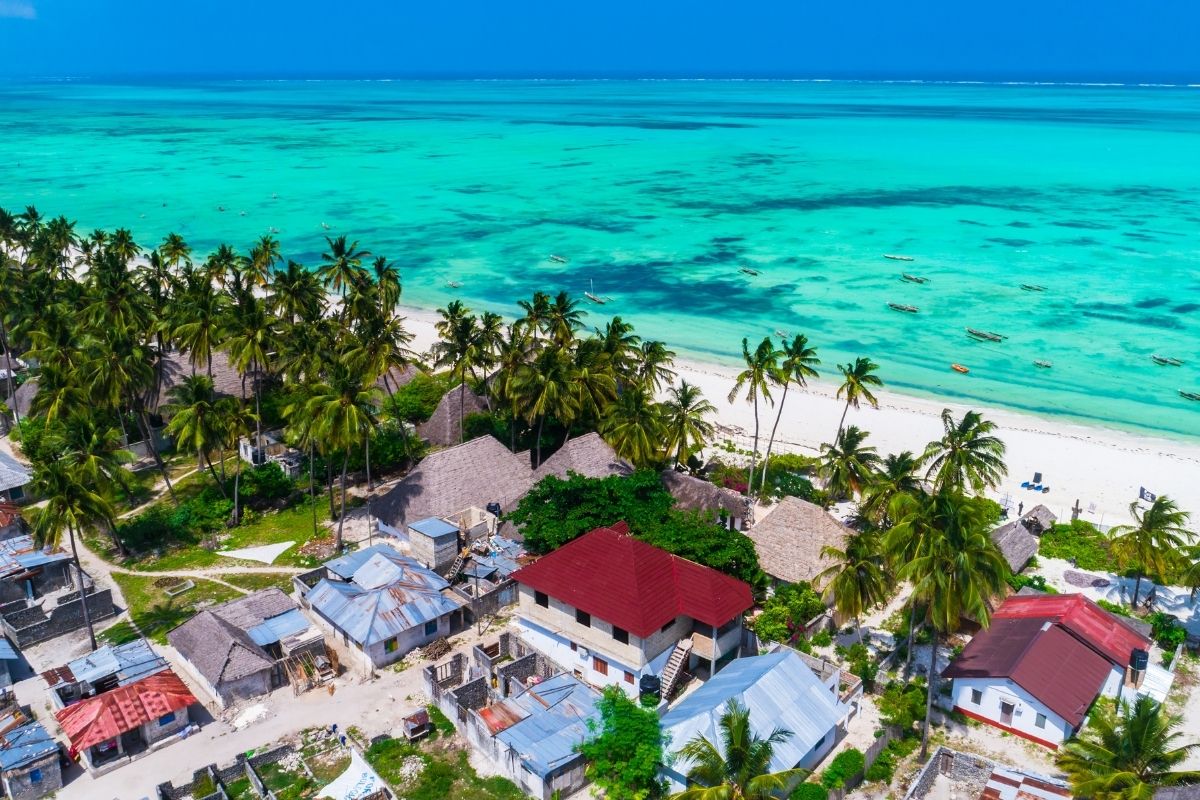 While the whole main island is a piece of paradise, the eastern side of Zanzibar is especially famed for beautiful beaches and tranquility.
And Jambiani Beach, with its traditional atmosphere and focus on sustainable tourism, is a must-see.
If you get tired of swimming, sunbathing, and dipping your toes in the sand (like that could ever happen!), you can explore the charming village of Jambiani itself, which is full of quiet restaurants and friendly locals.
You can also hop aboard a bike to explore the surrounding area, or head to Kuza Cave (see #25) for an unforgettable swim in crystalline waters.
And if you still want luxury, there are plenty of eco-friendly resorts and hotels available.
It's a wonderful way to get a feel for the local culture – without as many of the tourists!
19 – Enjoy some history (or a party) at the Old Fort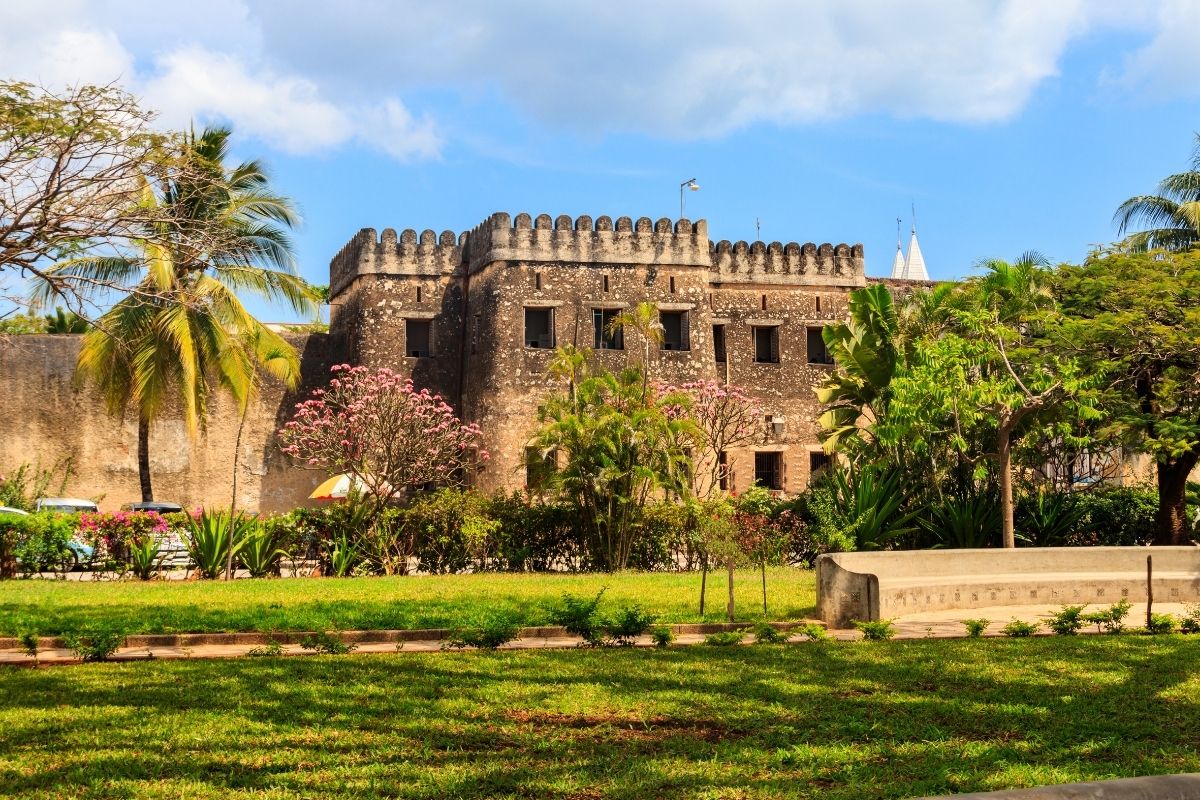 Another architectural gem in Stone Town, Old Fort has served as both a military stronghold and a significant cultural center.
And as the name suggests, it's been in the area for quite awhile – over 300 years, in fact!
The structure was created in 1699 by the Omani rulers, right at the beginning of their long reign in the region.
Having just chased the Portuguese out of the islands, they were determined to have a solid fortification against potential invaders.
By the 1800s, the building's use had shifted, and it was primarily utilized as a prison.
And throughout the 1900s, it served a wide variety of functions, from train station to open-air theater and social club.
Today, its central location and large courtyard make it the perfect venue for festivals and cultural celebrations – there's nothing quite like partying in the shadow of 400 year old walls!
Whether you're watching some avant-garde films or just soaking up the history, this is a must-see destination!
20 – Explore the briny blue with some scuba diving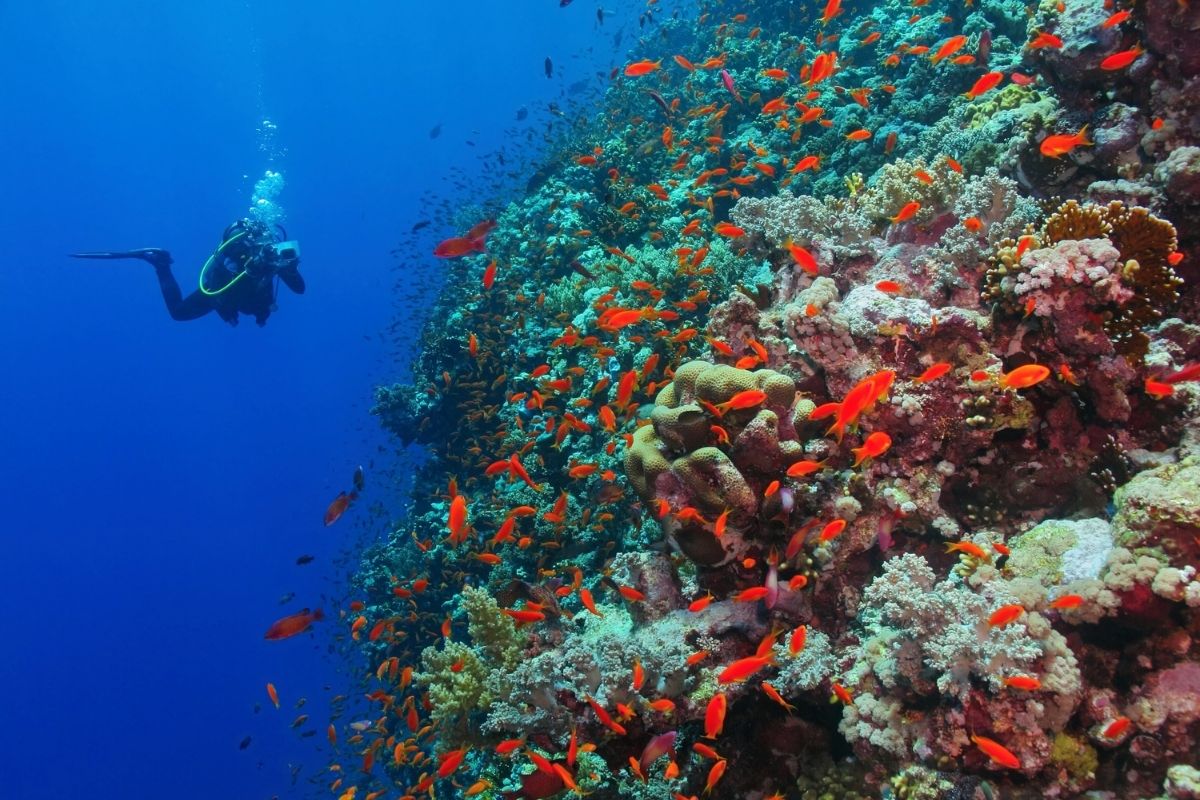 Ready to take your water explorations to the next level?
Then it's time for some scuba diving!
Whether it's your first time or your thousandth, this is the perfect place for an excursion, with great visibility, amazing wildlife, and warm waters perfect for exploring.
Unguja Island, Mafia Island, Tumbatu Island, and Mnemba Island are considered the best areas for the sport, with gorgeous reefs, well-preserved shipwrecks, and, of course, a plethora of animals to discover.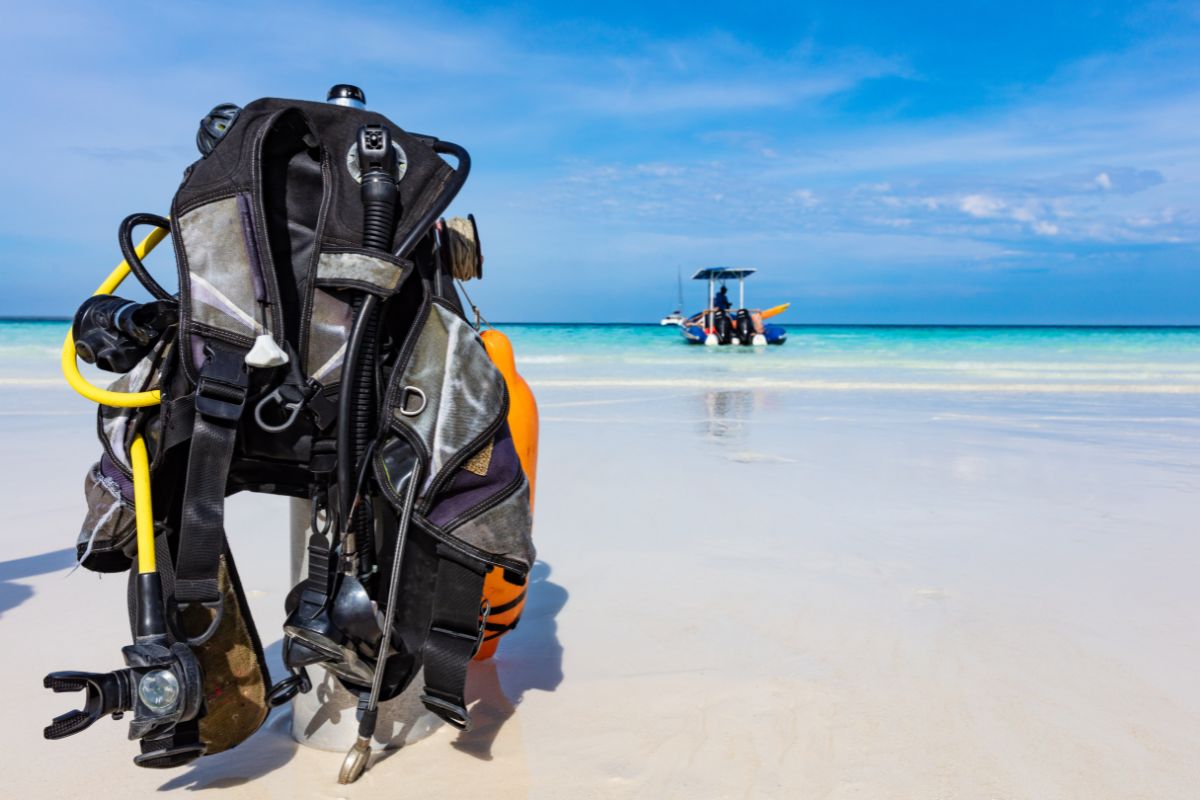 If your skills are more advanced, head to Leven Bank, which is known for its stunning drop offs and schools of tuna, groupers, and guitarfish.
Or you can make your way over the striking slopes of Wattabomi, where the gorgeous hues of coral mix with the hues of angelfish, octopuses, and black snappers.
And for some seriously striking seascapes, head to Big Wall, another advanced dive site filled with caverns, unique rock formations, and unique life forms ranging from lobsters to sponges.
With such diverse wildlife, each season offers its own delights; depending on when you go, you might see eagle rays, humpback whales, seahorses, or whale sharks, and you can count on seeing dolphins, hawksbill turtles, and reef sharks all year round.
Whether you're seeking basic dives or adventurous challenges, a day spent exploring these world-famous underwater realms is one that you'll cherish forever!
21 – Meet the beautiful insects at the Zanzibar Butterfly Centre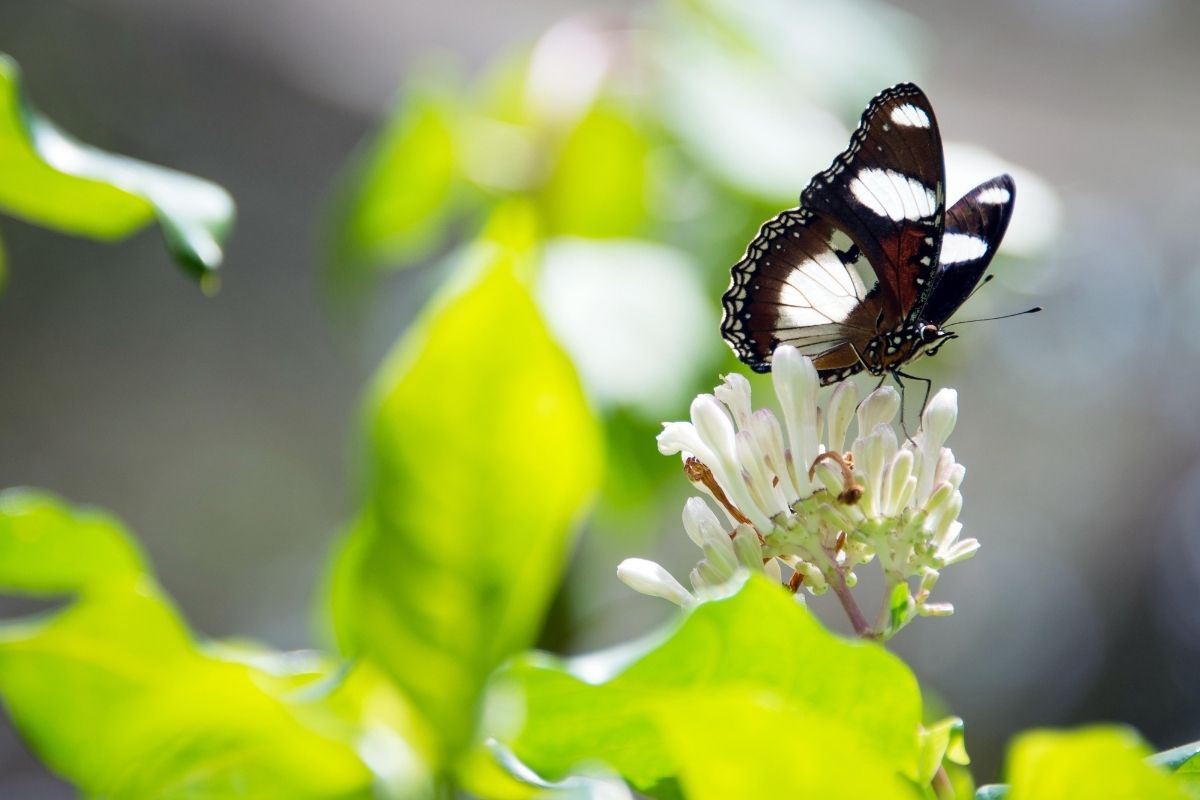 From the sea to the sky, take in another slice of nature at the Zanzibar Butterfly Centre.
This beautiful green space houses a wide array of beautiful species, all of which are native to the area
Wander around and catch close-up glimpses of these vividly colored insects, and learn more about their distinctive traits and habits, as well as preservation efforts on the islands.
Don't miss the collection of cocoons, which offer a unique glimpse into a crucial part of the animals' life cycle.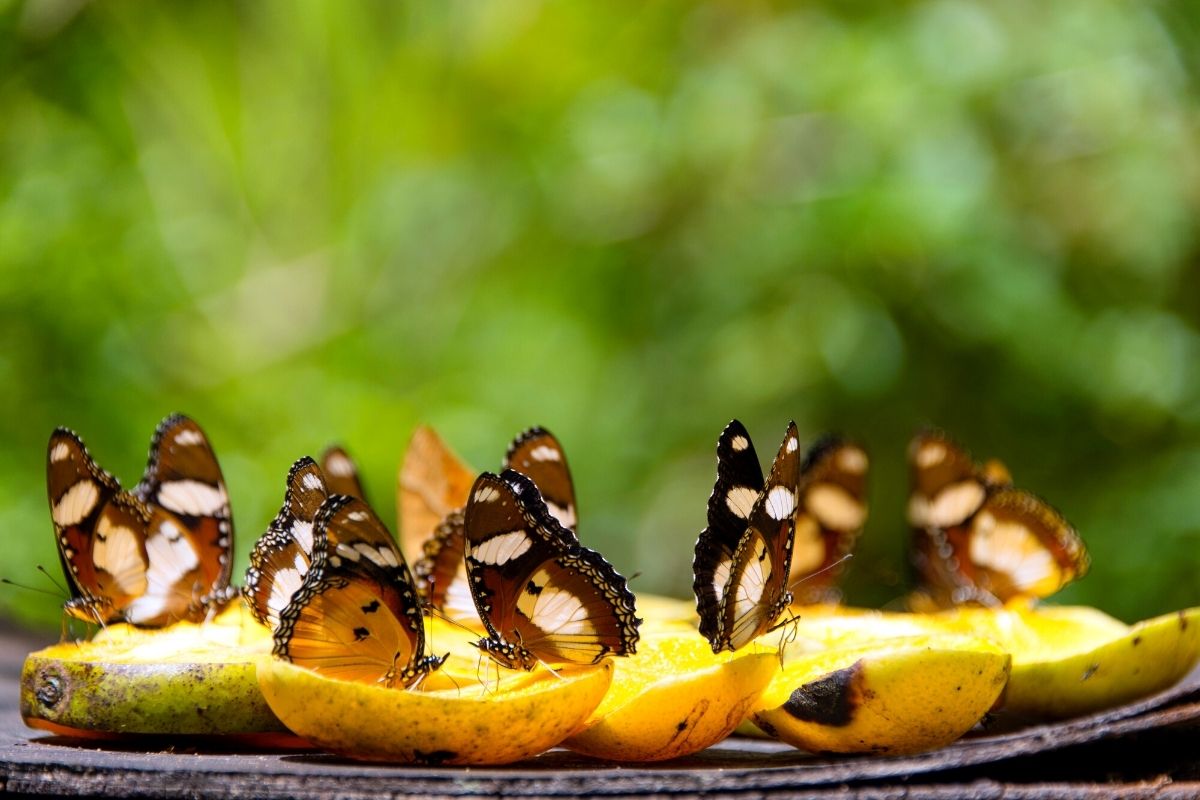 While you're visiting these winged wonders, take some time to meet the resident chameleons as well, and learn more about the organization's work.
It's another wonderful way to engage with community conservation efforts, and as an added bonus, you'll get to spend time with some gorgeous animals!
22 – Spend a day at Kwale Island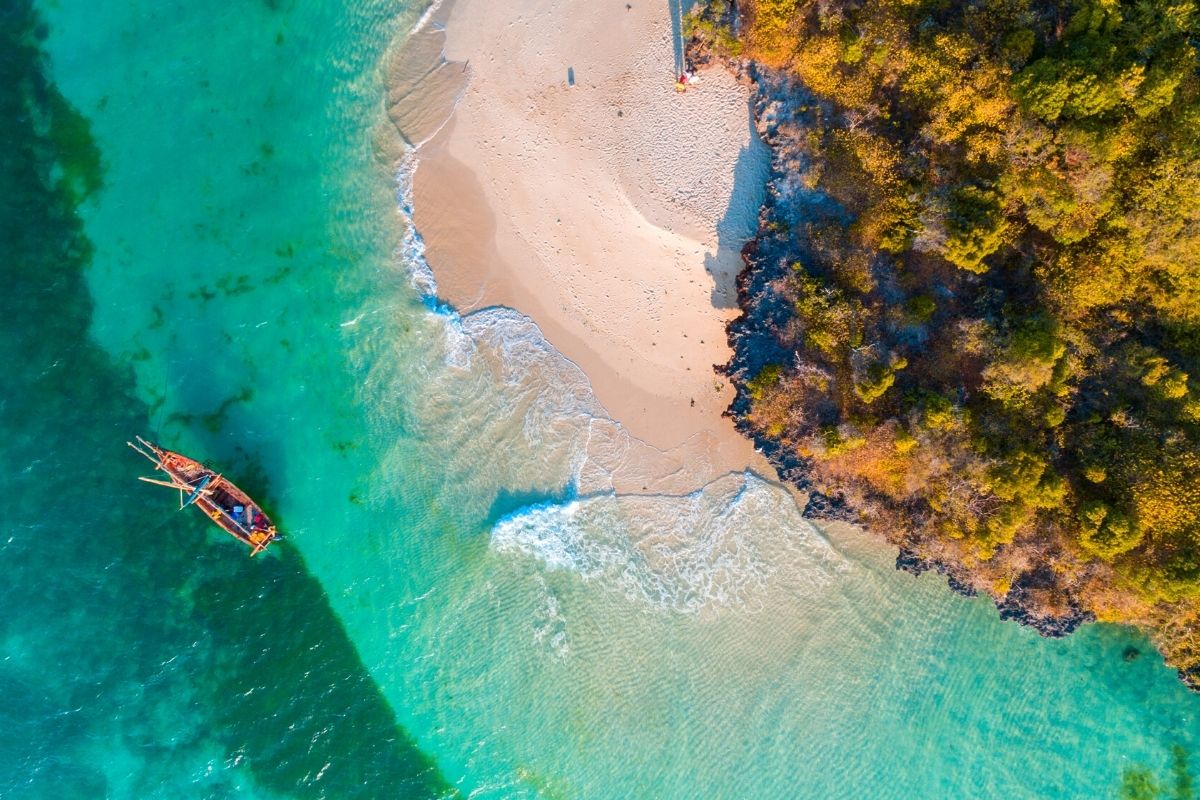 Packed with great scenery and little adventures around every corner, a day on Kwale Island feels like a scene out of Swiss Family Robinson!
Although this lovely patch of land is smaller than a lot of its counterparts, it's a popular option for day trips due to its beauty and proximity to some prime swimming and snorkeling spots.
Hop aboard a dhow boat and head out to a land of lush greenery, beautiful sandbars, and ample opportunities to enjoy the mellow waters.
After gazing at schools of fish and playing some watersports, head to shore and explore the beautiful scenery, including a towering, 500-year old baobab tree!
It's the perfect place to channel your inner adventurer!
23 – Visit the People's Palace Museum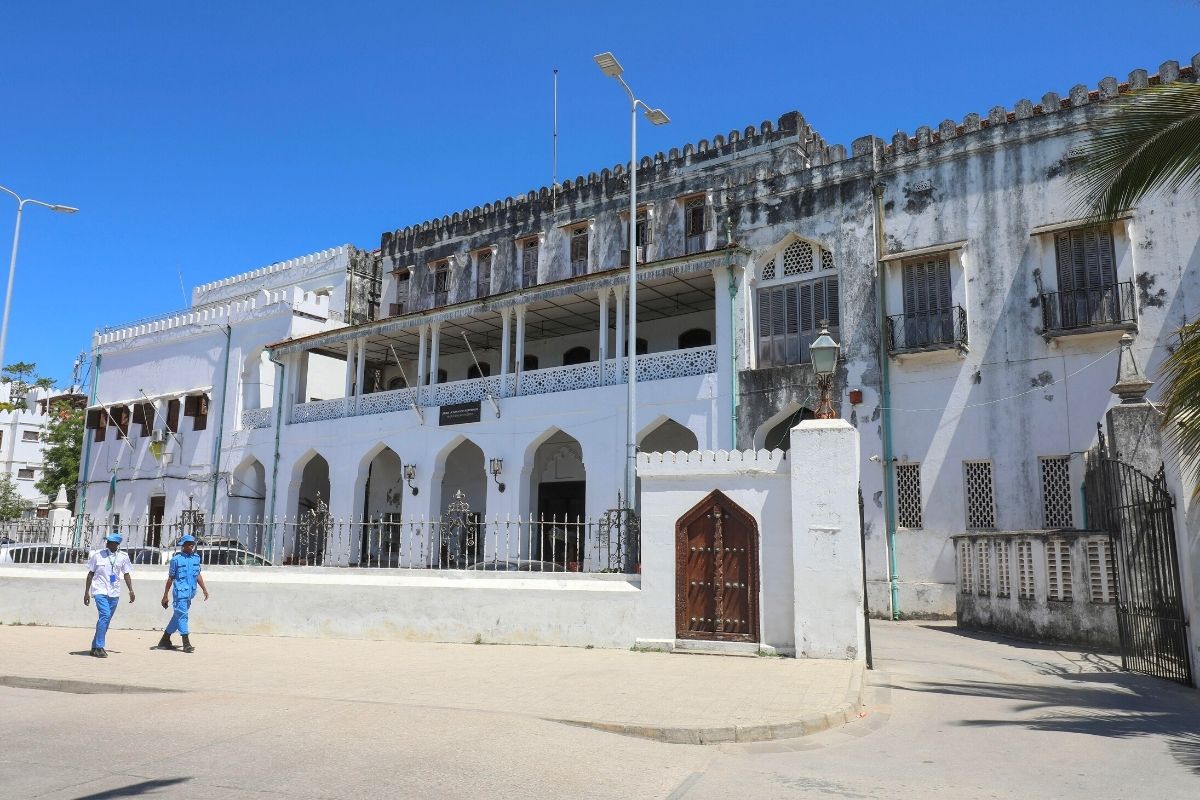 Among the area's many rulers, Zanzibar's Omani sultans had one of the longest and most impactful regimes.
At the People's Palace Museum, you can delve more into the fascinating story of the ruling class, and the cultural impact they had on the islands.
Built in the late 1800s, the complex served as a way for monarchs to be near the city without engaging with the public – it even used to have self-contained walkways so they wouldn't have to stroll down the street!
In 1964, the empire was overthrown, and the palace became a museum where guests could see an excellent showcase of the royal era.
Unfortunately, like the neighboring House of Wonders, the Palace is currently undergoing repairs, but there are still some great informational displays out front if you want to explore the story of this unique historical residence.
24 – Get adventurous on a quad tour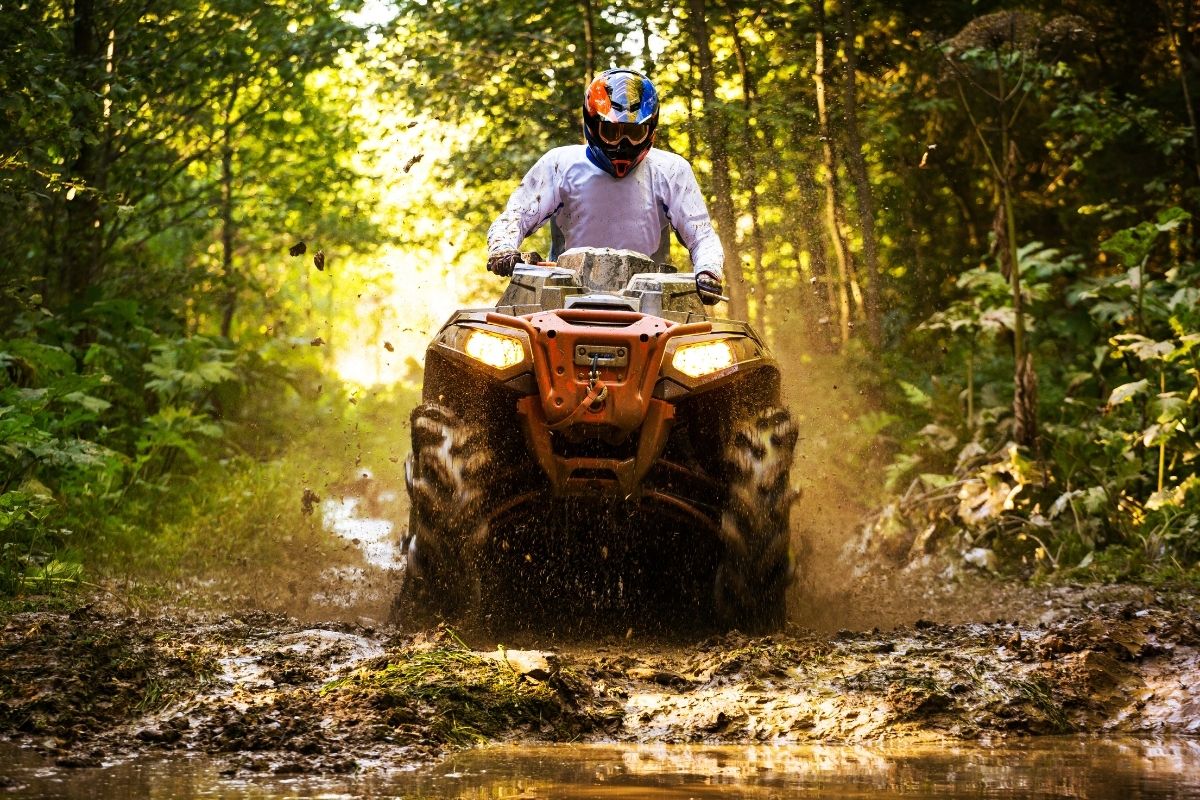 To see more of the area's wild side, head out on an action-packed quad tour!
Whether you're weaving through spice trees or exploring small villages, passing scenic farms or navigating jungle trails, this is one of the coolest ways to see the off-the-grid side of this tourist hotspot.
Explore lush orchards of fruit, pass through charming fishing villages, and watch the scenery shift from beach to forest to agricultural areas.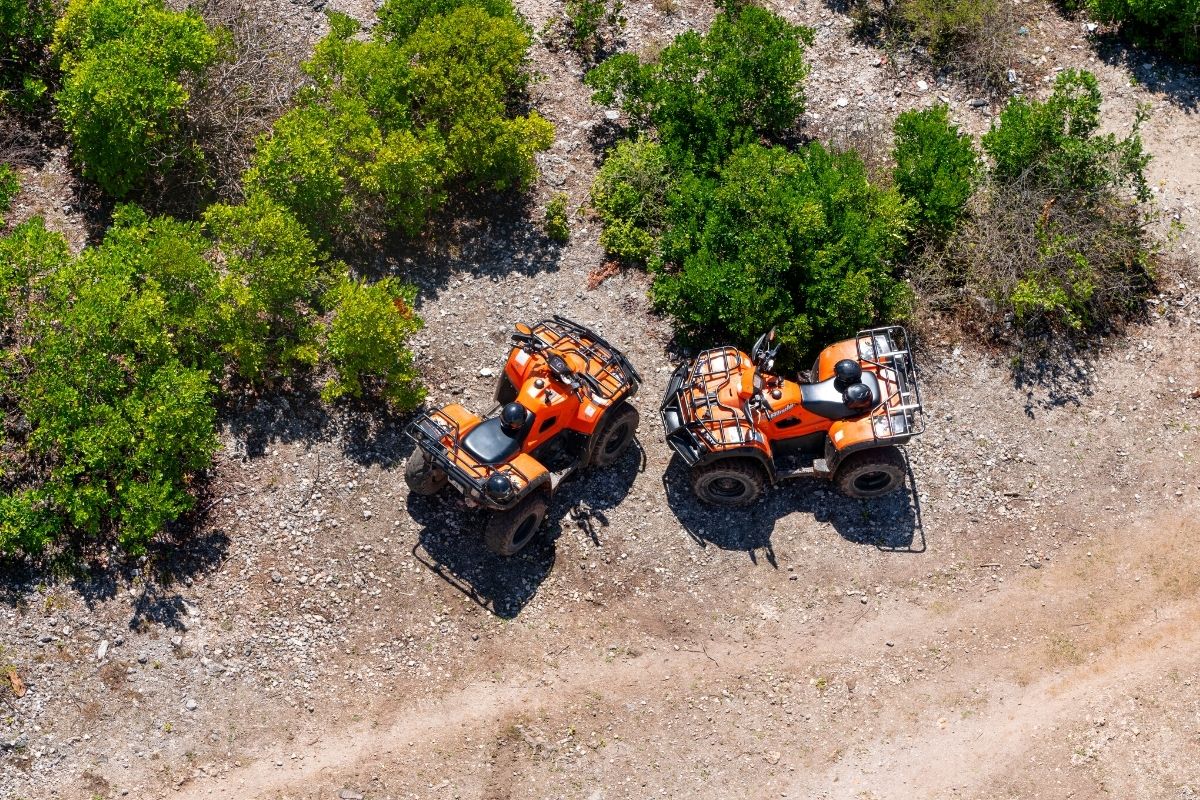 There are also some awesome buggy tours that will take you to beloved destinations such as Paje Beach, Kuza Cave, and the Tropical Spice Garden.
Along with some great sightseeing, you'll be able to enjoy the thrill of driving your own set of wheels, and navigating all of the amazing terrain in the area.
It all makes for a perfect day out on the island!
25 – Delve into Kuza Cave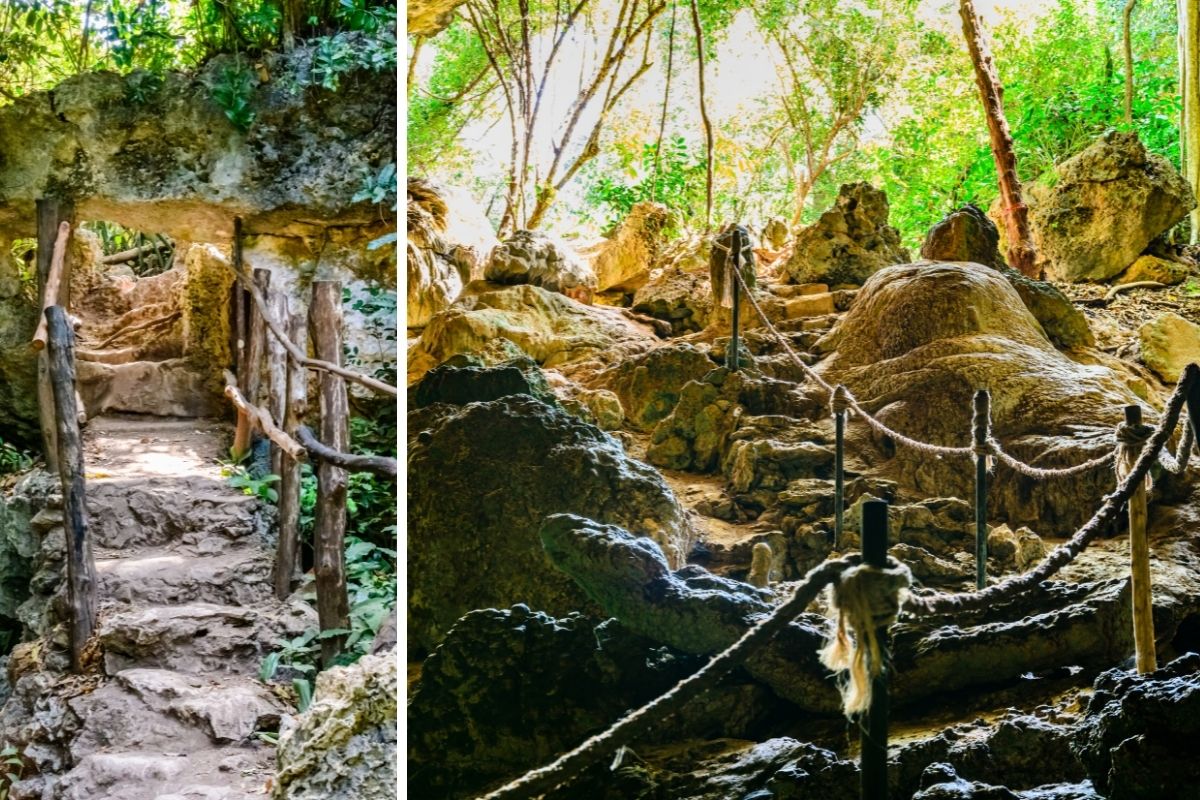 Sure, swimming in the ocean is amazing… but how about in a cavern?
Kuza Cave is an underrated spot, but it's growing in popularity – and rightfully so.
This magnificent limestone structure is known for its circular shape and stunningly clear water, both of which come from over 250,000 years of rainwater and erosion.
But while it's only recently drawn the attention of tourists, the cave has long been used by local tribes for religious events, and remains a revered site to this day.
Along with being a great time capsule for Swahili civilization, the surrounding area is also a haven for local animals; keep an eye out for monkeys, bush babies, and other creatures on your way in.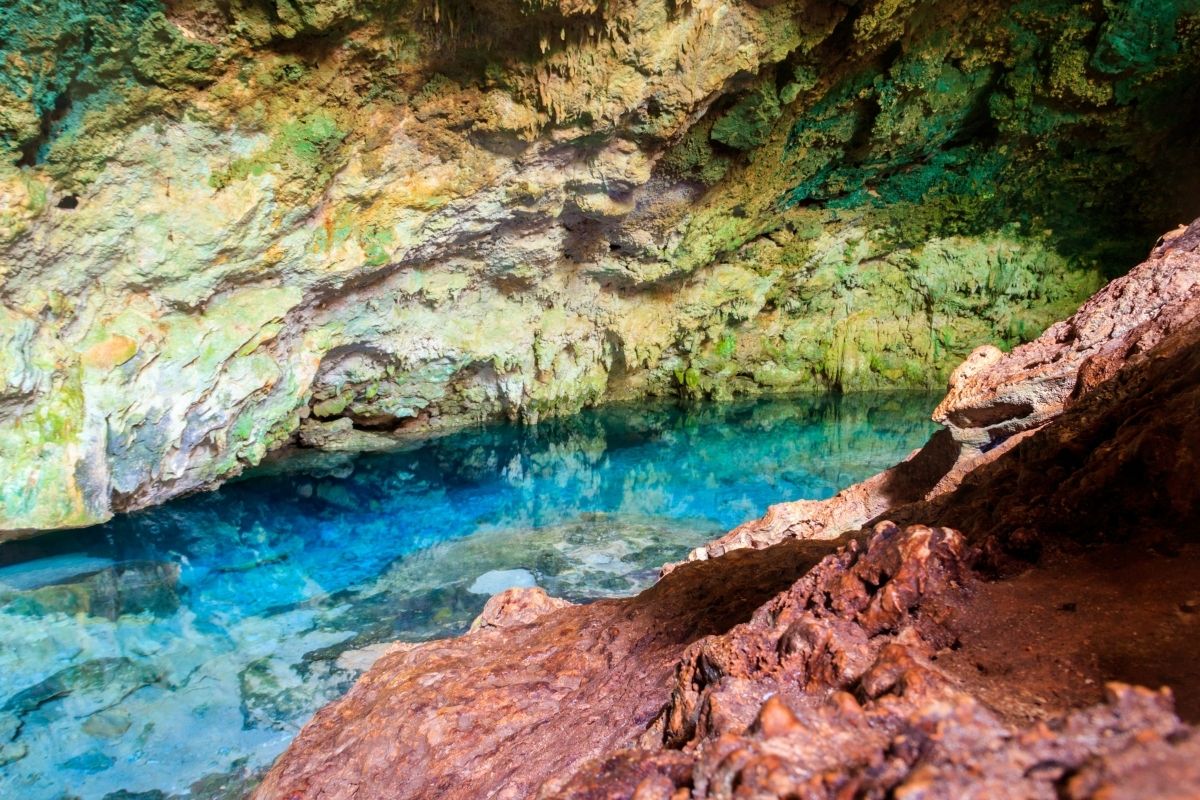 And then, of course, there's the water itself; perfectly framing the surrounding cave walls and rock formations, it's a memorable spot for a swim – and it's even rumored to have healing properties!
Once you take a dip in this gorgeous environment, you'll soon see why this subterranean gem has been beloved for thousands of years!
26 – Go deep sea fishing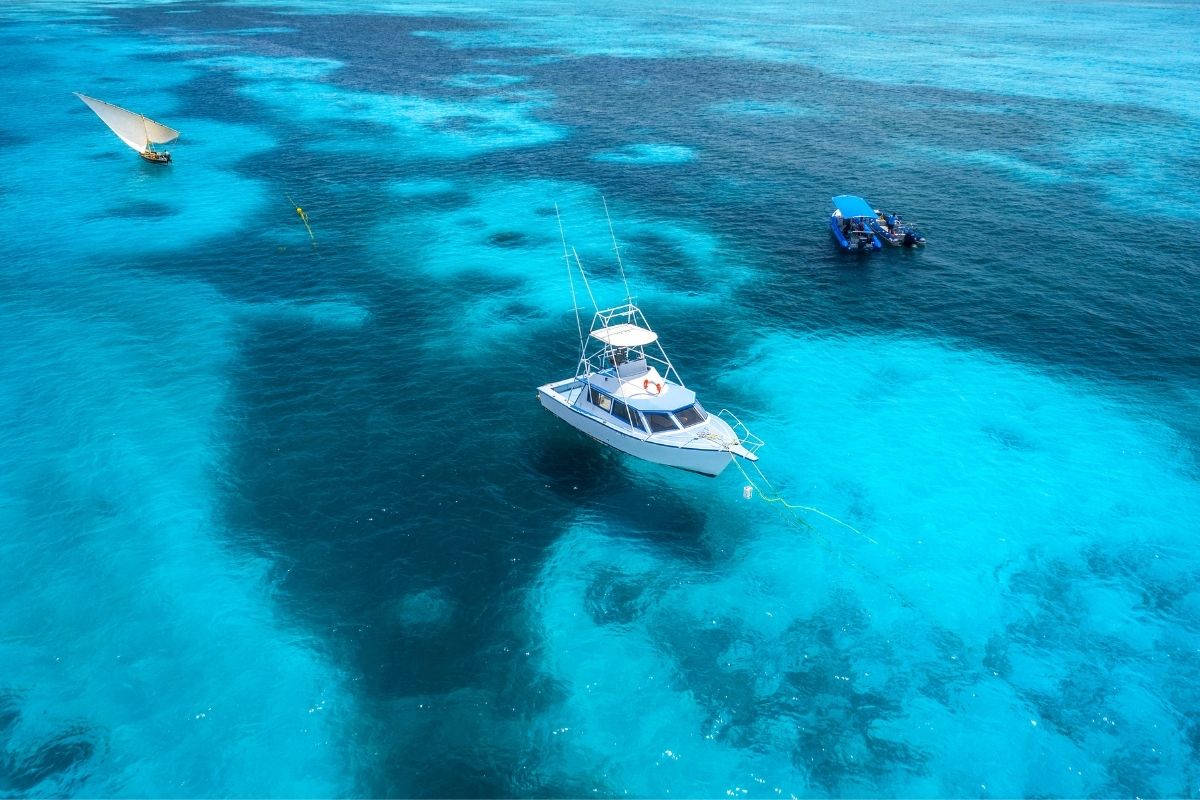 Seeing underwater creatures is awesome… but catching them is just as exciting!
Go a little further out in the waves and try your hand at deep sea fishing, where you never know what species will come up.
While there's tons of wildlife in the shallower waters, your expedition offers you the chance to see some impressively large and dynamic fish, including some of the most sought-after species in the world.
Cast your line for barracuda, king fish, and wahoos all year round, or snag some seasonal species like marlin, yellowfin tuna, and the coveted sailfish.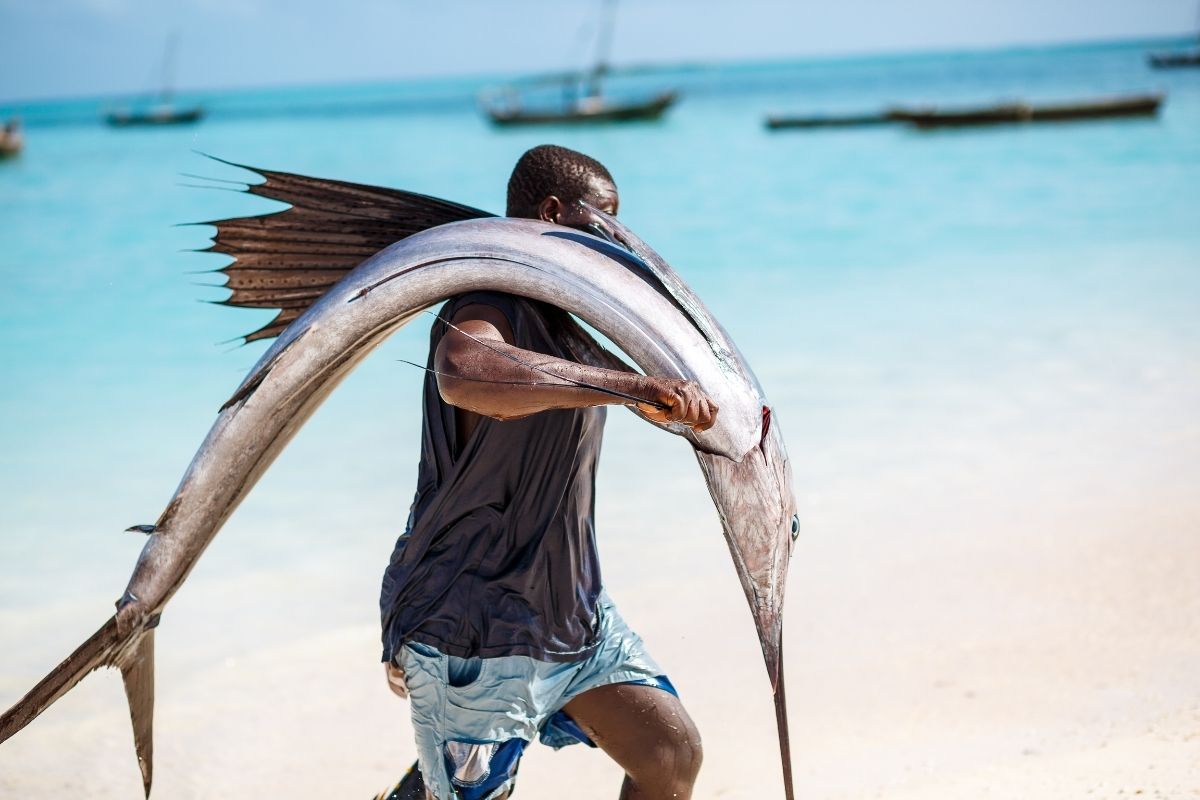 Zanzibar Fishing is an excellent option for these excursions, with 24 years of experience and a great location near the Pemba Channel, long considered one of the best spots for some serious angling.
It's an incredible opportunity to land some world-class specimens… and a memorable souvenir!
27 – Taste the local flavors with a cooking class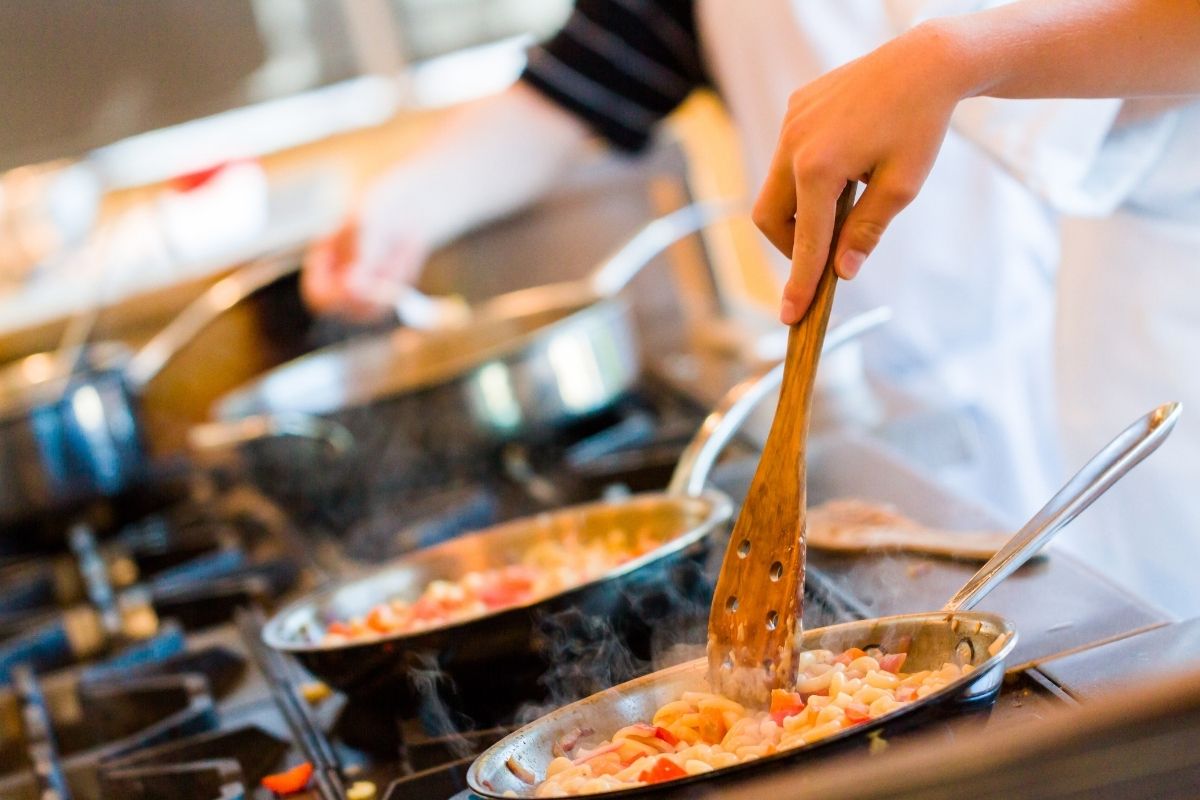 With delicious ingredients, centuries-old recipes, and, of course, those famous spices, taking a cooking class is one of the coolest things to do in Zanzibar!
Along with learning how to make some great new dishes, you'll be able to spend some time with the locals, getting to see firsthand how cooking plays into the culture.
If you're feeling fancy, you can even book a luxury class, and prepare your meals at one of the island's top cooking studios.
After trying your hand at preparing classic Swahili meals at Mosha Cookery Studio, you'll feel like a superstar chef, and you can even compete against your loved ones to make the best meal!
Many of these activities also include trips to the spice market, so you can pick out the best possible ingredients for your dish.
It's an unforgettable experience – and you'll love tasting the results!
28 – Meet some cool critters at Cheetah's Rock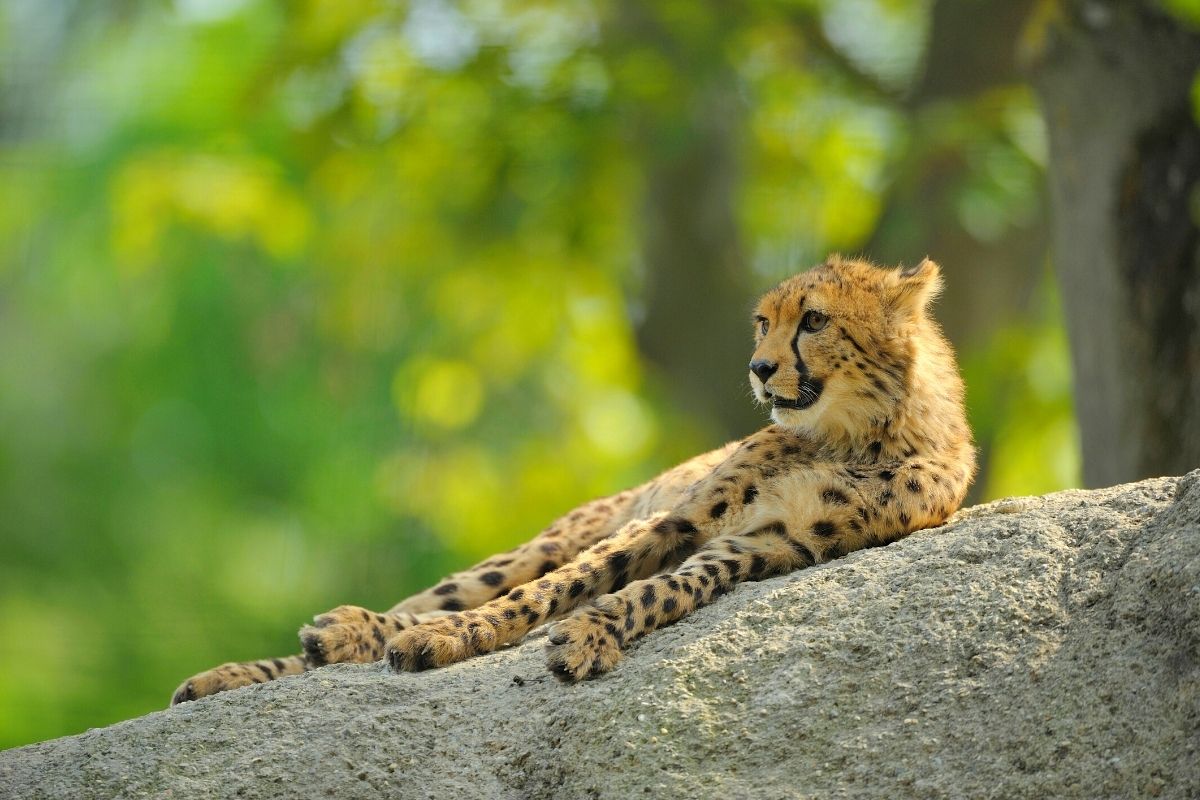 The island may not be the traditional spot for safaris, but that doesn't mean that you can't see some of Africa's most iconic animals while you're there!
Stop by Cheetah's Rock, and you'll get the chance to see some incredible creatures up close – and even play with some of them!
This wildlife rescue and rehabilitation center is home to a wide array of animals, including otters, hyenas, bushbabies, and lemurs.
On the feline side of things, you can meet Aslan the white lion, and, of course, plenty of cheetahs.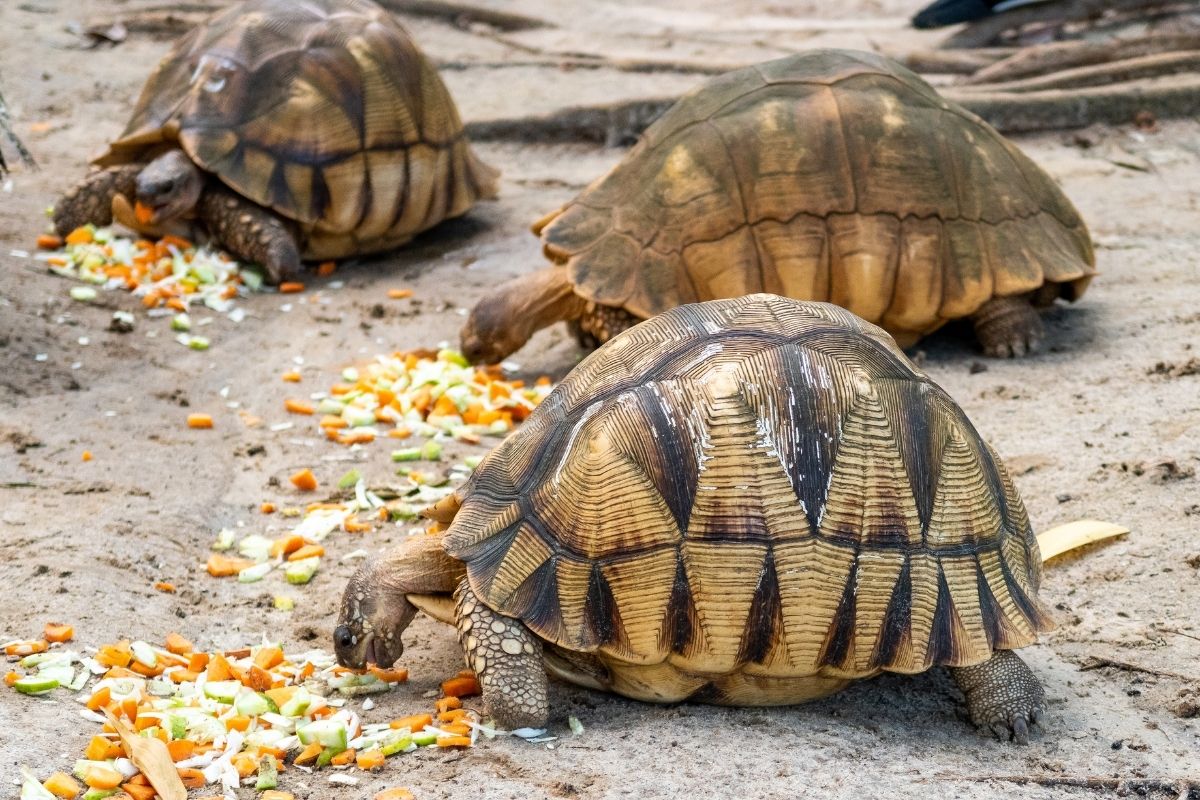 As you tour the sanctuary, you'll be able to learn all about its different residents, and the ongoing efforts to successfully rehabilitate them and release them back into the wild.
And there are some great opportunities to interact with these amazing critters as well; you can feed zebras, spend time with playful otters, or even pet one of the remarkable cats.
A visit to this amazing rescue facility is one of the most fantastic things to do in Zanzibar for animal lovers – and your visit will directly support their work!
29 – Fly through the air with Skydive Zanzibar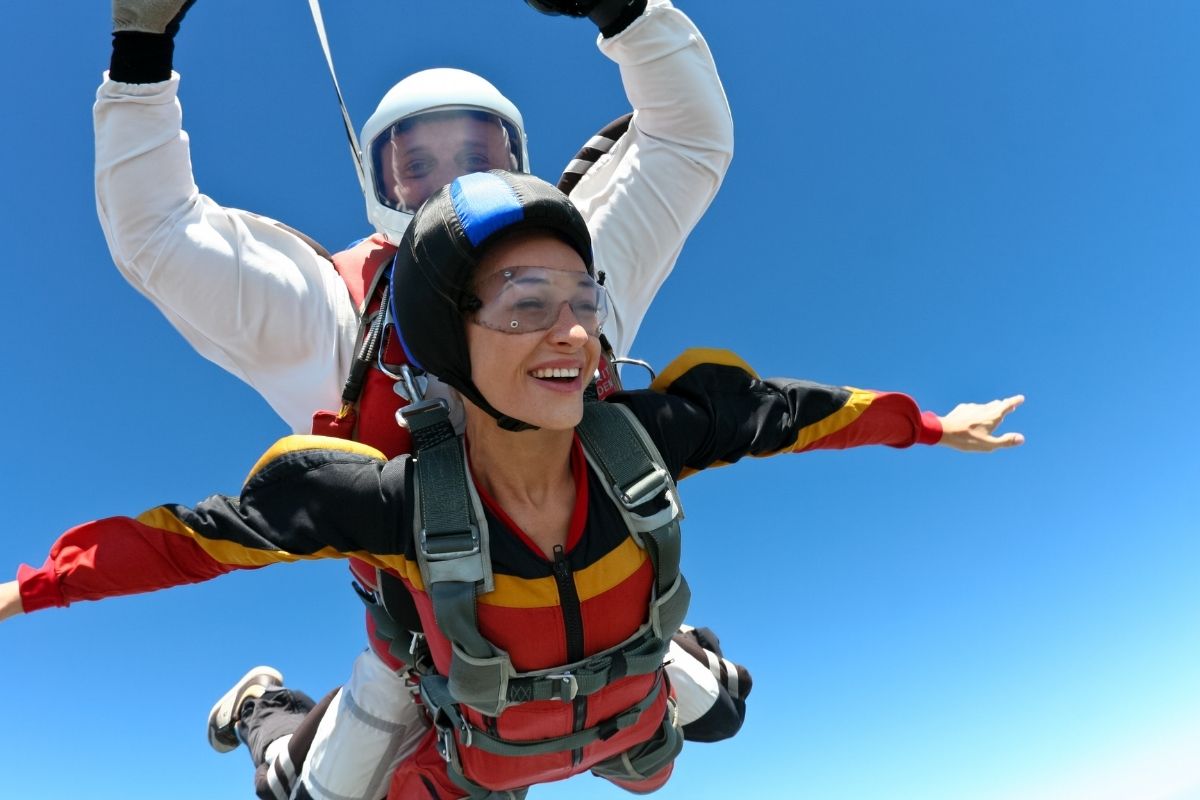 Want a truly memorable perspective on the area?
Then see it from above – way above!
When you go skydiving, you won't just get an astronaut-style glimpse of the world below; you'll also get the unbelievable thrill of flight!
Safely strapped to your instructor, you'll leap from the plane at 10,000 feet, and experience the rush of air and the unbeatable scenery.
Gaze at the ocean and spectacular beaches as you descend, before landing safely on the ground below.
Whether you're new to the sport or a returning fan, Skydive Zanzibar is a great option; based out of Kendwa Rocks Hotel, they specialize in tandem jumps, and also offer comprehensive courses for adventurers that want to learn to fly solo.
Although the experience itself only lasts a few minutes, you'll never forget the views – or the thrill!
30 – Learn some amazing stories at the Princess Salme Museum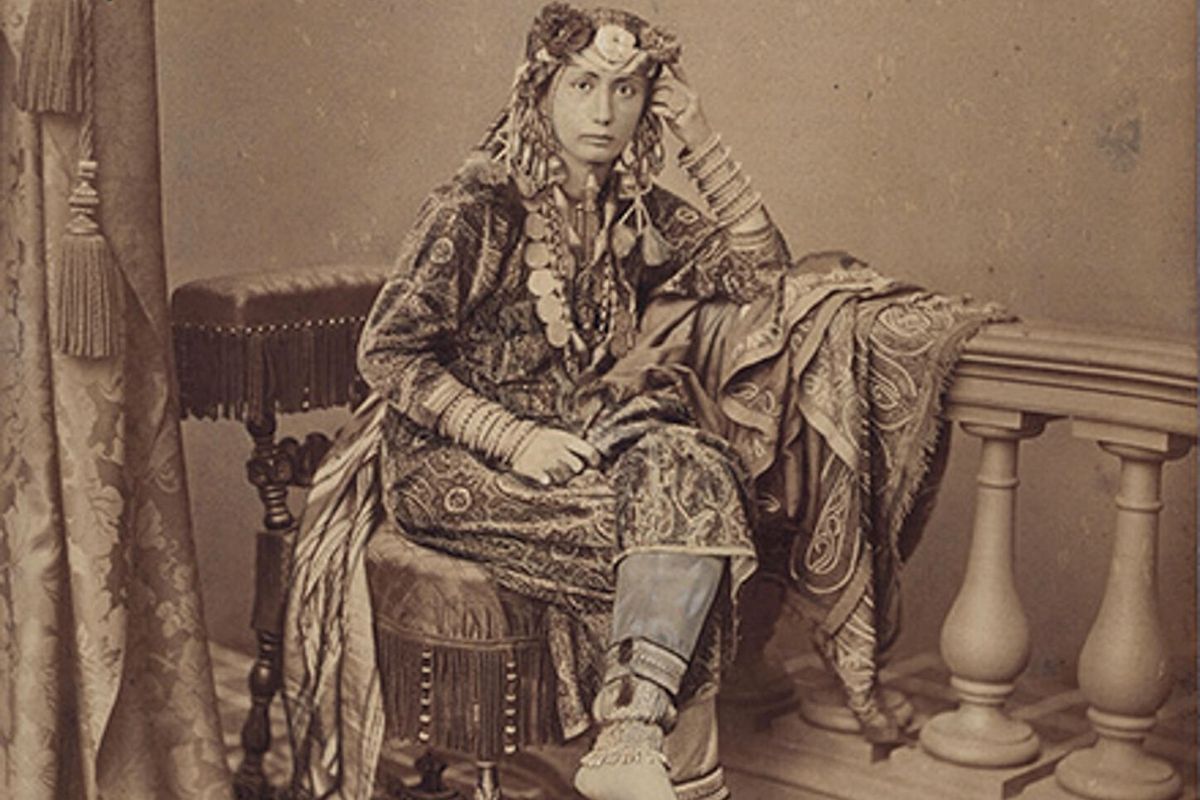 While there are lots of big-name museums in town, the Princess Salme Museum is a labor of love.
Curated by a local historian, it explores the fascinating life of Princess Salme, a 19th-century sultan's daughter who was a source of great controversy.
Raised on the island, she fell in love with a German merchant and eventually moved back to Europe with him, causing shock and outrage in the royal community.
Although the princess endured several tragedies – including the death of her husband -, she was renowned for her strong-willed nature, and her keen observations of society on two continents.
Her unusual cross-cultural life was showcased in her 1886 memoir, which was a hit in several countries.
As you tour this small but info-packed space, you can learn all about the princess and her times, and even see some artifacts and jewelry from the era.
It's a wonderful peek into a fascinating chapter of the past, and a lovely tribute to a unique historical figure.
31 – Step into the past at the Hamamni Persian Baths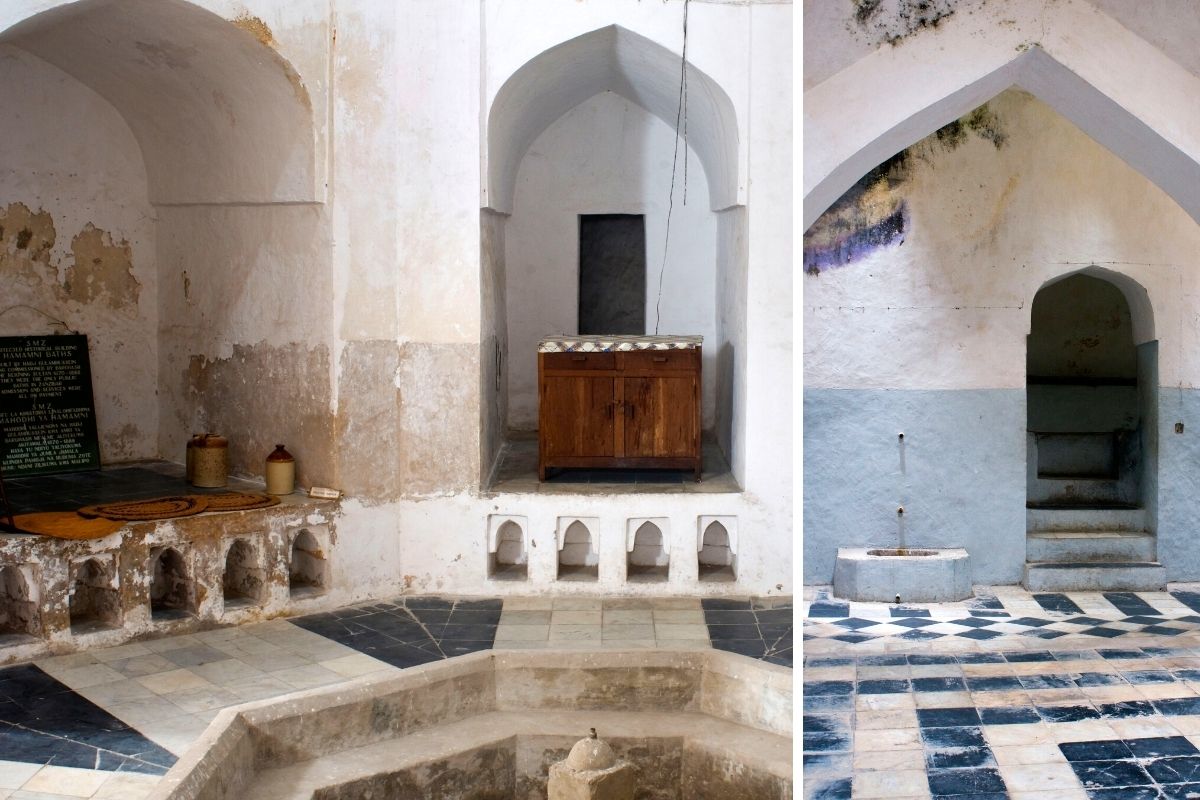 Right in the midst of Stone Town, a somewhat unassuming building holds one of the city's great historical gathering spots.
The Hamamni Persian Baths were a place for citizens to sit, soak, and relax through the late 1800s and early 1900s, and while it was mostly used by the upper class, it was also a popular public institution.
While the baths themselves are no longer operational, you can still explore the facility and see how each room looked in its heyday.
Tour the hot and cold bath sections, the waiting room, and the area where the fires were stoked, and check out the beautiful tile designs and Arab-style interiors of this lovely building.
It's a wonderful opportunity to see some nicely restored architecture – even if you can't go for a soak yourself!
32 – Get in touch with nature at Zanzibar Kilosas Conservation
Wander through some beautiful forested areas.
Let a lizard or a primate perch on your shoulder.
Or lock eyes with a crocodile – at a safe distance, of course.
It's all part of a normal day at Zanzibar Kilosas Conservation, a zoo and environmental organization that seeks to preserve the local ecosystem and its residents.
Spend some quality time with monkeys, chameleons, tortoises, snakes, and a variety of small birds and mammals that call the island home.
While it's awesome enough to see the creatures up close – sometimes right next to you! -, you'll also be able to see a great example of the natural environment in Northern Zanzibar, and learn all about the center's efforts to help the ecosystem flourish.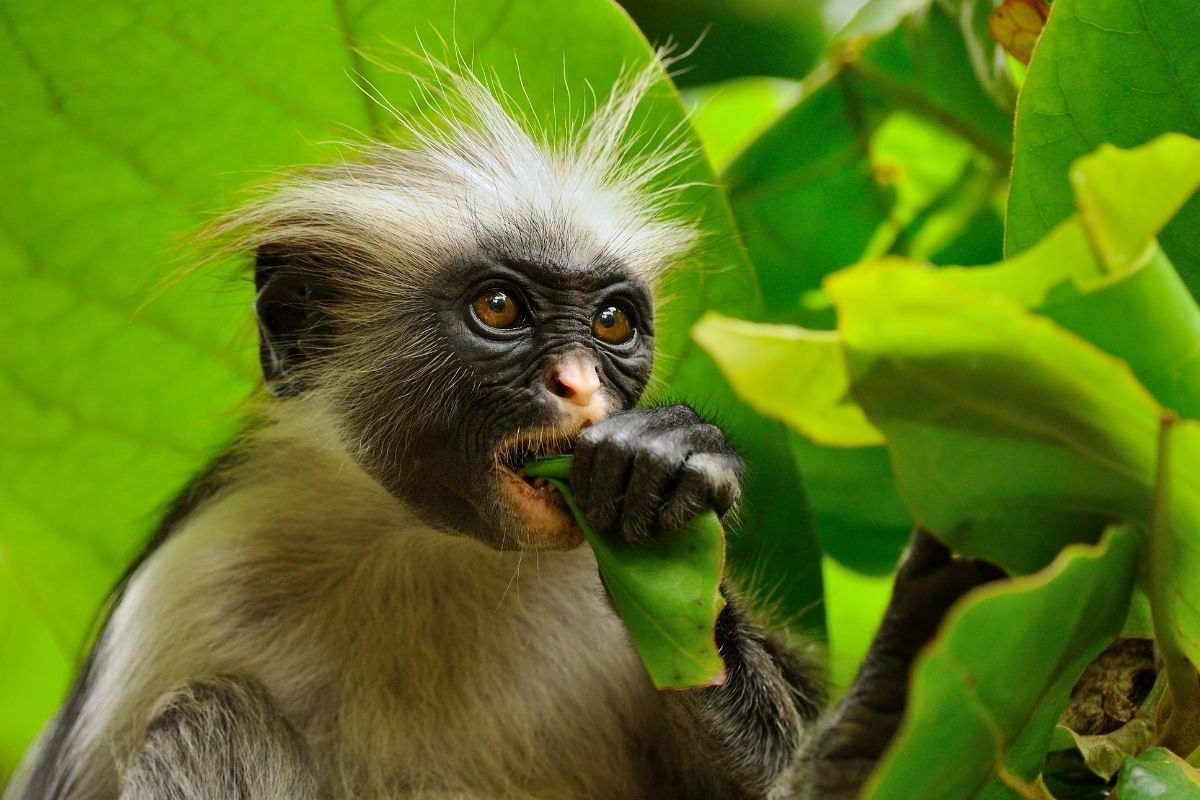 Be sure to spend some time talking with the staff while you're there, as they have tons of helpful information about each animal and the unique nuances of their natural habitat.
They also focus on training the next generation of environmental advocates, and they even provide habitats for local birds to nest and breed.
There's a little bit of everything at this wonderful spot!
33 – Tour Mtoni Palace Ruins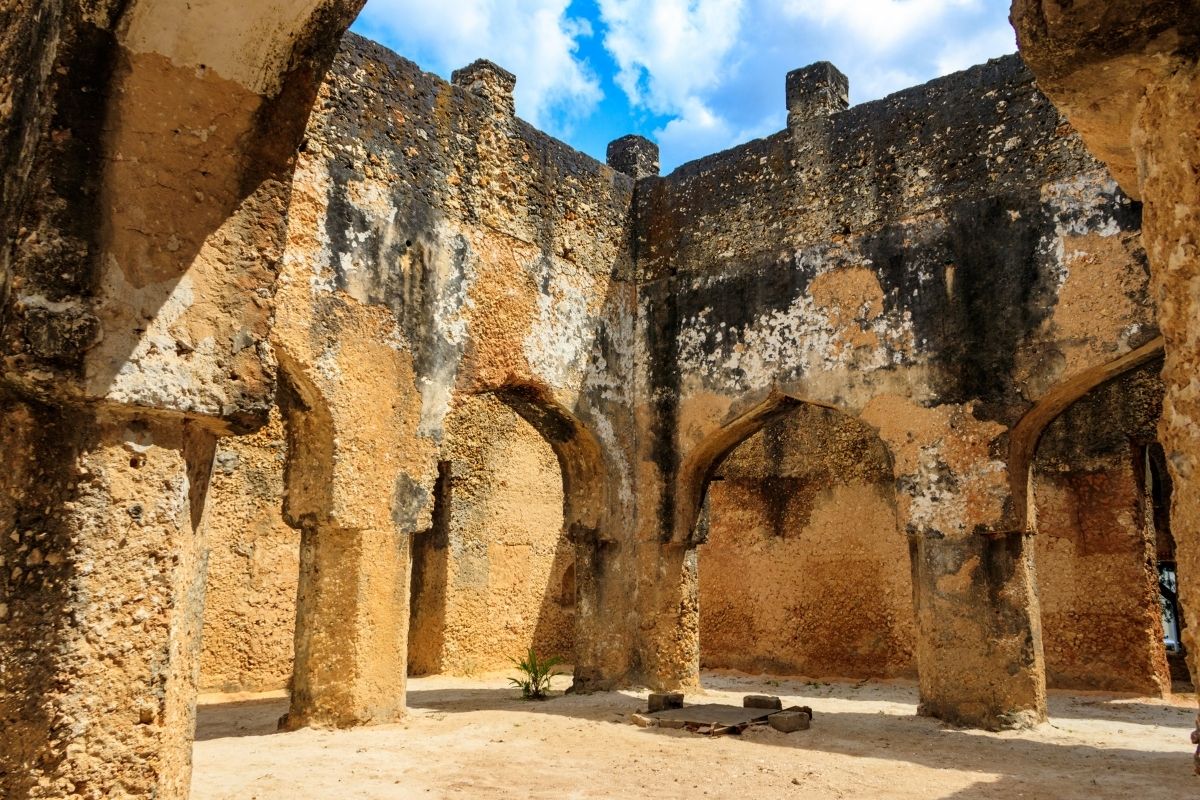 For some opulence in the tropics, take some time to wander through Mtoni Palace Ruins.
While it was once a lavish sultan's palace with free-roaming peacocks, it's mostly used as a gathering spot today, with its skeletal remains wonderfully framing the surrounding landscape.
Built in 1828, it served as a home for the ruler's wives and children, including Princess Salme (see entry #30).
While the building's glory days are long past, its remaining structures offer some fascinating glimpses into how royal society operated.
Stop by to see the former gardens and bathhouses, and explore the structures that remain standing.
Be sure to stop by in the evenings for some spectacular live entertainment; from dinners and historical presentations to music and fire dancing, there's no telling what you'll see when you stop by – but it's sure to be memorable!
34 – Try your hand at kitesurfing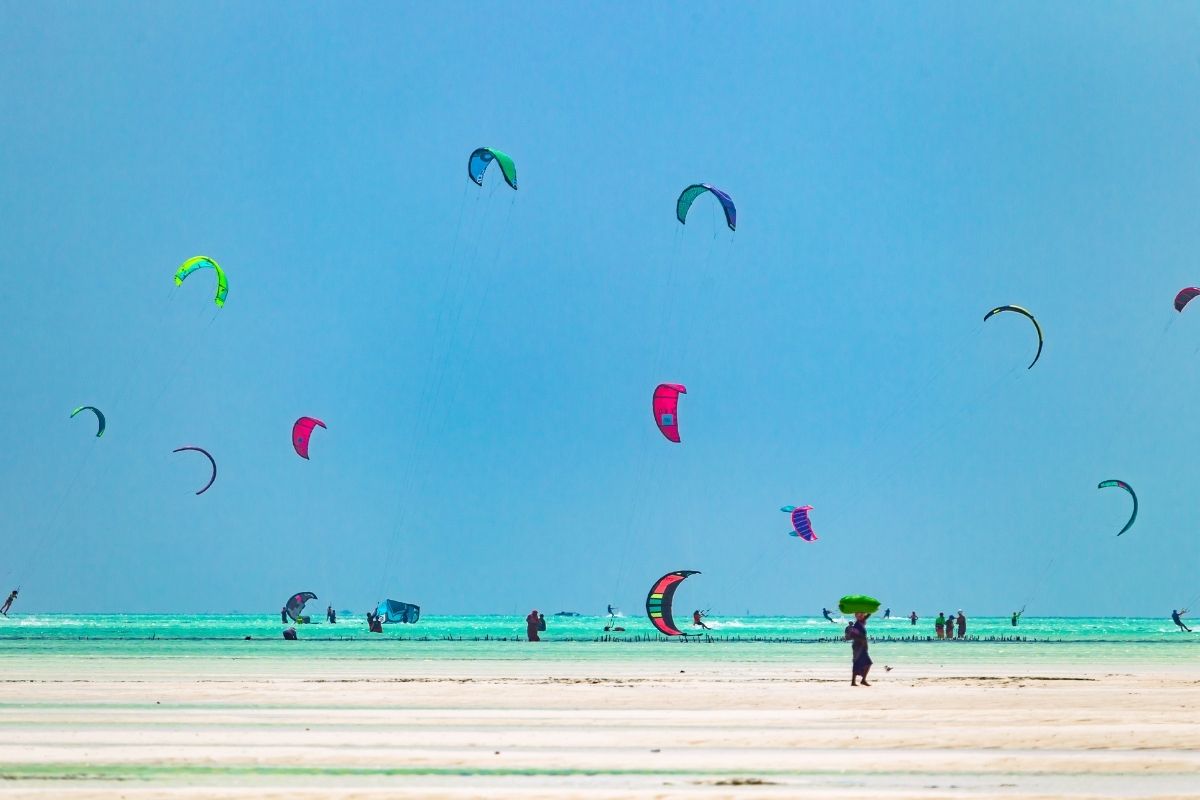 As you relax on the beaches, you might notice a lot of people taking flight over the water.
And it's little wonder; after all, this is one of the best spots for kitesurfing in the world… and one of the coolest things to do in Zanzibar!
This beloved water sport – in which you navigate across the water with a board and a kite, working with the winds to steer  – is the perfect way to get some adventure and exercise.
And with its stellar combination of good weather, warm, gentle waters, and consistent breezes, the island is a perfect place to learn the activity… or to keep pursuing it!
While there are excellent spots all over the island to hit the waves, Paje, located on the eastern side, is a particularly popular destination, with great stretches of beach and tons of different schools available.
If you're a newbie, B4 Kitesurf Zanzibar is a great place to start; they offer plenty of guidance, great lessons, and even accommodation for you to relax in after a day out on the water.
After some practice, you'll be flying like the pros!
35 – Enjoy picture-perfect scenery at Nakupenda Beach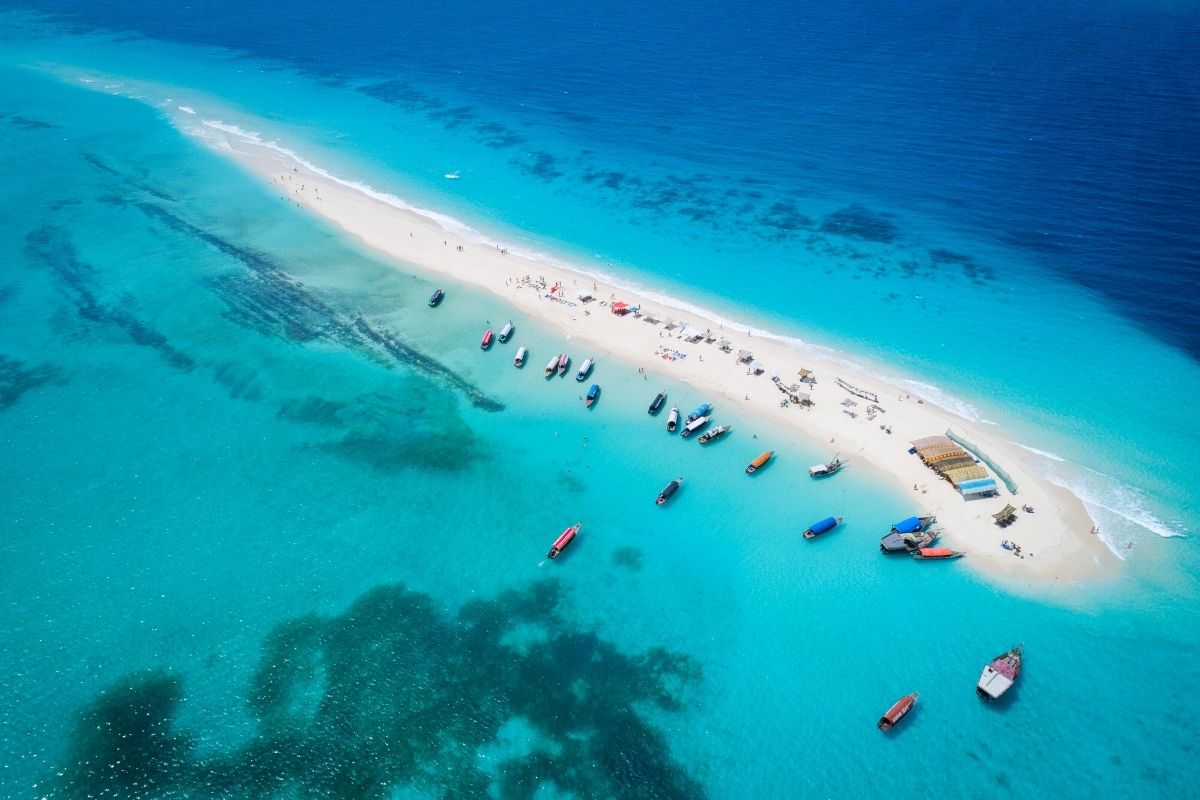 In a place like Zanzibar, pristine white sands aren't hard to come by.
So when we say that Nakupenda Beach is world-renowned for its gorgeous sandbar, you know that we mean it!
Its soft, powdery shores are the perfect place to relax after a day of snorkeling, where you can take in all of the lush scenery and amazing fish that the island is known for.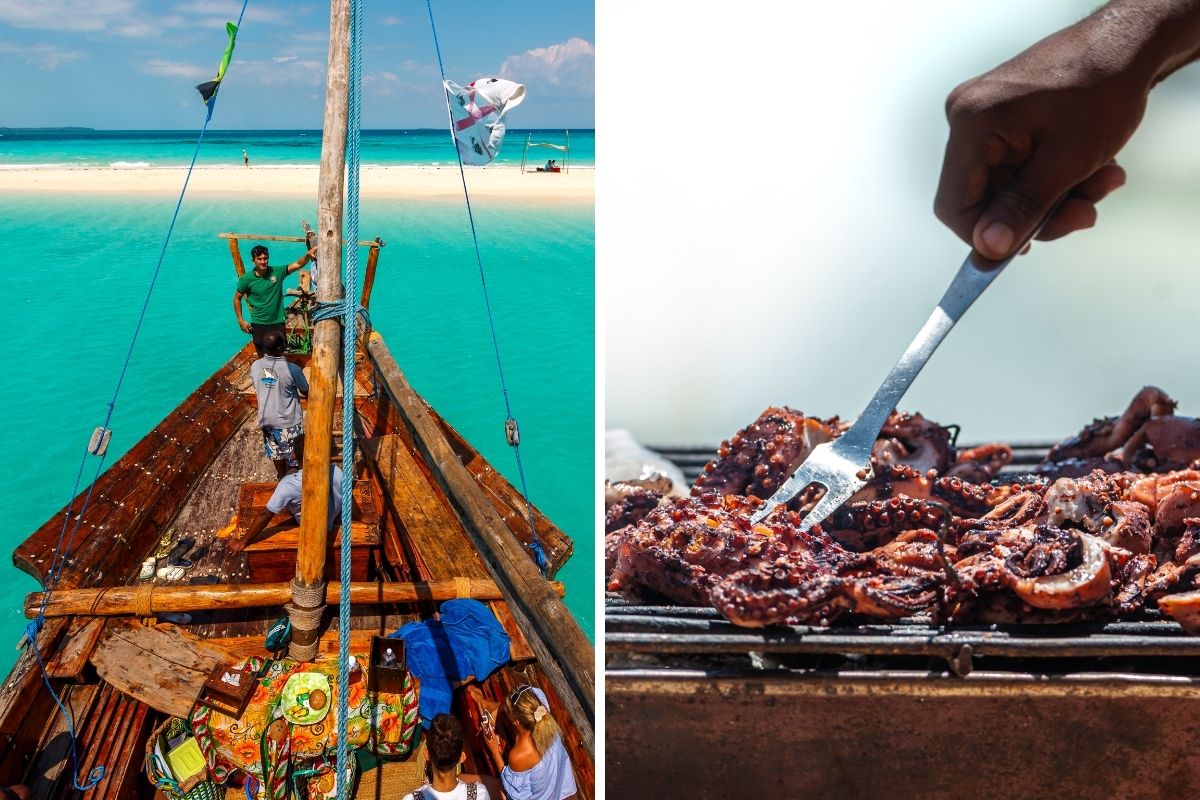 As an added bonus, many tours include trips to Prison Island, so you can get the full experience of this gorgeous area.
After a day of snacking and lounging in the sand, you'll really feel like you've stepped into paradise!
36 – Pay a visit to the Peace Memorial Museum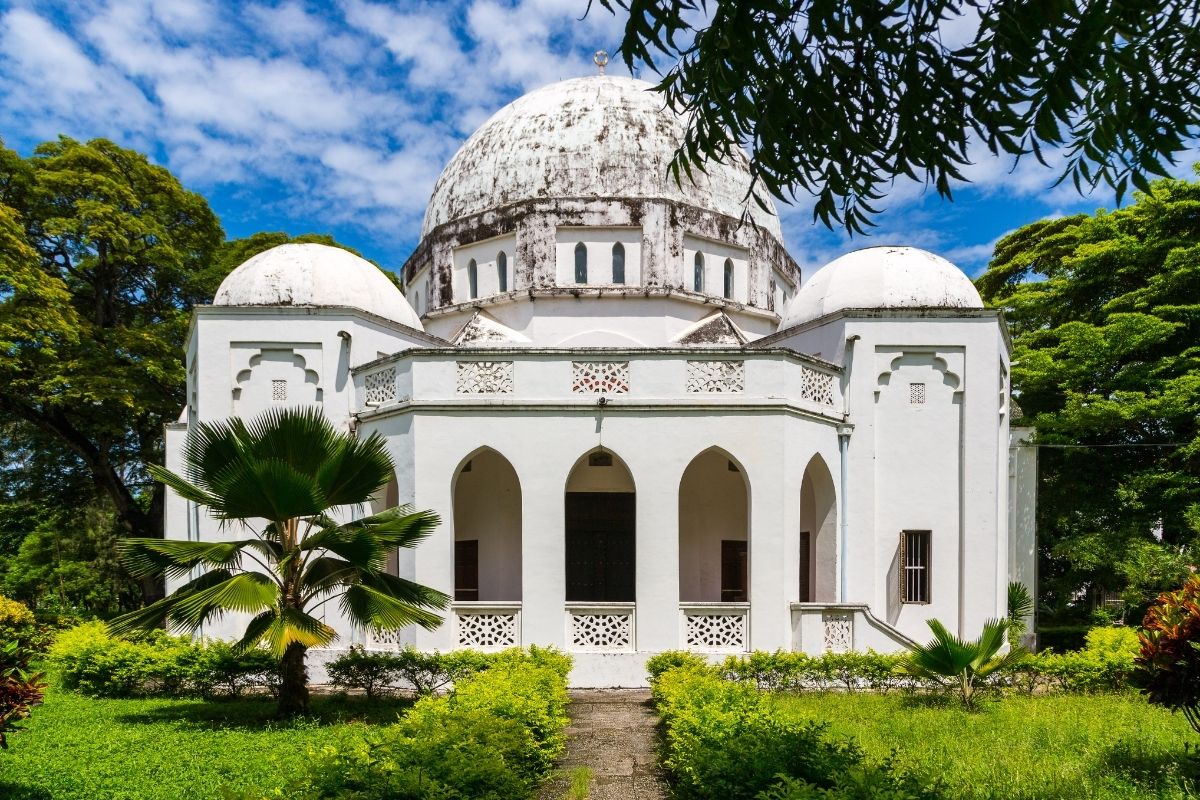 For nearly a century, the Peace Memorial Museum has served as an educational hub for visitors wanting to explore the island's complicated history.
The building itself is another great tribute to the Arab influences on the region, with its mosque-like designs and marvelous dome.
And its story is equally impressive; it was created by J.H. Sinclair, a British architect who also oversaw the construction of many other prominent local buildings in the 19th and 20th centuries.
Originally, the building was created to celebrate the end of World War I, before becoming a museum that showcased some remarkable artifacts.
Its exhibits – which covered the art, history, and culture of the area, from its craftwork to the slave trade – have mostly been relocated, but you can still explore the structure itself, comb through the books in its library, and learn about its role in local life.
37 – Treat yourself at the Forodhani Gardens food stalls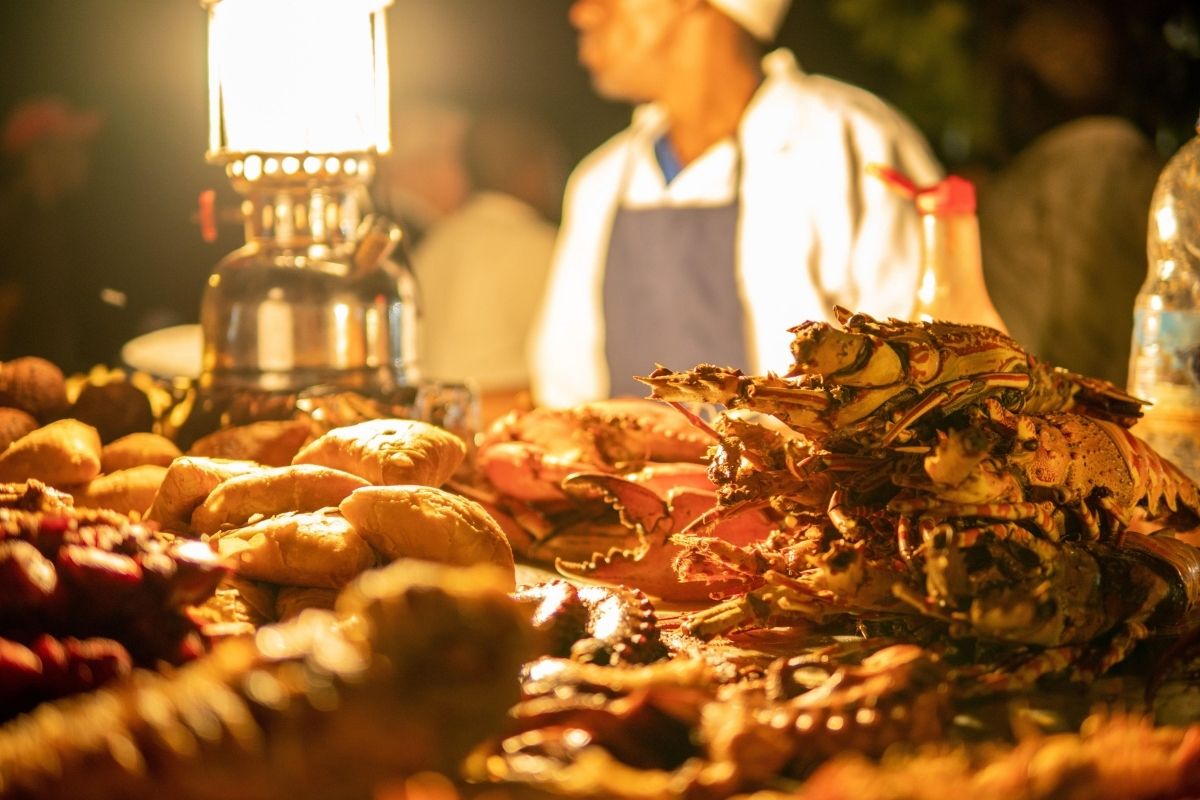 All this exploring has probably made you hungry, so head for the food stalls!
Every night, the open spaces of Forodhani Gardens turn into a hyperlocal food court, with vendors from all over the island hawking their wares.
Whether you want refreshing mango smoothies, tantalizing grilled meats, or seafood pulled fresh from the water that day, you're bound to find something delicious and inviting, and it's a great chance to taste some authentic Swahili and Zanzibari meals.
And while you're strolling around, you'll get a great feel for the hustle and bustle of the town, as scents and sounds fill the air with excitement.
It's well worth taking some time to explore the gardens themselves; they've served as a social hub and scenic spot since 1936, and offer some great opportunities to people-watch and enjoy the beauty of the waterfront.
Wash it all down with some sugarcane-and-tamarind juice… or get a little naughty and indulge in a Snickers pizza. You are on vacation, after all!
38 – See some rock music relics at the Freddie Mercury Museum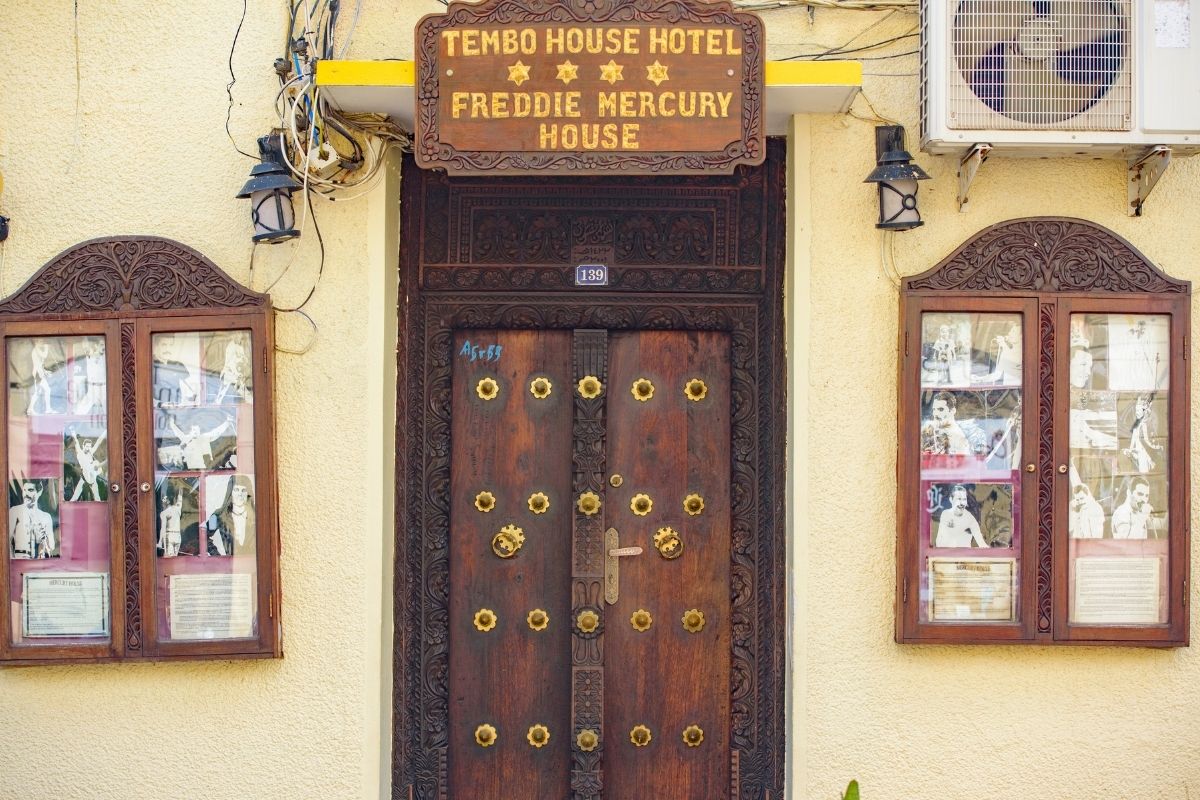 If you're not looking, you might almost miss the lovely yellow building tucked along a side street in the middle of Stone Town.
But it was once home to one of the most iconic rock stars in history – and if you step inside, you can see a phenomenal display on his life and work.
Although Freddie Mercury spent his entire career in England, he actually grew up on the island, leaving with his family during the 1964 revolution.
The Freddie Mercury Museum, which was opened in 2019, sits inside his childhood home, and is filled with photographs and personal anecdotes from people who knew him, including his schoolmates and early bandmates.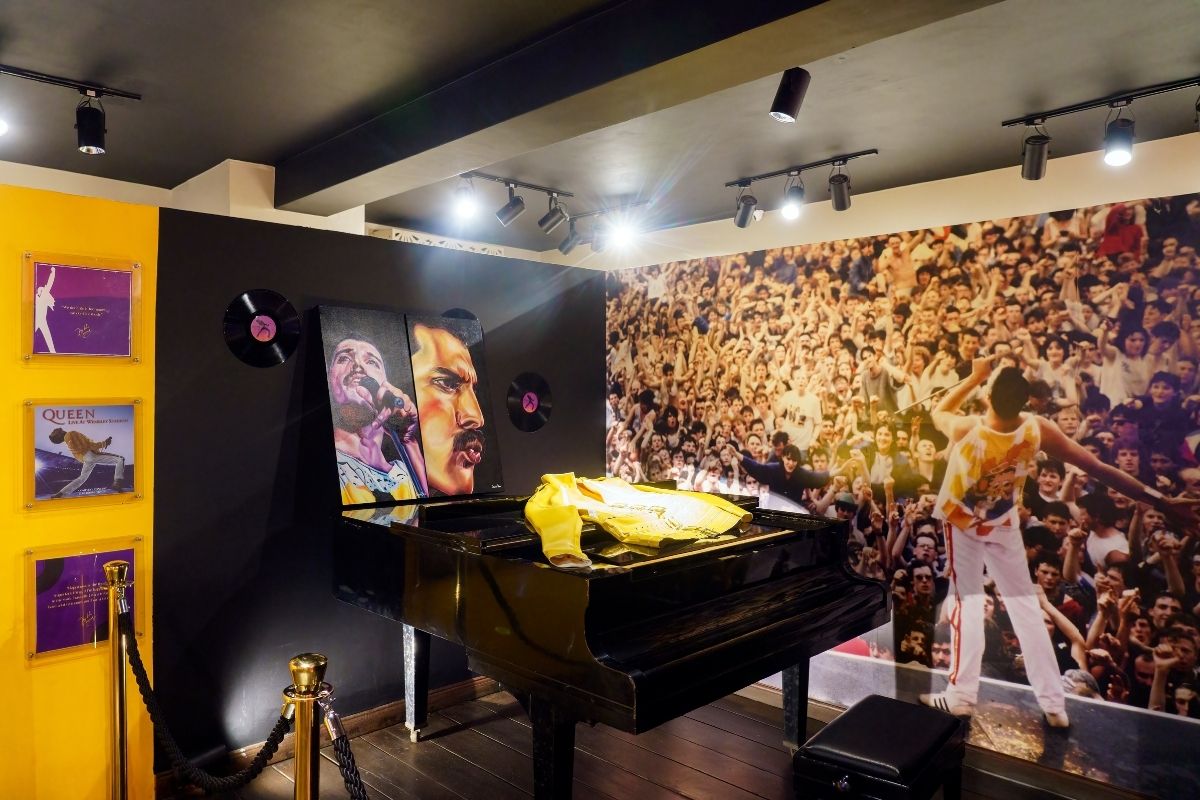 It's also filled with great memorabilia from the artist's illustrious career, including handwritten song lyrics and some of his most famous outfits from various tours.
As an added bonus, there are some lovely informational displays about the history of the region and its many cultural influences during the 19th and 20th centuries, with a particular focus on the Zoroastrian religious group.
This spiritual practice, which dates back to the days of ancient Iran and focuses on the cosmic battle between good and evil, had a strong following on the island before the revolution, including Mercury's family.
This charming, informational spot is the perfect place for music fans to pay tribute to this remarkable man – and learn more about Zanzibari history in the process.
39 – Support nature at Zanzibar Land Animal Park (ZALA)
The charming little village of Muungoni may not be on your radar, but it certainly should be; it's home to an impressive conservation program.
Zanzibar Land Animal Park (also known as ZALA) is home to a wide variety of the island's creatures, particularly reptiles.
If you yearn to see pythons, geckos, and monitor lizards up close, you've come to the right place!
But there are also some less scaly residents to visit as well, including hyraxes and dik-diks.
The surrounding landscape is also part of the draw, with some excellent guided walks through the forests of spice trees and mangroves.
Join the ranger for a guided tour, and learn all about this unique environment and its residents – and what you can do to help!
40 – Hang out on Pange Island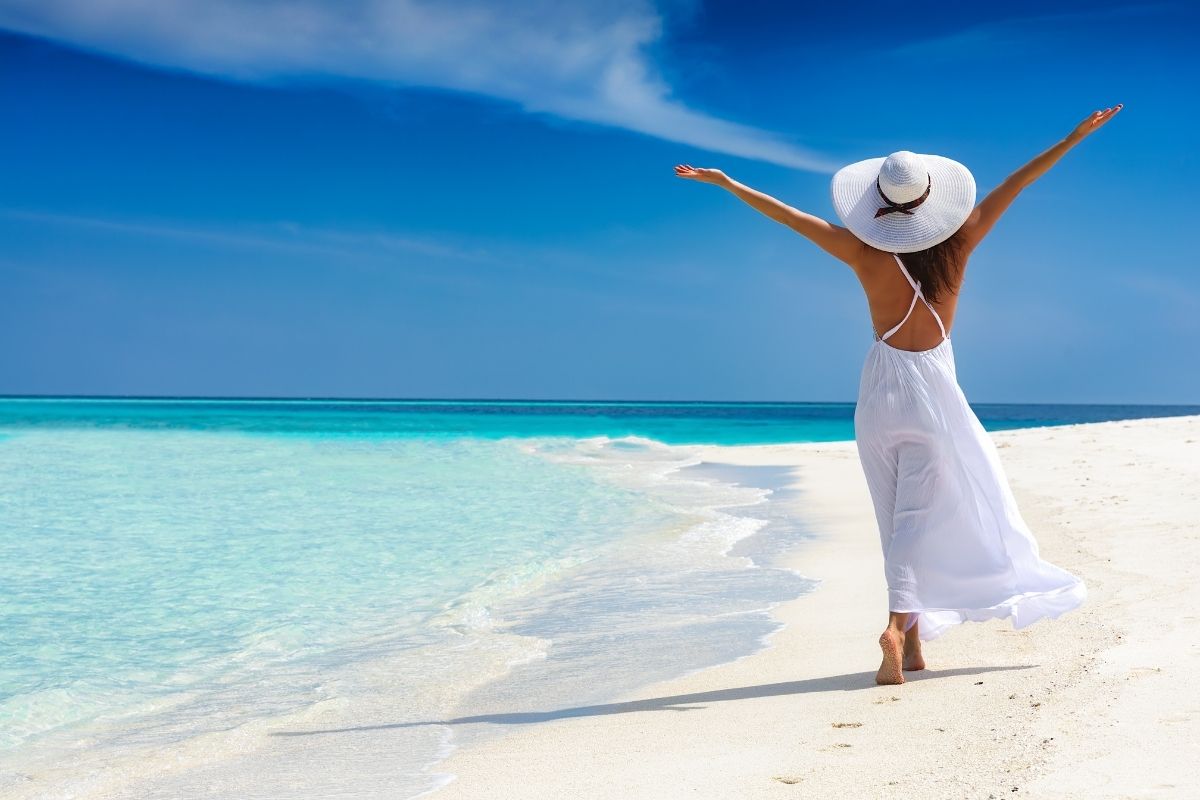 Stroll under the warming sun, dig your toes into the sand, and exhale.
You're in a piece of paradise – Pange Island.
What this sandbank lacks in size, it more than makes up for in beauty and tranquility.
And with its close proximity to Prison Island, it's a wonderful addition to many day tours from Stone Town.
Strap on your fins and start snorkeling through the gorgeous waters, admiring the nooks and crannies of a spectacular coral reef.
Or just enjoy a leisurely swim in the mellow currents, before heading to shore to enjoy a delicious meal and some sunbathing.
You'll soon see why this quiet stretch of land is a renowned hangout spot – which is really saying something, considering all of the relaxing things to do in Zanzibar!
41 – Hang out at the Old Dispensary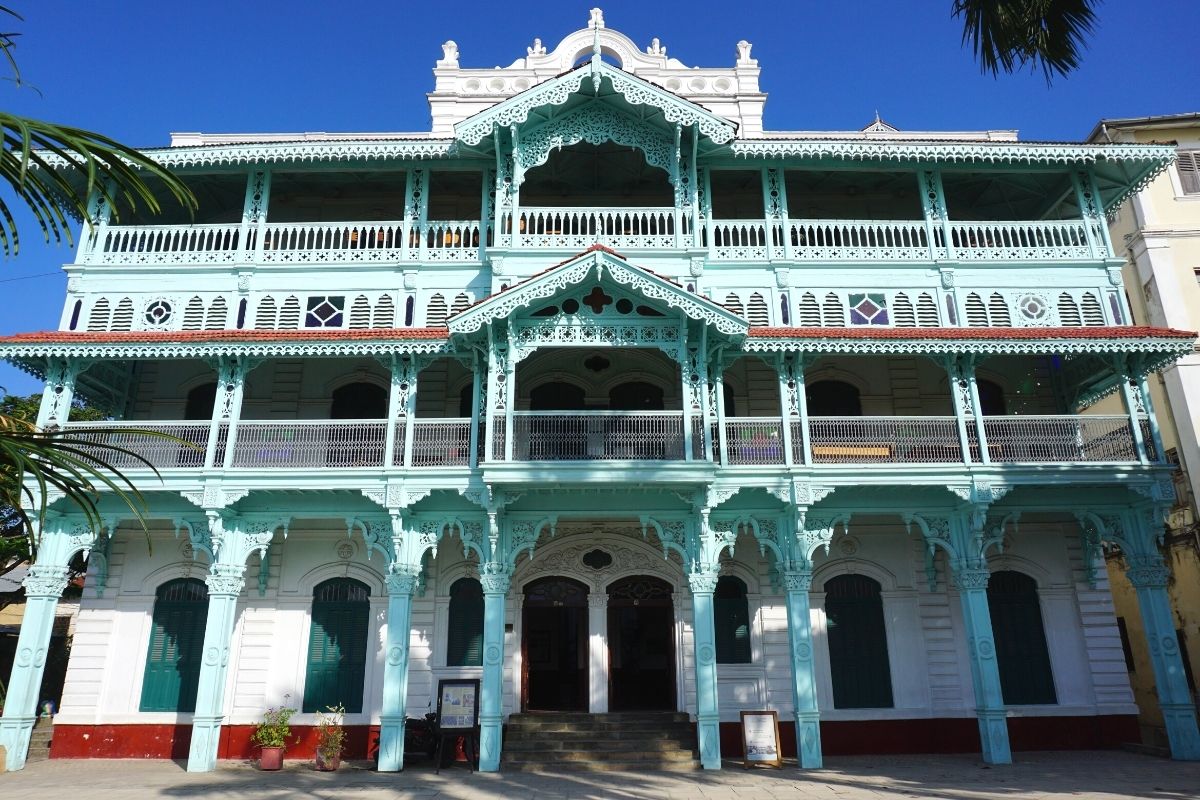 With its ornate neo-classical trappings, the Old Dispensary is hard to miss.
A longtime fixture of the local Indian community, it was originally designed to provide medical necessities, and also featured some residential apartments.
While the building went unused for years after the revolution, it was later restored to its former glory, and now houses offices and a restaurant.
Along with its community role, it's another great example of the mixed influences on the island; from stucco to stained glass to coral, there's no end to the architectural wonders that you'll encounter here.
Take some time to explore the magnificent inner courtyard and the rest of the building's unique details, then head inside to explore the small museum and photo gallery devoted to the island's rich culture.
And if you're hungry after all of that learning, you can grab a bite at the Abyssinians Steak House, which offers hearty and delicious meals in a truly historic setting.
Visual beauty, amazing stories, and great food? It's a classic Zanzibari experience!
42 – Prepare to be dazzled at Kiwengwa Caves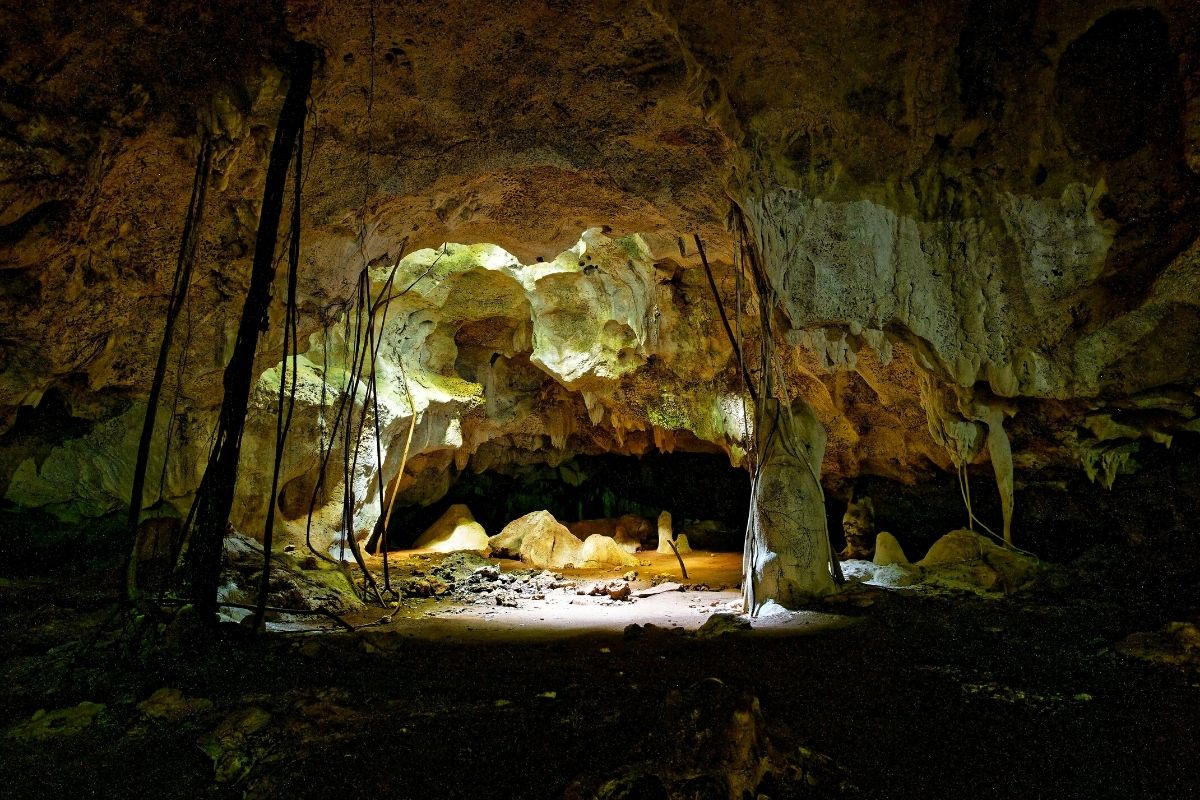 Back underground, Kiwengwa Caves offers visitors a chance to delve deeper into the region's geology – and its cultural legacies.
Tucked into the splendid Pongwe Forest Reserve, which protects part of the rare coral rag system, this magnificent cavern system is filled with amazing stories and sights for intrepid travelers.
Its long and winding tunnels are the perfect place to spot colonies of bats, intriguing insects, and distinctive stalagmites and stalactites.
Look around and take note of the massive tree roots, twisting and turning through the midst of the cave in a surreal fashion.
Their unusual shapes have often been compared to electrical wires, and they help to highlight the unusual ecosystem formed by the structure's evolution over time.
Along with the natural phenomena, the cave also comes with a distinguished history; back in ancient times, it was frequently visited by islanders bringing tributes to their deceased ancestors.
The caves have only opened to the public somewhat recently, so this is the perfect opportunity to get some cool bragging rights with a unique destination.
You'll be amazed at the complex world that you can find below your feet!
43 – Get away from it all at Mtende Beach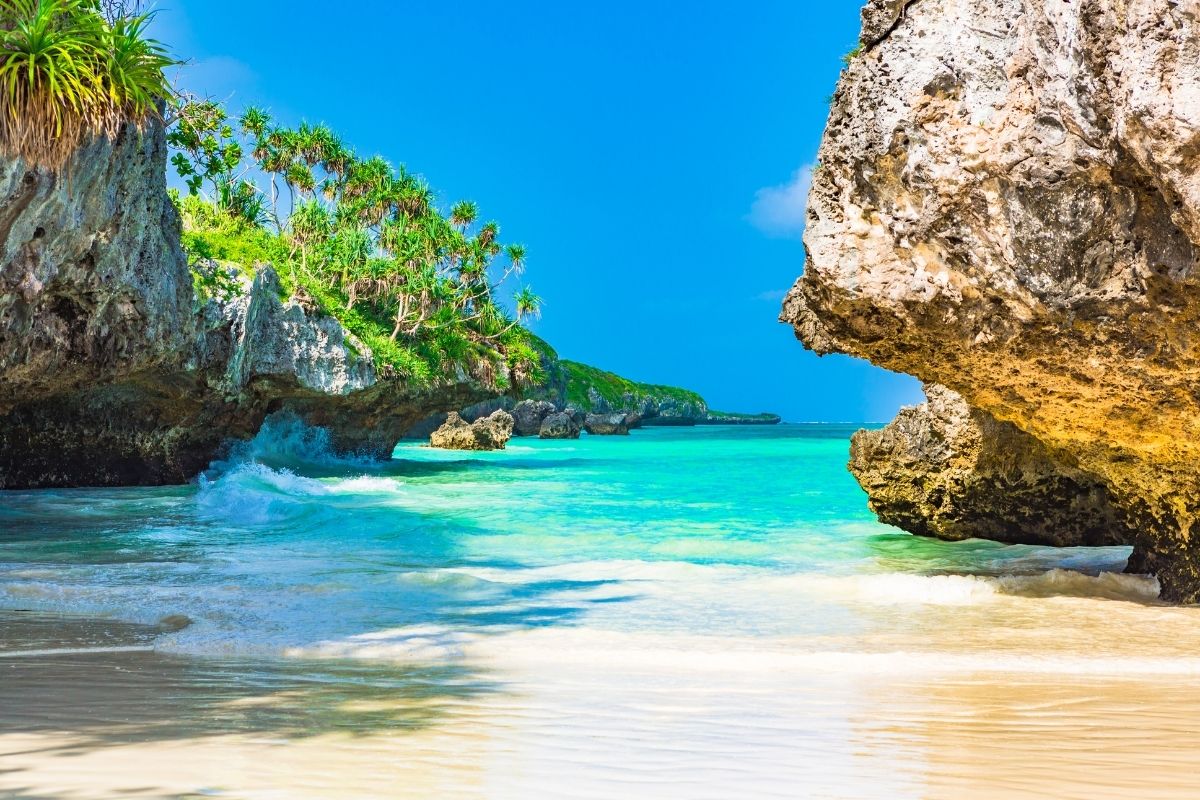 If you go for a swim at Mtende Beach, you might get a little bit distracted by the rocks – but that's perfectly normal!
The striking formations along the shore form their own sheltered cove, which is the perfect spot to swim or wade around the water.
The nearby trees are also worth a look; some of them are nearly a millennium old!
This is also a wonderful spot for tidepooling, and ideal for watching the famously fluctuating tides in action.
As if all of this amazing scenery wasn't cool enough, Mtende also offers some much-needed seclusion; you'll almost never find the sort of crowds that frequent the shores closer to town.
But even though the area is a lot quieter, there are still some excellent restaurants nearby where you can grab a bite after beachcombing.
Check out the Usumba Rock Restaurant, which offers tasty local cuisine, fresh seafood, and tasty juices to enjoy as you drink in the scenery.
Embrace this wonderful opportunity to relax and play away from the crowds!
44 – Enjoy a cup (or a stay) at Zanzibar Coffee House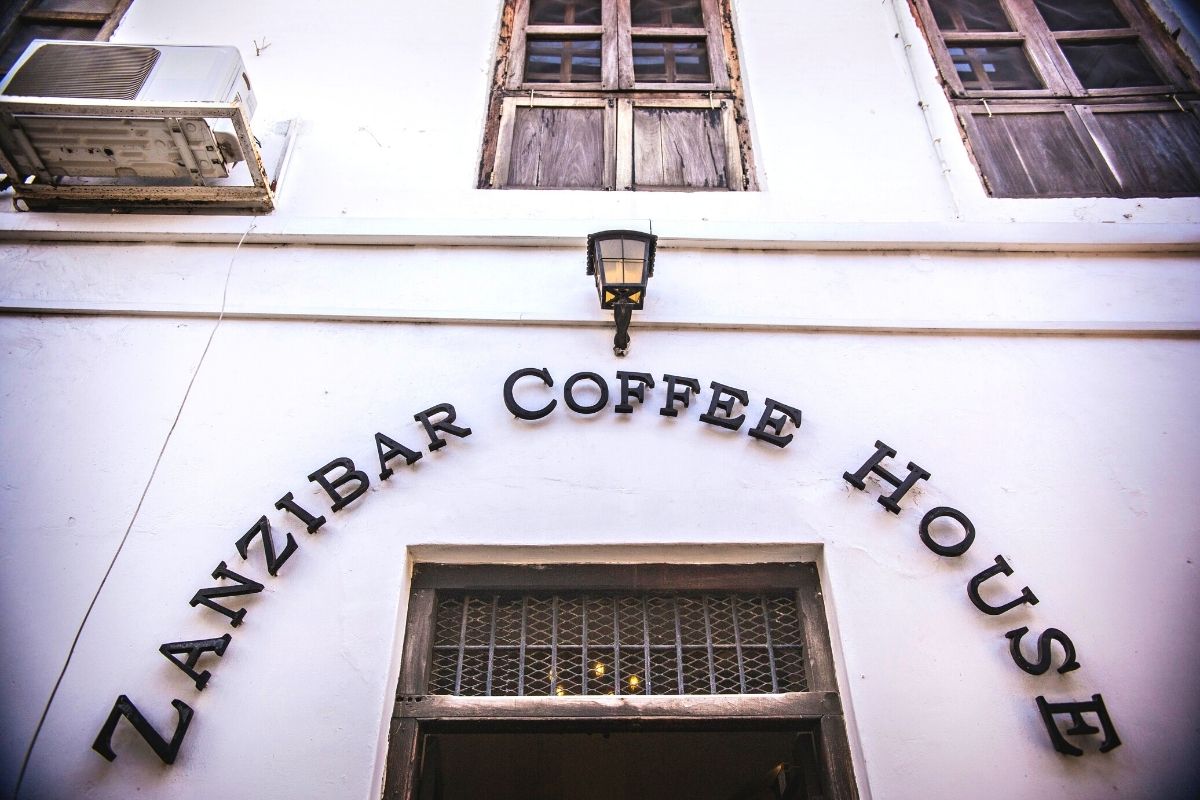 When you're ready for a bit of an energy boost with some seriously classy credentials, head over to the Zanzibar Coffee House for a cup of the good stuff.
Like so many spots in Stone Town, the building that houses this superb java joint is filled with history; it was built in 1885, and has lived a number of lives before becoming an elegant hotel and coffee spot.
The structure was originally one of the area's most elegant houses, and is one of the oldest buildings still standing in Stone Town.
Today, its luxurious trappings have been transformed into a boutique hotel, with eight different rooms named after various strains of java.
Whether you choose the cheerful blue accents of the Bourbon room, the elegant wooden trappings of the Espresso room, or the spacious rose and gold Arabica room, you'll be surrounded by traditional designs, beautiful antiques, and gorgeous spaces that pay tribute to the area's aesthetics.
Even if you're not staying at the hotel, you can still enjoy some fine beverages at the onsite cafe, which features some excellent Tanzanian-grown beans.
Sip some full-bodied brews and enjoy the Arabic accents of the building, as well as great views of the surrounding area.
Or head to the rooftop for a truly panoramic view and some warm sunshine.
It's a coffee break that you won't soon forget!
45 – Embark on a jetski safari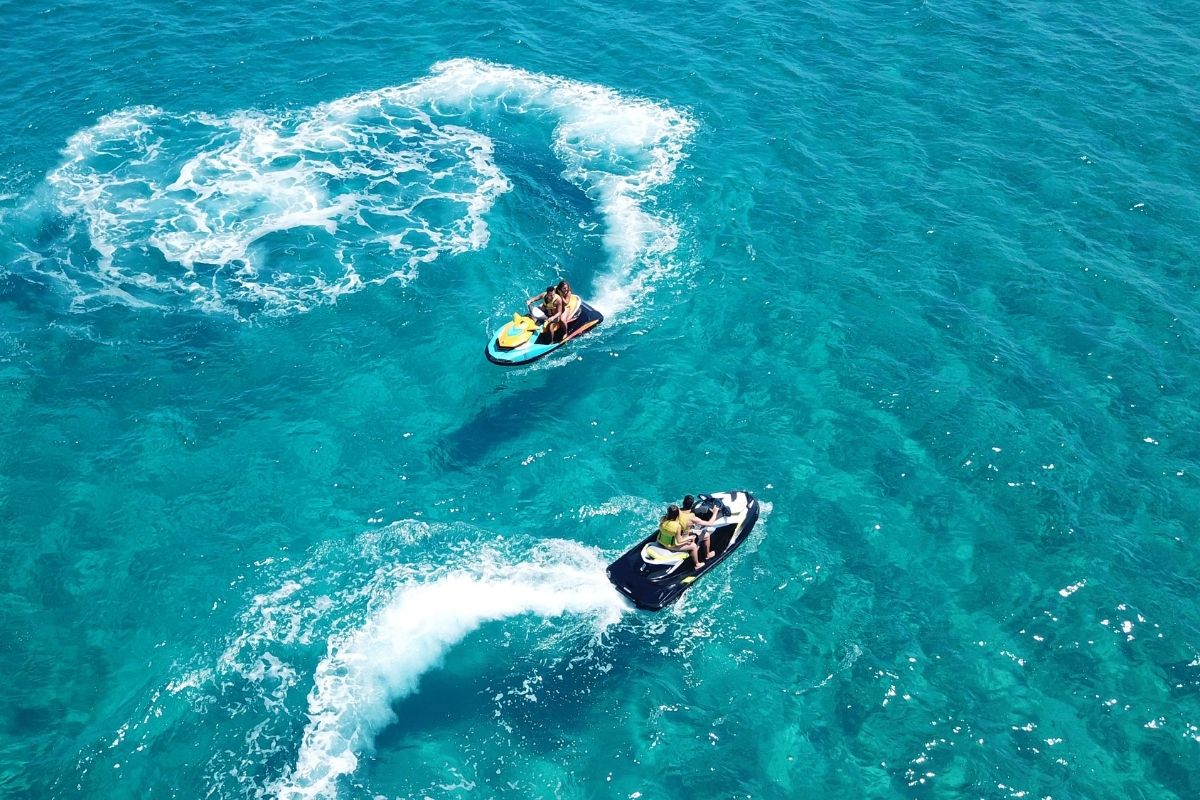 With plenty of high-octane things to do in Zanzibar, you'll have your pick of adventures.
And a jetski safari is one of the most exciting options, blending adrenaline with unique sightseeing opportunities.
Hop aboard your vessel and start cruising, taking in beautiful beaches and the splendor of the ocean waves.
Then you'll have some time to explore Tumbatu, a beautiful island with a unique local culture.
This secluded spot is home to a historic site of the same name, which is filled with the remains of several mosques, simple houses, and even a palace, all built from coral stone.
Over the centuries, it was also part of several early Swahili trading hubs, and was even rumored to be a hub for witchcraft!
On the way back from this memorable excursion, you'll be treated to even more phenomenal views, including some of the luxury hotels.
Best of all, you'll be able to enjoy all of this scenery on a speedy, exciting vehicle – you'll feel like the star of your own spy movie!
46 – Meet the turtles at Baraka Natural Aquarium – Nungwi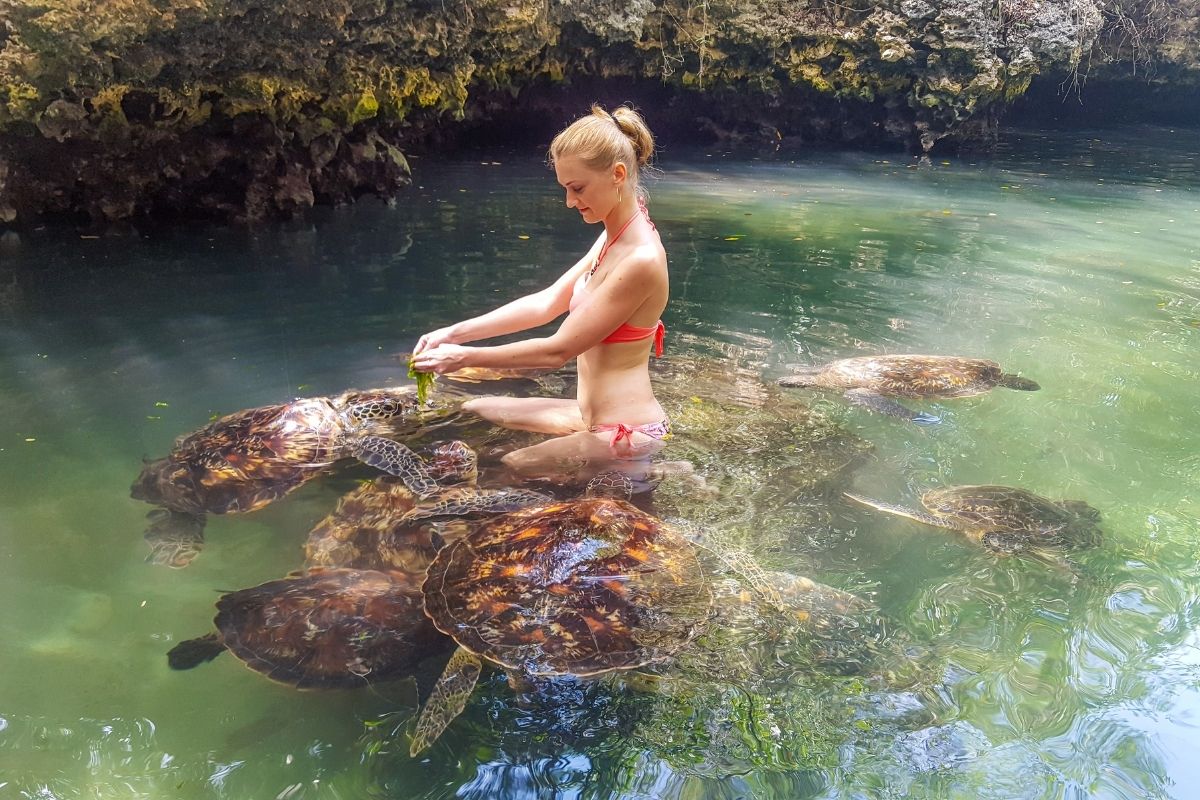 While there are tons of great spots to interact with the local wildlife, Baraka Natural Aquarium is the perfect place to immerse yourself in the experience – literally!
This pristine grotto is home to several sea turtles, all of whom have been injured or caught in fishermen's nets.
These marvelous creatures use the pool to rest and heal under the watchful eye of the staff members, before eventually being released back into the wild.
And in this unique space, you don't just get to look at the animals… you can swim alongside them!
Hop in the warm waters and meet some new reptilian friends, watching their unique behaviors and interactions.
You can even feed them, but their beaks are sharp, so do so carefully!
After your visit, take some time to explore the rest of Nungwi, a charming area known for its lively fish market.
47 – Swim or party at Kendwa Beach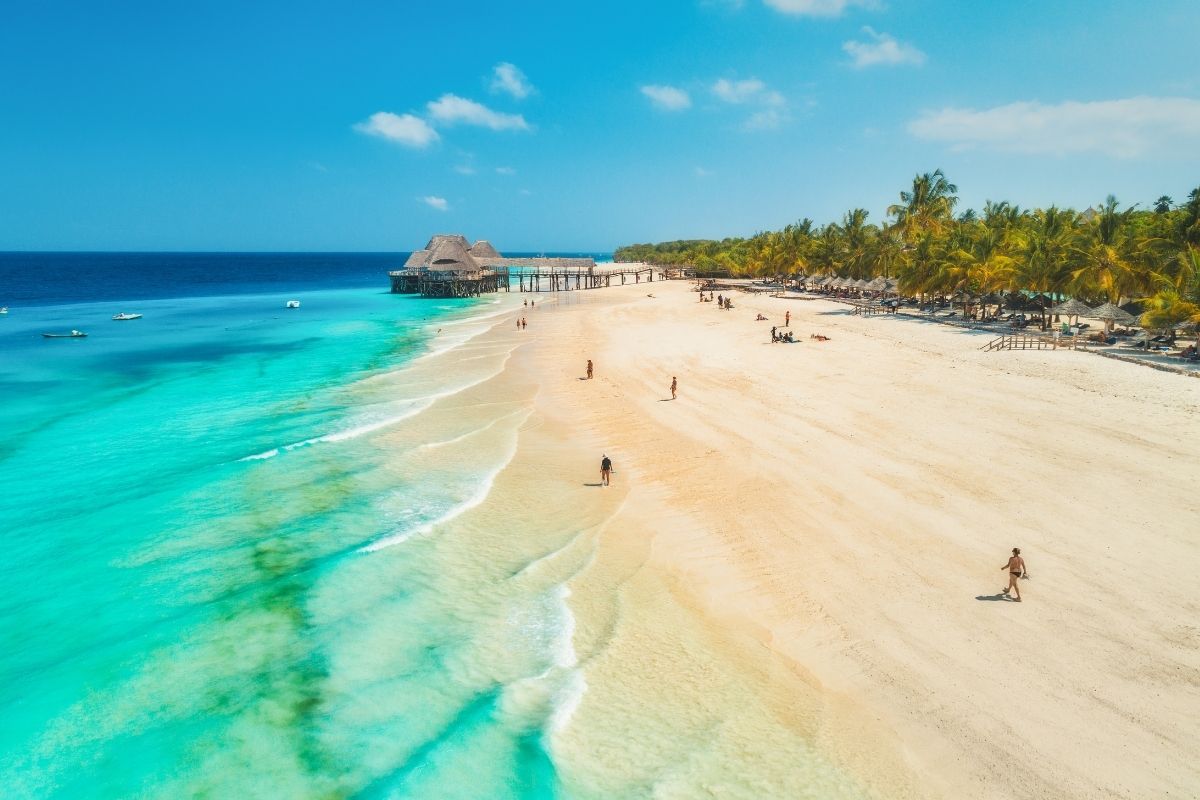 For vacationers seeking a versatile go-to, Kendwa Beach is a perfect spot!
Along with great swimming and wonderful sunsets, the area has a vibrant atmosphere, with live music and nice cafes.
And it's another great place to do some scuba diving, with plenty of opportunities to see local creatures like butterfly fish, squids, and sea urchins.
If you want to keep enjoying this beloved slice of sand, there are also some fabulous hotels nearby.
And if you're visiting during the full moon, don't miss the wild parties here – they're famous all over the island!
48 – Refine your yoga moves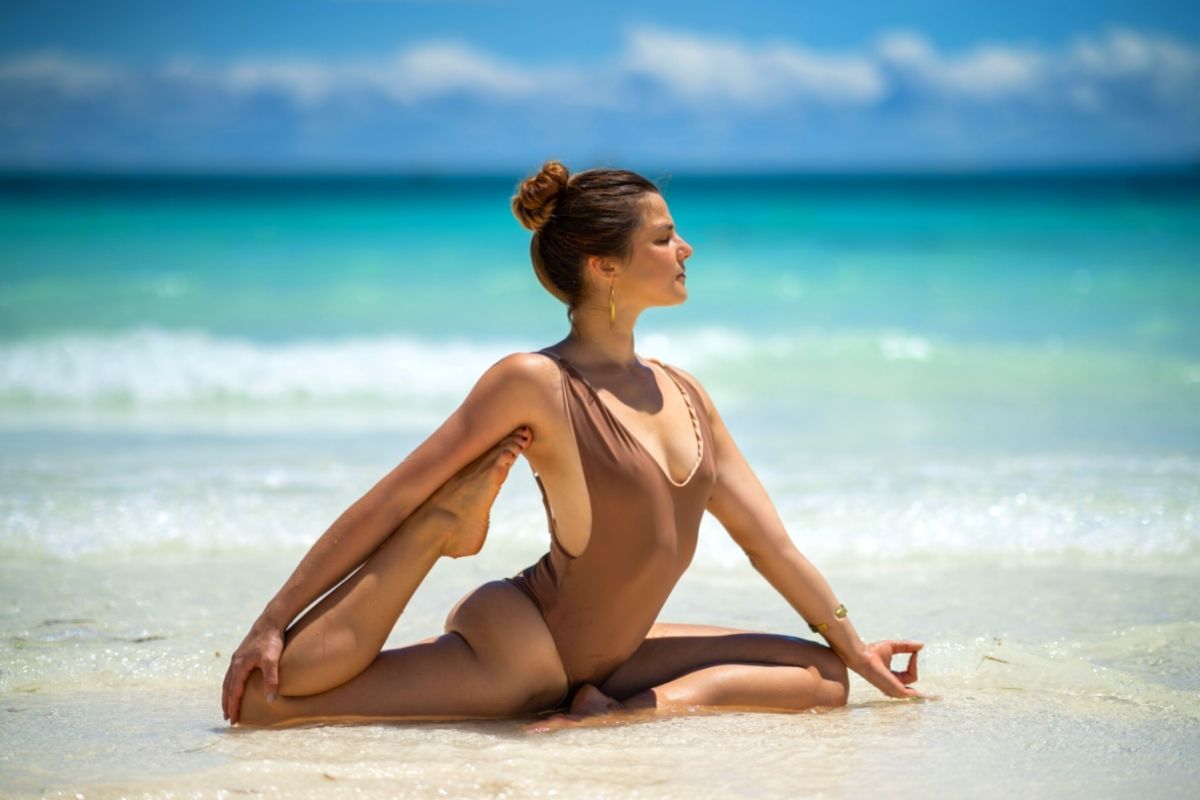 With all of the exciting things to do in Zanzibar, it's important to take some time to unwind and check in with yourself.
And yoga is one of the best ways to do that – especially with the jaw-dropping scenery in the background!
With the relaxing island atmosphere and great climate, this is the perfect place to work on some poses – and you can even book a yoga retreat to fully immerse yourself in the experience.
Yoga Zanzibar is an excellent choice for those seeking a comprehensive experience, offering courses for every type of practitioner.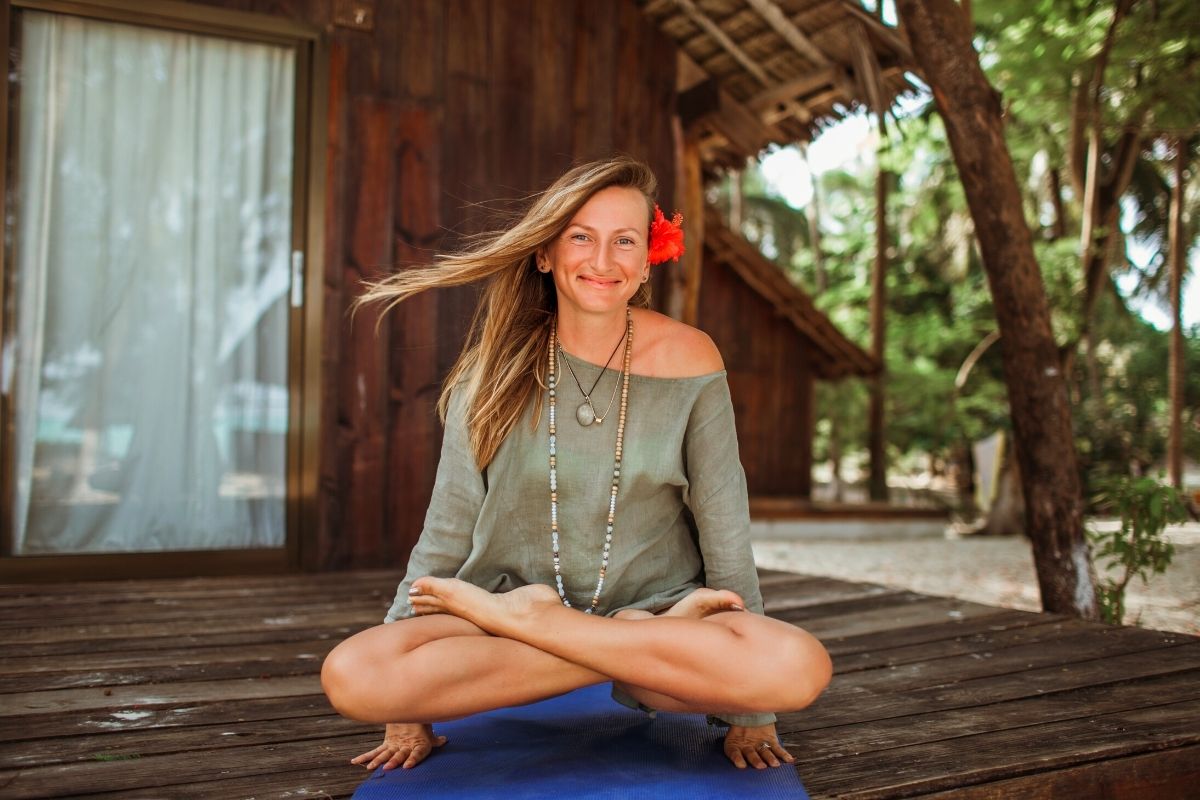 Book a stay in one of the charming bungalows and enjoy a memorable holiday, with morning and evening stretching sessions run by qualified instructors.
Don't miss the rooftop sessions, where you can run through your moves in front of a gorgeous ocean view – truly the best of both worlds!
And if you want to take your practice to the next level, they even offer yoga teacher certification programs!
Whichever level you prefer, this tranquil place is the ideal location to channel your inner yogi!
49 – Enjoy a sunset dhow cruise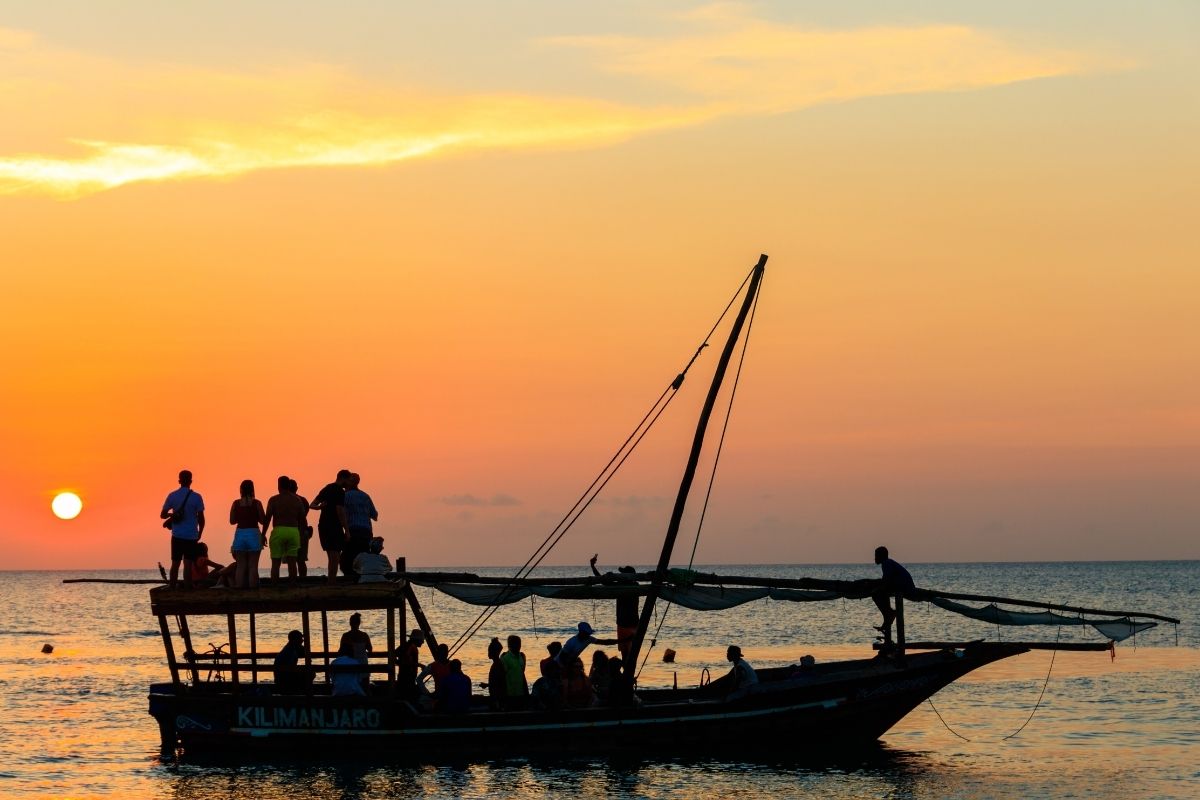 While the traditional dhow cruises are wonderful at any time of day, there's something about a sunset journey that's simply unforgettable.
Hop aboard in Stone Town and set out to sea, enjoying great views and the warm, fresh air as your guides provide facts about the area.
Many cruises will offer music as well, so you can have the perfect soundtrack for your wonderful evening.
As evening comes, you'll be treated to the full spectrum of the sky's colors – a true snapshot-worthy moment!
And it's all framed by the silhouette of these distinctive boats, which have plied the waters for centuries.
Best of all, your adventure is perfectly timed to get your back to town for dinner and evening activities – with that glorious sunset still imprinted on your mind's eye.
50 – Party it up at the local festivals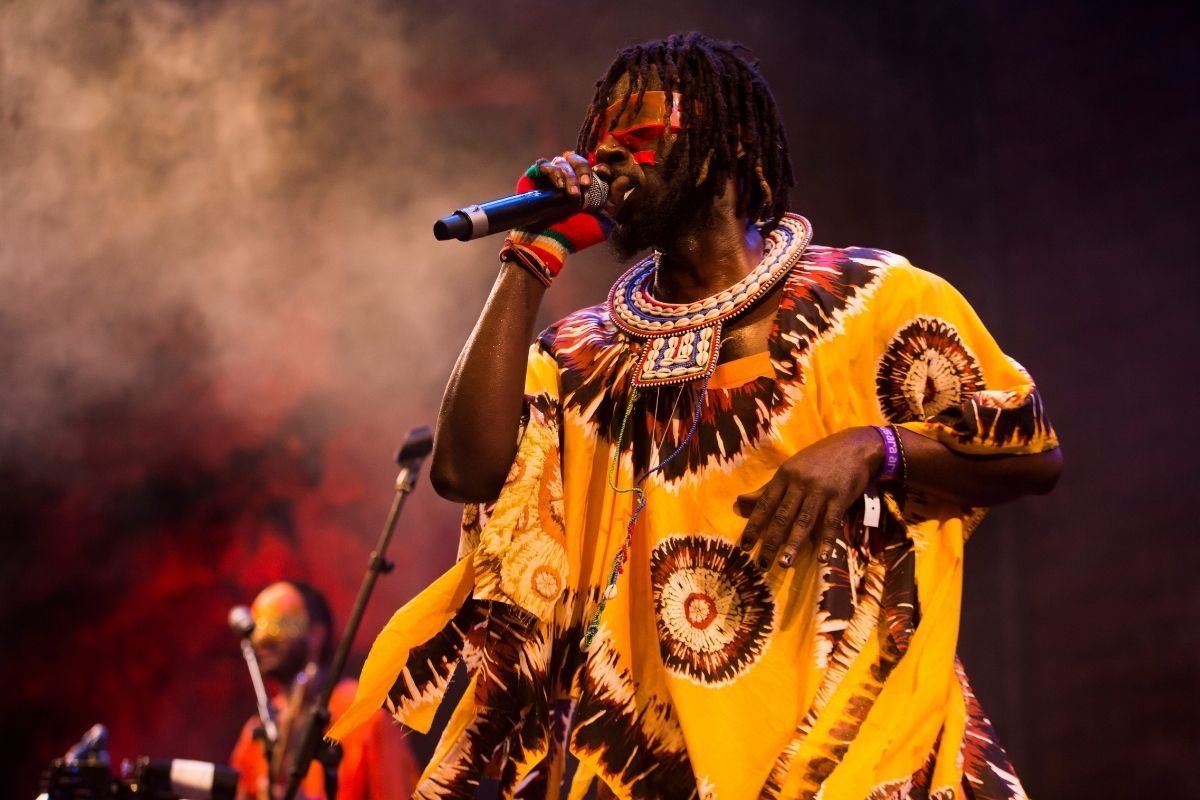 Alongside its remarkable history and splendid natural landscapes, the island is bursting with awesome festivals.
No matter what time of year you visit, you're guaranteed a shot at seeing something phenomenal.
The Zanzibar Cultural Festival, usually held at the end of July,  is probably one of the most popular; the streets burst forth with art, music, and dance, highlighting the wonderful mix of influences that still infuse the area.
If tunes are more your focus, take in the multi-genre delights of the Sauti za Busara Festival, which is held each February and celebrates some of the best performers from across the African continent.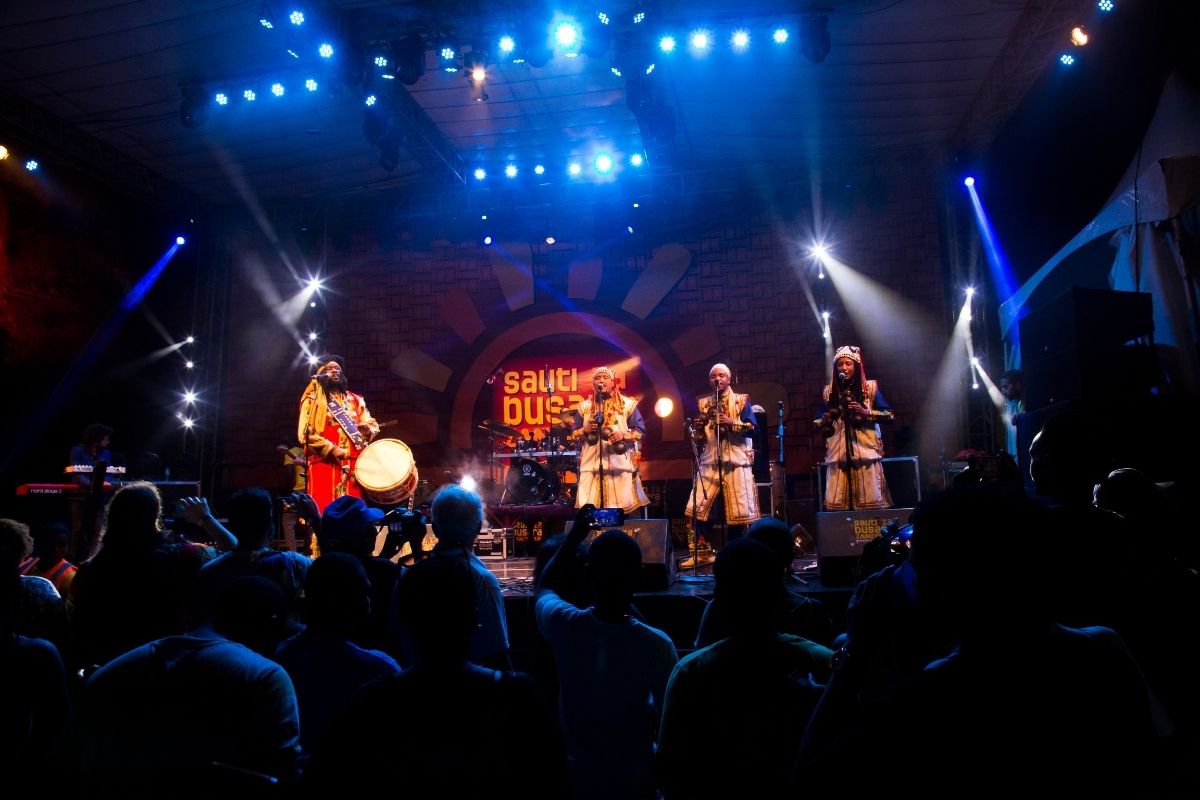 Or soak up the sweet sounds of the Jahazi Literary & Jazz Festival, which also offers plenty of readings, workshops, and talks with visiting authors.
If the cinema is more your style, then grab a seat for one of the showings at the acclaimed Zanzibar International Film Festival, another July fixture.
And if you really want to get a feel for the local life, don't miss the lively celebrations during the month of Eid al-Fitr, a sacred holiday for the island's primarily Muslim population.
Held after the religious fasting month of Ramadan, it's a wonderfully upbeat celebration, with plenty of distinctly Zanzibari touches.
Or you can dive into the boisterous Mwaka Kogwa Festival, which celebrates the Persian New Year.
Like Eid, there are plenty of fun local traditions incorporated into this version of the holiday; keep an ear open for the beautiful love songs sung by the women, and an eye out for the play fights staged by the men… using banana sticks as weapons!
Check the calendar before your visit, because these celebrations are not to be missed!
51 – Eat your fill at the best restaurants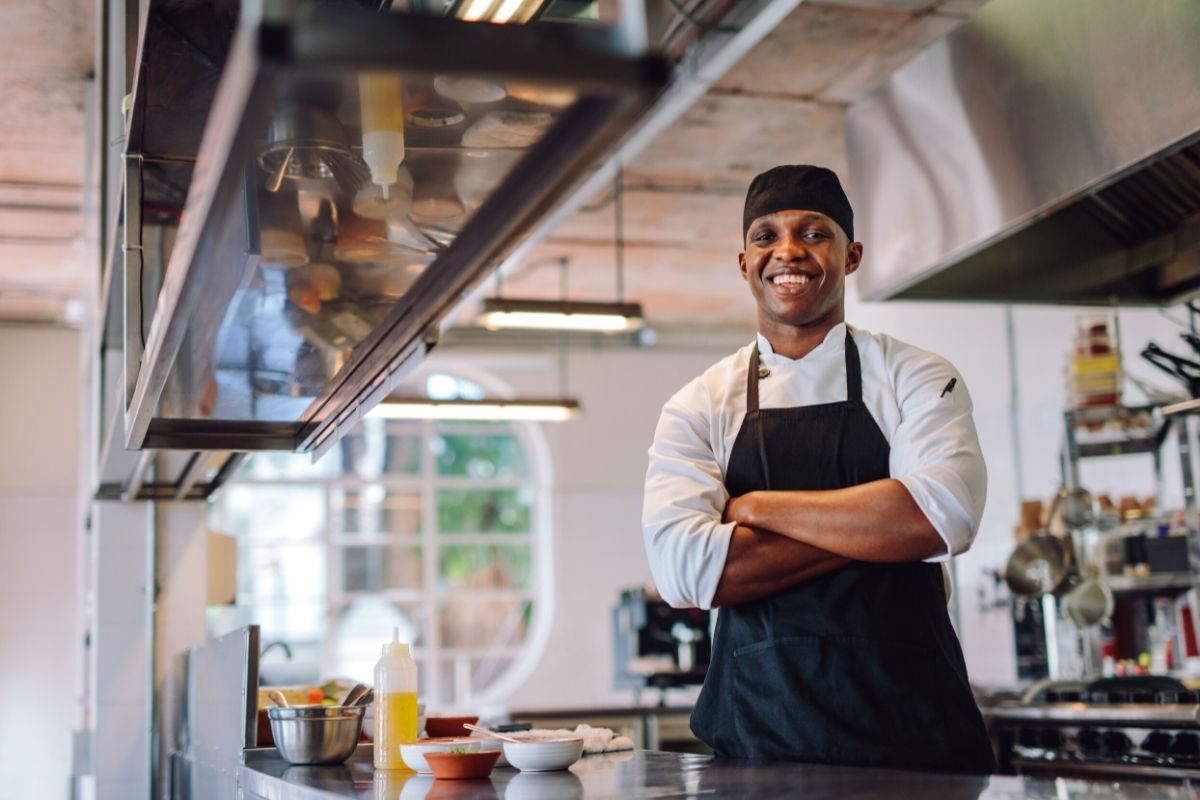 When it's time to eat on the island, you'll always be spoiled for choice.
From casual bites to upscale meals, the restaurants in the region are almost an experience unto themselves.
Kick back on the patio for cocktails and local cuisine (including some excellent vegetarian options) at Tea House Restaurant, where you can drink in phenomenal views of Stone Town and the harbor beyond.
Or tuck into some classic Indian food at Ma Shaa Allah Cafe, which is especially known for its excellent curries.
Pig out on the seafood dishes at Taarab Restaurant, another excellent rooftop venue with an irresistible speciality: Coconut Crab Soup, with a real coconut as the bowl!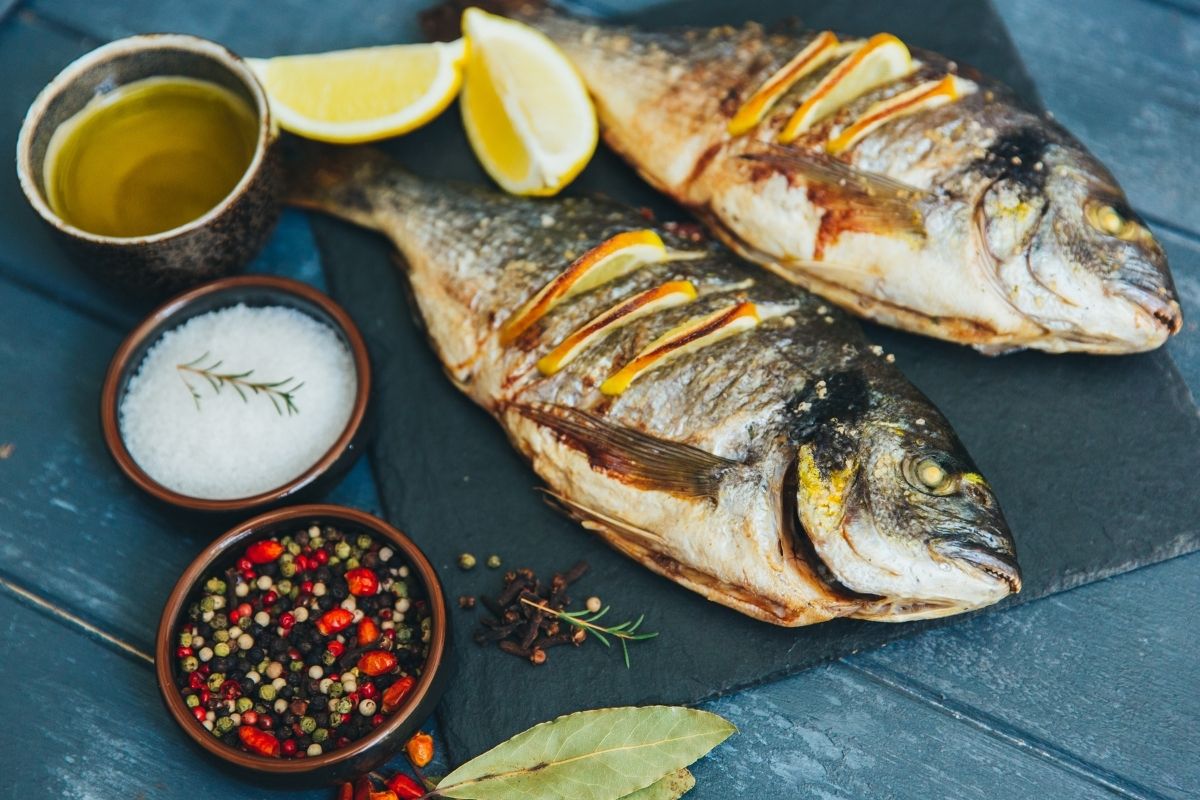 Or chow down on another wide array of fishy foods at Emerson Spice Rooftop Tea House, which specializes in a five course "taste safari" for those that want a little bit of everything.
Enjoy the romantic atmosphere and excellent dishes at The Beach House Restaurant, which focuses on incorporating local history and culture into fantastic fusion meals that draw influence from Portugal, Oman, and England.
Or blend your meal with some excellent wine and incomparable scenery at 6 Degrees South Grill and Wine Bar, which features everything from salads and burgers to pizzas, curries, and classic Zanzibari dishes.
This is one place where you'll want to linger over every meal… and maybe order seconds!
52 – Get a little wild at the Kendwa Rocks Hotel Full Moon Party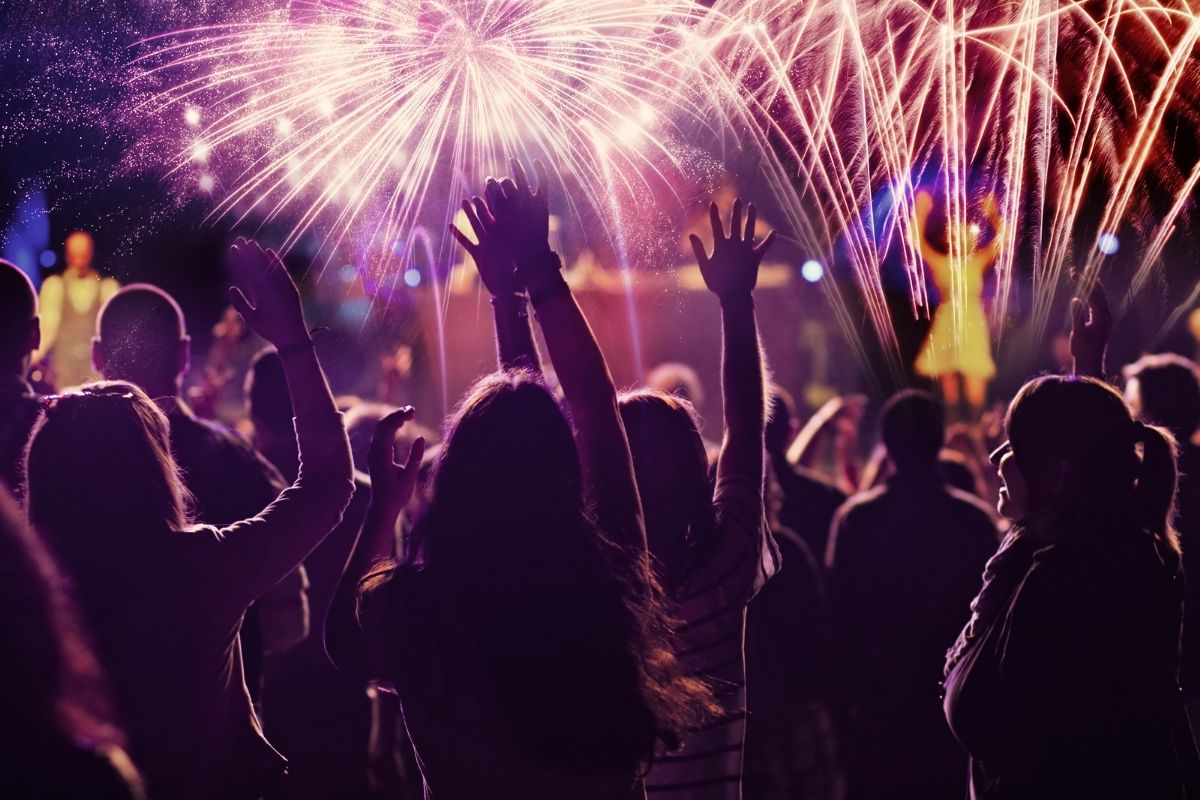 So, you've developed a taste for the island's famed full moon parties… where to next?
Kendwa Rocks Hotel, of course!
Since 1996, this beloved lodging has hosted one of the liveliest celebrations on the island, with dancing, acrobatics, fire spinning, and music.
It all takes place right on the beach, combining world-class entertainment with the laidback, festive vibe that made these celebrations so beloved in the first place.
And if you need a good place to sleep off the celebrations, the hotel is the perfect place to relax.
With charming pool-side lodging, secluded bungalows, and elegant rooms themed around different local cultures, it offers a wonderful stay for every interest and budget.
And there are also plenty of cool activities on-site for you to enjoy between parties, from snorkeling and fishing to massages, spa treatments, and tour bookings.
There's even a tattoo parlor!
With its vibrant atmosphere and talented performers, this full moon party is not only one of the coolest things to do in Zanzibar, but also a world-class celebration, drawing revelers from all over the globe.
So get your liver and your dancing feet ready, because this is an evening you'll never forget!
How to get to Zanzibar?
There are some excellent airport transfers that will bring you directly to Stone Town from Zanzibar Airport.
And if you're staying at one of the more secluded resorts, never fear; there are also transportation options that will take you all over the island, getting you easily to and from your resort.
If you happen to be arriving to the island by ferry (boats depart regularly to and from Dar Es Salaam, on the mainland), you can also arrange a transfer to and from the Seaport.
Visiting Zanzibar on budget?
The free walking tours in Zanzibar are an inexpensive way to see the best sites – but rest assured, they don't skimp on the experience!
Whether you want a comprehensive tour through the finest architecture on the island, a trip through rural villages, or a fascinating glimpse into off-the-radar areas, there's a perfect excursion for you – all facilitated by a passionate, informed guide.
Take a stroll the winding, story-filled streets of Stone Town, where you'll see such iconic attractions as the Old Fort, the slave market, and the famously ornate doors that grace many of the local buildings.
Or head out to an authentic village, and learn firsthand how rural life operates on the island.
And if you're looking for another side of the urban story, take a trip to Ng'ambo Town, which features great eateries, beautiful religious buildings, and some wonderful musical history.
Whichever path you take, you can learn all about the area's different cultural influences, the unique history of the island, and where it's going in the modern day.
Remember: the guides work for tips, so bring cash with you!
Where to stay in Zanzibar?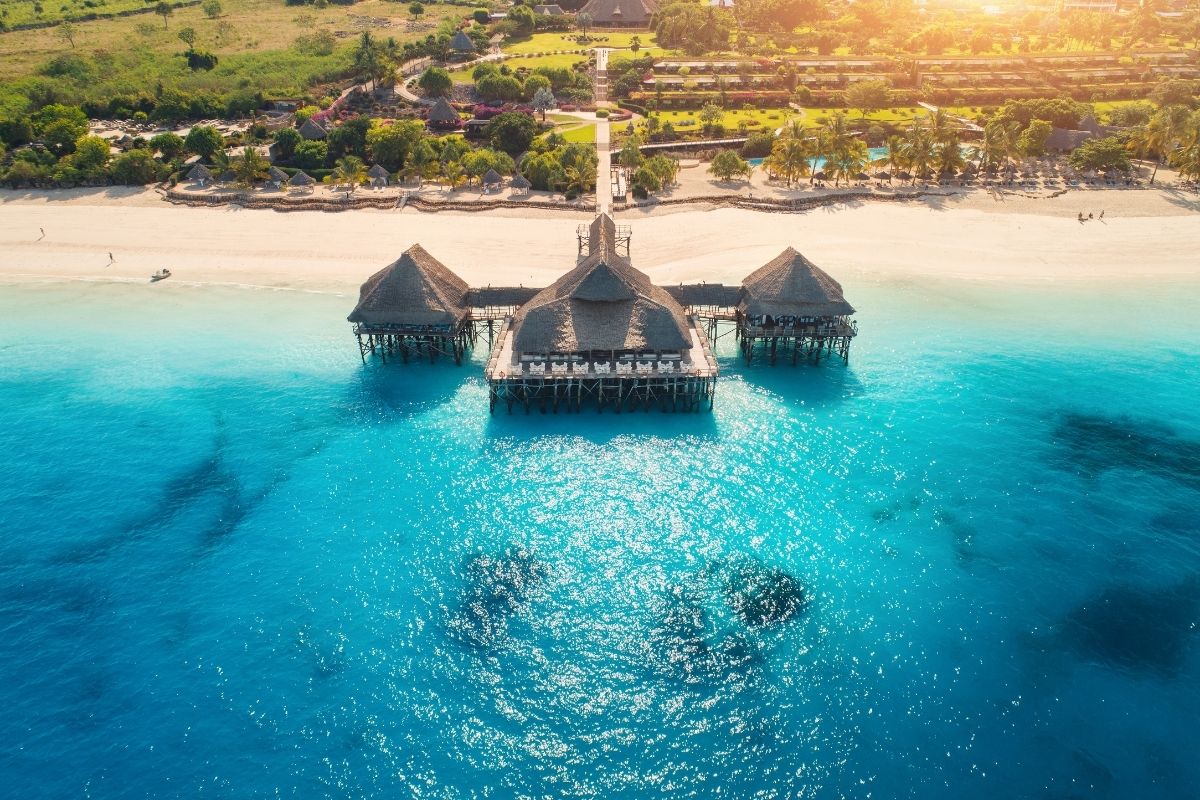 From its lushly landscaped grounds to its relaxing hot tub and elegant rooms, Kiwengwa Beach Resort is a getaway par excellence.
When you're not enjoying the on-site luxuries, you can head out to the nearby shorelines and bike paths.
Or lean into the relaxing vibes at Karafuu Beach Resort & Spa, where you can swim, scuba dive, play billiards, or receive a relaxing massage.
And when it's time to eat, you can keep on enjoying the water at the hotel's floating restaurant!
For convenience and luxury combined, head to Mizingani Seafront Hotel, which is walking distance from the ferry terminal, and boasts a pool and beautiful outdoor garden to enjoy between jaunts into town.
It also boasts a distinguished historical pedigree, including one of the oldest elevators in the region.
Secluded tranquility is the name of the game at Reef & Beach Resort, where you can kick back at a bar that juts right into the ocean, or go for a dip in the gorgeous pool.
If you want to unwind after all of your exploring, head to the wellness center, where you can work out at the gym before settling in for a world-class massage.
Keep the tropical vibes going at Zan View Hotel, where you can relax in the gorgeous garden, make a splash in the pool, or head out to the sea for a different sort of dip.
Or if you're feeling more active, you can wind surf, bike, snorkel, or head out for a horseback ride, before kicking back with a delicious drink at the bar in the evening.
And if you want to spend the whole vacation lounging in the sand (and who wouldn't, with sand like this?), Pongwe Beach Hotel offers a private stretch of shore where you can loaf under an umbrella, dine on delicious cuisine, or cruise around on a rental bike.
Enjoy the privacy of your seaside bungalows, and enjoy the mellow rhythms of the sea; you'll feel like you're on your own private island!
Where to go next?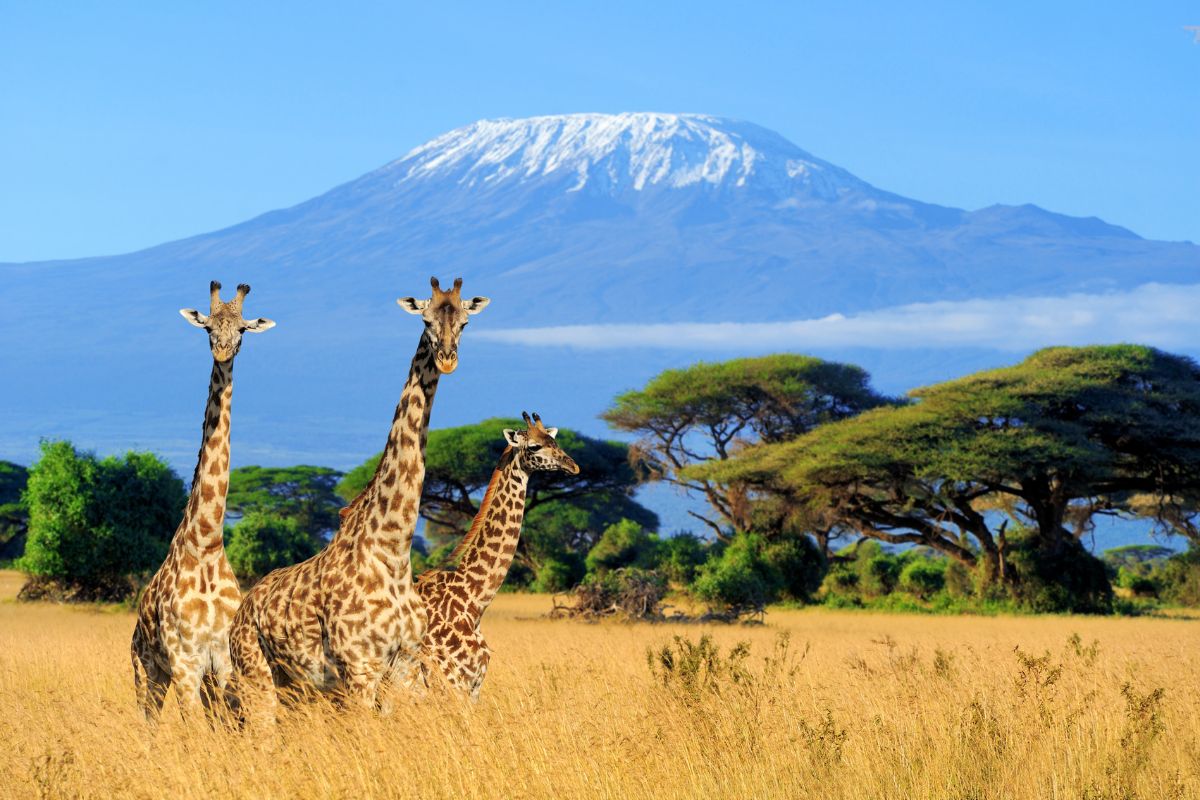 While there's no shortage of incredible things to do in Zanzibar, the mainland of Tanzania has plenty to offer as well!
While its natural elements are rightfully acclaimed, this dynamic country has plenty to offer for culture enthusiasts as well.
The snowy slope of Mount Kilimanjaro is probably the most famous attraction; as the tallest mountain in Africa, it's long been a popular destination for adventurous climbers and trekkers seeking a memorable summit.
Closer to the ground, you can enjoy the animal-filled savannas of the Serengeti, home to some of the most amazing wildlife on Earth.
With elephants, lions, zebras, and dozens of other incredible species roaming freely across the plains, it's little wonder that this is a prominent bucket list destination for many travelers.
But there's lots to see in Tanzania's cities as well!
Arusha is often known as the gateway to safaris, but it has plenty of charms of its own, including remarkable craft shops, the gorgeous traditional artwork of the Cultural Heritage Center, and the fascinating Boma German Museum, which explores the colonial history of the country.
Or sample the scents and flavors of the lively cooking scene in Moshi, where the traditional cuisine and rich cultural mix of the local tribes is only matched by the amazing biking and hiking opportunities – and the easy access to Kilimanjaro, of course!
And no trip to the country would be complete without a stroll through the bustling streets of Dar es Salaam, the country's largest city and political hub.
Visit the Village Museum to learn about the country's many tribes, take in the remarkable stories at the National Museum, or stop by the many sites associated with the East African independence movements.
Of course, a place with so many adventures is also perfect for longer treks, so don't miss the excellent multi-day trips in Tanzania!
This is an especially wonderful option for safaris, as you can maximize the time spent looking for animals, and enjoy some memorable evenings under the stars.
Whether you're watching wildebeest and catching glimpses of giraffes in the Serengeti, admiring the massive baobab trees in Tarangire National Park, or searching for black rhinos  as you take in the the spacious majesty of the volcanic Ngorongoro Crater, you'll relish every minute of this incredible experience.
And if you'd prefer to go up some more peaks, you can head to the summit of Mount Meru, the fifth-tallest mountain on the continent; or
And when you're ready to explore a new country, head over to Kenya to find all of the amazing things to do in Nairobi!
As the country's capital and its main cultural hub, this magnificent metropolis has a cosmopolitan flair and distinctive history that make it a truly compelling place to visit.
While it's often known as the gateway to the country's spectacular natural adventures, there's tons to do in the city as well, from art museums and cultural experiences to cooking classes and trips to the bustling open-air markets.
You can explore humanity's earliest days at the National Museum, visit authentically recreated villages at Bomas of Kenya, or dive into more modern research at the Kenya National Archives.
Or take in the city's thriving art scene, as beads, glasswork, and textiles take shape in front of your very eyes.
And from your first cup of coffee in the morning to those celebratory drinks at the nightclub, there's no shortage of excellent food and drink to try while you're in town.
Whether you're hitting the casinos, enjoying some beautiful parks, or having breakfast alongside a friendly giraffe, this dynamic metropolis will constantly prove to you why it's one of the jewels of East Africa – and a world-class city!
Final thoughts
It's rare to find a place in the modern era  that still maintains the look and feel of an adventure movie.
But with its blend of cultures, complex history, lively streets, and gorgeous scenery, you'll never run out of things to do in Zanzibar!
With the ideal blend of relaxation and adventure, it's the perfect destination for those that want a truly comprehensive vacation.
You could easily spend a whole trip on the beaches, and another entire visit exploring the remarkable blend of cultures and customs.
But of course, you'll still want to leave time for the sports, the food, the parties, the forest walks… the list goes on!
And if you want unforgettable experiences, this place will offer plenty; it's not every day that you can spend the morning with 200-year-old tortoises, the afternoon touring a rock star's home, and the evening eating authentic fusion cuisine as the sun sets over one of the world's most beautiful oceans.
So get ready to learn, play, and relax – this is one island you won't mind being stranded on!