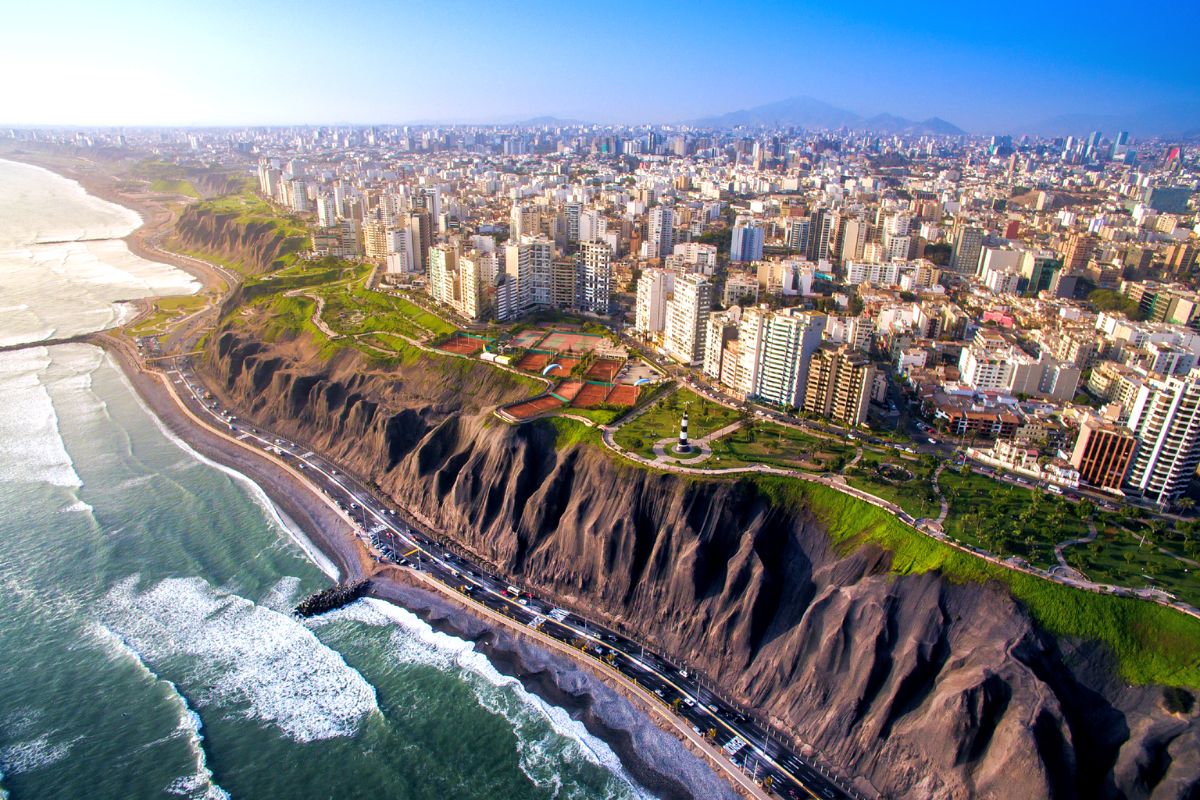 No matter where you go in Lima, your senses will come alive.
You can see the beauty of the towering cathedrals and the ancient archaeological sites; you can hear the pounding of the surf or the roar of a crowd at a soccer match; you can smell and taste the delicious ceviche and the scrumptious chocolate.
And, of course, you can feel the vibrant city, from the textured fabrics at the market to the soft sand on the beaches.
There are even more experiences to be had just outside of town, where a series of day trips will introduce you to spectacular natural vistas and some world-class historical areas.
Whether this is your first visit or your hundredth, you'll find no shortage of wonderful things to do in Lima.
1 – Stroll around Plaza de Armas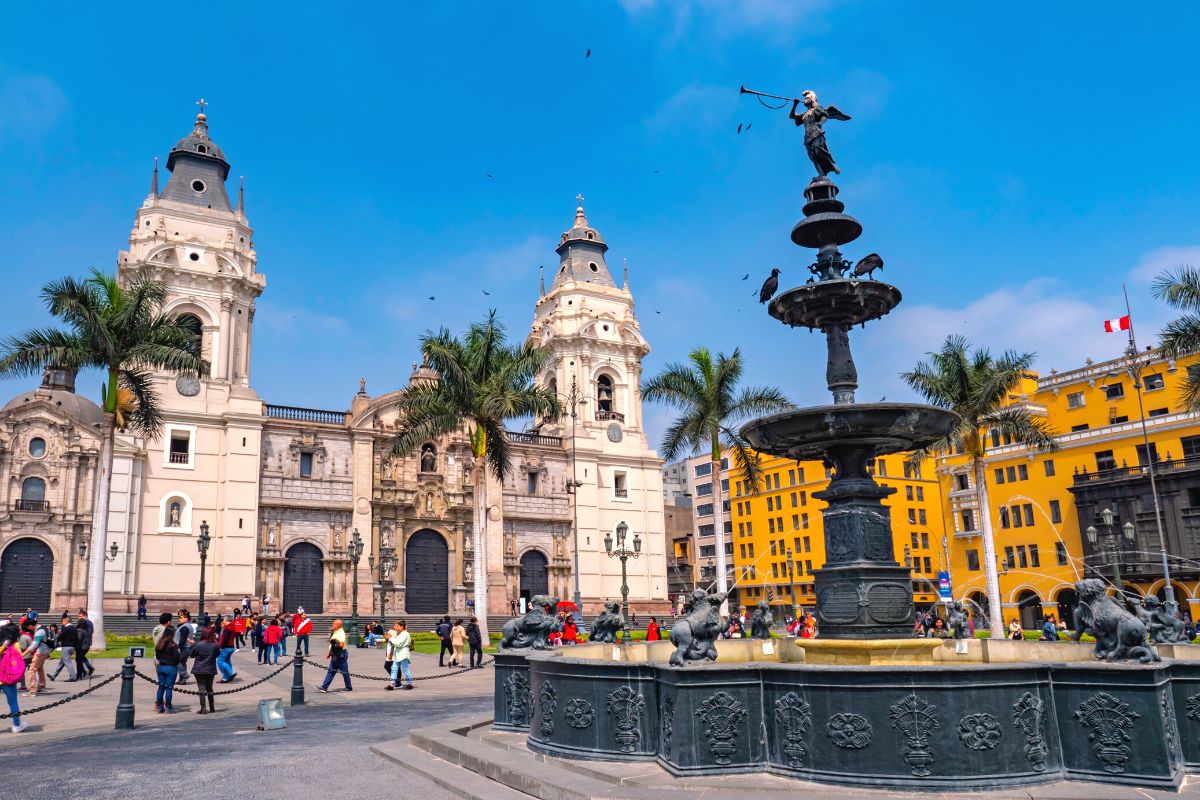 As you start your adventure in Peru's capital, you'll find Plaza de Armas to be a perfect place to orient yourself. This magnificent public square's origins date back to the 1500s, when Lima was first founded.
It's an iconic part of civic life, popular for people-watching and scenic strolls; but it's also home to some of the city's most famous buildings.
The Cathedral of Lima is a physical and social stronghold in the local Catholic community, and with its striking Renaissance aesthetic and many chapels, it's also a great attraction for history buffs and architecture fans.
Just across the way, the Government Palace of Peru is chockful of art, artifacts, and plenty of political history. Stop by the Jorge Basadre salon to catch a glimpse of some official carriages from days gone by, or see the elegant sculptures throughout the Tupac Amaru salon.
This is also the official home of the country's president, so its rooms serve a variety of political functions, from the areas where ambassadors meet to the commander-in-chief's private living quarters.
You can then continue your tour of political buildings in the plaza with a stop at the City Hall of Lima, known for its distinctive yellow hue and colonial-era designs.
It's a great place to enjoy some quality French Renaissance architecture, as well as some beautifully preserved historical documents. You can even see the Peruvian Declaration of Independence!
A great way to see all of these attractions – and many more around the area – is with a city tour. If you really want to adventure around the downtown area, there are also some great night tours, street food tastings, and plenty of opportunities to stroll between historical buildings, finding yourself awash in the stories of the city.
2 – Enjoy the scenery of Miraflores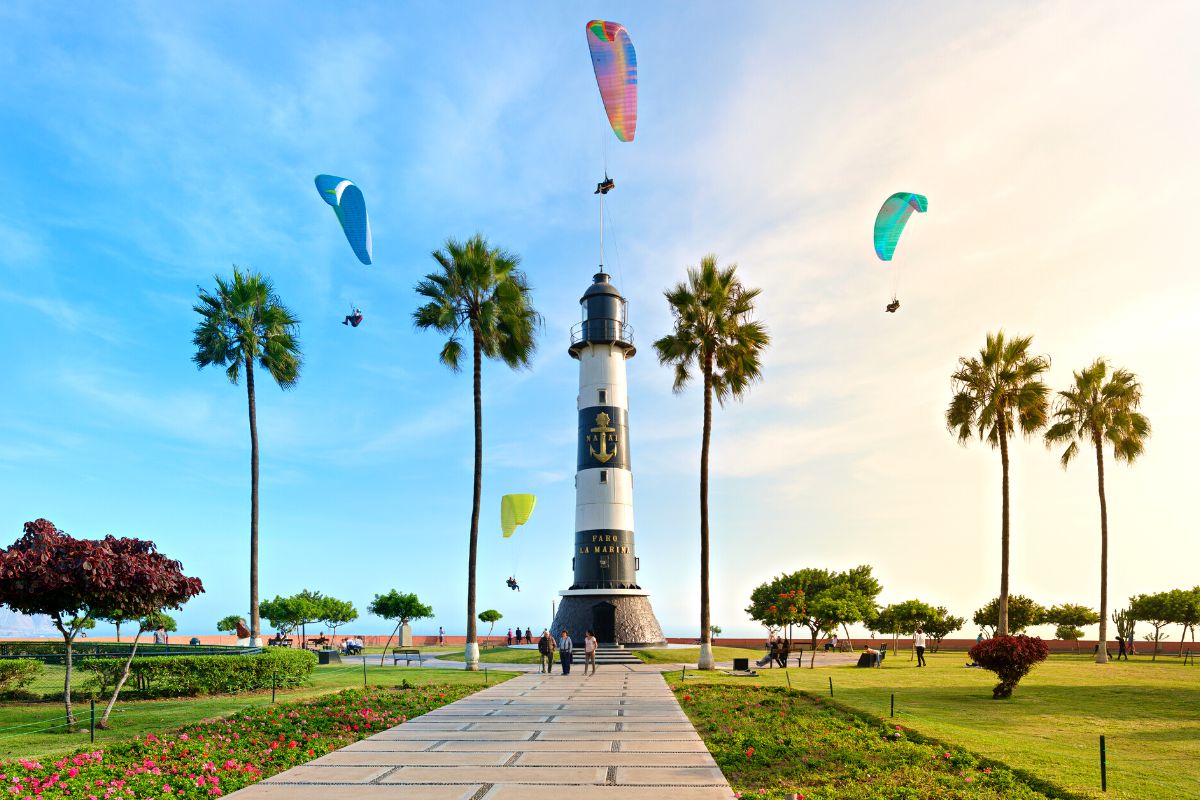 Sitting right on the Pacific, Lima boasts incredible ocean views and a great beach scene. And one of the best neighborhoods to experience this seaside vibe is Miraflores, famed for its stunning views and warm, mellow atmosphere.
If you want to lean into the nautical atmosphere, be sure to stop by Antonio Raimondi Park to visit the gorgeous La Marina Lighthouse and stroll along the boardwalk. If you're feeling daring, this is also a great place to go paragliding!
But if you'd like a more reflective place to visit, head over to the Place of Memory, Tolerance and Social Inclusion. This sobering, wonderfully curated museum explores the 20-year conflict between the Peruvian government and various terrorist groups.
Explore the galleries devoted to each stage of the tragedy, from its complicated origins to its impact on politics and citizens today.
This neighborhood is also a great place to take tours on foot, or by any number of vehicles. Head out on a walking tour to absorb the sights and sounds of the area – and the tastes, of course! This is a great chance to try out some of the city's famous culinary offerings.
Or stop by the area as part of a scooter tour, zipping along the beach and enjoying the mellow atmosphere as you see the area's ample green space and ocean views.
Or go even further afield with a guided bike tour, where you can cruise along the streets and along the seaside while learning about the area's earliest days as a hub of pre-Incan society. This is one of the most popular places in town for a reason!
3 – Enjoy nature at Parque de las Leyendas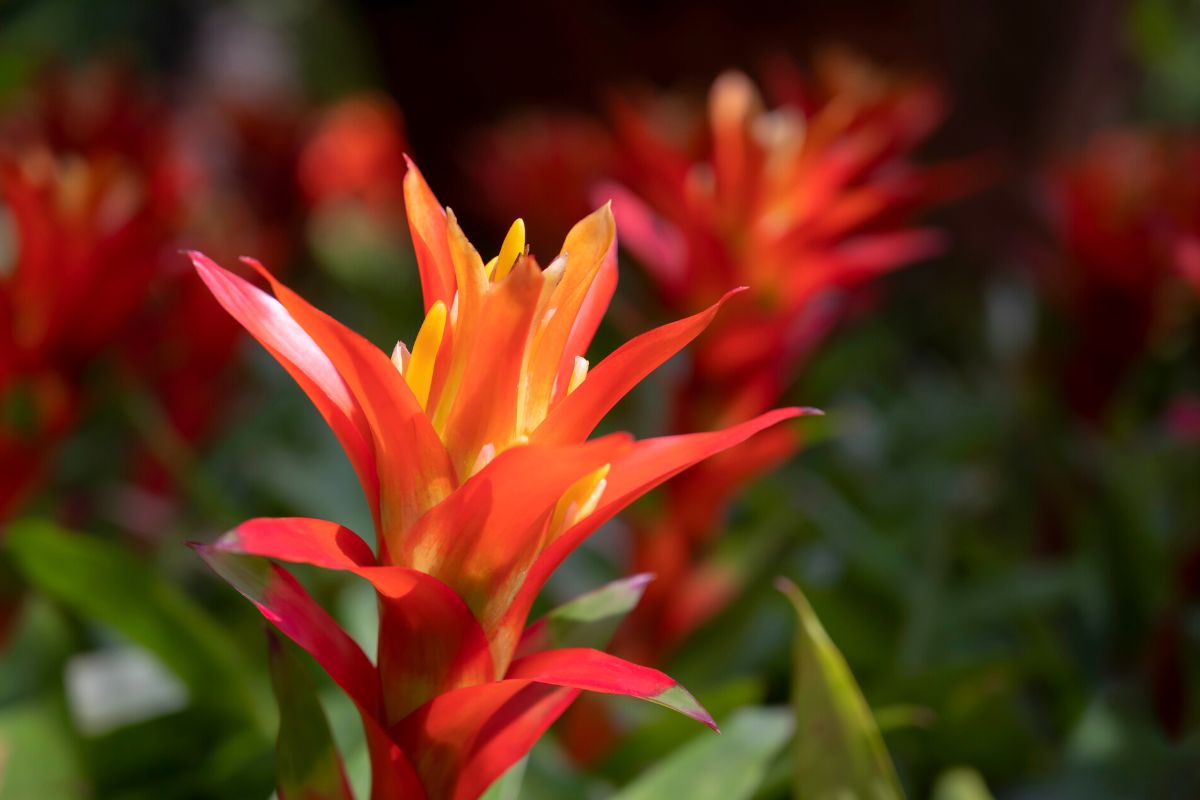 Want to see exotic reptiles, beautiful ferns, and milennia-old archaeological attractions all in one place? Then add Parque de las Leyendas to your list of things to do in Lima.
This spectacular area was actually established to protect the 53 sites that are collectively known as the Maranga Complex, but over the years, it has also expanded to include a world-class botanical garden and zoo.
Stroll through gardens full of Peruvian cacti, gorgeous flowers, and resilient plants that are at risk of extinction. Then head over to the zoo to meet some delightful birds, mammals, and reptiles, hailing from both Peru and the wider world.
Finish off your day with a stroll around the former village, where you can glimpse the centers of commerce and daily life from the Ychsma and Inca eras. It's a terrific way to enjoy the diversity of the country on every level!
4 – Dive into archaeology at the Larco Museum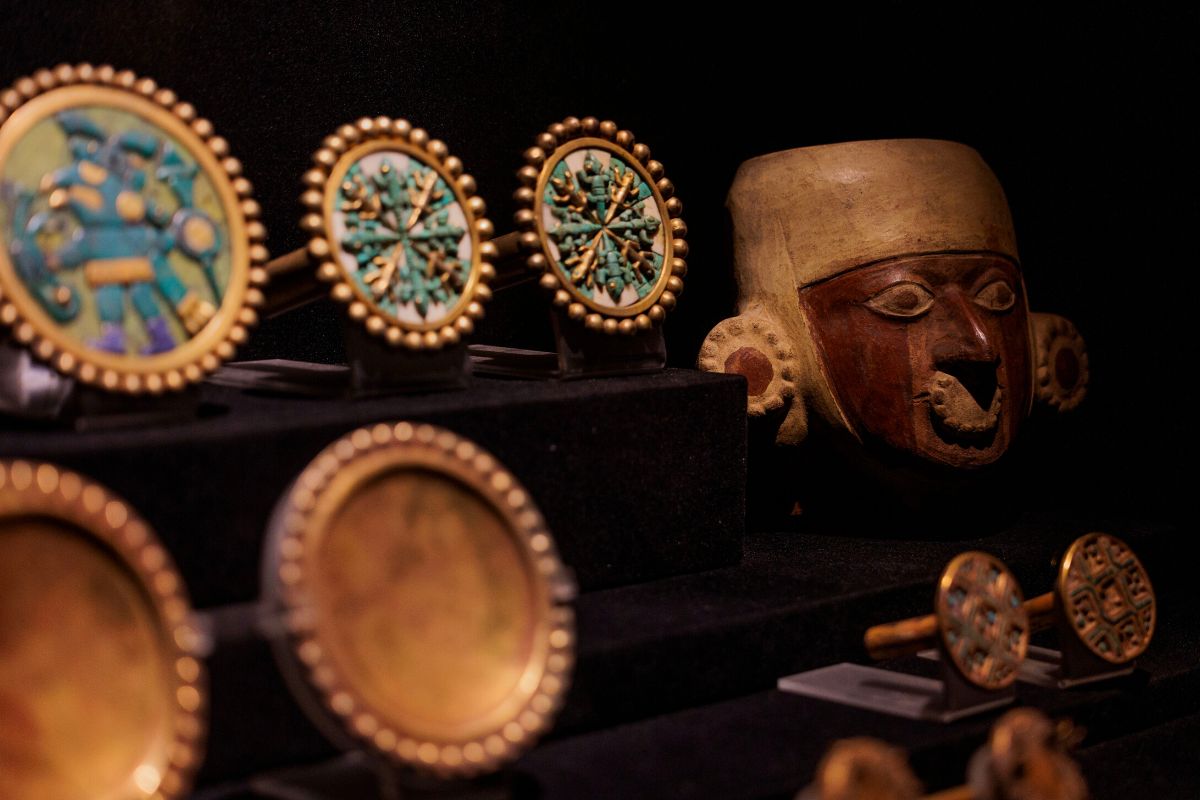 Once your appetite has been stoked for views of the past, the Larco Museum will add plenty of fuel to the fire.
This magnificent cultural institution explores the depth and breadth of the pre-Columbian era, with tons of artifacts and engaging exhibits showcasing the many unique societies that once flourished here.
Explore the theories behind the Nazca lines, admire some remnants of Incan culture, and see the full scale of the nation's indigenous history over the past 5,000 years.
This is the perfect place to gain greater understanding of the connections between these past civilizations, and to prepare yourself for visits to the many iconic archaeological sites around the country.
5 – Visit some huacas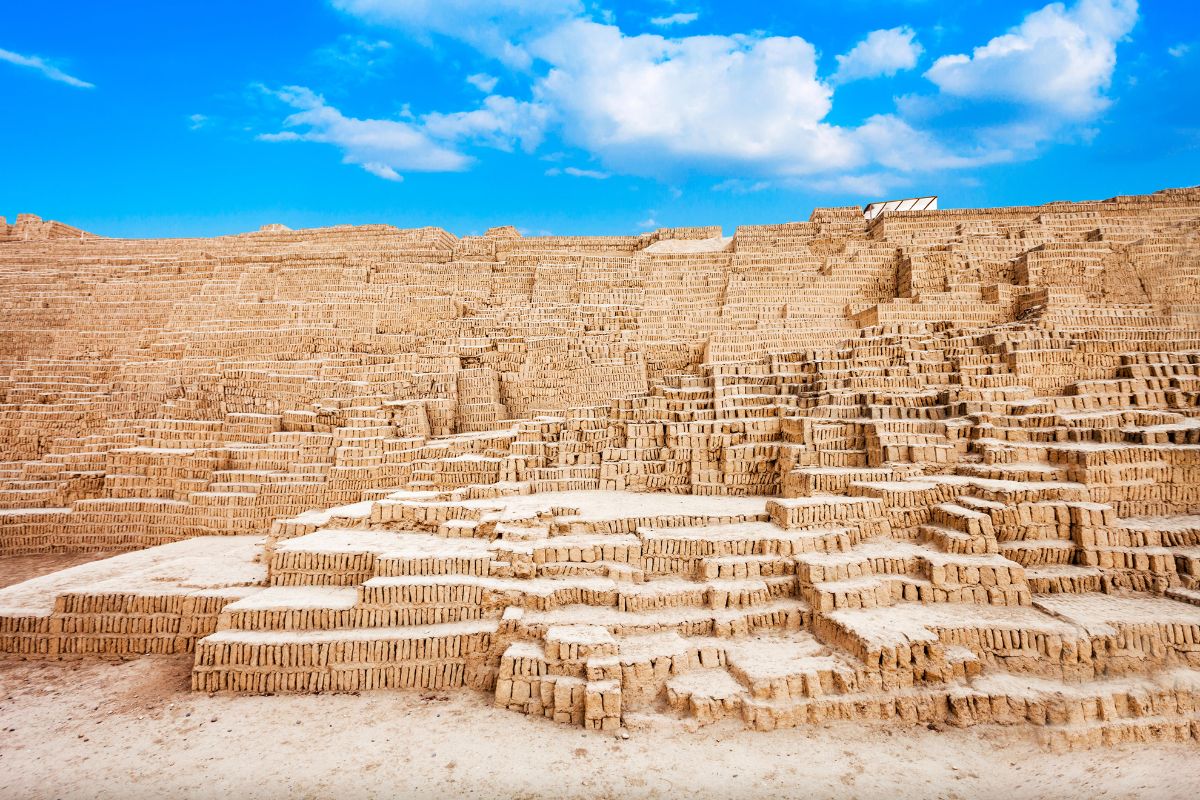 Huacas – objects or structures that are said to be inhabited by the spirits of the gods – are a vital part of ancient Peruvian societies.
Their holy status and unique beauty make them a must when visiting the region, and even near bustling Lima, you can find plenty of wonderful examples of this religious phenomenon.
Huaca Pucllana sits right in the middle of the city, but you'll feel transported to another world as you wander around its pre-Incan pyramid and gorgeous architecture that once served as a prominent administrative hub.
You can even book a multi-course dinner there for a truly unique experience! Or take some time to explore the nuances of Huaca Huallamarca, another gorgeous historic pyramid with phenomenal views of the city.
And you'd be remiss if you missed out on Huaca Mateo Salado, a sprawling site named for the first man to be executed in Peru during the Spanish Inquisition. While these sites share many similarities, it's their distinctive styles and heritages that make them well worth visiting as a unit.
6 – Contemplate the works at Museo de Arte Contemporáneo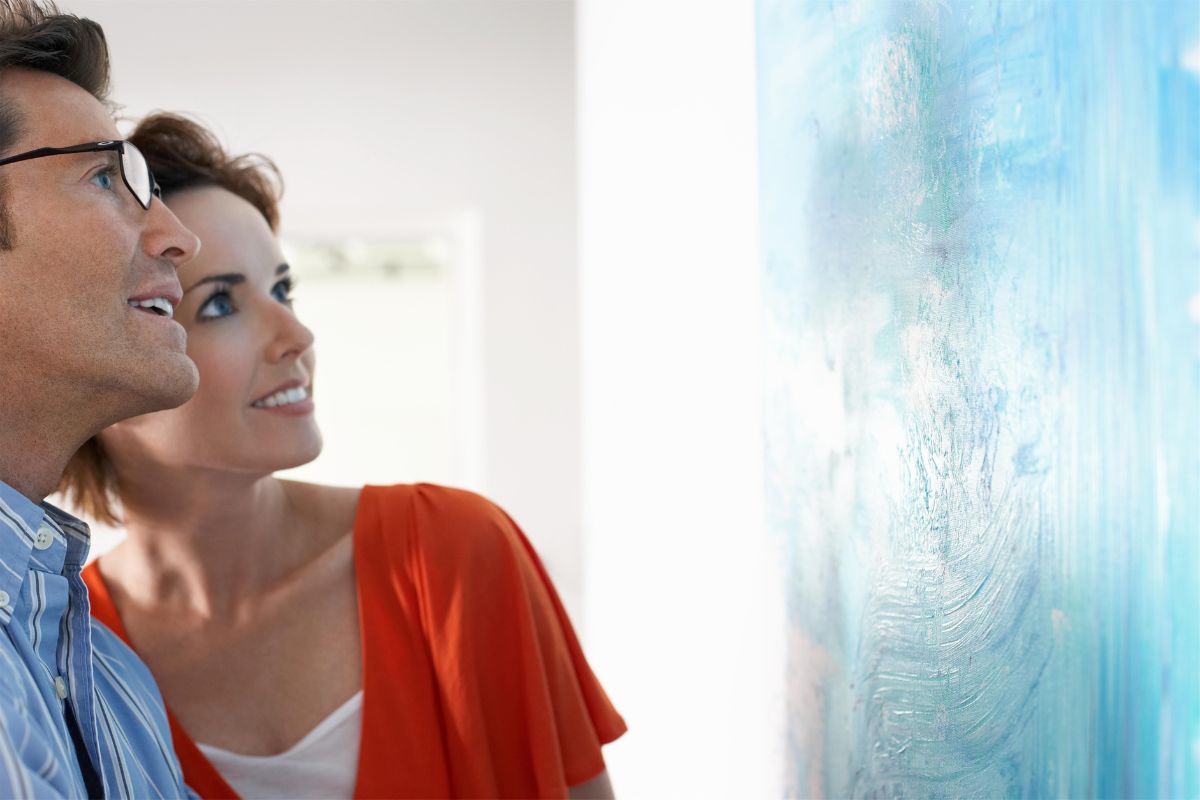 Art-lovers will get happily lost for hours at Museo de Arte Contemporaneo, which boasts thousands of incredible works by some of the most renowned artists of recent times.
The exhibitions here are geared towards understanding art and its practitioners in a different context, as well as promoting their work to the public.
The museum also offers classes for artists of every age, so if you've ever wanted to try out a new medium, now may be your chance! Stop by to see the works on display; you just might see the next great art movement in progress.
7 – Try some surfing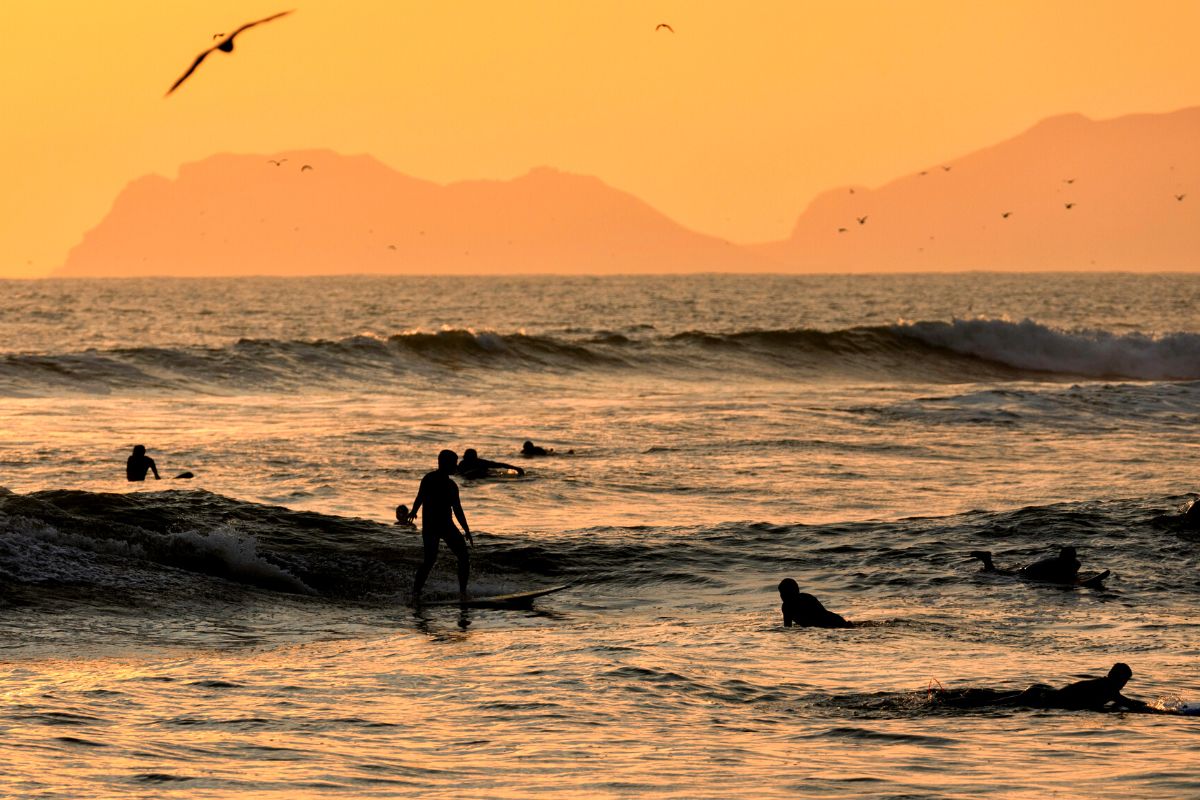 When the Beach Boys sang about surfing getting popular, "From Hawaii to the shores of Peru," they could easily have been talking about Lima's fabled beaches.
Whether you're a seasoned surfer or a rip tide rookie, you'll find plenty of great waves to ride along the city's shores. This is an especially great place to take some lessons, with plenty of expert teachers and an ample selection of tides to practice on.
Choose between private or group lessons, then try out the basic techniques of the sport before heading out to practice on the open water. You may be surprised at how quickly you'll start catching waves!
8 – Tour the catacombs at Basílica y Convento de San Francisco de Lima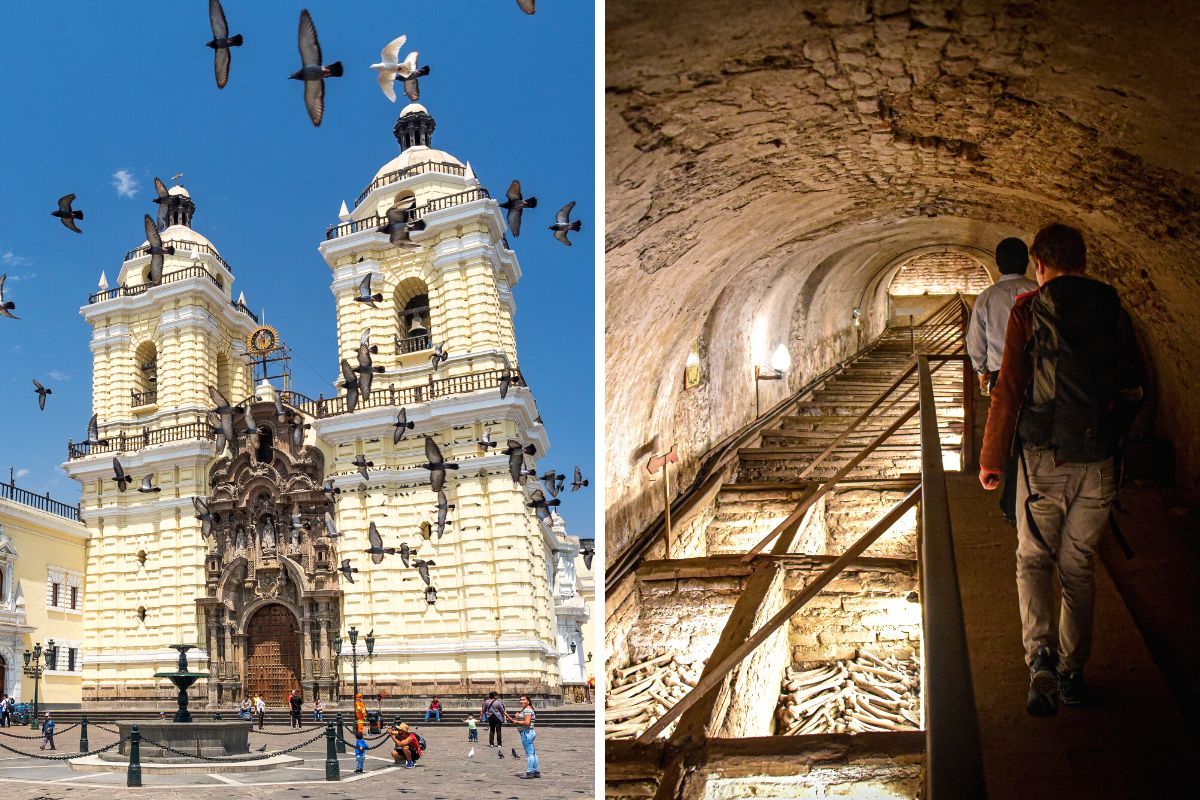 Another gorgeous religious structure worth visiting in town is Basilica y Convento de San Francisco de Lima, an 18th-century Franciscan monastery that has long served as a religious pillar in the community.
As you explore the building, be sure to stop by the catacombs, where the bones of roughly 25,000 citizens are on display.
While the whole thing may seem quite grim, it's a fascinating and brutally honest look into the city's colonial past.
It's also well worth checking out the other attractions inside the church, including 25,000 historical books, including volumes from before the Europeans arrived.
9 – People-watch in Plaza San Martín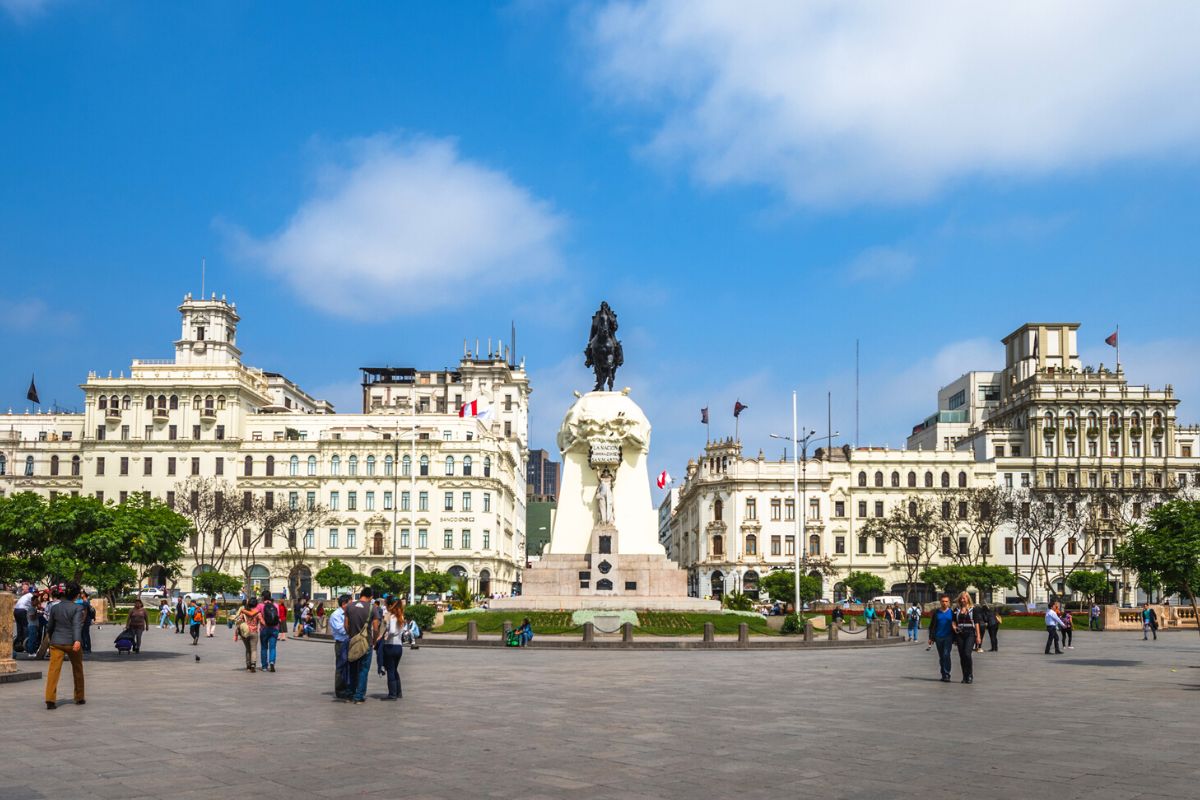 If you're taking one of the many excellent walking tours in Lima, you'll probably spend plenty of time strolling through Plaza San Martin.
Much like Plaza de Armas, this spectacular area is a major part of the public life in the city.
Named for Jose de San Martin, who helped liberate Peru, it is also home to several beautiful colonial buildings, as well as some fantastic green spaces where you can kick back and relax for a bit.
Keep an eye out for the statue of San Martin on horseback!
10 – Contemplate the works at Museo de Arte de Lima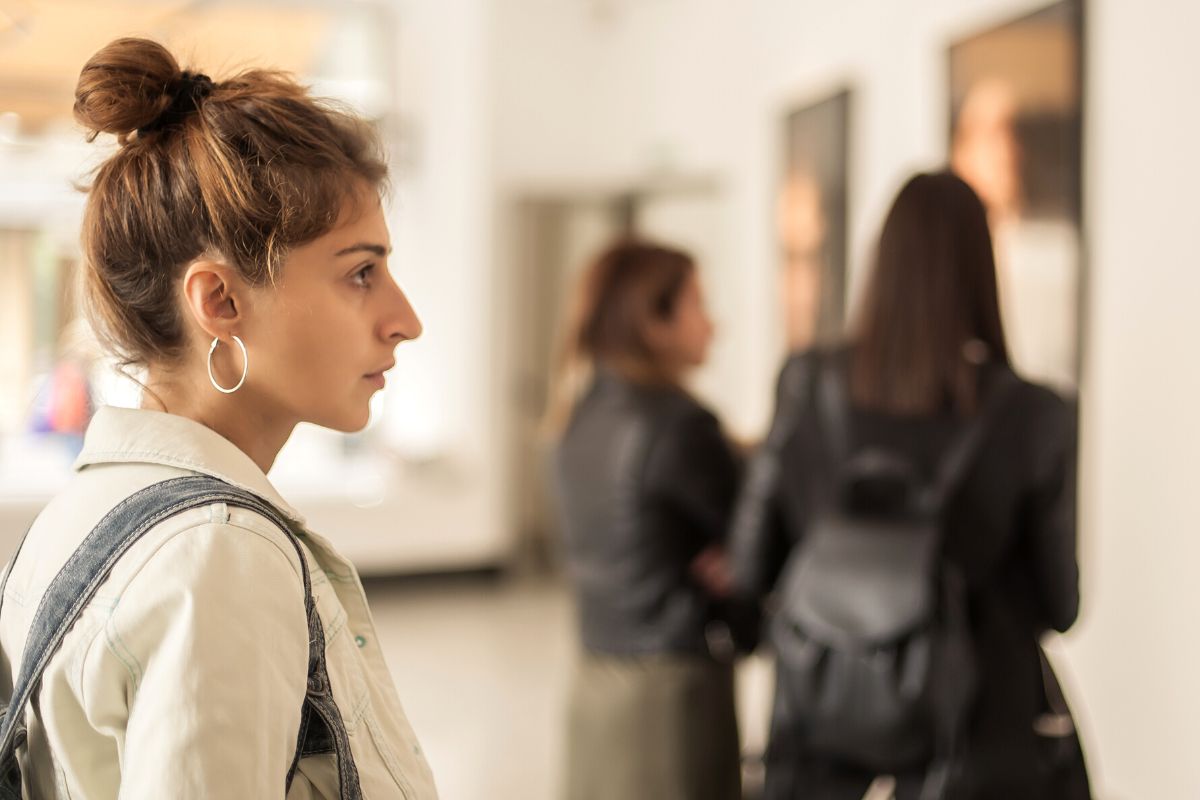 If all of the pieces at Museo de Arte Contemporaneo leave you craving more, be sure to stop by Museo de Arte de Lima.
Featuring more than 18,000 pieces in its archives, this spectacular monument to creativity is the place to go if you want a broader understanding of the history of art in Peru
With over 3,000 years' worth of works, you're bound to find some pieces to inspire you – and you'll be able to see some amazing connections between these different eras of art.
11 – Explore the elegance of Casa de Aliaga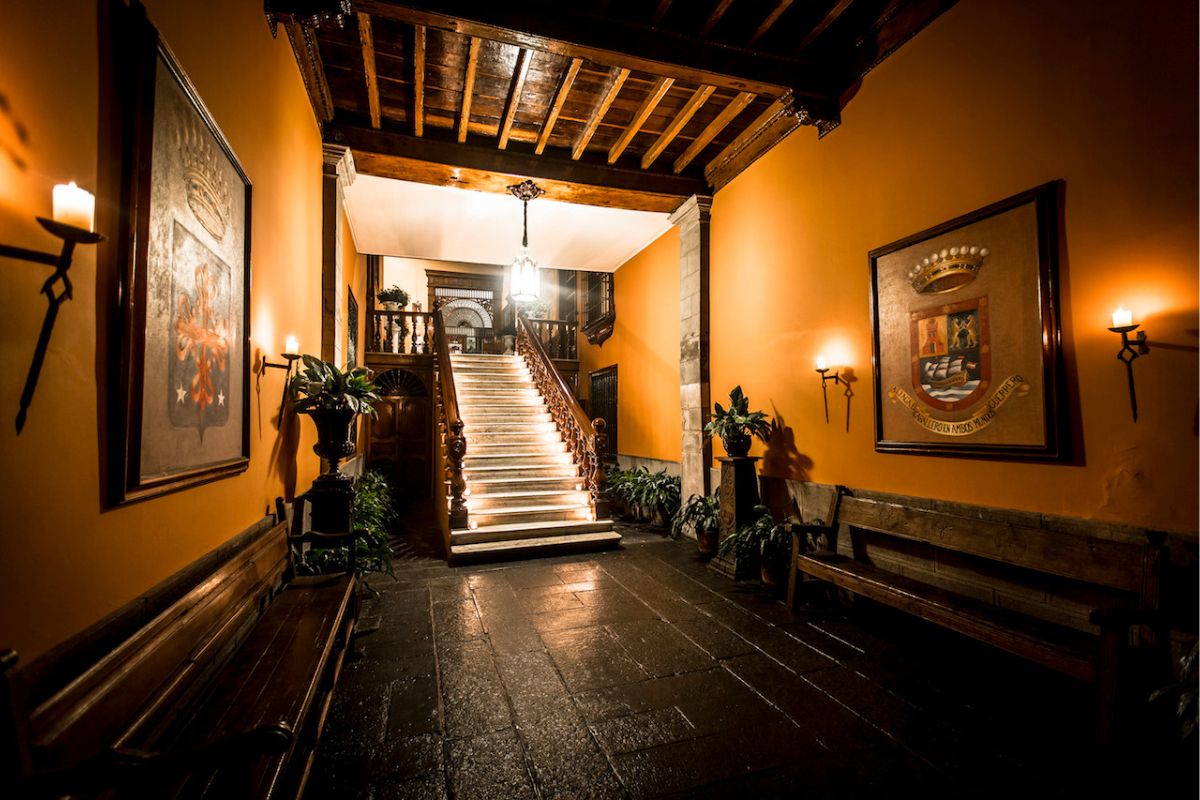 When you step into Casa de Aliaga, you may feel underdressed. After all, this mansion has been a symbol of opulence for nearly half a millennium.
Luckily, you no longer need to be part of the city's elite to enjoy a day in the former residence of one of Lima's early prominent citizens, Captain Jeronimo de Aliaga y Ramirez.
While it has seen some changes over the years, the house is still a wonderful time capsule of art and architecture in the early colonial era, from its elegant furniture to its magnificent interior accents.
It has been a part of the city since the beginning, and its roots run deep to this day; the house is currently hosting its 17th generation of Aliaga family members! Stop by to see the space for yourself, and get a feel for upper-class life in centuries gone by.
12 – Explore the vast ruins of Pachacamac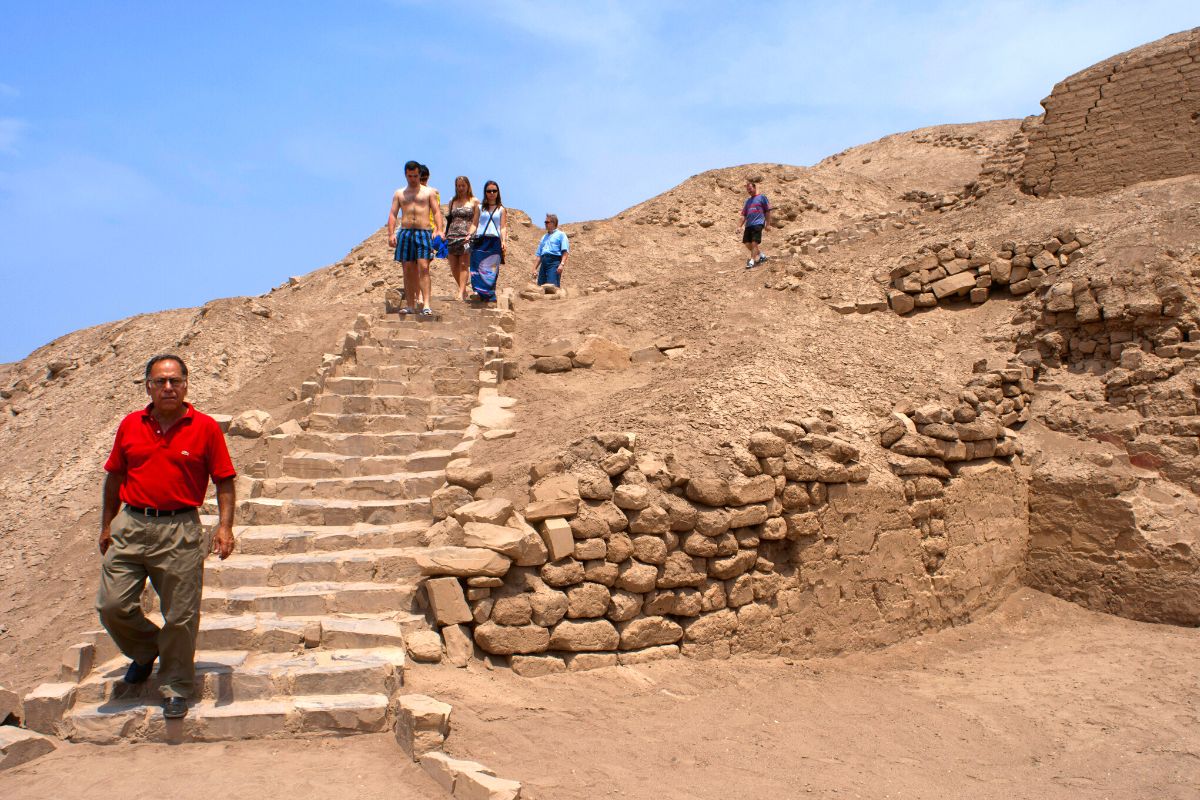 There are plenty of amazing things to do in Lima for archeaology enthusiasts, but it's also well worth taking a day trip to see some of the larger sites.
Pachacamac is one such complex, a massive Incan community that is triple the size of the famed Machu Picchu.
As you explore this fascinating space, you'll get to learn all about the customs of those living in the Empire at its prime, as well as the many other cultures that came and went from this settlement over the centuries.
There's also an excellent museum that showcases many of the artifacts excavated here, some of which date back to the 3rd century. And don't miss the Temple of the Sun, one of over 50 temples in the area.
As you gaze out over the ocean from its halls, you'll easily understand why the area's name references Pacha Kamaq, the Incan god of creation. Don't miss the opportunity to explore this remarkable piece of history for yourself!
13 – Meet some new creatures at Parque Zoológico Huachipa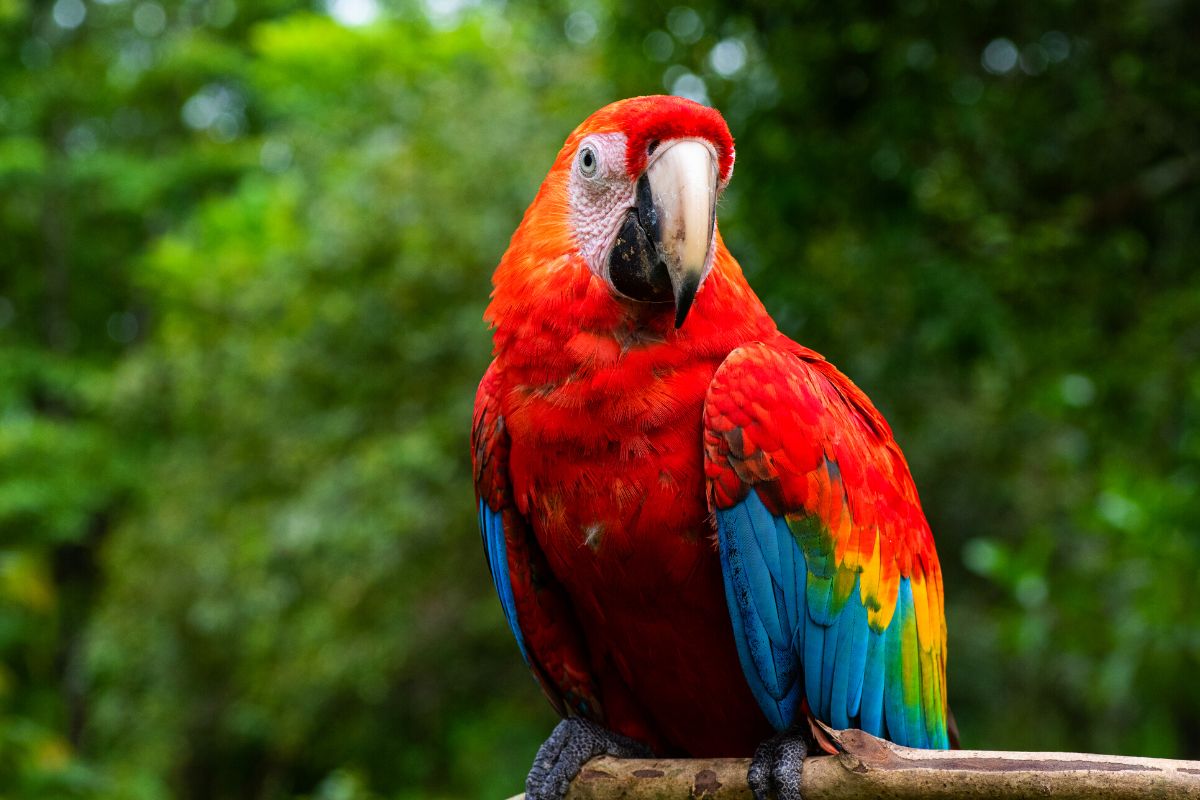 Before you head out into the Amazon or up into the Andes, you might want to familiarize yourself with some of the exciting animals you may meet there.
A trip to Parque Zoologico Huachipa is a great way to see some of them up close, alongside hundreds of other amazing species from around the world. Check out the innovative exhibits showcasing a range of environments, from the African savanna to a rural farm.
There's also a fantastic aquarium if you want to see some of the fantastic animals that live just below the surface. Add in a scenic train, paddleboats, and a walkthrough dinosaur sculpture garden, and you have all the makings of a fantastic day for the whole family.
14 – Get a bird's eye view while paragliding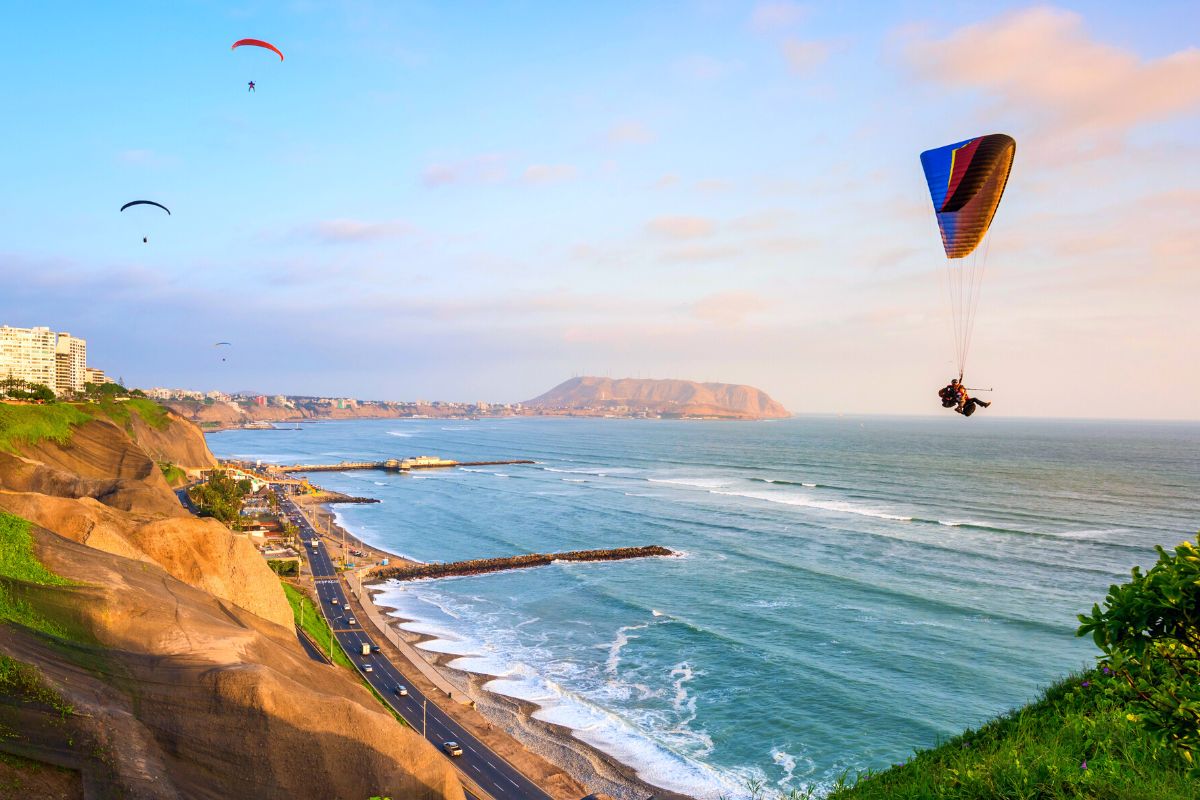 After seeing so many of the capital's amazing attractions up close, try checking them out from the air.
Paragliding is extremely popular in the region due to the combination of helpful ocean breezes, nice weather, and, of course, incredible views. One of the most beloved areas for excursions is Costa Verde, aka "The Green Cape."
This stunning section of town includes such iconic neighborhoods as Miraflores, San Isidoro, and Magdelena, all tucked into some stunning stretches of greenery and coastline. Your flight over this panoramic display will be truly unforgettable!
15 – Find some thrills at the theme parks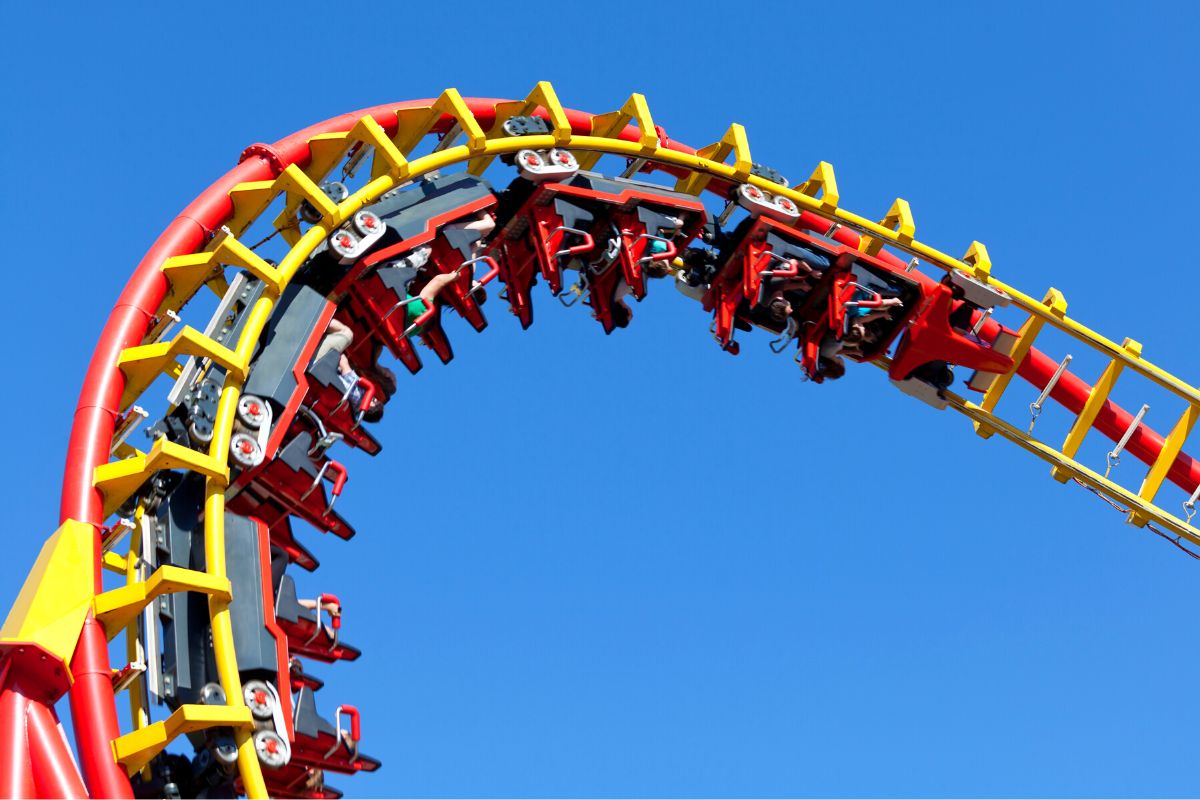 If you're looking for even more adrenaline-heavy activities during your trip, there are plenty of high-octane theme parks waiting for you!
La Granja Villa boasts an amazing mix of thrill rides and animal-based exhibits; when you're done tackling the rollercoasters, you can head over to the rehabilitation center to visit some of the creatures that have been rescued from the wildlife trafficking industry.
Or swing by Play Park SJL (Parque Bolognesi) to let the younger travelers in your group cut loose on innovative playgrounds, float around on the small boats, or enjoy a show from the onsite circus.
In that same vein, Play Land Park, which is located in the Jockey Exhibition Center, offers a nice mix of rides for kids and adults alike, from bumper cars to rollercoasters.
And at Rancho Aventura Park, you can indulge in a huge variety of activities, whether splashing around on the waterslides or checking out some exciting live performances.
As wonderful as the museums are, sometimes you need to do something a little wilder, and these parks will provide adrenaline in spades.
16 – Explore Callao Monumental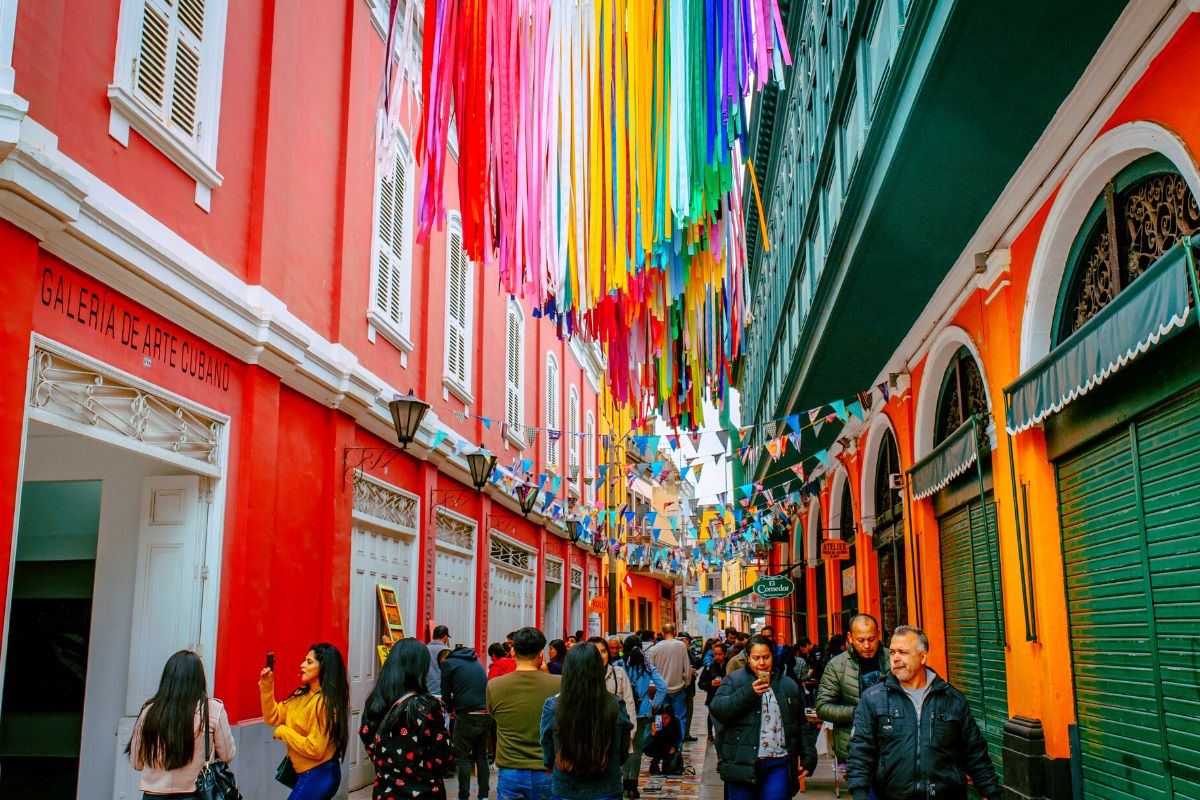 From its rainbow-hued facades to its world-class culinary scene, Callao Monumental is one of the most lively and fascinating cultural centers in the city.
This lively neighborhood was once a struggling community, but in recent years, it has developed a dynamic street art scene.
As you walk around, keep an eye out for the many beautiful works of graffiti on display; you can even sign up for classes to learn the art yourself!
The neighborhood's pier-side location also makes it a hotbed of naval history. Explore a real submarine at the Abtao Naval Underwater Site Museum, then check out a whole range of other historic watercraft at the Museo Naval del Peru.
You can also catch great views of Fortaleza del Real Felipe, which once served as a defensive stronghold in the 1800s.
While the area can be fun to explore on your own, it's well worth booking a tour that will take you deeper into the neighborhood's rich blend of bohemia and military history. Take some time to explore one of Lima's most unique neighborhoods!
17 – Pay a visit to the National Museum of Archaeology, Anthropology, and History of Peru
As the name suggests, the National Museum of Archaeology, Anthropology, and History of Peru is a comprehensive tribute to the social sciences in the country.
As the oldest museum in the country, it boasts an impressive array of artifacts from around the country, as well as some remarkable exhibits exploring the many different cultures that have called this area home.
With collections ranging from human remains to precious metals, weapons, and archival materials, the museum offers the chance to study Peruvian history from every angle across several centuries.
It's one of the best things to do in Lima if you want to dive deep into the stories of the country's past.
18 – Have a desert adventure at Huacachina Oasis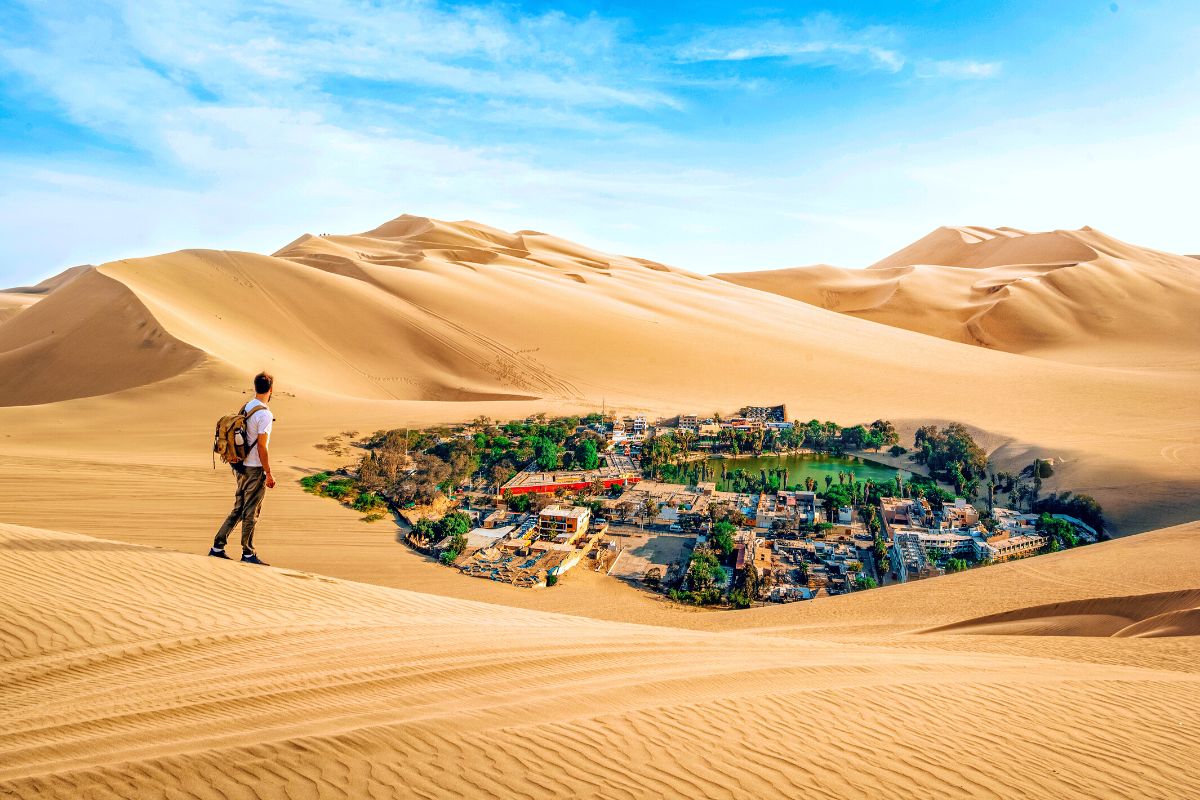 When you come around a dune and see the Huacachina Oasis for the first time, you may feel like you've stepped into a mirage. But this lively little town in the center of the Ica desert is very real and a great place for partiers and adrenaline junkies.
Unsurprisingly, the dunes are the big draw here; a thrilling buggy tour up and over their wild surfaces is an experience you won't soon forget. And if you want even more of an adventure, pair your wild ride with another exciting sport: sandboarding.
Hop on a modified snowboard and zoom down the dunes at thrilling speeds; if you can keep your eyes open, the views will be phenomenal! Best of all, you can easily reach the oasis with a tour from Lima.
Take a leisurely ride out to this surreal landscape, with stops at other famous attractions like Paracas National Park and the Nazca Lines, before returning to the city by nightfall.
Alternatively, book a two-day tour to spend some more time exploring. Either way, your time in the sand will be an action-packed adventure that you won't soon forget!
19 – Visit the historic downtown churches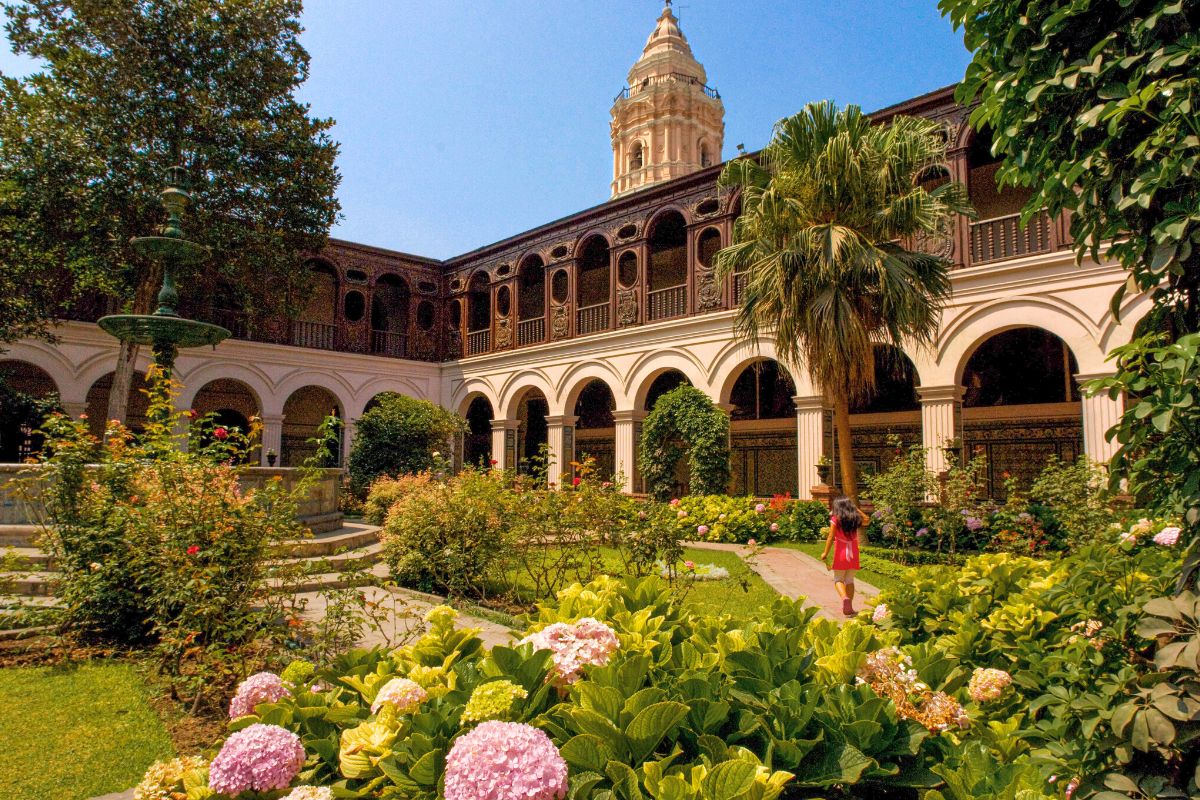 As you explore the downtown area, you'll come across several fantastic churches that serve as a visual and historical treat for travelers.
Iglesia de La Merced stands out with its Baroque entryway and elegantly decorated cloisters, while the Church of Santa Rosa serves as a testament to its namesake's commitment to helping the poor and others in need.
Stop by the Convent of Santo Domingo to admire its towering pink visage and impressive collection of religious relics, or check out the phenomenal designs of Iglesia de San Pedro, a traditional Jesuit cathedral that dates back to the 1600s.
Whether you explore these sites on a walking tour or on your own, you'll get some fascinating glimpses into the city's rich religious background.
20 – Meet the specimens at the Natural History Museum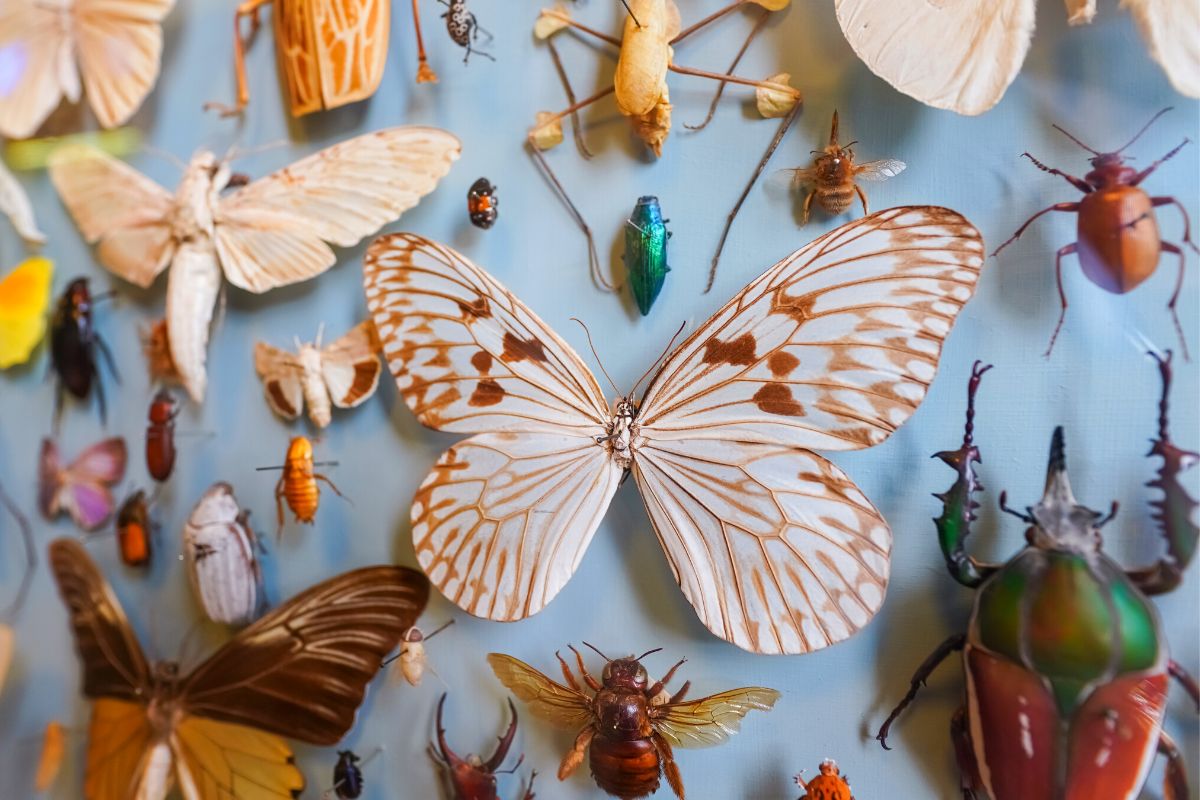 Another great way to explore the country's biodiversity is with a trip to the Natural History Museum, one of the finest in Peru.
From ecology to mineralogy, mycology to herpetology, this is the place to celebrate the natural world and all of its unique attributes..
With collections that include dinosaur models, taxidermied specimens, and wonderfully detailed dioramas of various ecosystems, this place will surely spark your inner science nerd!
21 – Enjoy some time at Parque del Amor…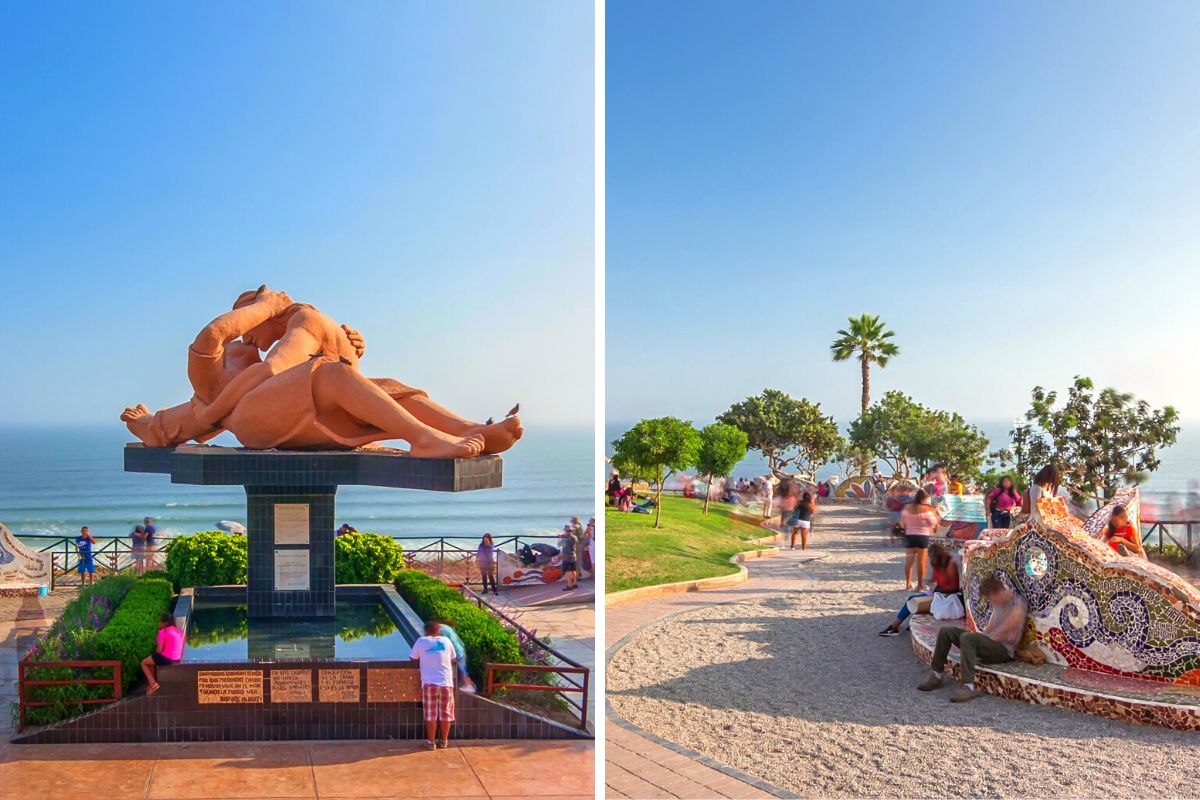 With its great weather and lively civic culture, Lima is home to plenty of excellent public parks. Parque del Amor is probably one of the most famous, and is particularly well-known for its iconic sculpture, "The Kiss."
This massive wooden depiction of an amorous couple is the perfect focal point for this beautiful space, which is considered to be one of the most romantic spots in town.
Try to stop by to see the sunset!
22 – …and other great parks in Lima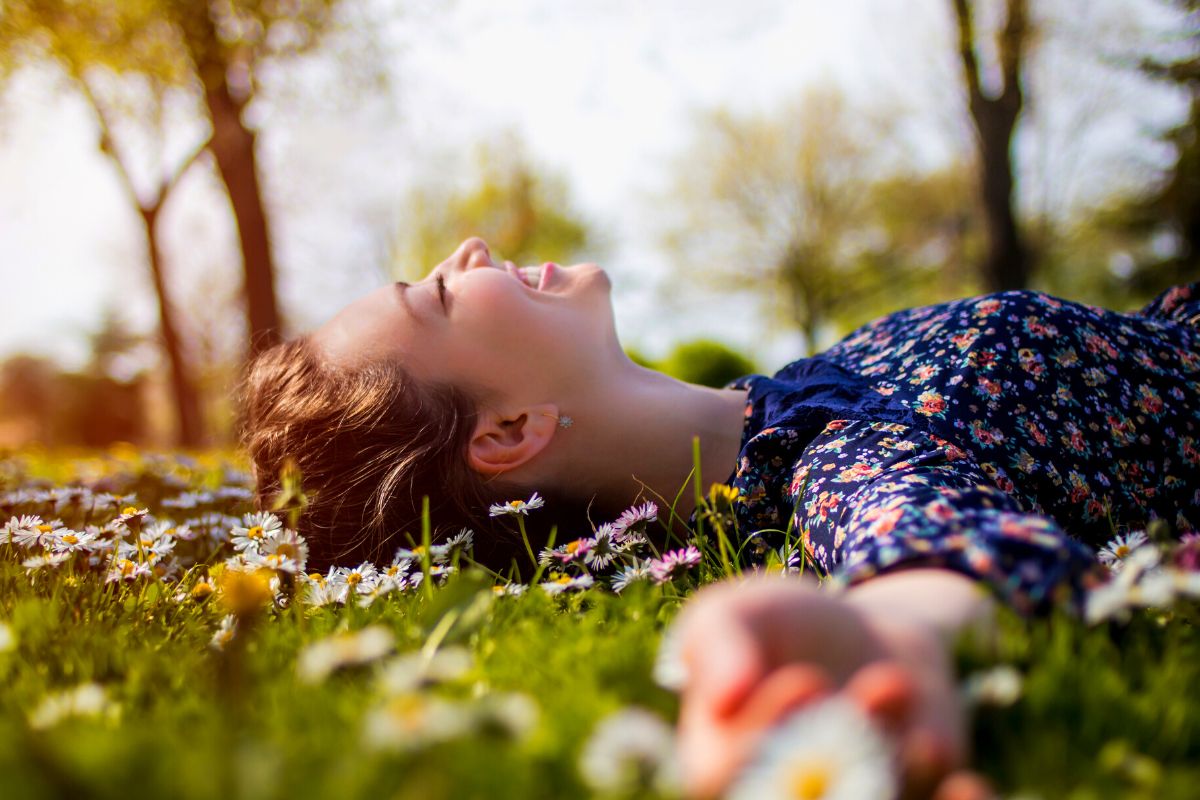 Of course, there are plenty of other parks in the city as well; you could easily spend a whole trip just exploring them.
Swing by Parque 7 de Junio in Miraflores after hitting up the nearby markets, or enjoy a picnic lunch on the scenic hills of Parque de la Benemerita Guardia Civil.
Check out the recreations of the Nazca Lines – made entirely of flowers! – at Parque Maria Reiche, or enjoy some street food while socializing with the bevies or friendly cats at Kennedy Park.
Roam through the gorgeous gardens at Loma Amarilla Ecological Park, or relax in the shadow of the famous clock tower at Parque Universitario.
Go museum-hopping and enjoy the beautiful old buildings at Parque de la Exposicion, or let the kids loose on some rides and relax at the lake at Parque de los Anillos.
Each of these spaces is well worth a visit in and of themselves; mix and match them to get a whole different feel for the city!
23 – See impressive artifacts at the Gold Museum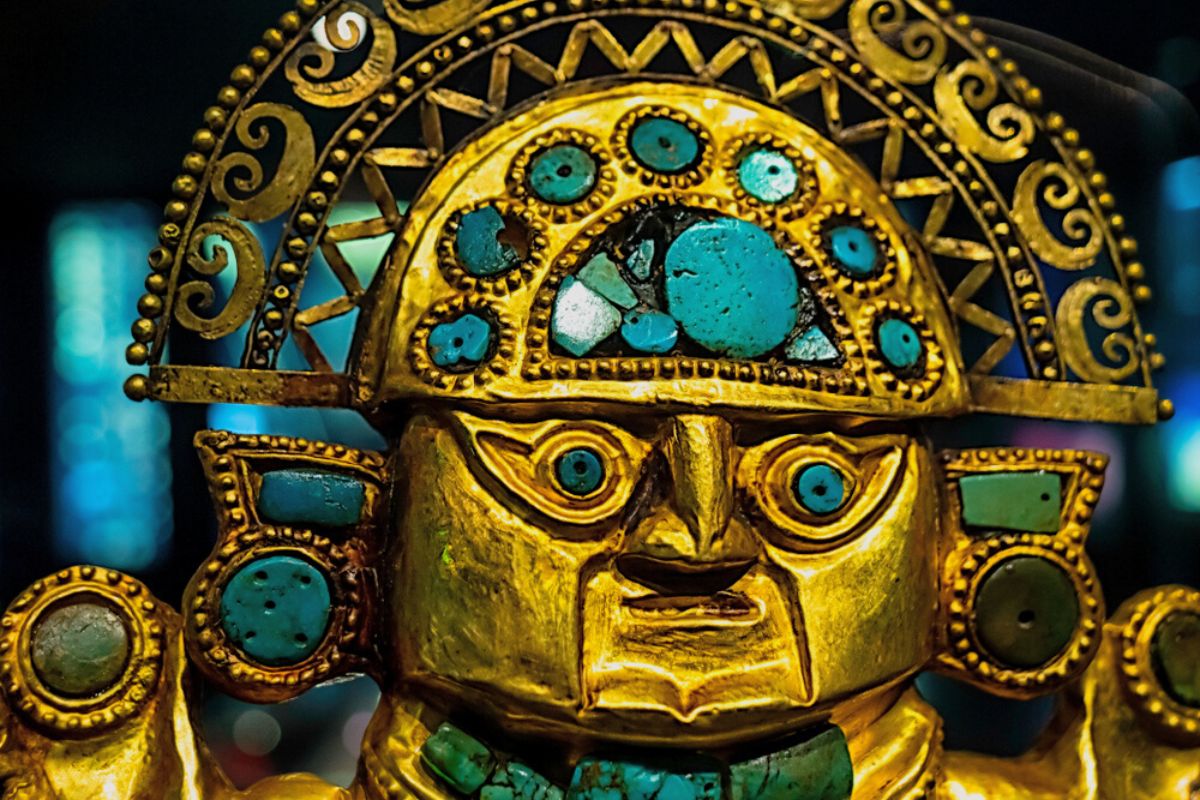 If any one substance could be said to have most impacted the Incas and their predecessors, gold would be a strong contender.
You can see some fine examples of the substance and its uses at the Gold Museum, one of the most unique things to do in Lima.
The museum is actually part of the massive private collection of a local citizen, and it showcases the breadth and depth of gold's historic and artistic significance for various empires.
With more than 2,000 objects on display, you'll be amazed at the diverse uses of this ever-popular material!
24 – Wander through San Isidro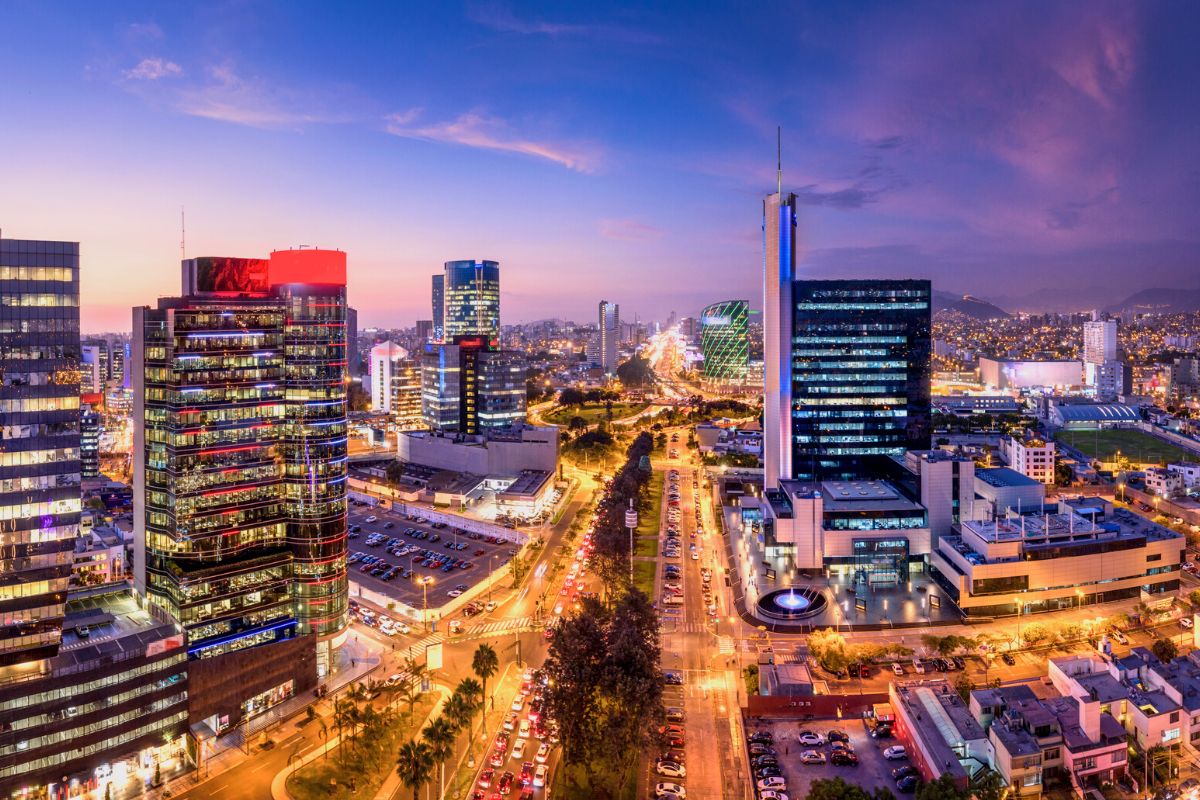 Another one of the city's famous bustling neighborhoods, San Isidro offers a great slice of metropolitan life alongside some renowned public parks.
As the city's financial district, it boasts some impressive buildings and unique businesses. It also has some nice green space in the form of El Oliver Park.
With its picturesque lagoon and groves of olive trees, it's the perfect place for residents and visitors alike to relax and unwind.
This is also a great area to explore on foot and/or by bike, so be sure to book a tour if you really want to explore the neighborhood in-depth.
25 – Swim with sea lions at the Palomino Islands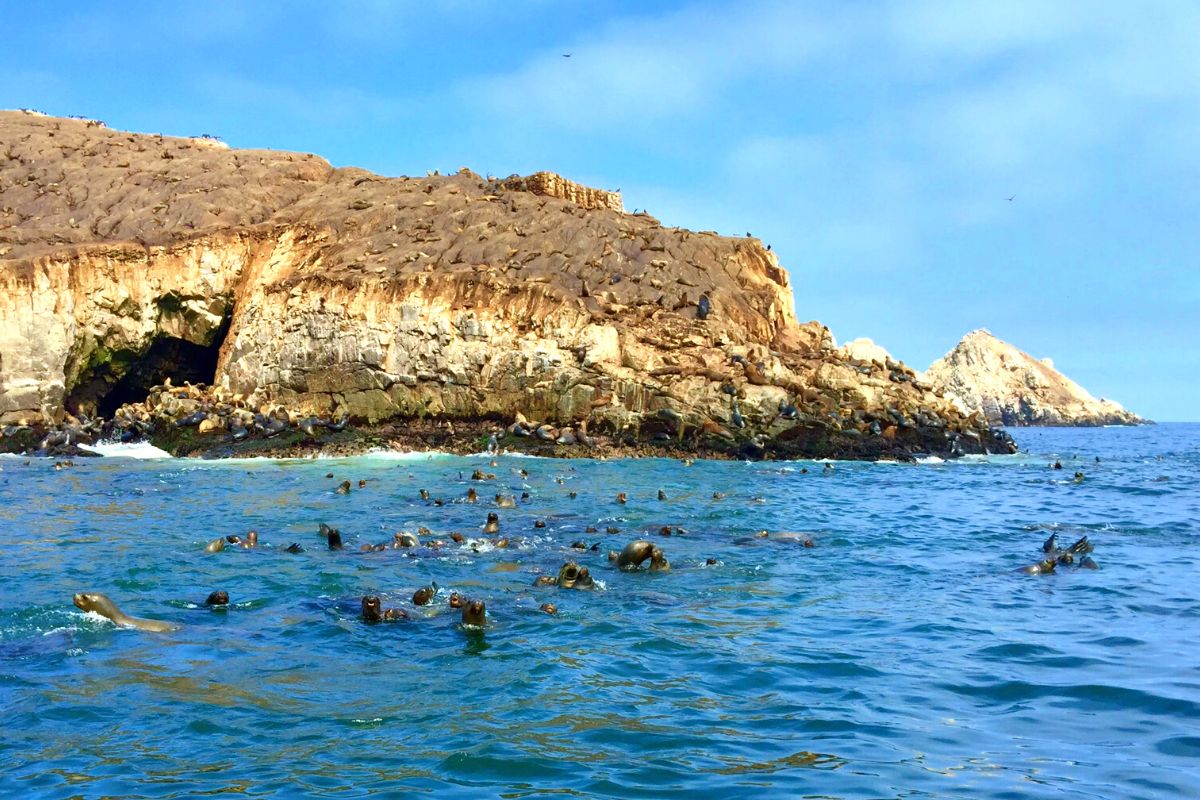 Have you ever watched sea lions cavorting in the water and wished that you could join them? If you head to the Palomino Islands, you can make that dream come true.
Located just off the coast of the Callao neighborhood, these rocky outcroppings are a visual treasure in their own right; but it's the chance to get up close and personal with some marine mammals that really makes them special.
Enjoy a guided boat ride out to the islands, then hop into the water and swim alongside these dynamic, playful creatures. You can take a standard boat tour, or book a jet boat for an even zippier ride.
This thrilling experience will put normal wildlife cruises to shame!
26 – Get in a round of golf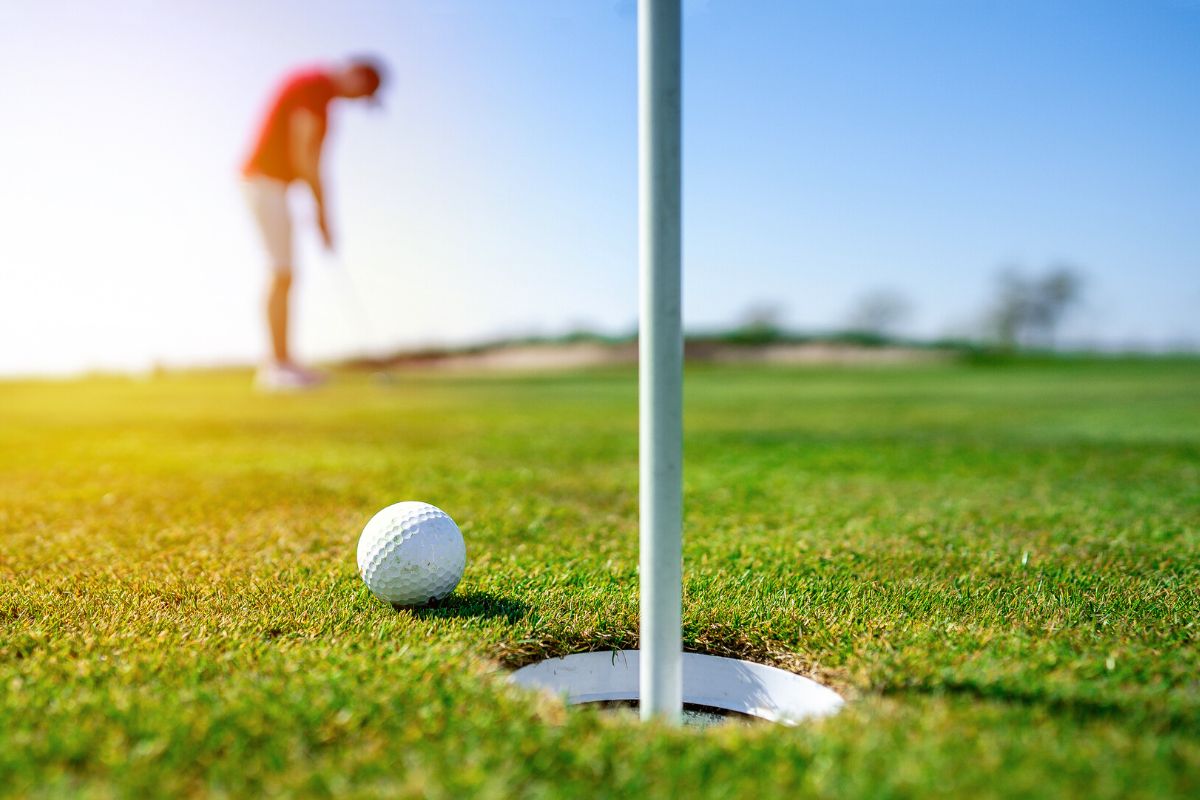 If a day on the links sounds like your kind of fun, check out some of the many excellent golf courses around the area.
They are all somewhat exclusive – you can only play if you are a member, or if a member invites you-, but their stellar amenities make it well worth your while.
Country Club La Planicie offers excellent driving ranges and a renowned golf school, while Country Club de Villa boasts some wonderful beachside views.
You can also check out the charming putting green at Los Inkas, or the lovely wooded links of Lima Golf Club. If you're pressed for time, take a short but pleasant trip through the nine holes at Granja Azul.
Whichever you choose, you'll be sure to have a great game.
27 – Explore the Bridge of Sighs and Barranco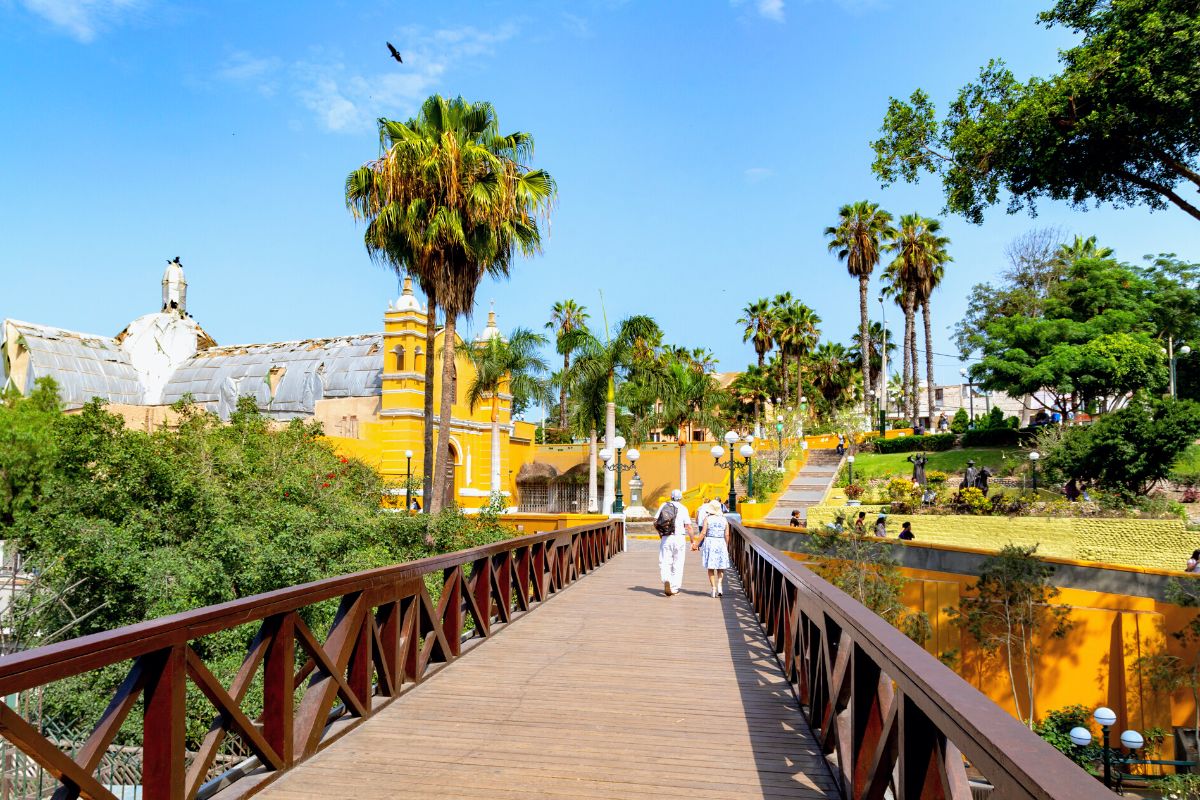 An iconic part of the Barranco neighborhood, the Bridge of Sighs is known for its romantic atmosphere and beautiful designs.
Much like its namesake in Venice, this little wooden bridge is a popular place for couples and artistic types seeking some scenic inspiration.
After strolling along this little piece of local history, take some time to explore the rest of Barranco, famous for its mellow artistic vibes.
Cruise around the neighborhood on a bike tour, or visit its famous buildings and public artworks on foot for a memorable afternoon excursion.
28 – Cruise Circuito de Playas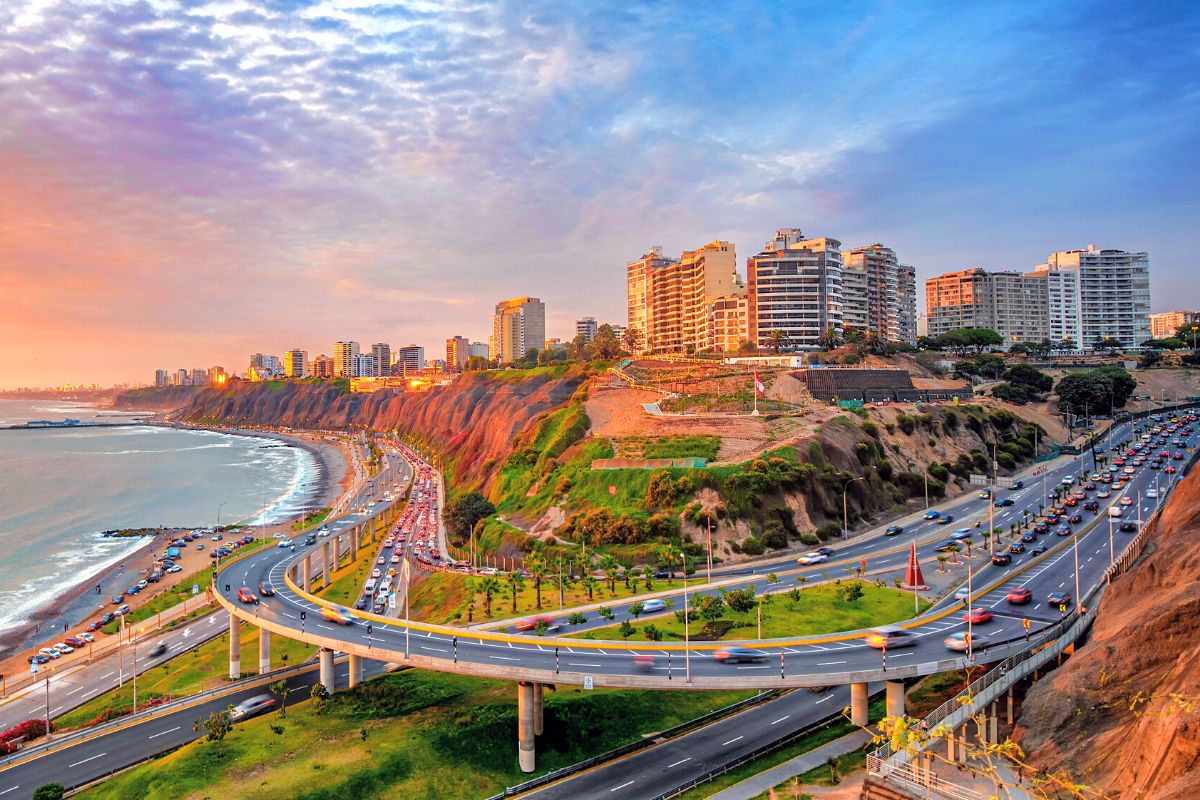 Another gem of the Costa Verde area, Circuito de Playas is the ideal option for those looking to maximize their beach time and sightseeing.
This scenic road runs alongside the ocean, offering unparalleled views of the Pacific as you drive or ride along.
Pick a sunny day and head out on the road for some stellar seaside views and a leisurely, gorgeous trip along the coast.
29 – Watch the fountains of Circuito Magico del Agua (Magic Water Circuit)
From the moment you first see the fountains light up on Circuito Magico del Agua, you'll be enchanted.
Located in the Park of the Reserve, this fantastic attraction – known as "Magic Water Circuit" in English – is a phenomenal combination of lights, music, and special effects, all centered around the park's iconic fountains.
As you make your way around the path, you'll be able to witness the incredible creativity of each fountain's programming, a series of self-contained public theaters.
With so many different performances taking place, it's well worth booking a tour to better appreciate the intricate beauty of each display.
Best of all, your entry ticket will likely include access to a dinner show, where you experience world-class folklore performances while sampling a delicious meal. This is one of the best things to do in Lima during the evening!
30 – Swim or sun at the best beaches in Lima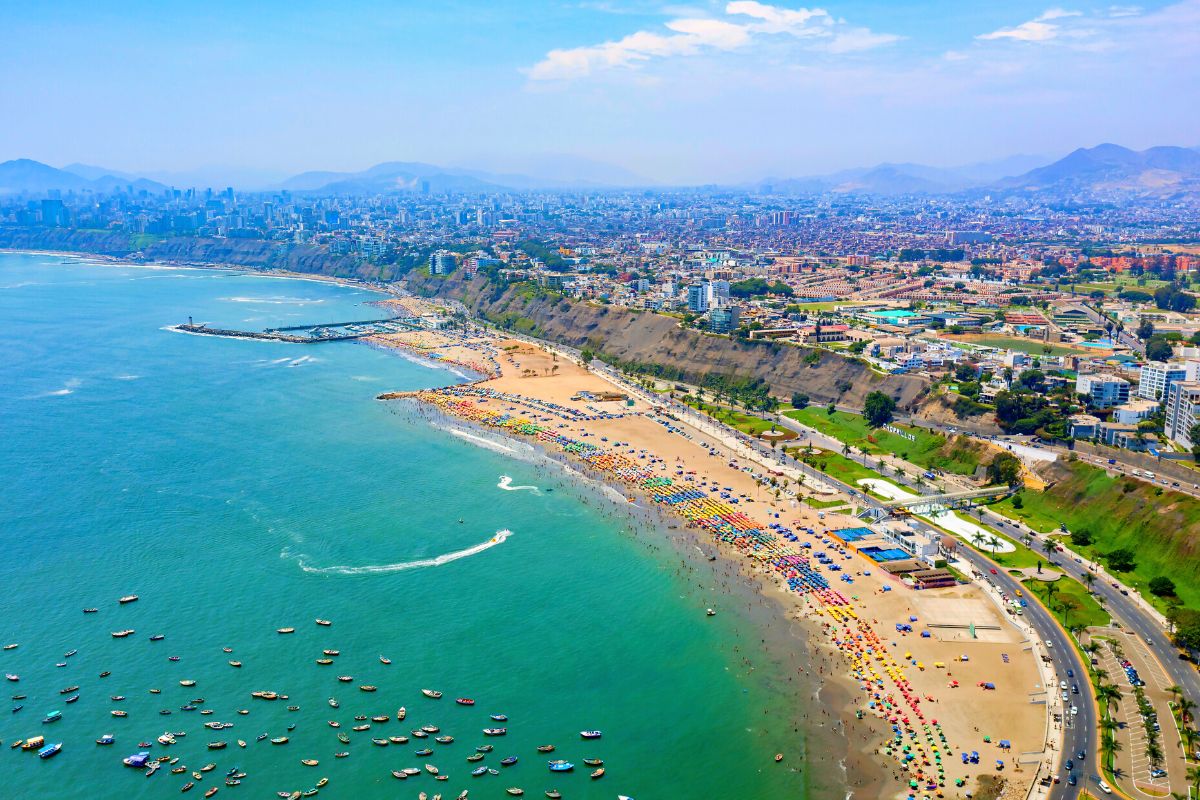 After driving or walking past all of the wonderful beaches in town, you'll probably want to experience a few of them for yourself. While each of them offers its own unique features, they'll all offer an amazing day out.
Enjoy the towering cliffs and warm weather at Hornillos Beach, or the phenomenal fishing and surfing at Tuquillo Beach.
Head to pebble-strewn Centinela Beach to enjoy beautiful views in a somewhat quieter setting, or kayak and sunbathe at Cerro Azul.
And if you want a really luxurious experience, make your way over to Asia Beach, which boasts phenomenal views, plenty of watersports, and a thriving population of local beachgoers to keep things interesting.
So grab your swimsuit and towel, and head out to the shore – or a few of them!
31 – Soar over the Nazca Lines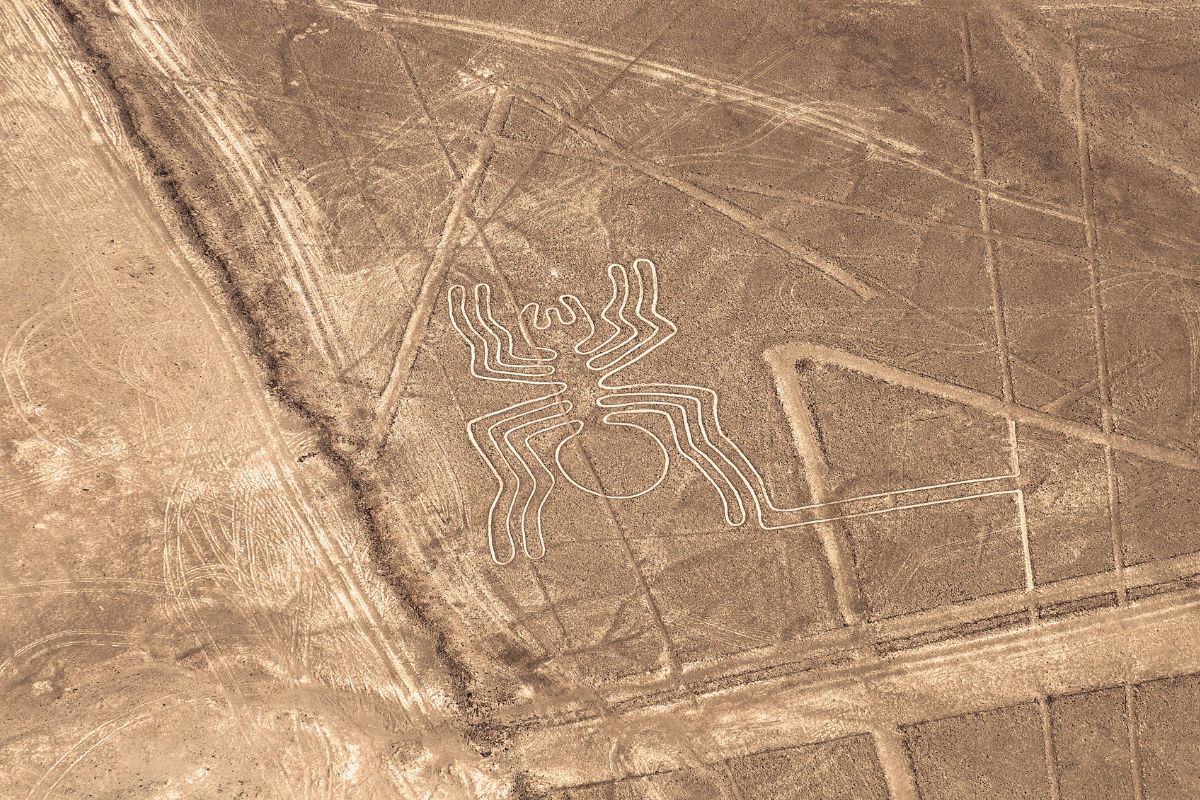 The Nazca Lines are among the most famous archaeological sites in the world, a series of massive designs etched into the light soil of the Peruvian desert.
If you'd like to see these spectacular creations for yourself, there are plenty of excellent day tours running from Lima.
Seeing the lines from above is a truly breathtaking experience, especially if you're looking down from the air;
Book a small airplane tour and climb aboard for a memorable flight over the entire complex., taking ample time to study the strange phenomena below.
If you want to experience more of the surrounding area, you can also book a multi-day excursion to other nearby sites such as Huacachina and Paracas.
32 – Splash into fun at some waterparks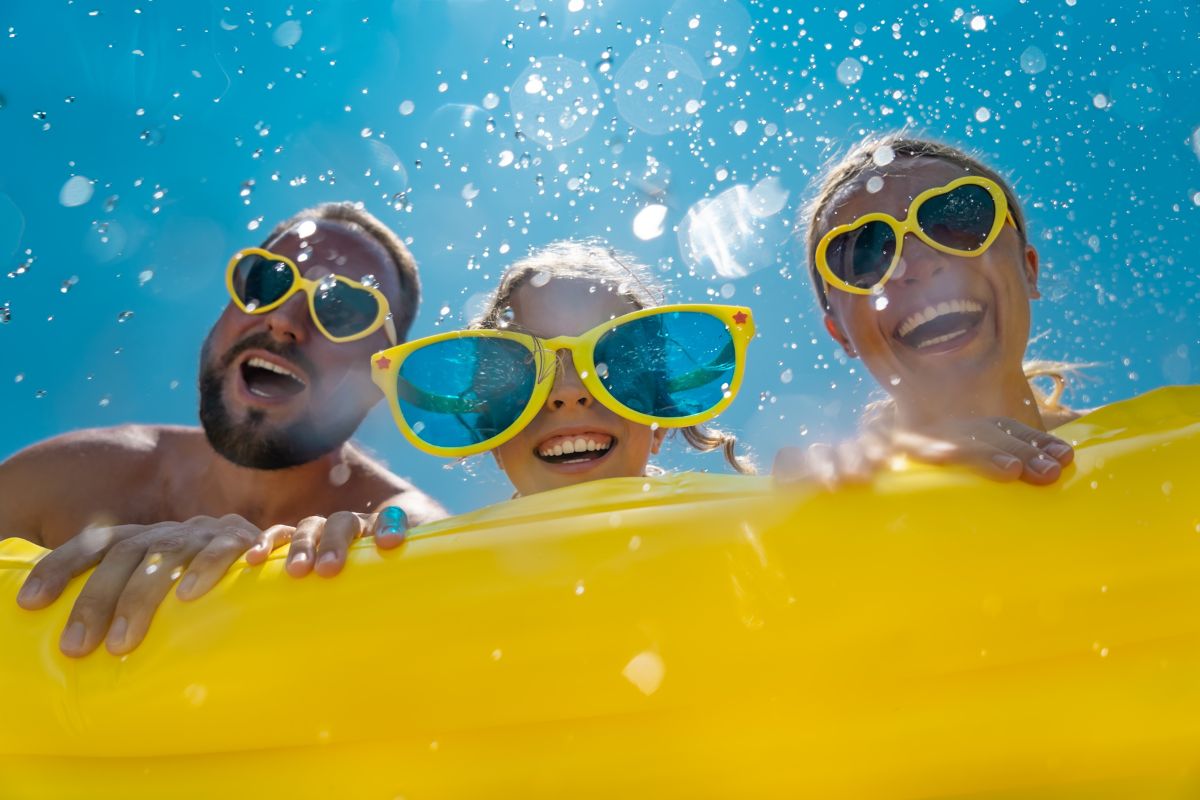 If the beaches have you craving some more quality time in the water, then head on over to the city's excellent waterparks and take some slides for a spin.
With a range of exciting attractions, Paraiso del Sur's Pacific Island motif and family-friendly atmosphere make it a hit with travelers of all ages.
When you're done checking out the slides and massive swimming pool, you can enjoy some of the park's other amenities, including a football field, dance floor, and VIP seating areas.
Or stop by Three Wheels to race your friends on the slides, splash around the play areas, and whip up something delicious on the nearby grills.
No need for a surfboard or special equipment is necessary here; just a healthy sense of fun – and a swimsuit, of course.
33 – See amazing art at the Church of the Nazarenas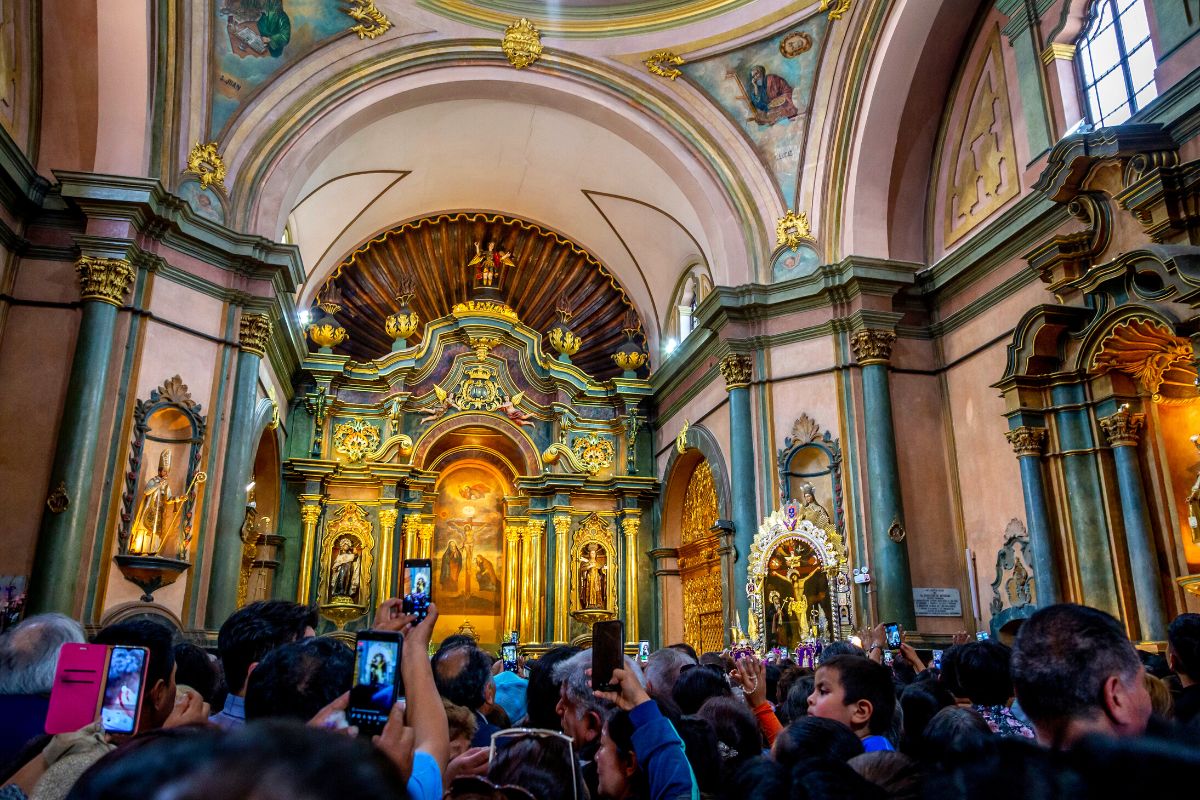 The Church of Nazarenas would be well worth visiting for its architecture alone, with stunning rococo details and gorgeous, spacious interiors.
But it's become famous for a particularly striking piece of art: the Lord of Miracles, a painting of Jesus Christ that dates back to the 1600s.
Legend has it that an Angolan slave originally crafted the portrait on a wall and that it has withstood several earthquakes over the years without a scratch before being moved into the church.
Stop by to see this magnificent piece of art for yourself, a wonderful testament to the area's diverse past.
34 – Pedro de Osma Museum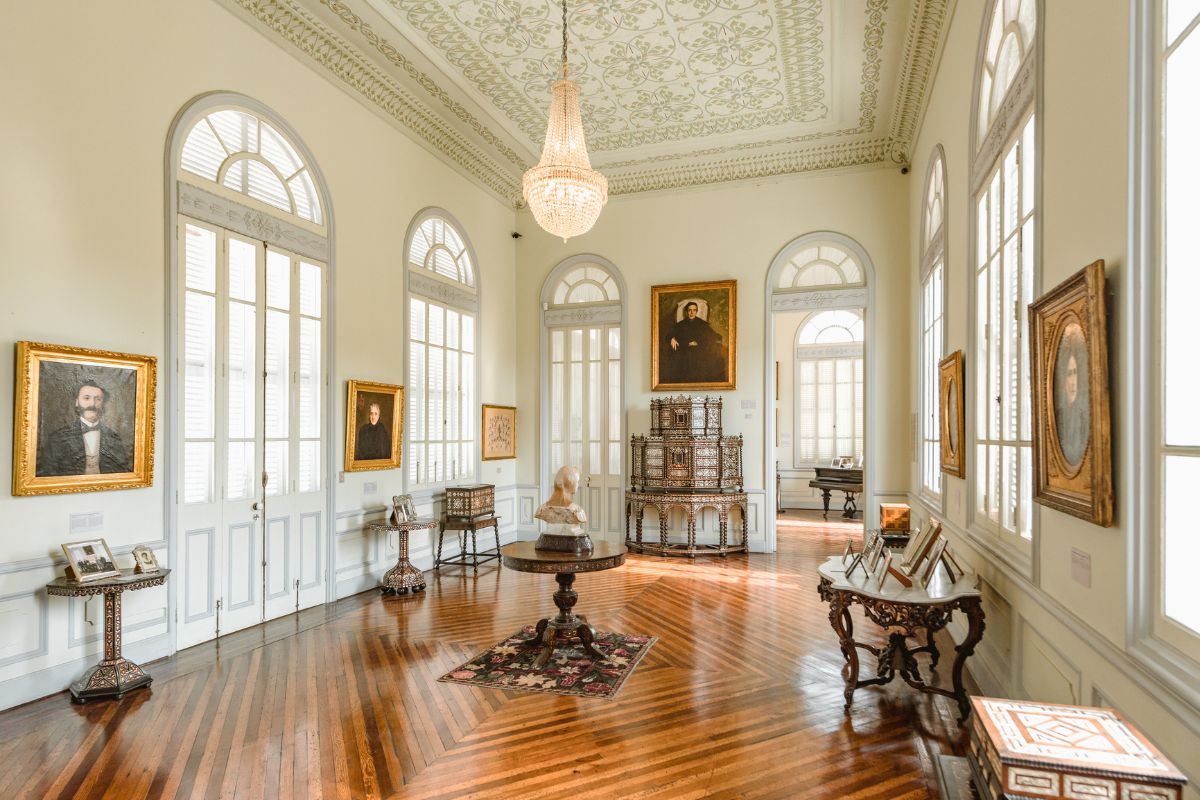 If your tastes are more on the elegant side, check out the lavish decor of the Pedro de Osma Museum.
Located in a historic mansion that once belonged to a prominent local politician and lawyer, this gorgeous cultural institution is chockful of treasures, including antique furniture, sculptures, and a vast array of art from the 17th and 18th centuries.
This is the ideal place to see the trappings of the city's upper-crust past while learning about the people who inhabited that world along the way.
35 – Watch a sports event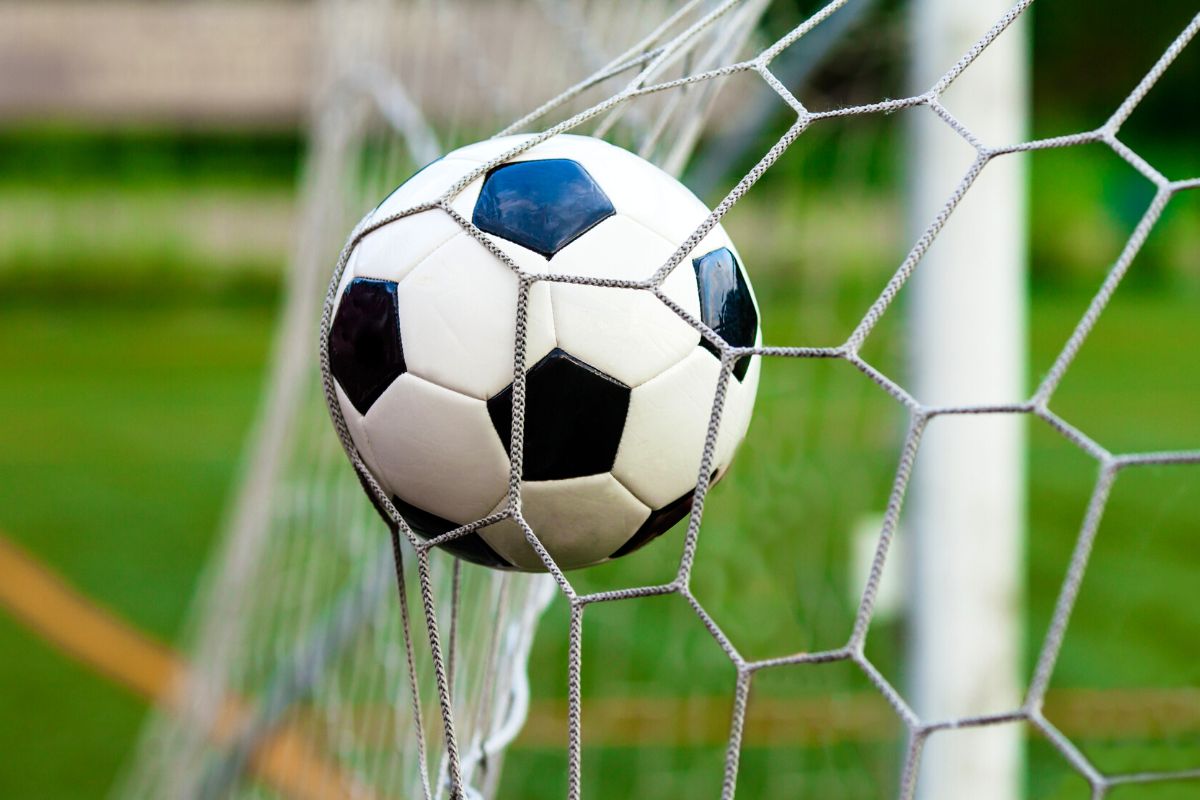 Whether you're a full-on soccer fanatic, or still trying to figure out where the goal is, going to a sporting event is one of the best things to do in Lima if you really want a feel for the local culture.
Luckily, the city's size and level of enthusiasm for athletics means that you have tons of stadiums to choose from. The National Stadium of Peru, home to the country's main soccer team, is probably among the most famous.
But you can also cheer for Club Universitario at Estadio Monumental "U," Alianza Lima at Alejandro Villanueva Stadium, or Universidad San Martin and Sporting Cristal at ALberto Gallardo Stadium.
Join the Peruvians up in the stands and cheer for a new favorite team or two!
36 – Compare artifacts at Museo Textil Precolombino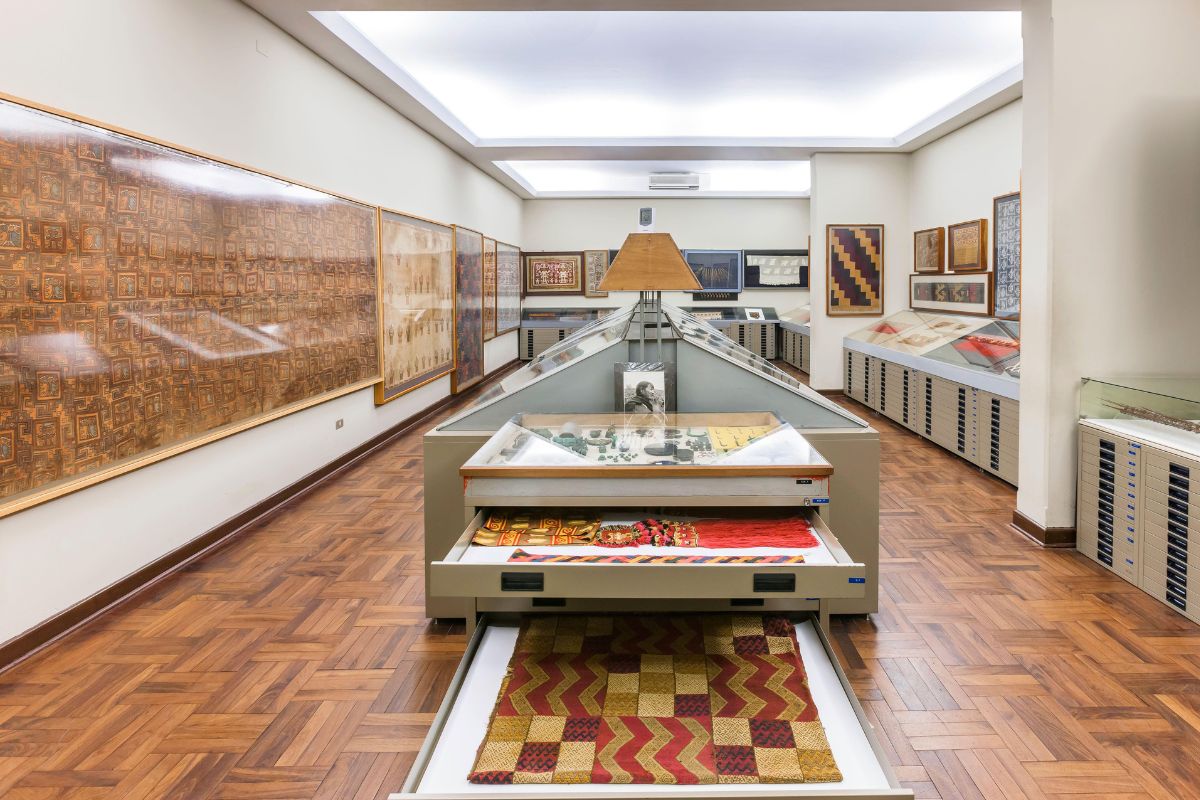 Another excellent option for those interested in ancient history is Museo Textil Precolombino, which features an incredible selection of craftwork from cultures past.
The museum actually got its start from a collection of artifacts left behind by tomb raiders, and it continues to pay homage to some of the region's earliest residents.
Its well-curated galleries cover everything from the production process of these materials to the tremendous impact that they had on their respective eras – as well as the modern one.
Don't miss a chance to see some remarkable pieces together in one place!
37 – Go wildlife-watching at the Ballestas Islands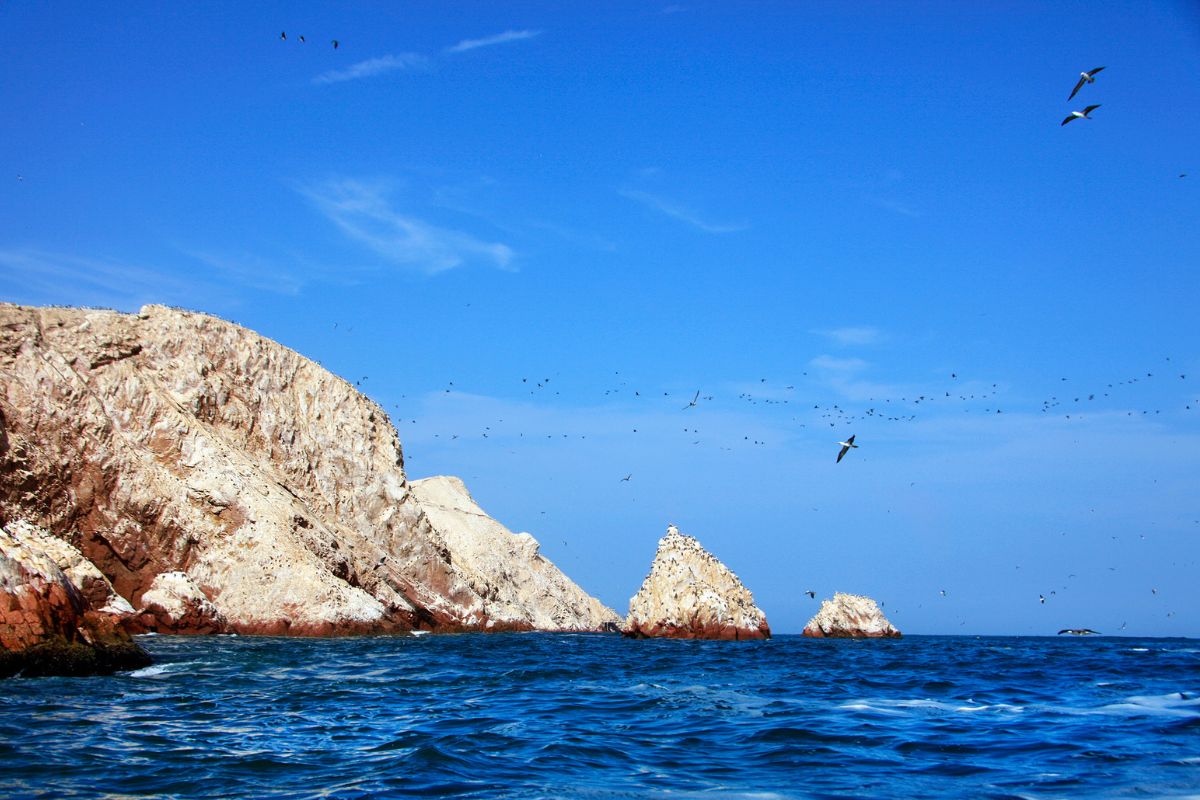 Just a few hours away from the capital, the Ballestas Islands seem to have been plucked straight out of an adventure novel.
Their craggy rocks and pleasant beaches are home to some incredibly dense populations of birds and sea lions; you may even spot some penguins as you cruise by!
And the adjacent land is equally impressive in its own right, with the Martian-esque sands of Paracas National Reserve perfectly complementing the rich blue sea.
This splendid region is a must for nature lovers.
38 – Visit the National Museum of Peru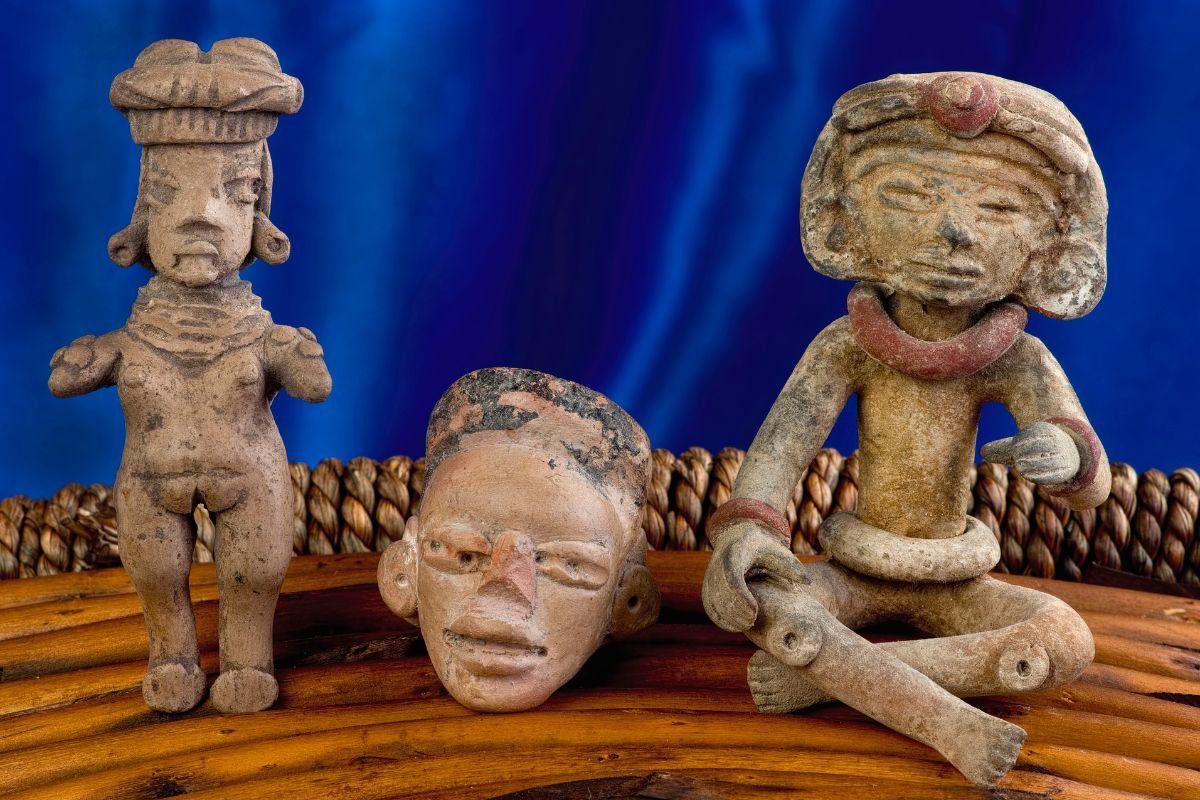 If you want a more comprehensive understanding of the country and its culture, a trip to the National Museum of Peru is a must.
Its extensive collections are in constant rotation, making every trip a new experience. From toys of the Incan Empire to the history of scientific discoveries, there's no end to the intriguing stories that the museum tells.
And, of course, like its fellow institutions, it features plenty of incredible artifacts from empires past. Stop by to see some of these historical objects, and take some time to indulge your curiosity in the other exhibits.
39 – Catch a show by Brisas del Titicaca Asociación Cultural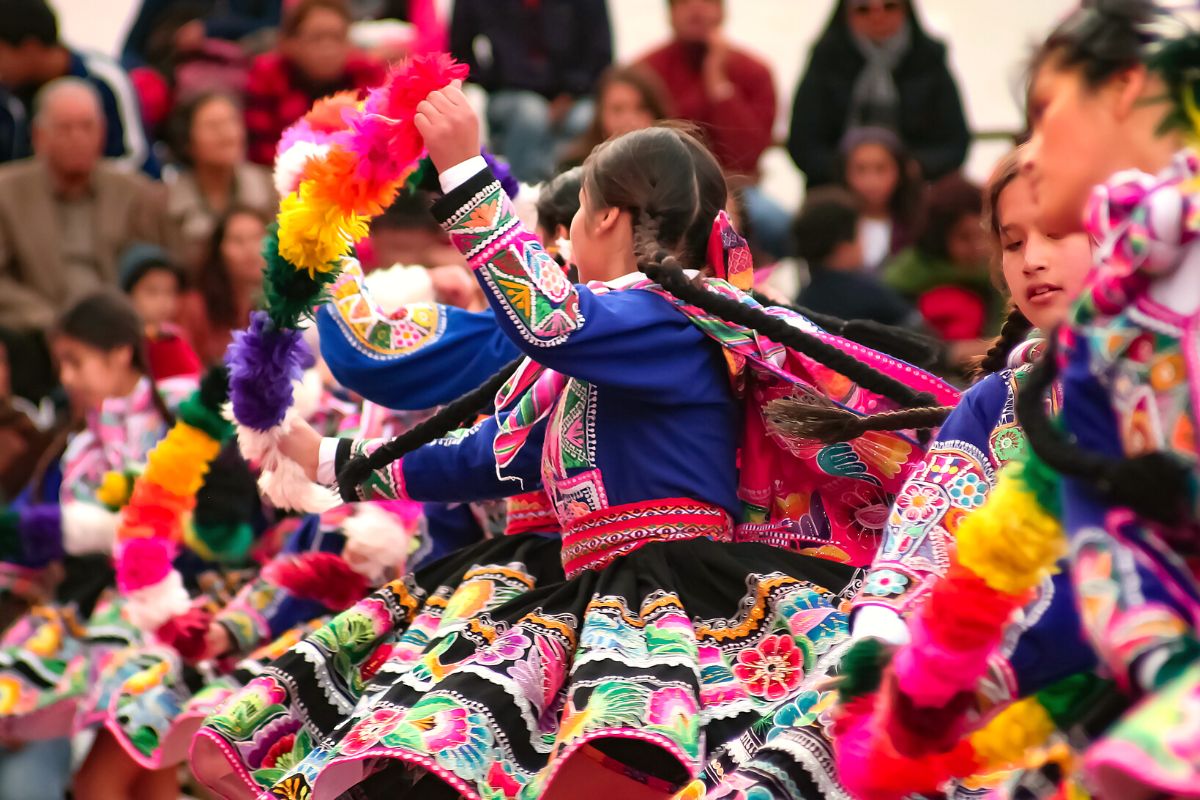 While museums are always great, there's something about live performance that really brings a culture to life. And Brisas del Ttitcaca Asociacion Cultural puts on a show like no other.
Their live music and dance productions showcase the unique nuances of Peruvian society, from the style of dress to artistic preferences.
Stop by for a show and enjoy some remarkable musical presentations, all accompanied by authentic traditional outfits and a lively passion for cultural exchange.
40 – Go birdwatching at Pantanos de Villa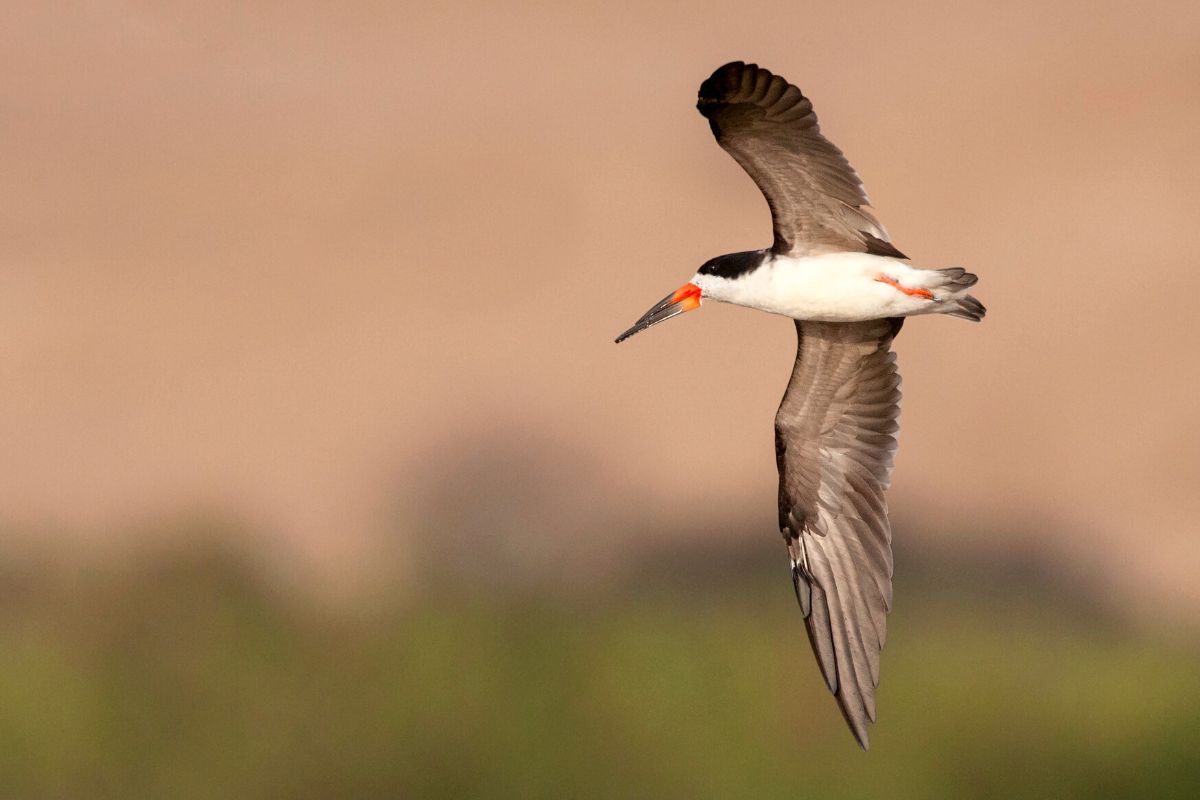 With its vast wetlands and abundance of flora and fauna, Pantanos de Villa Wildlife Refuge is a remarkable natural gem.
Its 650 acres are home to a variety of reptiles and amphibians, as well as hundreds of subtropical plants. There are also over 200 species of birds residing here, making the area tremendously popular with birdwatchers.
Grab some binoculars and head out to search for Andean coots, Peruvian pelicans, Great grebes, and more. You'll feel as though you've gone deep into the wilderness, all within the city limits!
41 – Indulge your inner bookworm at Casa de la Literatura Peruana
From its extensive reading rooms to its healthy helping of literary events, Casa de la Literatura Peruana (the House of Peruvian Literature) is a touchstone in Lima's cultural scene.
The organization focuses on promoting reading for people of all ages, and it's well worth stopping by to check out their programming and utilize their resources.
Join some of their public programs, consult with experts in various branches of the humanities, or just kick back in the elegant reading rooms with the material of your choice.
This combination of library and seminar space is the perfect place for avid readers on the go.
42 – Test out some cooking classes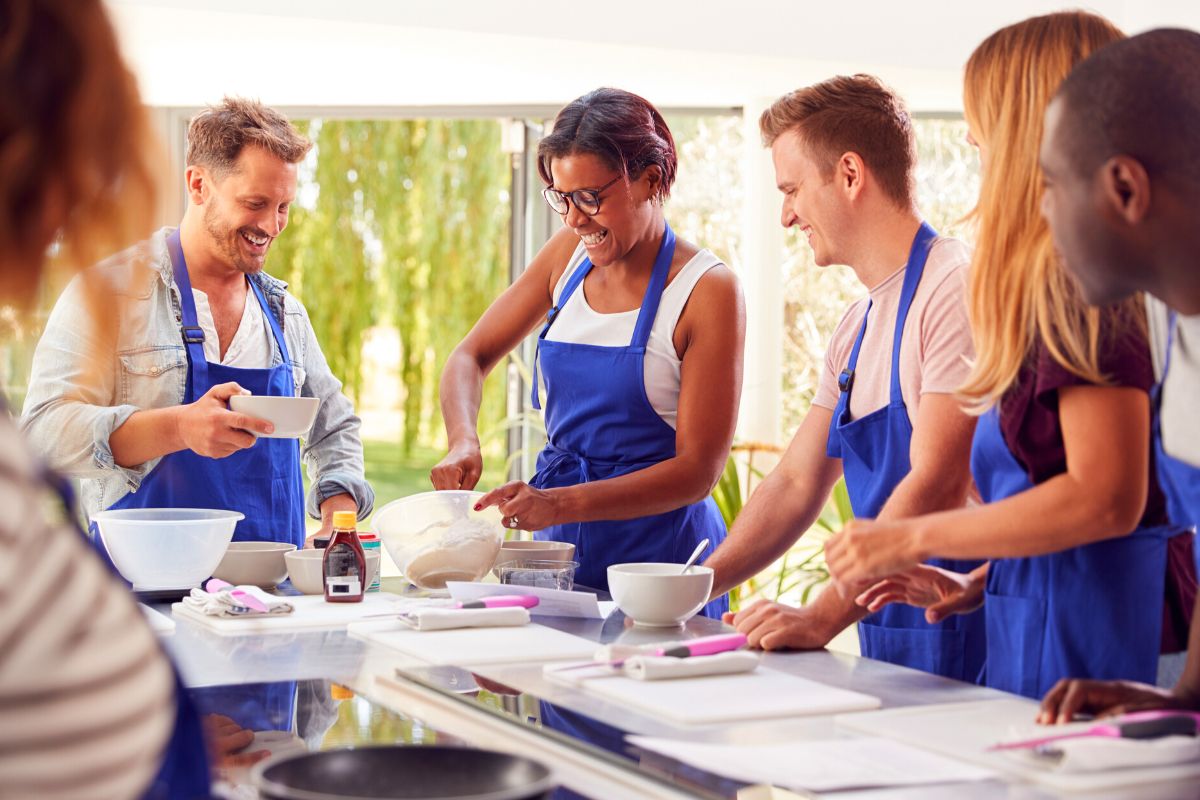 From ceviche to fresh fruit, Lima is known for its delicious food, and you can learn how to make some of it by taking a local cooking class.
Many of these programs will include trips to the market, where you can help select the abundant fresh ingredients for your future meal.
You can also take a class with a local family if you really want to get the full immersive experience, learning how to make specialty dishes while also getting some insight into their day-to-day lives.
It's just another way to explore the tasty flavors of the region, and to learn more about its active dining culture.
43 – Go rafting in Lunahuaná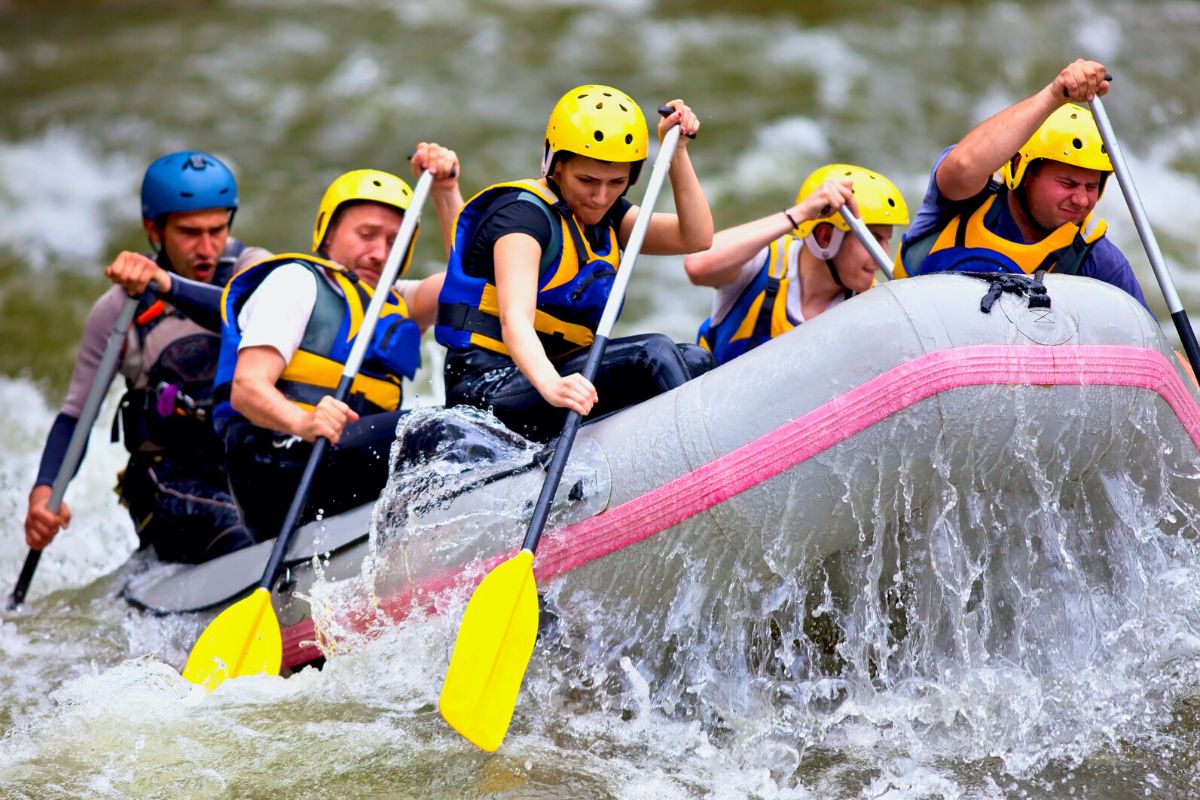 Roughly three hours outside of town, Lunahuana is a fantastic place to go adventuring. Just be warned: you will get wet!
The thrilling rapids of the Canete River are the perfect place to do some rafting, whether you're a newcomer or a total river rat.
Navigate some thrilling rapids, then take plenty of time to relax and enjoy the scenery as you float along.
The water offers just the right amount of excitement, and rafting through lush landscapes will make a great story to tell the folks back home!
44 – Walk around Chinatown (Barrio Chino)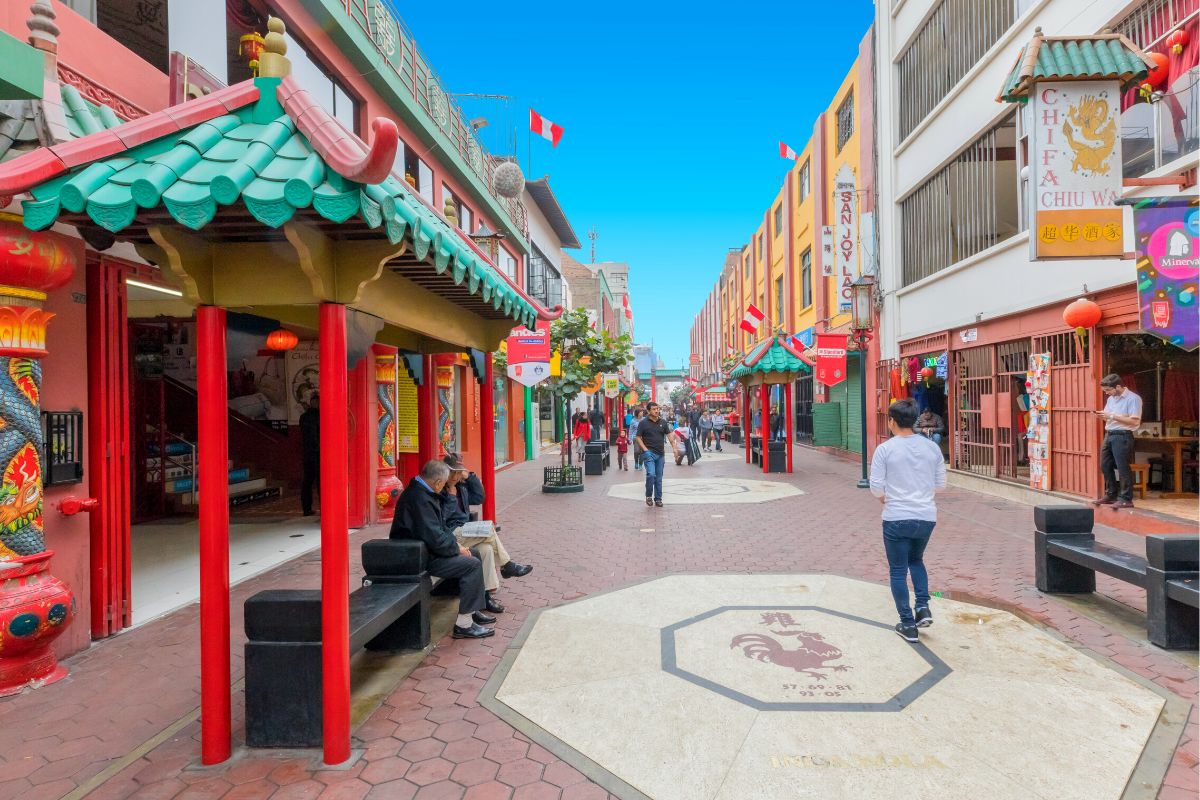 Lima has long been known for its large Chinese immigrant population, so it makes sense that the city would have one of the oldest Chinatowns in all of South America
Stroll down the streets of Barrio Chino, checking out the authentic architecture and the combined Asian and Latin influences.
Along the way, you'll learn tons about the area's impact on the city – and vice versa.
It's certainly one of the best things to do in Lima if you want to understand the region's history of immigration, and the neighborhood itself is pretty fascinating to boot.
45 – Hit the sea for some stand-up paddleboarding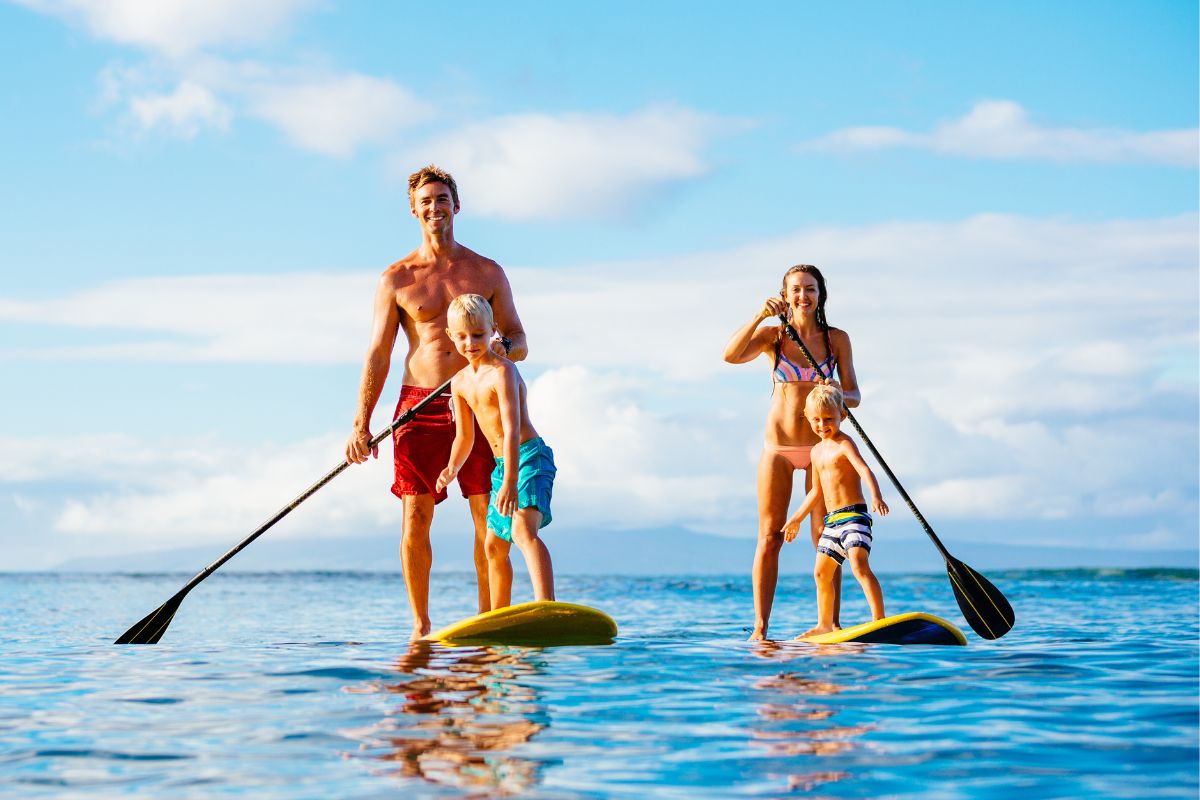 If watersports are more your speed, give a paddleboarding tour a try. Lima's splendid shores and relatively calm bays make it a great place to give the sport a try for the first time.
And if you've had some prior experience, you can head out a little further to tackle some of the trickier waves.
Along the way, you'll be able to enjoy the sun and surf that make the area so popular and take in your surroundings from a whole new vantage point.
46 – Climb to the top of Morro Solar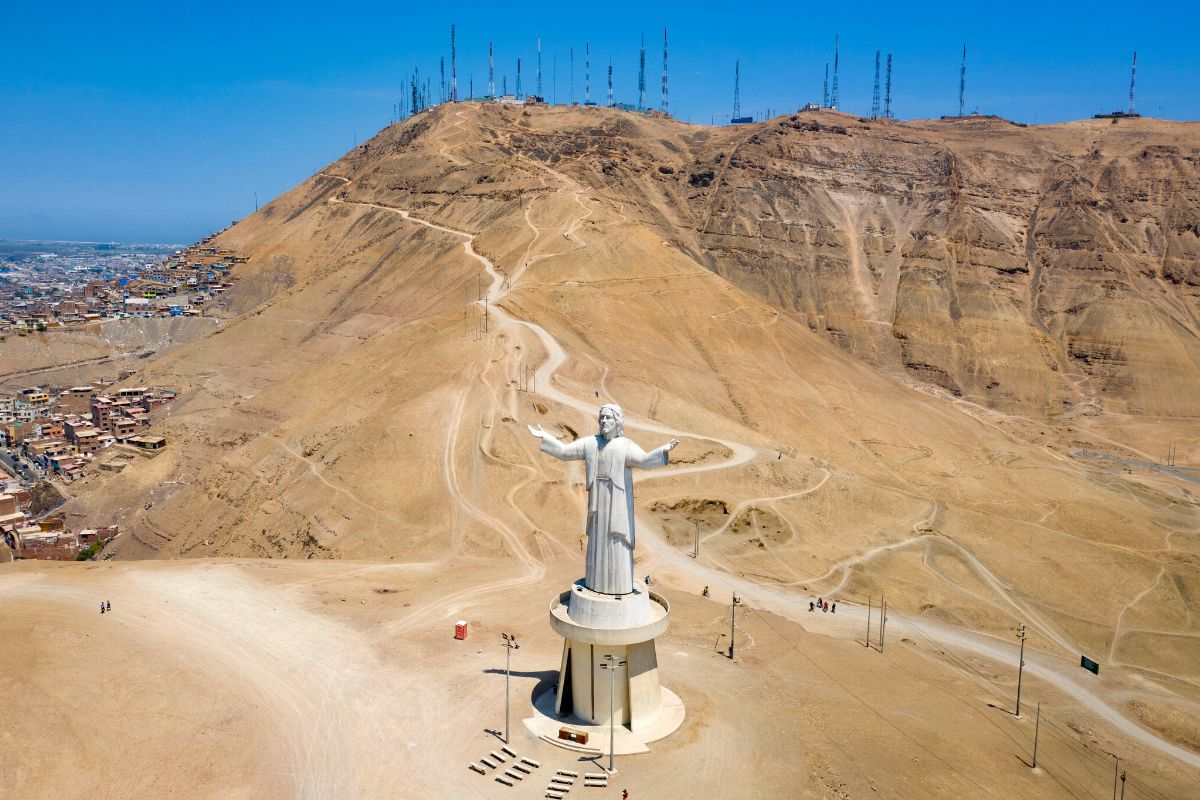 With its arid, mountainous landscapes, Morro Solar – also known as El Morro Hill – is hard to miss.
In addition to spectacular views of the ocean, this promontory features a particularly striking piece of public art.
Cristo Del Pacifico towers 121 feet above visitors, depicting Jesus Christ looking out over the desert.
The statue is based on Christ the Redeemer from Rio de Janeiro, and while it's not quite as tall, it still makes a powerful visual impact.
This hill is also popular with bicyclists as an ascent; the climb may be steep, but it's well worth it for the view!
47 – Play a match at Club Zonal Sinchi Roca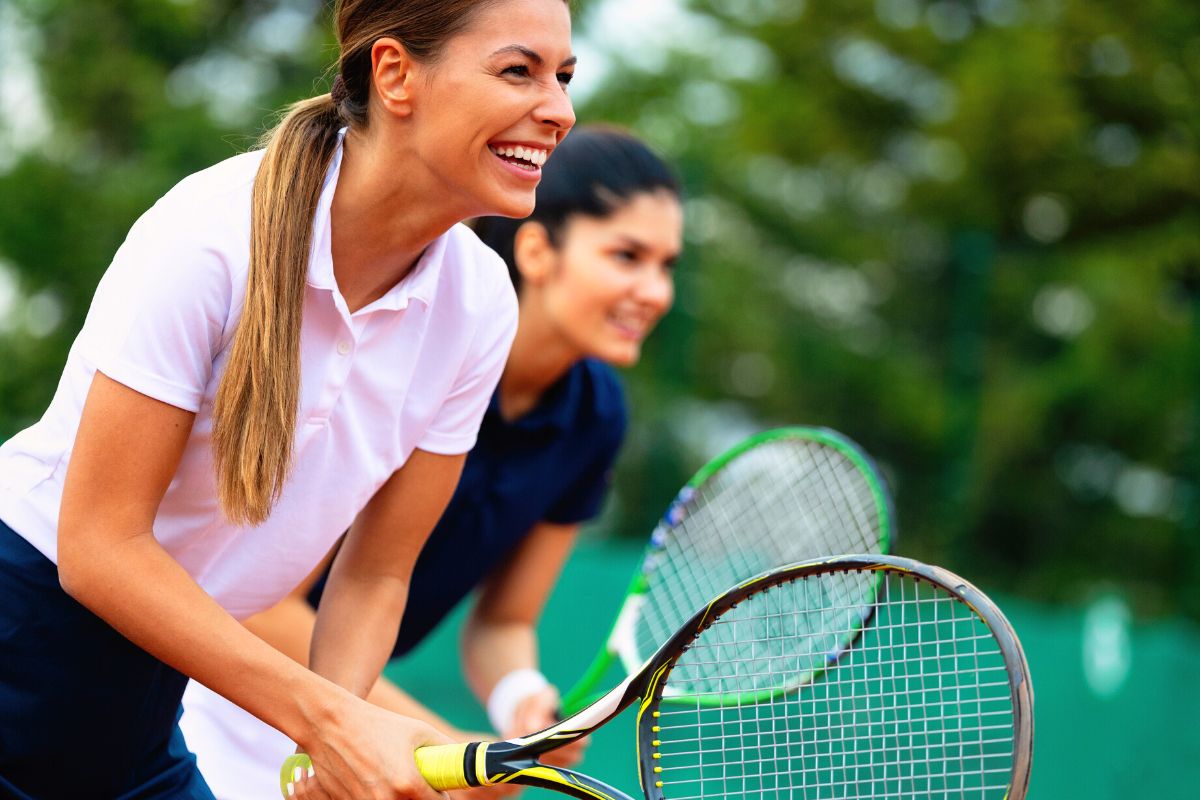 If you like getting a little bit of exercise during your vacations, head over to Club Zonal Sinchi Roca for some sporty fun!
Try your hand at everything from tennis and volleyball to horseback riding and basketball, all within top-notch facilities.
There are plenty of other fun activities as well, including picnic areas, pedal boats, and even a small petting zoo. This is a great place to cut loose and work on your game, whatever it may be.
48 – Sample local goodies with some food tours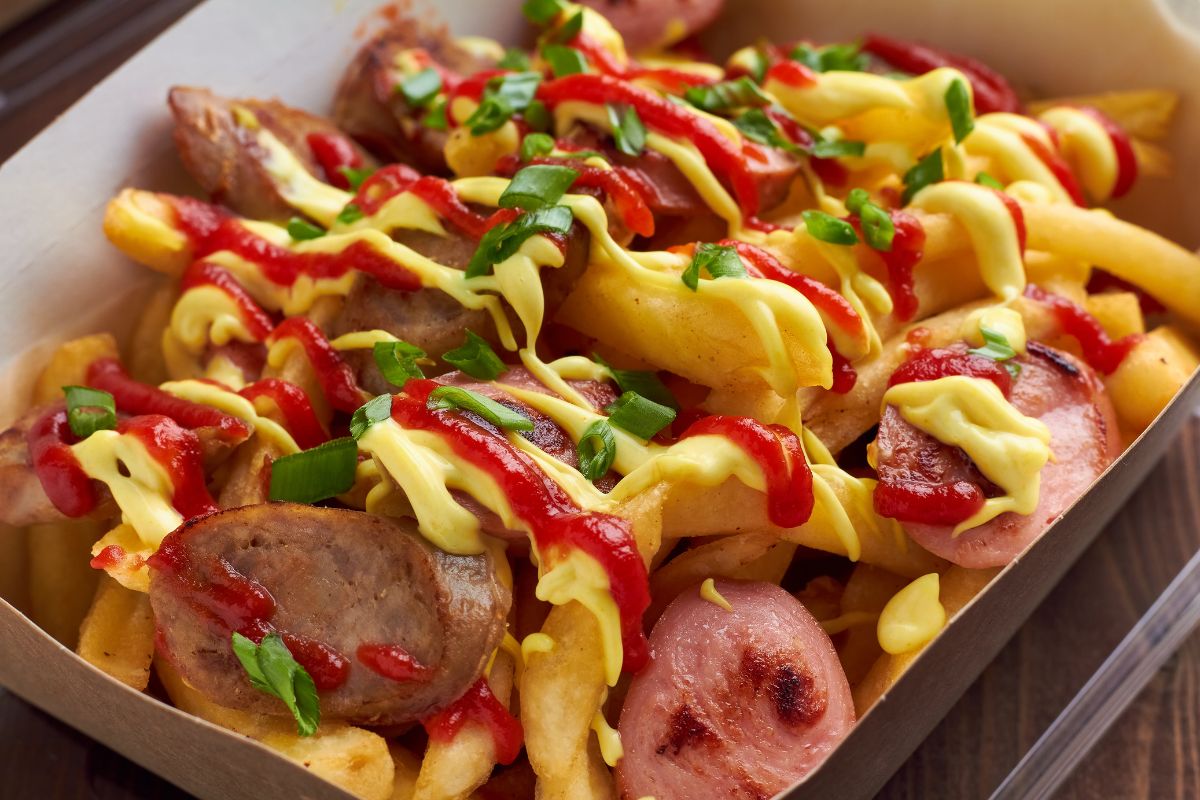 Fuel up for all of your excursions with some delicious and educational food tours.
You can explore the bustling fish markets of Chorillos, or the classic taverns and hole-in-the-wall restaurants of the historic central neighborhoods.
There are plenty of specialty tours as well, from evening trips to vegan-based options.
With such fantastic street foods and traditional cuisine, you'll find yourself filling up fast, but make sure to leave room for more… the next great food cart could be just around the corner.
49 – Shop around at the best markets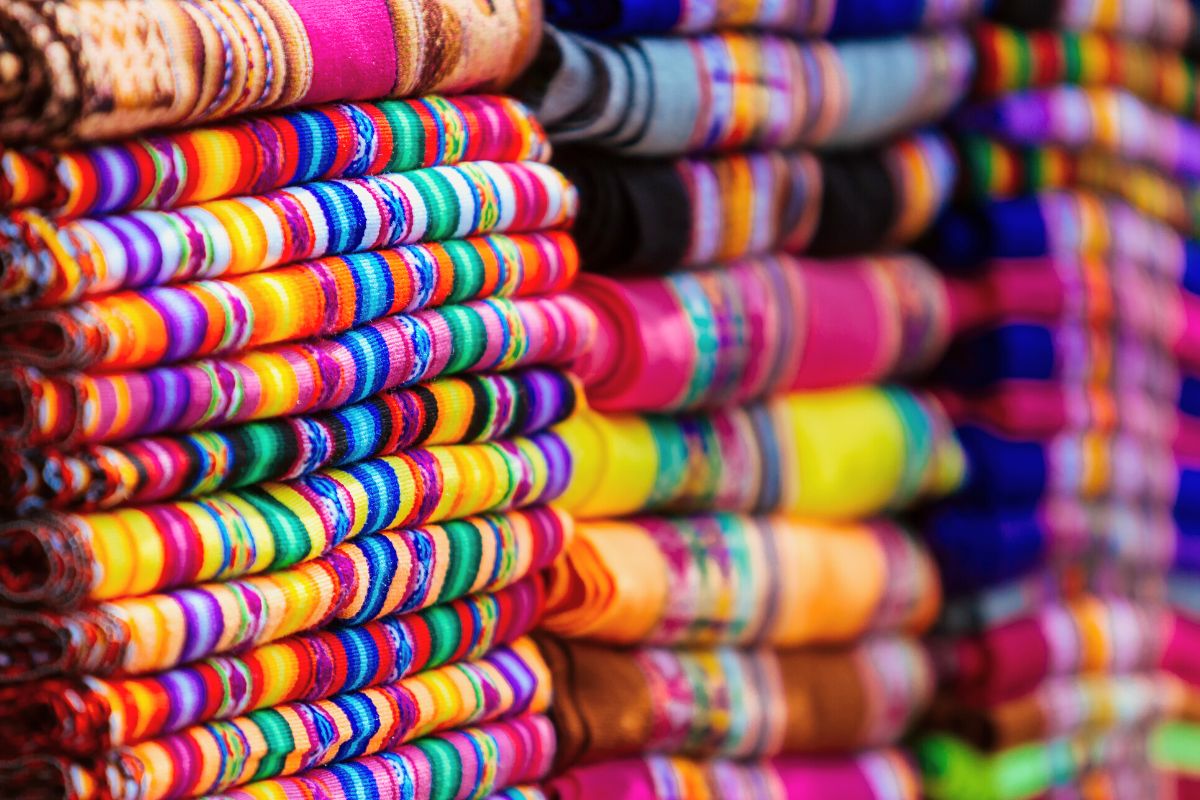 Whether you're looking for sneakers, seafood, or something for the folks back home, a trip to the market is one of the best things to do in Lima.
There are tons of options all over the city, each with its own specialties and distinctive character. Check out the handmade textiles and craftwork at the Inca Market, or sample the unique regional produce at Surquillo Market.
Shop for new outfits alongside the locals at Gamarra, or pick up some fresh seafood at Mercado Central.
And if you want a real free-for-all, swing by Polvos Azules, which is packed with all kinds of goods and is especially known for its electronic products.
Be ready to barter, and enjoy some authentic shopping experiences in the heart of town!
50 – Treat your sweet tooth at the Miraflores ChocoMuseum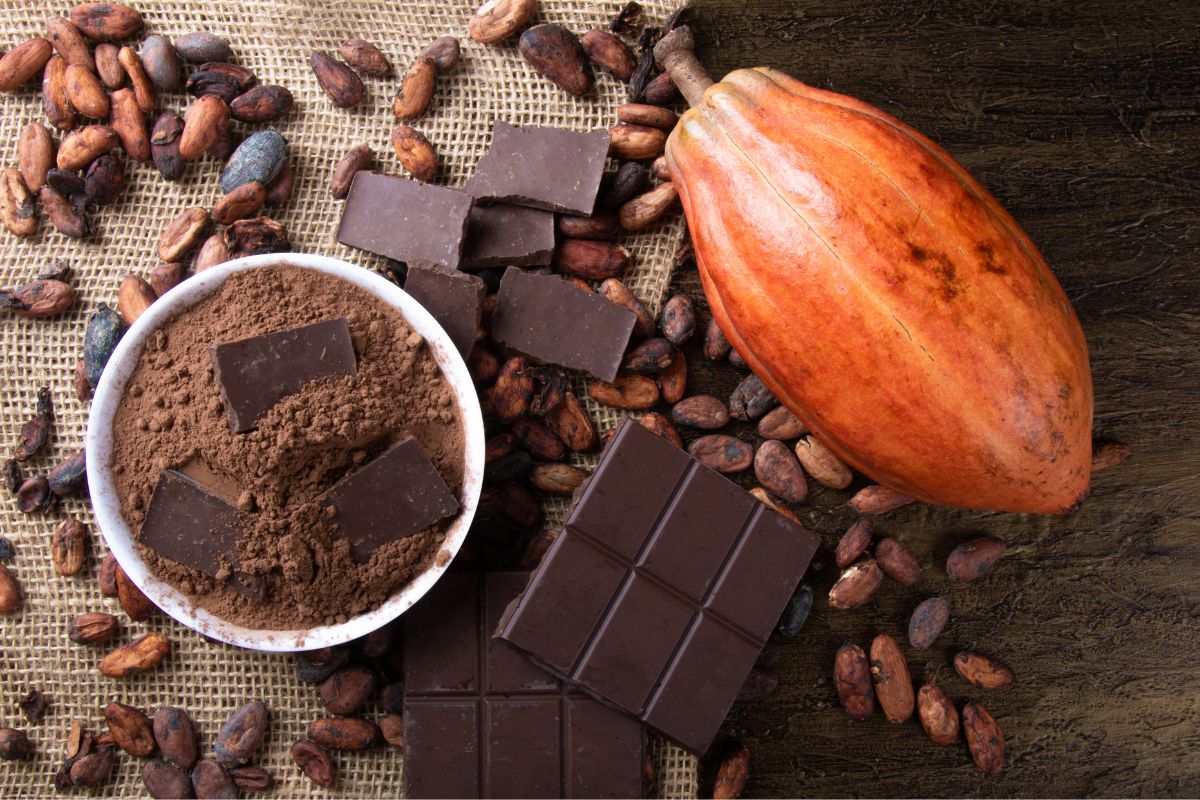 What's not to like about chocolate?
If you want to learn more about this beloved treat (and sample some delicious examples), stop by the Miraflores ChocoMuseum to check out a workshop.
These engaging courses walk you through the whole process of chocolate production, from harvesting the beans to chowing down on scrumptious squares of cocoa.
After learning some techniques, you can even try your hand at making your own chocolate!
Be sure to take some time to check out the rest of the museum as well; it's full of excellent exhibits that delve into the unique history of this iconic dessert.
51 – Wander around Larcomar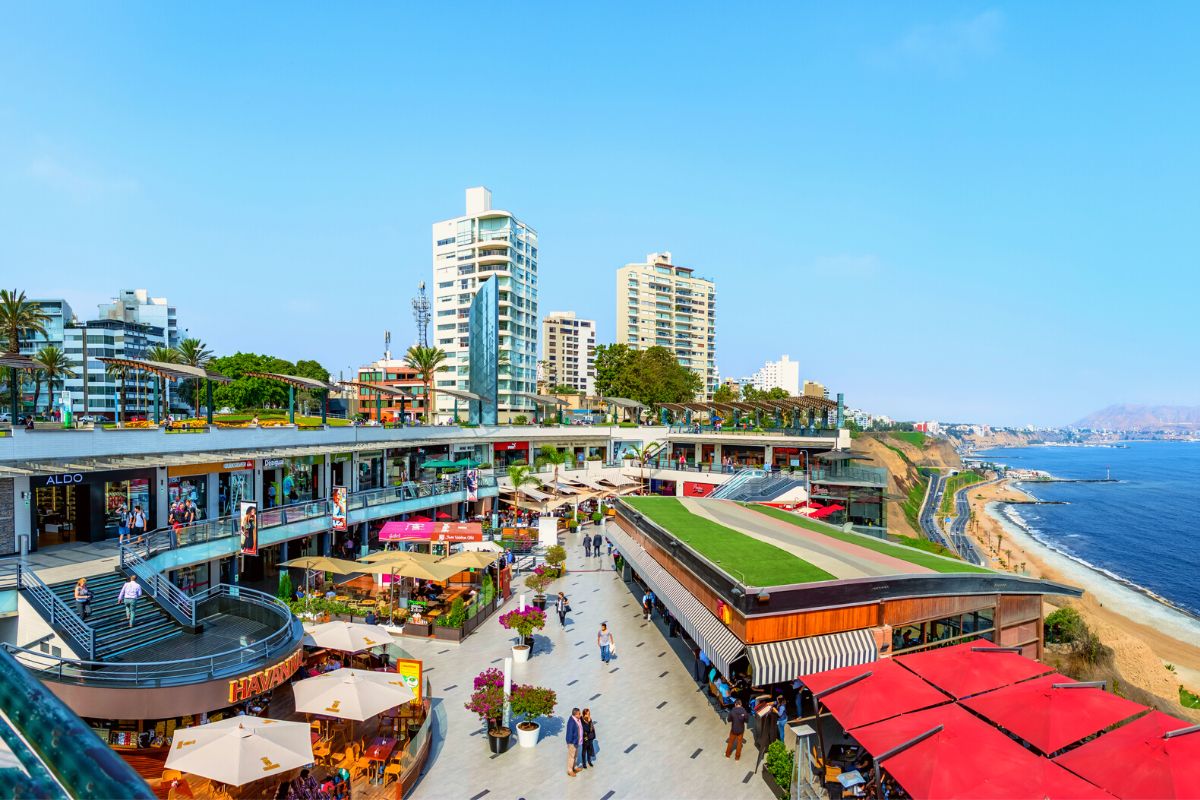 From shopping to fine dining, Larcomar is the place to go for a little bit of luxury in the city.
An iconic part of the Miraflores neighborhood, it offers plenty of restaurants and shops, as well as a museum, a bowling alley, and lots of areas to relax and unwind.
There are also lots of great stores geared towards travelers, so if you want to score some cool souvenirs during your visit, this is an excellent place to go.
Take some time to wander through this massive mall, enjoying its bust atmosphere and the wide array of options available.
Who knows? You may even be able to find the item of your dreams.
52 – Visit the ancient city of Caral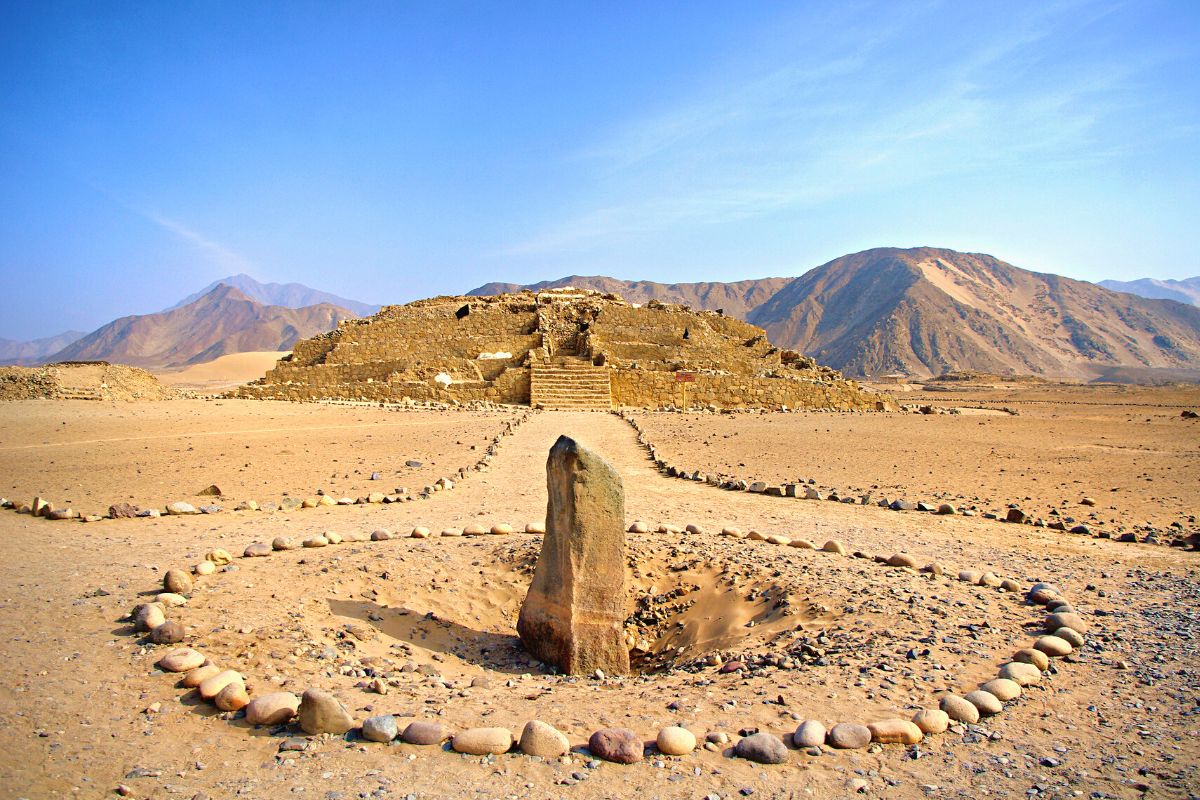 Filled with mysterious monuments and well-worn pathways, Caral is impressive even by the high standards of the rest of Peru's archaeological sites.
The city's roots are believed to date back to about 2600 B.C., and its remaining structures tell fascinating stories about the earliest days of civilization in the Americas.
Explore pyramids, amphitheaters, social plazas, and the many other buildings that make up this remarkable complex.
You'll feel like a regular Indiana Jones as you move through these incredible spaces, taking in the intricacy of this once-mighty society.
Book your direct tour from Lima, and prepare to be amazed.
53 – Sip your way through some craft beer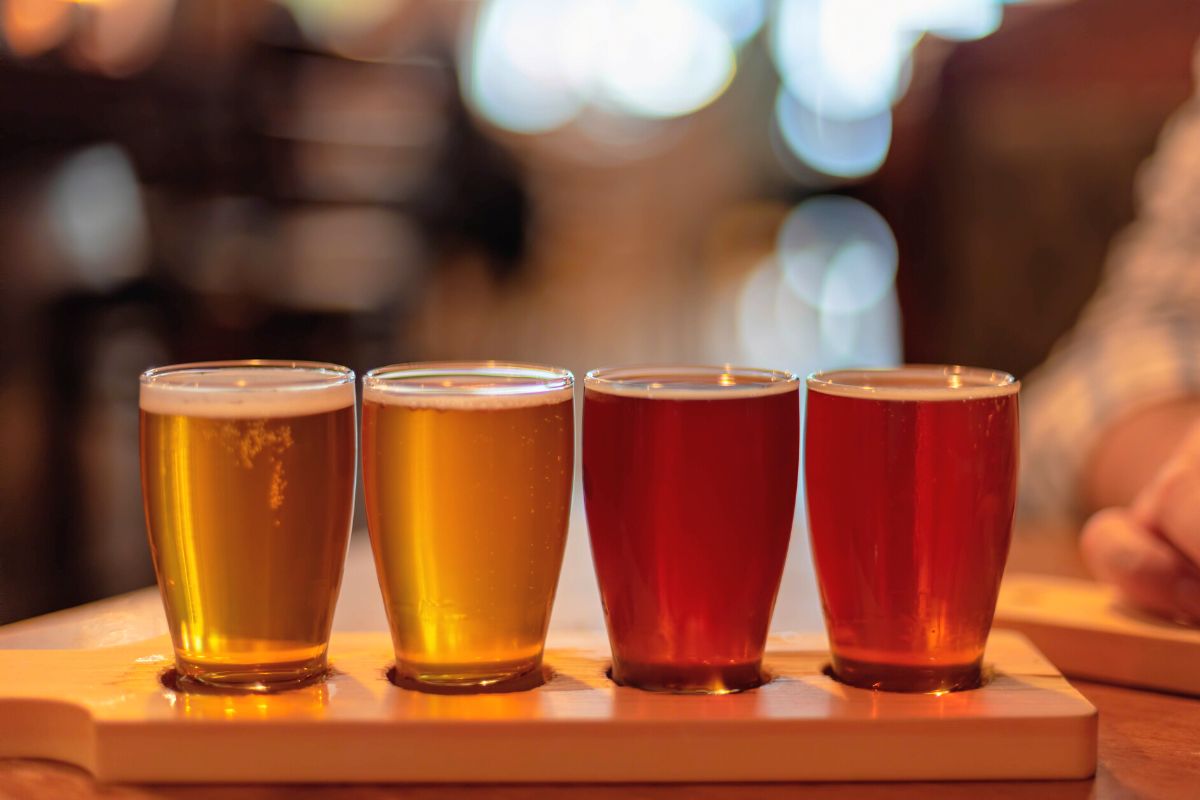 While Lima's food scene is renowned, its craft beer scene remains criminally underrated. Take some time to check out the many fantastic breweries in town, which all offer stellar lineups of brews.
Enjoy a flight at Barranco Beer Company's spacious brewery, or a lovingly crafted pilsener at BarBarian Bonilla 108.
Settle in with one of the Beerstache selections at Lupulo Draft Bar, or the artisanal offerings at Mi Tercer Lugar.
All of these establishments offer world-class brews and relaxing atmospheres, the ideal venue to discover a new favorite beverage.
So grab a glass and start sipping!
54 – Treat yourself at the best restaurants in Lima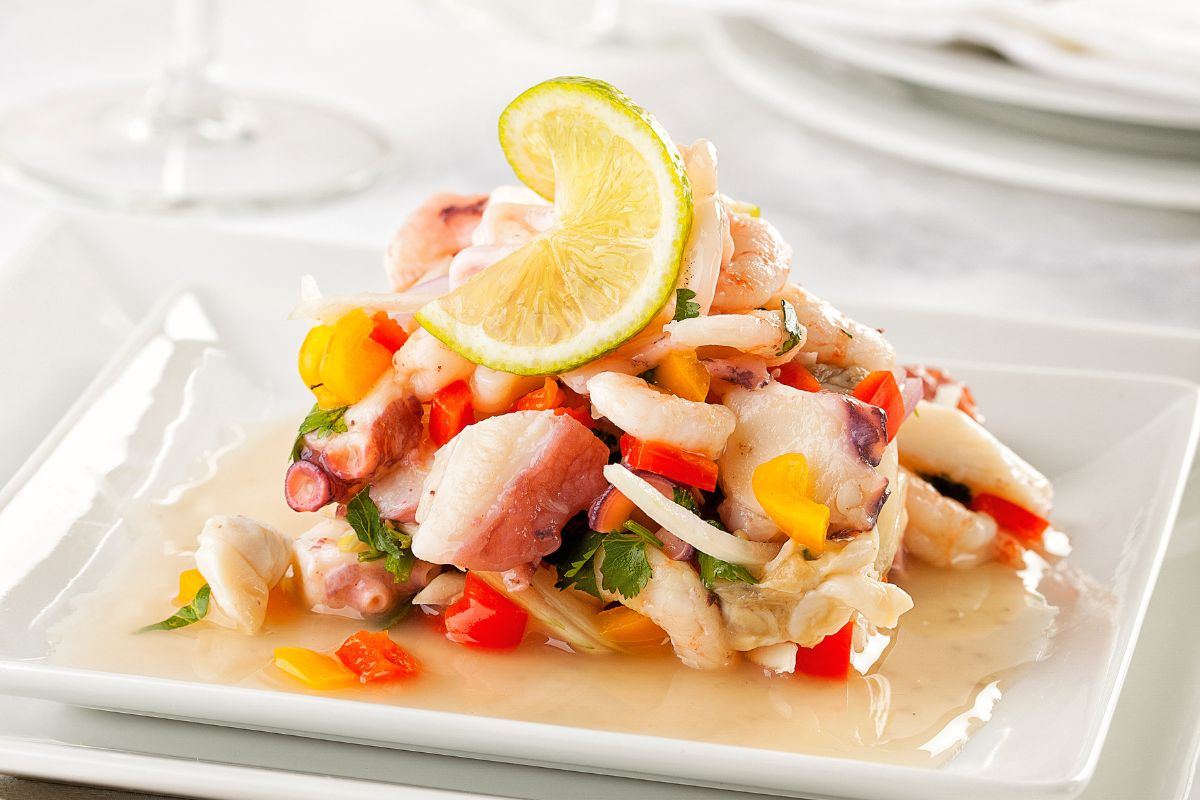 While food tours and cooking classes are great, you may also want to grab a meal at a sit-down restaurant while in town. Luckily, there is no shortage of great dining options in the capital.
There's no better place to start than the best-rated restaurant in Latin America, Central, which blends culinary traditions from every part of Peru to produce unique dishes.
From there, you can move on to the beef huatia and oceanic dishes of El Senorio del Sulco, or the haute couture reimagining of classic dishes at Astrid & Gaston.
Of course, no trip to the city would be complete without trying some ceviche, the beloved fresh fish dish that is considered one of Peru's icons.
Check out La Cantarana in Barranco or La Mar on Avenida La Mar to try some excellent examples of this national treat.
Lima is quickly gaining an excellent reputation amongst foodies, so book some seats at these places before they sell out!
55 – Enjoy a performance at Gran Teatro Nacional del Perú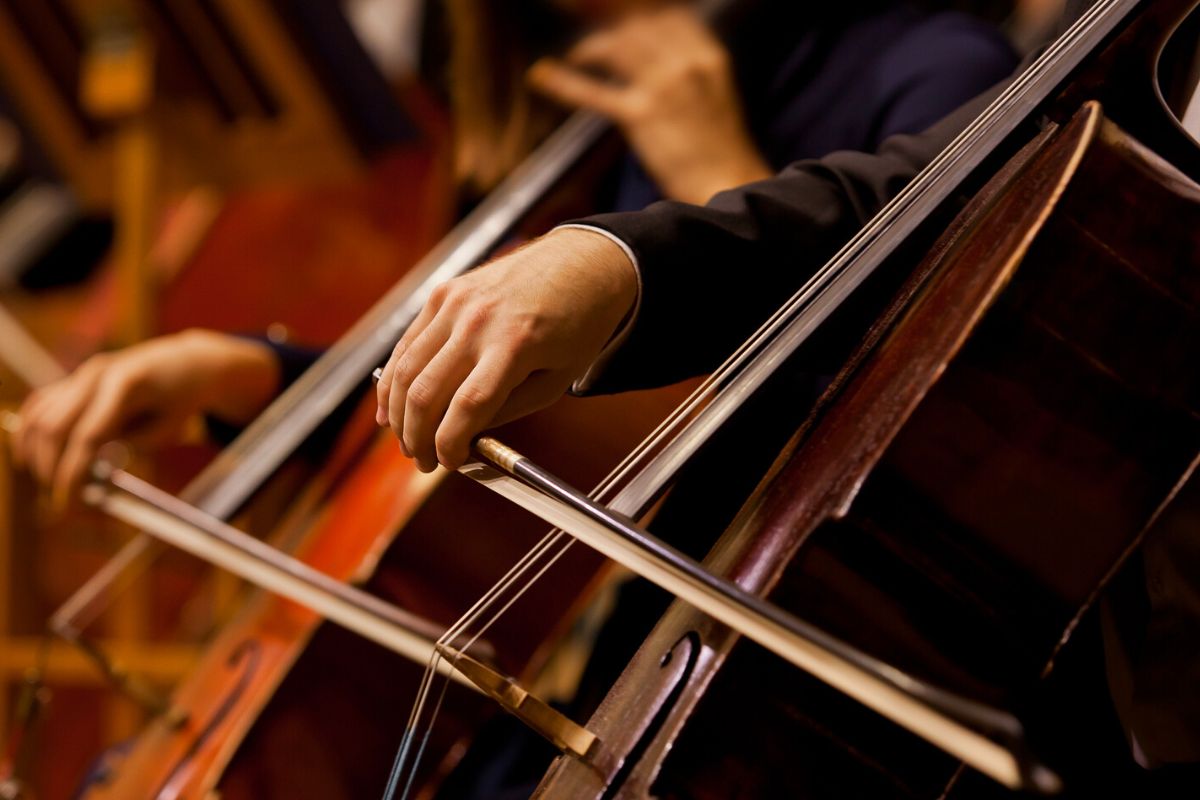 The sleek, modern facade of Gran Teatro Nacional del Peru is a perfect showcase for the cultural treasures that lie within.
This spectacular venue offers some of the best things to do in Lima, from dance performances and live theater to circus acts and operas.
There are also tons of family-friendly programs, as well as an impressive array of free public events throughout the year.
Try to catch a performance by the National Symphony Orchestra during your visit; with a unique mixture of classical and Latin American compositions in their catalog, their performances will leave you humming for weeks.
56 – See the skies at the Lima Planetarium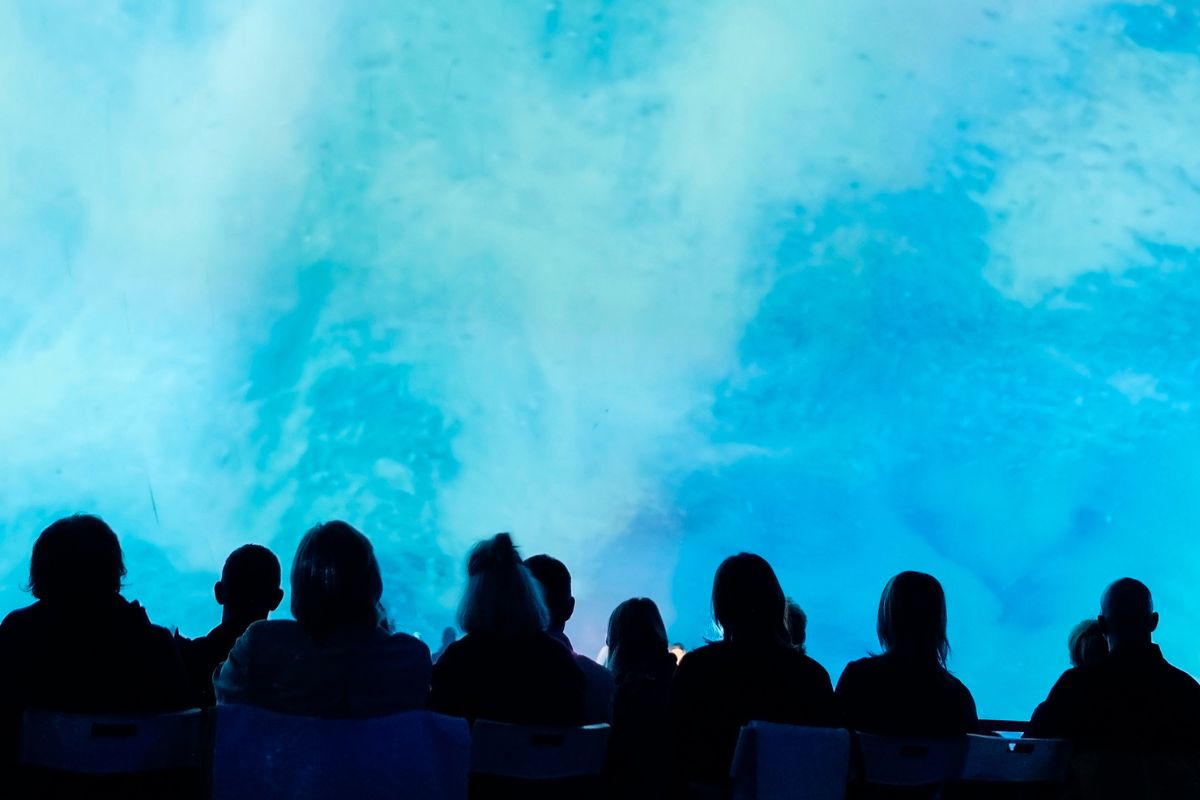 Add a little dose of wonder to your visit with a jaunt to the Lima Planetarium, which offers spectacular programming and brilliant views of the universe around us.
Perched atop the cliffs of Morro Solar, it offers everything from immersive shows about the space program to stories of various constellations.
If you time it right, you may even be able to observe all the strange dynamics of the real-life sky outside. After a trip here, you'll never see the night sky quite the same way again.
57 – Enjoy live music at some bars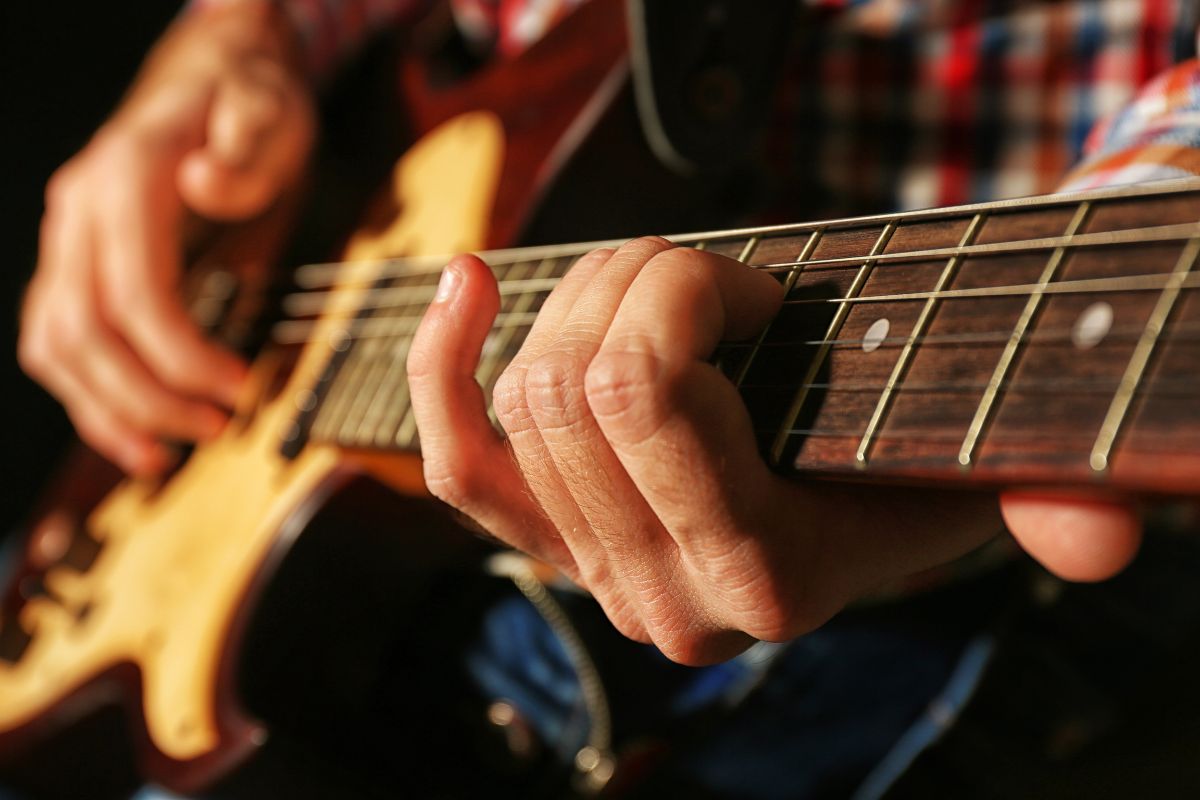 Lima boasts a thriving music scene, and no trip to the city would be complete without stopping by some of the best local venues for live performances.
Head to La Noche de Barranco for jazz and rock, or Cocodrilo Verde for a broad range of acts, including plenty of classic rock.
Quintobar offers high-energy rock acts, while De Grot Bar invites fans to indulge in nostalgia with music from the 80s to the 2000s.
And if you like a more boisterous atmosphere, Molly's Irish Bar & Restaurant regularly hosts local acts alongside some creative cocktails.
These high-octane venues will keep your foot tapping all evening!
58 – Relax at some rooftop bars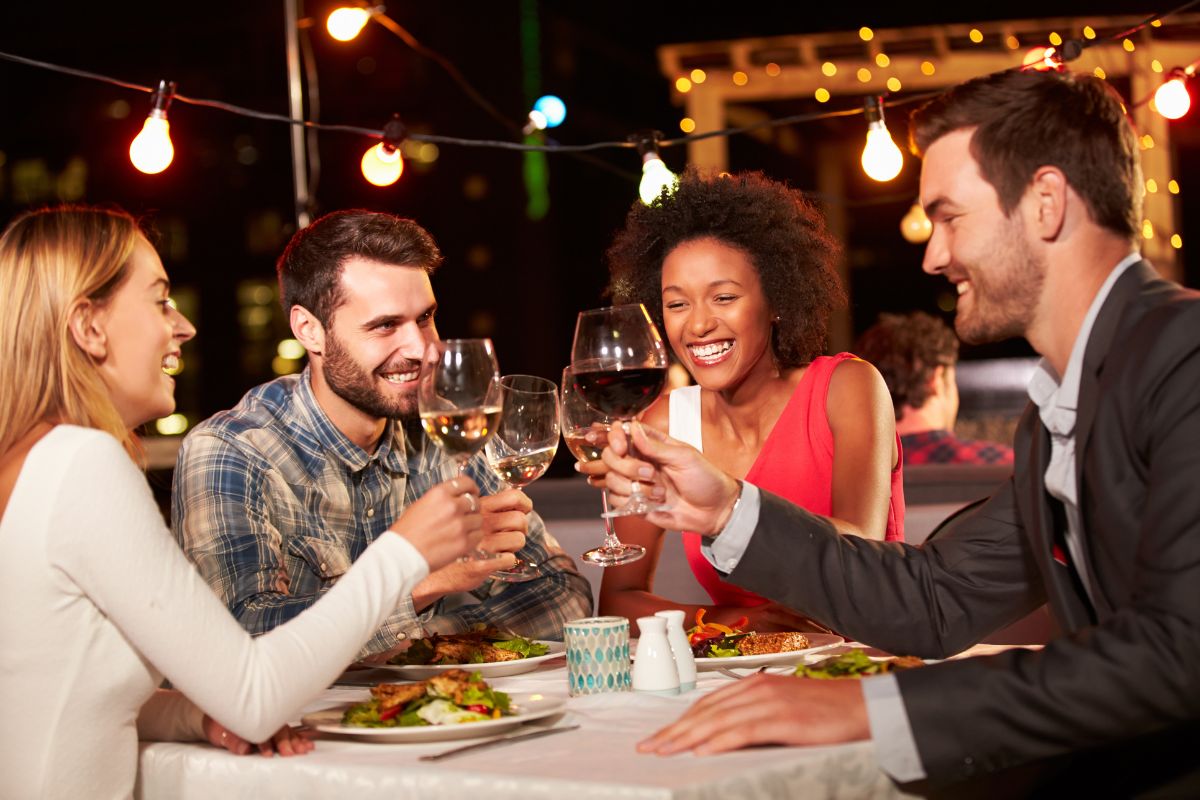 If you'd prefer to take in some stellar views, make your way to some of the phenomenal rooftop bars that the city has to offer.
Enjoy oceanic views while sipping unique cocktails at Insumo; take a long brunch on the patio at Hotel B; or enjoy the chic artistic accents of Fugaz Rooftop.
Wherever you choose to go, you'll enjoy incredible service, fine beverages, and spectacular vistas of the capital.
It doesn't get much better than that!
59 – Check out the best bars on a pub crawl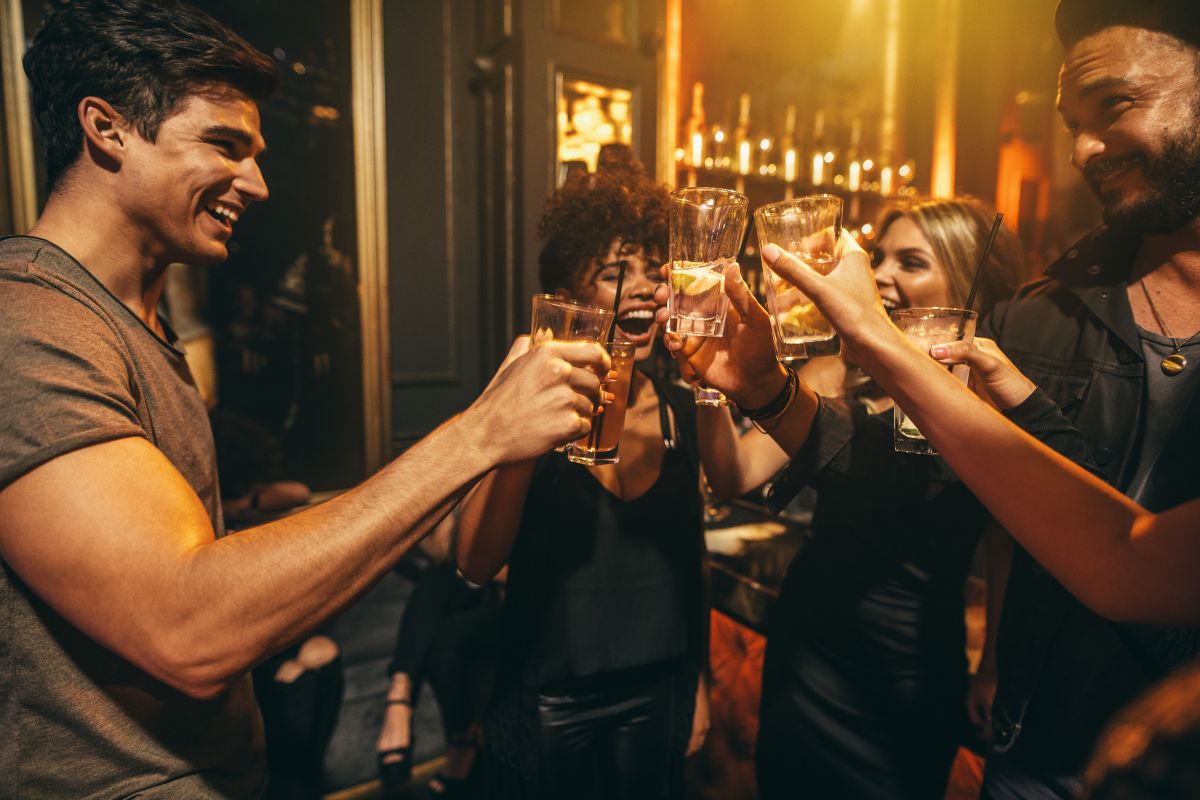 After whetting your whistle on the roofs, head down to the street for an evening out on the town. There are tons of things to do in Lima for night owls, and this is undoubtedly one of the most fun: a wild trip through some of the best venues in town.
Carnaval offers unique drinks in a globally-themed setting, while DaDA Bar heeds its artistic influences with a series of surreal, uniquely decorated rooms.
Juanito's historic status as a hotspot for the city's creatives is only matched by its excellent pints, and Victoria Bar stirs up a mean chilcano for you to enjoy whilst jamming out to music and DJ sets.
If you want a little more structure for your adventure, sign up for a bar crawl.
Explore the streets of Miraflores with your groupmates, and you'll soon see why the area has a reputation as a party destination!
60 – Try your luck at Atlantic City Casino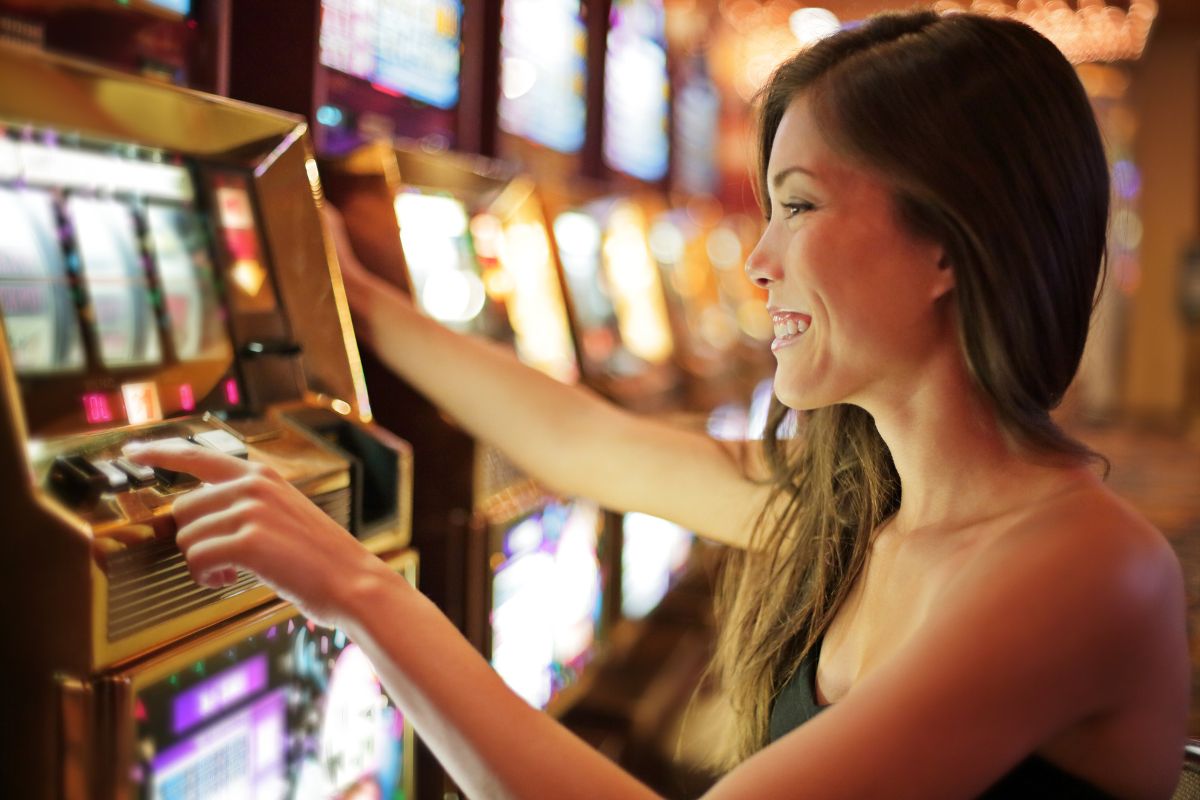 Finish off your vacation in style with a trip to Atlantic City Casino, which boasts world-class amenities and games galore.
Naturally, the games are the big draw here, from creatively designed slot machines to world-class poker and blackjack tables.
But you can also grab an elegant meal at Eliazar Restaurant, or place a bet on some local horse races. Cut loose and have some fun, and who knows – you may win some money for your next trip!
How to get to Lima?
The Jorge Chavez International Airport is a massive hub for flights from around the world, and once you've arrived, you can book an airport transfer to get into the city itself.
Where to stay in Lima?
Staying at Casa Andina Premium Miraflores is almost a vacation unto itself, with its onsite massages, excellent art collection, and a heated swimming pool – complete with its own waterfall!
Nearby Iberostar Selection Miraflores offers everything from a nightclub to a fitness center, all with easy access to nearby museums and attractions.
Just around the corner from Kennedy Park, Hotel Boulevard features some lovely retro touches and a pool that's perfect for relaxing.
And for those seeking a family-friendly home base, Hotel Diamond Lima's playground will keep the kids happily occupied while you plan your next visit to nearby sites such as San Martin Square and Las Nazarenas Church.
Visiting Lima on a budget?
The free walking tours in Lima are top-notch, covering some of the city's most famous sites without breaking the bank.
From Chinatown to the catacombs, Barranco to the Magic Water Circuit, there's a tour for every taste, all run by passionate and knowledgeable guides.
Learn about the city from the people that love it best, and remember to tip!
Where to go next?
If you're able to venture outside of the city, you'll find tons of fun things to do in Cusco.
This dynamic, mountainous city is among Peru's most famous, and rightfully so; in addition to such iconic attractions as Machu Picchu and Rainbow Mountain, it offers tons of excellent museums, great outdoor activities, and charming neighborhoods perfect for strolling around.
There are also plenty of exciting spots between these two cities, from the gorgeous pisco vineyards to the wild landscapes of Paracas, Huacachina, and the Sacred Valley.
With a multi-day trip, you can spend some time exploring all of these attractions or even venture further afield to such spots as Lake Titicaca or the Amazon Rainforest.
Take advantage of the country's relatively small size to pack in heaps of adventures!
Final thoughts
With an atmosphere both elegant and earthy, Lima will capture your heart from the very first day.
Its millennia-old history is only matched by its modern cultural amenities, creating a metropolis unlike any other in the world.
While it's a perfect gateway to other adventures in Peru, there are enough things to do in Lima to fill a whole vacation – or several.
So don't delay; the capital is waiting to welcome you!