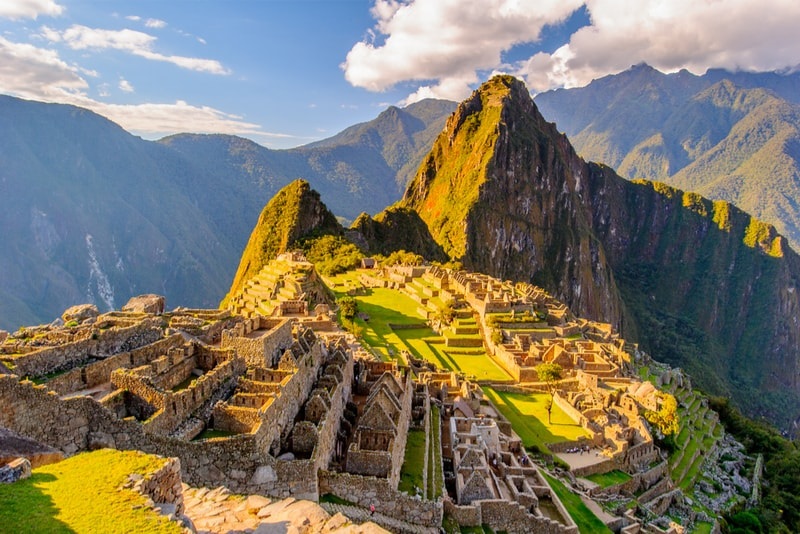 Travel to one of the most fascinating wonders of the world claimed to be an archaeologist's dream. Machu Picchu dates back to the 15th century, built by Peru's Inca civilization by hand – fascinating, right?
There are many ways to travel to Machu Picchu so whether you're looking to go independently or with a tour, this comprehensive guide will give you all the information you need to know before travelling to Machu Picchu.
How to get to Machu Picchu?
Getting there by train and bus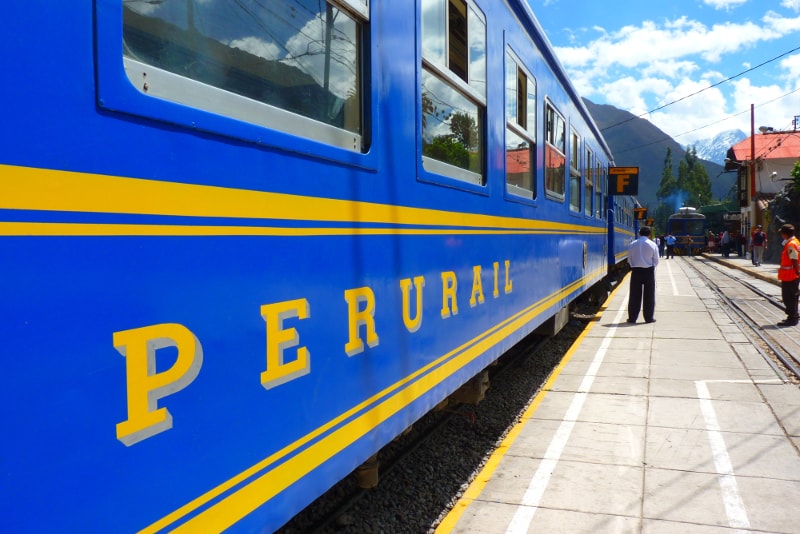 1) Take a train to Aguas Calientes, the nearest town at the base of Machu Picchu.
Catch a train in Cusco. This is a four-hour train ride. There are three train options operated by PeruRail from which you can choose from:
The Vistadome

. Not so expensive option that offers windows in the domed roof. Passengers remain seated in leather seats but receive breakfast in the morning and tea in the afternoon.

The Expedition

. The least expensive train from Cusco. It has big windows which give you a chance to take in the beautiful scenery on your way to your destination. A snack and beverage are offered during the trip.

The Hiram Bingham

. A luxury train with four passenger cars that can accommodate 84 people, two dining cars and an observation car with a lounge. The ticket includes brunch on the way there, bus transport and entrance to Machu Picchu, a guided tour and dinner on the return trip. Get ready to splash out.
Catch a train from Ollantaytambo. From Ollantaytambo, you can get to Aguas Calientes in 3 hours approximately. In addition, to the Vistadome and Expedition, you can take the more economical train from Ollantaytambo. It has comfortable seats and they offer refreshments for an additional fee. We recommend you choose the left side of the train to get better views of the river and surroundings.
2) Take the bus from Aguas Calientes up to Machu Picchu.
Once you arrive in Aguas Calientes, catch a 20-30 minute bus ride that takes you up to Machu Pichu.
Getting there by foot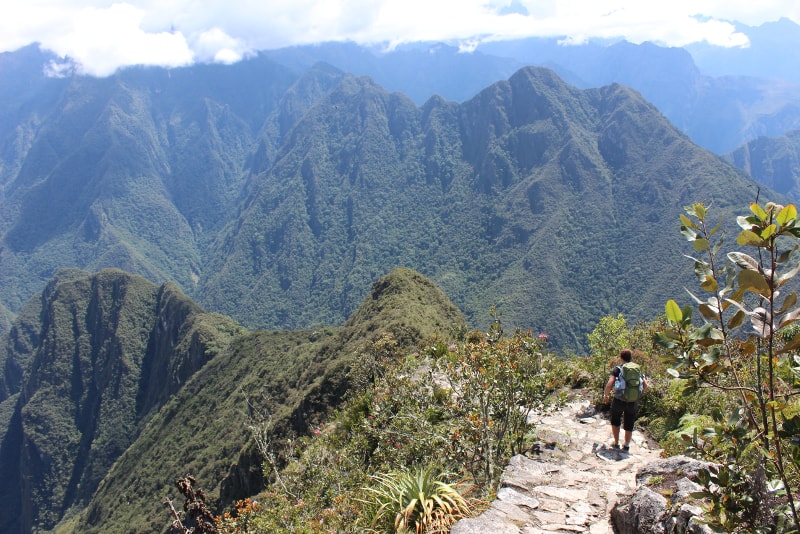 1) Head up the Inca Trail on a 4-day hike and camping experience.
This 28-mile route takes you through the Sacred Valley. During the trek, you will hike through the jungle, past very traditional villages and enjoy spectacular views from elevations of around 10,000 feet. In order to do this hike it's very important to have a good level of fitness that can stand up to 6 or more hours of hiking every day.
2) Combine a train ride with a 2-day hike on the Inca Trail. You will take a train from Cusco or Ollantaytambo to the Inca ruins at Chachabamba. The 6-hour hike includes a 4-hour ascent near Wiñay Wayna. A bus takes you to Aguas Calientes, where you stay the night in a hotel. You spend the next day exploring Machu Picchu, and then catch the Backpacker train to Cusco.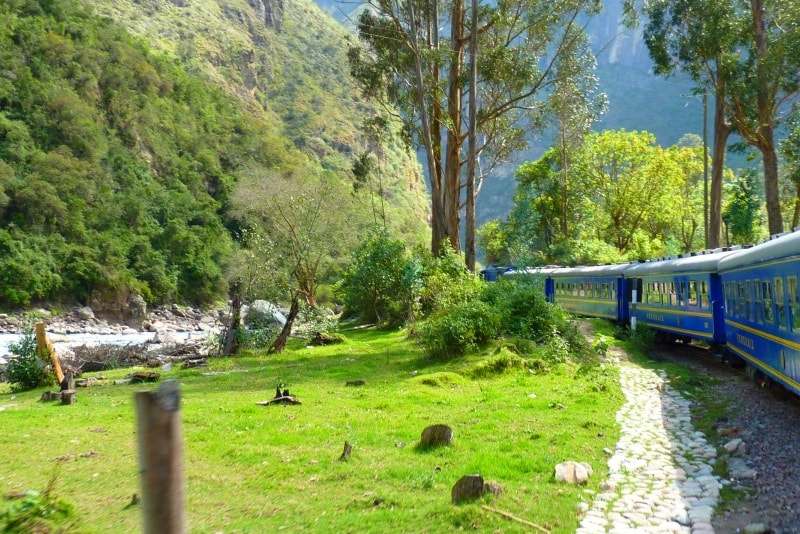 3) Hike up to Machu Picchu from Aguas Calientes.
4) Consider the Salkantay Trek if you are an experienced backpacker.
Read more about it below.
5) Take a bus from Ollantaytambo to Santa Maria.
Spend the night there and walk to Machu Picchu through Hydroelectrica.
How much do Machu Picchu tours cost?
The official entrance fees for entering Machu Picchu are the following:
Machupicchu Circuit 1 or 2 + Inca Bridge: Visit Machu Picchu + the Inca bridge – $62.00
Machu Picchu ticket VIP: Enter Machu Picchu circuit 3 at any time even if sold out – $135
Machu Picchu ticket 2023 – 2024: Machu Picchu citadel circuits 1, 2, 3, 4 – $62.00
Machu Picchu mountain 7am or 8am ticket: Hike to Machu Picchu mountain 7am or 8am + partial visit to Machu Picchu – $78.00
Machu Picchu Citadel Guided Tour 2.5hr: Tour Machu Picchu with a professional guide – $25.00
Huchuy Picchu tickets: Hike to Huchuy Picchu + partial visit to Machu Picchu – $62.00
Huayna Picchu ticket at 7am, 8am, 9am or 10am: Huayna Picchu mountain + partial visit to Machu Picchu citadel – $78.00
Should you book a local guide in advance or when I get there? Is it compulsory?
Due to the high demand to see this wonder, visiting Machu Picchu is now being restricted by the Peruvian government. By 2019 you'll only be able to visit the site with an official guide (available to hire on the spot), which will be an issue for independent travellers and backpackers.
What will you see?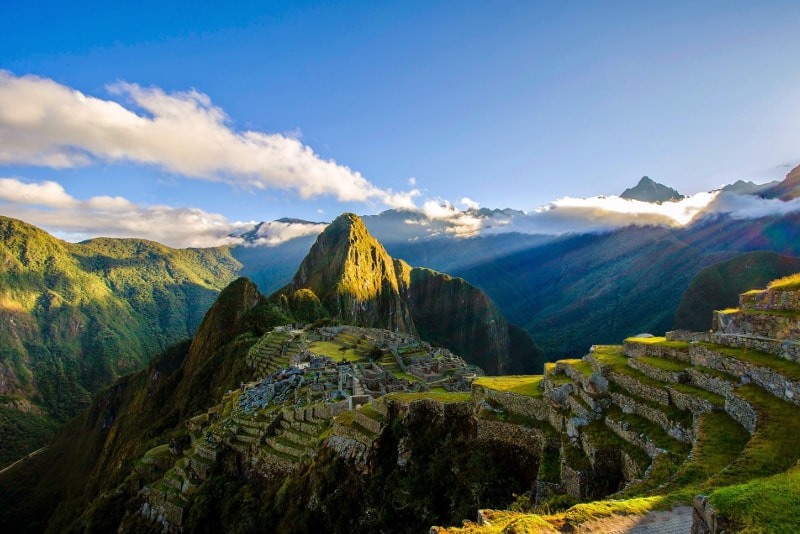 Machu Picchu dates back to the 15th century, built by Peru's Inca civilisation. It is situated in the Andean Hills, overlooking large valleys. The ruins have a strange architecture which amazes and captivates visitors every time. Stretched over 13km, you can spend hours wandering around the must-see sites inside Machu Picchu:
The Sun Gate (Inti Punku). Considered to be the most important feature of the site, as the stairs lead up to the Sun Gate, believed to be the entrance to the city.
The Inca Bridge. Built as a secret entrance for the Incan army, the bridge is carved into the cliff face on the west route out of Machu Picchu. The peculiarity is that instead of being a bridge, it's a stone path carved out of the cliff rock.
Watchman's Hut. A perfect place to get breathtaking views over the whole city.
The Funerary Stone. Next to the Watchman's hut, lies a strangely carved rock known as the Funerary Stone. Researches think it could have been a sacrificial alter.
Temple of the Sun. One of the best places to visit which demonstrates some of Machu Picchu's finest stone work. The temple is believed to have been an astronomical observatory.
Royal Tomb – Palace of the Princess. Located next to the Temple of the Sun, described the outer wall of the building as the finest wall in all of the Americas. The base of the building has a cave structure which can be referred to be a tomb.
The Fountains. Fed by natural water by stone channels, thought to be used for purification and rituals.
The Temple of Three Windows. Facing the three mountains perfectly, it is believed that the windows represented the three mythological caves from which the Ayar brothers came to earth.
The Principal Temple. Its name is due to its large size. The temple has three sides with cut stone and enormous foundation blocks.
House of the High Priest. Thought to be the place where the priest lived, it's the only foundation in the plaza to have four walls. It's one of the great solid structures in Machu Picchu.
House of Ornaments. A room thought to be used for storing ornaments and more impressively is its two large rocks at the entrance of it, each at least having 30 angels carved into it.
Intihuatana. Used by the Inca's to predict solstices. The shape of the pillar rock mimics the Huayna Picchu.
Central Plaza. A large area that separates the residential buildings from the functional buildings. You'll often spot the odd llama here.
The Sacred Rock. This stone takes the shape of Putucusi Mountain that sits literally behind it.
The Mortar Section or Industrial section. Although not as interesting as the rest of the site, it is where the average Inca people would have lived.
The Prison group. A complex said to be where the prisoners would have been kept. Inca prisoners were kept above and underground.
Terraces. You can walk along many of these green alleys and they are the best spot to rest and enjoy a beautiful view.
Which trails/itinerary should you do?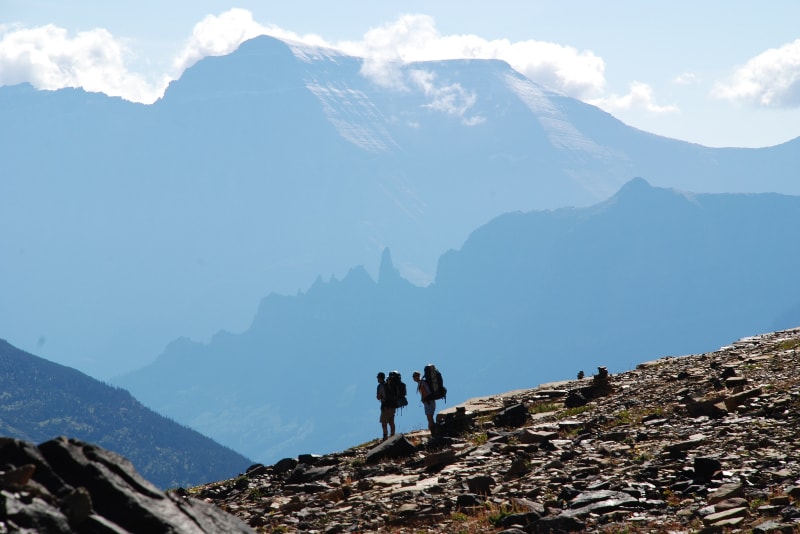 Inca trail
The most popular trek to Machu Picchu is the Inca trail, which follows the original trails the Inca's would have taken from the Sacred Valley to Machu Picchu.
However, the Inca Trail has to be booked well in advance so your visit to Machu Picchu has to be planned well. The Peruvian government issues the passes permit only 180-200 people per day. Hiking the Inca Trail is an incredible and exhausting experience. The trek's landscape is breathtaking – and not just because of the altitude.
The busiest trekking period is in the dry season from May to September so make sure you book early.
Lares Trek
The Lares Trek is a less strenuous trail that provides unrivalled opportunities to interact with local Andean communities that have changed little over the past few centuries. It is the best cultural trekking experiences in the region. We highly recommend the Lares to anyone who wants to combine great scenery with culture.
It begins near the town of Lares, 40 miles north of Cusco and 35 miles south east of Machu Pichu. The trek itself lies in the Lares Valley, east of the Urumbamba mountain range. The trek can be done in 2-3 days. In terms of the itinerary, the Lares trek ends at Ollantaytambo. From here you can catch a train to Aguas Calientes to visit Machu Picchu or return to Cusco.
This trek is a lot quieter than the Inca trail, if you're looking for a more off the beaten track and a lot easier to do. And as mentioned in the above, Lares is home to many traditional Andean communities that have changed little over the years, so it's very likely you will see many of these wearing colourful traditional clothing.
Inca Jungle Trek
The most adventurous trek is the Inca Jungle Trek, which has a big variety of different activities to test your adrenaline! Usually, Inca Jungle Trek has a 4-3 day itinerary, but it is also possible to do it in 3-2 days.
During these 4 days, travellers have the chance to test themselves in downhill mountain biking, river rafting, and even zip-lining. Hostels are the main form of accommodation used during the Inca Jungle Trek but like the Lares Trek, the last night before the visit to Machu Picchu you stay in a hotel in Aguas Calientes.
On day 1 the trek starts with a 3-hour drive to Abra Malaga Pass at 4,316 m altitude from where you will descend by bicycle to 1,196m in less than 60 km. The downhill is very steep at certain points, so you have to be careful. In the afternoon there is optional rafting in Santa Maria (grade 3 and 4). On day 2 it is time for hiking in the jungle from Santa Maria to Santa Teresa.
The trek takes around 7 hours and you will have the chance to enjoy the beauties of the jungle in the Cusco region. On day 3, those who are not tired of adventure can try the tallest zip-lining in South America, and the day is finished with a 3-hour trek from "Hidroelectrica" to Aguas Calientes. Day 4 is fully dedicated to visiting Machu Picchu.
Salkantay Trek
Trek for 3, 4, or 5 days through remote mountain passes and verdant tropical Andean forest. Optional activities along the Salkantay trek include hot springs (pack mosquito repellent), zip-lining, a train ride, and horseback riding up to the steepest point of the trek. On the final day, you visit Machu Picchu. The amazing Salkantay Trek is a lifetime experience!
The cost of Salkantay Trek tours is approximately $275 for a backpacker 5-day trek. This includes Machu Picchu entry fees, rental of a sleeping bag, sleeping pad, tent, most food, and transportation to/from Cusco.
Choquequirao Trek
The Choquequirao Trek to Machu Picchu is an adventure in all its sense. While the end goal of this 8-9 day trek may be Machu Picchu, the true highlight is hiking in solitude and passing through the Choquequirao ruins along the way. The Incan complex of Choquequirao may very well be the next Machu Picchu sprawling more than 18km.
The Choquequirao Trek begins from just outside of Cachora. Days 1-2 are tough, as you descend into the Apurimac Canyon and an even sharper ascent up the other side. The difficult dip is worth all the effort as the Choquequirao ruins soon come into view! Days 3-5 are spent passing over high altitude ridges, retired Inca Trails, and challenging switchbacks in near isolation. Finally, on day 6-8, hikers will join up with the better travelled Salkantay Trail and finish on their way to Hydroelectrica. From there, it's just a train ride to Aguas Calientes and a bus up to the ruins of Machu Picchu.
The Choquequirao Trek is infrequently run and can cost a steep $1500 per person with a guided tour, but those brave enough to go it solo can manage for roughly $270 including train tickets, park entrance, and a mule rental. The Choquequirao trek is rugged and tough at times, but truly worth the experience.
Vilcamba trail
Vilcabamba Trail/Trek is very much one of the lesser-known hikes to Machu Picchu. It is common for hikers not to see any other tourists until they reach Santa Theresa. The route takes you along the royal roads that the Incas used and past snow-capped mountains. The trek is typically completed on a 5-day itinerary, although there are variations, particularly on the route out to the trailhead.
Prior to the hike, most trekkers will spend two days in Cusco acclimatising. If you have booked with a tour operator they will likely have organised your hotel and scheduled some city tours. Remember, Cusco is situated at 3,400m / 11,150ft and you might start feeling the effects of the altitude as soon as you arrive.
The Chaski or Cachicata trail
One of the newest treks to hit the Peru scene is the Chaski Trail which is also known as the Cachicata Trail. It is less demanding than other treks so an ideal trail for less experienced trekkers. The bus from Cusco takes you through the Sacred Valley to the town of Socma (near Ollantaytambo) where you hike past waterfalls and meet with the local community to learn about traditional Andean life. The second day is the longest hike which lasts around four hours and ends at Cachicata. On the third day, the group makes their way to Ollantaytambo to take the Machu Picchu train to Aguas Calientes. Like the Lares Trek, the fourth day is spent at Machu Picchu.
Walking from Ollantaytambo
To travel to Machu Picchu on a tight budget, take a minibus (colectivo) from Cusco to Ollantaytambo. Go to the bus station on the corner of Calle Pavitos and Ave. Puento Grau in Cusco where you can take a colectivo that will drop you off at the Plaza de Armas in Ollantaytambo. This trip takes about 1.5-2 hours. At Ollantaytambo, you can visit ruins and then the market which is a good place to buy some snacks for the trip.
From Ollantaytambo walk to Aguas Calientes by the railway path area. The walk is 32km and well signposted. It is very easy to navigate! Locals and other tourists can be seen walking the railway path, too. This walk can be a little hardcore, 7 hours in total. Part of the route is an amazing walk next to the river where you can hear the sounds of the river flowing, with a picturesque view. Be aware of your surroundings; sometimes there is a need to move away from the noisy yet slow oncoming trains.
This walk is one of cheapest ways to go to Machu Picchu and one of the best, especially for those who love trekking and hiking. It is highly recommended to take food and water, a flashlight for when it starts to get dark and to wear decent trekking shoes. From here, hike to Machu Picchu (see above) or take the bus (see below). This route can be hiked to Aguas Calientes and back to Ollantaytambo.
How to book a Machu Picchu tour?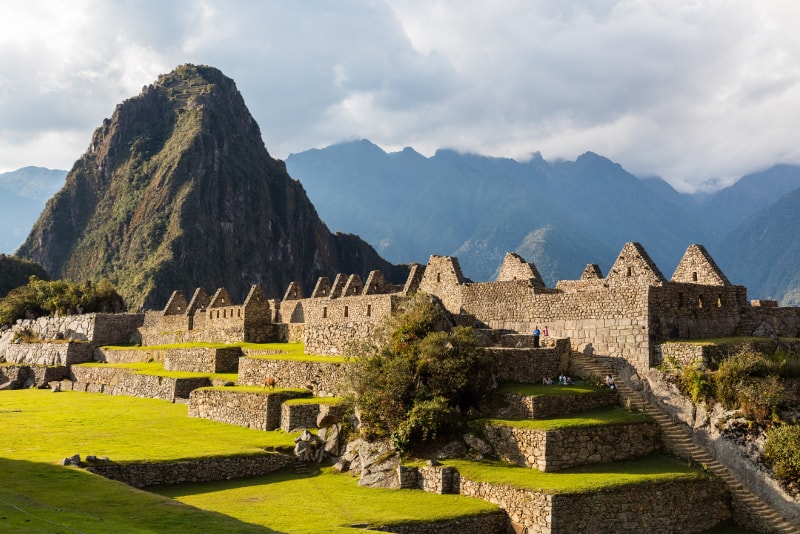 You'll see there are infinite numbers of tour companies offering hike tours to Machu Picchu. It's important you choose it wisely as there are multi-day hikes. Don't panic if you see some pricey tours, this can be a sign that they ensure with equipment or decent knowledgeable guides.
Do some research of the companies, inform yourself and check recent reviews on forums. To help you with your research for tours you can look on TourScanner, there you'll be able to compare the tours from different providers and prices.
Can you go to Machu Picchu without a tour?
Of course you can! But, you can't do a hiking trail to get there. You can see Machu Picchu on a rushed day trip from Cusco or stay in Aguas Calientes and walk or get a bus up to the ruins.
The benefits of going to Machu Picchu without a tour is that it'll be significantly cheaper and ideal for those who don't have much time or can't acclimatize to the altitude. Also you can spend all the time you want at the site as you don't have the rush to continue the hike.
Can you see Machu Picchu in one day?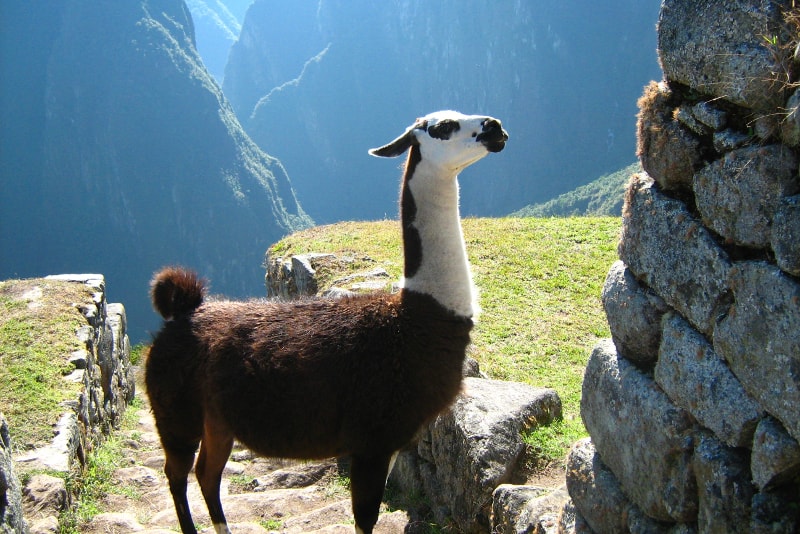 It is possible to see Machu Picchu in one day! The fastest and easiest way to get to Machu Picchu is by bus from Aguas Calientes. Buses leave from there continuously and it only takes 20-25 minutes to reach Machu Picchu.
It would take you roughly 2-3 hours if you take your time at the site and taking pictures. If you want to save up money and you have the energy for the day, you can also hike from Aguas Calientes to Machu Picchu which takes 45-60 minutes.
When is the best time to visit Machu Picchu?
May through to September, Peruvian winter (dry season) is the best time to visit Machu Picchu with May being held as the best month. October to April is the wet season. February is the rainiest month and also when the Inca trail is closed so consider one of the other Machu Picchu tours during this month.
Where can you stay overnight nearby?
Sacred Valley. Spend a night halfway between Cusco and Machu Picchu in the Sacred Valley, for acclimation and a sample of rural Andean culture. Hotels are springing up in and around the towns of Urubamba and Ollantaytambo. You'll find everything from five-star luxury resorts to simple lodges and guesthouses.
Machu Picchu Town. Decidedly lacking in character of its own, Machu Picchu Town serves as a base for the closest lodging to Machu Picchu itself. It's recommended to stay a night at Machu Picchu
Cusco. A gem of a colonial city set at the staggering altitude of over 11,000 feet. Worth exploring for at least a day and a night, although save this for after Machu Picchu to help with acclimation. Cusco has a big variety of lodging. It's good to book ahead during the high season's Inti Raymi festival, when the entire city books up in advance.
In Machu Picchu Town, Inkaterra's Machu Picchu Pueblo hotel is the best choice for families. This beautiful five-star accommodation feels more like a jungle retreat than a hotel, and features a large expanse of nature trails that everyone will enjoy. Some are specifically geared toward children. However, as a luxury hotel, it is not in everyone's budget. Another good choice is Casa Andina, which is one of the few that offers the option of adding rooms. Seek out larger lodges in the Sacred Valley, which will be better equipped and have more distractions for children.
Check here the recommended hotels nearby Machu Picchu
What other archaeological sites can I see nearby?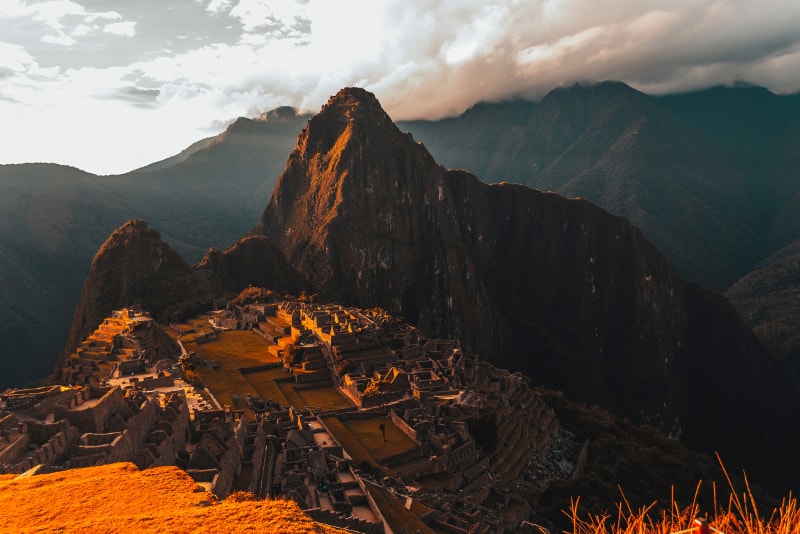 Moray. Machu Picchu sits as the nucleus of an ancient empire, with dozens of other sites scattered around it. It's worth visiting a few of the other ruins around it to fully grasp the understanding of Inca's past.These enormous concentric circular terraces were used for farming. Each layer creates a slightly different microclimate as they descend deeper into the ground.
Maras salt mines. The salt mines of Maras have ancient roots but are anything but ruins – they're still in use today! Salt is harvested here the same way it has been for centuries.
Ollantaytambo.The royal estate of an Incan emperor is now a halfway point between Cusco and Machu Picchu, in the Sacred Valley.
Pisac. Pair this near-to-Cusco ruins site with a local market on Sunday, Tuesday or Thursday of each week.
The "Four Ruins" tour: This popular day trip from Cusco includes the fortress of Sacsayhuaman, the aqueducts of Tambo Machay, the military stronghold of Puka Pucarka, the religious site Q'inqu, and finally Coricancha in Cusco — an impressive Inca temple-turned-Catholic-cathedral, once plated in gold.
What other activities can I do?
Balance your ancient history immersion with outdoor adventures or encounters with local communities. Here are a few favourite activities to complement a Machu Picchu visit:
Mountain biking. The dirt roads and terrain are right for exciting exploration around Cusco on the two wheels of a mountain bike. A popular route is to the ruins of Moray and through neighbouring villages. Tracks are gentle; first-timers welcome.
Meet an Andean community. Get a taste of today's Andean culture with a traditional weaving demonstration, a visit to a community-run "potato park" or a ceramics workshop with a local artist.
Horseback riding. Reach the ruins of Moray and the Maras salt flats by horseback. Several ranches in the Sacred Valley can arrange this for any level of horseback riding experience.
Rafting the Urubamba River. Take a full day to get drenched as you barrel down the Urubamba river near Cusco. Depending on season and section of the river, the level ranges from calm to Class III rapids. Note this is a dangerous activity; check your travel insurance covers rafting and be sure to check safety codes.
Are there any interesting activities for kids?
The chocolate museum
As you will probably be spending some time in Cusco, you'll want to visit the Choco Museo, where kids can learn how to make their own candy. This doubles as a fun lesson on the roots of the cacao plant and how it gets transformed into the world's favourite confection.
The alpaca farm
On the way to Pisac from Cusco, stop off at Awanacancha. For adults, there is a store with high-quality alpaca items. But the real reason to go is the exhibit that explains how to tell the difference between the four camelids native to Peru. Kids always love being able to feed the llamas and alpacas.
What you should know before going on a Machu Pichu tour? Altitude, sickness and acclimation
Above 8,000 feet—the air is "thinner," meaning there is less pressure, so while the oxygen percentage remains the same, the air is less dense, so each breath you take contains less oxygen than what you're used to.
To counteract this, your body will, at first, need to breathe faster and pump blood more rapidly in order to take in the same amount of oxygen it is accustomed to receiving. For many people, this comes as a shock to the body, causing various symptoms. Such as dizziness, lightheadedness, headaches, nausea, vomiting, diarrhoea, difficulty breathing or heart racing.
Remember to take it easy, your body will try to get used to the lower amount of oxygen, so it's very important that you take it easy for the first days. Drinking water can help a lot and also try to acclimate at a lower altitude, and ascend slowly.
Another natural remedy to help you in these cases of emergency is coca tea. You will find it everywhere in Cusco. However, you can't drink more than four or five cups, or else you could suffer heart palpitations.
What should I not forget to pack?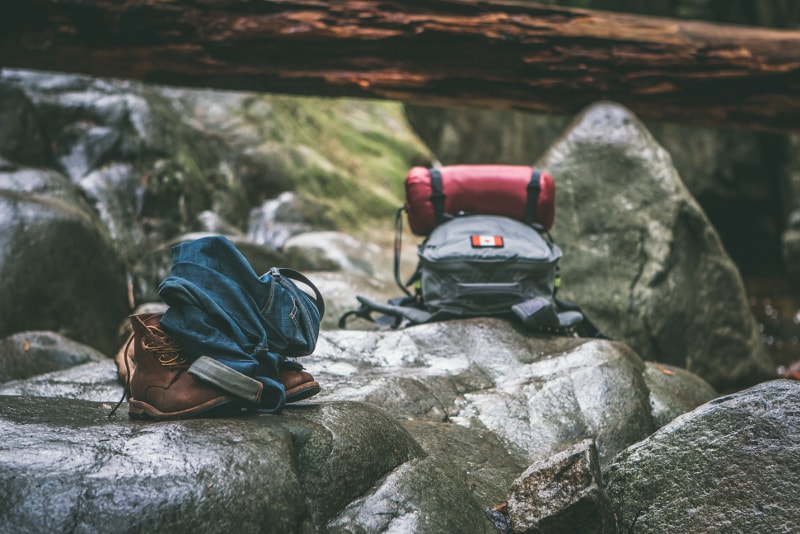 Trekking to Machu Picchu can mean hiking in all four seasons. You can experience rain, shine, and even snow! The number one priority for your Machu Picchu packing list must by footwear.
It is recommended that you have well-worn in trekking boots or shoes as well as a good raincoat or strong poncho (the latter often provided by the trek company).
Your Machu Picchu trek company will most likely provide a small bag for you to store clothes and toiletries in which is carried by the porters and donkeys who trek with you (leaving your rucksack stored in your Cusco hostel, this is common).
Your Machu Picchu day pack should include a poncho or raincoat, suntan lotion, money, water, a camera and of course your passport — do not forget this!
We hope this comprehensive guide was useful to help you decide your Machu Picchu tour! If you have any question please a comment in the box below. Have fun! 🙂