Updated information about Last Supper reopening after COVID-19 closure
We are happy to announce that the visits to the Last Supper in Santa Maria delle Grazie church are possible from the 15th of June 2020.
In order to welcome visitors in safe conditions, all visitors must follow some safety rules: face masks are mandatory for the entire duration of the visit, a social distancing of a minimum of 1.5 meters is obligatory, temperature checks are done to every visitor.
Are you looking to purchase the tickets for the Last Supper in Milan? Is it sold out on the official website? Don't worry, we will tell you how to get tickets last minute, how much they cost, if there are discounts available for you, which combo tickets with other attractions in Milan are available, important tricks and tips to visit this site & more…
The Last Supper (Cenacolo Vinciano in Italian) is a painting of Leonardo da Vinci and it can be seen on the wall of the refectory of the church of Santa Maria delle Grazie in Milan.
How much Da Vinci's Last Supper tickets cost?
Updated information about Last Supper tickets after COVID-19 closure
In order to maintain physical distancing, a limited number of tickets are available each day. Currently, only 18 people can enter every 15 minutes.
The price of the tickets has not changed. Online booking is mandatory. Due to the limited number of tickets, we recommend to reserve as soon as possible.
The tickets must be bought in advance, because the Last Supper can be visited only with reservation. Tickets cost 15€ per person + 2€ advance booking fee (or 7€ for EU citizens between 18 and 25 years of age).
You can purchase your tickets from the official website, but the tickets to visit the Last Supper sell out very quickly on the official website due to limited capacity. However, don't worry if the tickets are sold out on the official website, there are many other websites that sell tickets last minute. You can check TourScanner and compare the prices of all the websites to book entrance tickets, guided visits or combined visits of several attractions of Milan.
How to get Last Supper tickets Last Minute if they are sold out on the official website?
As introduced above, the tickets from the official website are sold out most of the days of the year. You may still be lucky, but usually, it very seldom you can find tickets available last minute. However, there are many agencies and tour operators offering guided visits with the tickets included, and they are usually available last minute. Very often, the price is only slightly higher for the tickets + tours, starting from 17€. But we recommend to book in advance, cause the costs can increase considerably when the booking date is approaching the expected date of your visit.
Since there are many websites selling tickets and tours for different prices, the best way to compare them is by using TourScanner, which is aggregating and comparing all the websites selling tickets and tours.
How can you buy "tickets only" to the Last Supper, without a guided tour?
It is possible to book these tickets only on the official website reported above. However, very often the "tickets only" are sold out. Therefore, since you will need to reserve your visit to see the Last Supper in Milan, you will need to book a guided tour, if all the tickets are sold out on the official website.
Luckily, there are cheap guided visits that cost only a few Euro more than the ticket only. You will also get the benefit of having a guide to explain to you the history behind the Last Supper and Leonardo Da Vinci. The prices of the tours vary a lot depending on the availability, seasons, time of the day. Sometimes, there are also last minute discounts available.
Are there any discounts?
Luckily there are discounts to see the Last Supper! Even better, there are free entrance tickets for some people. Scroll down to check if you are suitable for a discount/free entrance!
Free entrance + 2€ for advance booking fee:
Under 18 years of age.
C.O.M member.
Ministry for Arts and Cultures employee.
Secondary School Students with a Student Card.
European Union teachers and students teaching Architectural Studies, Preservation of Artistic and Cultural Heritage, Arts Faculties and Classical Studies.
Pupils of Istituto Centrale per il Restauro, Opificio delle Pietre Dure and Scuola per il Restauro del Mosaico.
Journalists with a valid document stating their professional activity.
European Union disabled people
Volunteer employed in cultural promotion and information activities according to the Ministry.
Free entrance with NO advance booking fee:
Only available for booking through the CALL CENTER.
Student Groups from European Union private and public schools, accompanied by their teachers with admission booking and purchase of services. Teachers who won't purchase these services for this school group will be required to pay a booking fee of 5€.
European Union Tourist Guides with a professional licence, they must also book the tour through the call center.
European Union Tourist Interpreters.
However, if you are not eligible for any of these discounts, you can always check if there are any other websites that sell tickets. They usually have really good prices and discounts.
How do you skip the line?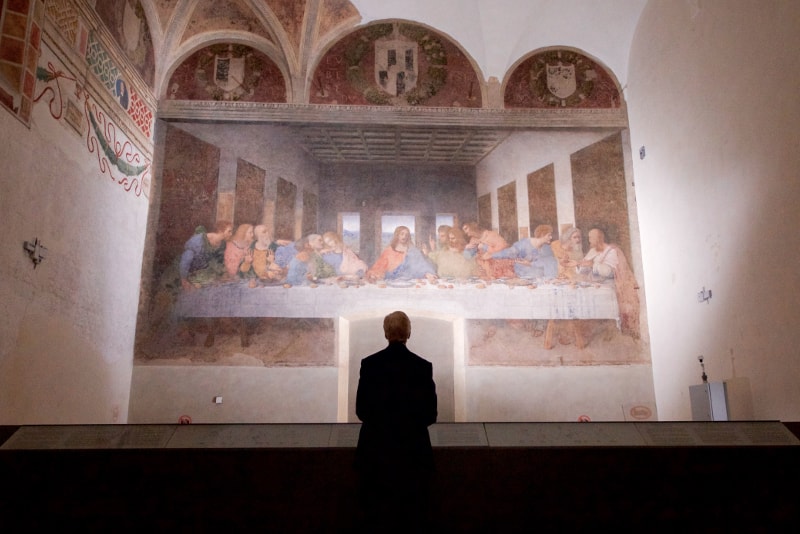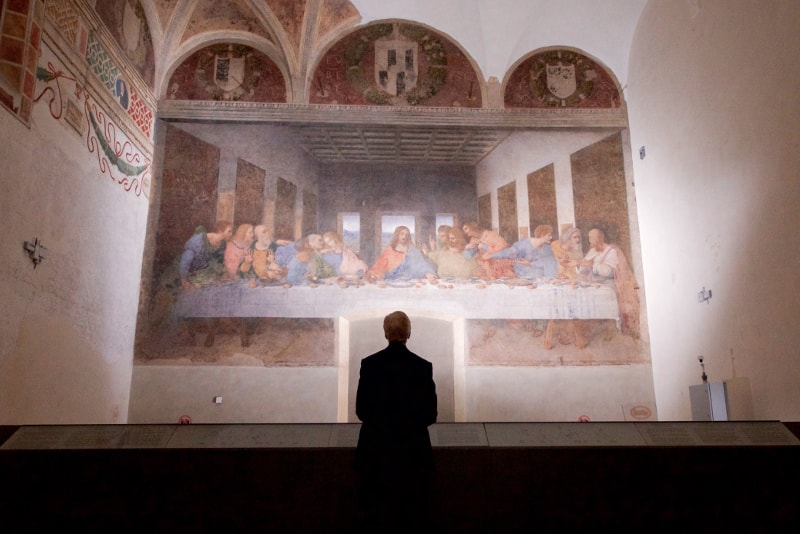 The tickets include the reservation of a time slot. Therefore, the tickets, which must be purchased online, are electronic tickets and there is no queue at the entrance. Make sure to buy the tickets in advance, otherwise it will be impossible to see the Last Supper, also because it is sold out almost every day of the year. The booking process is straightforward and, since a time slot is assigned, the entrance is not chaotic. Very often, you can buy guided visits of the Last supper that include also the visit to the church of Santa Maria delle Grazie.
Are there any combined tickets including other attractions?
Are you looking to make the most of your time in Milan? You can find combined tickets that include other attractions besides the Last Supper. Here I mention some that may result interesting:
In overall, there are infinite tours that combine the last supper tickets with many other attractions in Milan. I suggest you have a look on TourScanner to find out which combined tour you like best and to compare prices.
What are the opening hours?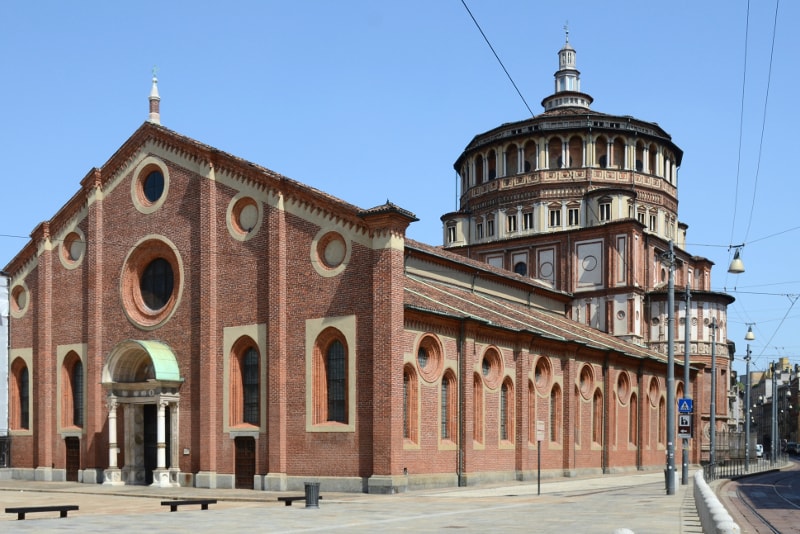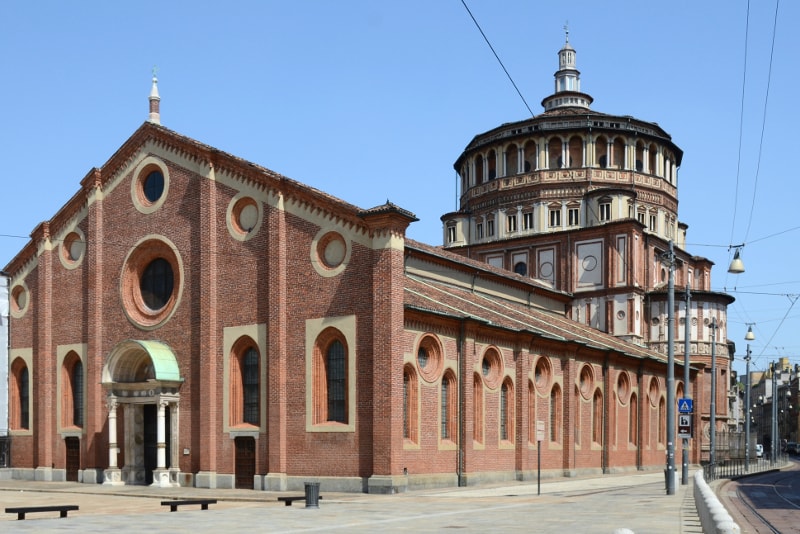 The opening hours are from Tuesday to Sunday from 8.15 am to 7.30 pm.
Reservations are necessary to visit the painting of the Last Supper and visitors must arrive at least 20 minutes before their allocated time of visit. The entry to the church of Santa Maria delle Grazie is free.
Last Supper in Milan – What will you see?
Located in the Dominican church of Santa Maria Delle Grazie in Milan, the Last Supper is one of the most famous paintings in the world and arguably the most influential work of art ever made.
Commissioned by Ludovico Sforza, Leonardo worked on the Last Supper painting from 1495 until 1498, with long pauses in between.
The Last Supper represents the last meal of Jesus with the twelve apostles before he was crucified.  The scene shouldn't be seen as a static image but rather a representation of successive moments.
To create this unique painting, Leonardo carried out long and exhaustive research, with the preparation of a long series of sketches.
Usually, Renaissance masters were painting frescoes on wet plaster walls. But Leonardo da Vinci decided to opt for a different technique, abandoning the previous one. The main reason was that he wanted to achieve a grander luminosity.
After completion, the technique and other environmental factors had contributed to a partial deterioration of the fresco, which needed to be restored several times during the centuries. The last significant and controversial restoration lasted 20 years and was finalized in 1999.
Nowadays, the Last Supper in Milan has become one of the most visited attractions in the city. The monastery of Santa Maria Delle Grazie is open to the public and can be visited year-round. Complete your visit to Milan with a visit to this priceless masterpiece.
Useful tips
Note that the tickets on the official website are released online three months in advance. They are released online around the 10th of the month, but dates can vary, so check the website. Be aware the tickets sell out very quickly.
There is no written information displayed where The Last Supper is, so remember to inform yourself about the painting before you go! Or you can always get an audio guide (book it together with your ticket or get it when you're there).
You will only be allowed to stay in the hall where the painting of the Last Supper is for 20 minutes max, so make the most of it and pay full attention to it.
You can take photos of the painting, without flash. They will draw special attention to this inside the Church. No videos are allowed (it's against the rules).
Remember you have a fixed date and time printed on your ticket to enter, I suggest you arrive approximately 20 minutes earlier just in case.
The Last Supper is not included in the Milano Card & the Milan Pass.
If you're wondering how to get to Santa Maria delle Grazie there are trams (18 and 24) which stop at Corso Magenta- Santa Maria delle Grazie. Also subway MM1's stations Conciliazone and Cadorna will drop you off relatively near, as well as MM2's Cadorna Station.
Hopefully, this comprehensive guide has helped understand better about the importance of booking tickets for the Last Supper in advance and other useful information. Please do not hesitate to ask if you have any questions regarding the Last Supper tickets! Enjoy 🙂
Share it on Pinterest 🙂