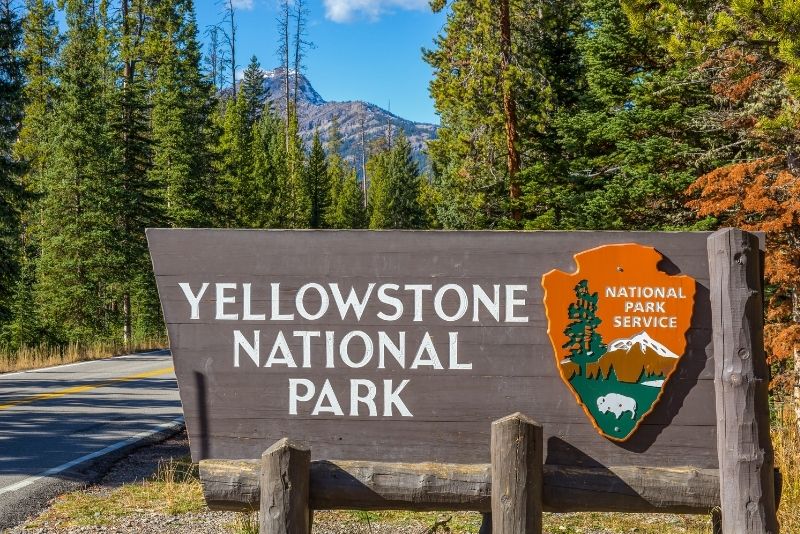 A postcard-worthy example of the raw beauty and power of Mother Nature when left unspoiled, Yellowstone National Park — an iconic slice of wilderness that sits in the northwesternmost point of Wyoming, well and truly off the beaten track — delights millions of visitors every year who come to discover the world's largest collection of geysers.
As one of the premier national parks in the US, covering 3,500 square miles of diverse volcanic wilderness, the array of activities on offer here is second to none. And while the fascinating, bubbling, and spurting geysers (infamous Old Faithful and rainbow-colored Grand Prismatic being the two most regarded) steal the bulk of the attention, they're just the tip of the iceberg when it comes to things to do in Yellowstone National Park.
From museums to ranger-led programs, astronomy tours, scenic drives, overnight camping trips, safaris in the Lamar Valley, and hikes through awe-inspiring landscapes, there's something in store for everyone.
Not just a summer destination either, for travelers looking for a winter wonderland escape, Yellowstone delivers towering snow-capped peaks, pristine forests blanketed in white, and countless geothermal wonders that can be admired up close (without the crowds) on snowmobiles and cross-country skis — no matter the time of year, this is one destination that's guaranteed to enchant.
1 – Kickstart your adventure at the Old Faithful Historic District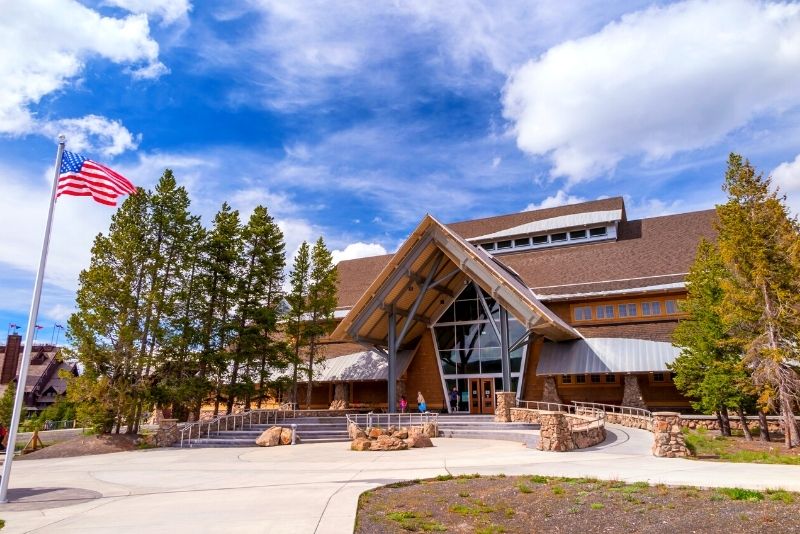 No trip to Yellowstone National Park is complete without a visit to the erupting Old Faithful, and luckily, there's plenty to do in the area while you wait for the famous geyser to blow.
For starters, take a stroll around the Historic District and pop into the Old Faithful Visitor and Education Center, which features hands-on exhibits on geology, wildlife, and early park history (including a replica of the geyser). Grab some souvenirs from the gift shop for a memento, or join one of the evening ranger-led tours to learn more about this fascinating natural phenomenon.
Around the corner, the Old Faithful Inn is worth a visit too: dating back to the early 1900s, overflowing with wooden furnishing and details, and offering more than 300 rooms available for visitors, it's one of the most iconic buildings (and hotels) in the park.
If you're feeling adventurous, hike up to Observation Hill for a better view of Old Faithful (and, trust us, it's worth the trek), or take a walk
2 – Admire the view of the Grand Canyon of the Yellowstone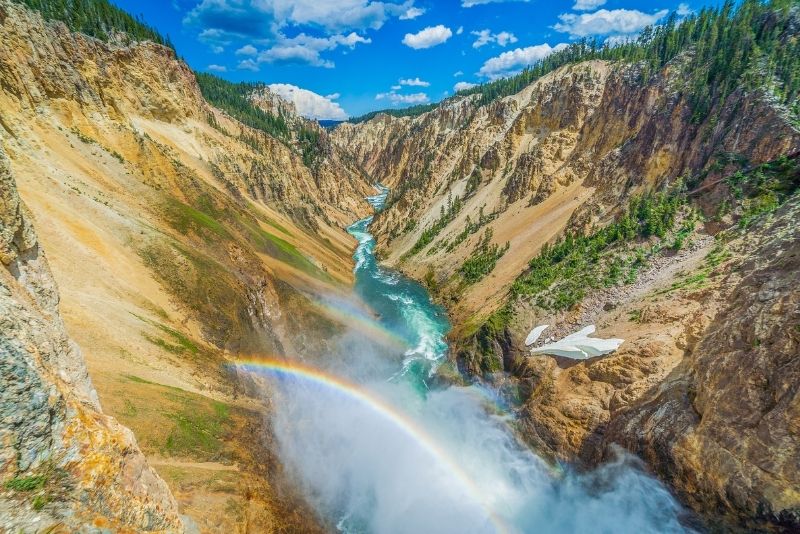 Looking like something straight out of a fairytale postcard, taking a trip to the Grand Canyon of the Yellowstone is undeniably one of the non-negotiable things to do in Yellowstone National Park.
Formed over 630,000 years ago by a volcanic eruption, and molded over time as the Yellowstone River has carved its way through volcanic rock, today the canyon stretches for more than 20 miles and reaches depths of up to 1,200 feet, with visitors flocking to both its Upper and Lower Falls.
Arguably the best view of the Lower Falls — the tallest waterfall in the park at 308 feet — is from Artist Point (just off Highway 89) and well worth the stop, especially if you're lucky enough to catch it at sunrise when the pastel colors shine.
For a different perspective and a close-up view either of the Lower Falls or Upper Falls, hike down into the canyon on one of the established trails – both Uncle Tom's or Brink of Lower Falls are highly recommended – but be warned: they can be pretty strenuous.
3 – Explore the fascinating Yellowstone Caldera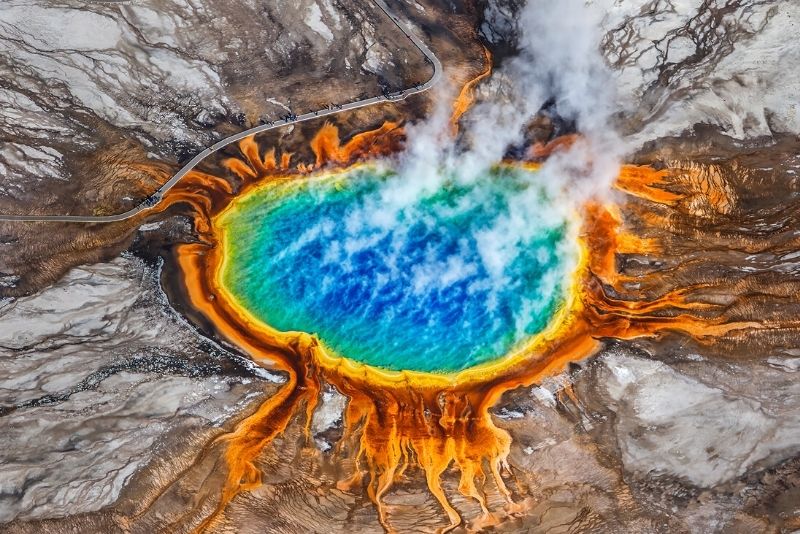 That's not photoshop, folks. The surreal landscape that makes up Yellowstone National Park is the result of a chain of massive supervolcanic eruptions that took began 2.1 million years ago (the most recent being 640,000 years ago), and left behind the largest (and still active) caldera in North America.
Spanning over 43 miles wide and 28 miles long, with hills reaching heights of up to 9,000 feet above sea level, it's no wonder that the caldera is one of the most popular destinations in the park, with visitors coming to hike, bike, and even horseback ride along its many trails.
The undisputed visual highlight of the caldera is, of course, the rainbow-colored Grand Prismatic Spring. The third-largest hot spring in the world, at approximately 370 feet across at its longest points and 160 feet deep, the spring is a geographic marvel that needs to be seen to be believed.
The reds, oranges, yellows, and greens are created by unique bacteria and algae that live in the water — the deep blue core, however, is far too hot to sustain life (so absolutely no swimming!).
4 – Walk around the Midway Geyser Basin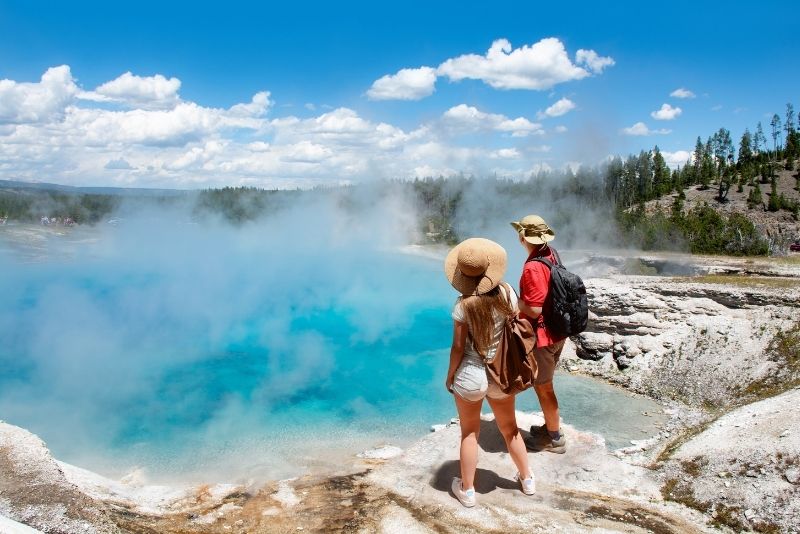 While you'll find the Grand Prismatic Spring here (best accessed by the 1.5-mile eponymous and easy hiking route), the Midway Geyser Basin is home to far more than just one of the most impressive thermal features in Yellowstone National Park — you'll find plenty more geysers, hot springs, trails, and wildlife throughout the area, mostly concentrated around the Firehole River.
Known for being particularly colorful compared to other areas of the park, a trip to Midway will see you visit the Excelsior Geyser, a 200-by-300-foot crater that spurts out over 4,000 gallons of water per minute; the Spray Geyser, famous for dazzling eruptions that last longer than the quiet periods in between; and the blue bubbling and boiling Imperial Geyser.
5 – Meet bears up close at the Grizzly & Wolf Discovery Center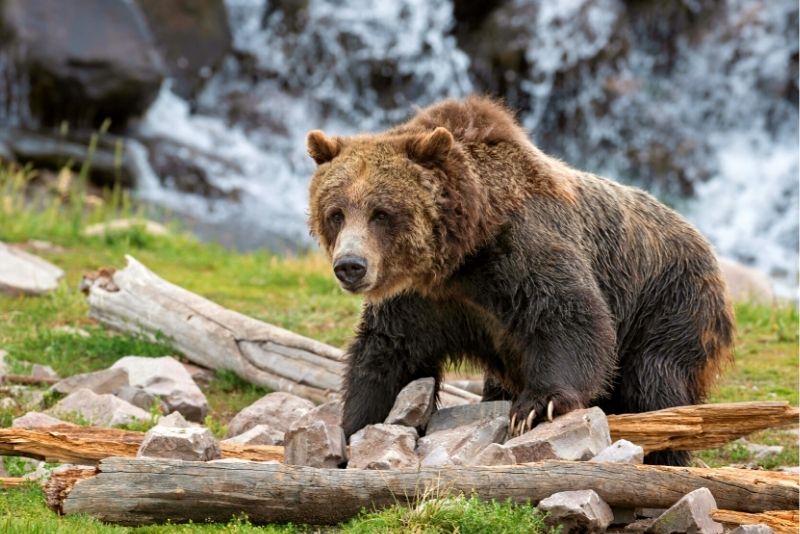 One for the animal lovers, the Grizzly & Wolf Discovery Center is a nonprofit education and interpretive center where you can up close and personal with some of Northe America's most fascinating creatures!
Dedicated to the conservation of grizzlies, wolves, black bears, and other native wildlife, the Center offers visitors the opportunity to view these glorious animals in their natural habitats, learn about their ecology and how they're managed in the wild, as well as discover the important role that they play in the Greater Yellowstone Ecosystem.
In addition to the live animal exhibits (both the Bird-of-Prey exhibit and the New River Otter exhibit are must-sees), the Center also features intriguing interactive displays, an educational theater, a gift shop where you can pick up that one-of-a-kind souvenir, and a cafe (don't worry, Yogi bear won't come swiping your lunch).
At just $15 for adults (with entry lasting two days), it's an affordable addition to any itinerary.
6 – Spend some time wildlife-watching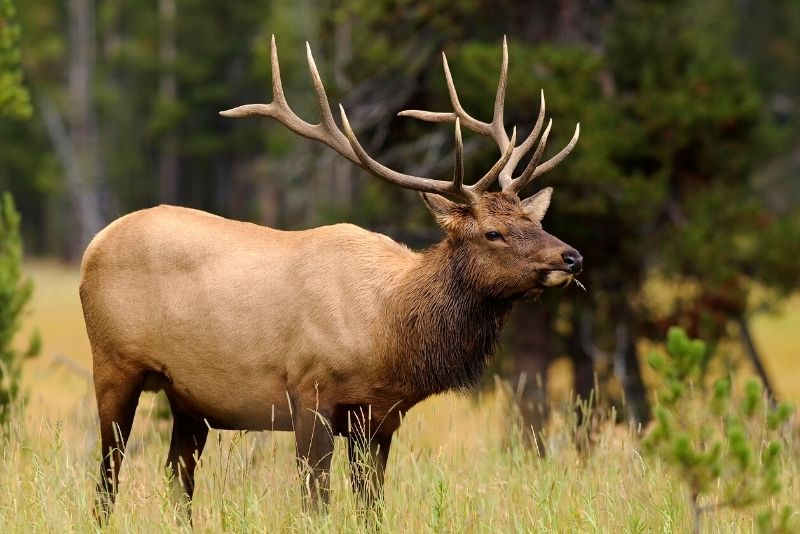 From Canada lynx, coyotes, bighorn sheep, and bison, to moose, mountain goats, badgers, and bears (and cute-as-a-button otters swimming through the rivers), the diversity of wildlife in Yellowstone is simply staggering.
And while there's no guarantee that you'll see everything on the list during your visit, it's certainly worth spending some time out and about trying to spot as many of these animals as possible.
There are several great spots for wildlife watching throughout the park, but few are better than the Hayden Valley Trail (best used from June until September).
Winding its way through the Hayden Valley, the challenging 13.5-mile trail winds through one of the most picturesque areas of the park, with beautiful meadows and wetlands offering plenty of opportunities for sightings of grizzlies, bison, elk, and more! Alternatively, the Lamar Valley is a formidable option too, which remains open year-round.
7 – Pop into the Norris Geyser Basin Museum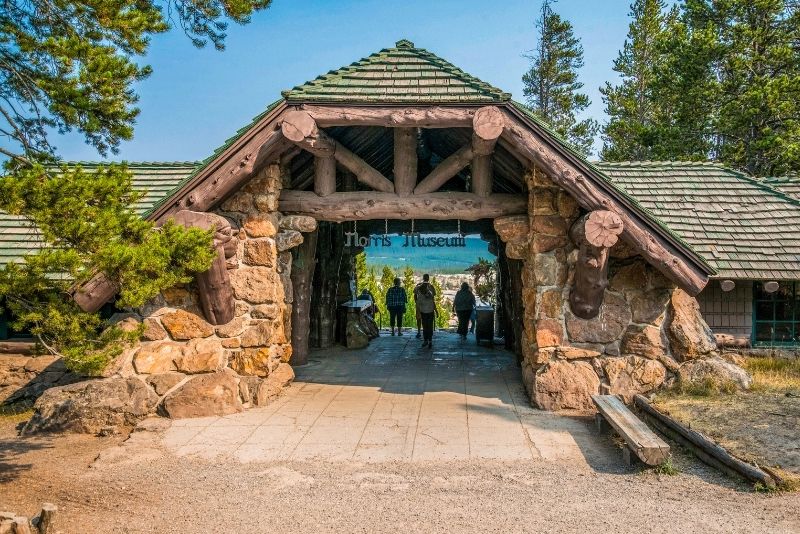 Tucked away inside an old stone and log cabin (since become known as the National Park Service Rustic architecture), the Norris Geyser Basin Museum is a small but fascinating museum that dates back almost a century and provides an excellent introduction to the fascinating and rare geothermal features of the eponymous Norris Geyser Basin.
Operated by Yellowstone National Park and officially a National Historic Landmark, the museum tells the story of the area's history, geology, and local life (both plant, animal, and human), complemented by a book store and an information desk staffed by friendly volunteers who'll be happy to answer any questions.
Walk beneath the 20-foot-high passage and you'll uncover the main event: a spacious terrace from which to view the deep blue geysers as they bubble and steam away.
8 – Join a Ranger Program!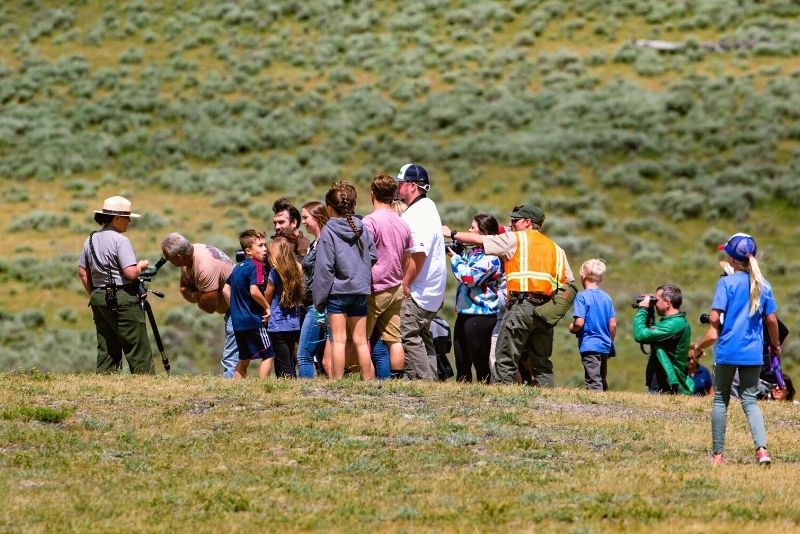 While exploring the National Park solo dishes up no shortage of adventures, if you're looking to genuinely get the most out of your visit from an educational perspective, a ranger-led program is one of the essential things to do in Yellowstone.
Full of stories and tidbits about the geology, wildlife, and history of this storied park, ranger programs are available through the summer and cover everything from birding to history walks, kids' activities, cultural lessons, and more.
Even the stories of the rangers themselves are fascinating — which is exactly why a stop at The Museum of the National Park Ranger entices many. Found inside a cozy log cabin and manned by friendly and helpful current or ex-rangers, the Museum unpacks the department from its roots in the military traditions to today, entertaining and education with a short 20-minute video.
9 – Admire the tumbling waters of Gibbon Falls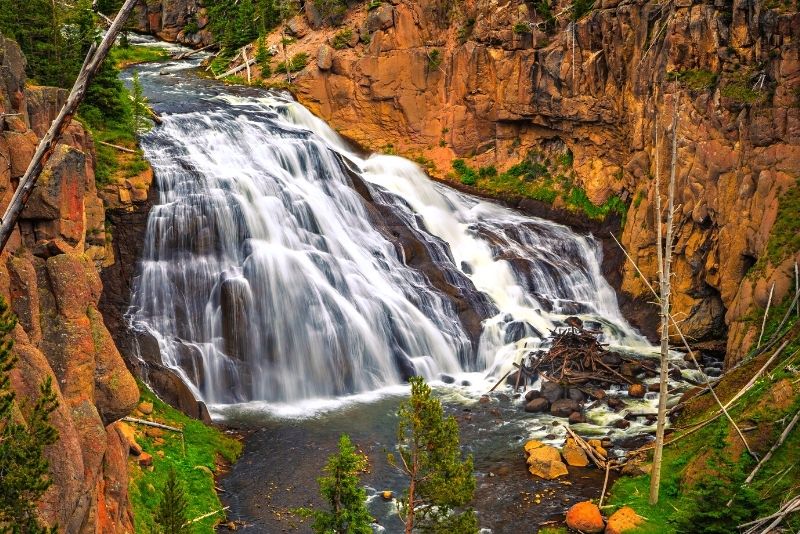 Another feat of Mother Nature at her finest, Gibbon Falls is one of the postcard-worthy focal points of the Gibbon River, which stretches for almost 25 miles through Yellowstone.
A pleasant 20-minute stop along the Grand Loop Road, the Falls are best seen on foot by hiking the easily-accessed half-mile trail to the viewpoint (the parking area and trail are road adjacent).
From there, you'll bear witness to the flowing river as it cascades gracefully 84 feet down the rocks, surrounded by lush forest and spraying an impressive mist.
10 – Snap a selfie under the Roosevelt Arch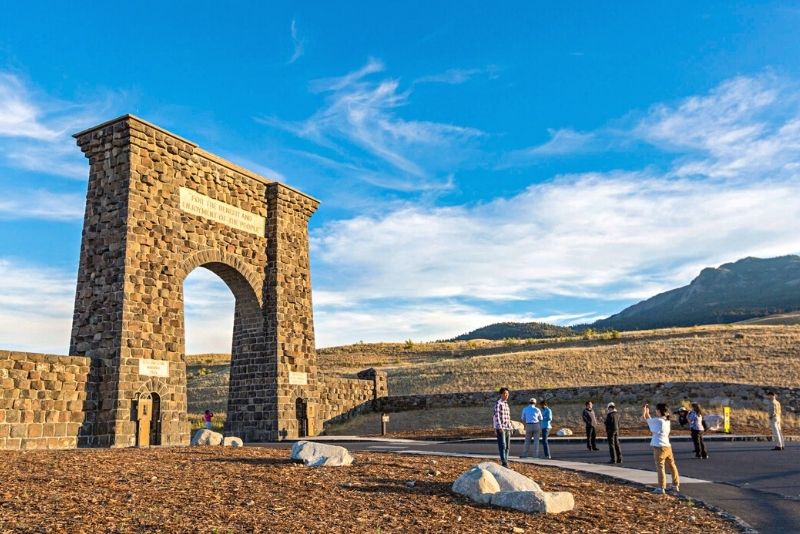 Sticking out of the natural landscape like a (spectacular) sore thumb, the Roosevelt Arch is a National Historic Landmark and the most photographed site in all of Yellowstone.
Commissioned by President Theodore Roosevelt himself, who was so taken with the natural wonders of the area that he declared it America's first national park in 1872, the arch stands — and has been doing so since 1903 — at just over 50 feet high and 30 wide, framing an unforgettable view.
You'll find the gateway at the northern end of the National Park in Gardiner Montana, the gateway to spellbinding natural landmarks like the Boiling River and Mammoth Hot Springs, as well as Fort Yellowstone.
11 – Stretch the legs on the Brink of the Lower Falls trail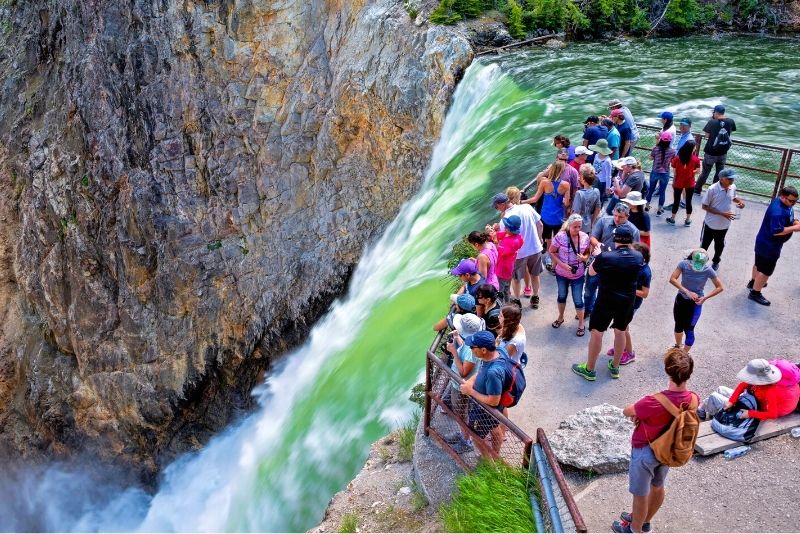 For a heavy serving of jaw-dropping views, few are as impressive (or popular) as the one at the Brink of the Lower Falls.
A short 0.7-mile hike from the parking lot will take you to one of America's most photographed spots, where you'll be treated to a view of the 308-foot waterfall that tumbles down the canyon walls.
Despite being a short trek, it's a little harder than it sounds: expect a lot of switchbacks and occasionally slippery rocks as you transcend the 600 feet change in elevation.
12 – Saddle up for a horse riding adventure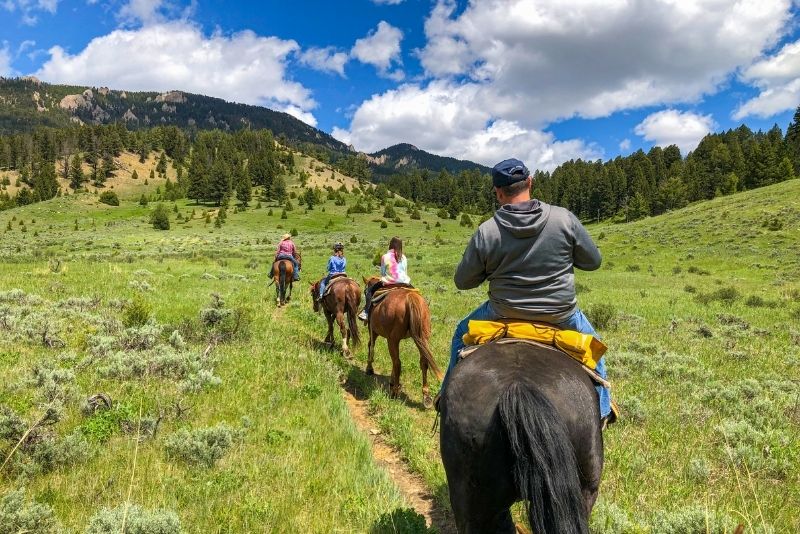 A wonderful way to escape the tourist crowds, get off the beaten track, and experience the area just like the Park's settlers have done so for generations, hopping on a horse for an hour or two is one of the most unique ways to explore Yellowstone and its surrounding areas, giving you access to trails and terrain that are inaccessible otherwise.
You can find outfitters all around the park, but be sure to reserve ahead of time — especially in peak season. With friendly trainers on hand to show you the ropes, it's an activity suitable for the whole family.
If you're after just a taste, consider the short open meadow rides that explore flat expanses adjacent to the Grand Canyon of the Yellowstone or the sagebrush flats along Garnet Hill; for something a little more thrilling, combine your horse-riding trip with some white water rafting or hiking!
13 – Explore Biscuit Basin: a geothermal wonderland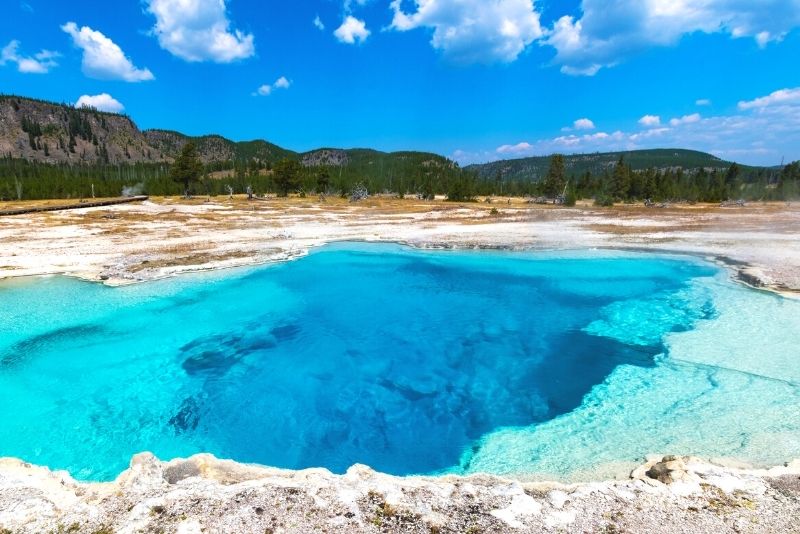 Found within the Upper Geyser Basin, three miles north of Old Faithful, Biscuit Basin (named for the shapes of its thermal pools) is one of the most popular areas in all of Yellowstone for its surreal and colorful landscape.
Formed by hydrothermal activity, the area is dotted with hot springs, mud pots, and fumaroles, each one with a different hue of green, blue, yellow, or orange.
Due to the high levels of sulfur and other minerals in the area, the boardwalk is often enveloped in an eerie mist that only adds to the mystique (and Instagram potential) of this unforgettable stop on your journey around Yellowstone.
While in the area, consider stretching the legs on the 2.4-mile trek to the 70-foot Mystic Falls Trail, or opt for the longer and more rewarding Mystic Falls, Fairy Creek, and Little Firehole Loop, which is a 3.5-mile trail that gives you an overhead view of the Old Faithful Geyser.
14 – See the world's tallest geyser in the Norris Geyser Basin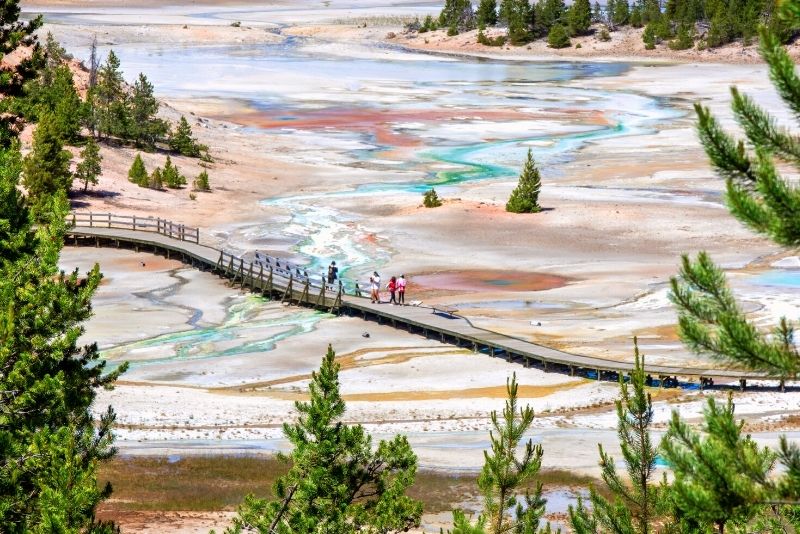 The hottest and most active area in Yellowstone, Norris Geyser Basin is located in the north-central region of the park and puts on one heck of a steamy show.
The basin is made up of two parts: the Porcelain Basin and the Back Basin. Totally engulfing, the Porcelain Basin has no trees and allows you to immerse yourself in the sounds, colors, and smells of the thermal area along its 3/4-mile boardwalk. Back Basin, on the other hand, combines the bubbling pools with a little more forest diversity.
It's impossible to miss Steamboat Geyser, the tallest geyser in the world, spurting water some 300–400 feet in the air — and, erupting on average every five to 10 days, you'll be able to catch it in action, if you're lucky.
15 – Hike to Tower Fall: a waterfall wonder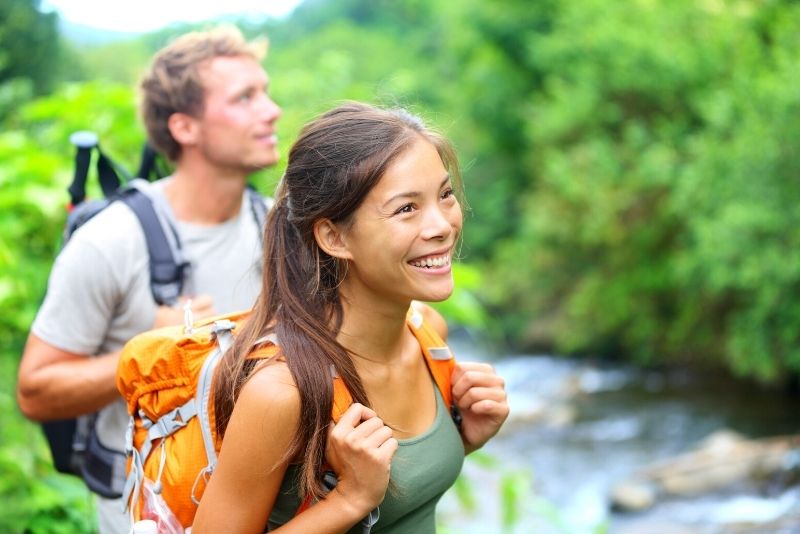 One of the most impressive waterfalls in Yellowstone, Tower Fall is found on the northeastern edge of the park Tower-Roosevelt.
While it's no longer possible to hike to the bottom of the falls because of eroded cliffs, the 132-foot drop can still be admired viewed from the Tower Fall overlook, reachable by following a moderate one-mile round trip hike that passes through a landscape of evergreen forests, meadows, and the Yellowstone River from the Grand Loop Road in the Tower-Roosevelt region.
In springtime, the waterfall becomes surrounded by lush flowers in an explosion of color, and later in the year, as the leaves on the trees start to change color, the area provides some truly beautiful fall foliage views.
Take note: well and truly off the beaten track, the area is home to muyr=adi wildlife including bighorn sheep, peregrine falcons, osprey, and bears!
16 – Explore the area on two wheels with a bike tour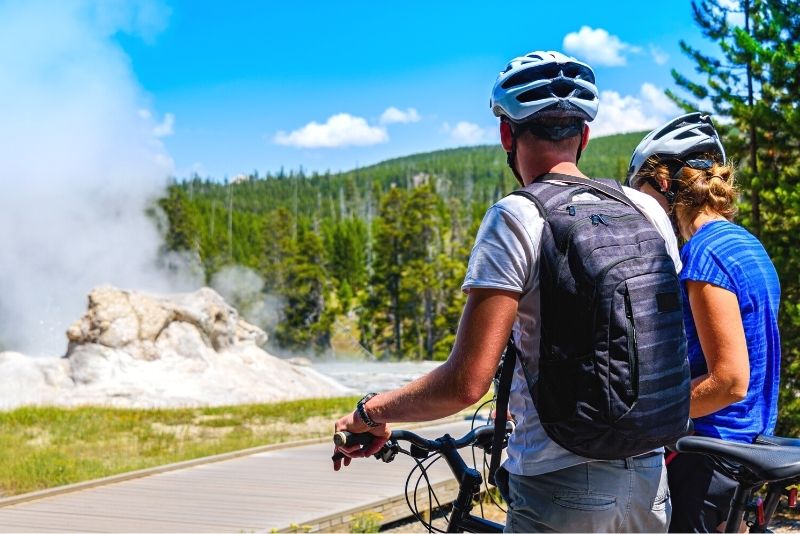 While bike riding remains off-limits on backcountry trails, boardwalks, and oversnow routes, essentially everywhere else in this expansive park remains fair game, and year after year, visitors make the most of cycling opportunities in Yellowstone.
Don't have your own bike? Fret not, renting a bike is one option, with regular and e-bikes available for rent from places like the Yellowstone National Park Lodges. Of course, if you bring your own set of wheels, the possibilities grow exponentially.
So, where to begin? Several scenic routes make for excellent day rides in the Mammoth Hot Springs Area, such as the 2-4-hour Abandoned Railroad Bed Bike Trail near the north entrance of Yellowstone, the longer and more strenuous ten-mile Bunsen Peak Loop Bike Trail (great for pro mountain bikers),
Over in the West Yellowstone Area, the Riverside Bike Trail is fairly level and a great option for families; while the Old Faithful Area's Lone Star Geyser Bike Trail allows riders to get up close and personal with a geyser that typically blows every three hours!
17 – Take an easy hike to the Mud Volcano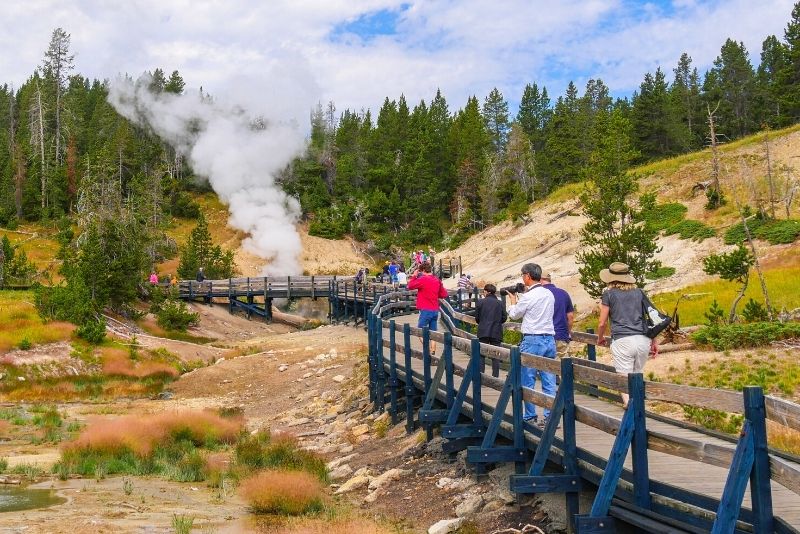 A fascinating and unique area in the Hayden Valley formed by the interaction of hot water, gas, and rock below the surface, Mud Volcano is one of the most unusual areas in all of Yellowstone.
The mud pots, steaming fumaroles, and acidic springs make for an eerie — but strangely captivating — landscape that's constantly changing.
The half-mile hike to Mud Volcano along the boardwalk to and from the carpark is an easy walk that climbs 100 feet uphill, and is well worth it for the unique views (and smells) you'll get of this enchanting area.
While you're there, make sure to grab a few photos in front of Dragon's Mouth Spring, a large pool of boiling water that gives the impression of (who would've thought) a gaping dragon's mouth constantly bellowing hot steam.
Hot tip: to beat the crowds, try to arrive before 9am or after 3.30pm, and allow at least 45 minutes to take in all the sights.
18 – Wake up with a whitewater rafting trip!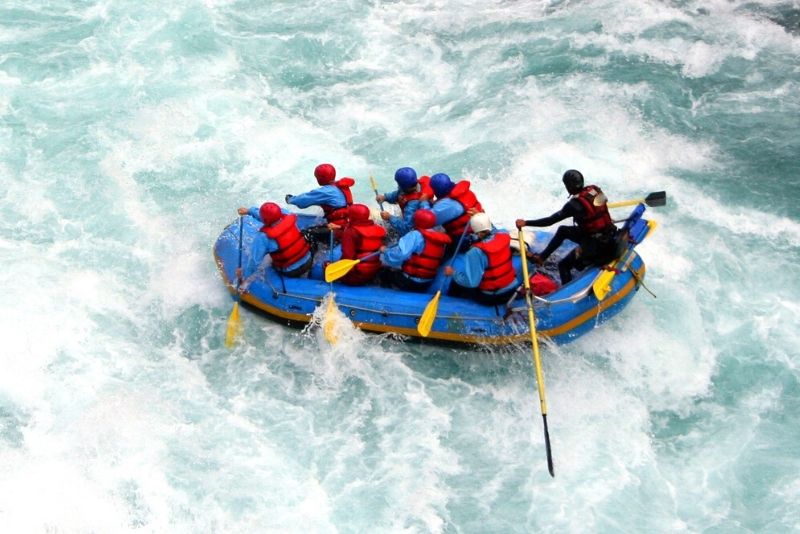 If you're looking for a heart-pumping outdoor adventure, whitewater rafting down the Yellowstone River is definitely it. Classified as a III and IV river (with some areas tamer still, of course), there are plenty of rapids in the park to give rafters a thrilling ride.
The Yankee Jim Canyon Run, for example, offers some of the most challenging rapids in Yellowstone. With names like Boxcar, Queen of the Waters, and Sleeping Giant, it's easy to see why!
If you're a beginner or just looking for a more leisurely rafting experience, there's also a range of scenic floating excursions, where you can learn about the environment and spot a few river otters and bald eagles along the way.
Half or full-day rafting trips can be arranged through several park concessionaires, or you can combine them with ziplining adventures or horseback riding sessions for the perfect combination of activities.
19 – Conquer one of the Mount Washburn hiking trails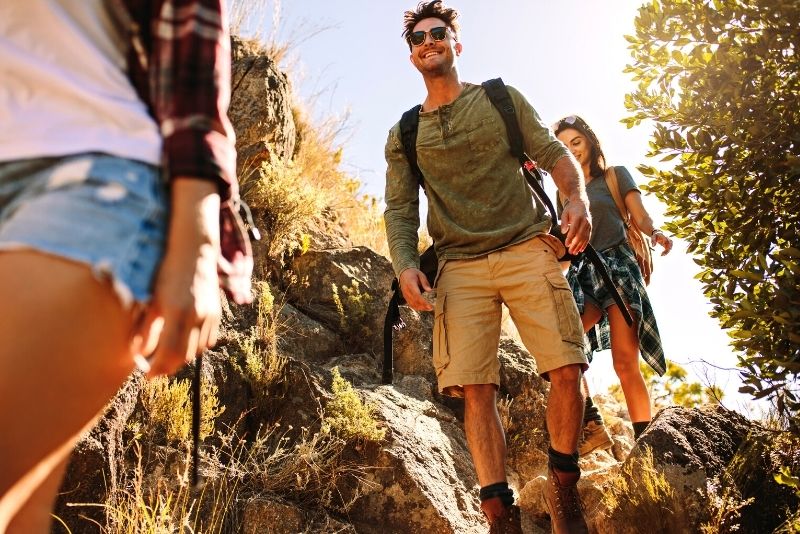 If you're craving an excellent and challenging all-day hike with amazing views, look no further than Mount Washburn. At over ten miles and with an elevation gain of over 1,400 feet, this is not a hike to be taken lightly, but the stunning 360-degree views from the summit make it well worth the effort.
Towering over the National Park at an elevation of over 10,200 feet above sea level, Mount Washburn is the tallest peak in the park and offers hikers an unbeatable panoramic view of Yellowstone's many wonders.
The 6.4-mile hike to the summit takes most people around 2 hours, and You'll find the trailhead entrance at the top of Dunraven Pass on Grand Loop Road near Tower Junction.
But if you want something longer, then the Washburn to Grand Canyon trail is your best bet — 11.2 miles of heavy climbing that'll take a minimum of 6-8 hours to conquer.
If that's the case, make sure you're well-prepared with food, water, and sunscreen before you set out. And be aware that the weather can change quickly in this area, so come prepared for all conditions.
20 – Snap some photos of the Mammoth Hot Springs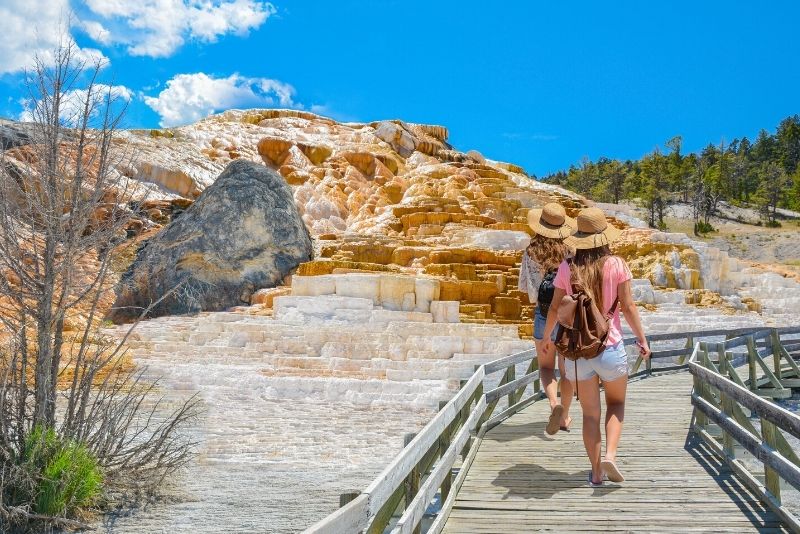 Searching for some of the most photography-friendly things to do in Yellowstone National Park? Then make sure Mammoth Hot Springs is high on your list.
With a list of over 50 geothermal vents making up its ever-changing landscape of bubbling mud pots, steaming geysers, and delicate calcium terraces, it's no wonder photographers love to capture its beauty.
There are plenty of trails that snake their way through the area, providing easy access to all the best photo ops — the upper and lower terrace boardwalks are the most popular (and the essentials).
And, for the ideal back-to-back itinerary, both Fort Yellowstone and the Mammoth Hot Springs Historic District are just around the corner.
21 – Have a picnic!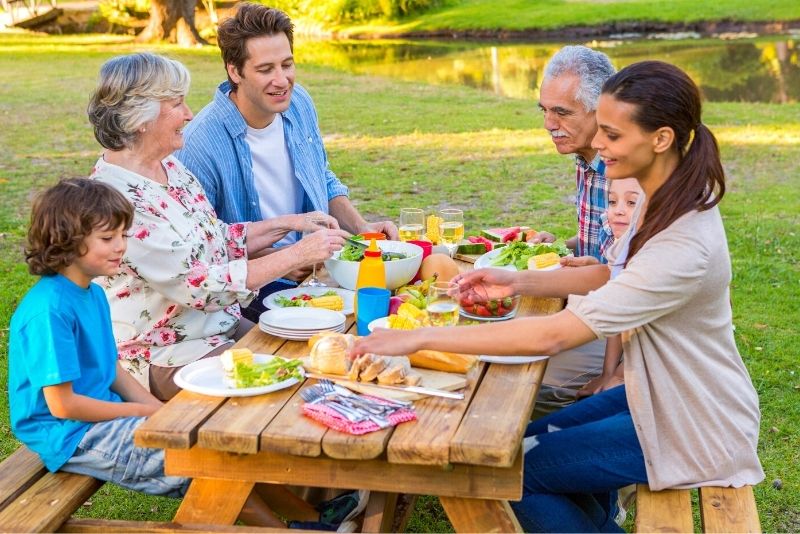 When the weather is nice, there's nothing quite like a relaxing picnic lunch in the great outdoors. And Yellowstone National Park offers hundreds of beautiful spots to choose from — some with restroom and BBQ facilities, others little more than a patch of untouched grass.
One of the best places for a quick lunch is on the banks of Lewis Lake, where you can admire the stunning reflections of Mt Sheridan while you eat. If you're looking for something more accessible, try out Steamboat Point or Inspiration Point instead, or roll out the picnic rug at Sheepeater Cliff (near the park's northern entrance).
There are also several lovely meadows located throughout the park that make perfect spots for an alfresco meal. Just be sure to pack everything you'll need and dispose of your trash properly.
22 – Check out the West Thumb Geyser Basin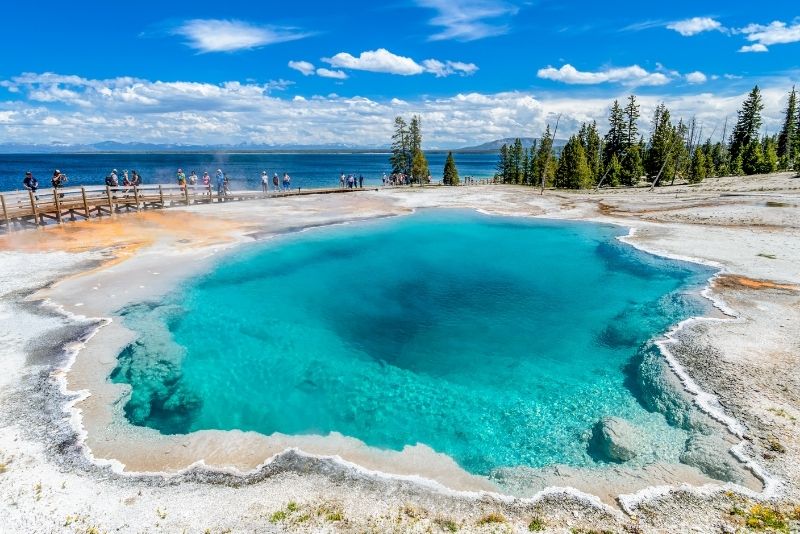 An off-beat location that oozes beauty with far fewer tourists than the likes of Old Faithful, West Thumb Geyser Basin is one of the most unusual and picturesque areas in Yellowstone National Park, tucked away on the West Thumb of Yellowstone Lake.
Here, the small yet stunning blue thumb geysers (don't miss the Abyss Pool) and quirky Fishing Cone are made all the more spectacular by the lake's shimmering backdrop.
23 – Cruise along the Firehole Lake Drive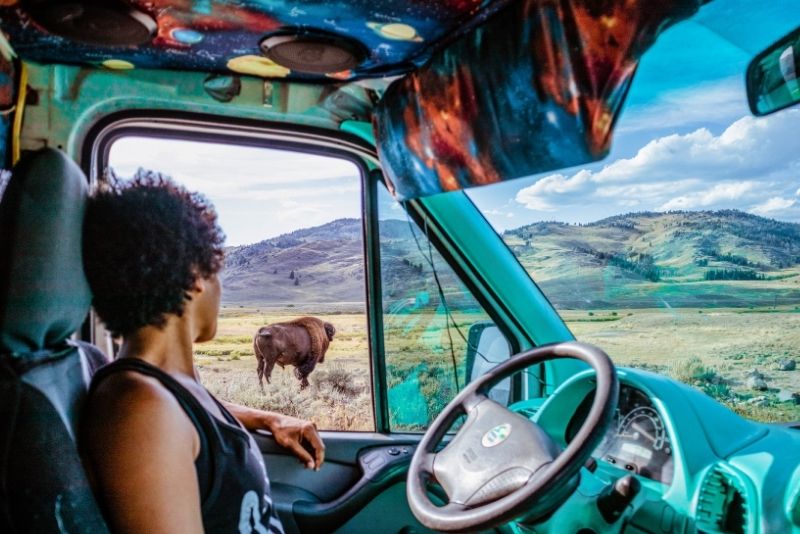 If you're looking for a short but sweet scenic drive to take in some of Yellowstone's best sights, then make sure the Firehole Lake Drive is on your list.
The 3-mile, off-road route winds its way through the heart of the park between Old Faithful and Madison, taking in geothermal areas (Firehole Spring is a quintessential stop), open meadows full of wildlife, bubbling hot springs, and tranquil lakes along the way.
The highlight for many visitors is seeing the Great Fountain Geyser from up close (the eruptions are scheduled so you can always time your visit), but there's plenty more to see and do here too.
Make stops at White Dome Geyser, Pink Cone Geyser, and Surprise Pool for example, or take a walk around Firehole Lake itself.
This is one drive that's worth doing twice!
24 – Embark on a safari in the Lamar Valley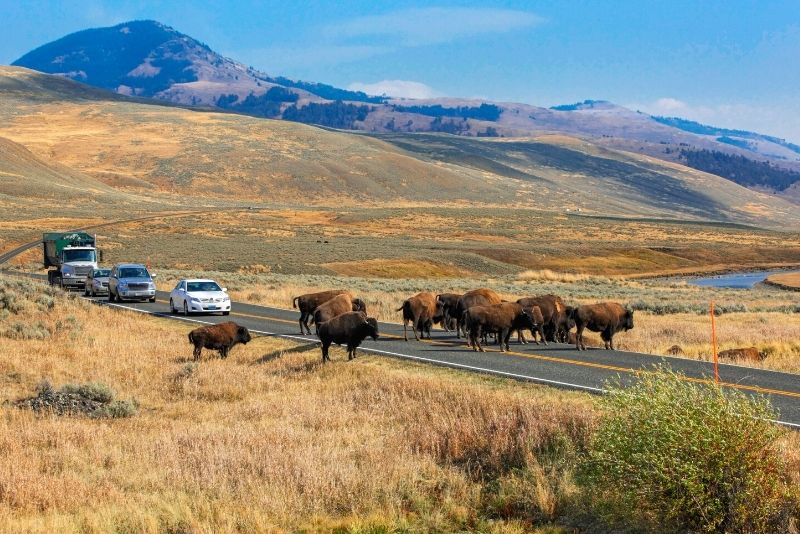 Found on the northeast side of the park in the Tower-Roosevelt Area, Lamar Valley is often referred to as part of "the Serengeti of North America" due to its abundance of wildlife.
Here you can see everything from grizzlies and wolves to bison and elk (not to mention hundreds of different bird species), making it one of the best places in Yellowstone — and the surrounding states — for animal watching.
Accessible via car year-round, as part of either an independent getaway or a guided, pre-organized tour, visitors flock from near and far to take advantage of the valley's unparalleled wildlife sightings. So, if you're looking for an adventure that will take your breath away, Lamar Valley is the place to go!
Hot tip: if possible, time your trip so that you can admire the wildlife in the early morning or late evening hours — avoiding the peak daytime sun, this is when the local furry residents are typically most active.
25 – Go boating and fishing on Yellowstone Lake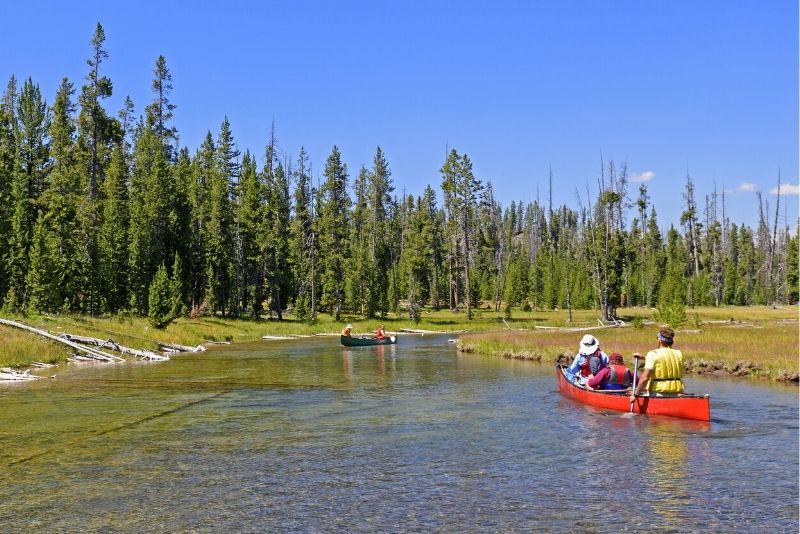 One of the largest lakes in North America, Yellowstone Lake is a dream destination for those who love to fish or boat. The lake is home to an impressive variety of freshwater fish, including cutthroat, brown and rainbow trout, and whitefish, making it perfect for both novice and experienced anglers alike.
What's more, thanks to its size (the lake stretches 136 square miles with 110 miles of shoreline) there are plenty of secluded coves and bays where you can spend a peaceful day out on the water without ever feeling crowded.
So grab your rod and reel or pack up the family kayak and set off for some unforgettable memories on Yellowstone Lake!
If you don't have your own vessel, fret not! Over at the Bridge Bay Marina on Yellowstone Lake's northern shoreline, Yellowstone National Park Lodges provides both boat rentals and guided boat trips if you feel like letting someone else handle all the driving.
Or, if you're on the hunt for a canoeing or kayaking adventure, a plethora of tour companies in the area can sort you out.
26 – Appreciate the power of the Upper Geyser Basin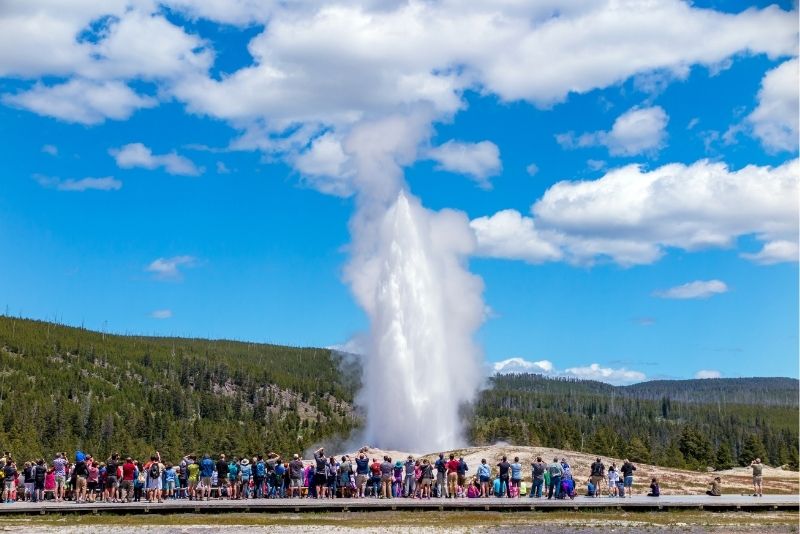 One of the most trafficked areas in all of Yellowstone National Park (for good reason), Upper Geyser Basin is home to geysers and hot springs galore.
Here you'll find Old Faithful (the park's most famous geyser), as well as scores of other bubbling wonders waiting to be explored — the Castle Geyser, Morning Glory Pool, and Black Sand Basin each make for non-negotiable viewing.
What's more, thanks to the easy-to-follow boardwalks that crisscross the area, visitors of all ages and abilities can enjoy marveling at these natural attractions without having to worry about getting too close. So if you're looking for an enjoyable (and educational) family outing, a visit to Upper Geyser Basin is a must!
Looking to stretch the legs? Totaling just shy of five miles, the Upper Geyser Basin and Old Faithful Observation Point Loop trail ticks off over a dozen essential natural landmarks, with bison grazing at different points along the way too.
27 – See an array of volcanic formations on the Fountain Paint Pot Trail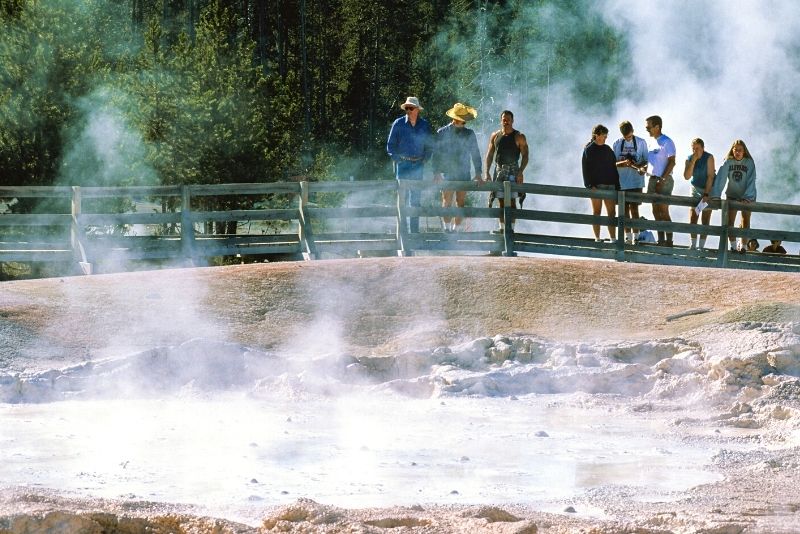 About 10 miles north of Old Faithful (yet still part of Lower Geyser Basin), close to Firehole Lake and the Deep Blue Geyser, the Fountain Paint Pot Trail is a relatively easy 0.75-mile hike that leads visitors along a relatively flat boardwalk through some of the most picturesque landscapes in the region.
Along the way, you'll see bubbling mud pots, steaming fumaroles, and — if you're lucky — erupting geysers too; needless to say, it's well worth packing your camera for this one!
Expect a bit of everything; While the Clepsydra Geyser, for example, erupts almost persistently yet nonchalantly, the Morning Geyser erupts rarely, but when it does, shoots skyward up to 200 feet!
What's more, as the name suggests, a colorful showcase of reds, yellows, and browns of the mud awaits.
So if you're looking for an easily accessible (and Instagrammable) hike during your time in Montana/Wyoming, be sure to add the Fountain Paint Pot Trail to your list of things to do in Yellowstone National Park
28 – Go swimming in the Boiling River
While it may sound like a line from Dante's Inferno, swimming in the Boiling River is a surreal (and refreshing) experience that's not only safe, but also not to be missed.
Located just north of Mammoth Hot Springs near the Montana-Wyoming state border and the north entrance of Yellowstone National Park, this geothermal wonder sees water temperatures hovering at swimmable levels (around 105 degrees) thanks to the confluence of large hot springs and the cool Gardner River — the hot and cold waters balance each other out, resulting in a nice, natural hot tub.
As expected, there's no shortage of friendly wildlife and chirping birds in the area to add a little extra serenity to the atmosphere.
29 – Swing like Tarzan on a zipline adventure!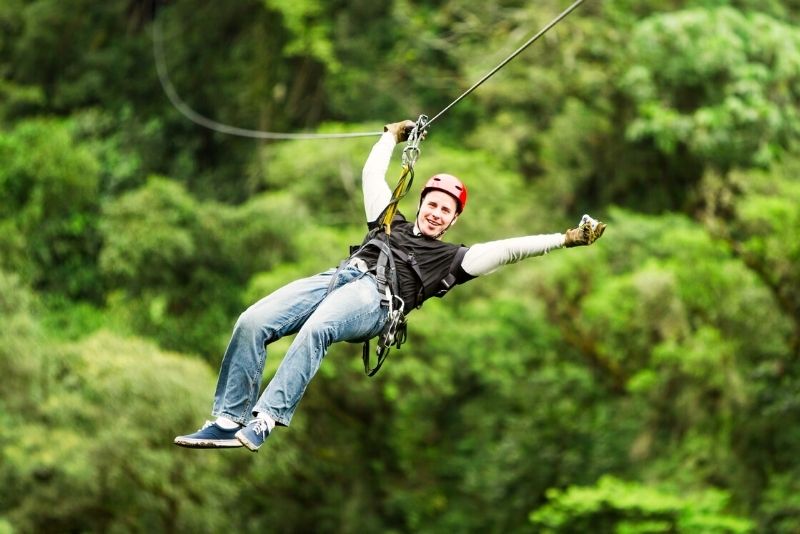 Whether you soar over the canopies of a lush forest, glide over an open meadow, or zip between multiple trees as part of a more comprehensive eco-tour, zip-lining provides an adrenaline rush like no other outdoor activity.
Throw in the unspoiled beauty of Yellowstone National Park as your backdrop, and you have a recipe for an unforgettable experience.
Several different companies offer zip-lining tours right inside the park boundaries (including some which depart from Gardiner) as well as just beyond the outskirts, so it's easy to find an excursion that fits both your schedule and thrill level.
Case in point: Yellowstone ZipLine — with these guys, adventurous kids, and adults alike can tackle over 6000 feet of Zip Lines, Rope Bridges, and Adventure Elements all in one adreniline-packed day.
And, if you're looking to take things to the next level, the company (as well as stacks more) give visitors the chance to add in horseback riding, whitewater rafting, or both!
30 – Go kayaking on Yellowstone Lake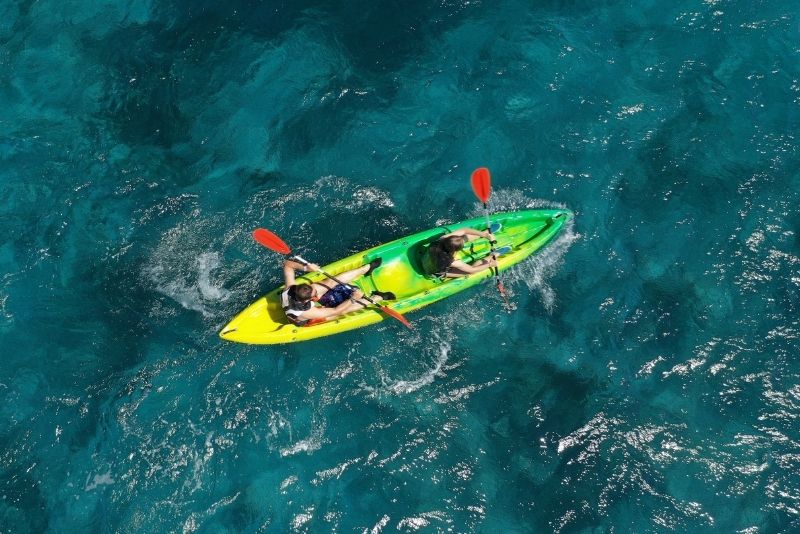 No visit to Yellowstone National Park is complete without at least one spin around Wyoming's largest lake (and the biggest freshwater lake in the country to sit above 7,000 feet!), and kayaking provides the perfect opportunity to get up close and personal with its shimmering surface and the diverse nature that call it home.
If you prefer seclusion, there are myriad places to launch your own kayak (or canoe) on the shores of Yellowstone Lake — some of the local favorites include Fishing Bridge RV Park, the Bridge Bay Marina (on the northwestern side), and Grant Village Campground in the West Thumb part of the park.
However, if you prefer to let a trained guide lead the way, who'll be delighted to share insights into the local flora and fauna, many companies offer kayaking trips on the lake; everything from half-day excursions to overnight camping trips!
Either way, be sure to keep an eye out for bald eagles, ospreys, bison, elk, deer, moose, and coyotes rustling through the foliage on the shores.
31 – Get in on the rodeo action!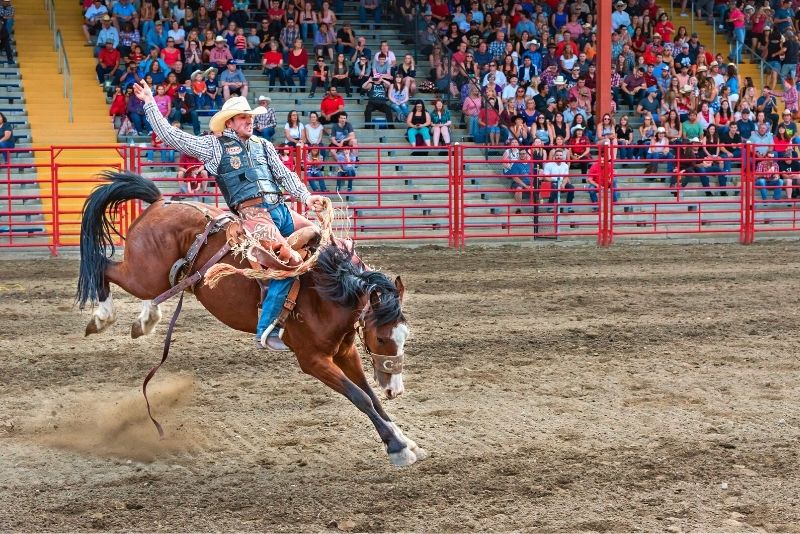 While it's certainly not the first activity that comes to mind when you consider the things to do in Yellowstone National Park, high-energy rodeo events offer an entertaining way to spend an evening under the stars.
Held at various locations throughout the park (including West Yellowstone, Gardiner, and Cody), rodeo competitions feature professional cowboys and cowgirls from all over vying for top honors in bull riding, barrel racing, steer wrestling, team roping, and more.
Wyoming is, after all, the rodeo capital of the West, so if you're looking for a genuine insight into the local culture, then folks, this is it.
If you don't mind a drive, stop into Cheyenne Frontier Days in Cheyenne in mid-July, the Largest Outdoor Rodeo in the World. Just east of Yellowstone, the town of Cody (often called the Rodeo Capital of the World) offers a regular Nite Rodeo during the summer.
Or, if you don't mind the three-hour drive, the award-winning Last Chance Stampede and Fair in Helena, Montana delivers rodeo events, music, and lip-smacking food well worth the journey.
32 – Spend a few hours fishing in the wilderness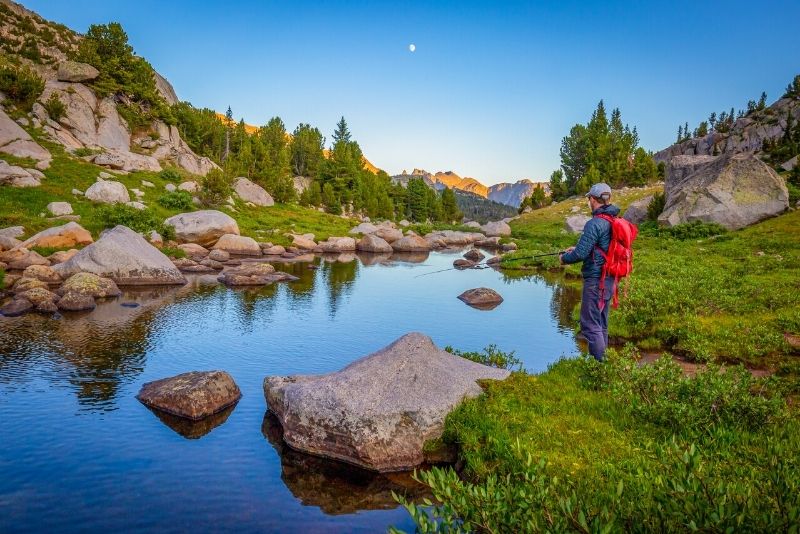 With 3,500 square miles of peaceful forests, mountains, lakes, and streams, it's no wonder that fishing is one of the most popular things to do in Yellowstone National Park.
The park is home to an abundance of trout (Rainbow, Brown, and Brook), bass, catfish, and more — so whether you're a seasoned pro or just starting out, there are plenty of opportunities for a great day on the water.
Fishing is allowed in all but two of the park's rivers and streams as well as many lakes, so finding a spot to wet your line is easy-peasy. And if you need some help getting started, stop by one of the visitor centers for information on licenses, permits, regulations, and more.
The fishing season typically begins on the last weekend in May and extends through the first Sunday in November, with necessary three-day permits starting at $40.
33 – Drive down the scenic John D. Rockefeller Jr. Memorial Parkway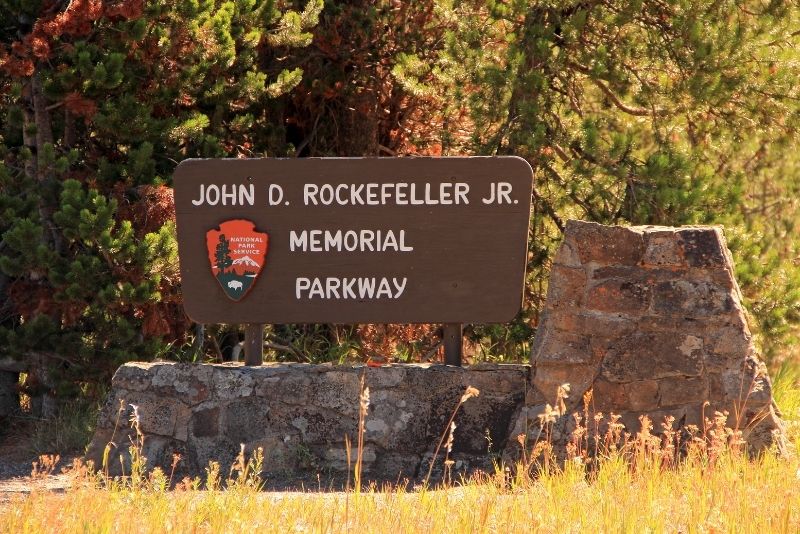 Bridging the gap between Yellowstone and Grand Teton National Park to the south (where you'll find over two hundred miles of diverse trails), the John D. Rockefeller Jr. Memorial Parkway is a beautiful drive (or bike ride) that entices nature-obsessed visitors year after year.
The scenic road meanders for just over 27 miles between the two parks, taking you past iconic geological formations like Mount Moran and the Grand Tetons as well as pristine mountain lakes and rushing rivers.
Contrary to popular belief though, the Parkway isn't just a road — it actually encompasses 24,000 acres of lush landscapes that are home to an exciting array abundance of wildlife, so keep your eyes peeled for the classics from the car window (elk, bighorn sheep, moose, bears, and the like).
If you're feeling energetic, there are plenty of opportunities for hiking and biking along the way, as well as rafting on the Snake River!
34 – Go camping. Just do it.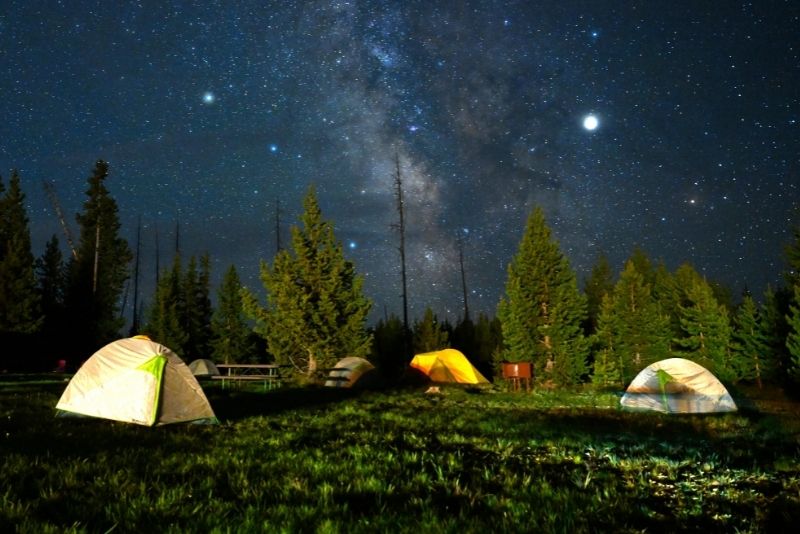 Zero light pollution? Check. Miles of hiking trails that lead to remote campsites? Check. The sounds of nothing but nature to sweep you away? You betcha!
Camping is one of the best ways to experience all that Yellowstone National Park has to offer, and with over 12 different campgrounds to choose from with over 2,000 sites (suitable for both tents and RVs), there's an option for everyone.
From primitive (and affordable!) camping in the backcountry to RV-friendly sites with all the amenities, you're sure to find a spot that feels like a home away from home.
Not sure where to set up camp? The Bridge Bay Campground is a popular choice — at an elevation of 7,800 feet, it dishes up splendid views of Yellowstone Lake and the Absaroka Mountain Range.
The Canyon Campground is within arm's reach of several hiking trails that traverse the Grand Canyon of the Yellowstone River; while the Fishing Bridge RV Park (for RVs only… because of the bears – no joke), includes water, sewer, and electrical hookups, making your stay a breeze.
Many of the campgrounds require a reservation (best to check online before you visit). And keep in mind that the only campground to remain open year-round is the Mammoth Campground.
The only downside? Once you've experienced camping in Yellowstone, it's pretty much impossible not to become a bit of a camper yourself…
35 – Spend a night stargazing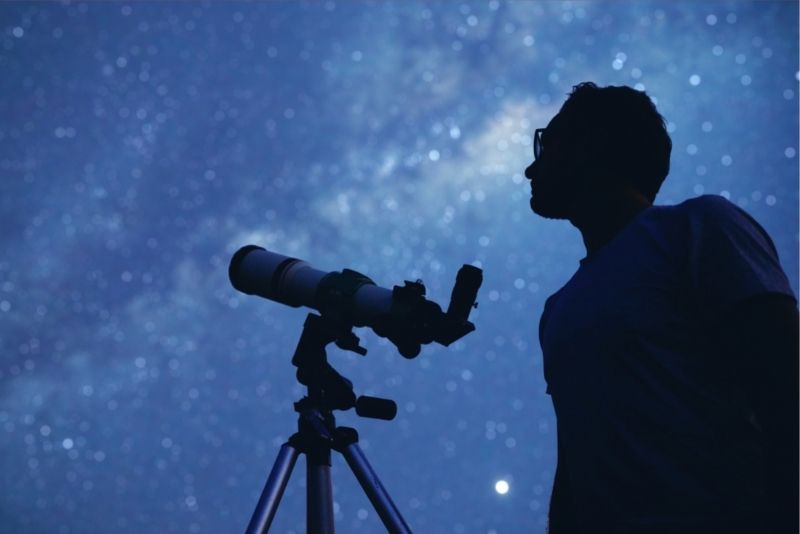 Lighting up the night sky with a dazzling show, the stars and planets create an overhead painting memorable enough to be the highlight of any visit to Yellowstone National Park. And thanks to the park's remote location and lack of light pollution, stargazing here is simply unbeatable (as well as being one of the top winter activities).
The best time for catching a glimpse of some of our closest neighbors? After dinner, when the crowds have thinned out and night has fully fallen. Pack up a blanket, some snacks, and your favorite hot beverage and find an open spot overlooking a picturesque landscape — you won't regret it!
You'll be hard-pressed to find any spot that doesn't delight with colorful Milky Way skies, however, diehard astrotourists tend to flock to the summit of Mount Washburn, the Upper Geyser Basin, and the wide plains of the Lamar and Hayden Valleys.
Things to do in Winter
36 – Try out cross-country skiing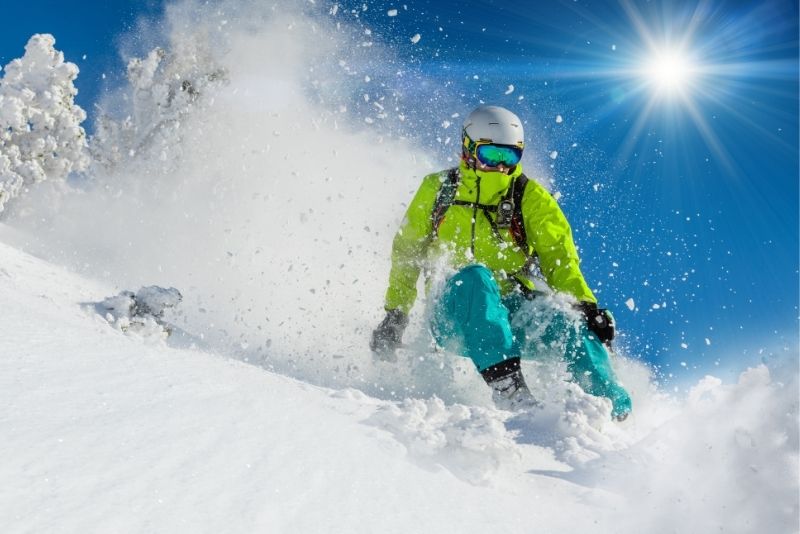 When the mercury cools and the peak-season tourists dissipate, Yellowstone National Park transforms into a winter wonderland ripe for exploration. One of the best ways to take advantage of the frosty season is by strapping on some skis and hitting the trails — after all, there's nothing quite like skiing through pristine forests and meadows blanketed in snow.
There are plenty of places to ski throughout Yellowstone (with hundreds of miles of groomed trails), but one of the most popular areas is at Mammoth Hot Springs. With shorter and longer cross-country routes, as well as slopes for tubing, this area has something for everyone.
For those looking to explore a bit further afield and hit the slopes with some downhill skiing (or snowboarding, if that's more your drift), head on over to the Jackson Hole Mountain Resort in Teton Village, just south of the park boundary; with 13 lifts and nearly 130 trails a vertical drop of over 4,000 feet, this resort is sure to please even the most seasoned skiers and riders.
37 – Strap on a pair of snowshoes and go off-road!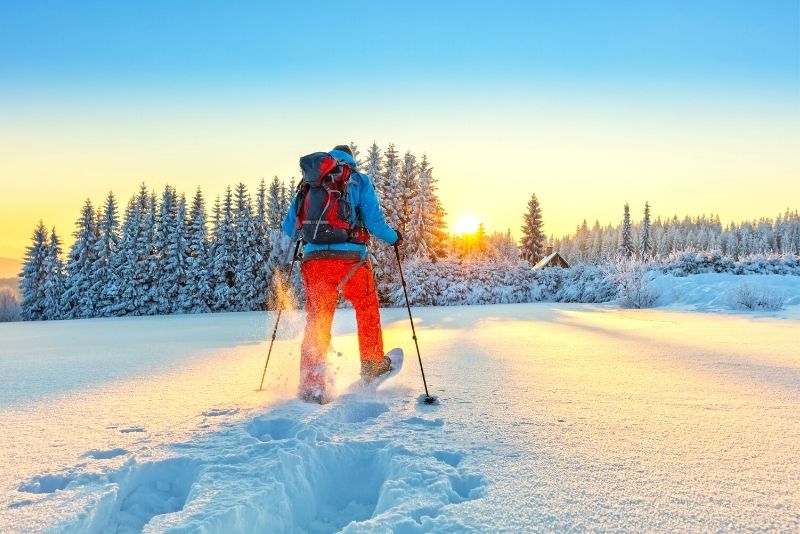 If skiing isn't your thing, or you're just looking for a different way to explore Yellowstone National Park in winter, why not try snowshoeing? Perfect for all levels of experience, this activity allows you to meander through forests and valleys blanketed in white without having to worry about keeping up with anyone else.
All you need are some good-quality snowshoes (rentals are available at many of the park's visitor centers) and some warm clothes, and you're ready to go!
The best way to experience snowshoeing in Yellowstone is by hitting the trails early in the morning before they've been packed down by other visitors.
Never tried snowshoes before? Fret not, because as experts say, If you can walk, you can snowshoe!
The easiest options include the 1-mile Old Canyon Bridge Ski Trail (near the Grand Canyon of the Yellowstone), the 1.5-mile Upper Terrace Loop (near Mammoth Hot Springs), and the 2-mile Observation Point Loop Snowshoe Trail (near Old Faithful) — just to name a few.
38 – Rev the engine of a snowmobile!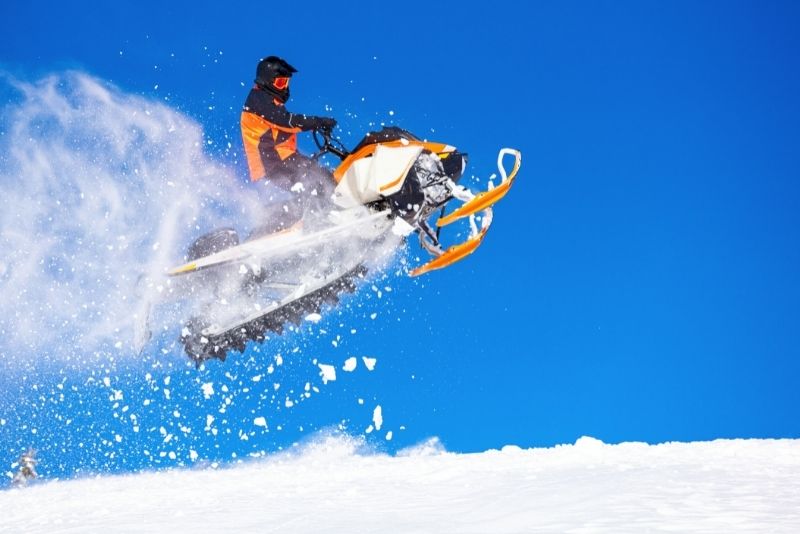 Thrillseekers, take note! If you're looking for a more adventurous way to explore Yellowstone National Park in winter, why not try snowmobiling?
A favorite amongst locals and visitors alike, this activity allows you to zip through the park's backcountry at speeds of up to 50 mph, whisking up fresh powder on the groomed trails and taking in the stunning winter landscapes all at once.
There are plenty of places to rent snowmobiles throughout Yellowstone, and guided tours (preferred for beginners) are also available for those looking for a bit more guidance.
Just be warned: snowmobiling can be addictive.
39 – Keep warm with a snow coach tour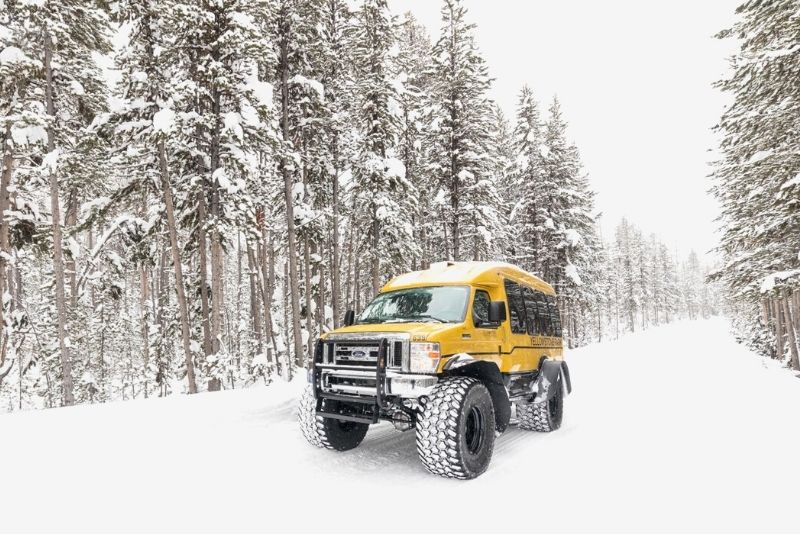 If you're not quite brave enough to take a snowmobile out into the park's backcountry, why not try a guided snow coach tour instead?
Available from many of Yellowstone National Park's visitor centers, these tours escort travelers to some of the park's most popular areas — which take on a very different yet just as beautiful persona during the colder months — all while being chauffeured around in a cozy (and warm!) coach.
Typically operating only between December and March, most tours last anywhere from two to four hours and cover enchanting destinations like Mammoth Hot Springs, Old Faithful Geyser Basin, the Grand Canyon of the Yellowstone, and more.
However, if you're raring to see other areas of the mark, tour companies are usually more than happy to curate a personalized itinerary for you (for the right price, of course).
40 – Brave the cold for some winter backcountry camping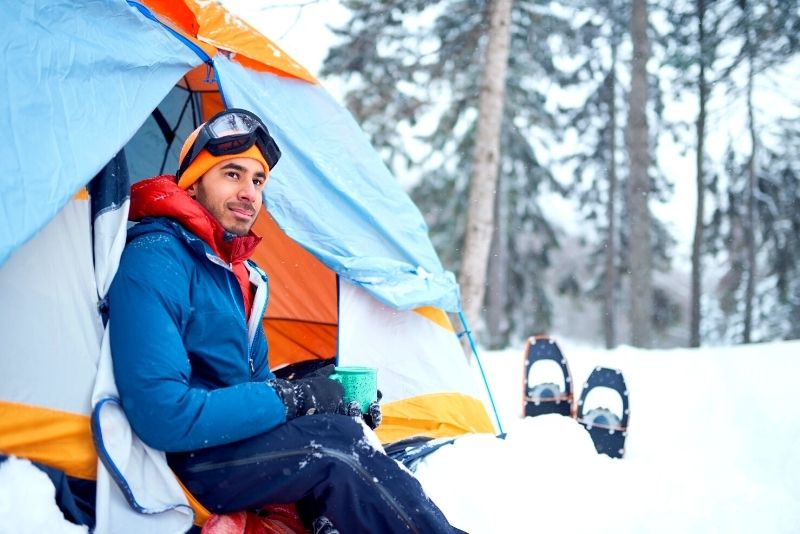 Camping, in the winter? Yep, you read that right! Backcountry camping in Yellowstone National Park is a wonderful way to get away from the crowds and really immerse yourself in the raw, unfiltered nature.
Just be sure to come prepared for cold weather conditions, as temperatures can drop to near-freezing temperatures. Although most of Yellowstone's campgrounds close in mid-September, Mammoth Campground remains open year-round.
But, if you prefer to stay in something a little more, well, insulated (we won't hold you accountable, don't worry), the Old Faithful Snow Lodge & Cabins in the Upper Geyser Basin remain open in the colder months, accessible via snow coach, and are a premier access point to snowshoeing and cross-country skiing trails.
How to get to Yellowstone National Park
Straddling the southern Montana border, with the bulk of the park covering Wyoming's northwestern corner, Yellowstone isn't exactly smack-bang in the middle of the hustle and bustle of tourist-centric USA. But that, right there, is exactly what makes it so special, so untouched, and such a bucket-list-worthy destination.
That said, there remain several ways to get to Yellowstone National Park, but the most common is by car. From Salt Lake City, the closest major urban hub, it's just under a five-hour drive to the park's West Entrance. Many Salt Lake City travelers choose to avoid all the hassle and driving by opting for a pre-organized tour instead.
If you're already in the area in Jackson, Wyoming, your best bet is to drive about an hour minutes up the I-119 north via Grand Teton Park to Yellowstone's southern entrance. You'll also find an array of exciting tours here too — popular among interstate travelers, all the transport and planning is taken care of for you.
Experience more of the area: combine Yellowstone with other awe-inspiring parks
Who says your trip should exclusively stay within the Yellowstone borders?
If you've made the journey over to this part of the world, it'd be a sin to overlook some of the other remarkable National Parks in the area. Grand Teton, for one, is 484 square miles full of towering granite mountains, exemplary hiking trails, and incredible ski slopes.
For the complete highlight package, a range of local-led tours departs from Jackson, Wyoming, which are well worth consideration (often saving you both time and money).
Which hotel should you choose?
If you don't feel like pitching a tent, a surprising number of hotels can be found all over the park that accommodates all manner of travelers, from luxury-seekers to those who are a little bit more budget-conscious.
Old Faithful Inn, for example, is one of the park's most iconic and historic hotels, built in 1903 and offering rustic lodge rooms as well as cabins (many with wood-burning fireplaces). It's also just steps away from Old Faithful Geyser.
For a contemporary feel – but without sacrificing that all-important sense of being in the middle of nature – try the Lake Yellowstone Hotel & Cabins, located on the shores of Yellowstone Lake with incredible views over the water and mountains beyond.
In the Mammoth Springs area, Mammoth Hot Springs & Cabins deliver all the basic amenities in a convenient location, while the Gray Wolf Inn & Suites are a popular spot for anyone using the park's West Entrance.
Final thoughts
Well, that's all for now, folks! We hope you've enjoyed our selection of things to do in Yellowstone National Park.
If you have any other must-see suggestions, feel free to let us know in the comments. And, as always, happy and safe travels!