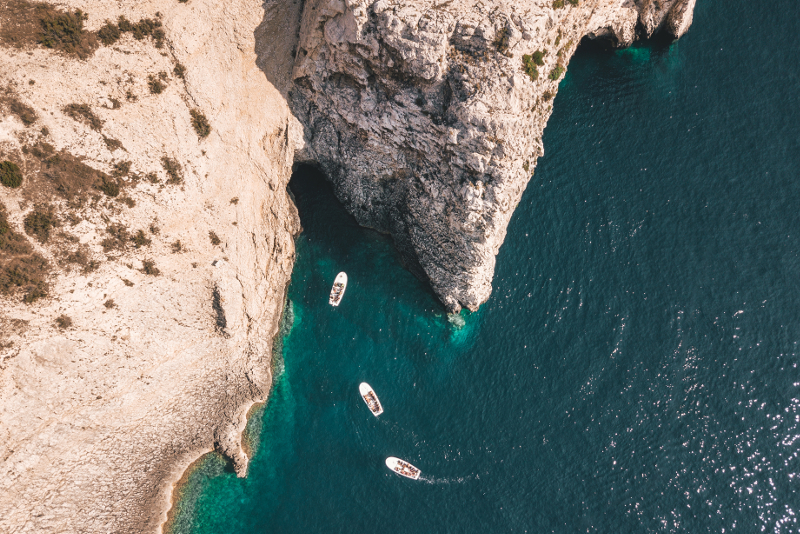 Do you want to leave the busy streets of Split for a day? The city is ideally situated, and the region offers many opportunities for thirsty travellers. If you are asking yourself where you should go, check out our selection of the best day trips from Split. Seaside cities, stunning waterfalls, paradise islands, you have a window of amazing destination to choose from.
1 – Pakleni Islands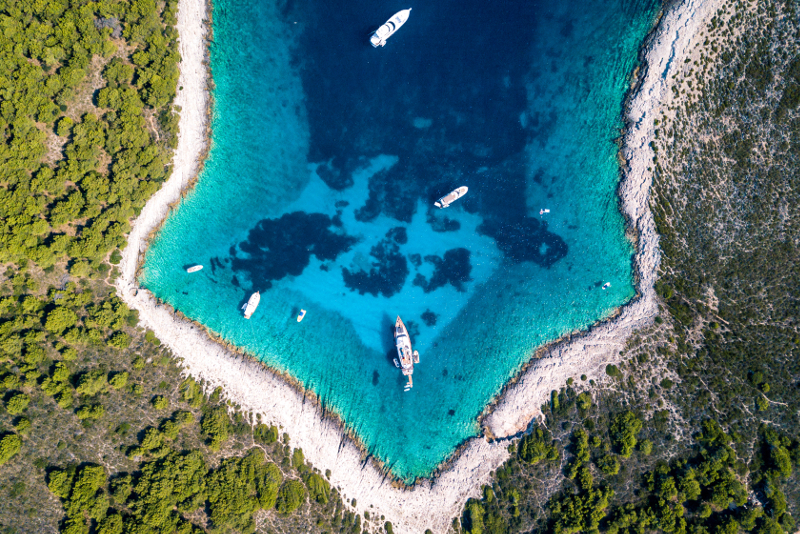 Pakleni Islands are a heavenly archipelago off the Dalmatian Coast. Hike across the islands' pine forests, Mediterranean vegetation, or explore secluded coves and beaches.
Only a short ferry ride away from town the Pakleni Islands are situated a few miles further off the coast, meaning it is super easy to reach on day trips from Split.
2 – Krka National Park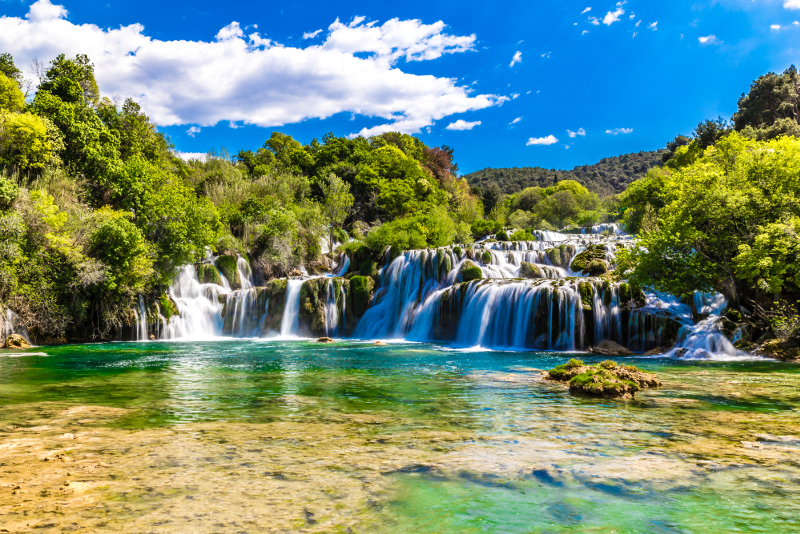 Take a breather from the busy streets of Split and leave for a peaceful time in Krka National Park. Find an excellent site for hiking or enjoying a boat cruise on Krka River.
The most impressive feature there is Kravinski Buk, magnificent waterfalls with luxurious vegetation all around. The park hosts a large variety of wildlife species.
Krka is a short drive away from Split and therefore, very accessible for a day.
3 – Kastela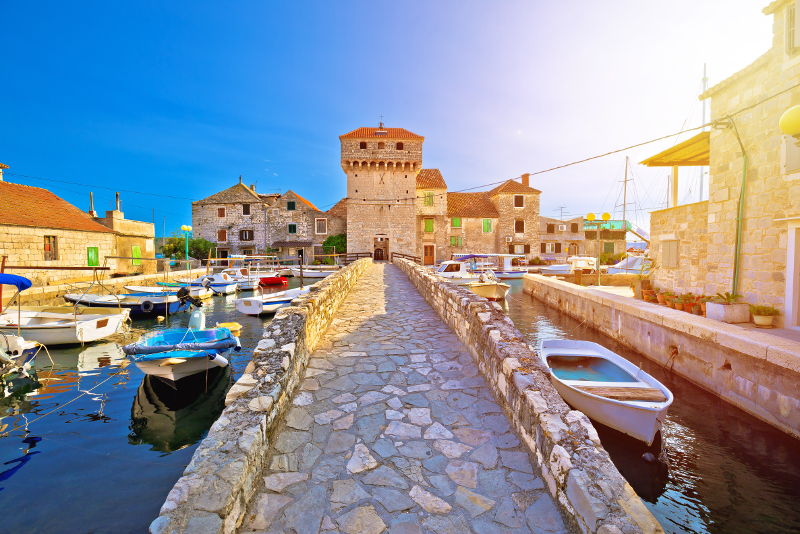 Along the coastline separating Split and Trogir to the West, you can find a series of fifteenth to sixteenth-century castle villages regrouped in one municipality, known as Kastela.
From a castle to another, enjoy bathing at one the picturesque beaches and relaxing in the peaceful atmosphere of these Dalmatian villages.
If you are looking for an accessible and lovely visit to start from, Kastela suits just fine.
4 – Vis Island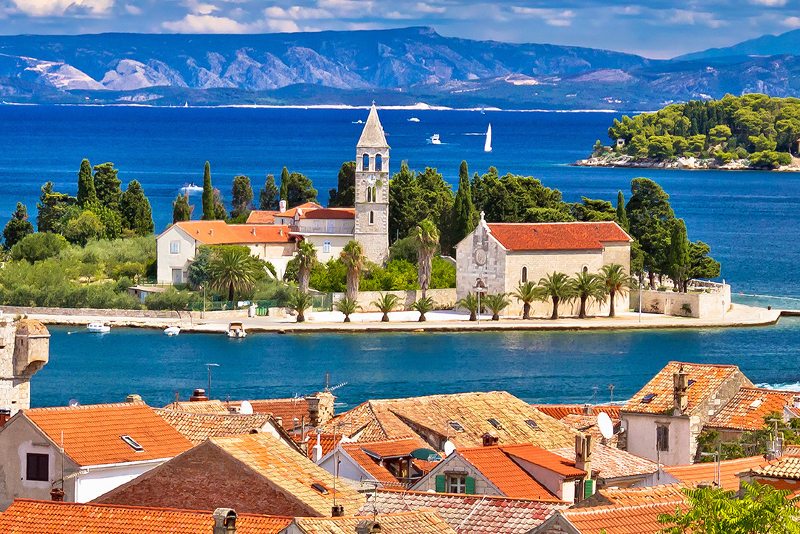 The furthest of the Adriatic gems, Vis Island is reachable in less than two hours from Split where ferry connections are frequent.
An Edenic landscape of golden beaches and majestic lighthouses, Vis will charm you in a way no other Croatian island can because the crowds have not made it there yet.
Vis Island is an excellent option for a natural and quiet day trip.
5 – Dubrovnik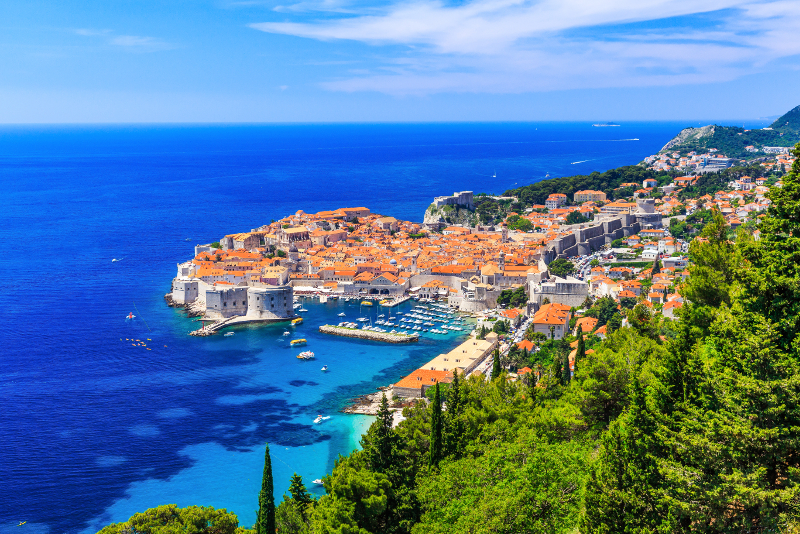 Day trips from Split to Dubrovnik are like a ticket back in time.
Some say that Dubrovnik is the most beautiful place on the Dalmatian Coast, or even in Croatia. It's up to you to tour the fortified city from Split and confirm that stance.
The orange-tile roofs contrast with the blue of the Adriatic Sea. Every detail of each place, church and street is colourful and refined.
The city's renowned Venetian architecture hosted the filming of the show Game of Thrones. Check out GOT guided tours.
6 – Mostar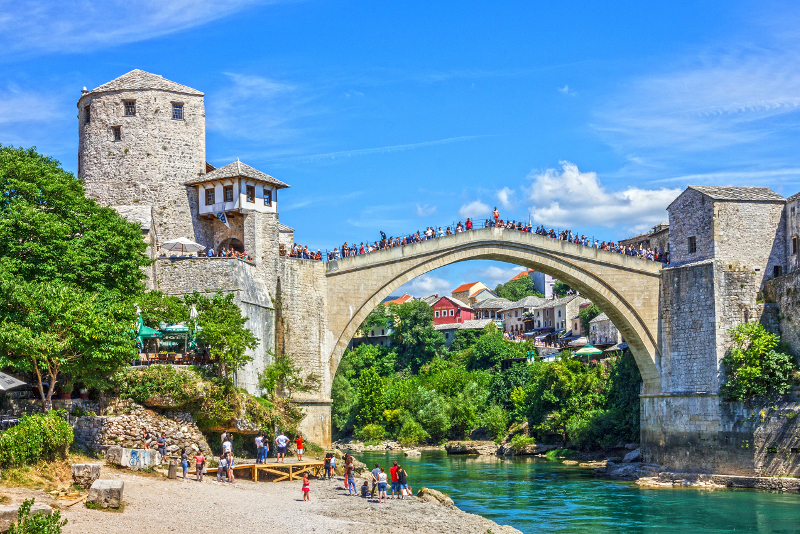 The Bosnian town of Mostar is a pearl. Not surprisingly, it features among the most visited places in the Balkans.
Stari Most bridge's architecture is an iconic view, but there is much more to do downtown than sightseeing. Mostar is a full cultural experience.
The Ottoman bazaar is a genuine piece of local culture. There, you can have a great shopping time and enjoy a delicious Turkish coffee.
7 – Blue Cave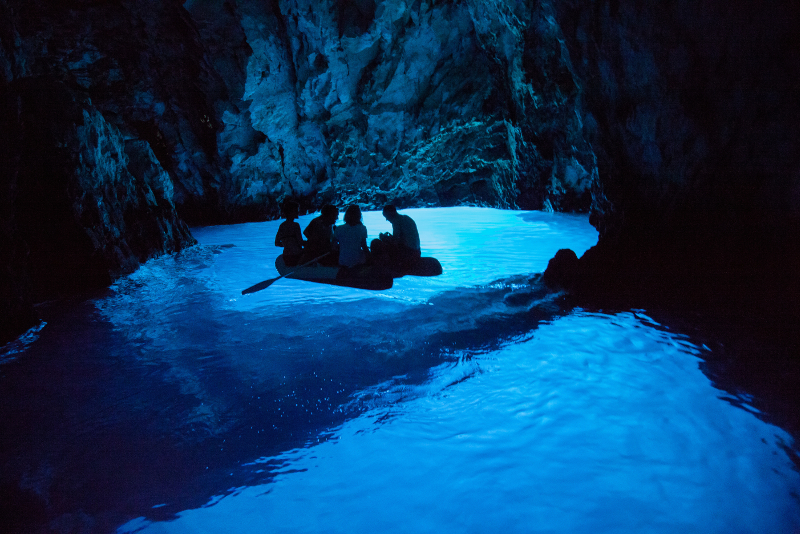 If you are into intriguing destinations and seaside adventures, Bisevo Island' eastern coast hides a jewel. Book a cruise to the Blue Cave for an unforgettable scene!
A formation in which the sunlight does not directly enter, the cave is entirely glowing from the reflections of the light-blue waters on the rocks.
If you're looking for something totally unique, day trips from Split to the Blue Cave be just what's needed.
For a full tour of the closest islands, don't miss nearby Vis and Hvar.
8 – Hvar Island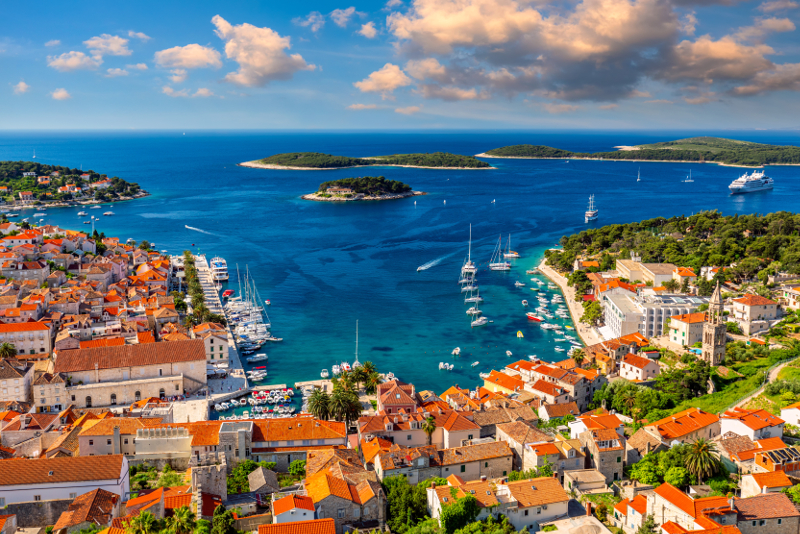 Hvar Island is one of the most beloved Dalmatian destinations because it combines natural scenery with the atmosphere and history of towns.
The town of Hvar is the largest one and the home of exceptional monuments, such as the gorgeous St Stefan Cathedral. The fortifications offer spectacular looks at Hvar's bay.
Accessible from Split, Hvar is an ideal option for an active trip. If you are looking for a sea excursion, try a sailing trip to Pakleni Islands.
9 – Trogir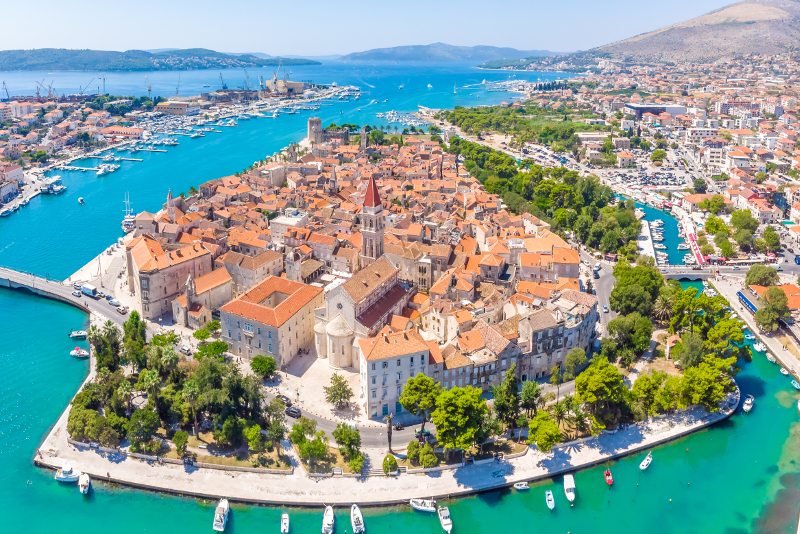 With a part of town built on the mainland and another isolated on Ciovo Island, Trogir is a treat for the eyes. The oldest buildings and especially the cathedral are architectural gems.
Trogir is about thirty kilometres from Split, and it is not far either from the ensemble of villages known as the Kastela.
From there, you may also jump aboard a ferry to the nearest natural curiosity, the Blue Lagoon.
10 – Plitvice Lakes National Park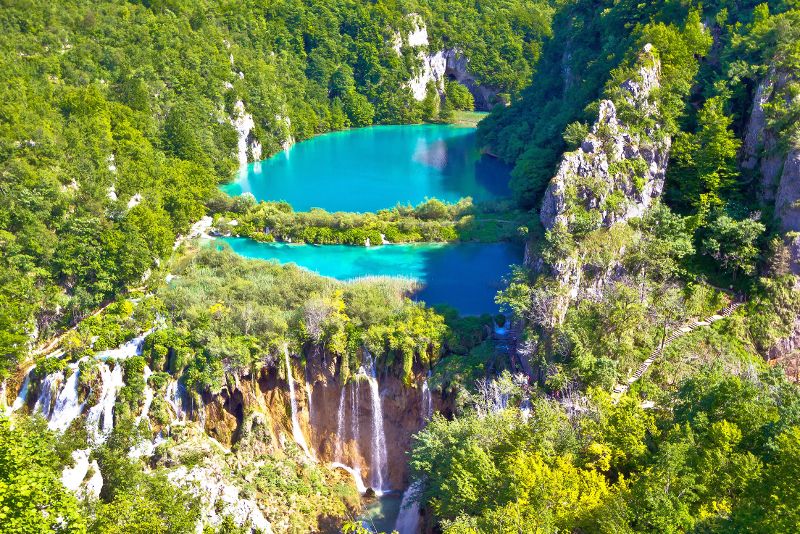 The size and attraction of Plitvice Lakes National Park make it the largest and most visited of its kind in Croatia. Nature lovers and adventure-seekers are welcome.
The sixteen Plitvice Lakes are great to hike around. However, you may prefer to boat across Lake Kozjak or contemplate the waterfalls at Veliki Slap.
It's up to you to enjoy the lakes to the fullest, but if you make it to this somewhat remote destination from Split, you are already guaranteed the best excursion!
11 – Korcula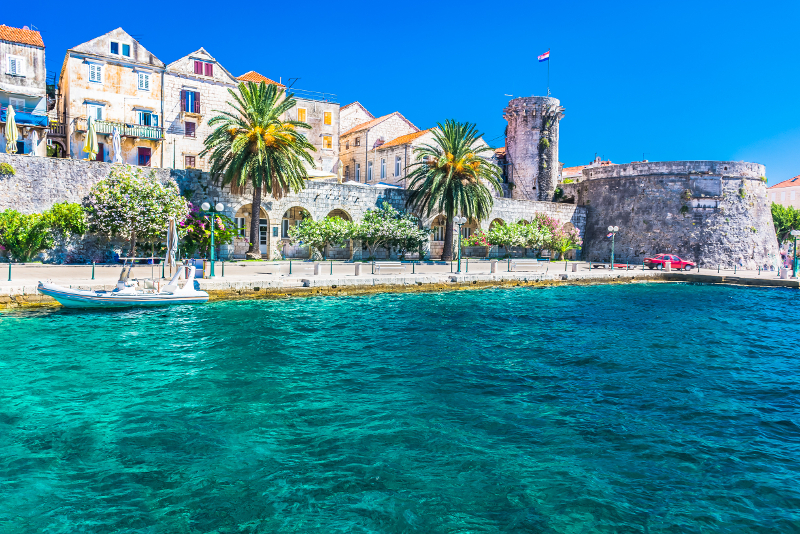 So reminiscent of the fortified Dubrovnik it is widely considered to be a miniature version of the Dalmatian city, Korcula town is a piece of architecture you cannot miss out when on Korcula Island.
The loveliest part of Korcula is the old town with narrow streets and fortifications built on a thin peninsula. From the walls, one may contemplate the blue sea all around.
12 – Brac Island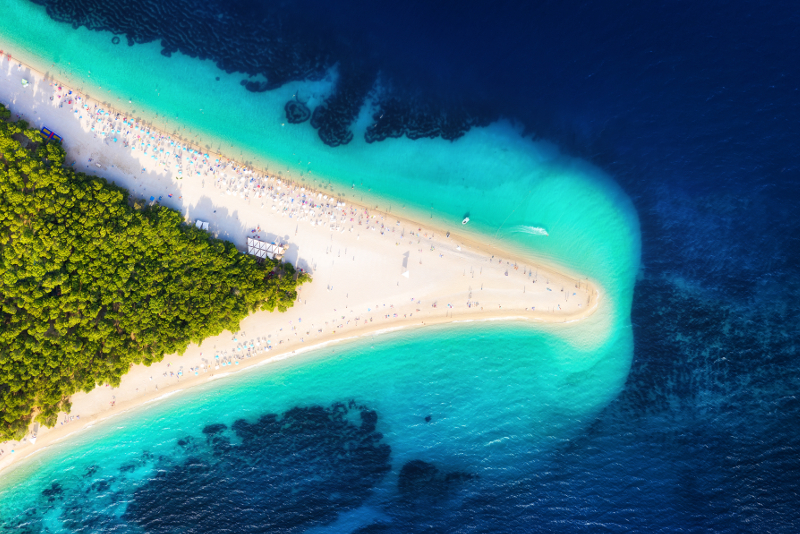 Part of what makes the attractiveness of Brac Island is the place's unique proximity with Split. Ferry and catamaran services connect Split well to the local towns of Bol and Supetar.
The local wonder is the Golden Horn, or Zlatni Rat beach, an arrow-shaped formation of sand. An excellent spot for sunbathing and water activities, especially scuba diving.
13 – Omis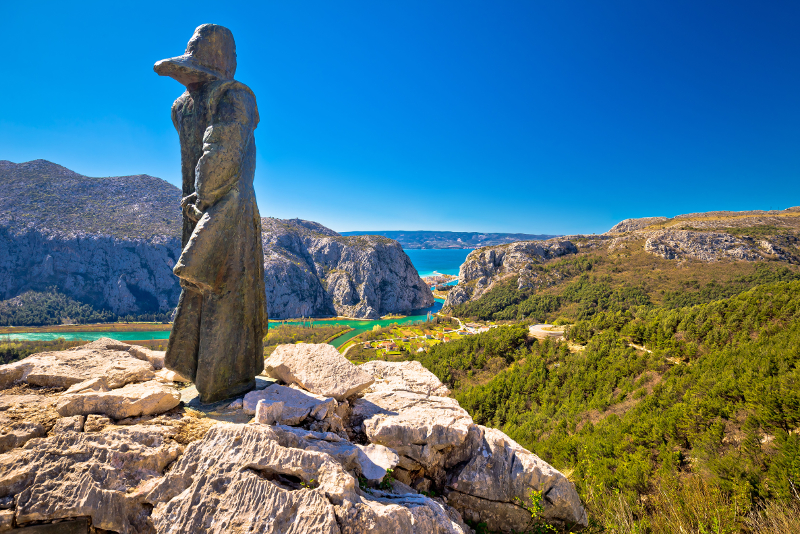 Thirty kilometres from Split lies the bay of Omis, a historical town with a reputation of being a starting point for outdoor adventures in Croatia.
Cetina River is a beloved destination among active travellers. Extreme activities include rock climbing, ziplining, kayaking and rafting.
Hike to the Stari Grad Fortress for a full view of the valley. For a relaxing moment, Omis has spectacular scenery with Fortress Peovica on its highs, and excellent cafés downtown.
14 – Sinj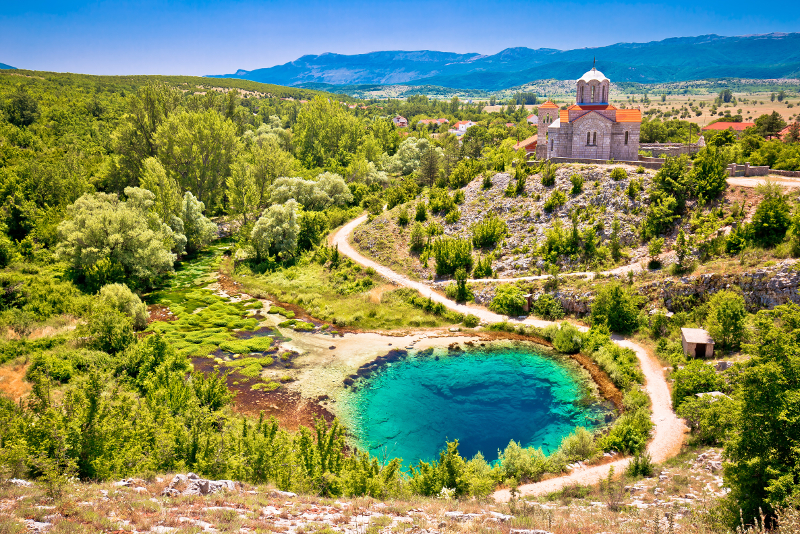 Experience something different than island cruising and discover the charm of the Croatian countryside. Sinj is a beautiful town located thirty kilometres north of Split.
Pick a less touristy town with remarkable monuments.
On your path to Sinj's hilltop church and the ruins of the old fortress, you will find a breathtaking view of the Cetina Valley.
For nature lovers, don't miss visiting the source of the Cetina river.
15 – Blue Lagoon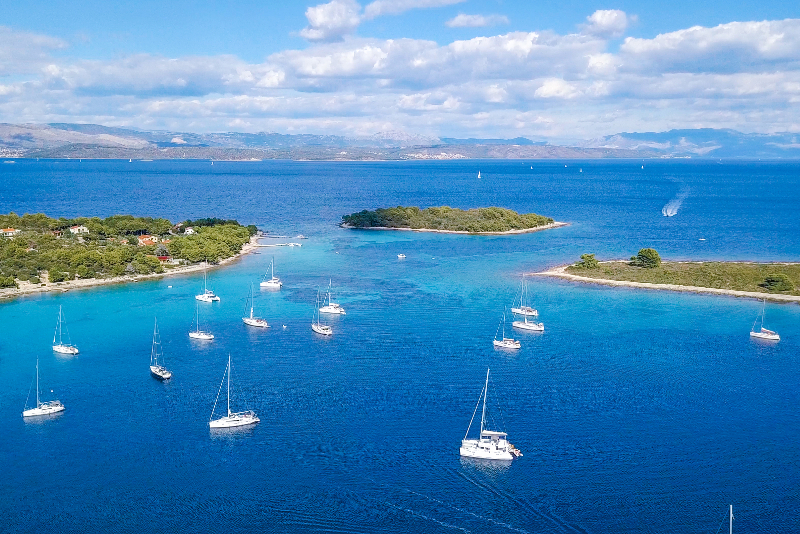 To reach this spectacular one, you need to travel to the small Drvenik Veli island situated just next to Trogir's shore and not far from Split's coast.
The main activities in the Blue Lagoon are swimming and snorkelling. You may be surprised by the variety of marine species living in these transparent waters.
There is hardly a more scenic landscape around, as the water contrasting turquoise and deep-blue colours are unseen anywhere else.
16 – Klis Fortress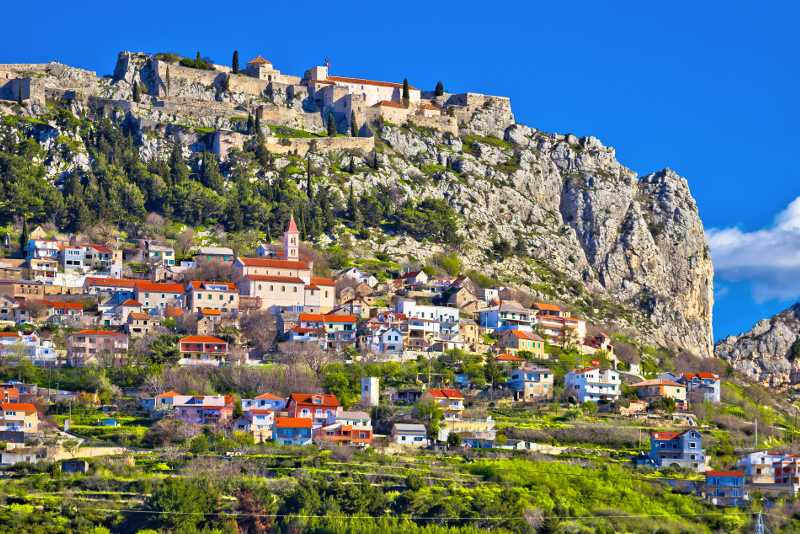 Built on a hilltop with a dominating view over Split's coast, Klis Fortress can be easily accessed as it requires a twenty minutes drive north from the city.
Fans, make sure to include Klis Fortress in your Game of Thrones tour!
The fortress makes an excellent start for a day trip. It is an uncrowded, highly scenic site that will give you fantastic views of the city and the area.
17 – Medjugorje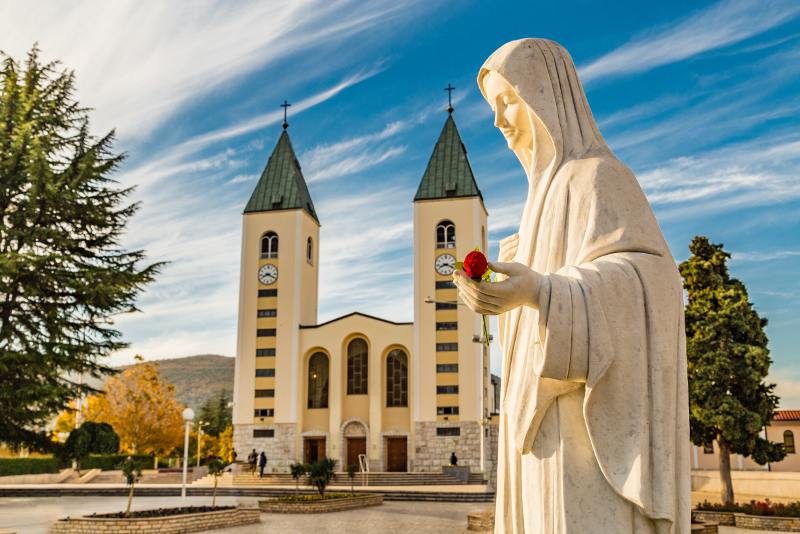 Once a humble village in the Herzegovinan countryside, Medjugorje is now a holy destination for millions of Catholic pilgrims from around Europe and the world.
Medjugorje is this religion's second-largest pilgrimage.
Experience Medjugorje if you are curious about the spiritual relevance of this charming village. You should walk up Apparition Hill, the place from which it originally started.
18 – Pocitelj Castle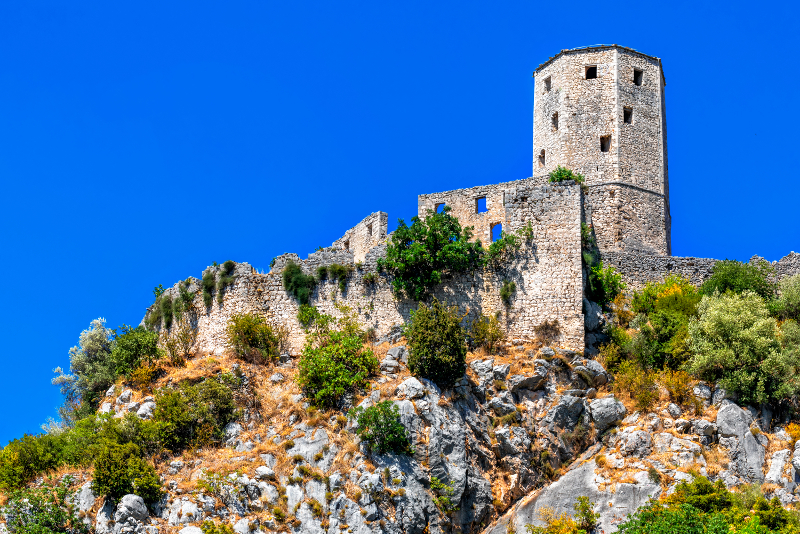 The walls of Pocitelj Castle dominate a curve of the Neretva River, giving you a full view of the Bosnian countryside and the opportunity to learn about the region's history.
The whole village has a remarkable Ottoman architecture that justifies it featuring among the UNESCO world heritage list. The oriental feel makes Pocitelj a charming place.
19 – Solta Island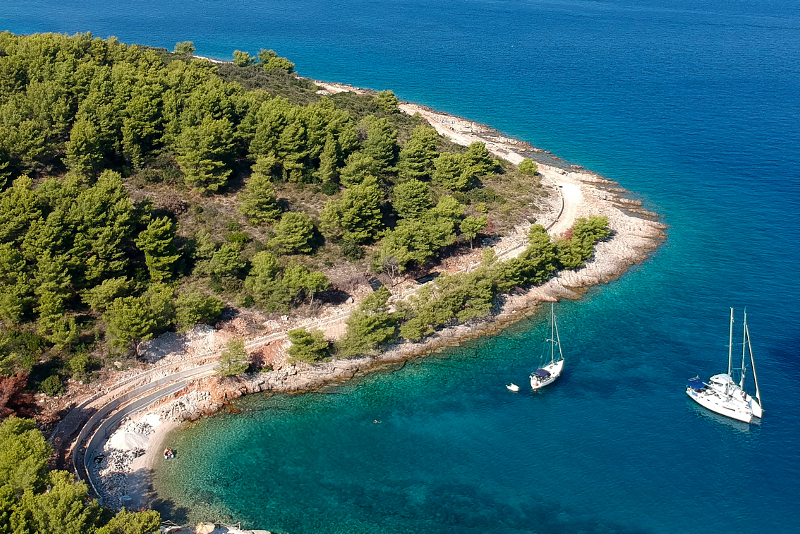 Much like Vis, Solta Island shines by the combination of good accessibility from Split and somewhat untouched beauty.
The interior of the island is green, and the Adriatic Sea coastline is splendid. Solta is a quiet destination with much natural appeal and has well-maintained biking trails.
The island is also an ideal culinary experience, with productions of olive oil and wine.
20 – Sibenik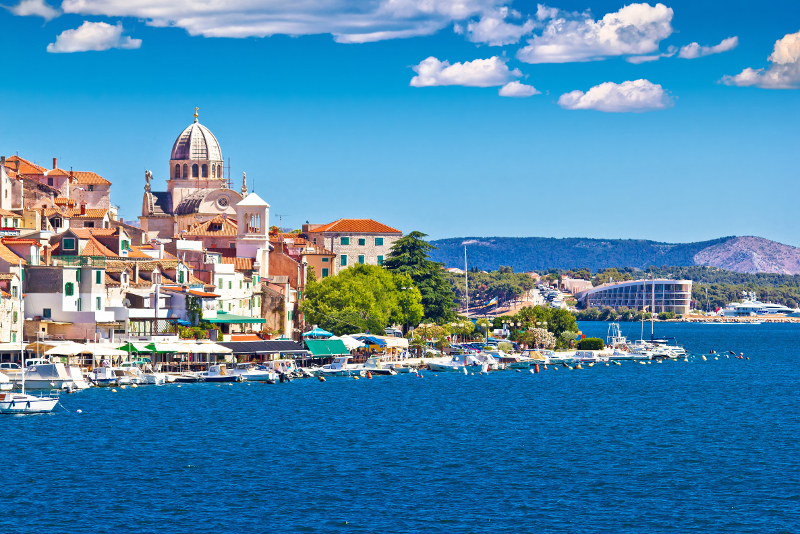 Situated on a beautiful coast about 80 kilometres from Split, Sibenik is a lovely town with an authentic feel to it. It is also has a spectacular Venetian old town.
Visit the fifteenth-century St James Cathedral on the hilltop or reach St Nicholas island fort at the bay entrance. For a refreshing break, try the largest aquapark in Dalmatia.
Sibenik is a small town that relieves you from the stress caused by touristic cities while providing many activities for the day.
21 – Zadar
A trip to the northern coast and Zadar requires a two-hour drive from Split. The city provides pure wonderment for its general architectural style.
Monuments are very contrasting, which explains itself by the city's impressive two-thousand years old timeline.
St Anastasia Cathedral's emphatic style, the Sea Organ melodic structure and the visit of the Roman ruins make discovering Zadar special.
22 – Kravice Waterfalls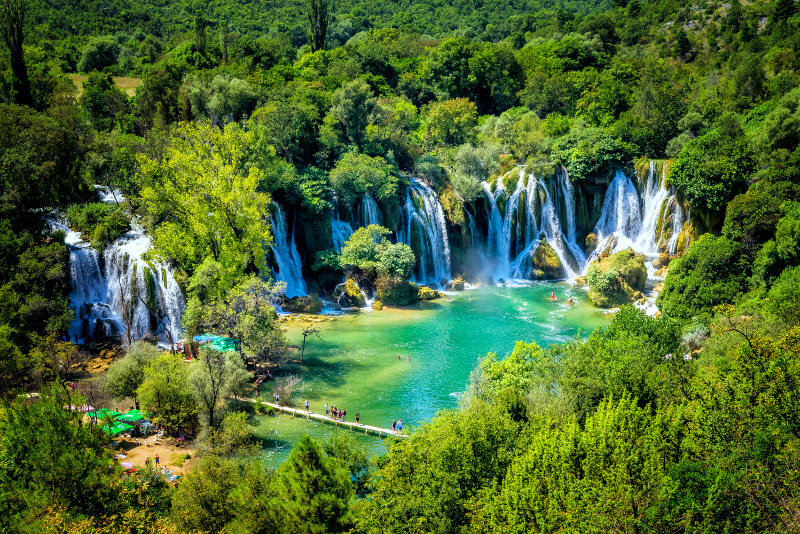 On your way to Medjugorje and Mostar, check out the spectacular scenery of these vertiginous falls surrounded by dense greenery.
Kravice Waterfalls are more than twenty-meters high, and they surprise those curious enough to stop by a less touristy destination.
The falls attract photographers and hikers craving for a refreshing bath.
23 – Blagaj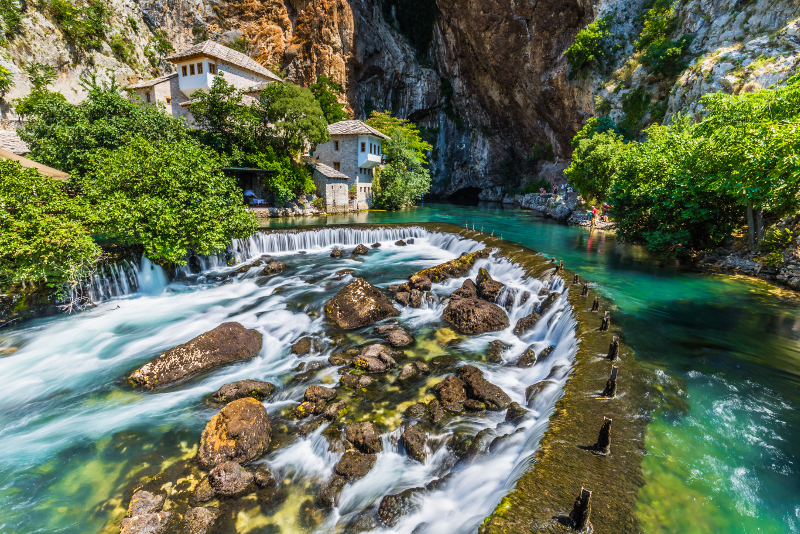 A peaceful village in Herzegovina, Blagaj hosts the spectacular Buna Springs where tumultuous green-blue water comes from underneath vertiginous cliffs.
Besides these natural marvels, you should experience the view from Blagaj Fortress and the mystical dances of the Tekija dervish house.
Blagaj remains an authentic and peaceful village with longtime spiritual traditions.
24 – Salona Ruins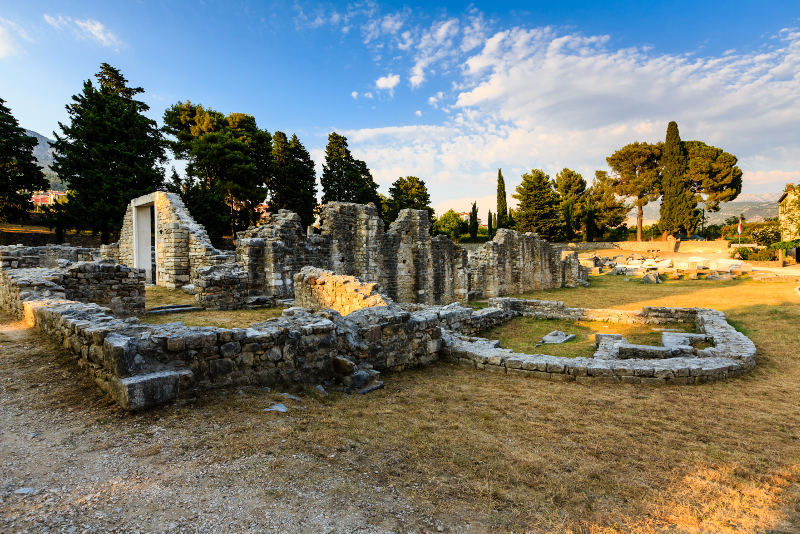 Today's town of Solin shares a historical bond with Split. There, you can find the Salona Ruins which are the remains of the area's liveliest city during the Roman era.
The baths and the amphitheatre are the main attractions. Complete a full Roman history tour by adding Split's Diocletian Palace to the visit.
At the city's doorstep, Solin's millenary heritage is an accessible and fascinating excursion.
25 – Kornati National Park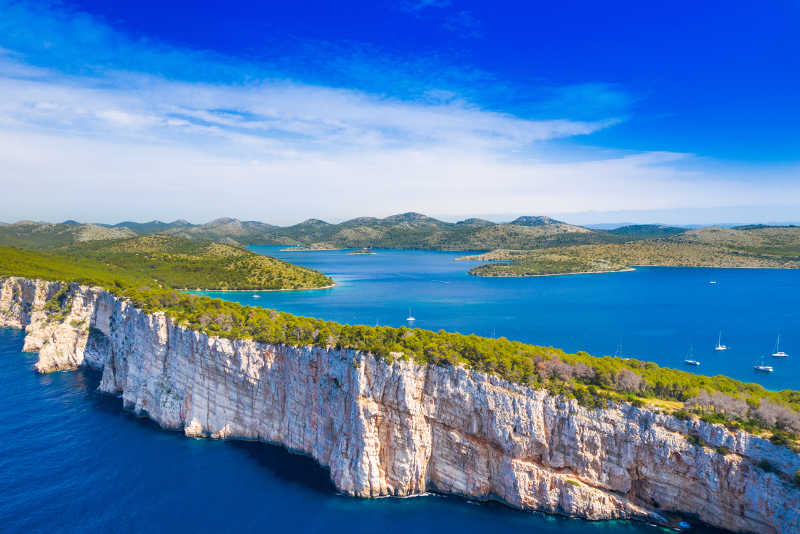 The Northern Kornati Archipelago reunites more than a hundred of Croatian isles. Many of them are part of the Kornati National Park.
The park is an untouched landscape of bare rocks and Mediterranean plants, high cliffs and hidden coves. Birds and marine life are abundant.
Things to do in the Kornati include hiking in spectacular scenery and sea activities like swimming and scuba diving.
26 – Sarajevo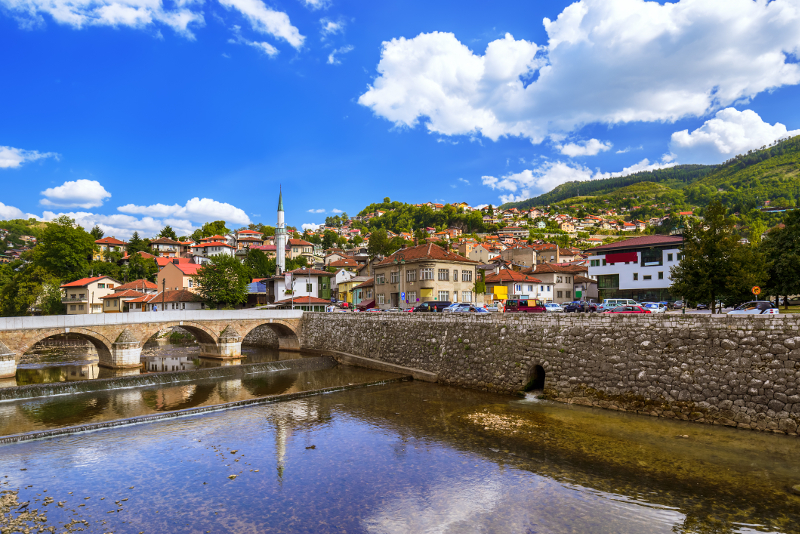 The capital of Bosnia has a rich history, and the city hosts exceptional monuments. Sarajevo welcomes travellers who want to discover and enjoy a cultural bath.
If you want to learn more about the scars of war, you can have your share of museums and remarkable visits like the Sarajevo Tunnel.
A magnificent city with a ton touristic appeal, Sarajevo makes an excellent day trip.
27 – Makarska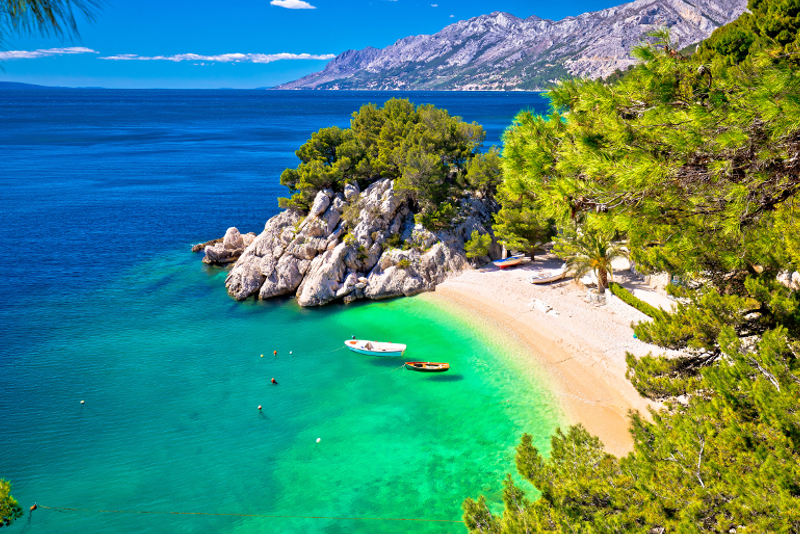 Between the highs of the Biokovo Mountains and the turquoise waters of the Adriatic Sea, the town of Makarska is ideally situated.
Enjoy shopping and lunch downtown, before hanging out on the sea promenade and relaxing on delightful sandy beaches.
Makarska Riviera's scenery is nothing short of majestic.
Hope you enjoyed this selection of day trips from Split. For more inspiration about Split, take a look at our list of 40 top things to do in Split!
Have fun!