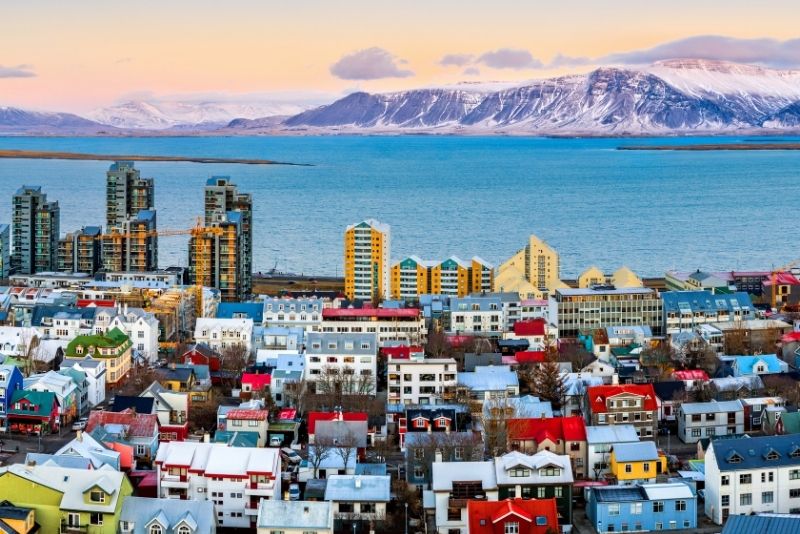 Once viewed primarily as a stopover destination en route from Europe to the US or vice versa, the Land of Fire and Ice has since established itself as one of, if not the most naturally ravishing nation in the Northern Hemisphere — scratch that, on the planet.
Reykjavík holds the title of the nation's largest city (and the northernmost capital city in the world), home to most of the country's population. However, it's common knowledge that Iceland's true beauty lies beyond the city limits — step outside colorful Reykjavík and you'll be greeted by dramatic coastlines, imposing glaciers, intimidating volcanos, striking beaches, and unobstructed views of the Aurora Borealis.
With all of the elements in play in such dramatic fashion that you will be dazzled at every turn.
And if you ever feel the need to go indoors, you can learn about the famous Viking settlers, or visit some remarkable museums.
Plus, you can have some utterly unique adventures, like walking (or diving) between two continents!
If you're an adventure lover or are transfixed by the beauty of Mother Nature, the collection of things to do in Iceland will astound you. Guaranteed.
1 – Walk around Reykjavík with a Viking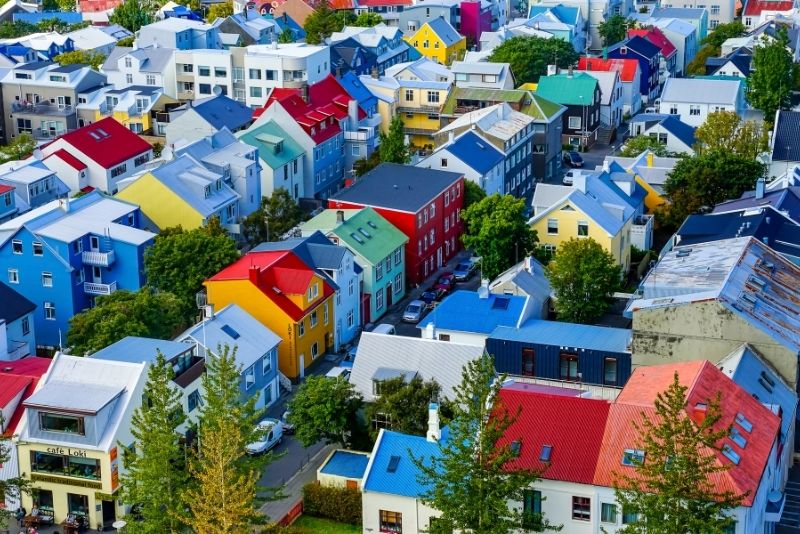 Led by a knowledgeable and friendly local, a guided small-group walking tour is a great way to learn all about the people, attractions, and way of life — not to mention Reykjavík's strong Viking influence — in the world's most northernmost capital city.
Combined with a collection of mythical traditions and fascinating tales of elves and trolls, it's an ideal option to get that first taste of Icelandic culture and history and stretch the legs after a long flight.
This is just one of the many adventures that you can undertake with a Reykjavik City Card.
Choose between 24-hour, 48-hour, or 72-hour options, and enjoy some of the finest cultural institutions in town, from the zoo and the bird-filled Videy Island to the city's many museums. It also provides access to several public pools around town, including the thermal hot springs where so many locals go to take a soak.
Check out our selection of things to do in Reykjavik.
2 – Stare into the volcanic Kerid Crater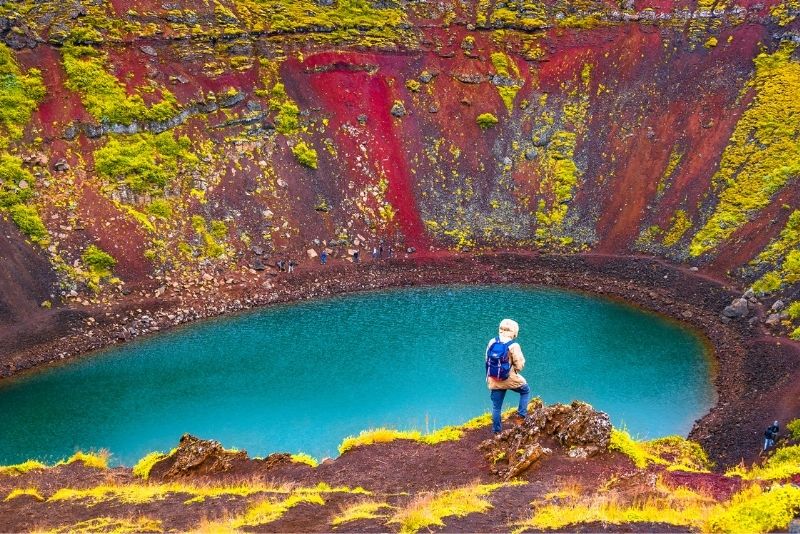 A crowd favorite that's becoming more popular with tourists by the minute, this 3,000-year-old volcanic crater lake sits on the southern side of the island on the coveted Golden Circle route (heads up, you'll be hearing a lot about the Golden Circle in this piece).
A range of pre-organized Kerid Crater tours operate from the city — depending on your time and budget, choose from trips that include stops at geysers, the Blue Lagoon, or a local farm!
3 – Take incredible photos at the Jökulsárlón Glacier Lagoon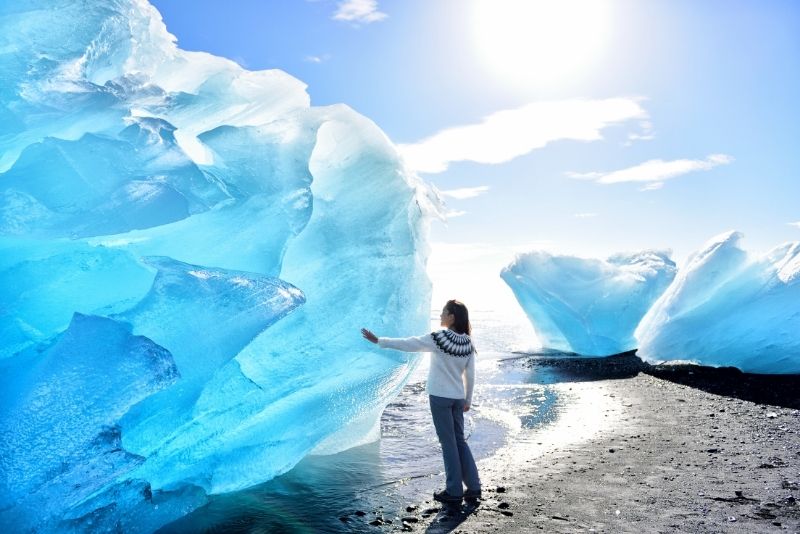 While the Blue Lagoon might get the bulk of the nation's lagoon-flavored attention, Jökulsárlón Glacier should not be overlooked; the waters might be far too icy to swim in, but the unobstructed views and pure nature is nothing short of extraordinary.
Not too far away you'll find the strip of black sand known as Diamond Beach — juxtaposed with the turquoise ice shards, it's a photographer's paradise.
4 – Soak in the steamy Blue Lagoon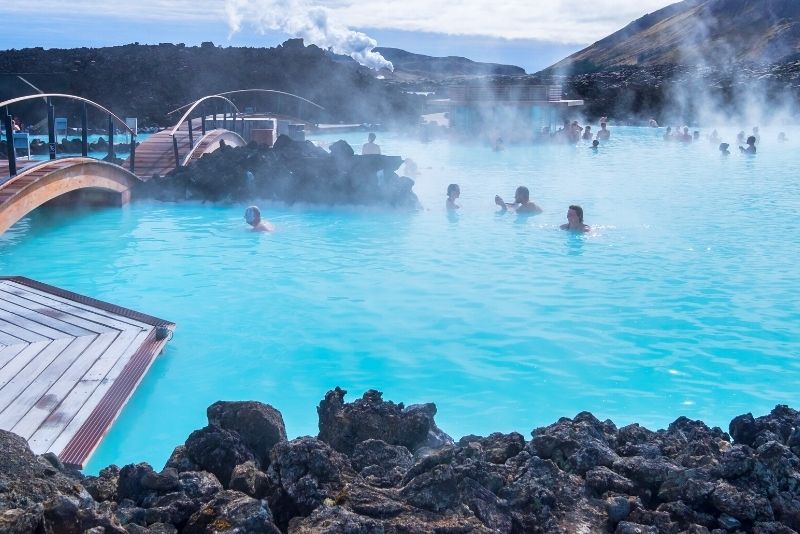 Arguably the most Instagrammed natural spa on the planet (although Budapest might have something to say about that), the geothermal hot spring that is the Blue Lagoon welcomes close to 1.3 million visitors per annum.
While a little pricey and sometimes a little crowded, it's simply one of the non-negotiable things to do in Iceland based on beauty alone.
Don't fret if you haven't got your own car; plenty of transport options are available from Reykjavik.
5 – Walk under the Skogafoss and Seljalandsfoss waterfalls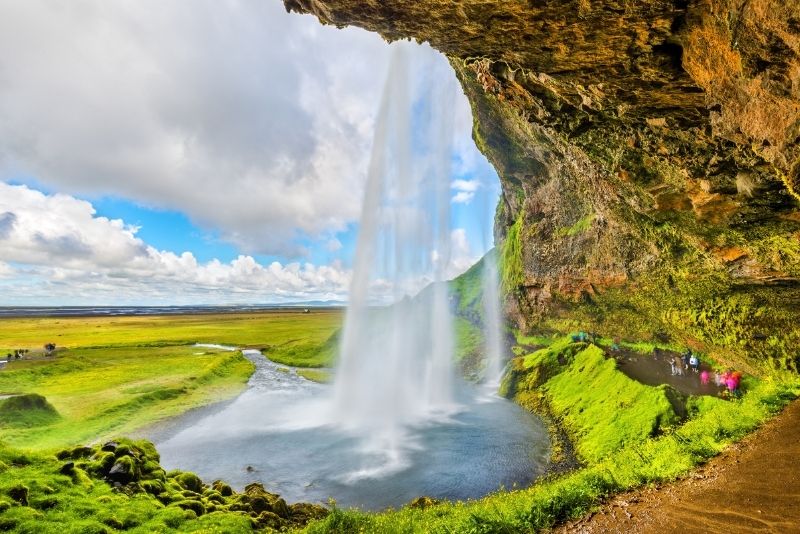 Iceland is far from lacking when it comes to noteworthy waterfalls, however, Skogafoss and Seljalandsfoss are certainly two of the island's most popular.
Seljalandsfoss, one of the main attractions on the South Coast, stands at a height of around 60 meters and is absolutely breathtaking. Walkways venture behind the waterfall but visitor beware: you'll get wet, so pack a raincoat!
Not to be forgotten, just a 25-minute drive away, lies Skogafoss, a 25-meter-wide must-see.
Both of these powerful falls can be seen on pre-arranged tours.
6 – Head underwater in the Silfra Fissure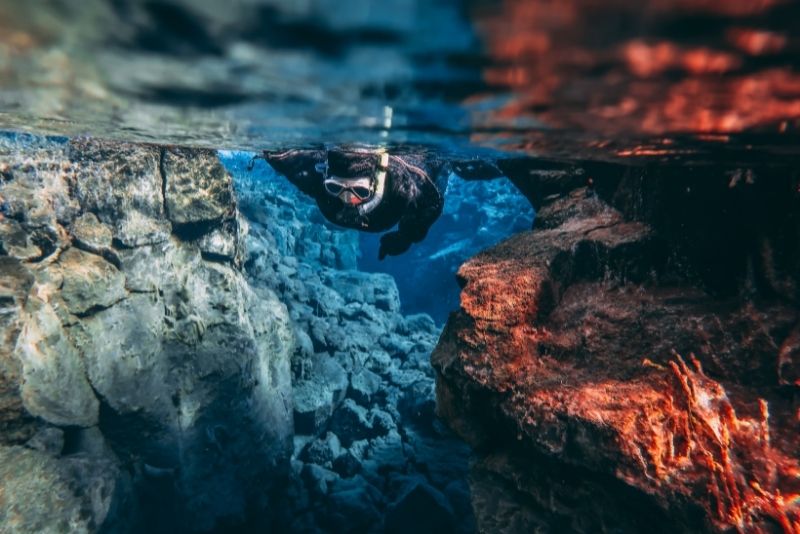 Found within the UNESCO-listed Thingvellir National park, the Silfra Fissure is world-famous among diving enthusiasts. Why? Because it's the only easily accessible place where you can dive between the North American and European tectonic plates.
The beauty and rarity of the area can be appreciated even if you're not a professional diver, thanks to a plethora of beginner snorkeling tours available too. But if you want to have a truly memorable adventure, try going deeper – literally – with some scuba diving.
As you descend into the strikingly crystalline water, you'll have the opportunity to explore some of the area's most distinctive rock formations, such as the breathtaking Silfra Cathedral.
And, of course, you'll be able to navigate the fissure itself, as the waters of two continents wash over you.
It's an utterly unique and profound experience!
Snorkeling tours also depart from Selfoss.
7 – Tick the Northern Lights off the bucket list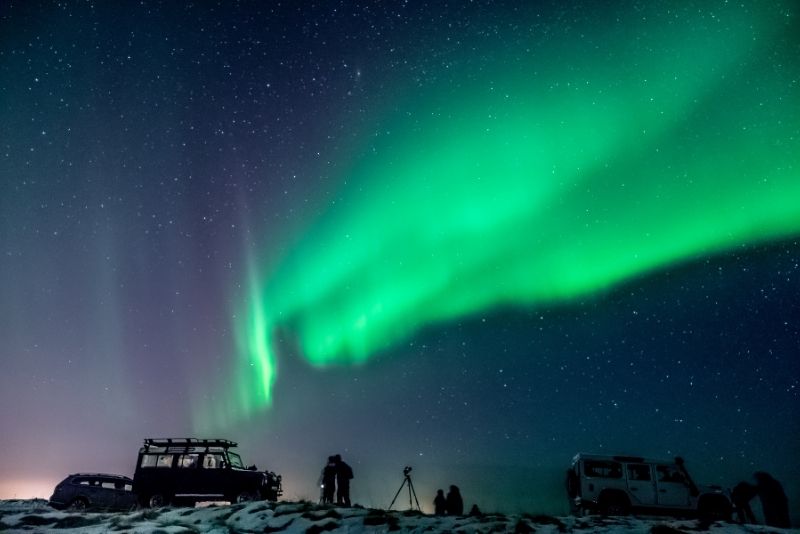 There's no excuse: viewing the Aurora Borealis is an essential northern hemisphere activity, and very few places can compete with the dazzling light show on display in Iceland.
With literally hundreds of aurora tour options — from 2-hour quick trips to combination itineraries to multi-night stays in tranquil cabins under the stars — choosing one should be at the top of your list of things to do in Iceland.
8 – Don't miss the Whales of Iceland Museum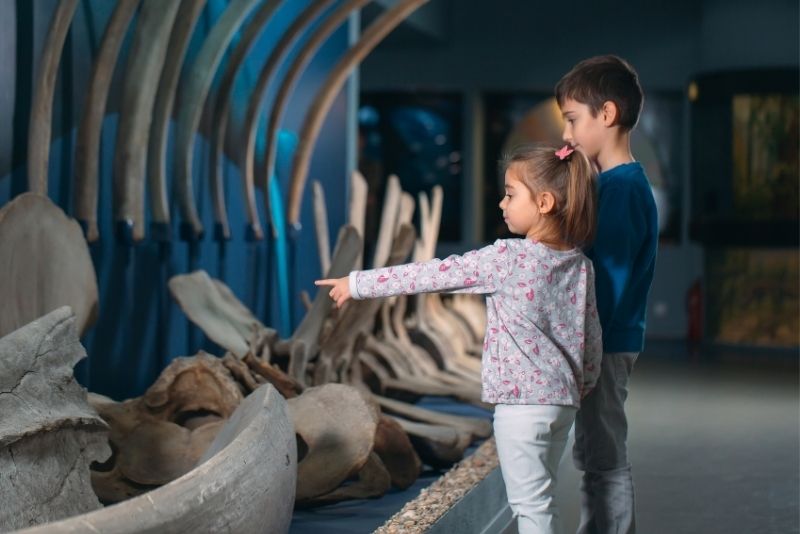 Dozens of species of whale frequent the unique Icelandic waters (but we'll dive into that a little later), and there's no better place to learn about them, their behaviors, and their ecosystem than the top-rated Whales of Iceland Museum.
Stare in awe at the 23 life-sized models that hang from the ceiling, take a short whale-watching cruise, and immerse yourself in Iceland's aquatic paradise at this family-friendly attraction.
9 – Get a taste of Iceland on Snæfellsnes Peninsula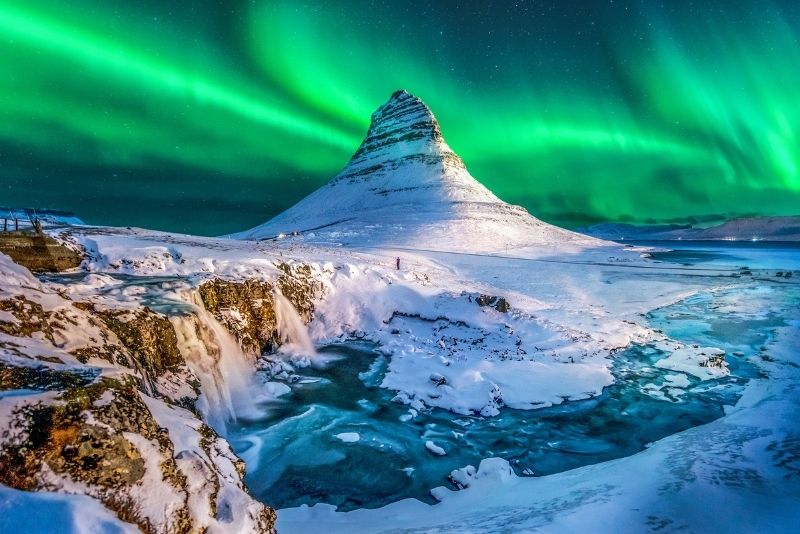 Stretching 55 miles into the Atlantic Ocean along the nation's western coast, the Snæfellsnes Peninsula is overflowing with an astoundingly diverse canvas of natural beauty.
What makes this spot so popular is its wider insight into many of Iceland's natural wonders — nested within this (comparatively) small piece of land are golden, pink, black, and white-sand beaches; the hikeable Mt. Kirkjufell, the Snæfellsjökull Volcano dominating the skyline, and plenty more.
It's not hard to see how this place got the nickname "Iceland in a nutshell".
10 – Climb the famous Hallgrimskirkja church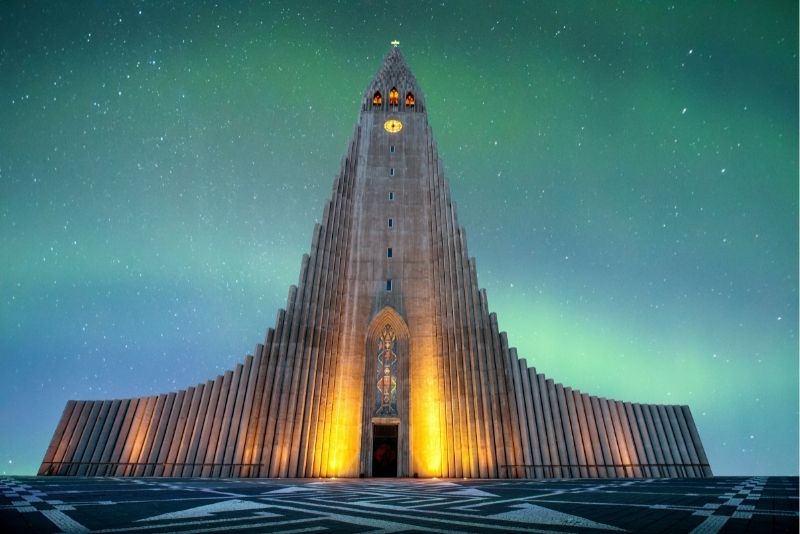 The Hallgrimskirkja is the largest church in Iceland, towering over Reykjavik and dishing up a wonderful 360° view that is unachievable anywhere else.
From the church's 73-meter-high observation area visitors can see all of Reykjavik and its surrounding mountains while getting the inside scoop on what religious life is like in Iceland today.
11 – See volcanic stalactites in the Raufarhólshellir lava tunnel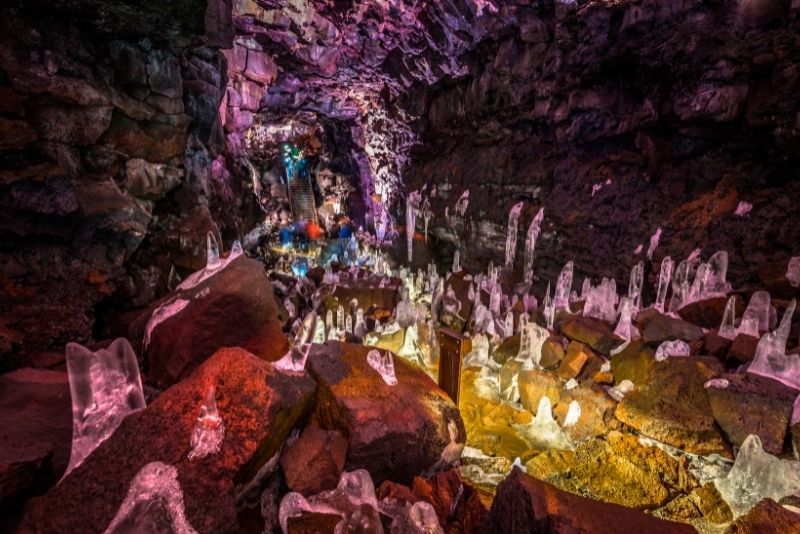 Conveniently located just 30 minutes from the main hotels and attractions in Reykjavik, the Raufarhólshellir tunnel provides adventure-adoring visitors the chance to explore what is one of the longest and most famous lava tubes in Iceland, stretching some 4500 feet long.
It's easily accessible year-round, with a range of small group and private tours departing from Reykjavik.
12 – Join a South Coast tour (seriously, do it)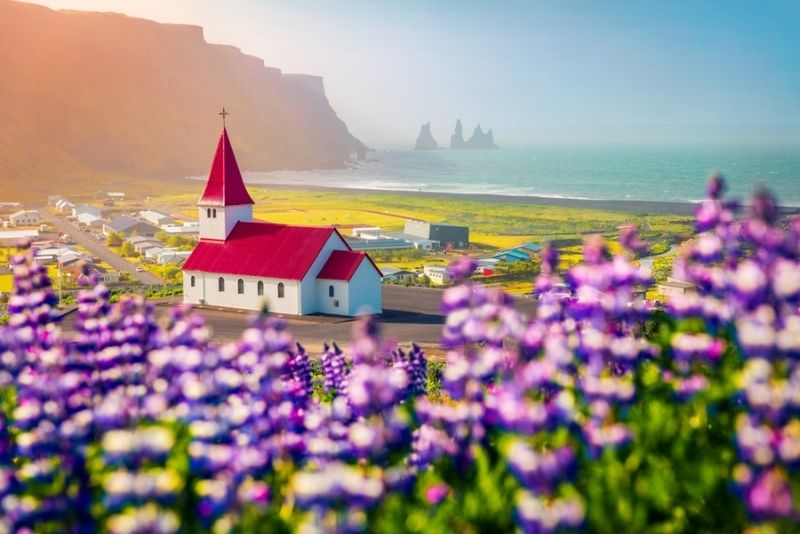 We'd be here till the cows came home if we listed every noteworthy attraction on Iceland's South Coast — for a sneak peek, the rugged landscape boasts cascading waterfalls, hikeable volcanoes, glacial hiking, whale-infested waters, black sand beaches, and lava fields.
Do yourself a favor: save yourself the time of planning and prioritizing. Simply book a South Coast day (or multi-day tour) and take the hassle off your vacation.
13 – Experience nature unlike ever before at the Perlan Museum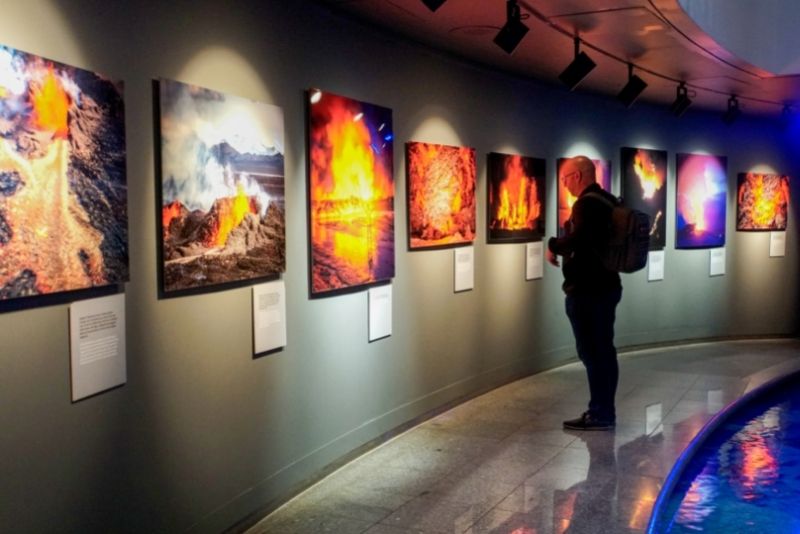 Housed in what once operated as a hot water tank, this underrated attraction was redesigned into a pearl-shaped museum in 1991 and has been wowing visitors ever since.
The museum not only houses a planetarium, plus a range of interactive exhibits — don't miss the simulated ice tunnel! — but also offers guests the opportunity to explore all the dazzling Icelandic landscapes with a 360-degree observation deck.
14 – Hop-on & Hop-off to explore Reykjavík the easy way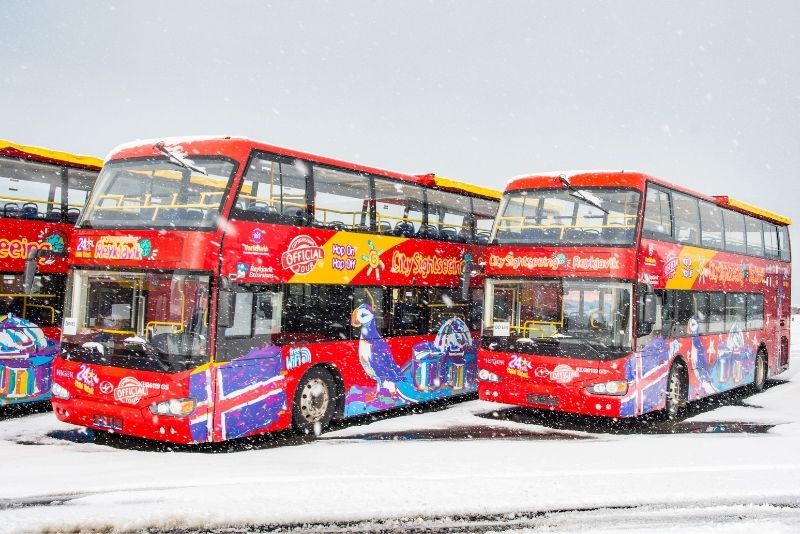 If time is of the essence (on a short layover, perhaps?), the best way to explore all of Reykjavík's postcard-worthy sites is with a 24- or 48-hour hop-on-hop-off bus tour!
This double-decker bus provides a tour to Reykjavík's popular landmarks — from Skarfabakki Harbor to the Whale Watching Center and everywhere in between — with no shortage of natural Icelandic beauty along the way.
With pre-recorded audio in 7 languages to help tourists understand the history and significance of every stop, it's the perfect introduction to the Land of Fire and Ice.
15 – Hike up the stunning Landmannalaugar Mountain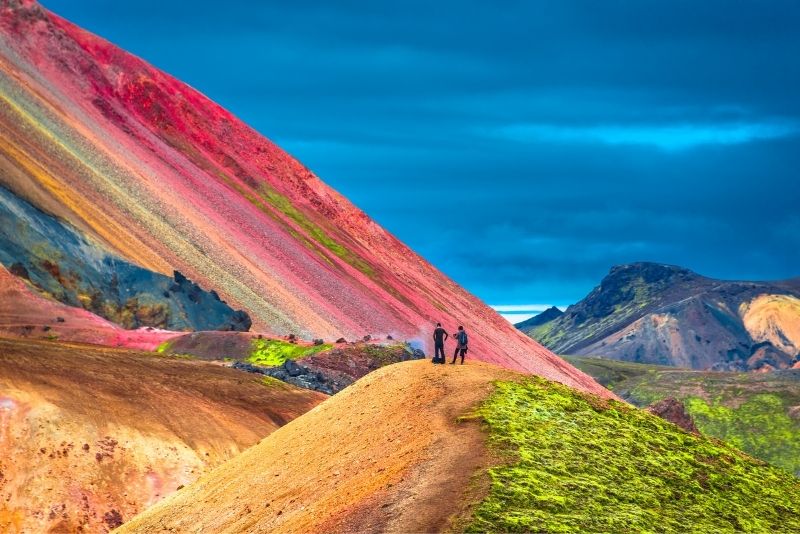 Landmannalaugar, found over in the gorgeous Fjallabak Nature Reserve, is quickly causing a stir among tourist circles: Its caramel-colored peaks juxtaposed with pure blue sky deliver one of the most jaw-dropping views in the area.
While hiking adventures up Landmannalaugar typically take about 4 hours, guests can also opt to spice up their tour and make it a multi-day adventure with a trip to the Hekla Volcano.
Either way, after the strenuous walk, there's nothing better than a soothing bath in the nearby geothermal hot springs.
16 – Find the unforgettable Reynisfjara black sand beach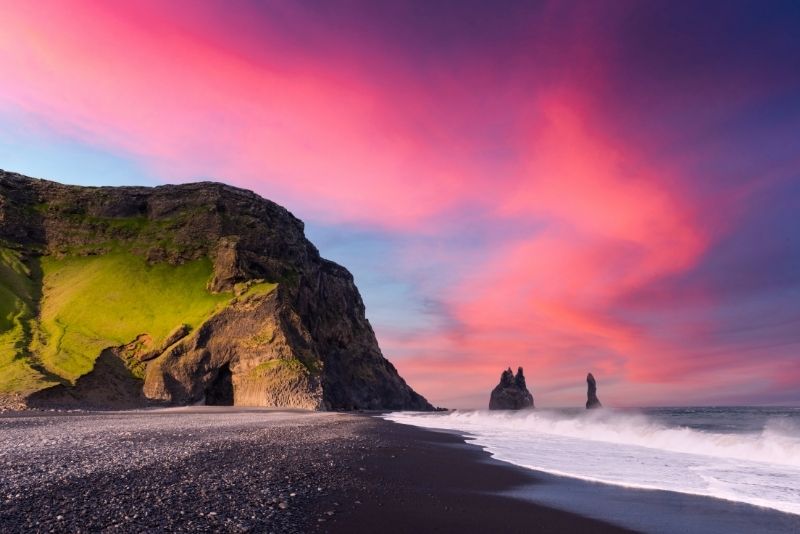 One of the most beautiful black sand beaches in the world, Reynisfjara Beach has been voted time and time again as a top-notch coastal landscape — one sure to make all your friends at home jealous.
Legend has it that these iconic rock formations are two petrified trolls, turned to stone after an unsuccessful attempt to pull a ship out of the sea.
Whether you follow the folklore or not, when the sky over Reynisfjara turns from dark and cloudy to sunny within minutes, you'll be blown away by the startling imagery!
17 – Take a tour through Langjökull Glacier's ice caves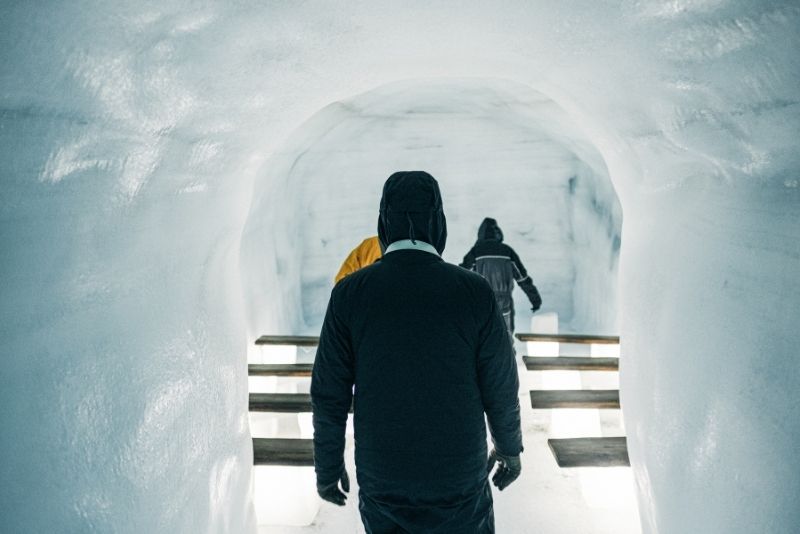 With the claim to fame of being the second-largest glacier on the island, Langjökull has been a crowd favorite tourist attraction for years.
A guided tour through its ice caves is a must for nature-lovers, likewise a hike to the Gallfloss waterfall, a snowmobile ride along the glacier's surface, or a soak in its natural hot springs.
There's plenty to be learned too: the local guide will dish up plenty of tidbits about the volcanic and tectonic activities associated with this giant glacier.
18 – Check out the Game of Thrones tour!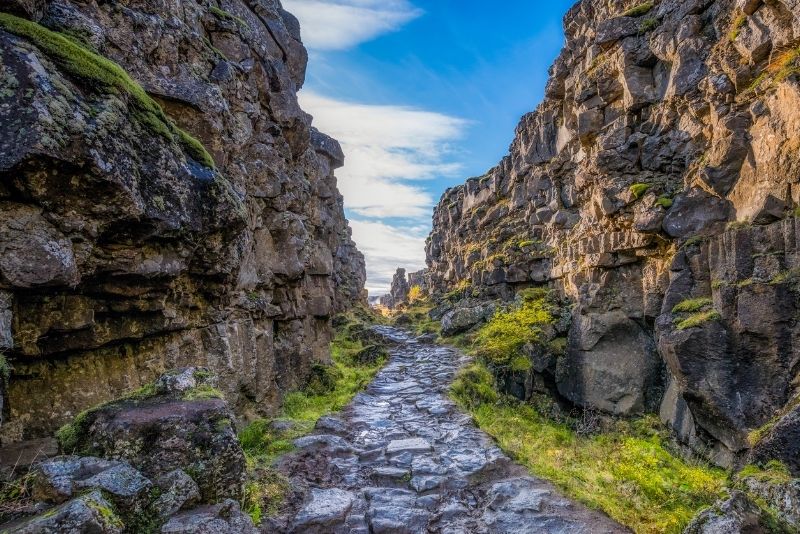 Whether you're a Stark or a Lannister, a Game of Thrones tour through the stunning Thingvellir National Park, where the 'Bloody Gate in the Vale of Arryn' was shot, should sit high atop your list of things to do in Iceland.
Even if you're not a fan of the show, the untouched beauty of this place should be reason enough to visit.
Hassle-free tours typically last around 8 hours, with pickup and dropoff convenient arranged for anyone staying in Reykjavik.
19 – Spend the day in the Hidden Valley of Thor Thorsmork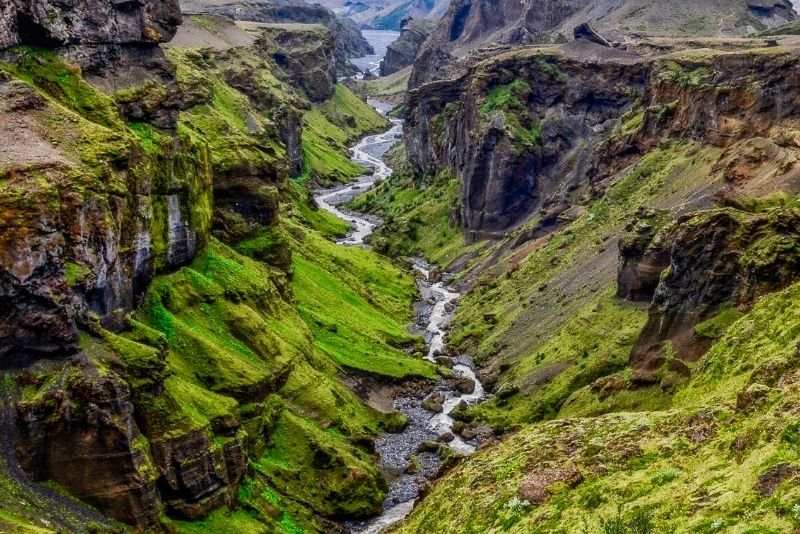 A mountain ridge sandwiched between two enormous glaciers, the Hidden Valley of Thor Thorsmork exudes a natural beauty that simply needs to be seen to be believed.
Take a seat in a customized ice-truck (a Hilux, usually) and let a local guide escort you along the mountain roads, wading through rivers, driving up volcanoes, and hearing all about the region's unique history all the way through.
Regardless of whether you choose a tour that's limited to driving, or one that includes a hike, it's easily one of the most adventurous things to do in Iceland.
20 – Relax like never before in the Secret Lagoon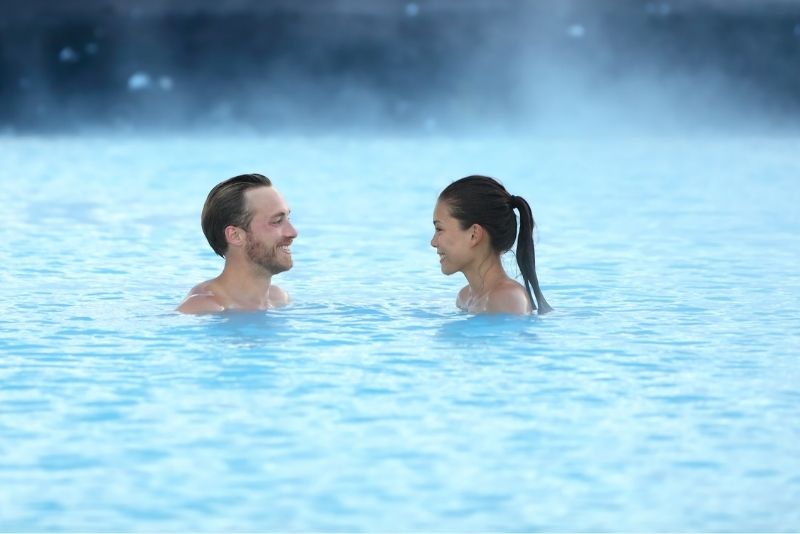 As one of the oldest natural hot water baths in the country, it's no wonder that tourists are drawn to this spot year after year — despite its popularity, it remains a hidden gem when compared to the Insta-famous Blue Lagoon.
This natural swimming pool, in Fludir, with a bar and restaurant on-site, has a consistent flow of water from multiple hot springs, making it the perfect spot for rejuvenating the muscles after a few busy days of hiking or exploring.
Hot tip: for the best bang for your buck, choose a combination tour that also includes a buffet lunch and Northern Lights viewing!
21 – Hike the trails and the Blue Ice Cave at Vatnajökull National Park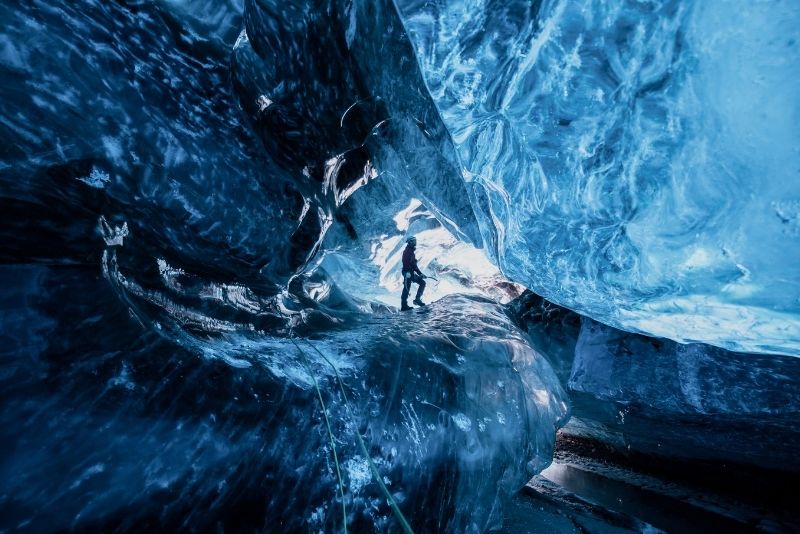 Sitting in the lap of Europe's largest glacier, Vatnajökull (spanning some 5200 square miles), this national park is teeming with opportunities for an unforgettable adventure.
Easily one of the most natural impressive features in Iceland (and that's not without stiff competition), at the postcard-worthy Vatnajökull, tourists can take to skies and experience this spell-bounding glacier in all its beauty from above.
Visitors have the option to sign up for a 5-hour hike or explore (parts of) the national park in the comfort of a vehicle. Regardless of how you do it, with cascading waterfalls, contrasting colors, enormous ice caves, and volcanic remnants spread across the area, it's a must for the bucket list.
Keep in mind: If you're looking for a new head-turning profile picture you can hire a private photographer on your trip!
Tours depart from Jökulsárlón, Skaftafell and Reykjavík.
22 – Witness a natural work of art — Hvítserkur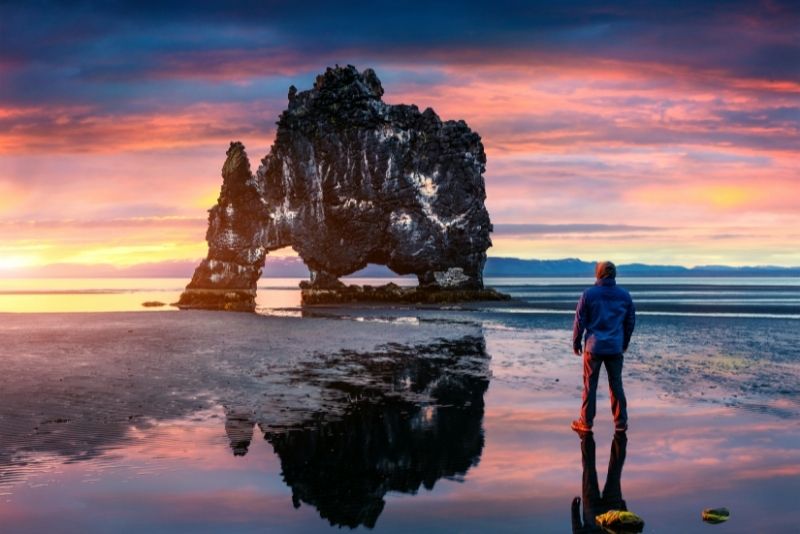 Considered the guardian of Northwestern Iceland, the underrated Hvítserkur rock stack stands 15 meters high and can be seen from miles away — when you see it up close, its sheer size really is overwhelming.
A special mention has to go to the nesting seagulls, who create a sort of magic with their mesmerizing flight patterns through the sky, one which tourists constantly rave about all over the internet.
23 – Warm up in the Laugarvatn Fontana geothermal baths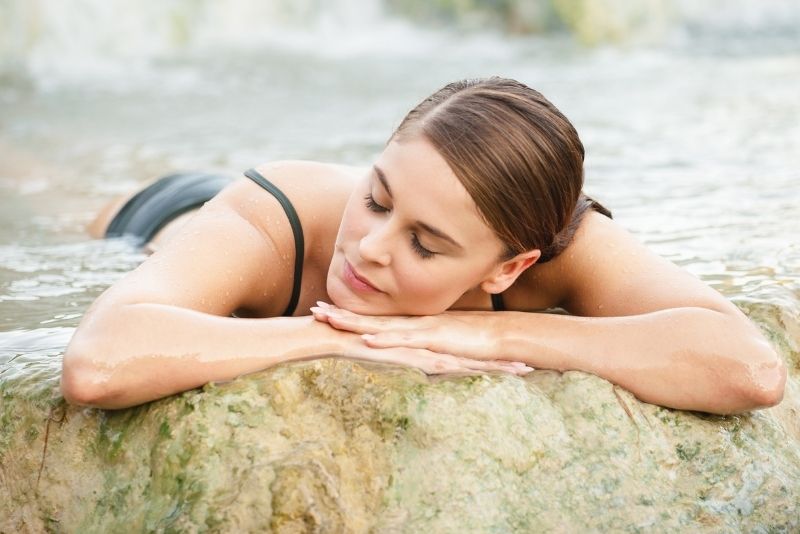 A quaint town perched by a lake in the Golden circle, Laugarvatn Fontana has always been a top tourist attraction for one particular reason: its calming hot springs.
With the geothermal baths are accessible on their own, the most popular way to experience its serenity is by combining it with a guided Golden Circle and Northern Lights tour.
All the transport and entry is arranged for you — all you have to do is sit back, let the natural springs worth their medicinal magic, and enjoy the fact that you're on vacation!
24 – Experience the wilderness of Skaftafell nature reserve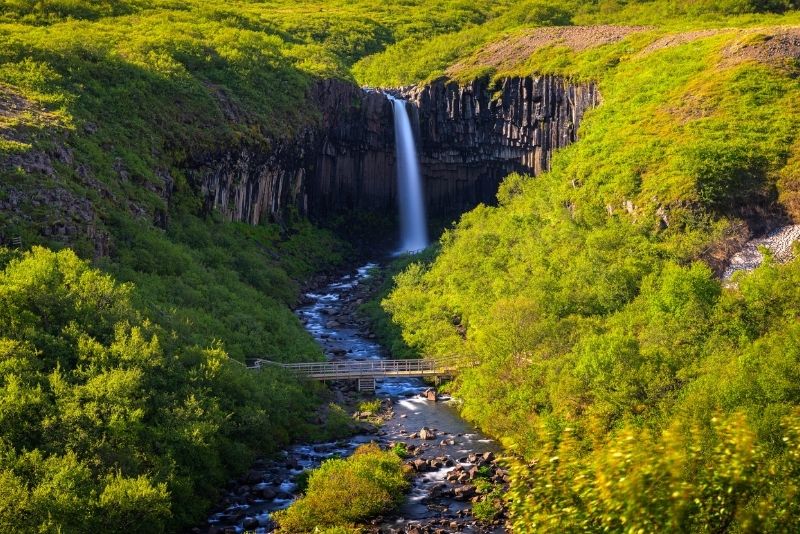 A dedicated preservation area found within the bounds of the aforementioned Vatnajökull National Park, Skaftafell is teeming with flora and fauna and delivers strikingly contrasting colors in every direction.
A range of hiking tours are available — depending on your time commitments, budget, and fitness levels, treks range from a few hours all the way to a few days,
While you're in the area, consider a detour to Jokulsarlon, a popular glacier lagoon not too far from Skaftafell
25 – Indulge in the scenic beauty of Gullfoss waterfall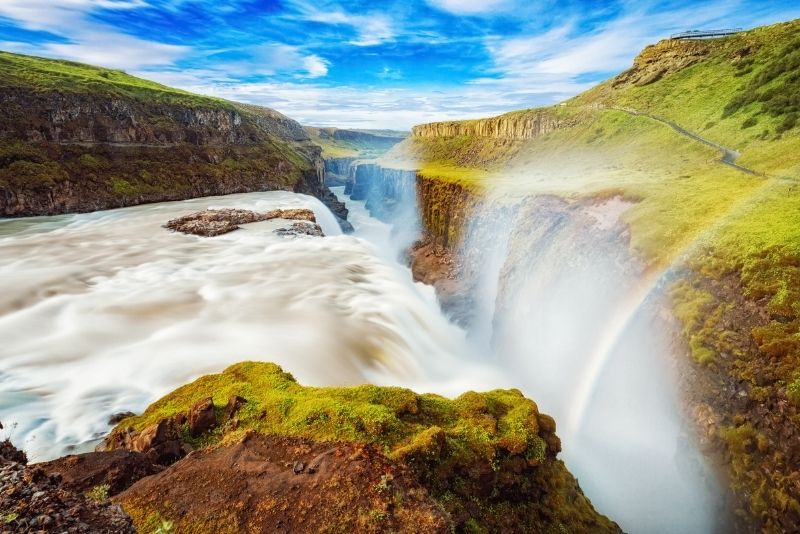 This is one of the most photographed natural sites on the Golden Circle tourist route, and for good reason!
Cascading above the mighty Hvítá river, the Gullfoss waterfall has earned its stripes as "one of the top 10 waterfalls in the world" (according to World of Waterfalls) — need we say more?
Apart from its obvious visual selling point, the area is also home to a range of hiking routes and hot springs, best accessed with a pre-arranged tour.
Bonus fact: The area is also known for generating sustainable energy, so you might learn a thing or two about conservation along the way!
26 – Go rafting!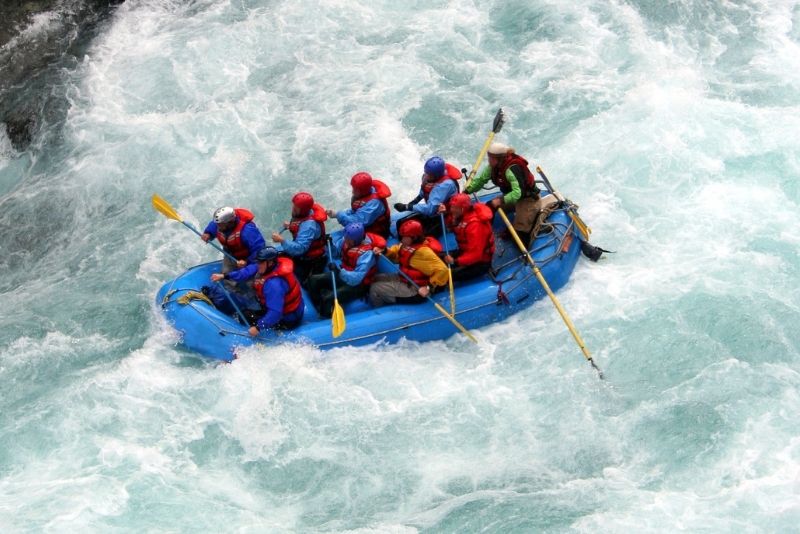 If you're the kind of tourist who thrives on the adrenaline of outdoor sports, then hurry up and add rafting to your Iceland bucket list!
Rafting down the powerful Icelandic waters — be it along the West Glacial River or the Hvítá river in the Gullfoss Canyon — promises an experience as thrilling and it is beautiful.
But the adventure doesn't end there; depending on your tour of choice, trips also include quad biking through the canyon to explore the waves of the East Glacial waters of Iceland.
27 – Watch the enormous Strokkur geyser erupt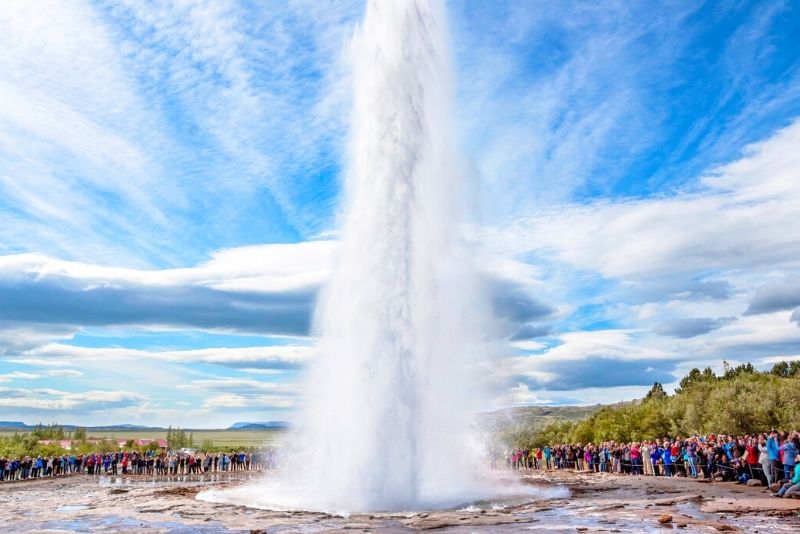 One of the most active geysers in Iceland — and certainly the most famous — a visit to the Strokkur is sure to be nothing short of unforgettable.
The Great Geysir, after which all others around the world got their name, has been inactive for a while now, so the nearby Strokkur takes up its mantle as top dog.
With regular eruptions from fifteen to twenty meters high every five or ten minutes, reaching heights over forty meters, it's simply not to be missed.
28 – Explore Iceland's natural wonders at Thingvellir National Park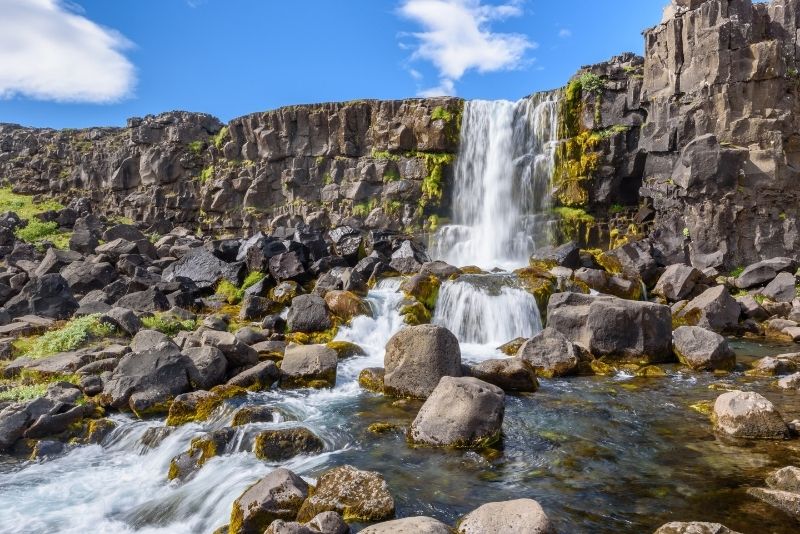 A true hidden gem home to a wildlife-filled lake and the 360-meter-long lava tube known as the Gjábakkahellir cave, Thingvellir National Park is often considered the underwater wonderland of the Golden Circle, where tourists can snorkel or dive between the Eurasian and North American tectonic plates.
Depending on your budget, consider combining a dive with a trip to the Blue Lagoon too.
29 – Hike to the Solheimajökull glacier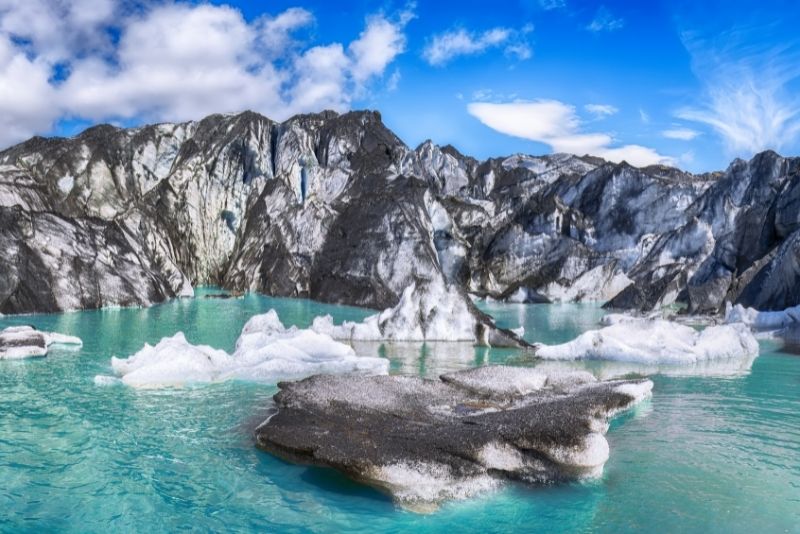 Solheimajökull glacier is a majestic work of Mother Nature that has attracted the attention of thousands of tourists for years, with non-stop views of stunning coastline and powerful waterfalls from sunrise to sunset.
If you're already had your fix of hiking, why not take to the waters and kayak instead? Since the iceberg is ever-changing, no two trips will ever be the same.
You can also indulge in a hike and ice climb from Vik, and get even closer to the action!
Trek in through awe-inspiring winter landscapes, then start your daring trek up the icebergs and through the wintry terrain.
You may get a little chilly, but the bragging rights will be worth it!
30 – Entertain yourself at the renowned LAVA Centre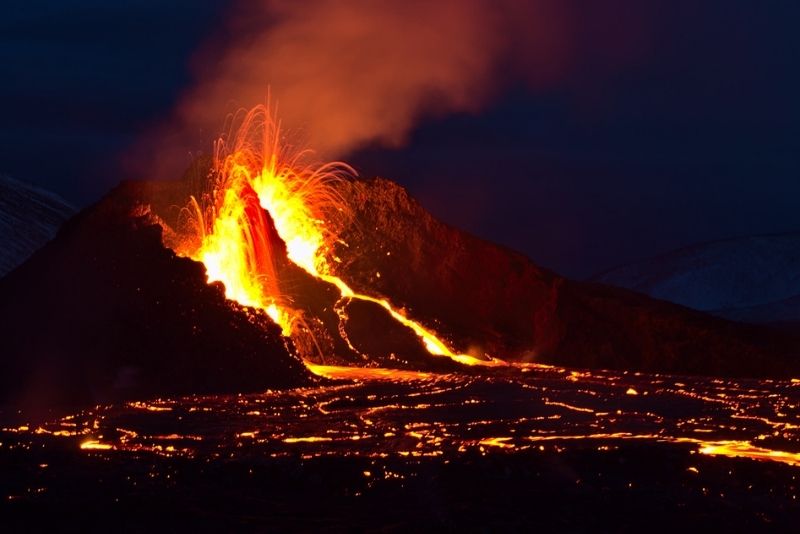 There's a reason why this incredible nation is dubbed "The Land of Fire and Ice" — that's because the contrasting elements really do co-exist all over the island.
To see that reality first-hand, there's no better spot than the Lava Center, where volcanically-chared hot mud pools are surrounded by towering glaciers.
While primary a natural attraction, the center also boasts interactive exhibits that illustrate how volcanoes and earthquakes act.
31 – Go Zip Lining in Vik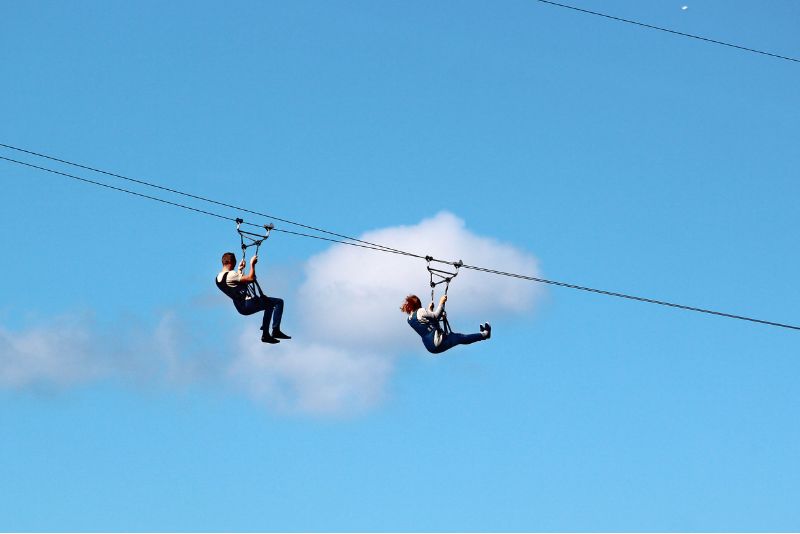 Sure, hiking is great… but how about flying?
In between all of the other amazing activities in Vik, be sure to leave time for some zip lining!
This wild, wonderful adventure offers a whole new perspective on the landscape… and it's also tons of fun in its own right!
Zoom along several high-adrenaline lines, each offering their own unique thrills.
Best of all, you'll get to hike between courses, which means even more time to enjoy the wonderful terrain… before you go whooshing past it!
32 – Explore the natural tunnels of the Thrihnukagigur Volcano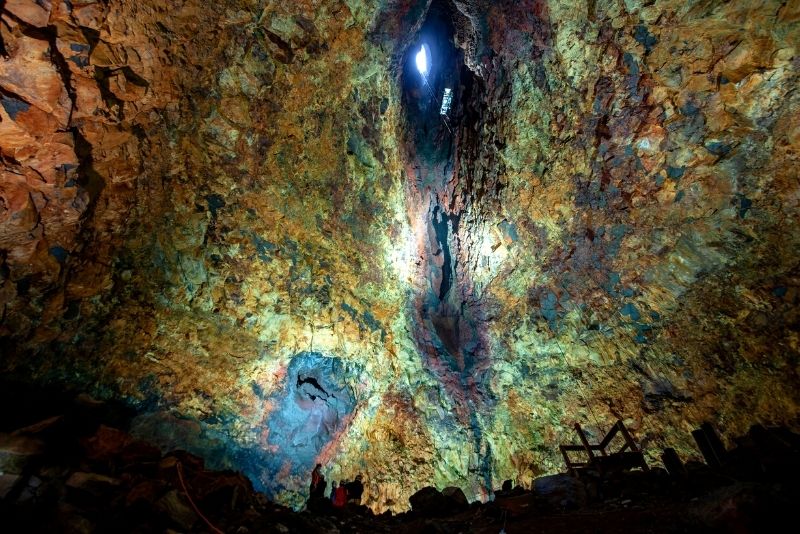 A bucket list activity unlike anything else, at the Thrihnukagigur Volcano, tourists with nerves of steel can trek down 400 feet into the heart of the crater, seeing (and feeling) the volcanic site up close.
Even though Thrihnukagigur is dormant, volcanoes are still naturally unpredictable, so a guided tour is crucial. Thankfully, there's no shortage of options that take visitors through its incredible lava tunnels.
33 – Dance under waterfalls at the Fjadrargljufur Canyon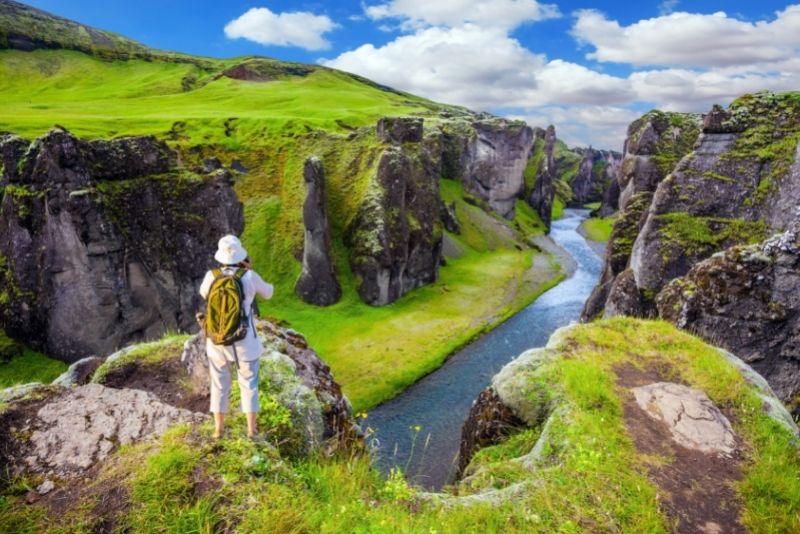 Fjadrargljufur is a mystical and magical canyon close to the charming southeast village of Kirkjubæjarklaustur, home to some of Iceland's most celebrated views of tumbling waterfalls guaranteed to leave you breathless.
Any pop music fans out there? Don't forget your camera as there are many photo ops here, made all the more iconic thanks to Justin Bieber's "I'll Show You" video being filmed at this location.
34 – Witness a spouting geyser up close!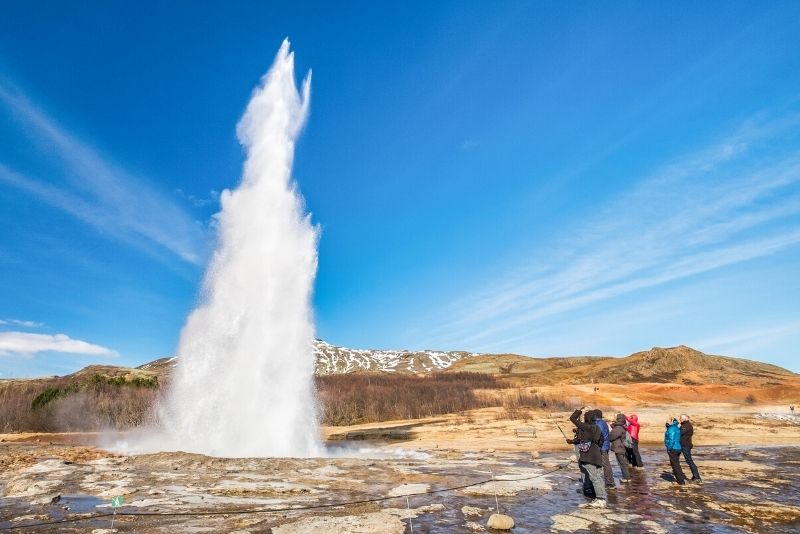 As a nation synonymous with natural beauty, Iceland has no shortage of impressive geysers.
These spouting hot springs can throw boiling water up to 70 meters in the air, acting as an enchanting outlier among a field of icy cold glaciers.
It's common knowledge that these natural fountains are best viewed on Golden Circle tours, where transport is conveniently arranged from Reykjavik.
35 – Stare into the sky at the Imagine Peace Tower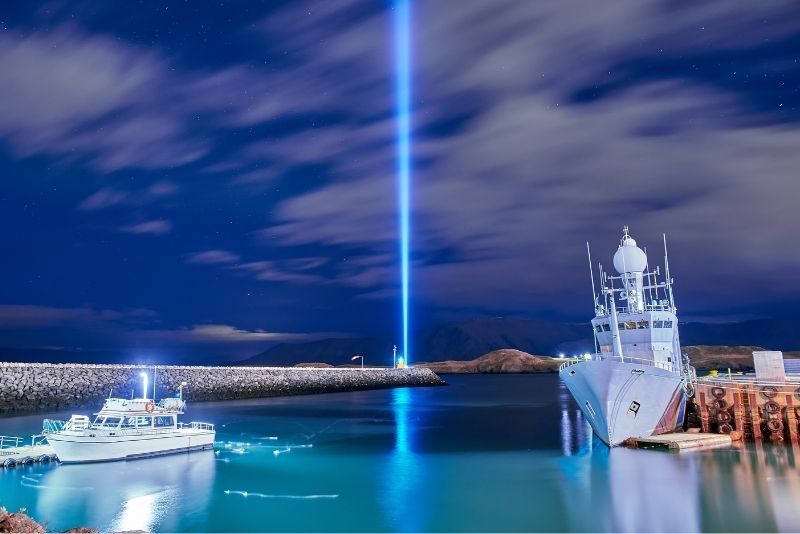 Situated in Videy island, Imagine Peace Tower is a beautiful work of art conceived by none other than internationally-renowned Op art painter Yoko Ono.
The white stone landmark, thanks to a detailed projection of lights, dazzles tourists with regular evening light shows.
Besides the visual extravaganza, the site also acts as a continuous message of unity and world peace, dedicated to John Lennon himself.
36 – Unwind in the naturally warm Reykjadalur river and bathe in the Valley hot springs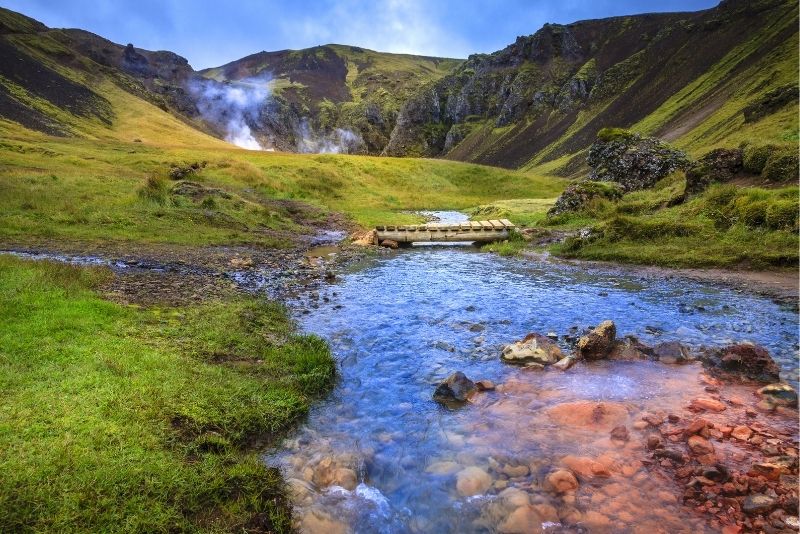 Geothermal pools are a paradise for those looking to escape the cold (and in Iceland, true to its name, there's no shortage of frosty days).
Conveniently located just 45km from the main haunts out in Reykjavík, the heated river that that passes through the Reykjadalur Valley is one of the island's most exciting features.
Hundreds of hot springs line the hills, birthing the nickname Steam Walley — with so many natural spas to choose from, visitors are sure to find their optimal temperature. This natural oasis has been used by locals for healing and relaxing for decades.
Depending on how warm you want your bath to be, there is an endless array of options as you go up or downstream!
For the ultimate experience, considering combining a visit with a full day of buggy adventures!
37 – Spot gentle giants on a whale-watching tour!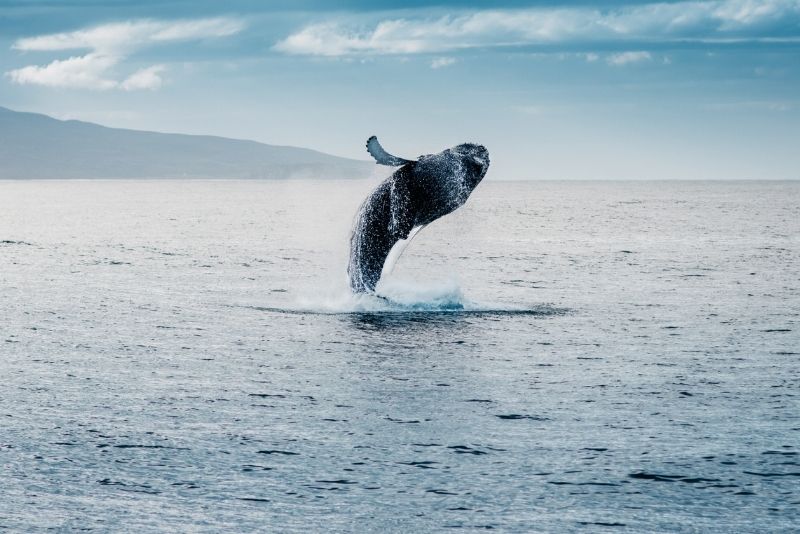 The frosty Icelandic waters are home to a diverse range of krill and fish due to a unique mix of cold and warm currents that intertwine through its narrow fjords.
Okay… so what? Well, that means that it's an incredibly rich feeding area for whales!
With some 23 whale species frequenting the area, from the massive sperm whale to the delicate harbor porpoise, a dedicated whale-watching tour is undoubtedly one of the most unique things to do in Iceland.
Whale watching tours start from Reykjavík, but they are also very popular in the northern city of Húsavík and Akureyri.
38 – Stroll along the blackened Reynisfjara Beach
Situated on the southernmost point of Iceland's mainland, Vík is a tiny village renowned for its picturesque black sand beach.
Considered one of the world's most beautiful non-tropical beaches, Reynisfjara has become an increasingly popular destination in recent years thanks to Instagram.
While stunning by day; at night, under the shimmer Northern Lights, the area transforms into a painting of inspiring elegance.
39 – Marvel at the Northern Lights (on a cruise)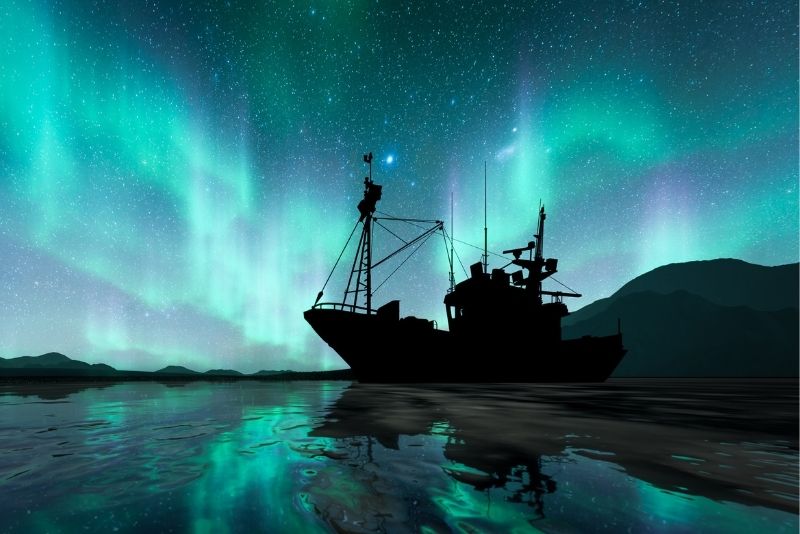 While the dancing aurora can be viewed year-round, chances are higher during the winter, as the most vivid displays occur in both dark and cold surroundings.
It's a bucket list activity for millions of travelers, and prime viewing comes when miles away from any light pollution — in other words, in the middle of Faxafloi Bay on a cruise!
While shorter cruises last just a couple of hours, multi-day adventures are available too.
Hot tip: A puffy jacket will keep you warm, but as the locals will attest, layering is the key. Wear thick wool socks and avoid cotton or linen.
40 – Zoom around the Golden Circle in a jeep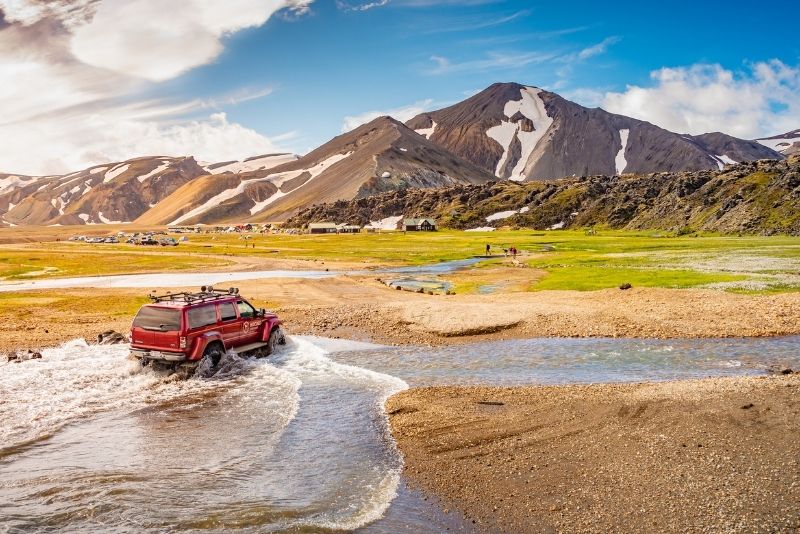 Why not tick off two of Iceland's premier attractions — the Golden Circle and the Blue Lagoon — at once?
On small-group or private VIP tours (depending on your budget), guests are escorted to both of these iconic destinations by friendly locals for a day full of relaxation and fun.
While itineraries differ depending on your tour of choice, many kick off the adventure with a stop at the UNESCO-listed Thingvellir National Park before heading to the social media-famous Blue Lagoon.
41 – Learn how to ride a horse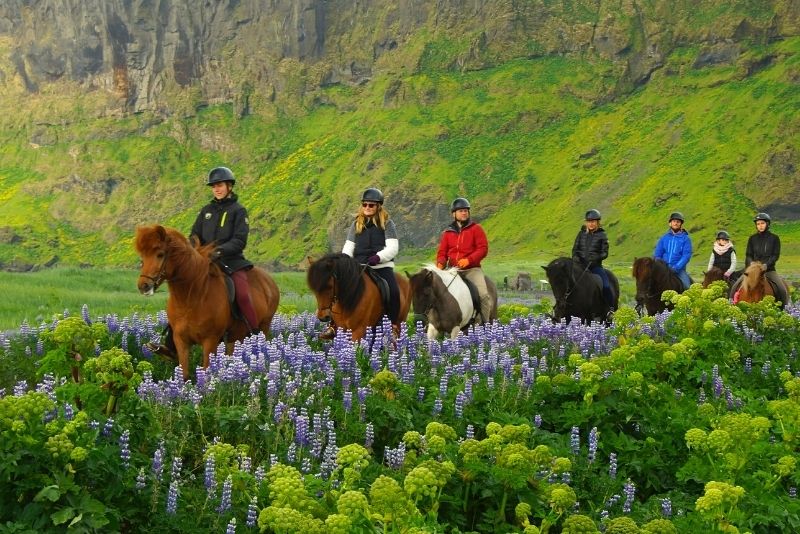 Buckle up for a quick history lesson: since Icelandic horses were left outside for centuries, they were forced to adapt to the harsh weather and rugged landscapes. As a result, they eventually became one of the world's most powerful horse breeds.
That's why horse riding tours have risen in popularity; the horse can wade through rivers, climb mountains, and trek across glaciers, all with tourists on their backs.
It's a fascinating way to explore nature the way residents have done so for millennia, suitable for all experience levels.
42 – Rev that ATV engine!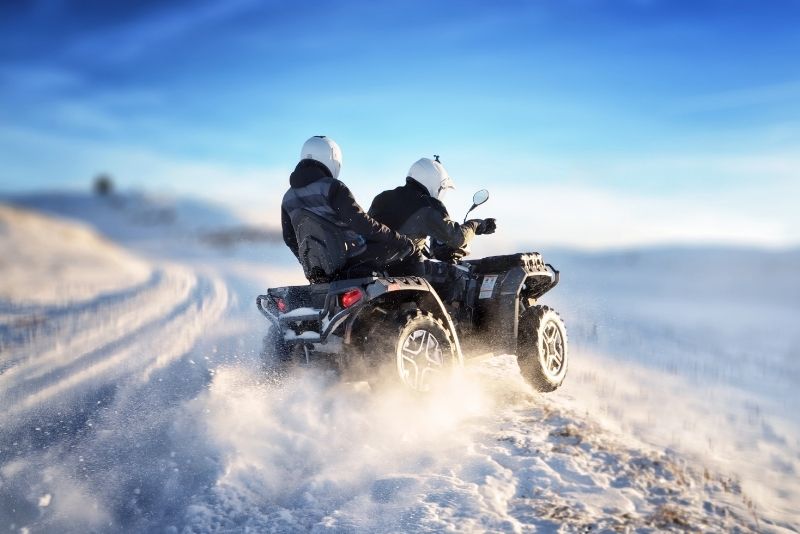 While there are a plethora of exciting ways to explore Iceland's stunning and diverse natural environments (bus, horseback, snowmobiling, helicopter trips, or hiking, to name a few), very few options are as versatile and enjoyable as the good ol' quad bike.
Departing from the main tourist areas, shorter tours tackle Reykjavik Peak; add on a couple of hours to conquer the Twin Peaks, or make an entire day of it with a trip around South Coast (including the famous Black Beach).
43 – Go drifting on a snowmobile!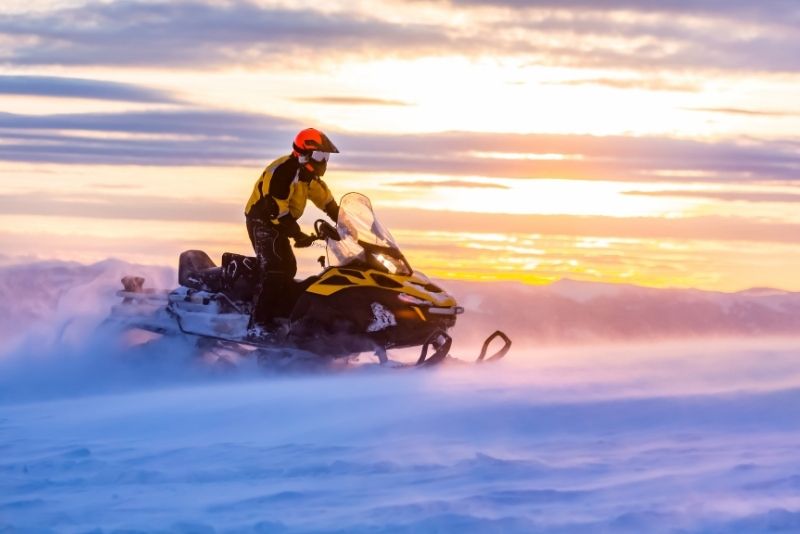 As if adrenaline addicts didn't already have enough activities to choose from, tour companies offer a range of exhilarating snowmobile adventures all over the island.
With the cool, open-air delivering an unmatched sense of aliveness, guests can ride to the Mýrdalsjökull glacier that sits atop Katla, the much-feared subglacial volcano; head to the top of Langjökull glacier, or explore a number of other snow-capped areas.
Most of the snowmobiles have room for two, meaning you can swap between going full-throttle and taking control, or enjoying the stunning landscape views.
44 – Visit the Arctic Henge!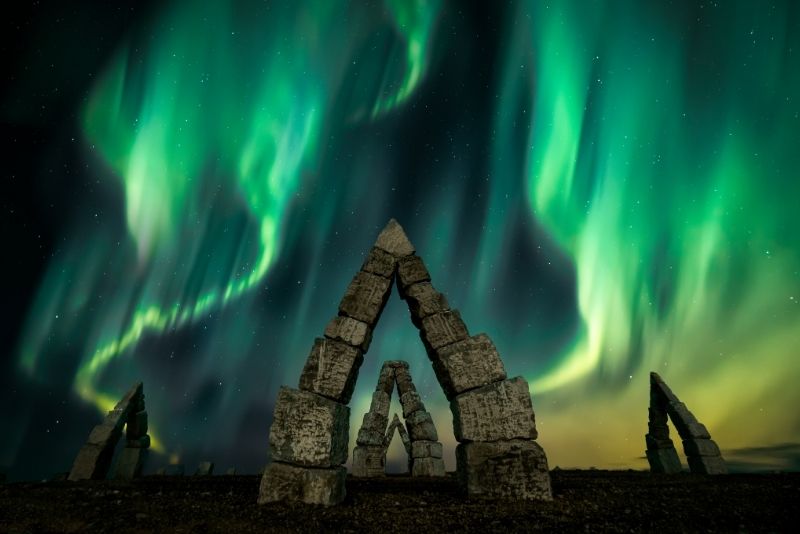 Just outside the remote village of Palokkál, one can find an enormous construction project — a stone circle on the hill that makes the UK's famous Stonehenge look like a mere child's toy.
Designed as both a monument to the Norse pagan beliefs and a scientific observatory (when completed), it aims to take visitors on a journey through time.
If you're after intrigue and spirituality, not just a tourist selfie, definitely check this place out.
45 – Fly over the landscapes in a helicopter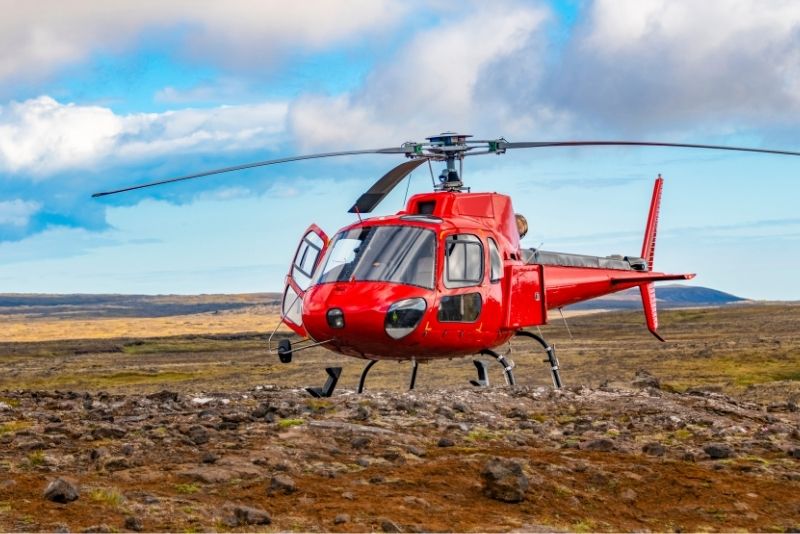 If aerial views are what you're after, helicopter trips in Iceland are a dime a dozen, ranging from one-hour turnarounds to full days of sky-high adventures.
On the one hand, some of the flights cover specific itineraries or locations, such as exploring the ins and outs of the Golden Circle; on the other hand, others provide a broader view of the island, soaring across open landscapes and often landing on a mountain peak for a quick photo op.
46 – Go stand-up paddleboarding!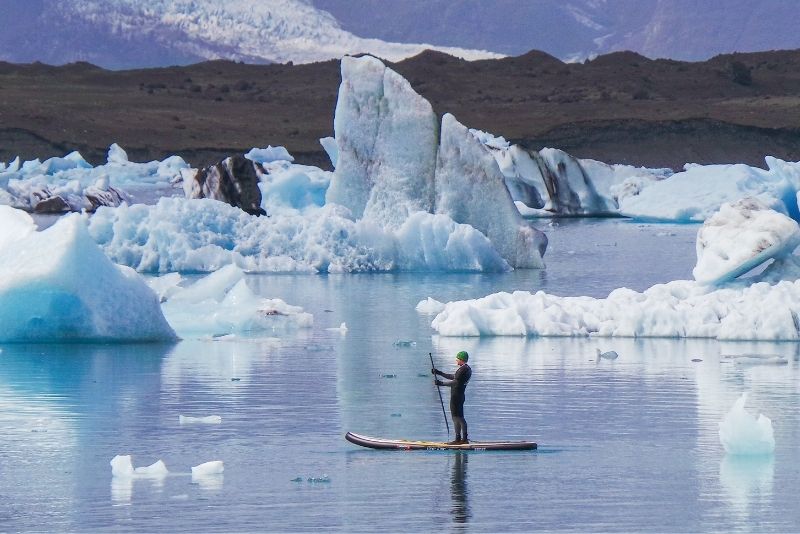 Whether you're looking to get to know Iceland's capital a little better or want to get out of the city and float along the Forgotten Fjord, any summer day spent stand-up paddleboarding is a day well spent.
Perhaps for kids and adults alike, and operated under the supervision of a local instructor, paddleboarding excursions are safe and slow-paced, providing a different perspective (visually as well as experientially) on the beauty of the island.
47 – Take your next profile pic at the Dakota Plane Wreck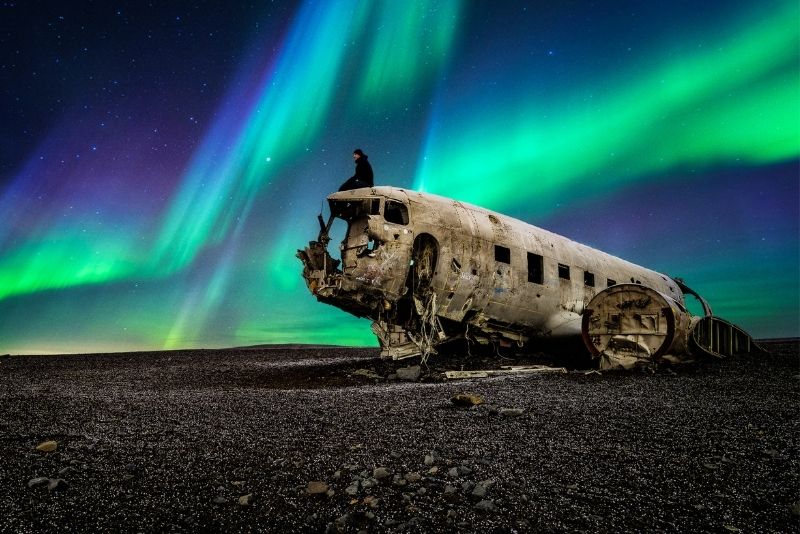 If you're after a jealousy-evoking snap for your social media feed, look no further!
Back In 1973, a United States Navy DC plane ran out of fuel and crashed on the black beach at Sólheimasandur in Iceland — fast forward to today and it's become one of the city's most unique landmarks, exploding in social media popularity thanks to the beautiful landscape in the background.
Whether you opt for a hassle-free day trip from Reykjavik or an overnight adventure, it's a must for the bucket list.
48 – Paraglide over stunning South Iceland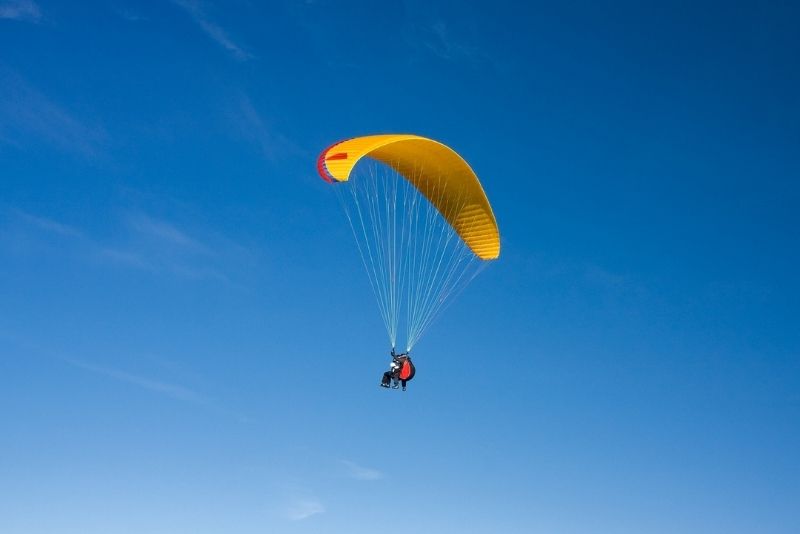 Enjoy an unforgettable adventure in the Land of Ice and Fire on this south Iceland day trip!
With a pre-arranged tour, you'll travel in comfort toward Iceland's rugged southern coast as your guide describes each country's unique geology along the way, discovering top natural attractions including the Skógafoss waterfall, Sólheimajökull Glacier and Mýrdalsjökul.
The highlight of the trip, of course, is going paragliding — you'll pull on a harness and soar high in what is arguably Mother Nature's most beautiful nation.
49 – Explore the mystical Snæfellsjökull national park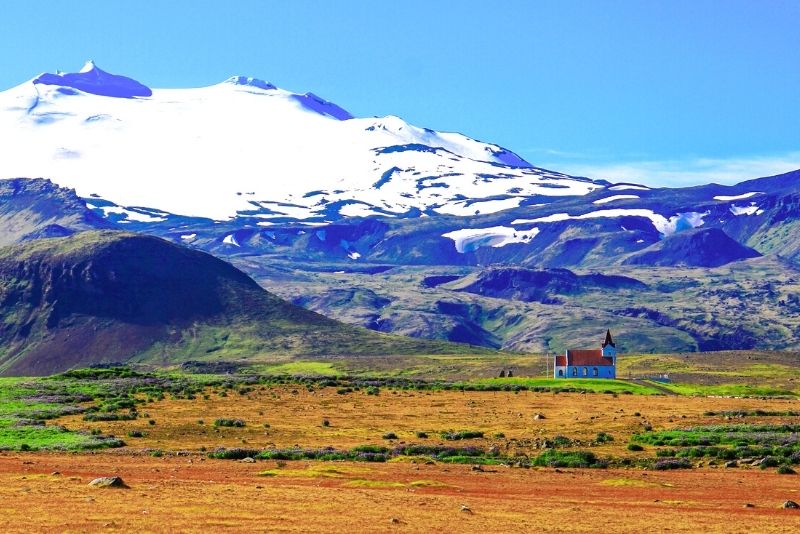 A glacier-capped volcano found on the tip of Iceland's Snæfellsnes Peninsula, Snæfellsjökull is found within one of three national parks and delivers landscapes nothing short of magical (but let's be honest, so does the rest of Iceland!).
It has been considered to be an ancient power site since centuries ago.
Beyond the allure of nature, travelers can also meet the superstitious locals and dive deep into conversations about mysticism, energy, and mystery — since Snæfellsjökull has been considered to be an ancient source of power for centuries, there'll be no shortage of stories told.
50 – Tantalize the tastebuds on a food tour!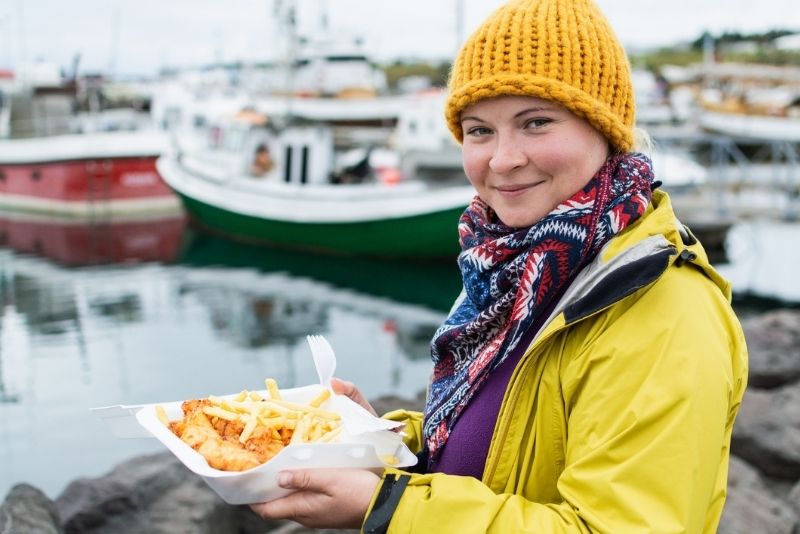 Attention, foodies! Explore Iceland's bustling food scene and taste some of Iceland's most delicious dishes in this three-hour walking tour.
Alongside a passionate (and local) guide, travelers will be treated to some of the area's best restaurants, cafes, and street markets, discovering a range of new flavors at every step.
Make sure to try some traditional Icelandic fare like skyr (a type of yogurt) and a hearty bowl of seafood soup with cod roe.
51 – Cook some of Iceland's native dishes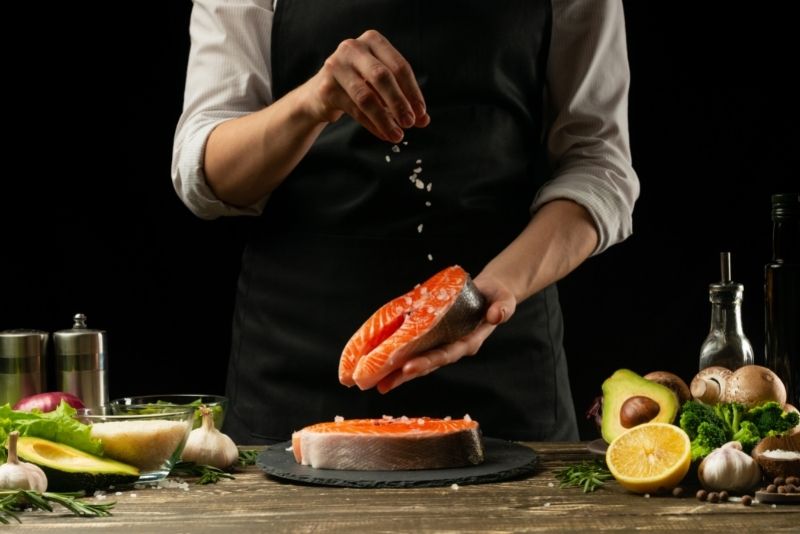 Why just eat the local staples when you can discover how to whip them together for yourself?
For an Icelandic cooking experience to recreate over and over again, immerse yourself into the nation's traditional culinary culture by cooking up one of three courses.
With a local chef showing you the ropes, you'll learn how to roll out dough for homemade rye bread, make your own butter from cream fresh off the farm, and, of course, be able to taste your delicious creations as well!
52 – Relax in the natural Krauma Baths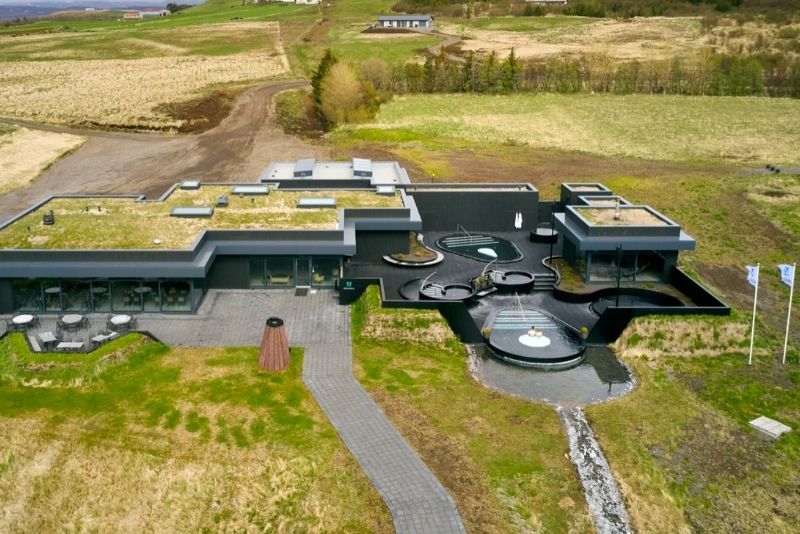 Europe's most powerful hot spring, Deildartunguhver, is the source of Krauma's invigorating geothermal baths — and year after year, tourists are catching on to its unique healing properties.
The baths' water flows at a toasty 100°C (212°F), offering the perfect chance to rest those weary legs after a few days of traveling or hiking.
If you're looking to relax and unwind in nature, there's no better place to be.
53 – Ride a buggy through the hills and valleys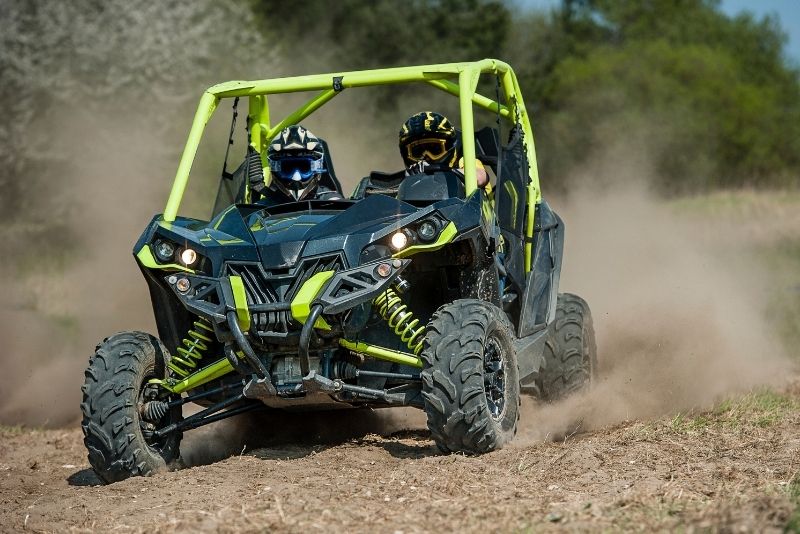 You don't have to settle for a boring tour bus or waste your energy hiking up a mountain.
Instead, why not choose an off-roading adventure that takes you all over Iceland's famous Golden Circle?
While neverending, jaw-dropping views are all but guaranteed no matter which tour you pick, for something truly special, join an adventure that chases the midnight sun.
54 – Meet adorable puffins!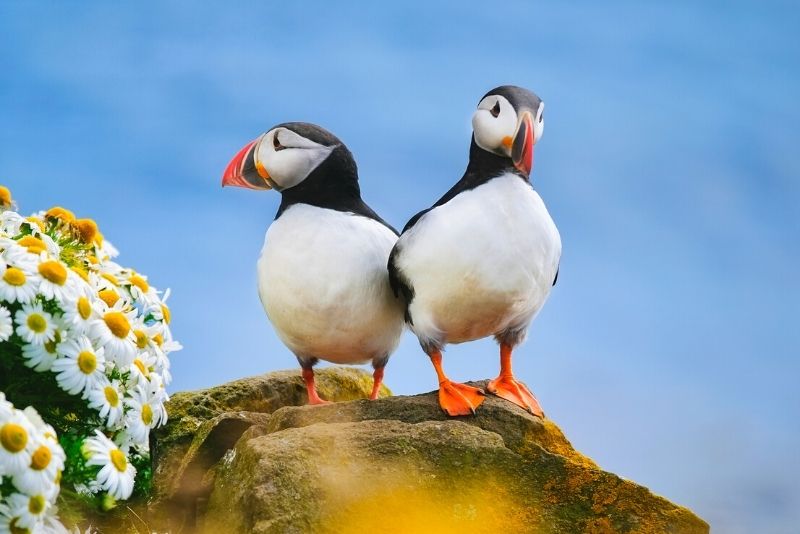 Depending on what time of year you set off onto the bay, guests are treated to a day full of seabirds, whales, giant icebergs, and the main event: colonies of adorable puffins!
Traveling in a spacious catamaran, besides being treated to postcard-worthy sights from departure to docking, you'll also learn all about the rare puffins, their habitat, and their history from onboard naturalists.
Excursions typically depart from Reykjavik are often combined with whale-spotting.
55 – Explore the glacier valley of Jökuldalur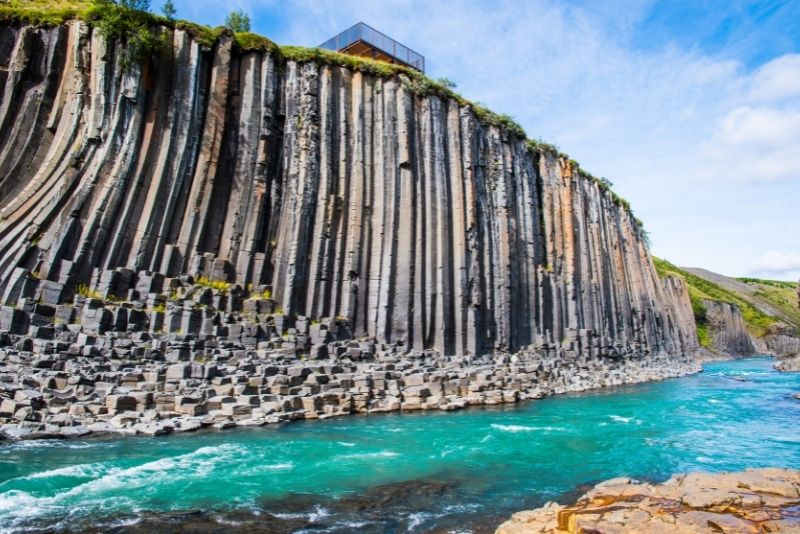 Stuðlagil Canyon is one of Iceland's most breathtaking hidden gems.
You can spend your days hiking through the valley and basalt rock columns, or you could take a break to explore its blushing blue glacier river in Jökuldalur Valley.
In wintertime it may be possible to see the Northern Lights from this remote area; come summer here's where you'll find midnight sun above – so get out there!
56 – Get adventurous at the Glymur waterfall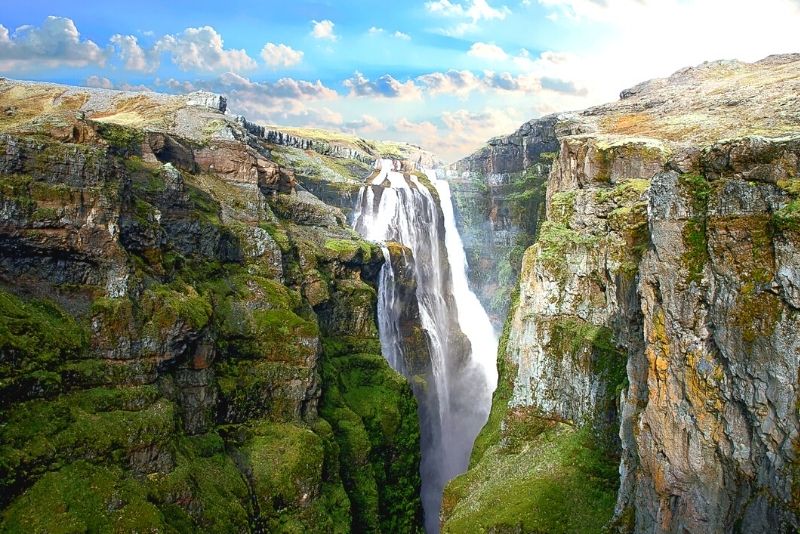 With incredible views on display throughout the 4.3-mile trek en route to the powerful Glymur waterfall, guests are regularly amazed by one of nature's most beautiful creations.
Located near Pyrill in Western Iceland by the Hvalfjörður fjord, the nation's second-tallest waterfall is best accessed with a pre-arranged tour leaving from Reykjavik.
Adventure enthusiasts, do yourself a favor and add this moderate hike to the to-do list.
57 – Learn all about the magical Northern Lights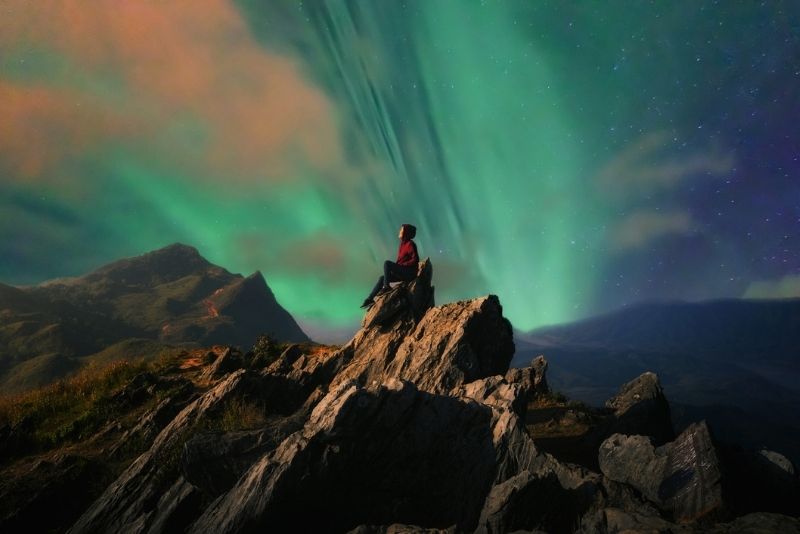 Before heading out into the wilderness to see the Aurora Borealis first-hand, it would be wise to get a sneak peek and learn all about the phenomena you'll soon see up close.
Using immersive multimedia technology to bring the Northern Lights experience to you (in the comfort of an indoor facility), the Aurora Museum educates about the Lights' scientific history, their interpretation as omens from ancient times until now, and plenty more.
What tourists often find most valuable, however, is the Northern Lights photo simulator: here, visitors are taught how to adjust their camera settings to best capture the magic, as to not waste valuable seconds when out in the open.
58 – Surf the freezing waves!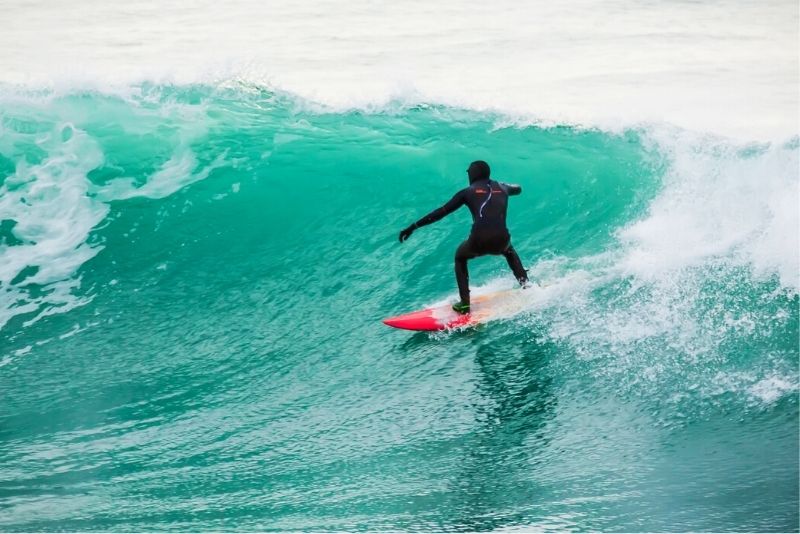 Surfing… in Iceland? That's no typo, folks: surfing is one of the most adventurous and rewarding things to do in Iceland — as the water breaks over the volcanic reef and basalt rocks, it dishes up waves that are unpredictable and powerful.
Since these are far from your typical swells, a pro-taught lesson is highly encouraged. Join a half-day trip to the Reykjanes Peninsula, close to Reykjavik, or go full-throttle with a multi-day surfing adventure!
Need a little extra convincing? Watch the Netflix documentary Under An Arctic Sky.
59 – Drink with the locals on a pub crawl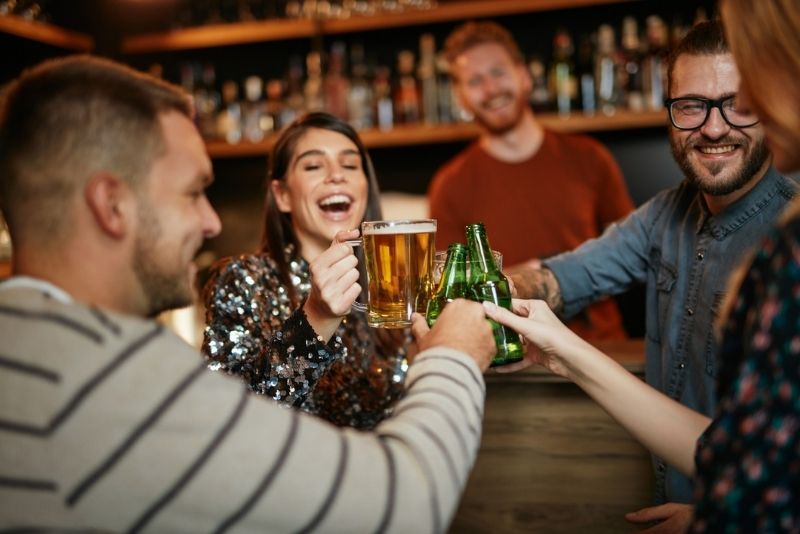 One for the socialites and the thirsty travelers, a beer tasting or pub crawl around the city presents as the perfect activity to immerse yourself in a different culture and, admittedly, get a little buzzed!
You don't have to be someone with extensive knowledge of beer either, as this pint-slinging tour introduces you to unique beers or booze — close to 10 beers and 5 local spirits, to be exact.
Given that beer was formerly banned in Iceland for 74 years, the locals sure do appreciate a good party.
60 – Watch the Fagradalsfjall Volcano violently erupt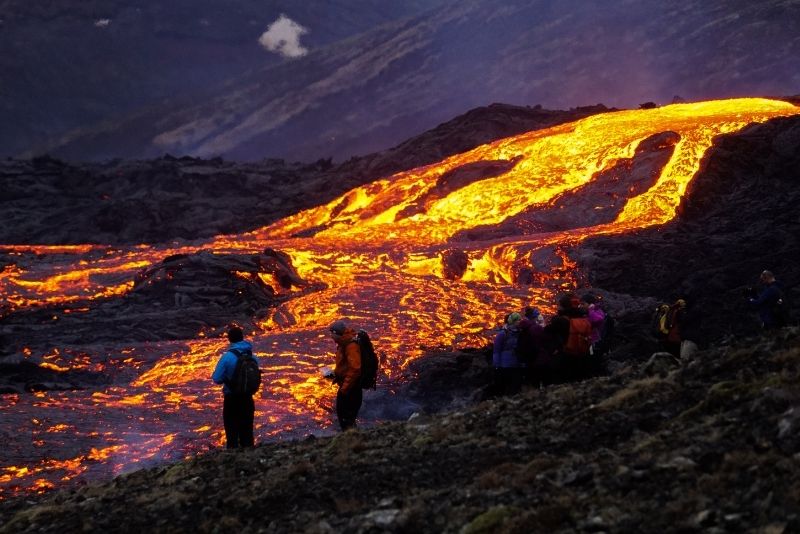 After the Fagradalsfjall volcano lay dormant for 800 years, the volcano has now been active for months — all of a sudden, it's become even more of a tourist magnet as a result!
Bursting into action and spewing fresh lava, this fiery fountain attracts hundreds of snap-happy travelers daily despite warnings about possible danger due to toxic emissions.
If you do plan on visiting, be sure to keep a safe distance.
61 – Step right up to the "gateway to hell"!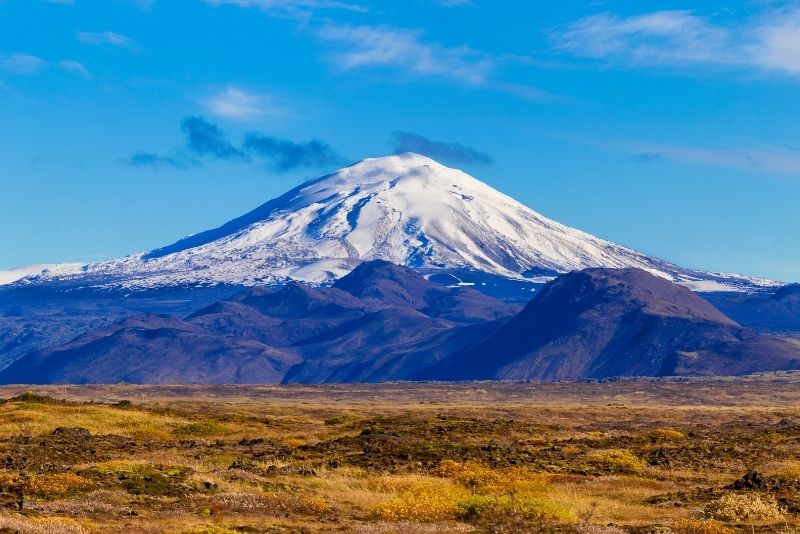 Known for its unpredictable and powerful eruptions, the Hekla Volcano sits smack-bang in the heart of Iceland, inviting adventure-oriented tourists to its walls for a range of unforgettable hiking trails.
The gateway to hell has erupted up to thirty times in recent history, but is still, fortunately, considered safe to visit.
62 – Conquer the Eyjafjallajökull volcano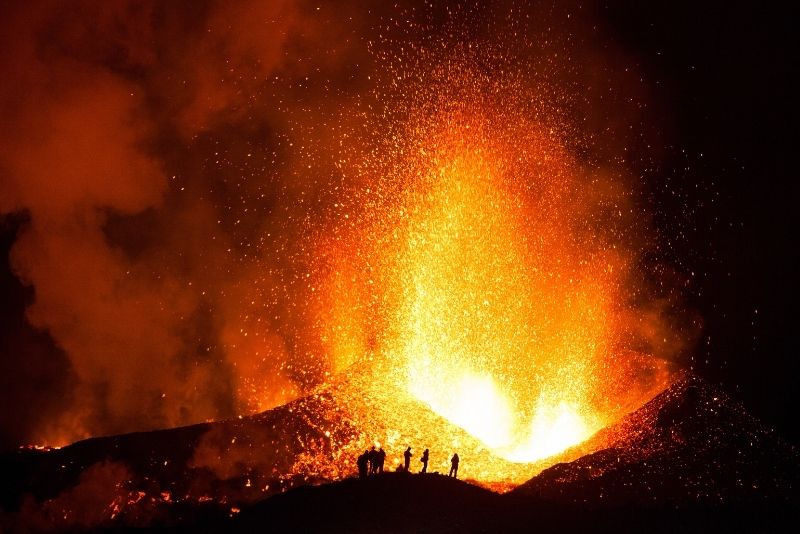 The glacier volcano (that's right, fire and ice) of Eyjafjallajökull is notorious all over the world over, standing at a whopping 1651 meters (about 5427 feet) tall.
While the hike to the top is by no means a walk in the park, the summit, which offers vistas of sparkling sea in every direction, is well worth the weary legs.
63 – See Selfoss on the Golden Circle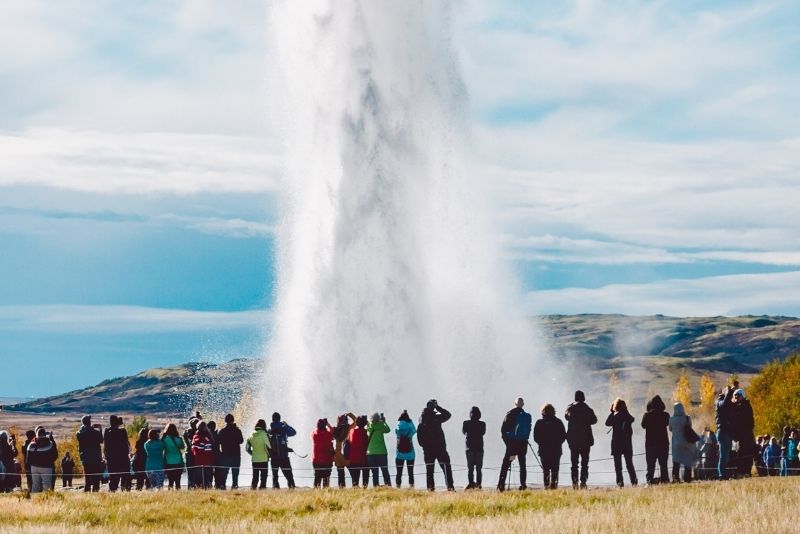 Another hot-shot attraction within the confines of the Golden Circle, the Selfoss geyser – about 90 minutes from Reykjavik, is an astonishingly powerful exhibit of Mother Nature's work.
The regular eruption kicks off with bubbling water and then progresses from small gushes to full blasts of steam every 4-8 minutes.
Hot tip (literally): Admire the geyser from afar — getting too close to the heated spring can be trouble!
64 – Visit the mighty Godafoss waterfall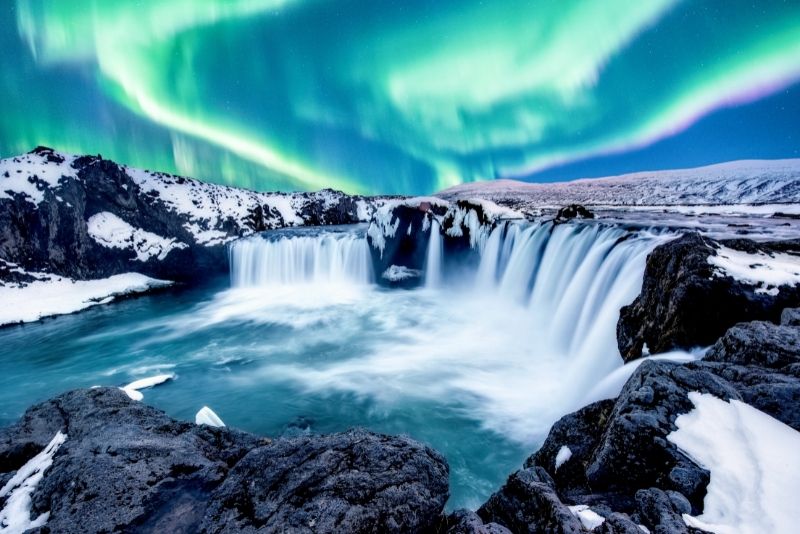 Known as the 'Niagara Falls of Iceland', Goðafoss waterfall offers postcard-worthy views all but guaranteed to take your breath away.
Elevated 200 meters above sea level, meltwater glaciers flow through its narrow gorge into a deep ravine below, and onwards to the sparkling Lake Þingvallavatn around the corner.
As the nation's most population settlement outside of Reykjavík, this place makes for a great pit stop on any Iceland adventure.
65 – Learn about Viking settlers and glacier floods at the Iceland National Museum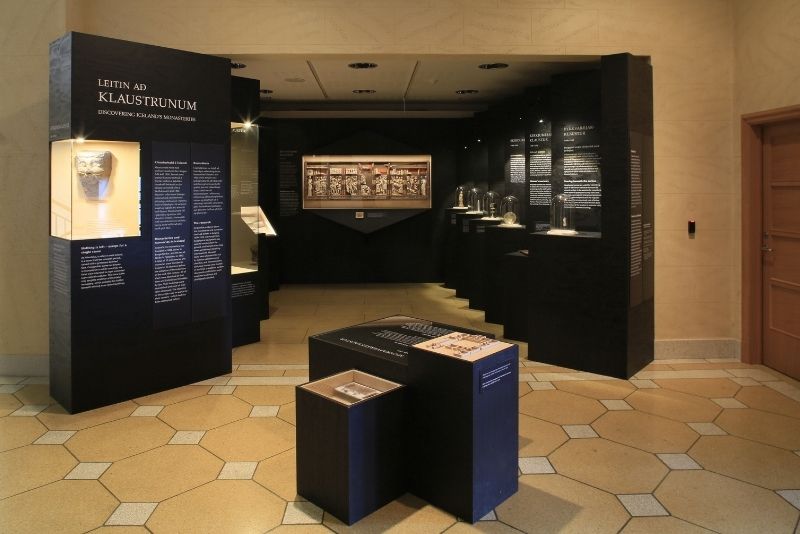 As we all know by now, Iceland is a land of intrigue and awe, with a history of Viking settlers, vicious feuds, volcanic eruptions, and melting glacial floods.
While, on the one hand, there's no shortage of picturesque landscapes, the nation and its people also boast tales that highlight their resilience through the ages.
There's no better way to experience the cultural side of the island than by visiting the Iceland National Museum, home to more than 400 years' worth of fascinating history.
66 – Head northeast and stand beneath Europe's most powerful waterfall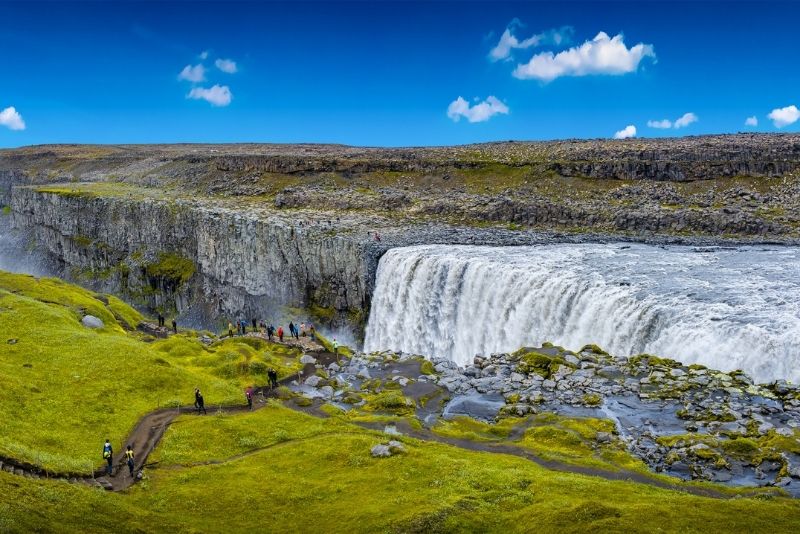 Widely renowned as the most captivating waterfall on the entire main island, the 44-meter drop of Dettifoss is an awe-inspiring sight in every sense of the word.
Massive waterfalls are not uncommon around the country, but few can compete with this one's power; it's said that there's no stronger cascade in all of Europe!
If you're daring, have your breath taken away standing at the peak of this fall and looking down.
67 – Take a natural bath from a Game of Thrones hot spot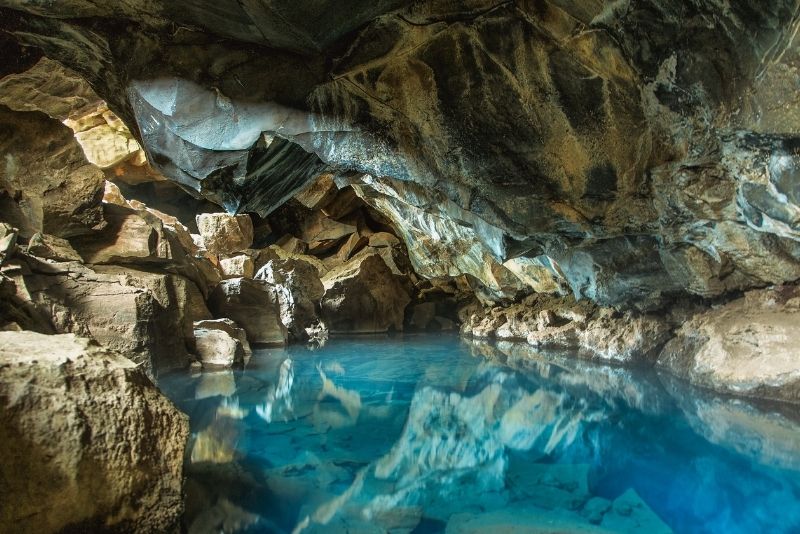 The Mývatn Nature Baths are a stunning set of geothermally heated pools and steam baths, found in the colorful, volcanic Lake Myvatn area.
If you're in it for the R&R, simply spend all day wading in the hot springs; if you're a diehard GOT fan, make sure to save some time for another nearby site used as a location set, the Grjótagjá hot spring cave.
68 – Go back in time at the Settlement Exhibition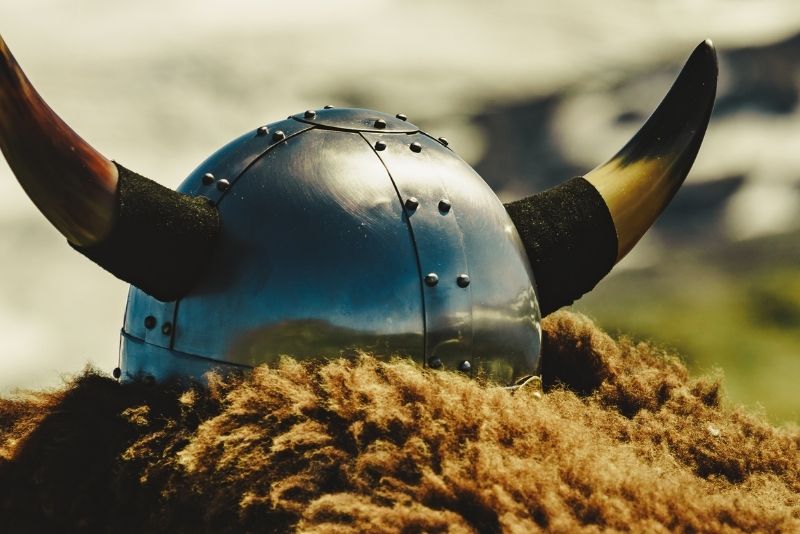 The Settlement Exhibition, known in Icelandic as Landnámssýningin, is a modern interactive museum built upon the ruins of an old Viking house.
The oft-overlooked museum showcases incredible relics from Aðalstræti that date back to before 871, including part of a tenth-century longhouse — one of the hundreds of artifacts that showcase how Iceland looked 1000 years ago.
69 – Check out the Icelandic Turf Houses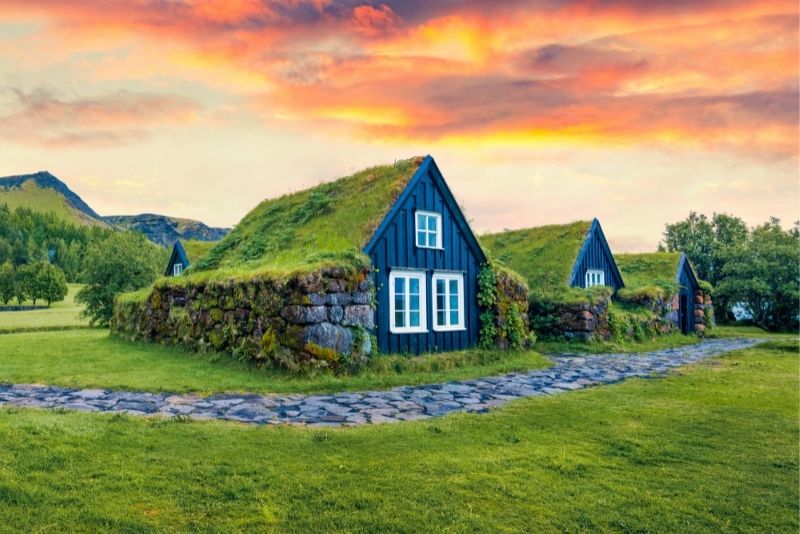 For centuries, the Icelandic Turf House has been a symbol of what it means to be an Icelander. Not too dissimilar from the Hobbit homes in Lord of the Rings, these cute abodes are semi-underground and covered in grass.
The Bustarfell turf house in the east is one of the country's best-preserved turf houses, however, you can see a handful of them close next to the Skogar Museum (also worth a visit in its own right).
70 – Learn about gentle giants at the Húsavík Whale Museum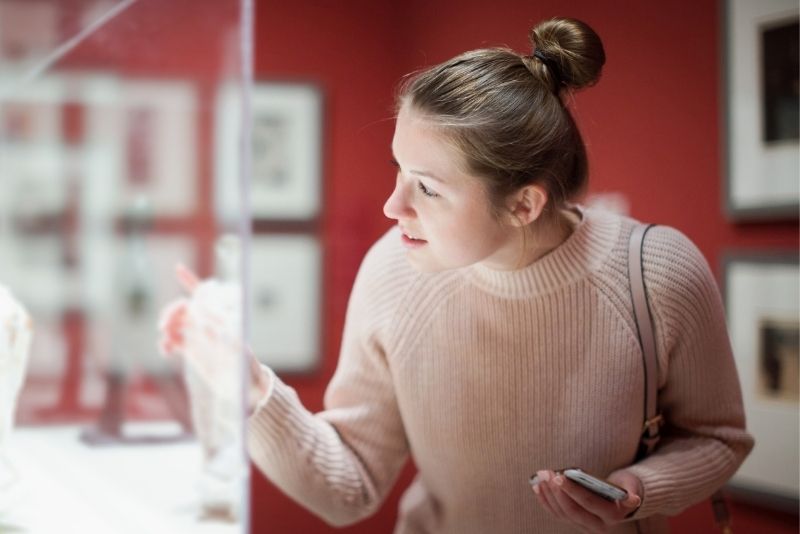 As the only major whale exhibit in Iceland, Húsavík Whale Museum dives into a history that spans centuries.
From hunting practices used by our ancestors all the way up until today's eco-friendly fishing methods, the museum does a wonderful job at showcasing the history and evolutions of whales, their relationships with locals, and wider Icelandic traditions.
For a learning experience like no other, look no further.
71 – See an original Vikings ship at Viking World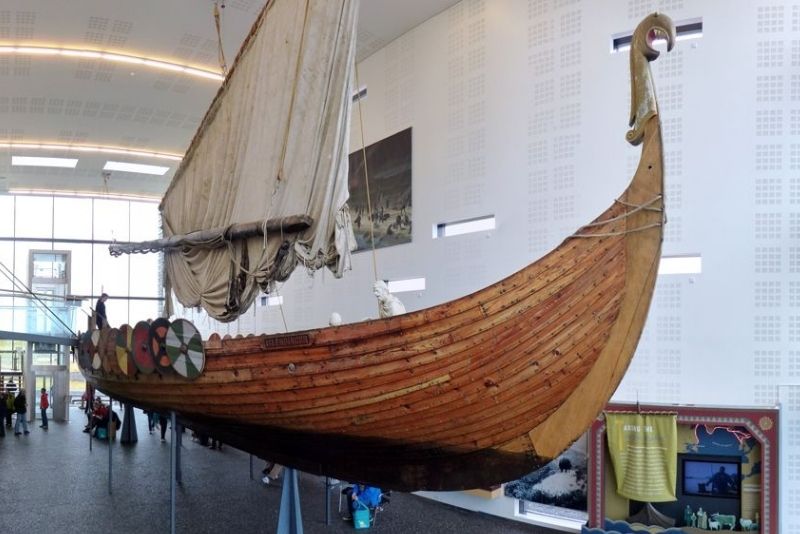 The fascinating Viking World exhibition sheds light on what Norse explorers might have encountered when they ventured into unknown territory centuries ago — a must for maritime or history buffs.
While a stereotype, the Icelandic Viking is based on a true history: the Vikings were a people who thrived on exploration and discovery, so it's more than fitting that the Viking Ship Íslendingur (Icelander) has been recreated for all excited tourists to admire.
Hot tip: buy your tickets online for a 10% discount.
72 – Behold the beauty of the Sun Voyager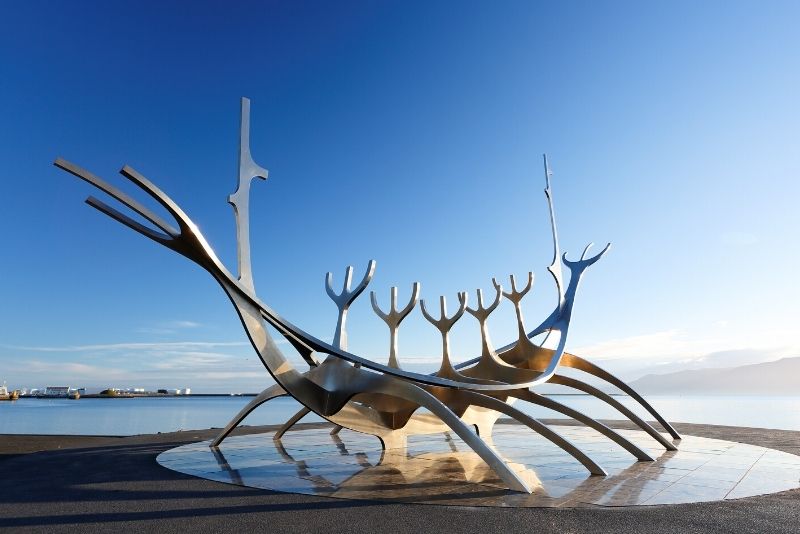 Located on the Sæbraut road by the sea in central Reykjavík, visitors are often pleasantly surprised by the large stainless steel sculpture, the Sun Voyager, that reflects sunlight in an intriguing way.
Paying homage to Viking ships, the work has been embraced by locals and tourists alike as one of the most popular things to do in Iceland.
73 – Stride beneath an erosion-formed arch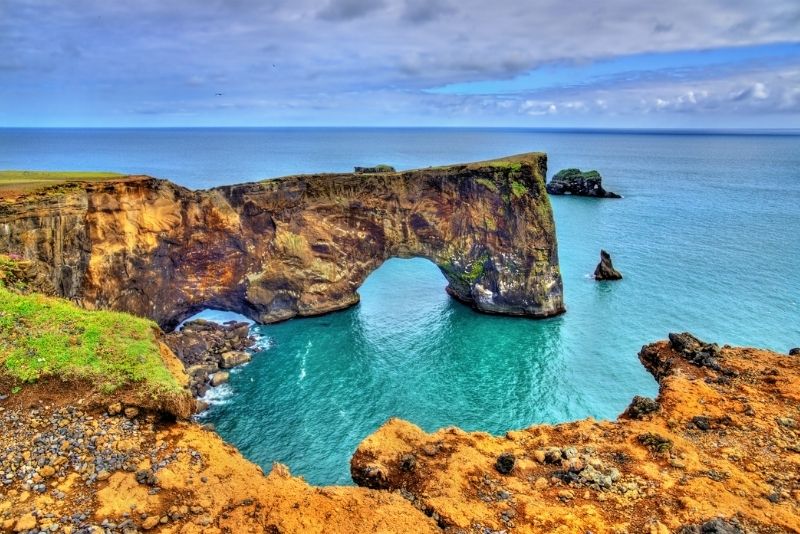 Thanks to its undisputed serenity, the Dyrhólaey Peninsula is considered one of the most scenic places north of the equator.
Stroll down the 120-meter long promenade, check out the old lighthouse along the way, and keep an eye out for rare birds overhead.
The Peninsula's main selling point, however, is its natural archway: formed over centuries by erosion, this natural archway makes for an incredible photo backdrop!
74 – Explore the elements with a volcano and ice cave tour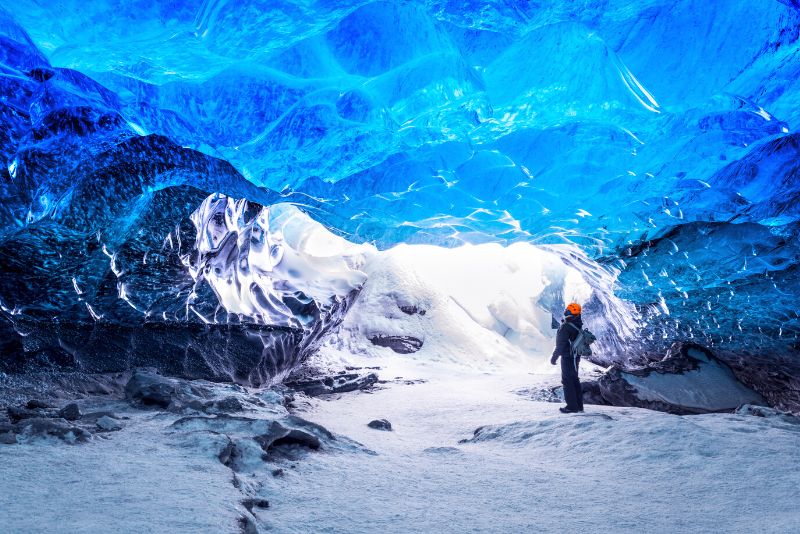 If you're visiting the land of Fire and Ice, it only seems fitting that you should see a bit of both.
Head out on a Jeep tour from Vik, and explore an amazing formation: a volcano encased in a glacier… that also has its own ice cave!
As you explore the cavern, you'll be treated to a spectacular melding of the elements, as stark blue glacial ice intermingles with layers of frozen volcanic ash.
You'll feel like the star of your own fantasy novel!
75 – Take a short trip to Krýsuvík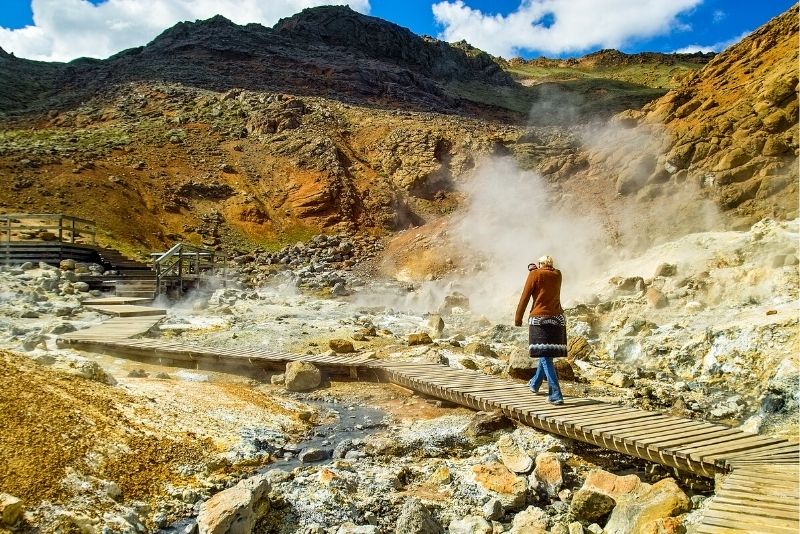 A boiling, bubbling landscape, the Krýsuvík Geothermal Area is where hot springs and steaming vents are the norm.
The earth here has been stained by minerals that have spilled from geysers, creating an aesthetically pleasing rainbow of colors striped all across the ground.
Located just 35 km from Reykjavík, with walkways carefully outlined to avoid the hazardous terrain, it makes for both a convenient and safe day trip.
76 – Visit the Black Falls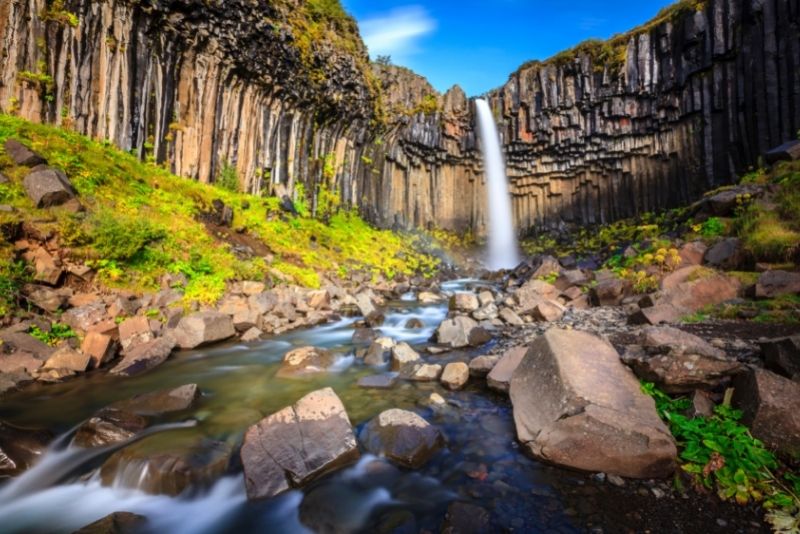 A highly impressive natural attraction, the Svartifoss waterfall — better known as the intimidating "Black Falls" — sits atop hexagonal basalt columns that have been cut through beautiful lava rocks formed during volcanic eruptions thousands of years ago.
These days, these natural wonders are surrounded by glaciers and plenty of noteworthy walking trails.
77 – Go spelunking in the Vatnshellir Cave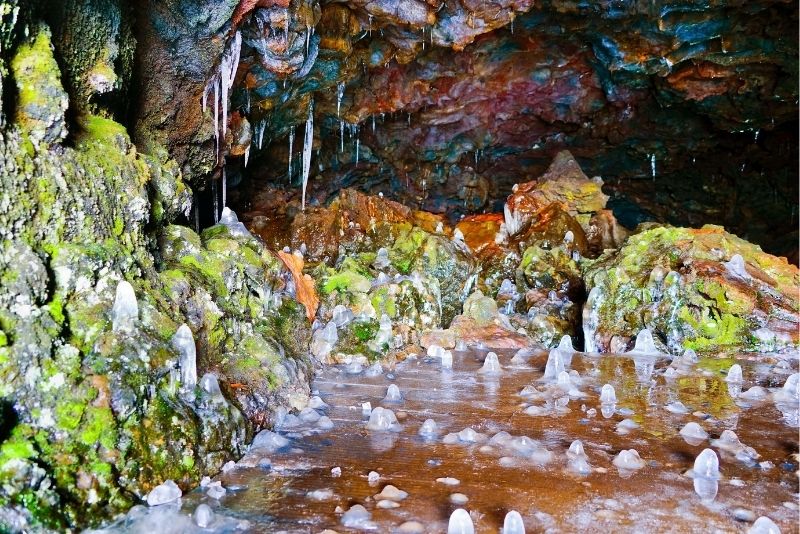 Snæfellsjökull National Park boasts no shortage of impressive natural attractions and the 8,000-year-old lava-formed Vatnshellir Cave is no exception.
On guided tours led by friendly locals, travelers seeking thrills and adventure are taken down paths of flowing molten rock with stalactites hanging from ceilings and ice formations jutting out from the walls!
78 – Cross The Bridge Between The Continents
While you won't find any trolls under this bridge (a Viking, maybe?), this geological phenomenon sits atop the mid-Atlantic rift — a giant fissure that acts as the connecting point between the North American and Eurasian tectonic plates.
So long as you're not too terrified of heights, this 15-meter footbridge is one of the unmissable things to do in Iceland.
79 – Stroll along the Reynisdrangar sea cliffs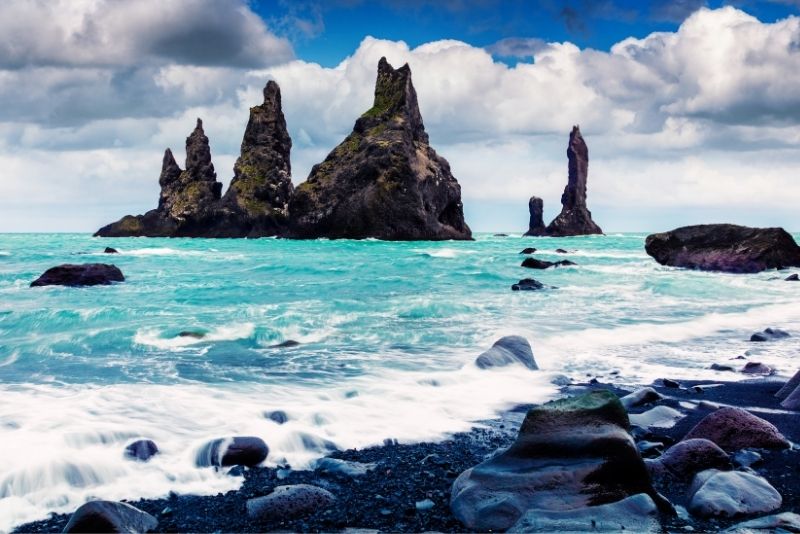 A mesmerizing area of Iceland, the Reynisdrangar formations are overflowing with impressive rock cliffs, all naturally created over time from eroding basalt.
Guests brave enough can walk out onto these sea cliffs and watch for seals swimming up close; stay at the nearby beach; go hunting for geysers, or walk along the black sand in search of the sparkling silica-rich rocks.
80 – Tick off the Reykjavík Maritime Nuseum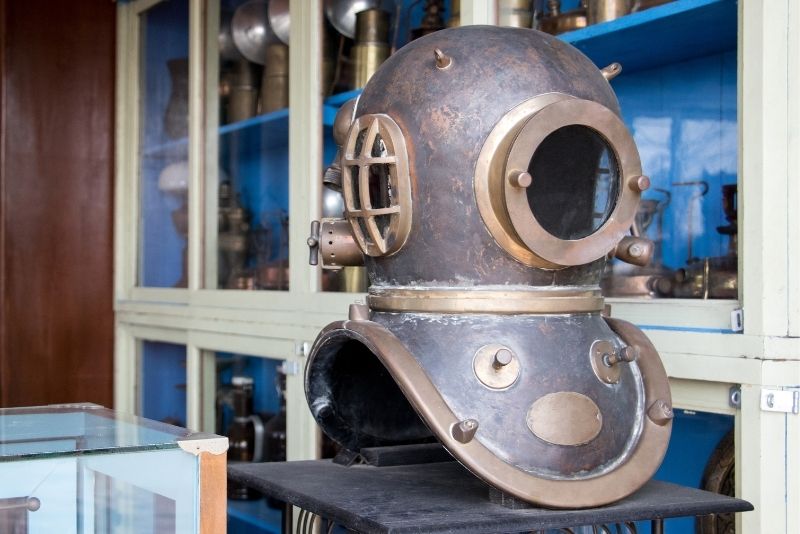 One for the history buffs and fishing enthusiasts, the Reykjavík Maritime Museum is a tourist-favorite attraction where visitors can learn all about the local (modern and traditional) fishing processes from start to finish.
On top of that, there's plenty of pictures, sculptures and interactive exhibits that dive into Iceland's culture and explore the nation's dramatic relationship with the all-powerful sea.
81 – Snap a selfie in your own Viking costume!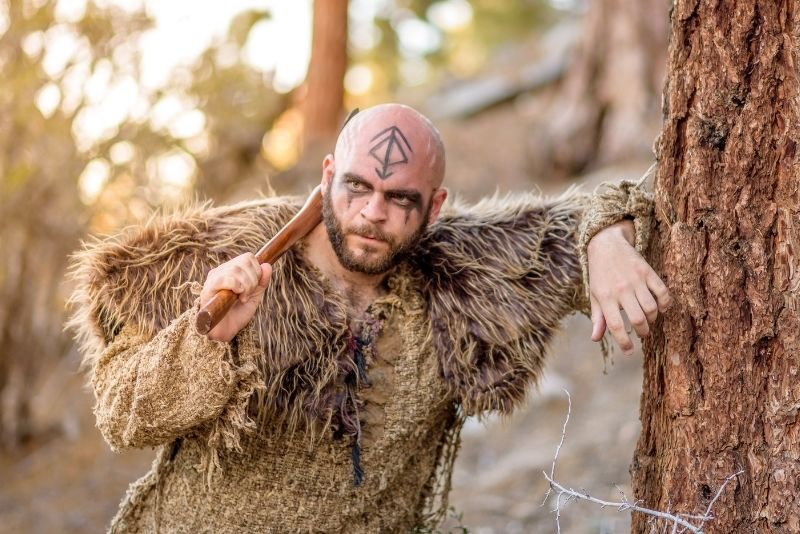 Reykjavik's Saga Museum is the only museum in Iceland that pulls no punches, presenting history and the tales of earliest Icelandic settlers through eerie silicon models made all the more intense by audible thuds from axes and hair-raising (pre-recorded) screams.
After exploring the museum with the multi-language soundtrack, visitors can also take pictures kitted up in their own Viking costume before sitting down for an exclusive documentary about how this fascinating place came to be!
82 – Make the trip to the charming Brúarfoss waterfall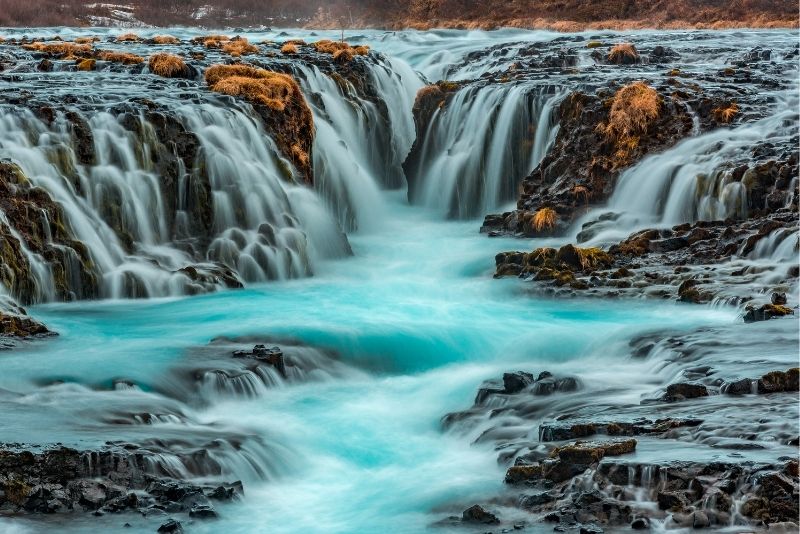 Brúarfoss, a relatively small waterfall, is renowned for its long-gone natural stone bridge that was tragically destroyed some 400 years ago.
Still, it's a must for the bucket list — despite its diminutive size, it remains staggeringly beautiful, with locals often labeling it as "Iceland's Bluest Waterfall".
Found about an hour and twenty minutes east of Reykjavik, there are a plethora of tour companies willing to escort you.
83 – Hike your way to the secluded Gljúfrabúi waterfall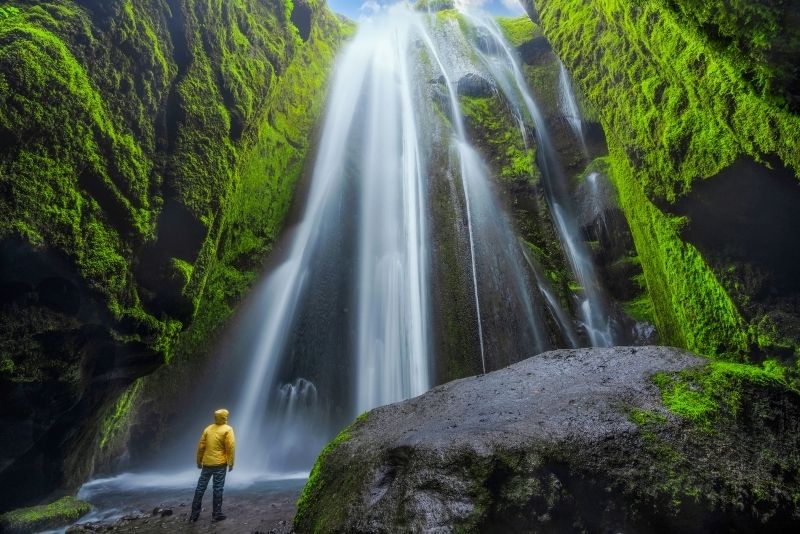 Located in Hamragarðar in South Iceland, Gljúfrabúi is a true hidden gem of a waterfall, obstructed from the main tourist trail and only viewable with a dedicated hike,
The hike in question requires wading through shallow creek waters for about 500 meters with nothing but serenity viewable in every direction.
Considering its proximity to the more famous and larger Seljalandsfoss falls, it's easily worked into a waterfall-themed day of exploring.
84 – Relax in Iceland's best Botanic Gardens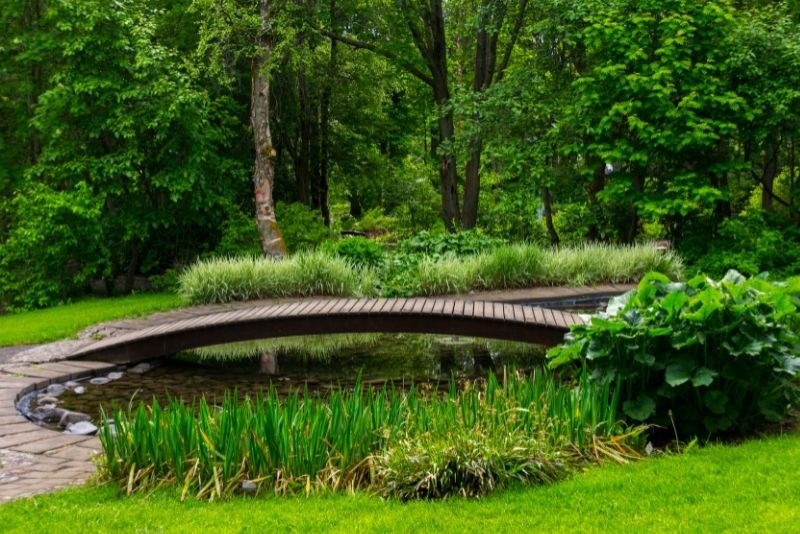 If you need a break from the hustle and bustle of city life without venturing too far out, head to the esteemed Akureyri Botanical Gardens.
At this crowd favorite, the plants are bright in color, the atmosphere is calm, and there are plenty of old buildings worth exploring too.
85 – Experience an erupting volcano right before your eyes!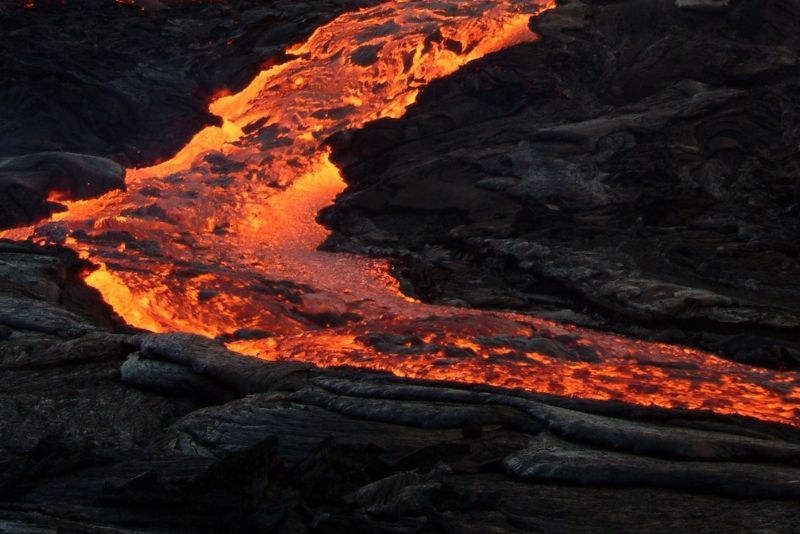 Come within inches of real, flowing lava! All in a safe, controlled, and manmade space, of course.
A perfect activity for all ages — thanks to both its entertainment and education — the waves upon waves of lava cascade over the crater's edge in this mesmerizing indoor lava show.
Unlike most of the manmade activities on this list, this place isn't in Reykjavik — it's found in the heart of Vík, a small village home to volcanoes, glaciers, and black sand beaches.
86 – Take the path less trodden to Westfjords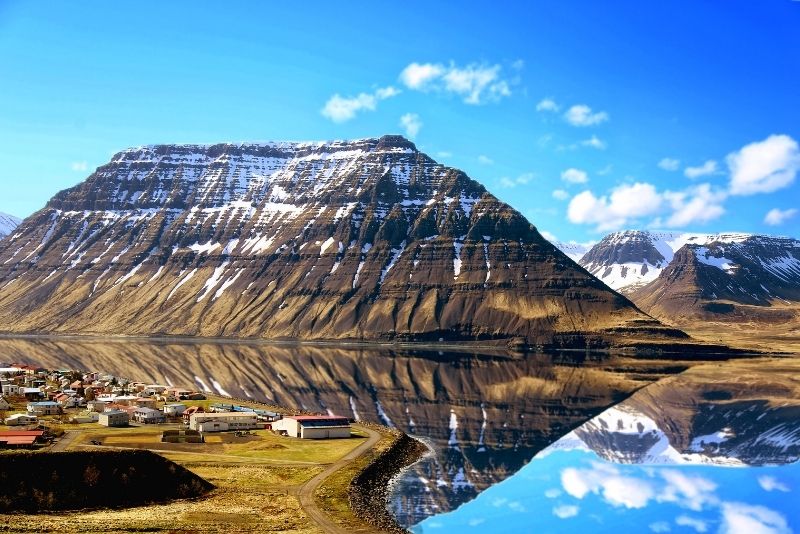 Accessible only in the summer months, Westfjords is an often-overlooked region, but one well worth the travel.
Whether you want to get within arms reach of the puffins at Látrabjarg birdwatching cliffs or walk the picturesque pink sands of Rauðasandur, this slice of nature really does have it all.
Rent a car or join an organized tour — either way, be sure to check this place off the list of things to do in Iceland.
87 – Spend the day at Dynjandi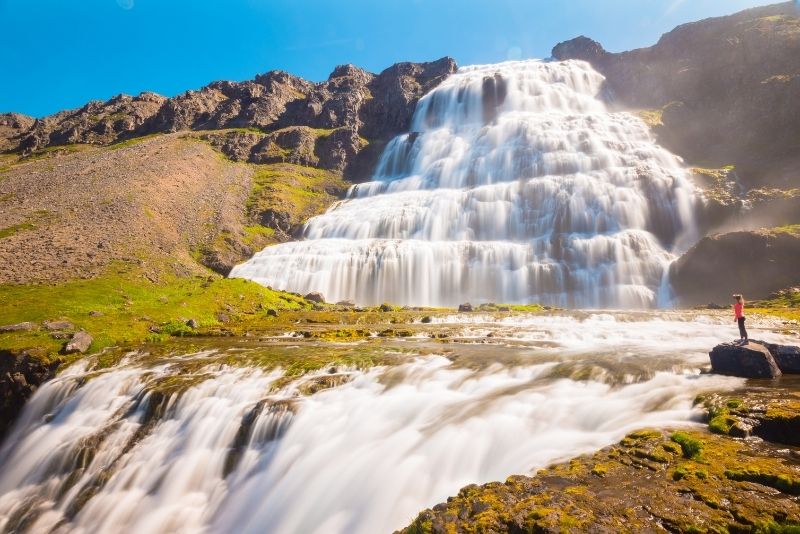 Another noteworthy waterfall, Dynjandi dishes up a nonstop echo of raging water that is as powerful as it is soothing.
Dubbed "The Jewel of the Westfjords", the best way to experience this wondrous landscape is with a hike through the area, one which plateau's at the base of this a 100-meter-tall natural treasure.
88 – Live out your Icelandic camping dream in Hornbjarg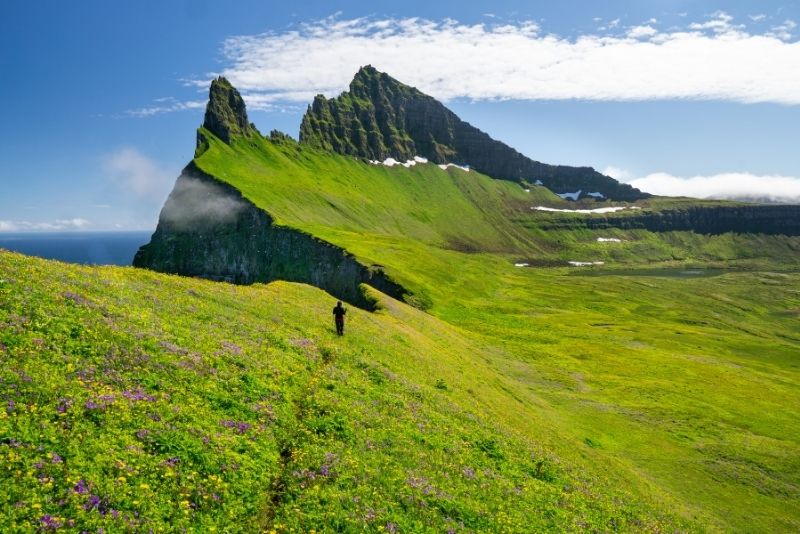 Hiking and camping in Hornbjarg (found in the Hornstrandir Nature Reserve in the northwest of Iceland) are quintessential activities for nature lovers.
The highlights of this natural reserve are hard to miss: towering cliffs at the top of the hike are juxtaposed by lush meadows and approximately 260 different species of flowering local plants.
Home to more than just flora, the area's total hunting ban has made the adorable arctic foxes quite inquisitive around camping sites, creating opportunities for unforgettable experiences.
89 – Celebrate midsummer on the pink beach of Rauðasandur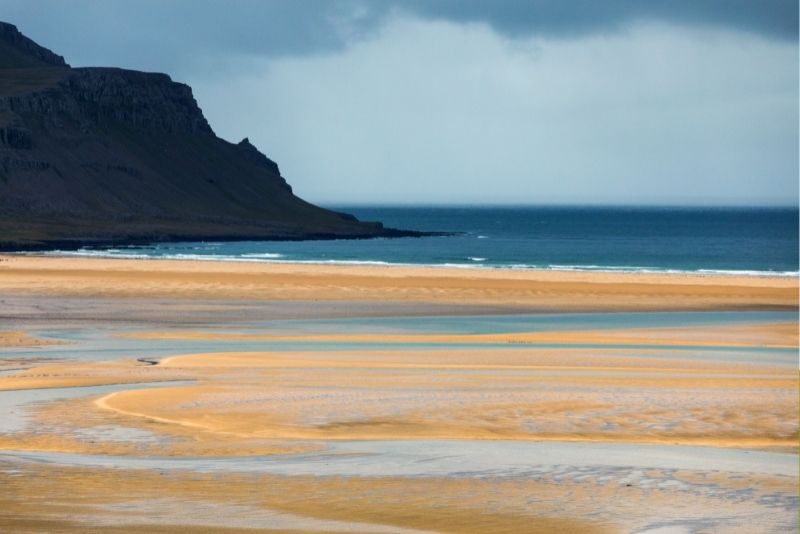 Rauðasandur beach — better known among foreigners as Red Sands Beach — is a magical remote area of Iceland, home to golden and pink sands created by millions of teenie-tiny crushed seashells.
It's a welcomed change from the array of black sand beaches around the country, and paints a clear picture of the vibrant variety of color offered on the main island.
Hot tip: if you consider yourself a birdwatcher, make a beeline for the high cliffs, home to millions of flocking seabirds.
90 – Stare into the depths of Ásbyrgi Canyon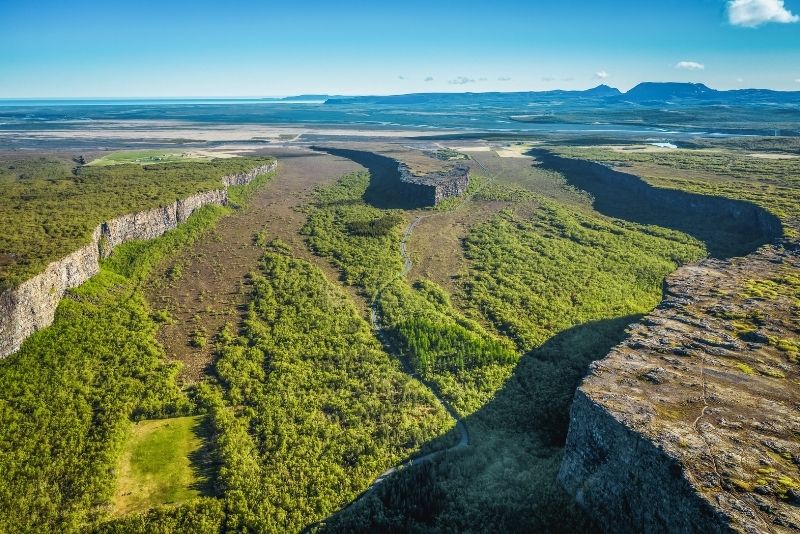 Iceland's answer to the Grand Canyon, the sprawling horseshoe-shaped Ásbyrgi Canyon stretches more than a kilometer wide, falling some 100 meters deep into the lush, tree-lined valley below.
Located in Oxarfjordur as part of the larger Jökulsárgljúfur canyon, this place truly needs to be seen to be believed — only then will you understand its moniker of "Shelter of the Gods".
91 – Wet your whistle at the Olgerdin Brewery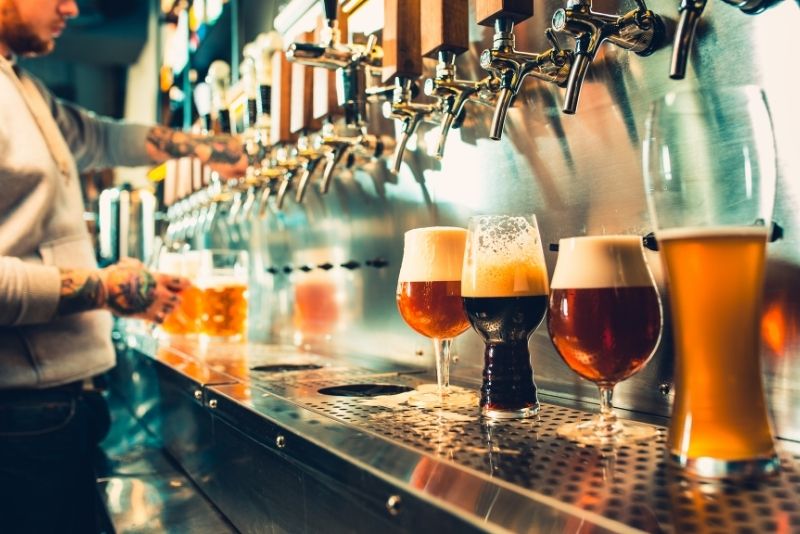 After days, even weeks of hiking, adventure, and exploring, it's fair to say that you'll have earned yourself a knock-off drink of two.
For all the best local brews, there's no better watering hole than Olgerdin Brewery, the oldest brewery in the country, in operation since 1913, that fuses pure Icelandic water into its salivating beer.
92 – Check out the Leiðarendi Lava Cave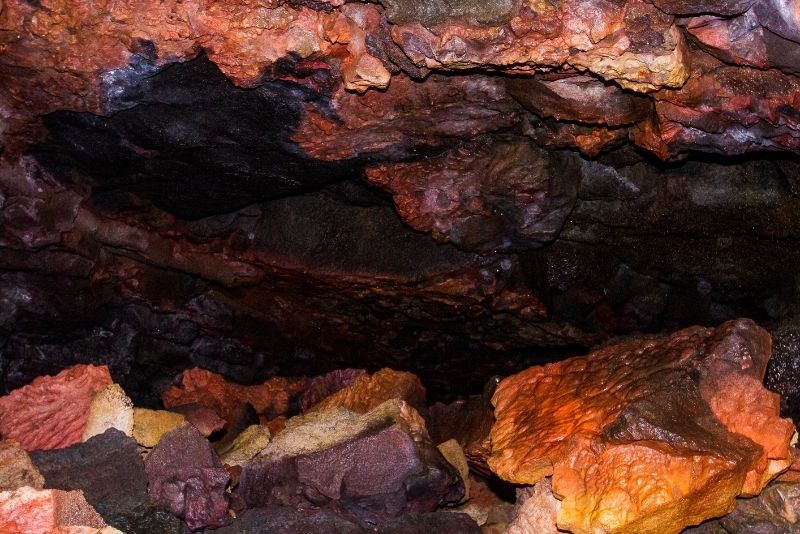 Looking like something straight out of an art gallery, the Leiðarendi Lava Cave is abundant with multi-hued lava tubes, overflowing with stalactites and unique rock formations — all in all, it's an undeniable subterranean marvel.
The cave sits in a lava field close to Bláfjöll, just a 25-minute drive from the main spots in Reykjavík, and is frequented by plenty of tour groups.
93 – Spend a day on the Stokksnes Peninsula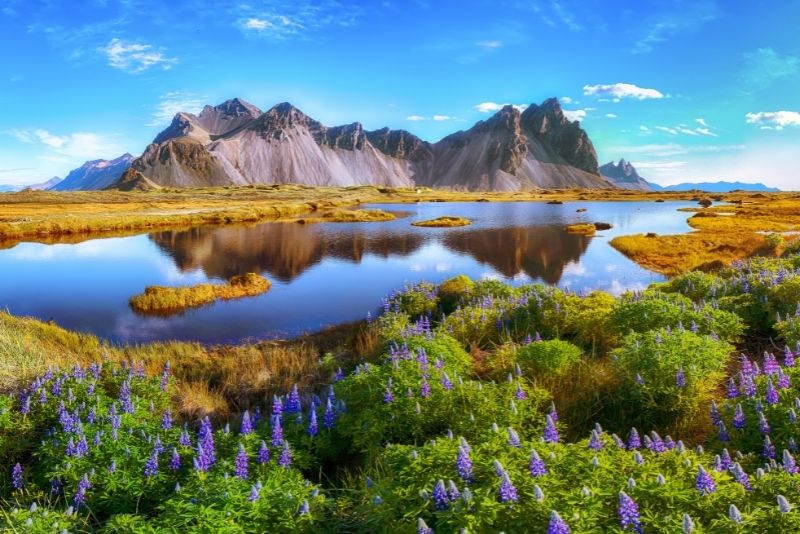 Widely known as the stomping ground for the screensaver-worthy best-known Vestrahorn mountain, the Stokksnes Peninsula is teeming with natural beauty, vibrant colors, and dramatic black sand beaches.
The small peninsula straddles the far eastern side of Iceland, and while popular among all travelers, is a particular delight for photographers.
94 – Snap a photo of Kirkjufell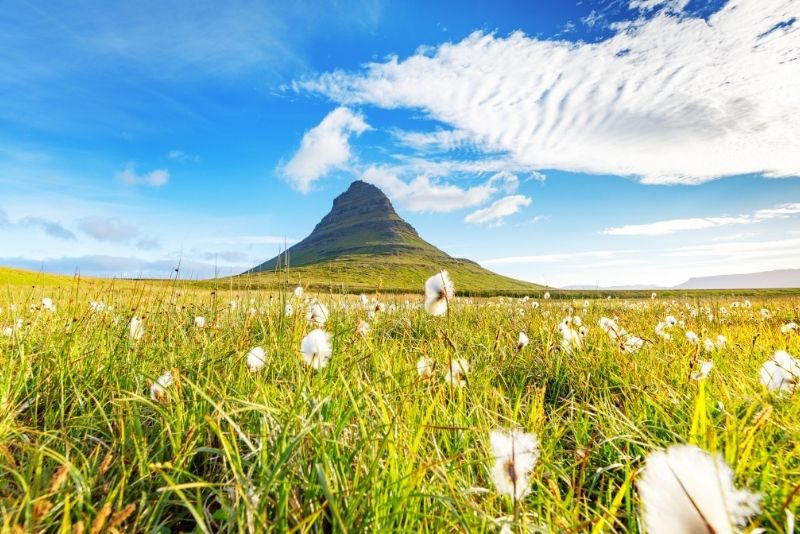 Looking like something out of Avatar or a sci-fi flick, Kirkjufell is said to be the most photographed mountain in the country — one look at its allure and it's not hard to see why.
The distinctly shaped peak sits on the north coast of Iceland's Snæfellsnes peninsula, a stone's throw from the nearby town of Grundarfjörður.
95 – Dig into an Icelandic Hot Dog or two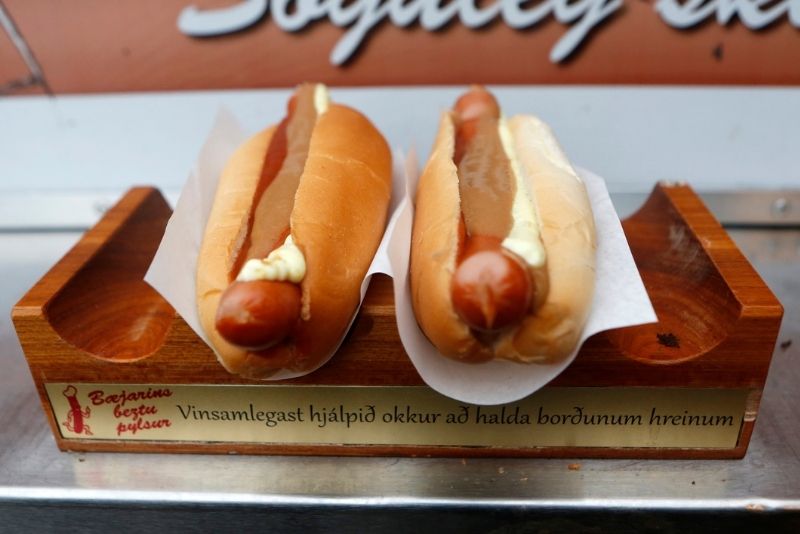 After multi-day excursions and plenty of hiking, you must be hungry, right?
If there's any single dish in Iceland that's become iconic over the years, it's the hot dog.
With a flavor distinctly different to their American counterparts, the Icelandic Hot Dogs are made mostly of grass-fed Icelandic lamb thanks largely to Iceland's massive sheep population, mixed with a little beef and pork (it is a hot dog, after all).
Can't choose where to eat? Head to the unassuming Bæjarins Beztu Pylsur hot dog stand in downtown Reykjavik for what literally translates to "best hot dogs in town".
96 – Take a seat at the Harpa Concert Hall and Conference Centre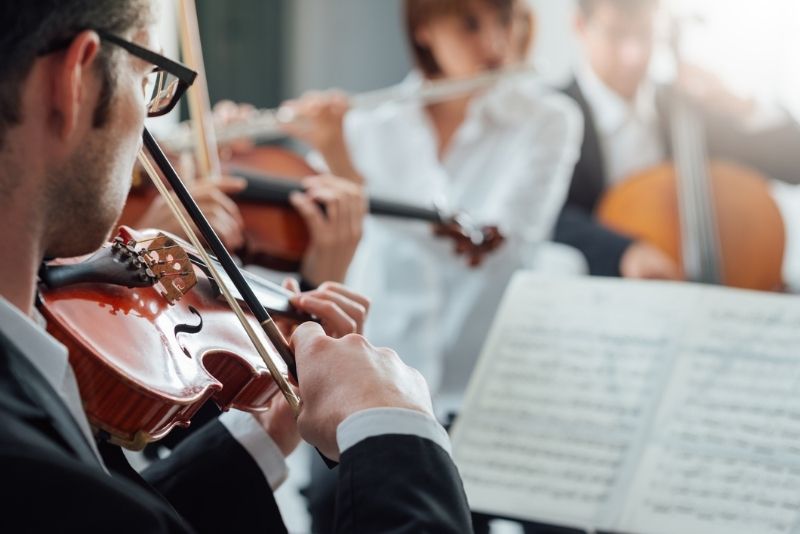 While you're in the area grabbing a meaty snack, why not catch a show at the Harpa Concert Halls or see what's on in the adjoining Conference Centre?
The multi-purpose function facility regularly houses the Iceland Symphony Orchestra as well as the Icelandic Opera. That said, if neither of those tickles your fancy then check the website, as a range of one-off events pass through the glass-covered hall.
97 – Sleep under the stars (and Aurora) by camping overnight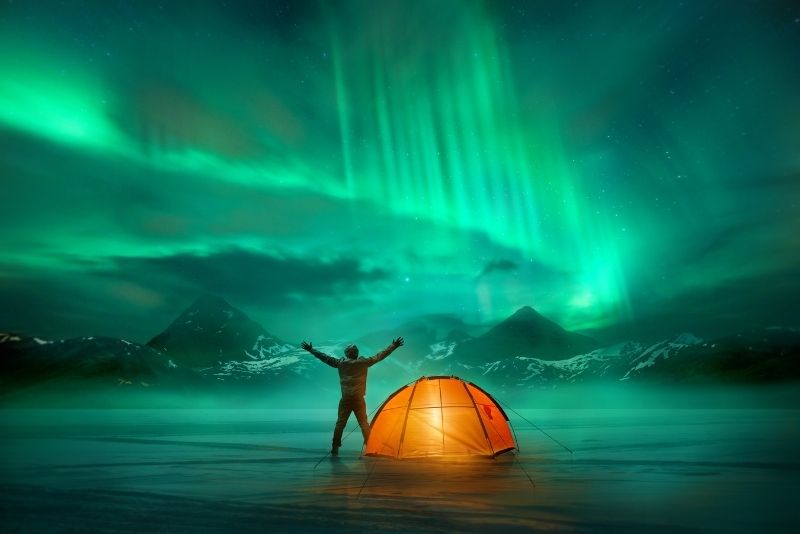 It's not exactly a secret that Icelandic accommodation – relative to most of Europe – is rather pricey. So why not kill two birds with one stone, saving a few bucks by sleeping in a campervan while experiencing the unobstructed, unforgettable night sky from one of the nation's three National Parks.
Stay one night; tackle the entire eight-day self-drive tour all around Iceland's famous ring road; or anywhere in between.
Just remember, only camp within designated campsites for your own safety.
How to get to Iceland?
Reykjavik is the main transportation hub of the country, and Keflavik Airport is the perfect place to start your trip.
An airport transfer is the best way to get to and from the capital; from there, you can start venturing out into the wilderness!
Where to stay in Iceland?
In Akureyri (located in the northern part of the country), you can enjoy convenience and contemporary vibes at Centrum Hotel, which features a lounge and ski storage (perfect for winter travelers!), as well as easy access to nearby museums and eateries.
Or enjoy the rustic trappings of Hotel North, where you can relax in the garden after a long day of biking, hiking, or exploring the scenic wilderness.
In the southern region, the vibrant outdoor town of Vik offers some excellent places to stay, including Hótel Dyrhólaey, where you can enjoy delicious regional meals, then head out on excursions to nearby glaciers, hiking trails, and more.
Or book a stay at Hotel Vík í Mýrdal, where you can stroll along the black sand beach, tuck into a delicious buffet breakfast, or simply enjoy the gorgeous scenery surrounding the property.
If you're looking for great stays in the capital, check out our list of things to do in Reykjavik!
Visiting Iceland on a budget?
Free walking tours are mostly available in Reykjavik, and they're a great way to get engaged with the history and culture of the city – and the country at large.
After learning about the architecture, art, and unusual stories of the region, you'll have plenty of fun facts to entertain you as you go exploring!
Where to go next?
Whether it's at the beginning or end of your trip, Iceland is a great part of an international vacation.
And you can combine it with even more of the best places to visit in Europe!
If you'd prefer to stick to Iceland, you can always arrange some multi-day trips.
Enjoy mountains, seasides, and everything in between – and when night time comes, you might even catch a glimpse of the brilliant Northern Lights!
Final thoughts
Once you start getting a taste of all of the amazing things to do in Iceland, you won't want to leave!
Whether you're hiking or rafting, climbing or diving, gazing at the wilderness or driving through the middle of it, the landscapes and experiences here are unlike anything else on Earth.
And there are some great historical and cultural options as well, making even a day indoors memorable.
Pack your sense of adventure and see it for yourself!
If you have anything you'd love to add to 'The Ultimate Bucket List', feel free to leave a comment below! Happy travels.