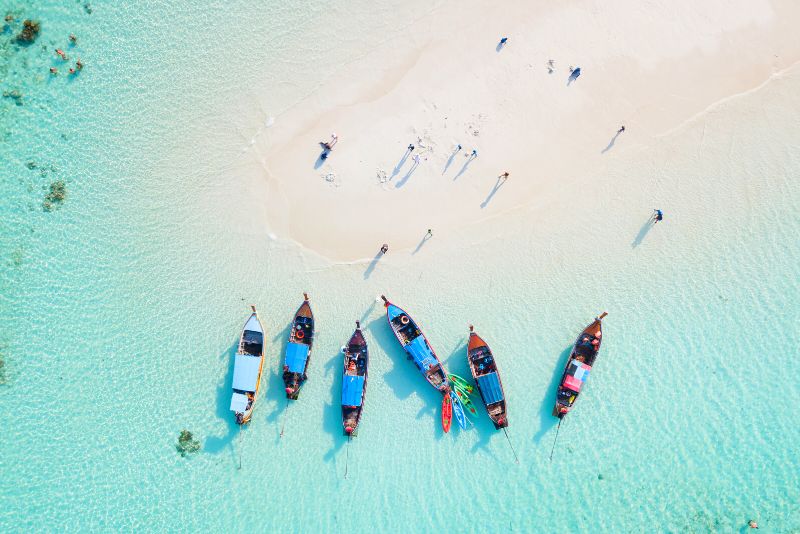 Thailand's largest island is also the country's main destination for beach lovers and those looking for excellent (and affordable) snorkeling and diving. Phuket boasts some exceptional golden beaches and turquoise waters, but it's the islands just off its coast that offer a truly stunning experience. From the famous James Bond island to the secluded bays on the Racha islands, you'll be spoiled for choice here.
As hard as it is to tear yourself away from the warm sand, Phuket is best appreciated from the water. Swimming, snorkeling or canoeing around the islands will bring a completely new perspective of the area. And there's plenty to choose from too to tailor your experience to your own preferences.
Read on and discover the best boat trips in Phuket.
Whether you're up for excitement, some privacy and luxury, or an active getaway, the best boat tours in Phuket have you covered, regardless of your itinerary and budget.
Don't feel like reading ahead? Check our full catalog of boat tours in Phuket.
1 – James Bond Island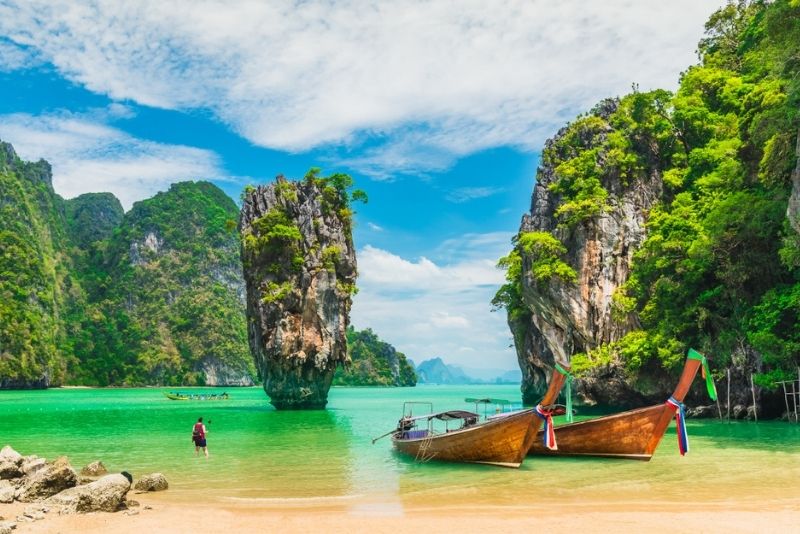 Although now known even to locals as James Bond Island, this small island 25 km off the coast of Phuket island is actually called Khao Phing Kan (meaning "hills leaning against each other"). It was also relatively unknown until scenes for the 1974 Bond movie, The Man with the Golden Gun, were filmed here.
Today, it's a favorite destination in Phang Nga Bay and many boat tours are available to explore the towering limestone karst cliffs and emerald-green waters. Whether visiting for a few hours or a full day, golden sands, beautiful shores and a background of thick, lush forests await you.
The best way to explore James Bond Island is on a full-day trip, as these usually combine additional stops and activities for an incredible day out in Phang Nga Bay. Some of the best boat trips in Phuket use traditional long-tail boats but it's also possible to choose tours with a speedboat.
Depending on the itinerary, James Bond Island is usually the first or the last stop on the tour. Your visit to the island will give you a chance to dip your toes in the water as you take in the stunning scenery surrounded by 20-meter-tall rock formations.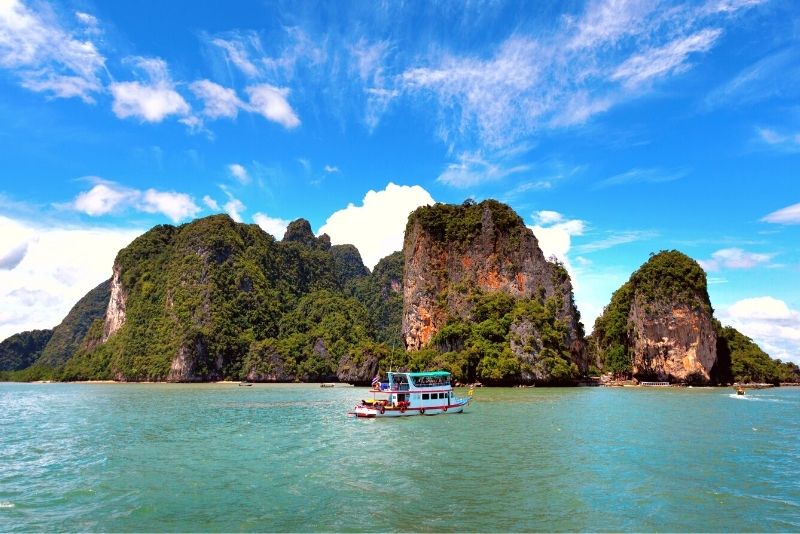 Some tours also include a stop at Wat Suwan Kuha, where you'll explore Monkey Cave (so called because of the many primates living in and around it) and see the gold Buddha image and many smaller statues and carvings. Other tours will take you to Panyee Island, where you'll visit a Floating Village and see the homes built on stilts before you have lunch at a local restaurant (vegetarian options available).
Another common addition to these boat tours is a chance to canoe or kayak around Talu Island or into the stunning caves of Panak Island and Hong Island. You'll visit mangroves, blue lagoons, and crystal clear waters. You'll likely have a guide handling the paddling, as these are tricky waters for the inexperienced.
Tours start early in the morning and offer hotel pick-up and an English-speaking guide.
2 – Phang Nga Bay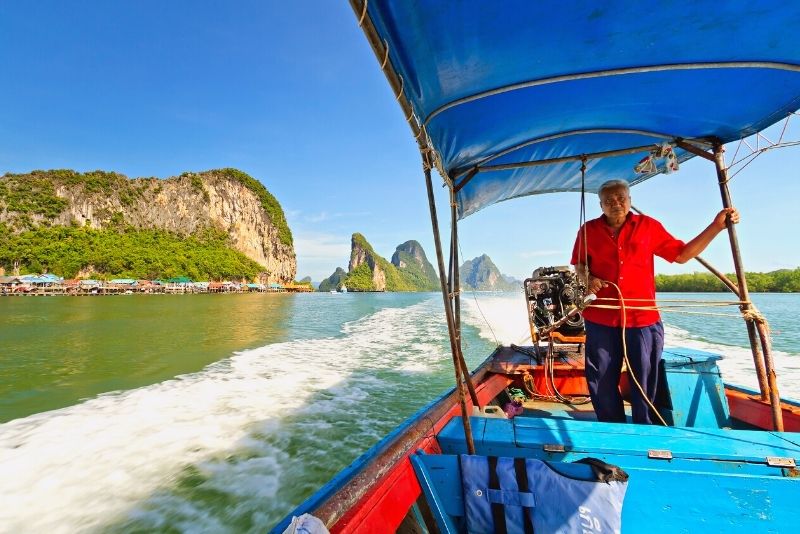 The beautiful 400 square meters Phang Nga Bay is part of a national park with the same name and is filled with stunning islands and islets. There are plenty of sunken caverns and limestone cliffs to explore here, as well as some very famous islands.
James Bond Island, named after the 1974 Bond movie, The Man with the Golden Gun, might be the most famous, but it's certainly not the only one. Scenes for Star Wars: Episode III were also filmed in this bay to represent areas of the planet Kashyyyk.
Most boat tours of Phang Nga Bay offer a full day of kayaking, sightseeing, cave exploration, and enjoying the turquoise waters. Shorter tours are also available if you're short on time, but all-day tours will allow you to fit in more stops.
Some of the best boat trips in Phuket include visits to the hidden Koh Panak Cave and a chance to explore the Hong Islands via a scenic canoe trip. Some of the best caves in the area are only accessible by canoe, so this is a one-in-a-lifetime opportunity to marvel at their natural beauty. There's even a unique cave only accessible by swimming through a narrow passage if you are brave enough to try it.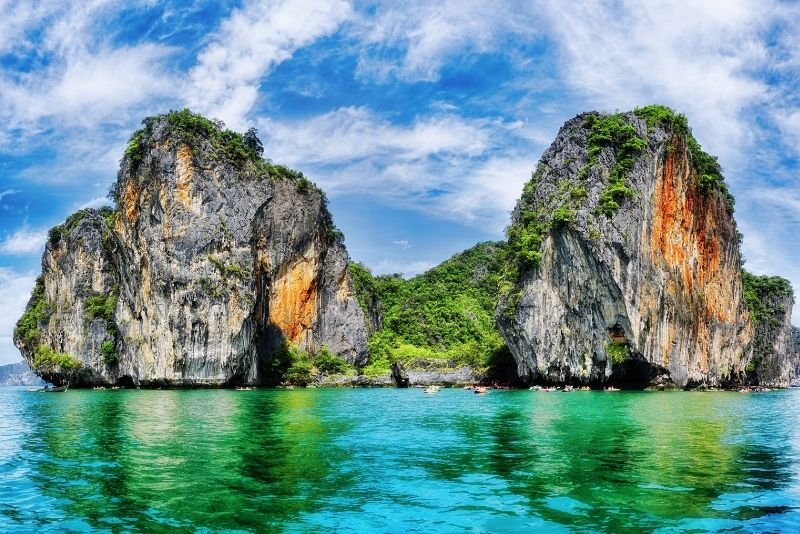 You will visit several beautiful beaches as well for some time to soak up the sun and go swimming. You might also stop by Khai and Lawa islands for some nice snorkeling around the shore.
If paddling is your thing, there are specific canoeing and kayaking trips that take you to explore unique "hongs" (enclosed tidal lagoons), paddle inside caves, and get close up-close views of local wildlife – from macaques to hornbills– as you go past lush green islets that are usually off-limits to larger boats. You'll get up close views of local
Some boat tours run into the evening and as the sun comes down, you'll have a chance to release Loi Krathong (floating lanterns) in the bay. Tours usually include hotel pickup and drop-off in the morning, a buffet lunch or snacks and refreshments, and all equipment needed for a day to remember.
3 – Phi Phi Islands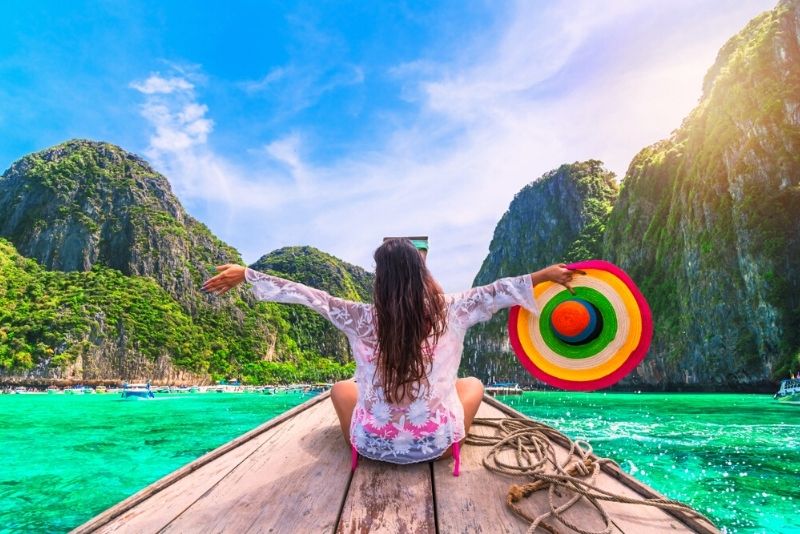 Made up of four large islands (Phi Phi Don and Phi Phi Leh) and four smaller ones, Phi Phi is one of the most popular boat trips in Phuket.
Home to pristine white-sandy beaches and secluded bays and surrounded by towering limestone cliffs and turquoise waters filled with great marine life, Phi Phi is a dream destination – no matter if you're looking for an active getaway of paddling and snorkeling or a chance to bury your toes in the warm sand.
Some of the best boat trips in Phuket consist of full-day speedboat trips to snorkel and swim around Phi Phi. You'll depart in the morning from the Royal Phuket Marina, enjoying scenic views of the sea and the rock formations all around you on your way to Bamboo Island or the Khai Islands.
Here, you'll have some time to swim or snorkel with the colorful marine life before you continue on to Yong Kasem (Monkey Beach) to see the friendly monkeys climbing and swimming all around you.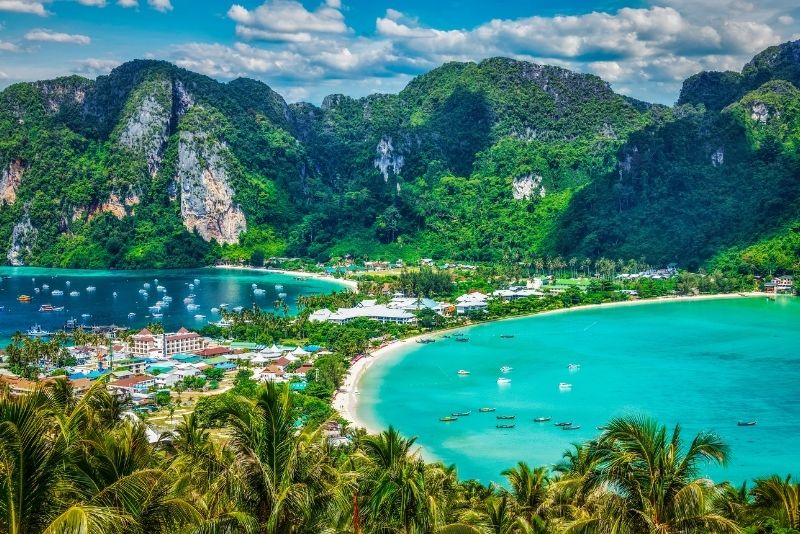 All-day trips usually include a stop at a local beachside restaurant as well as a visit to Maya Bay, where Leonardo DiCaprio's 'The Beach' was filmed.  Some tours also include free time at Khai Nok Island so you can swim some more or just take a break and relax in the sun for a while.
Depending on the tour you choose, you might then head to explore Viking Cave or to Pileh Lagoon for a swim in a natural pool of azure waters. Early-morning pickups are also available if you'd rather watch the sun rise over the Andaman Sea from a quiet, almost deserted beach. For even more privacy, consider a private sunrise tour, which offers a flexible itinerary and breakfast on the beach as the day starts.
All equipment for snorkeling, soft drinks and fruits, beach towels, and an English-speaking guide are included in the tours.
Would rather explore on your own? You can book tickets for the air-conditioned ferry that connects Phuket and Koh Phi Phi and then sit back and enjoy the ride in a comfortable cabin. Spend as much time as you want exploring the largest Phi Phi island before heading back to Phuket.
4 – Racha Islands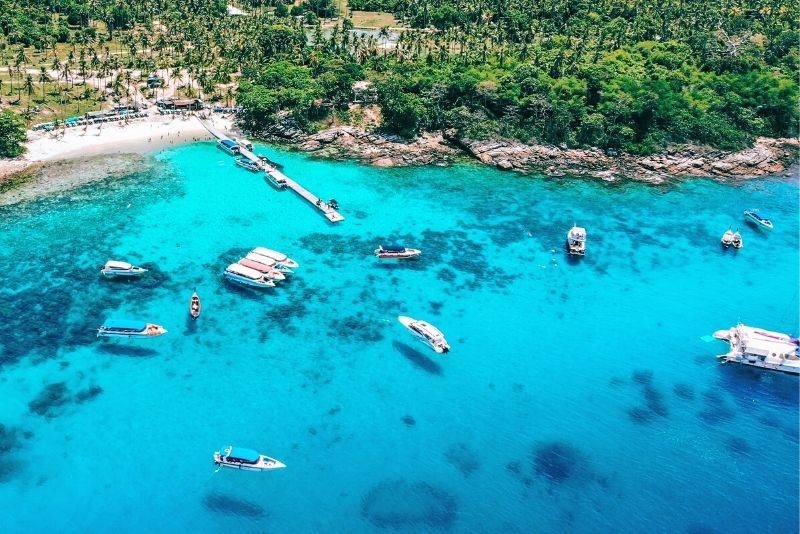 The Racha Islands (Koh Racha Yai and Koh Racha Noi) are the perfect day trip just 20 km off the coast of Phuket. With beautiful blue waters and soft white sandy beaches, they offer a great setup for both snorkelers and divers, as well as those who would rather lie back and just enjoy the sun.
Racha Yai, the largest of the two islands, is busier but has the best beaches and rich marine life. Racha Noi is smaller and uninhabited but a stop here means a more relaxing visit away from the crowds.
Less than one hour from Phuket, the Racha islands are a favorite destination for snorkeling and diving, and there are plenty of tours that'll get you there. Most tours leave from either Chalong Pier or Rawai ports, so make sure you confirm your departure place when booking a tour.
Some full-day tours make the most of the daylight by taking you to three different locations (Racha Noi Island, Racha Yai Island, and Maiton Island) by speedboat. You'll explore remote fishing villages, stop by hidden beaches along the way, and have plenty of chances for snorkeling at Banana Bay or Siam Bay and some of the best beaches on both Racha islands.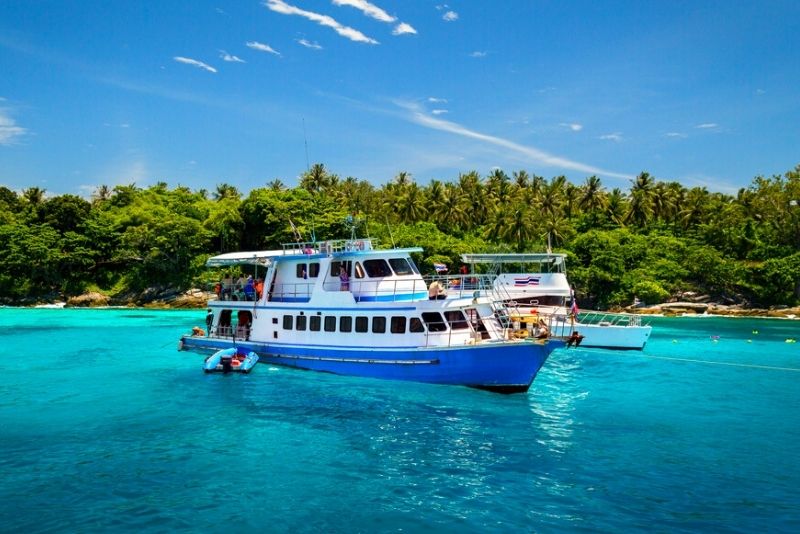 For a more luxurious experience, try a catamaran tour that offers sun loungers, a live DJ, and a chance to catch the sunset as you sail on the Andaman Sea. You can even request a professional photographer to tag along so you can just enjoy the trip and let somebody else document your amazing trip.
If you're an avid diver, there are also diving tours available that will take you to at least three sites. You'll be able to interact with lots of marine life, including batfish and octopus, and explore some stunning wrecks.
Some tours include lunch served at a local restaurant, while others will offer breakfast or lunch on board. Drinks, fruits and snacks are sometimes included as well. Don't worry about any equipment – anything you need for a day of snorkeling will be provided on your tour. English-speaking guides are standard on all tours.
5 – Khai Islands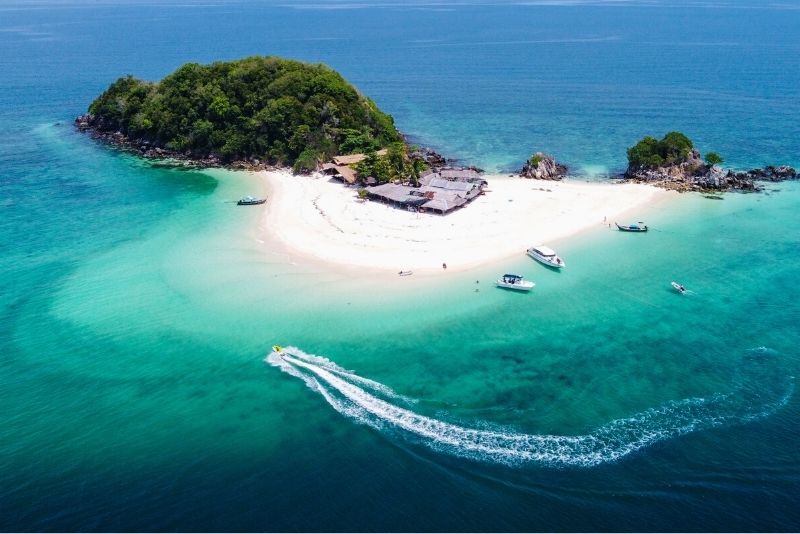 Located just 15 minutes from the coast of Phuket, the Koh Khai group of tiny islands offer a great getaway option for those short on time. Half-day tours to the three islands will get you plenty of time to enjoy the beautiful white sand or to jump into the crystal-clear waters for some snorkeling.
Koh Khai Nai and Koh Khai Nok, the largest of the islands, offer plenty of amenities, including beach chairs and umbrellas for rent, as well as little stalls to grab a snack or a cold drink. Uninhabited Koh Khai Nui can only be reached via a private tour and it's a great destination for snorkeling.
Tours to the Khai Islands come in all forms and shapes. Take a speedboat tour so you can explore all three Khai islands, make additional stops at places like Coral Island, and have time for kayaking, snorkeling, and parasailing. Or take a luxurious catamaran tour and feel the sea breeze as you sail towards the islands while having breakfast and enjoying the stunning ocean views. Some of the tours even offer a live DJ, comfortable sunbeds, and their very own experienced chef to prepare a fresh Thai lunch onboard.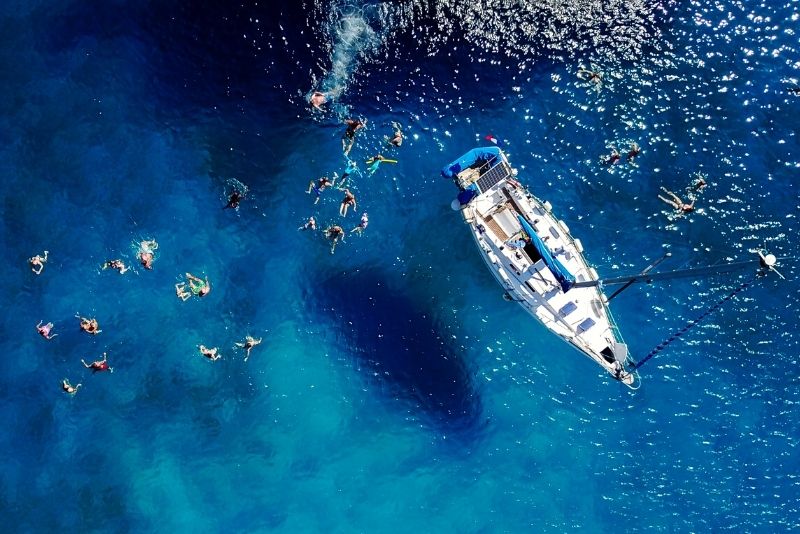 Start your dream island getaway with a hotel pickup and a drive to the pier. There, you'll board your boat and head towards the islands to enjoy time on the sand or jump into the sea to swim, snorkel among the coral reef or simply cool off in the beautiful Andaman Sea. Snorkeling equipment and life jackets are always provided on the tours.
Longer tours might also combine trips to other islands, including stops in Phi Phi, Bamboo Island, and the Maya Area. You can meet the creatures that inhabit Monkey Island, discover the emerald lagoon at Pileh Bay, or stop at Ton Sai Beach, where the movie "The Beach" was filmed. Pick a tour with lunch included so you don't have to worry about bringing your own food, or find a tour that takes you to explore Viking Cave on Phi Phi Ley.
Catch an all-day tour if you want to see the sunset as you sip a glass of champagne on your way back to Chalong Pier.
6 – Surin Islands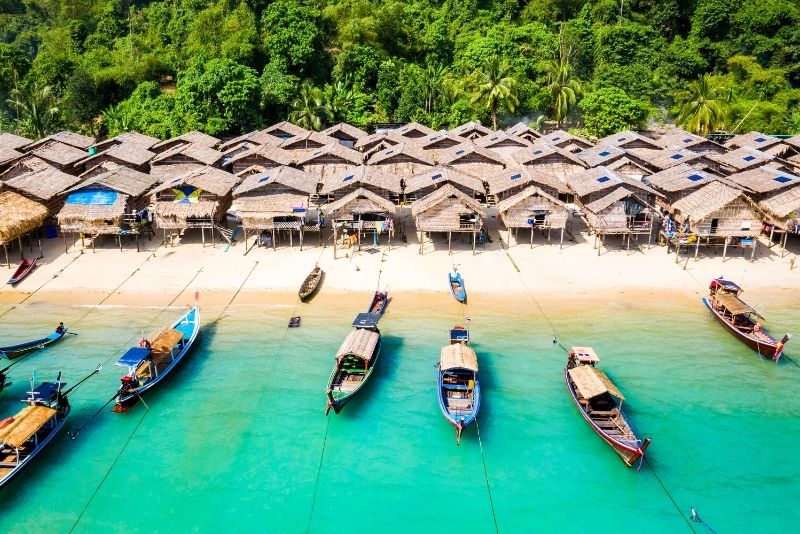 The Surin Islands are one of the most popular diving destinations close to Phuket. Located within the Mu Ko Surin National Park, the five Surin islands have remained largely untouched, with no major development except for a few basic bungalows for those who want to spend the night there.
Diving and snorkeling are the main reasons to visit, and even beginners can try this out thanks to the natural shallow corridors between the two main islands – a perfect place to see colorful marine life, including blacktip reef sharks and leatherback sea turtles, without getting too deep into the water.
The islands also feature soft sandy beaches, a massive bird population, untouched settings, and a small indigenous community of Moken (sea gypsies).
After picking you up at the hotel in the morning, your tour guide will bring you to the port to meet your boat crow and get acquainted with the snorkeling or diving gear. Depending on the tour, you might have a chance to enjoy breakfast or a snack onboard on your way to the first stop. Popular first stops include Chong Khat Bay, Turle Bay and Nemo Bay, where you can enjoy excellent snorkeling.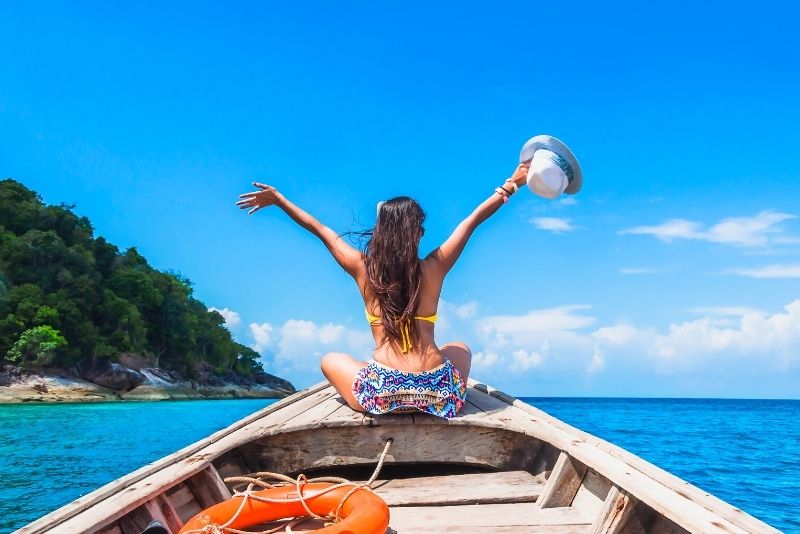 Many tours will stop at the Moken Eco Village, where you'll have a chance to learn more about the Moken tribe and their way of life that goes back hundreds of years. Other tours will take you to a secluded beach sport or a local restaurant for a delicious Thai lunch buffet (drinks and snacks included).
For a unique chance to immerse yourself in the untouched beauty of the islands, book a tour with an overnight stay. Since most visitors to the Surin Islands are day-trippers, booking an overnight means you'll get to enjoy the nighttime beauty of the beaches here. You don't need to worry about anything – your guide will organize everything so you can sleep either in a comfortable tent or an air-conditioned bungalow room.
7 – Coral Island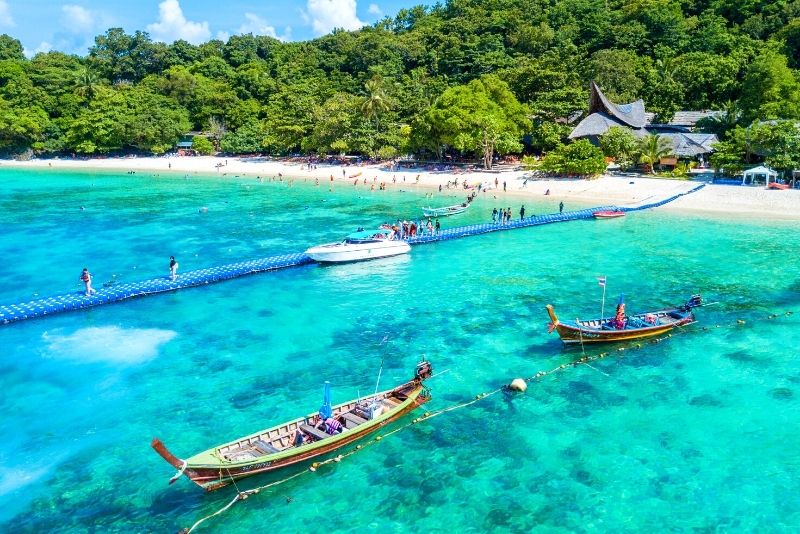 Less than 10km from the shores of Phuket, Coral Island is a busy destination popular with daytrippers and those looking for an easily accessible destination to snorkel. With great beaches, turquoise blue waters, and rich marine life, this is a great destination that works well as both a half-day or a full-day tour.
Tours start at the Chalong Pier after being picked up at your hotel. If you're choosing a tour on a speedboat, you'll be swimming and snorkeling on Coral Island in less than 20 minutes.
Most tours head to Banana Beach, the island's main beach. This is where most of the restaurants and accommodations are located and a great starting point for your day out in the sun.
If you're ready to try snorkeling for the first time, Banana Beach is the perfect location – there's a shallow reef just off the shore, so both beginners and children will feel comfortable exploring the coral reefs here.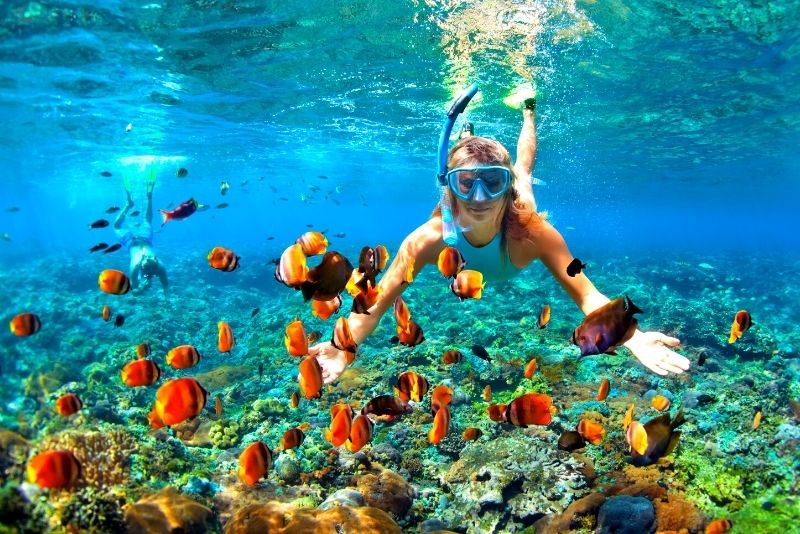 You'll find plenty of pufferfish and giant starfish to keep you company underwater. All snorkeling gear is usually included in the tours, so don't worry about anything and just get ready to enjoy your day.
Banana Beach is also a good spot for water sports. You'll have plenty of free time on the island to try kayaking, parasailing, banana boat rides, and sea walking (these are usually not included in the price of the tour, though).
Need a quiet break? Go ahead and grab a spot under a beach umbrella or rest and relax on a beach lounger. Take a walk alongside the shore or jump in the emerald waters to cool off before you pick a seaside restaurant for a traditional Thai lunch.
For a more leisurely approach, skip the speedboat and catch a ride to Coral Island on a traditional longtail boat. Or enjoy a private trip on a charter speedboat so you can tailor the trip to your own schedule and interests.
You can even find a sunset catamaran tour, where you'll be able to catch the stunning views of the setting sun before heading back to Chalong Pier.
8 – Similan Islands
Made up of 11 islands (some of which are off limits because of turtle hatching and reef protection programs), the Similan archipelago is one of the most popular destinations in Thailand. Offering amazing snorkeling and diving, as well as stunning turquoise waters and soft powdery-white beaches, the Similan islands are a slice of paradise.
The islands are located over 120 km off the coast of Phuket. On a regular boat, the trip would take over three hours one way. This means most tours offer transfers on speedboats – which only take about 70 minutes – to give you as much time as possible to enjoy the islands.
Most of the tours focus on snorkeling and start early in the morning with a hotel pickup. From there, you'll head over to the port and meet the English-speaking tour guide and crew. Some tours will welcome you aboard with a light breakfast as you get comfortable and get ready to leave for your day of adventure. All snorkeling gear and lifejackets are included in tours.
From there, you'll head to your first snorkeling stop. This could be a number of places, including Mu Ko Similan National Park, Bangu Island, Koh Payu, or Koh Meang, among others. Or you might head to the towering rocks known as Stonehenge, which reach about 25 meters deep into the ocean and attract a wide variety of animals.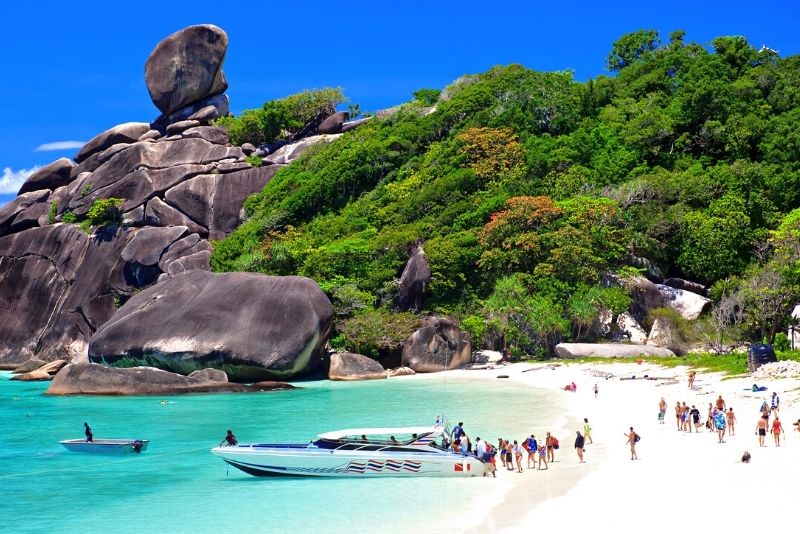 All tours will take you to at least 2-3 different places so you can enjoy a variety of sea life and even have a chance to see dolphins playing in the sea.
You might also be able to hike up to the panoramic lookout at the Sailing Rock formation, and some tours offer a Thai buffet lunch either on board or at a local restaurant in one of the islands. There will likely also be stops for some swimming or relaxing on the beach.
You'll head back to Phuket in the late afternoon, sometimes late enough to see the sunset from the boat. A driver will be waiting at the port to bring you back to your hotel afterward.
9 – Maiton Island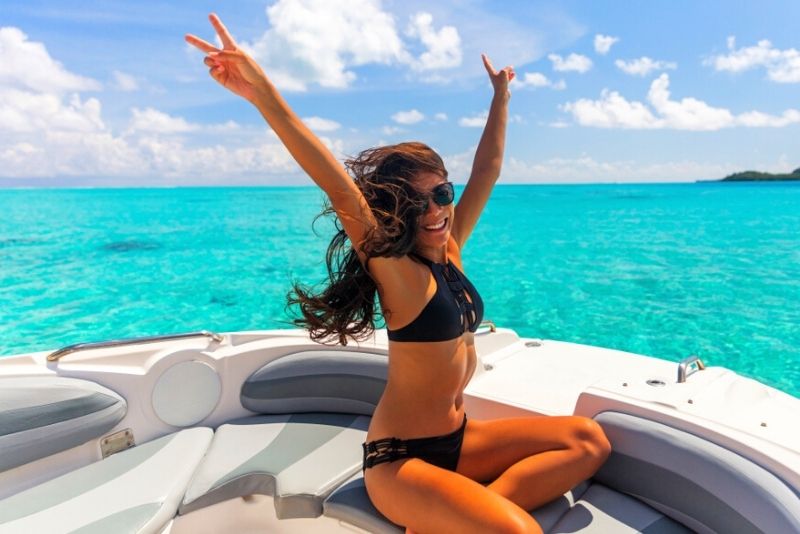 Looking for the best boat trips in Phuket for couples? Maiton Island (Honeymoon Island) can be reached in just 15 minutes by speedboat. A small island just 2.6 km across, Maiton is a quiet, hidden-from-the-crowds and beautiful escape.
Golden sands flanked by palm trees and surrounded by beautiful blue water, Maiton is a great unspoiled destination for snorkeling. Spend some time on the shore and you might catch sight of some dolphins playing in the water or grab breakfast at the island's only restaurant.
The best way to explore Maiton is with a tour, many of which will stop at Maiton as part of a multi-island tour. A common combination is Racha, Raya and Maiton area for a full day of snorkeling, basking under the sun and enjoying some cold drinks on the beach. For those who don't want to miss famous destinations, it's possible to combine a trip to Maiton with a snorkeling adventure to the Phi Phi islands, or a trip to Racha Noi and Racha Yai Islands.
Speedboat tours are the most popular form of transportation in these tours, but you can also choose to travel in a catamaran – a slightly longer trip of about 30 minutes that offers better views of the endless ocean and the beautiful forested islands around. Or you can jump aboard a luxury boat with an ample deck so you can sit back and enjoy the views on your way to your first stop.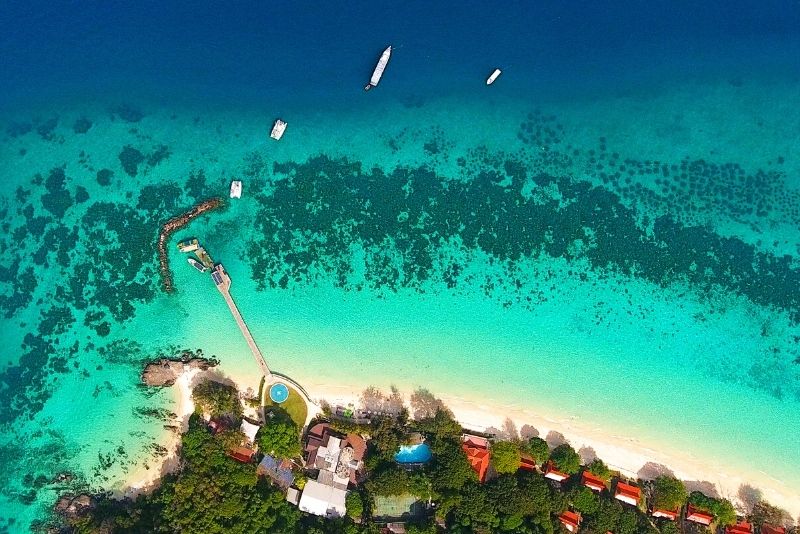 Want even more excitement? Tours that stop on Coral Island will allow you to try parasailing, diving, and a number of other water adventures.
If you'd rather spend an entire day on Maiton, you have the option to get a private chartered speedboat ride with a local captain. This tour allows for a lot of personalization. Choose to take an English-speaking guide with you or not, tell your captain if you'd rather go to a good spot for swimming or snorkeling, and how long you want to be there.
Have lunch on the beach or go for a walk. By 4pm, you'll head back to your boat for a quiet transfer back to Phuket and then your hotel.
10 – Khao Sok National Park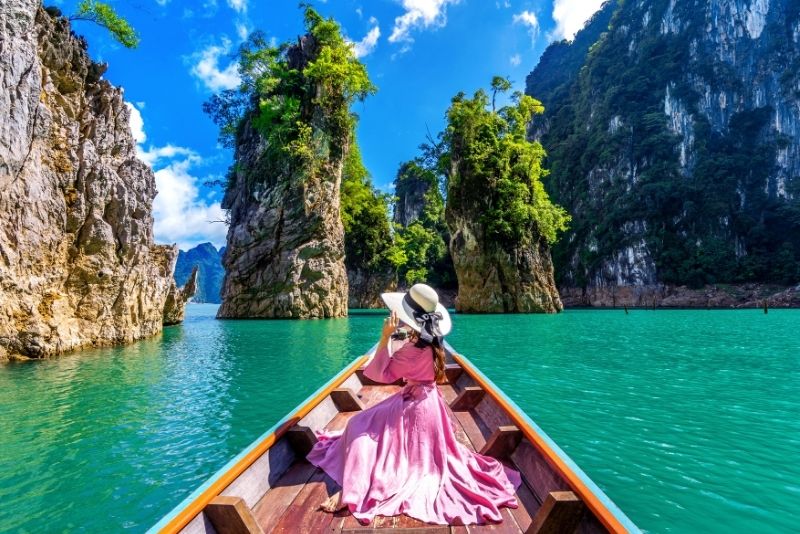 Home to the oldest evergreen rainforest in the world, Khao Sok is a breathtaking destination. There are towering limestone peaks, deep caves, iconic waterfalls, and a mountainous forest that seems to go on forever. This is the place to visit when you want to explore beyond the beautiful golden beaches and instead want a chance to cross paths with wild elephants, canoe in the crystal clear lakes in the park, and trek through the thick jungle.
The wildlife here is just as stunning as the park itself. In addition to elephants, you might catch sight of tigers, sun bears, Malayan tapirs, and wild boars. Plenty of macaques and langurs also call the place home. Guided treks are available and visitors can also explore the Sok River in canoes or rafts.
The park specializes in eco tours and active days out. There are options here for everybody, no matter your interests and fitness level.
A popular 8-hour tour takes you to explore Chiew Larn Lake on a long-tail boat ride before trekking up Khao Sam Kler mountain. You'll have an opportunity to kayak or swim to cool off later on or simply spend some time birdwatching or resting.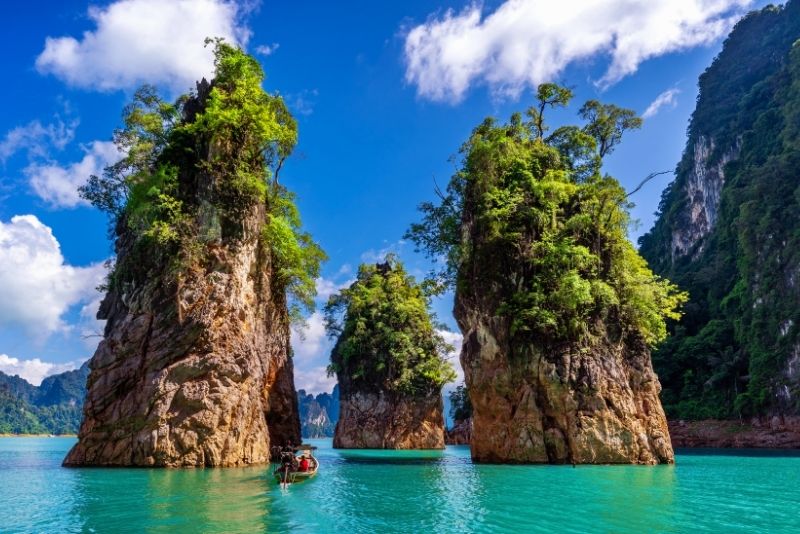 Or you can visit an elephant sanctuary to interact with the magnificent animals before jumping on a bamboo raft and let your guide take you down the Sok River. For an even more immersive adventure, full-day tours (up to 12 hours long) take you swimming to Ton Prai waterfall before entering the thick rainforest for a mix of trekking and canoeing.
You'll even get a chance to try authentic local dishes at a Jungle Lodge or see a live Thai cooking show. Some tours will add a stop at a local market so you can pick up some goodies or snacks to take with you.
All tours include hassle-free transfers from Phuket and English-speaking guides.
If one day doesn't feel like enough to discover the magic of Khao Sok, a three-day private tour might be just what you need. During the day, you'll have a choice of tubing down the river, swimming in Raja Prabha Lake, and trekking through the jungle with your own guide. At night, you'll sleep in your very own tree house with a private bathroom and electricity.
Final thoughts
Phuket is filled with amazing sights and breathtaking islands. No matter how long you're visiting for, it'll still be hard to fit so many unique destinations into your days. A great way to see more of it is to find boat tours that bring you to your top must-see spots without the hassle of coordinating timetables on your own.
Whether you're looking to soak up some sun, get your heart pumping with a jungle trek, or find amazing marine life, there's a tour out there waiting for you. So go ahead and grab your swimsuit and let the experts handle everything else!
Once you're back, don't forget to check out some of the amazing things to do in Phuket too.
Have you taken a tour out to the islands near Phuket? What was your favorite boat trips in Phuket? Let us know in the comments!