Koh Hae — also known as Coral Island — is a small isle just a stone's throw from the popular tourist haven of Phuket. As its name suggests, the island is surrounded by an abundance of vibrant coral reefs, which are teeming with exotic sea creatures.
Marine life aside, many tourists escape to the island in search of the plethora of water activities it is famed for. From parasailing to sea walking and snorkeling, you can do it all. If you're an ocean lover, take a day trip to Coral Island from Phuket.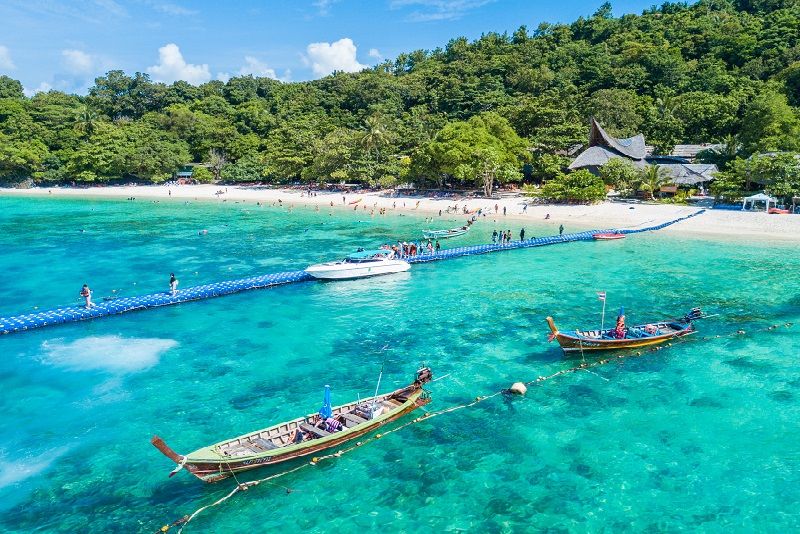 You will find below verything you need to know about Coral Island, one of the best destinations for day trips from Phuket.
How to get to Coral Island from Phuket?
Coral Island is located approximately 3 kilometers south of Phuket, in the Andaman Sea.
From Phuket to Coral Island by boat
You can hire a longtail boat or speedboat from Rawai beach to make the journey to Coral Island. A speedboat will reach the island in just 15 minutes, allowing you plenty of time for water sports and adventures.
Guided tour to Coral Island from Phuket
Alternatively, you can arrange a guided excursion to Coral Island, which allows you to enjoy your vacation and leave the organization to your tour operator. You'll be picked up from your hotel in the morning between 7 AM and 9 AM, and your trip will last between six and eight hours.
What is the typical itinerary of a day tour to Coral Island from Phuket?
Coral Island day tours typically begin with a hotel pickup service, before heading to one of Phuket's main beaches. Depending on your excursion, you may whizz through the waters on a speedboat. Alternatively, if you prefer a calmer pace, you might prefer a tour that takes place on a longtail boat or catamaran.
It's a quick jaunt to Coral Island, through the crystal clear seas of southern Thailand. Once you reach the island, you'll have the opportunity to take part in many thrilling activities, such as snorkeling, banana boating or sea walking. If you're seeking relaxation, you can opt to hire a sun lounger and watch your loved ones frolic in the waves instead.
You'll visit various spots on Coral Island before enjoying a mouthwatering Thai lunch on board your vessel. Several tours also head to one or both of the Racha Islands — Koh Racha Yai and Koh Racha Noi — before heading back to Phuket.
The Racha Islands are also known for their impeccable snorkeling opportunities and tend to be less of a tourist haven than Coral Island. Once you've had your fill of fun in the ocean, you'll board your boat and make your way back to Phuket, admiring the surrounding views from the deck.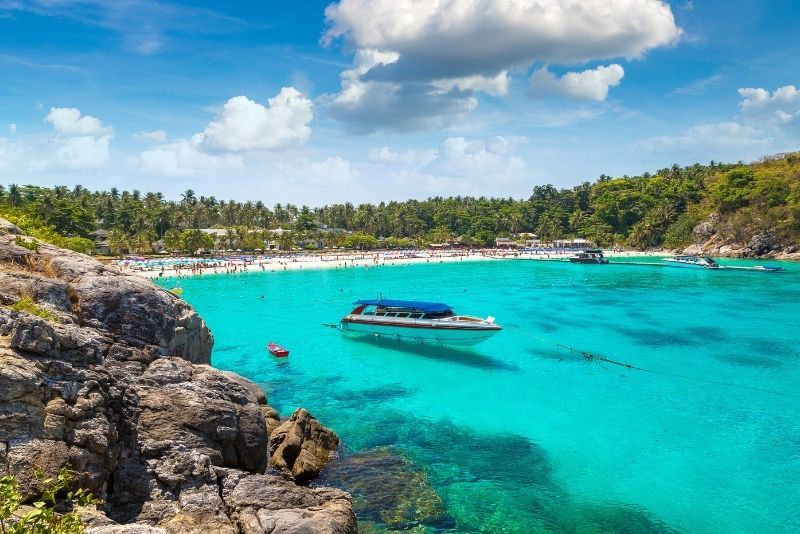 What kinds of tours are available to go to Coral Island?
You can choose from a variety of Coral Island day tours, depending on your interests.
Sunset tour to Coral Island from Phuket
If you want to view the spectacular Thai sunset from the water, choose a sunset tour. You'll climb aboard your vessel mid-afternoon and sail towards Coral Island, where you'll have the opportunity to splash about in the waves.
Widely known for its pristine shores and vibrant waters, Coral Island is home to a multitude of sea creatures. After exploring the waters, you'll hop back on your boat to witness a fiery sunset at Promthep Cape.
Snorkeling tour to Coral Island from Phuket
Coral Island is surrounded by thriving coral reefs, which house an abundance of marine life. On this tour, you'll travel to the island to enjoy a day of relaxing water sports, including snorkeling and banana boating. If you're looking for something more adventurous, try parasailing or sea walking.
After discovering the waters, soak up the sun from the deck of your boat before returning to Phuket.
Day tour to Coral Island plus Koh Racha Yai from Phuket
No day trip to Coral Island is complete without taking a trip to the neighboring paradise of Koh Racha Yai. You'll begin aboard a luxury catamaran with a cocktail in hand and feel the ocean breeze through your hair as you sail to Coral Island.
Once there, you'll have free time to discover the diverse marine life or stretch out on the island's powdery shores. You'll then move on to Koh Racha Yai, which is just as paradisiacal as Coral Island.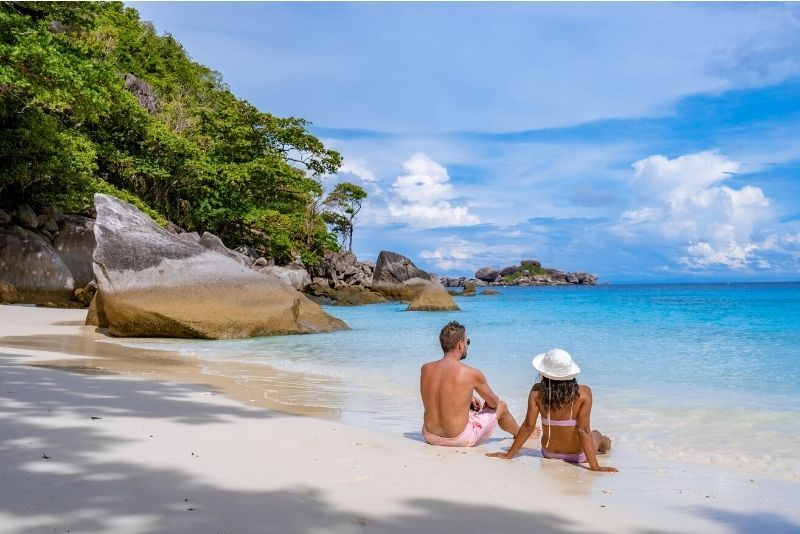 How much does a tour to Coral Island from Phuket cost?
If you wish to take a snorkeling day tour to Coral Island, you'll pay between US$40 and US$50 per person, which includes the use of all equipment. Sunset Coral Island excursions also cost from US$40 to US$50 per person and set off in the mid-afternoon.
You'll pay between US$50 and US$90 per person for combined day tours to Coral Island, and Koh Racha Yai. Those on the higher end of this range include cocktails and an open buffet.
What will you see and do on a Coral Island day trip from Phuket?
Coral Island is a popular destination in the south of Thailand, because of its close proximity to the tourist hotspot of Phuket. The island is just 2.5 kilometers long and full of dense jungle, with pristine beaches on the north, and south shores. Long Beach is, as its name suggests, the biggest stretch of sand on the island and covers an expanse of 800 meters.
It is an ideal place for outdoor activities, such as banana boating or sea walking. However, the abundance of coral surrounding the shore has been damaged by the extensive water sports that have occurred in the area. This means that snorkeling is subpar compared to other parts of the island.
Less popular, but far more peaceful and idyllic are Freedom Beach, and Banana Beach. These bays are smaller and attract fewer crowds, making their seas an underwater paradise.
As you move through the ocean, you'll see bountiful marine life thriving among healthy coral reefs. You can hope to catch a glimpse of manta rays, whale sharks and many species of tropical fish, while on a Coral Island day trip.
When is the best time to visit Coral Island?
The best time to plan a day trip to Coral Island is between November and March when the climate is dry, and hot. During this time, the island experiences temperatures that reach up to 34 degrees Celsius. The seas are also mild and the visibility is good.
Are there any tours to Coral Island from other cities in Thailand?
Yes, there are tours departing from other cities in Thailand:
Travel tips
Take a combined day trip to Coral Island and Koh Racha Yai if you want to make the most of this area of Thailand.
All tours provide meals. Let your operator know of any allergies or dietary requirements when booking your excursion.
It is neither a requirement nor a custom to tip in Thailand. However, if you choose to do so, your tour guide will be most appreciative of a small token of gratitude.
Visit Coral Island during the dry season for the best visibility in the water.