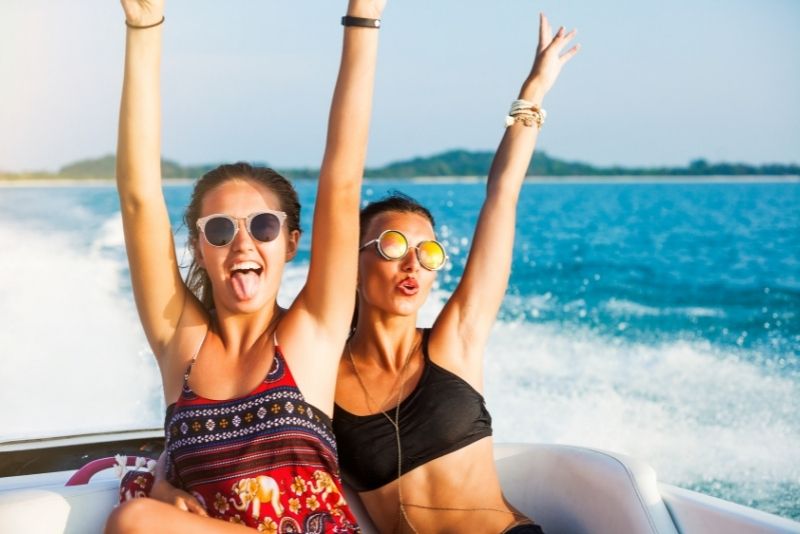 A top party haven with some of the best nightlife in Europe, Ibiza is also known for its natural beauty and is a popular destination for lovers of the outdoors. The island offers seemingly endless opportunities for cycling, hiking, scuba diving, climbing and fun on the water.
The third-largest of the Balearic Islands, Ibiza is just a short hop from the small yet captivating island of Formentera — which is one of the most popular boat trips in Ibiza. Whether you venture out to other islands or stick close to its shores, Ibiza is sure to enchant you with its golden sandy beaches and the warm turquoise waters of the Balearic.
Here's a compilation of some of the best boat tours in Ibiza to make planning your next vacation a little easier. Whether you're seeking a beach-hopping party boat, a tranquil island getaway or a romantic sunset cruise with your loved ones — there's sure to be a trip to suit you.
Explore the island's most popular beaches, such as Cala Bassa and Cala Comte on a catamaran, and visit iconic landmarks like the tiny island of Es Vedra on a sunset sail. Capture the true essence of Ibiza from the water!
Don't feel like reading ahead? Check our full catalog of boat tours in Ibiza right now.
1 – From Ibiza: Full-Day Sailing Tour to Formentera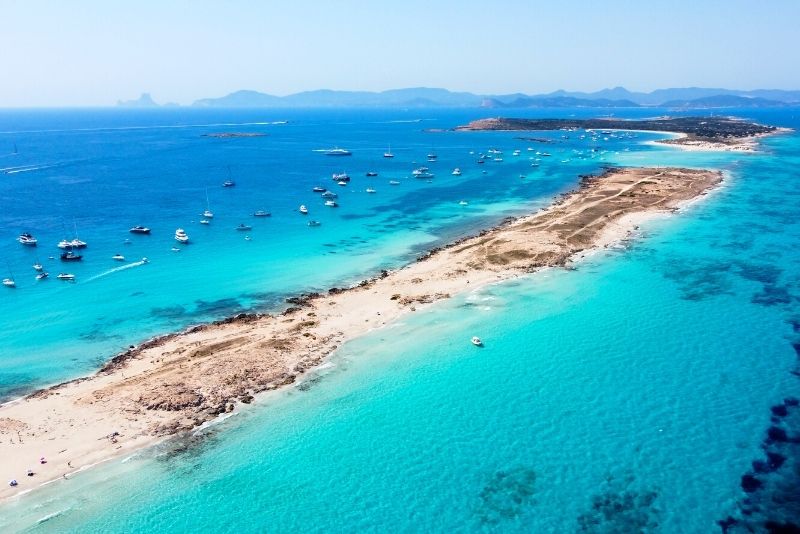 Feeling the need for some recuperation and relaxation? Visit the spectacular island of Formentera during your time in Ibiza. Take a full-day sailing trip on a classic sailboat and experience the island's soft sandy beaches, crystal clear lagoons and laid-back charm.
These tours are ideal for those who value peaceful times and passengers are limited to a maximum of six people for a more intimate and personalized experience.
You will head first to the small islet of Espalmador which sits to the north of Formentera. The tiny spit of sand has only a small chapel and lighthouse but is renowned for its Caribbean-like beach and verdant waters.
You will then travel on to the beautiful beaches of Formentera just a little further down the coast.
Swimming and snorkeling in the crystal clear water of Ses Illetes Beach are an absolute must so don't forget your swimsuit. Use of a paddleboard and snorkel equipment is included with the tour and complimentary drinks and snacks are provided, so all you have to bring is yourself!
A dinghy is available to ferry you to and from the shore, so those who aren't confident swimmers don't have to miss out.  Hotel collection is not available but snacks, drinks and island entry fees are all included in the price.
Sail the turquoise waters surrounding the coast of Formentera on this great-value boat trip package from Ibiza and discover this hidden gem of the Mediterranean for yourself.
2 – From Ibiza: Beach Hopping Cruise with Open Bar and Snacks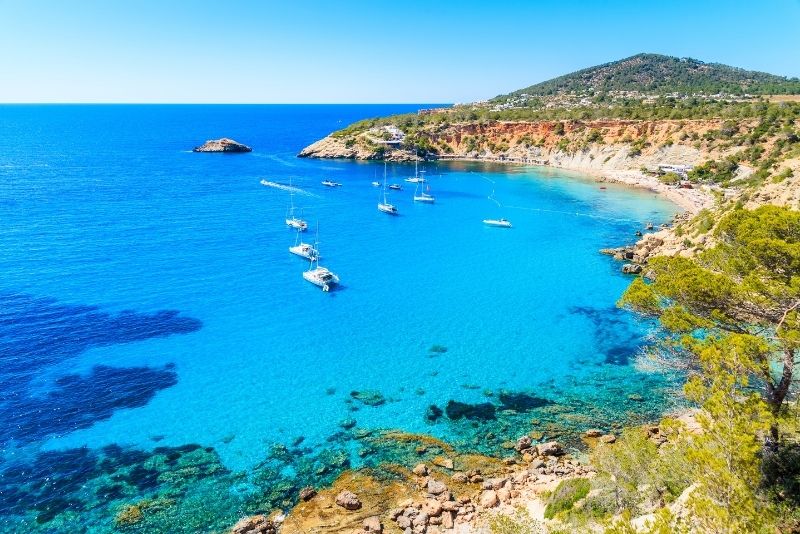 Are you up for a beach party this summer and ready to soak up some sun?
Take in the best of Europe's most popular party island on a Beach Hopping Cruise along the west coast of Ibiza!
The tour lasts around 6 hours and includes three beach stops where you can experience the golden sands of some of the island's nicest resorts. You will visit the beaches of Cala Bassa, Cala Tarida and Cala Conta and will have plenty of time at each unique location for a spot of sunbathing and swimming.
There's plenty to keep you occupied on these fun inclusive tours. Snorkel or swim in the warm shallow waters of secluded bays or explore the shores on a standup paddleboard. A travel guide will accompany the tour to ensure the safety of participants at all times.
The tour includes an open bar with a choice of refreshments, including beer, soft drinks and sangria. There are also a variety of snacks such as croquettes, cured meats, prawns, fresh fruits, and sweets.
Use of snorkeling equipment and paddleboards is included in the price of the tour, as is access to Cala Bassa beach and snacks and drinks from the onboard bar. These tours are popular and can accommodate up to 150 participants.
Don't forget to catch a glimpse of the rocky islets of Es Vedra and Conejera as you set off on your return to port. Sip a drink on deck as you admire the beautiful sunset views at the end of a perfect day.
3 – Private Catamaran Beach Hopping in Ibiza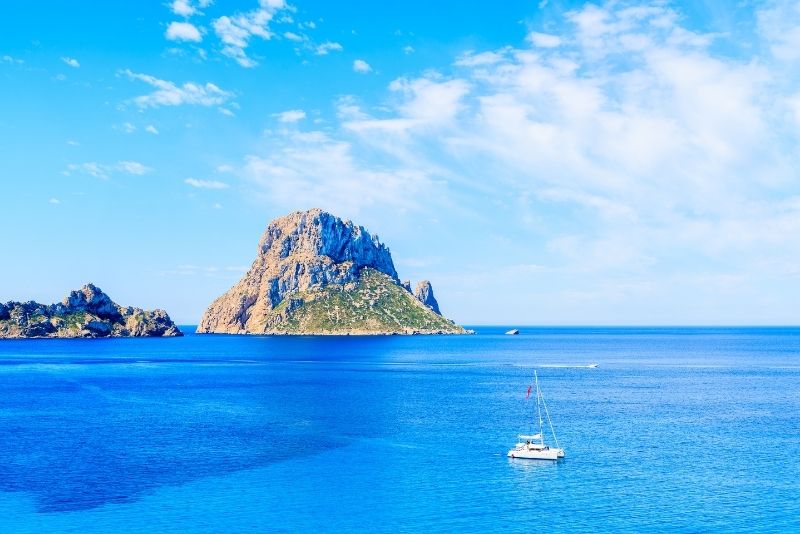 If you're up for beach hopping in Ibiza but looking for a more exclusive experience, a Private Catarman Beach Hopping tour is highly recommended. Take in the sights and sounds of the island's western coastline on a full or half-day tour.
With a maximum number of just 11 participants on each trip, you can be sure of an exclusive tour experience and a fantastic excursion — without the crowds. Sail from San Antonio Marina to the picturesque beach of Calabassa and take time for some leisurely sunbathing on the deck.
If you opt for a full-day tour it lasts for around 8 hours and will keep sailing for an extra hour to Cala Comte Beach. This region is considered to be one of the most beautiful on the island with soft sandy beaches and shallow lagoon-like waters which are perfect for families with younger children.
Snorkel to your heart's content or paddleboard in the inviting turquoise waters. Hook up your tunes to the onboard sound system to create the perfect cruising atmosphere on board. Bring your own food and drinks along to enjoy on the boat, or if you prefer you can grab lunch at one of Ibiza's water-side restaurants.
Relax on the idyllic beaches you visit or sunbathe on the deck while you wait for the sunset to arrive. Take the chance to grab some awesome photos that truly capture the beauty of Ibiza's crystal clear waters. Complimentary mineral water and soft drinks are provided and the use of snorkel and paddleboard equipment is included in the price.
This private catamaran excursion is one of the best boat tours in Ibiza for groups and families.
4 – Ibiza: Snorkeling and SUP Paddle, Beach and Cave Cruise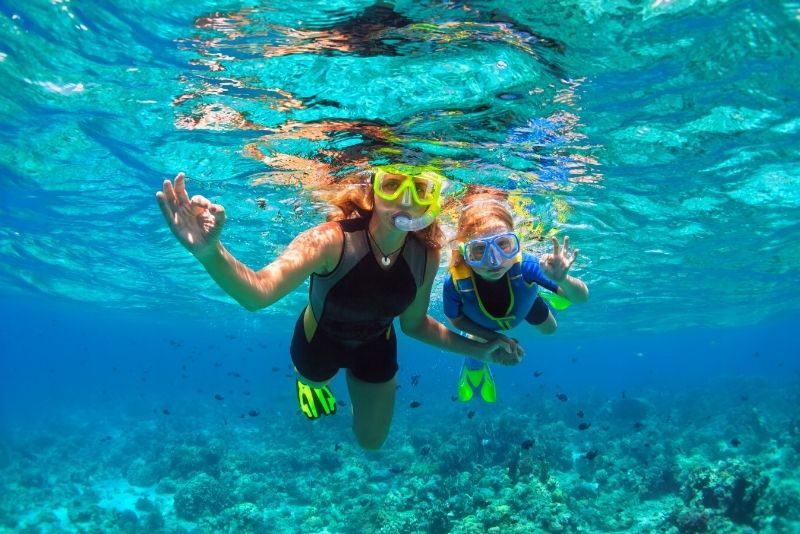 Looking for a great-value small boat trip to explore the beaches and southeast coastline of Ibiza? The Snorkeling and SUP Paddle, Beach and Cave Cruise Offers a comprehensive combination of activities, sightseeing and chill time.
The full length of the tour is around 3 hours and it makes two stops, offering time to swim and explore at each and plenty of opportunities to discover the enchanting beaches of the region.
You will pass by the historical sites of Ibiza and visit some of the island's most popular landmarks. Nature lovers are sure to enjoy this tour which takes you by the reefs, caves and nature reserves of the island.
Snorkel the offshore reefs and look for colorful fish in the crystal clear waters. Sunbathe on the island's tempting golden beaches or swim through coastal caves for an unforgettable Ibiza experience.
If you don't like swimming or being in the water this may not be the best tour for you as you will be encouraged to jump in at every location.
Included in the trip is the complimentary use of snorkel equipment and paddleboards so you can explore the underwater environment and sea caves. These short boat trips are a great introduction to the picturesque scenery of the island of Ibiza — ideal for families and groups of friends who want a private boat excursion without the high costs.
Cancel up to 24 hours in advance to receive a full refund
5 – Cala Comte and Cala Bassa Sunset Beach Hopping Cruise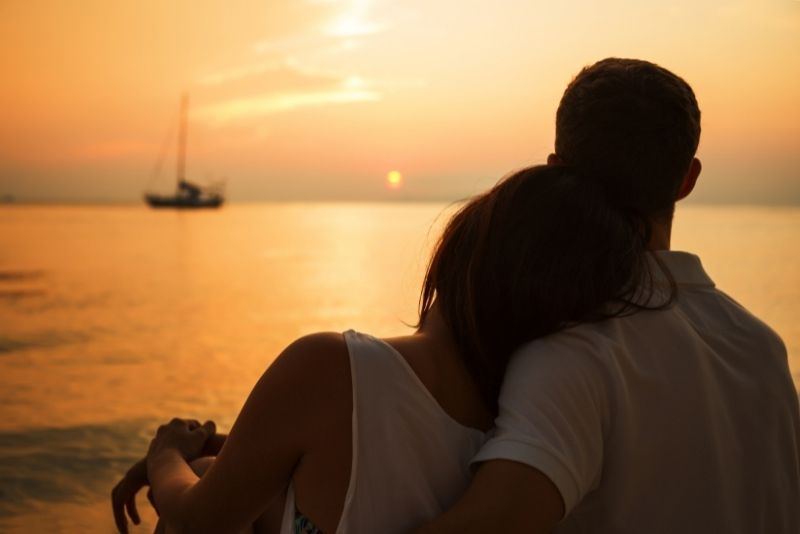 This six-hour beach-hopping cruise along Ibiza's west coast offers swimming and sunbathing, exceptional views and a visit to some of the island's most prized beaches.
Sailing from San Antonio Marina — on the island's bustling west coast, you will cruise the shores taking in the views of coves and sea caves while relaxing onboard.
The first stop is at Cala Comte — considered one of the best beaches in Ibiza, where you can cool off in the water or have a meal in one of the beachside restaurants. This is a great beach for families with children as it has water sports and activities to try. This first stop lasts about an hour with enough time to enjoy swimming and snorkeling in the tranquil sea waters.
The next stop will be the popular Cala Bassa beach where you can hit the beach to soak up some sun, try snorkeling and paddleboarding or visit the nearby restaurants.
The cruise includes a couple more stops in secluded bays and beaches and concludes with a trip around the islet of Conejera and time to enjoy the sunset as you return back to San Antonio Marina.
Sailing to two of the most popular beach resorts in Ibiza can be way more convenient than traveling by car. Avoid expensive parking fees and a long trek from the car park and jump on one of these boat trips to the beloved beaches of Cala Comte and Cala Bassa.
These great-value excursions are probably one of the best boat tours in Ibiza for small families or couples. They offer free use of equipment, including paddleboards, snorkels, floatables and slides and a hassle-free day trip with snacks and drinks included. You can choose to upgrade to an open bar ticket for big savings on drinks.
6 – Ses Illetes Beach Formentera Catamaran Private Tour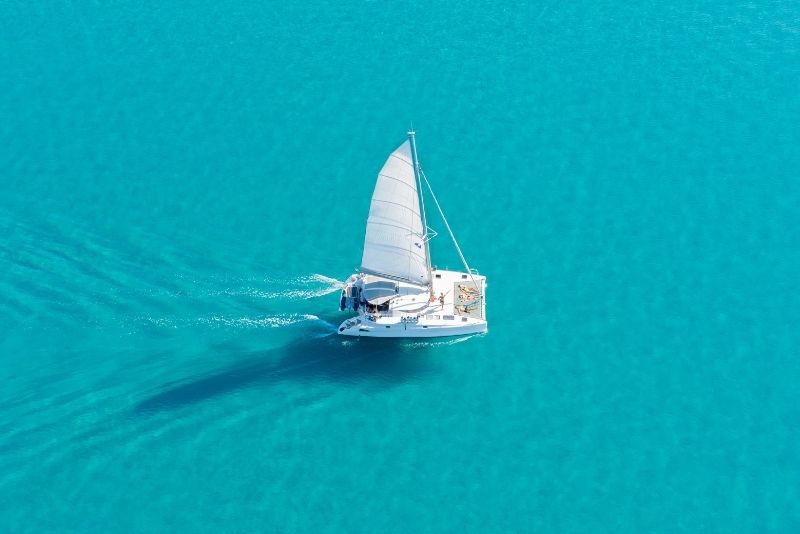 Tour one of Spain's most popular beaches on a day-long private catamaran sailing trip!
Voted one of the best Spanish beaches, Ses Illetes on the island of Formentera is noted for the color of its coastal waters, which range from turquoise green to deep blue.
You are in for a fun and luxurious day as you sail on this luxury catamaran and explore the idyllic island of Formentera just a short cruise south of Ibiza. Your accommodating and enthusiastic captain and crew will be on hand all day to ensure you have the best time possible.
Ses Ilhetes beach is ideal for swimming, snorkeling and paddleboarding and, at 1.5 kilometers in length, you can surely find a spot away from the crowds. Sunbathe on the beach's golden sands or lounge on the nets of the catamaran suspended above the water.
You can bring your own food and drinks to enjoy during the tour or your crew members can give you excellent recommendations for restaurants nearby. Play your own music through the Bluetooth sound system to create the atmosphere you want.
Children are more than welcome on the tours and infant seats can be provided. The tour lasts around 7 hours and includes the use of snorkeling and paddleboarding equipment, onboard WiFi and the onboard sound system in the price.
These boat trips are suitable for up to 12 passengers which makes them perfect for large groups of friends or families. Enjoy the wonderful beaches and inviting waters of Formentera on these luxury private catamaran cruises.
7 – Ibiza Coves Boat Tour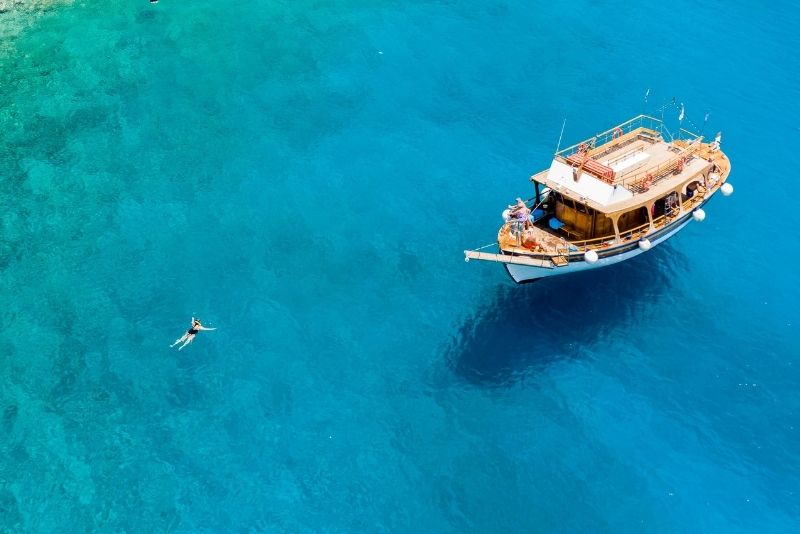 Take a delightful retro-style tour of Ibiza's coves and beaches on a 1960s leisure boat!
Step back in time and experience the vibes of the hippie era onboard "Salvador", an authentically restored cruiser from the 1960s.
Take a 3-hour trip along the west coast of Ibiza to enjoy some swimming, sunbathing and water activities. Explore some of the best coves and landmarks of Ibiza such as Cala Gració, Cap Negret and Cala Salada — which is considered to be one of the best beaches in Ibiza.
Feel the cool breeze as you tour the shimmering waters of the Balearic Sea. Lounge in retro luxury or snorkel, kayak or paddleboard from the side of the boat.
These tours are suitable for passengers of all ages and include complimentary drinks and fresh fruits that you can enjoy while you cruise the crystal-clear waters of the island's bays. Relax on deck on the comfy couches and sunloungers provided as you watch the world go by.
If you are looking for a shorter boat trip that still provides plenty of time for sightseeing and swimming the Ibiza Coves boat Tour could be a great choice.
These tours depart and return to San Antonio Marina. Children under 14 travel for less and kids 5 years and below are free. Refreshments and the use of snorkels, kayaks and paddleboard equipment are included in the price.
Relive the lazy days of Ibiza's hippie past with a boat trip on Salvador!
8 – Catamaran Ibiza Sunset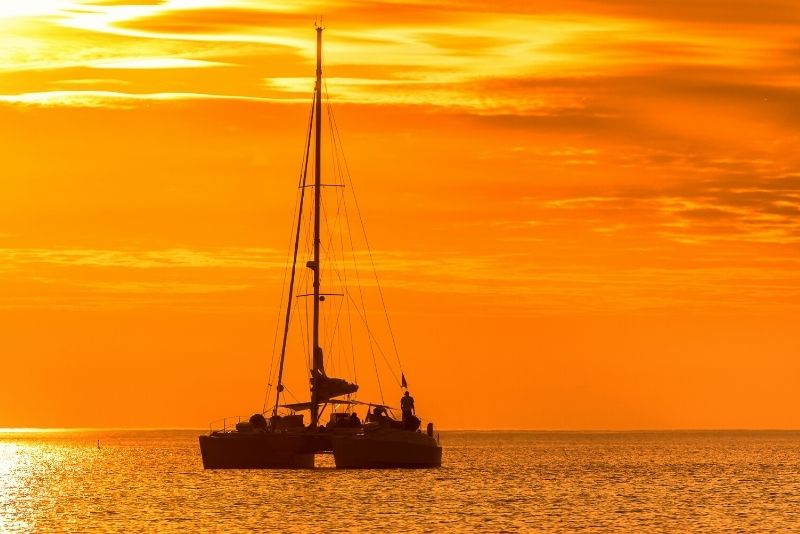 Looking for the perfect sunset island party cruise? Catamaran Ibiza Sunset tours could be just the trick.
Sail from Ibiza to a picture-perfect island for a chill day of sunbathing, swimming and music. These 8-hour cruises take you to the uninhabited island of Espelmador where you can relax on the soft sandy beaches and listen to the gentle lapping of the waves.
After you anchor, take a refreshing dip in the water to work up an appetite. Espalmador is a private uninhabited island with beautiful coves and white sandy beaches and offers plenty of glamorous photo opportunities.
Enjoy a BBQ dinner of pork, sausage, fish, salad and fruit which are prepared freshly by the crew. Relax to some of the best Ibiza tunes played by the onboard DJ and take another opportunity for a swim.
Begin the slow cruise back to port and enjoy the good vibes, music and sunset views around Playa d'en Bossa. Don't forget to take some photos for the views here are gorgeous.
Food and refreshments, including beer, wine and soft drinks are included in the package. Hotel pick-up and drop-off are also available depending on which tour option you choose.
Longing for a laid-back party cruise with everything you need for a great day included? Take a Catamaran Ibiza Sunset tour for a great value hassle-free experience. Cancellations up to 24hours in advance receive a full refund.
9 – Formentera with Benefits by Cirque de la Nuit – The all-inclusive boat trip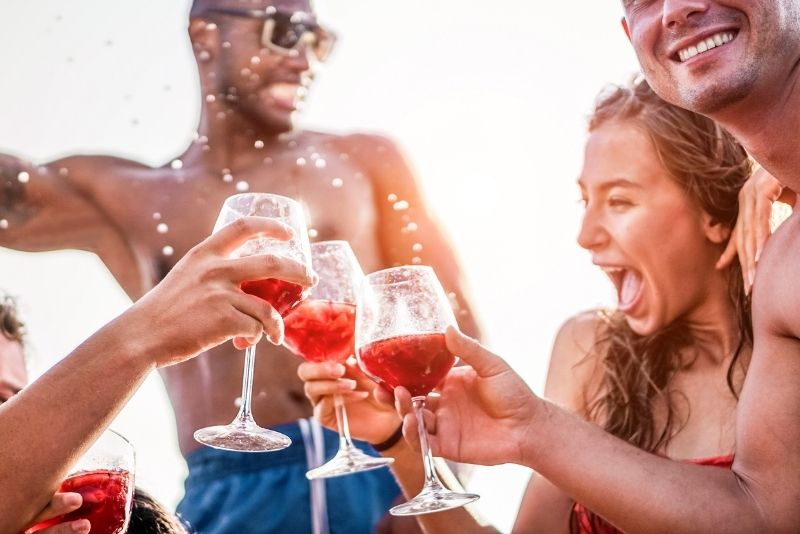 What better feeling than relaxing on the beach and having to choose only between swimming or sunbathing?
These all-inclusive boat trips by Cirque de la Nuit visit the tranquil island of Formentera — where you can explore at your leisure or just take the time to relax.
The day-long tours begin around 11 am and pass through the nature reserve of Ses Salines which is famous for its clear waters and the flamingos that live in its salt lakes. The short trip to Formentera lasts around an hour and you will arrive in the island's main port where you will have around 5.5 hours to explore.
Here you can explore the hippie market or visit the famous "lighthouse at the end of the world" to snap some Insta-worthy photos. Take some time for sunbathing on the soft white sand beaches or cool off in the inviting waters.
Visit some of the highlights of Formentera and the Ibiza coastline on these all-inclusive tours and make use of the snorkeling equipment and standup paddleboards provided. Breakfast and lunch are included as well as drinks and refreshments while on board.
These are not the best boat trips for those seeking party tours as you won't find an onboard DJ or loud music here. These tours are more family-friendly and like a ferry trip with food, drinks and swim-stops included in the price. The trip can accommodate about 100 travelers.
End the day with a glow as the boat anchors at Cap des Falco, one of the most iconic sunset spots in Ibiza. Enjoy a slow cruise home via Ses Salines and listen to the gentle lapping of the waves or watch the Cafe Caleta cooking show.
10 – Sailing the Southern Beaches of Ibiza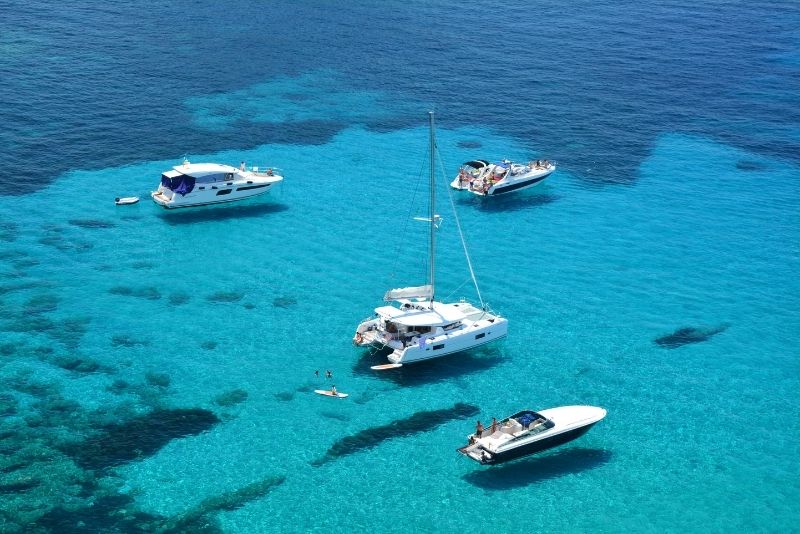 Wanting to explore the southern coast of the island on a full-day excursion without the crowds? Spend the day sailing the southern beaches of Ibiza on a modern and luxurious catamaran.
These intimate and exclusive tours are suitable for small groups of up to 11 travelers — so you can be sure of a great personalized experience.
Let your skipper take care of the sailing and just sit back and relax as the coastline drifts by. Explore top sights in southern Ibiza like the serene Cala Tarida beach and the cliffside beauty spot known as Atlantis.
Take a refreshing swim in the crystal-clear waters of the Mediterranean Sea or explore the shores with a snorkel or standup paddleboard. Discover more beautiful beaches such as Cala d'Hort where you can stop for lunch and enjoy some free time to explore.
Spend the day on the water and away from the island's most crowded places on these unique boat trips. Bring along your own food and drinks to enjoy onboard and play your own tunes through the boat's Bluetooth sound system to create just the right vibes.
Glimpse some of the best views on the island and spend time at the iconic Es Vedra rock formation.
These trips are perfect for small groups and include a knowledgeable skipper, the use of paddleboard and snorkel equipment and the boat's speaker system in the price.
For those looking for tranquility, privacy and a great-value luxury boat trip around the southern beaches, this is probably one of the best boat tours in Ibiza.
11 – Es Vedrá Sunset Catamaran Cruise with Live Music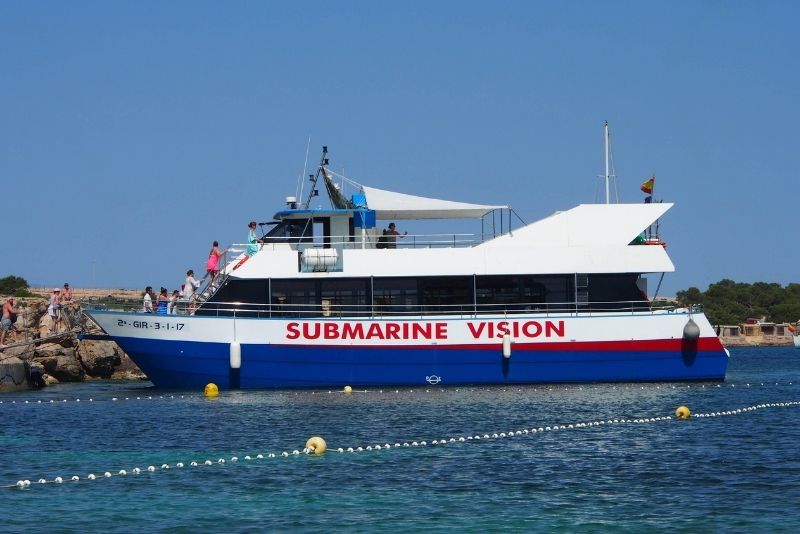 Looking for a short boat trip that offers great value for money and a lively atmosphere? The Es Vedrá Sunset Catamaran Cruise is sure to fit the bill.
Enjoy live music while touring the stunning scenery of the beaches of Ibiza! The tour starts from San Antonio Marina on the west coast of Ibiza where travelers will receive a welcome drink on arrival.
The onboard guide will tell you a little about the places and landmarks that you pass by such as the popular beaches of Cala Bassa, Cala Salada, the coves of Cala Conta and the enchanting islet of Es Vedrá.
After admiring these Ibiza beauty spots you will have the chance to take a refreshing dip in the cool Balearic waters. Slide from the edge of the boat and snorkel or, if you prefer to stay dry, grab a drink and look for fish through the panoramic glass windows in the floor of the boat.
Round off the trip with a sunset cruise by the famous Café Mambo in San Antonio, the heartbeat of Ibiza's legendary pre-party scene. Capture the romantic sunset and dance to live music under the beautiful Ibizan sunset.
The tour begins and ends in San Antonio Marina and the duration is about 2.5 hours. Use of snorkel equipment and one welcome drink is included in the price. More drinks can be purchased from the onboard bar. This trip is wheelchair accessible.
These bustling and popular tours are a great choice for groups of friends and those looking for a lively party atmosphere. Don't forget to bring your swimming attire and good vibes!
12 – Cafe del Mar Private Boat Trip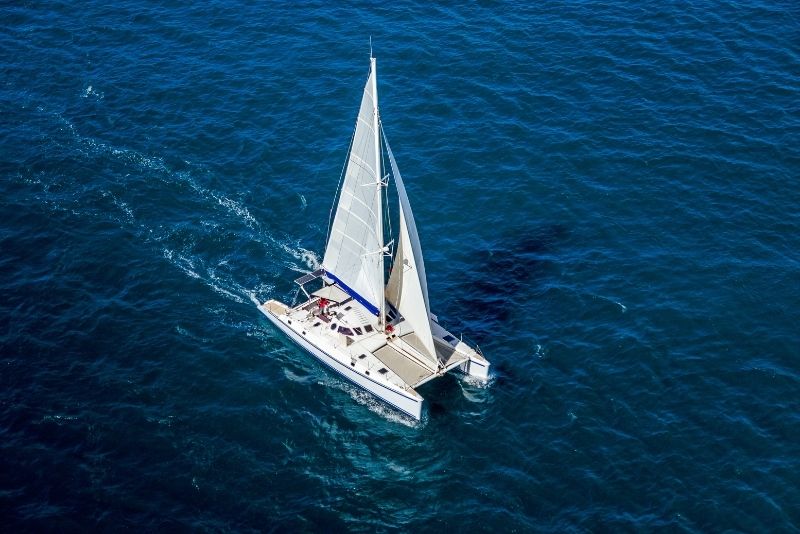 Take an exclusive 7-hour boat trip around the iconic Cafe del Mar for an unforgettable Ibiza experience!
Suitable for up to 11 travelers, these luxurious private catamaran excursions are sure to provide you with the best tour possible. Sail from San Antonio Marina and discover tranquil beauty and the most exclusive spots around the island's west coast.
Take the opportunity to snorkel or paddleboard in the cool clear waters and soak up the sun on the deck. Cruise the shores and lay out on the nets and pulpits at the bows of the Catamaran as the water slips by beneath you.
Looking to celebrate an event or to make fantastic memories with friends or family? Your accommodating skipper will provide you with the perfect environment to kick back and enjoy a fantastic day.
Bring your own food and drinks to enjoy onboard and listen to your favorite music through the onboard Bluetooth sound system. What better way to spend the day in Ibiza with your nearest and dearest!
The price of the tour includes the use of paddleboard and snorkel equipment and there is an onboard cool box available for your use. Complimentary mineral water and soft drinks are provided and travelers can bring their own alcoholic beverages to enjoy onboard.
These tours are suitable for private groups of all ages and infant seats are available on request.
13 – San Antonio Sunset Boat Tour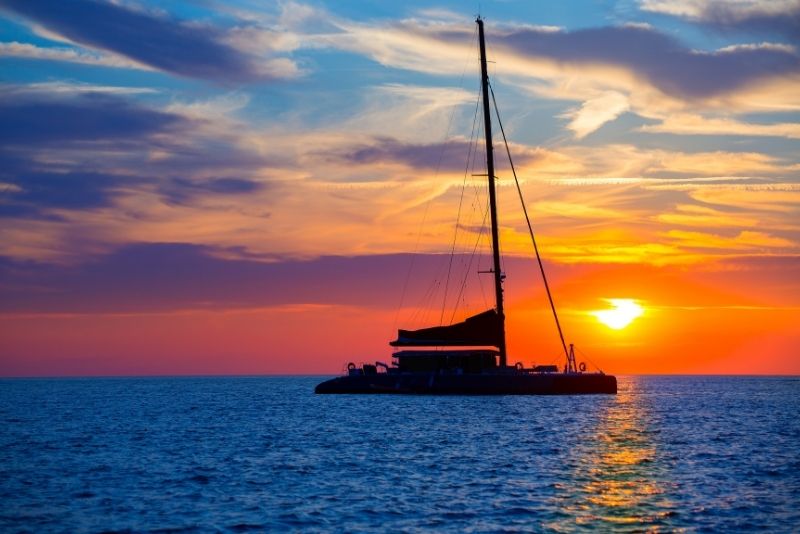 Take a romantic sunset boat tour from the vibrant town of San Antonio to take in the sights and sounds of Ses Variades, also known as the Sunset Strip.
Extending from San Antonio Harbor right down to the beach at Caló des Moro, the Sunset Strip is packed with vibrant clubs and hip cafe bars. Some of Ibiza's most popular and vibrant establishments such as Café del Mar, Café Mambo and Savannah can be found here where people flock to catch epic sunsets and see the hottest DJs perform.
Begin the night in style on a two-hour San Antonio Sunset Boat tour and discover exactly what is so magical about this place. This is a great tour for couples and you can enjoy a romantic cruise with complimentary drinks and watch the sun sink below the sea together.
Grab some spectacular Insta-worthy photos as you stare out to sea and drift by the restaurants, beaches and coves on Ibiza's west coast.
The tour lasts around two hours and two complimentary drinks are included in the price. Cancellations made up to 48 hours before the experience begins will receive a full refund.
14 – Ibiza Boat Party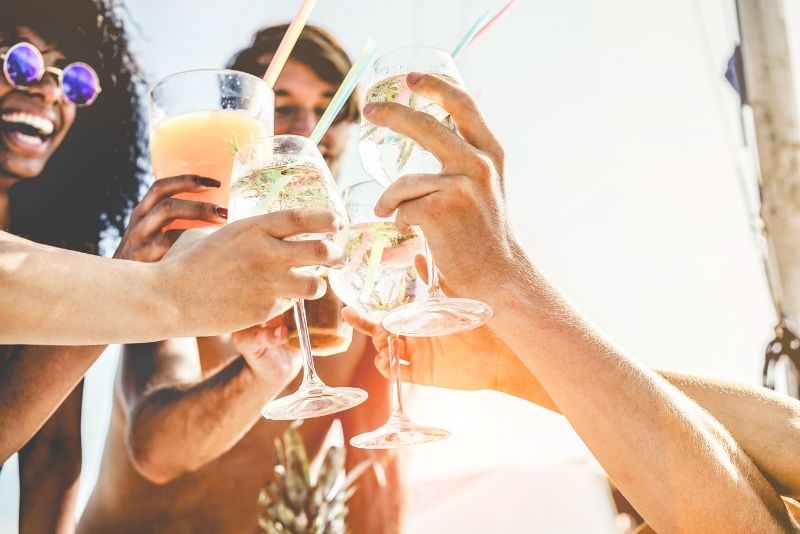 The self-proclaimed "best boat party in Ibiza", if you're looking for an energetic cruise with live DJs, foam and an open bar— this could be one of the best boat tours in Ibiza for you.
The tour begins at Playa d'en Bossa where it sails towards Bora Bora Beach Club. Enjoy the Mediterranean sun and sea breeze and sample some of the drinks offered at the bar.
Stop for a refreshing swim in the clear Mediterranean waters and try a variety of water sports including jet-skiing and other raucous aquatic activities.
After you've worked up an appetite, dig into a healthy meal of paella, salad, and fruit. Enjoy the stunning views from the deck after lunch as the DJ warms up the party for a great night.
The tour reaches its peak with a foam party as this "floating nightclub" heads back to
Playa d'en Bossa, where you can begin the evening's festivities!
The total sailing time is around 3.5 hours, meaning these fun-packed tours really pack a lot into a short time.
Included in the trip are professional photography, animation and a DJ so you are sure of an action-packed time under the Balearic sun!
These tours are strictly for 18-years old and over and tickets include entry and discounts to some of the best clubs in Ibiza.
You can book up to 2 hours before the activity as long as there are still available slots. Tickets are non-refundable.
15 – Ibiza Boat Rental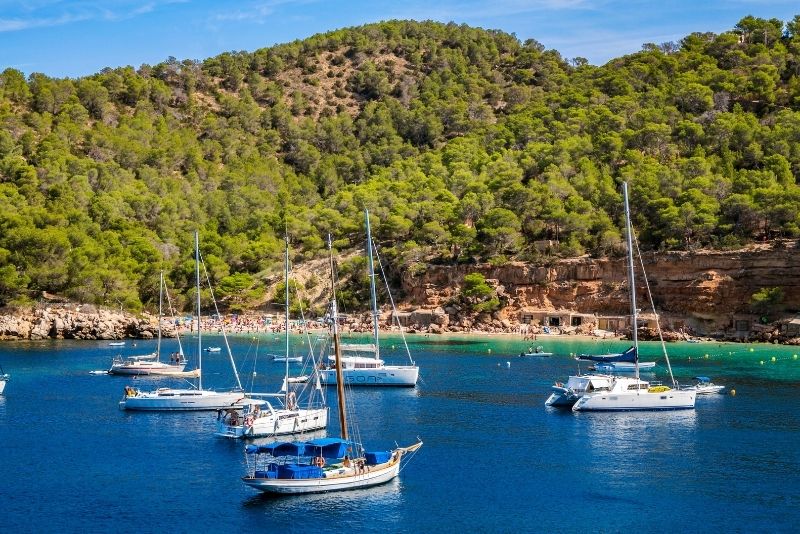 Looking for a specific cruise or boat trip but can't find it listed here? Why not hire a boat and create your own dream tour of Ibiza!
There are a lot of boats for you to choose from, including yachts and powerboats to catamarans and classic wooden sailboats. Hire a boat with a captain who can take care of the navigation while you chill or embrace the adventure and pilot the boat yourself.
There are boat rentals here to suit all kinds of budgets and tastes. Whether you want to sample the millionaire lifestyle on a sleek and modern super-yacht or you prefer the understated charm of a classic sailboat, there is a rental here to suit your need.
Renting your own boat means you can choose how you spend your day. Cruise the island's most popular beaches, including Ses Salines and Playa d'en Bossa or anchor offshore and spend a lazy day sunbathing and swimming from the edge of the boat.
Maybe you're looking to celebrate a special occasion or seeking privacy to spend some quality time with your loved ones. A boat rental is a great way to spend a memorable day!
Visit popular places on the island such as Cala Bassa or Cala Portixol for a refreshing dip then, sail to Cala Benirrás and explore all its amazing coves. Take a sunset cruise to Es Vedras or even visit the nearby island of Formentera which is only a short sail away.
Some of the most popular ports where you can rent a boat are the Port of San Antonio on the island's west coast, Puerto Marina Ibiza Magna and Port of Santa Eulalia on the east. One of the most exclusive marinas on the island is the Puerto Deportivo Marina Botafoch.
We hope you enjoyed reading this compilation of the best boat tours in Ibiza and that you find it useful in planning your next trip!
If you are looking for other activities, make sure to check our selection of fun things to do in Ibiza.
As always, happy travels!