Located less than 2 hours outside of the capital city of Prague, the tranquil spa town of Karlovy Vary welcomes visitors to sink into its thermal pools and let their worries wash away.
These natural hot springs have drawn in tourists and celebrities for over 500 years, ranging from Jude Law to Chopin, and Karlovy Vary is considered one of the most famous spa resorts in Europe.
Day trips to Karlovy Vary from Prague are a must for all weary travelers in search of a little rest and relaxation.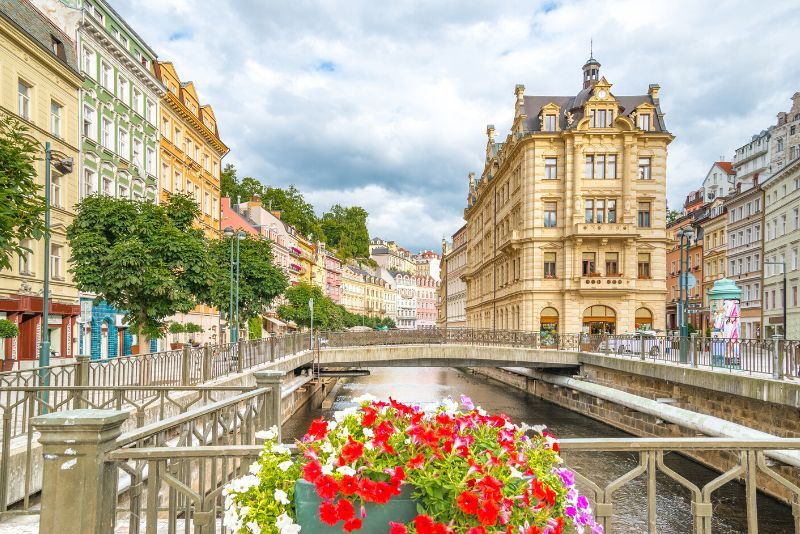 Here's all you need to know about Karlovy Vary, one of the most exciting day trips from Prague.
How to get to Karlovy Vary from Prague?
Karlovy Vary is located in Bohemia, in the western part of the Czech Republic. It lies approximately 130 kilometers away from the capital city of Prague.
From Prague to Karlovy Vary by car
The journey to Karlovy Vary from Prague by car takes approximately 1.5 hours. You'll leave the city in a westerly direction and travel along Route 6 all the way.
As you near the town, you'll take the exit for Kyselka and follow Route 222 into Karlovy Vary.
From Prague to Karlovy Vary by public transport
You can also make the jaunt to Karlovy Vary by public transport. A direct bus from Prague's Hradcanska Station leaves for the town at least once an hour and takes just under 2 hours to reach the destination.
The journey costs around €10 per person.
Alternatively, hop aboard a train from Prague's Hlavni Nadrazi Station, which follows a direct route to Karlovy Vary.
This option takes longer, totaling over 3 hours, however, you'll be able to enjoy seeing a wider range of the Czech Republic's towns and landscapes.
Guided tour to Karlovy Vary from Prague
Another option is to book a guided excursion to Karlovy Vary and leave the organization to your tour provider. These trips usually last between 9 and 10 hours, depending on the additional sights you wish to include.
You'll meet your tour guide at an easy-to-reach destination in Prague, which you can view before booking, around 9 AM. Alternatively, opt for a private excursion that includes a convenient hotel pickup and drop-off service.
What is the typical itinerary?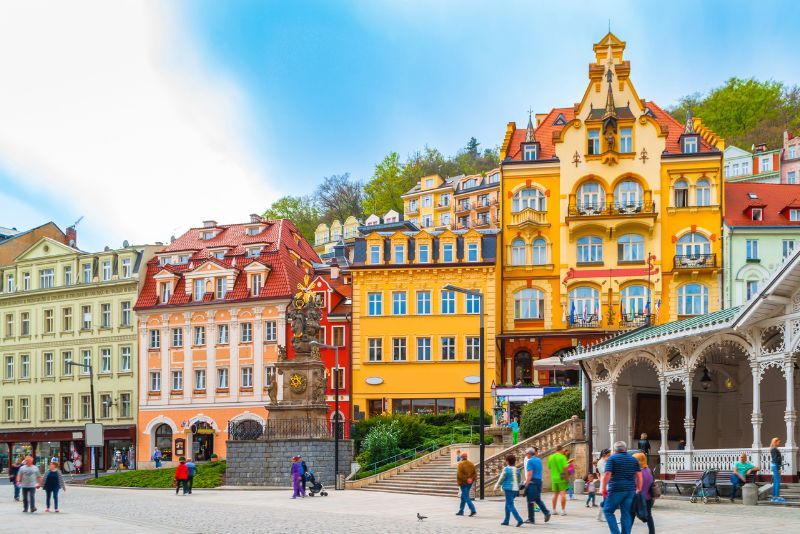 All day tours to Karlovy Vary have their own unique itineraries. However, you can expect to meet your guide in the city of Prague and travel through the picturesque region of Bohemia to reach the famous township.
Upon arrival, you may visit the Moser Glassblowing Factory, where craftsmen have been creating crystal masterpieces since the 19th century. Or, get a taste of Czech beer at the Royal Brewery of Krušovice.
From there, you'll stretch your legs properly with a walking tour of the town, led by an expert guide.
You'll traverse its scenic cobbled streets — lined with horse-drawn carriages and colorful buildings — learning about the thermal springs that have made the destination so popular throughout the centuries.
You can see several geysers up close, and some tours offer the opportunity to bathe in a thermal pool. You'll enjoy some free time to relax at one of the town's spas or simply explore Karlovy Vary's myriad of monuments in further detail.
From here, you may return to Prague. However, several Karlovy Vary day trips continue on to other destinations, one of which is Diana.
Here, you can ascend its dramatic observation tower and look down upon the streets that you've walked in Karlovy Vary.
Alternatively, you might select a tour that sweeps you off the Loket Castle, located just 14 kilometers from the spa retreat.
Once you've discovered the crowning jewels of Bohemia, you'll end your day trip to Karlovy Vary with a scenic drive back to the Czech Republic's capital city — Prague.
What kinds of tours are available?
There are a myriad of Karlovy Vary day trips available to choose from, all of which aim to give you an in-depth view of this world-famous spa destination.
Guided tour to Karlovy Vary from Prague
On a group day trip to Karlovy Vary from Prague, you'll board your tour bus and begin your journey through the wine region of Bohemia to the spa town.
Once you arrive, you'll participate in a guided walking tour to admire all of the sights and sounds of Karlovy Vary's 14th-century streets.
As you amble along, you'll witness the Vřídlo spring, which shoots thermal water over 10 meters into the air. This geyser is the source of all thermal springs in the town and is the most important natural landmark in Karlovy Vary.
Enjoy some free time to sink into the warm waters of one of the town's many celebrated spas.
Alternatively, discover Czech liqueur at the Jan Becker Museum or simply relax with a sweet trdelník at one of Karlovy Vary's quaint cafes, before returning to Prague.
Private tour to Karlovy Vary from Prague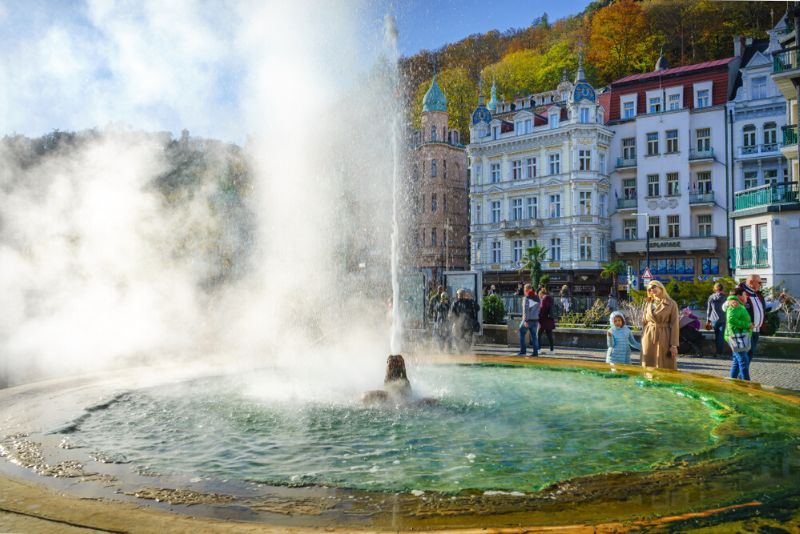 A private day tour to Karlovy Vary enables you to have a more personalized experience and benefit from the one-on-one attention of your knowledgeable guide.
The first stop on this excursion is at the Royal Brewery of Krušovice, which was first established in the 19th century. Once belonging to Emperor Rudolf II, the brewery is still producing fine Czech brews over 150 years later.
Continuing on, you'll participate in a 2-hour city tour to uncover the jewels of Karlovy Vary. Your guide is on hand to fill you in on each landmark's history and answer all of your burning questions.
Then, roam the back alleys of the city at your leisure before reconvening with your guide and ending your day tour.
Private day trip to Karlovy Vary plus crystal factory from Prague
A private day trip to Karlovy Vary and its glassware factory enables you to explore the many dimensions of Bohemia.
You'll have the opportunity to bathe in one of the town's healing thermal pools, critically acclaimed by politicians and artists alike, including Beethoven.
Spend your afternoon discovering the process of creating crystalware, from its humble origins as sand. Alternatively, learn about liquor-making at the Jan Becker Museum.
Day trip to Karlovy Vary plus Loket Castle from Prague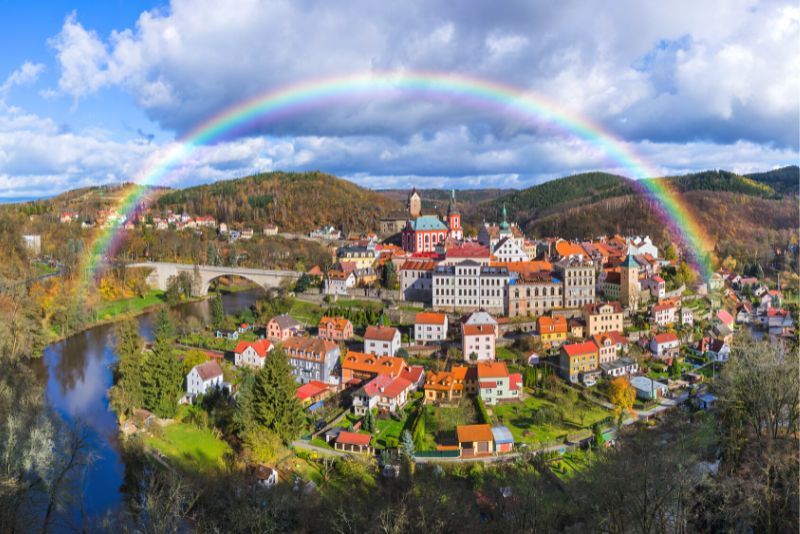 On this excursion, you'll learn the art of crystal-blowing at Moser, the world-famous glassware factory that has produced flawless vases and glasses for over 160 years.
Continuing on, you'll wander Karlovy Vary, trying out the healing properties of its thermal springs for yourself.
As you walk, you'll learn about the long line of nobility that has experienced wondrous results from these natural springs.
Travel to the enchanting Loket Castle — a 12th-century construct that towers over the Bohemian landscape from its perch on a hill. Lastly, roam the streets of Loket town, known for its association with the German poet, Goethe.
Day tour to Karlovy Vary plus Diana Observation Tower from Prague
This combination day tour first transports you to the town of Karlovy Vary, where you'll meander along its historic colonnade to admire five of its gushing thermal geysers, which are well-known for their healing properties.
Visit the 18th-century Church of St. Mary Magdalene, with its impressive Baroque facade and lofty spires.
Several churches of the same name have existed on this spot since the 14th century and visitors can admire its hidden funeral crypt when they venture inside the current building.
End your day trip by journeying on a funicular to the abandoned settlement of Diana, and climb its observation tower for panoramic views over Karlovy Vary.

How much does a day trip to Karlovy Vary from Prague cost?
A basic day trip to Karlovy Vary costs between €60 and €80 per person, and includes round-trip transportation, as well as a professional tour guide. Excursions that include the Diana Observation Tower also fall into this range.
A full-day private excursion that enables you to learn about the Czech Republic's beer-brewing process costs around €180 per person.
If you participate in a private day tour to Karlovy Vary that includes the famed Moser factory, you can expect to pay approximately €220 per person.
However, if you travel as a group of three with your loved ones, you can lower the cost per head to €130 each.
Those who wish to step into a fairytale setting can do so on a tour that includes Loket Castle for around €490 per person. The cost of this tour per head reduces with each person added to the party.
What will you see and do?
Mill Colonnade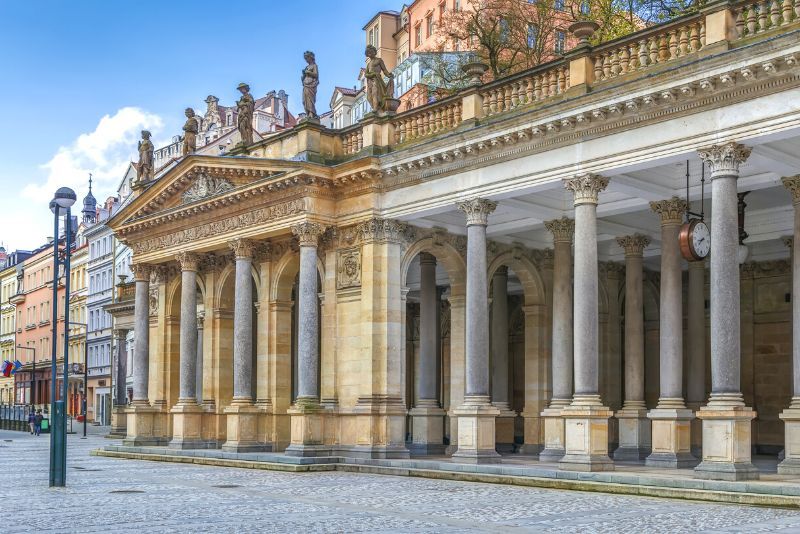 The Mill Colonnade is a series of conjoined columns built in a classic Neo-Renaissance style. It is over 100 meters long and houses 124 historic columns, which were constructed towards the end of the 19th century.
Designed by the architect Josef Zitek, the colonnade covers five of the town's 13 hot springs. The original construction was intended to be two tiers, however, lack of funds caused Mill Colonnade to remain as one free-standing level.
It is one of the most significant landmarks in Karlovy Vary, bringing the community together with regular open-air concerts, which locals and tourists alike can enjoy for free.
The hot springs located in this part of town produce water that varies from 53 to 65 degrees Celsius.
The most renowned fountain here — Mill Spring — has been used for its healing properties since the 16th century and its water was once bottled, and sold to residents as a natural cure for their ailments.
Moser Glassworks Factory
Founded in 1857, the Moser Glassworks Factory in Karlovy Vary, Czech Republic is one of the oldest and most famous crystal glass manufacturers in the world.
It was the vision of Ludwig Moser who studied under the best engravers of the 18th century and opened his own workshop to produce crystal products.
Over the years that followed, his designs exploded in popularity, causing the Moser name to become one of the most renowned in the world of crystal.
The Moser collections have been used in royal weddings, as well as for the design of prestigious trophies. The flawless crystal glasses and vases have won multiple awards since the Moser Glassworks Factory opened in 1857.
Visitors can participate in a guided tour of the facilities, which unveils a fascinating insight into the production process.
From designing to engraving, grinding to sandblasting and finally polishing — the artisans of Moser leave out no detail when crafting their fine works.
Diana Observation Tower
The Diana Observation Tower was built at the beginning of the 20th century and stands over 40 meters tall, offering unparalleled views of the countryside surrounding Karlovy Vary.
These outstanding views are further enhanced by its tactical position upon a hill that reaches over 560 meters above sea level.
Visitors can cheat their way to the top by using the handy funicular service, or alternatively, walk the picturesque route through the Bohemian forest trails from Karlovy Vary, just over 2 kilometers away.
Behind the observation tower lies a small petting zoo, where visitors can get up close with a variety of friendly farm animals, including horses and pigs.
When is the best time to visit Karlovy Vary?
The best time to plan your day tour to Karlovy Vary is during the summer months when temperatures hover around 23 degrees Celsius. However, the long sunny days and balmy conditions attract an abundance of visitors to this spa town.
If you wish to avoid the tourist rush, travel to Karlovy Vary during the shoulder months of May and September.
Those wishing to experience the charm of a European winter can travel to the town of Karlovy Vary during January when they may experience the contrasts of frosty snowfalls and warming thermal pools.
Travel tips
While the temperatures are wonderful in Karlovy Vary during the summertime, heavy downpours are not uncommon. Take an umbrella with you on your day tour, just in case you experience a sudden rainstorm.
Most Karlovy Vary day trips include a walking tour through the spa town. For this reason, you should wear comfortable shoes.
Experience the healing powers of Karlovy Vary's springs yourself by paying a visit to one of its many spas.
Bring your swimwear and a towel with you on your excursion to Karlovy Vary, so that you can bathe in the town's healing waters.