If you're looking for an exciting day trip from Prague, Kutná Hora is the perfect spot. Set in central Bohemia, this UNESCO World Heritage site offers plenty of intriguing Gothic and Baroque attractions, as well as picture-perfect scenery.
Unique sites, such as the "Bone Church" have been inspiring tourists for years. Book a day trip to Kutná Hora from Prague and learn all about the town's silver mining history.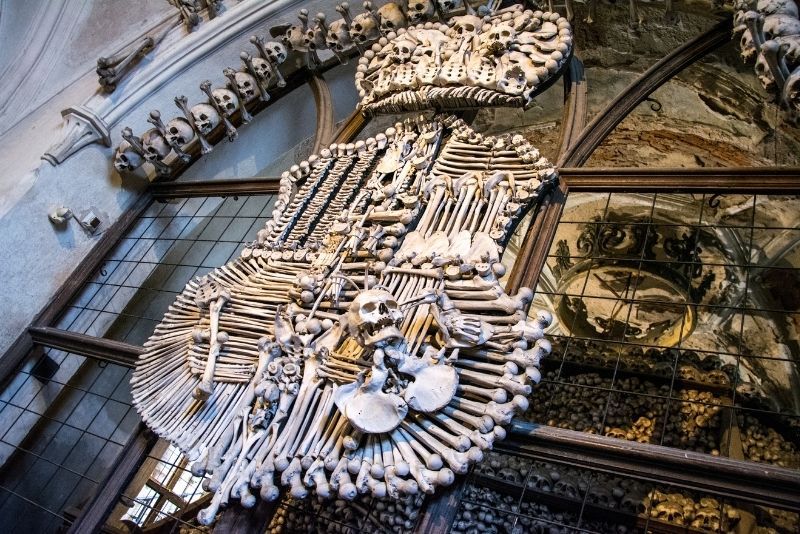 Here's all information you need about Kutná Hora, one of the most exciting day trips from Prague.
How to get to Kutná Hora from Prague?
Kutná Hora is located in the central part of the Bohemia region of the Czech Republic. It is approximately 80 kilometers east of Prague.
From Prague to Kutná Hora by car
In order to make the journey to Kutná Hora by car, you'll head out of Prague in an easterly direction along the E65 and merge onto the E67 toward Wrocław.
Take exit 39 to change onto Route 38 and follow this road all the way to the town. This route takes around an hour from the capital city of Prague.
From Prague to Kutná Hora by public transport
You can also make the jaunt to Kutná Hora by public transport. Hop on a train from Praha Hlavni Nadrazi station to Kutná Hora Hlvani Nadrazi, which takes approximately one hour.
The train station is located around 3 kilometers outside of the town, so you'll need to catch a local bus heading into the center of Kutná Hora, which takes an additional 15 minutes.
Guided tour to Kutná Hora from Prague
Alternatively, book a guided excursion to Kutná Hora. These tours last between 5 and 7 hours, and you can choose between several starting times throughout the day. You can also select a hotel pickup if desired.
What is the typical itinerary?
While all day tours to Kutná Hora have their own unique itinerary, they usually follow a similar route.
You'll meet your guide in Prague — either at any easy-to-reach destination in the city or outside your hotel if your excursion includes a pickup service.
From there, you'll travel to the medieval town, located in the Bohemia region. Once you reach Kutná Hora, you'll visit its main landmarks, which include St. Barbara's Cathedral, as well as the distinctive Sedlec Ossuary.
Depending on how much time you have to spare in the town, you may head to a museum to learn about the history of Kutná Hora and how it became an affluent area through silver mining between the 13th, and 17th centuries.
Experience the conditions of workers yourself by heading into a medieval mine, complete with a white coat and helmet. Have each site's history explained in detail by a professional guide.
This will enable you to return to Prague with an expanded knowledge of the Czech Republic.
What kinds of tours are available?
No matter which kind of experience you're seeking, there is a Kutná Hora day trip for you — be it a shared excursion with like-minded people, a short tour for a fixed itinerary or a personalized experience.
Half-day tour to Kutná Hora from Prague
Half-day tours to Kutná Hora are ideal for those with limited time in the Czech Republic.
Starting out your excursion, you'll head to St. Barbara's Cathedral, which has been listed as a World Heritage site by UNESCO and features intricate Gothic architecture.
Continuing on, you'll pay a visit to the Sedlec Ossuary — a Roman Catholic burial ground — which is estimated to house up to 70,000 skeletons. Lastly, admire each of the 12 sides of the Stone Fountain, located in Rejsek Square.
This monument dates back to the 15th century and was used during the town's silver mining period to supply water to its residents.
Full-day tour to Kutná Hora from Prague
If you want to explore the town in greater detail, opt for a longer day trip to Kutná Hora. You'll explore the fascinating yet eerie Sedlec Ossuary and the spectacular facade of St. Barbara's Cathedral.
With this extra time, you'll also be able to discover the Italian Court — the original seat of the Central Mint of Prague. This opulent palace also accommodated the kings of the Czech Republic during its silver mining period.
Before returning to Prague, you'll have the opportunity to amble around the historic Sedlec Abbey — the first Cisterian monastery built in Bohemia.
As you travel through these fascinating landmarks, your guide will fill you in on their history, dating back to the barbaric Hussite Wars.
Private tour to Kutná Hora from Prague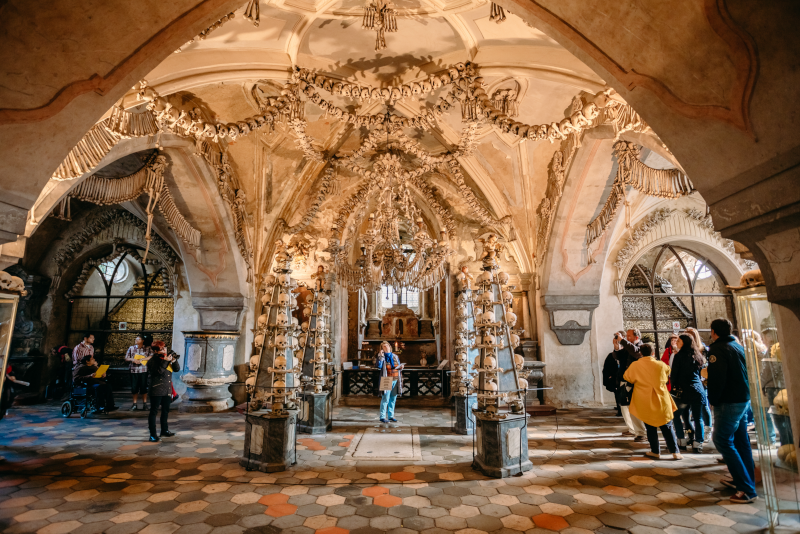 Those seeking a more personal experience can select a private day tour to Kutná Hora. Together with a dedicated guide, you'll travel by train to the historic town to check out its ancient monuments and learn about silver mining in the Czech Republic.
Alongside all of the town's highlights, you'll also visit a museum dedicated to Kutná Hora's mining enterprise. Here, you can immerse yourself in the culture by donning protective gear and heading into a real-life silver pit from the Middle Ages.
Enjoy one-on-one attention as you speak with your guide about each historic landmark and have the opportunity to ask plenty of questions.
How much does a day trip to Kutná Hora from Prague cost?
Basic day trips to Kutná Hora generally cost between €50 and €70 per person. These generally include a professional guide to lead you through a selection of the town's most celebrated monuments, as well as entry fees for each attraction.
Those on the lower end of the range tend to last half a day, while those on the higher end spend an extra hour or two at the destination.
If you wish to opt for a private day trip, you'll pay upwards of €100 each for a tour that travels to the town by train with a knowledgeable guide.
What will you see and do?
Sedlec Ossuary
Sedlec Ossuary is a haunting sight, located beneath the Cemetery Church of All Saints — part of the famed Sedlec Abbey site.
Its beginnings trace back to the 13th century when the Abbot of Sedlec returned from a pilgrimage to Jerusalem with soil from Golgotha.
He sprinkled it on the cemetery of his monastery, making this spot in the Czech Republic truly unique and a highly sought-after resting spot.
After plague outbreaks swept through Central Europe in the 14th and 15th centuries, there were so many bodies that had to be buried at this cemetery that it was unable to keep up.
On top of this, the Hussite Wars left an additional trail of dead bodies in its wake, with nowhere to be given a proper burial. To solve this problem, an underground chapel was built to house all these skeletons, giving between 40,000 and 70,000 people an odd form of afterlife.
In 1870, woodcarver František Rint transformed the morbid contents into intricate works of art with sweeping walls of femurs and chandeliers created from every bone in the human body.
Referred to as "Bone Church," the ossuary brings visitors face-to-face with their own mortality in a beautiful way.
St. Barbara's Cathedral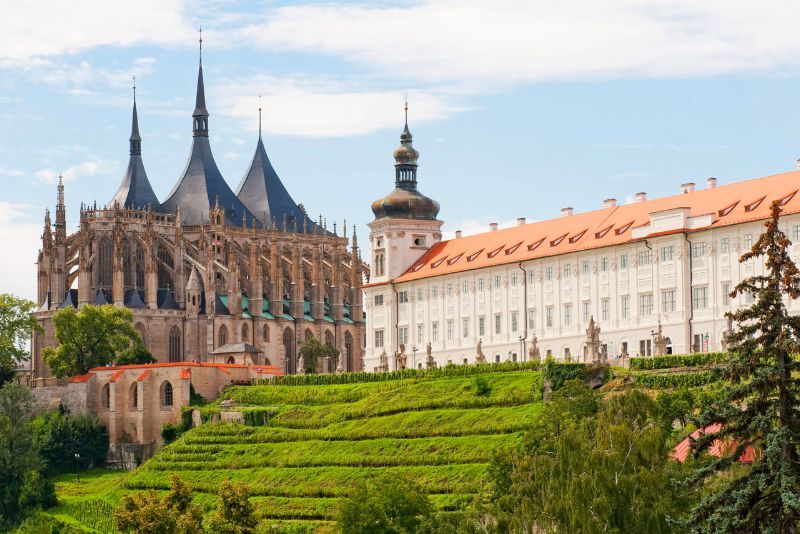 St. Barbara's Cathedral in Kutná Hora is one of the most impressive cathedrals in Europe. It is a grand structure with three spires, perched atop the hill overlooking the Czech town.
The religious site is dedicated to St. Barbara who was known to be the patron of miners, as well as other dangerous professions. The cathedral's construction was begun in the 14th century, but was suspended when silver ran dry in the town's mines.
Finally finished in the 19th century, St. Barbara's Cathedral features a mix of Baroque and Gothic Architecture.
Upon entering its doors, visitors can find artwork dating back to the 16th century including several different stained glass windows. These depict memorable Bible scenes, including the Last Judgment.
Visitors exploring the church can also discover the life of St. Barbara — one of the Fourteen Holy Helpers — and how she resisted paganism while being locked in a tower by her father.
When is the best time to visit Kutná Hora?
The best time to plan a day tour to Kutná Hora is during the summer months when temperatures reach a balmy 25 degrees Celsius. At this time, there is very little rain and you can enjoy ambling along the town's historic streets.
However, those wishing to avoid the crowds may choose to head to the Bohemian town during January when a blanket of snow turns Kutná Hora into an enchanting wonderland.
Travel tips
Day trips to Kutná Hora often involve a fair amount of walking. Wear comfortable clothes and shoes to ensure you enjoy your excursion.
Some tours include the entry fee for each attraction in Kutná Hora and others do not. Check whether you will need to pay an additional fee to visit these sights on your selected tour before booking.
Some tourists wish to experience fair weather while in Kutná Hora but also avoid the hordes of tourists who flock to the medieval town. If you're one of these visitors, plan your trip for the shoulder months of May or September.