Český Krumlov's old-world cobblestone streets and colorful, Baroque buildings give it a romantic appeal that captivates visitors, making it an ideal spot for a day trip from Prague.
The small medieval city is jam-packed with plenty of historic sights — the most striking of which is its Gothic castle.
Visitors will appreciate Český Krumlov's welcoming atmosphere as they journey through the town, exploring its monasteries, churches and Renaissance houses.
Gain an authentic insight into Bohemia on a day trip to Český Krumlov from Prague.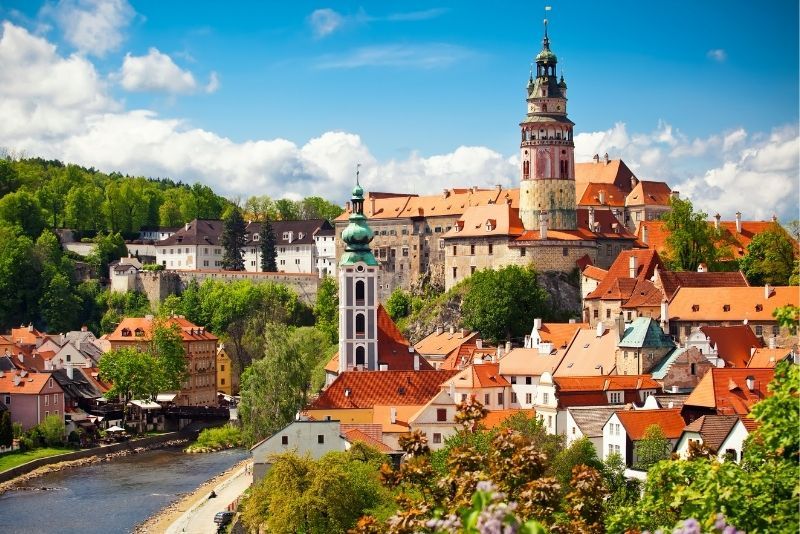 Here's all you need to know about Český Krumlov, one of the most exciting destinations for day trips from Prague.
How to get to Český Krumlov from Prague?
Český Krumlov is located within the South Bohemian region of the Czech Republic, approximately 170 kilometers south of Prague.
From Prague to Český Krumlov by car
The most direct way to make the journey to Český Krumlov is by car. The drive takes approximately 2 hours and follows Route 3 out of Prague all the way to the picturesque town.
From Prague to Český Krumlov by public transport
Another way to make the jaunt to Český Krumlov is via public transport. You can catch a direct train from the Praha Hlavni Nadrazi station to the town, and the service operates multiple times per day. This takes around 2.5 hours in total.
Or, you could opt to take a bus from the Na Knizeci Bus Station, which takes between 2.5 and 3 hours, and costs approximately €10 per person.
Guided tour to Český Krumlov from Prague
Alternatively, allow a tour operator to take care of the details by booking a guided excursion to Český Krumlov.
You'll meet your tour group at an easy-to-reach location in the city, or you can go one step further and book a trip with a convenient hotel pickup service.
These day tours begin around 9 AM and last approximately 10 hours, returning you to Prague in the early evening.
What is the typical itinerary?
After meeting your tour guide and boarding your vehicle, you'll start your journey through the Czech countryside to reach the South Bohemian town of Český Krumlov.
Along the way, some day tours make a pit stop at České Budějovice for a delicious taste of Budweiser beer in its birthplace.
Continuing on your day trip to Český Krumlov, you'll arrive at your main destination and participate in a tour of its top monuments by bus or car.
As your vehicle crawls along the streets, your guide will fill you in on the history of each landmark, as well as any fascinating tidbits or legends that surround them.
Try local Czech fare at a local tavern before enjoying a solitary stroll through the town, discovering its delights up close.
Reconvene with your group to visit the jewel of Český Krumlov — its UNESCO-listed grand castle. From here, you may return to Prague.
However, other excursions travel to České Budějovice after Český Krumlov to discover its 13th-century splendor in more detail.
What kinds of tours are available?
There are several types of day tours to Český Krumlov available.
Whether you want to meet like-minded individuals on a group tour, enjoy the personalization of a private excursion or explore more of the Eastern European nation — there's a day tour for you.
Guided tour to Český Krumlov from Prague
One of the most popular ways to see the South Bohemian town is through a guided day trip. Hop on board your tour bus and travel through one of the Czech Republic's major wine regions, filled with scenic vistas at every turn.
Once you reach Český Krumlov, you'll embark on a bus tour around the town, expertly led by a professional guide.
You'll see some of the town's most celebrated landmarks and hear about their origins. Stop for a local lunch in a charismatic tavern before exploring Český Krumlov's back alleys and historic streets at your leisure.
During this time, you can shop for souvenirs, explore monuments in more detail or simply enjoy watching Czech daily life from afar.
The last stop on your Český Krumlov day tour is at its namesake castle, which has maintained its 13th-century charm and original Gothic architecture.
Private tour to Český Krumlov from Prague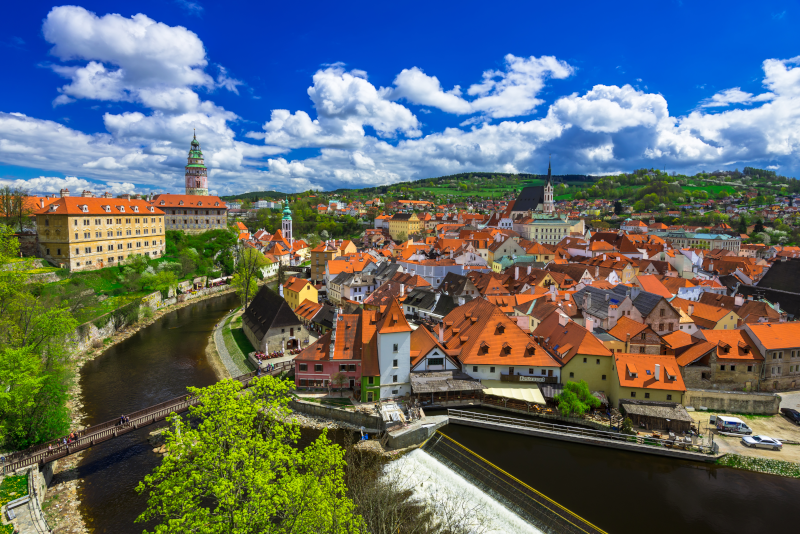 Alternatively, opt for a private tour and enjoy a personalized itinerary, and the full attention of a knowledgeable guide.
You'll make a quick pitstop in České Budějovice — the home of Budweiser beer — to try a frosty brew before continuing on to Český Krumlov.
Here, you'll enjoy conversing with your guide one-on-one to learn more about the town's numerous historic houses. Visit the castle, enjoy some free time and feast on a traditional Czech lunch before returning to Prague.
Day trip to Český Krumlov plus České Budějovice from Prague
Start off your day trip to Český Krumlov by touring the quaint town's major landmarks. Visit the second-largest castle in the Czech Republic — one of Europe's major tourist attractions.
Note its romantic architecture and royal history before heading to a renowned brewery for a spot of lunch.
Continue on to České Budějovice where you'll find alleys lined with architecture dating back to the Renaissance and Baroque periods. Explore its picturesque square and learn more about its claim to fame — beer.
How much does a day trip to Český Krumlov from Prague cost?
A basic day trip to Český Krumlov costs between €80 and €110 per person. This type of excursion takes place in a group setting and includes a local lunch, and professional guide.
If you wish to include a visit to České Budějovice, you'll also pay around €100 each.
If you opt for a private Český Krumlov day tour, you'll pay between €240 and €350 per person. However, you can reduce the excursion cost by traveling with your loved ones.
You can select a private day trip for €400 per group of three, which lowers the price per head to approximately €130.
Many tours do not include the entrance fee for Český Krumlov's historic castle. Bear this in mind as an additional expense when booking your excursion.
What will you see and do?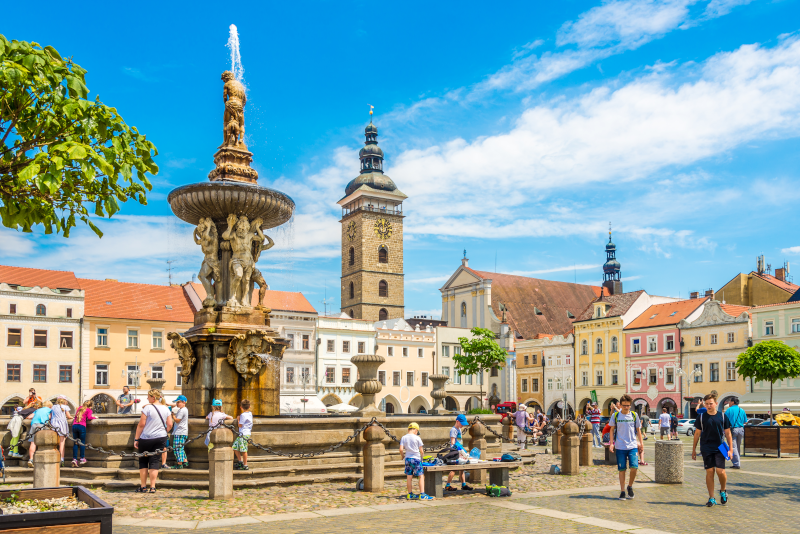 Founded in the 13th century, Český Krumlov is home to plenty of historic charm. The South Bohemian town has been fiercely protected and preserved against the hands of time, and development.
From its cobblestone streets to conical towers atop Gothic architecture, Český Krumlov quickly transports visitors back to another era.
The town's most famed attraction is its eponymous castle, built in the first half of the 13th century by the Lords of Krumlov — a branch of the noble Vítkovci family.
As this aristocratic bloodline died out, the castle changed hands frequently between emperors and virtuous families.
During the 16th century, the castle was transformed into an opulent Renaissance masterpiece that visitors can admire at their leisure today.
Its outstanding facade and grand appearance didn't go unnoticed as the castle was declared a National Monument in 1989, and was listed by UNESCO as a World Cultural Heritage Monument in 1992.
The castle complex includes 40 buildings and five courtyards across an expanse of 7 hectares. Visitors can walk across its unique Cloak Bridge, as well as its Guardhouses and pristine gardens to learn more about the history of the town.
There are several museums in the town that tourists on a day trip to Český Krumlov can explore.
Art lovers will be enthralled by the Egon Schiele Art Centrum — dedicated to the Austrian painter, who was recognized for his expressive and sexual portraits.
History buffs may opt to duck into the Regional Museum in the Czech Krumlov instead, where they can admire the intricacies of its ceramic model of the town, which includes more than 800 structures.
Other points of interest that you may run into on a stroll through Český Krumlov are the 15th-century Church of St. Vitus and the Monastery of the Minorites, founded by the Rosenburg family in 1350.
When is the best time to visit Český Krumlov?
Český Krumlov is the perfect place to visit on a day trip from Prague at any time of the year. However, you may wish to bear a few factors in mind to cater to your own preferences.
During the winter months, the town drops as low as -11 degrees Celsius but is often covered in an enchanting blanket of snow, turning Český Krumlov into a winter wonderland.
Some visitors prefer to book their Český Krumlov day tour for the summer months when they can amble the town's warm and sunny roads at their leisure.
Travel tips
Avoid traveling to Český Krumlov during the wettest month of the year — May — if possible.
Ensure you take your camera with you on any Český Krumlov day trip as the town's UNESCO-listed castle is exceptionally spectacular to photograph.
Plan your day tour towards the end of your vacation once you've seen all Prague has to offer.
Wear flat shoes on your excursion, as the town's streets are made up of cobblestones.