From shy octopuses to thriving coral reefs, snorkeling tours in Mallorca allow you to see the best of the Mediterranean Sea. The island is home to several marine reserves which showcase its colorful biodiversity and plethora of sea life.
Snorkeling is an easy yet thrilling activity for adults and children alike, and you don't need to be a professional to take part. Regardless of whether you've snorkeled before, you can be out enjoying the turquoise waters around Mallorca in no time.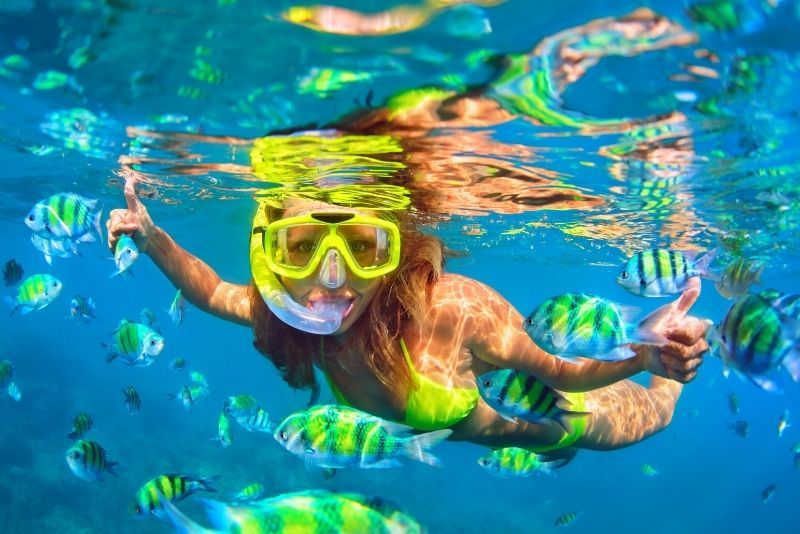 You will find below everything you need to know about snorkeling tours, one of the most fun adventure sports in Mallorca.
What are the best snorkeling tours in Mallorca?
There are plenty of snorkeling tours to choose from while on vacation in Mallorca. You can choose to participate as part of a group or privately with your loved ones.
Snorkeling tour to the Malgrats Islands
Many snorkeling tours in Mallorca visit the nature reserve that covers the Malgrats Islands. The area is brimming with biodiversity, including plentiful marine life such as octopuses and scorpionfish, as well as copious varieties of birds.
You'll have plenty of time to swim and snorkel in the diverse waters surrounding the island, before returning to Mallorca's mainland.
Private motor boat snorkeling tour
A private snorkeling tour offers greater flexibility on your Mallorca boat excursion. Traveling through the ocean on a speedboat tour, you'll be able to see many of the sights along Mallorca's coastline. You'll stop at secret beaches, known only by the locals, and snorkel in the cool blue water surrounding the island's numerous bays.
How much do snorkeling tours in Mallorca cost?
You can expect boat tours in Mallorca that visit the Malgrats Islands to cost between €40 and €60.
If you wish to take a private tour, you'll pay approximately €870 per group for a half-day motorboat excursion. There can be up to eight participants in your group in total.
Combination tours vary in price, depending on the activities included. Outings that include quad biking, snorkeling and cliff-jumping cost around €100, while those that focus on snorkeling and paddleboarding cost between €40 and €100.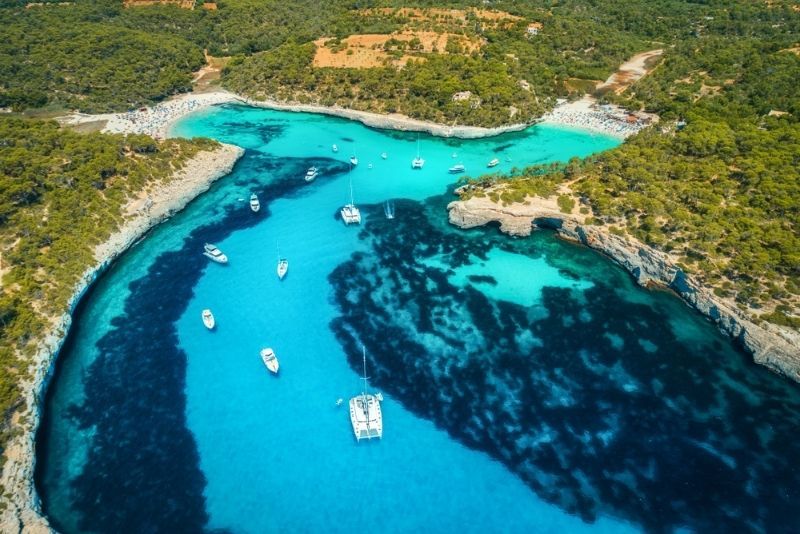 What is included in a snorkeling tour in Mallorca?
Snorkeling tours always include the use of all necessary snorkeling equipment, and you'll normally have a guide on deck to assist you with the activity. Insurance will also be included on most trips, in case of an accident.
Many snorkeling tours in Mallorca visit the nature reserve that encompasses the Malgrats Islands, and the visitor entrance fee will be covered in your excursion price.
You can expect more inclusions on a private tour, such as snacks and drinks. If you're taking part in a combination tour with other activities, you'll be provided with the appropriate equipment and safety gear for those too.
Where do snorkeling tours in Mallorca start?
Generally, tours take place close to the city of Palma on the southwest coast of the island. The most common meeting points for snorkeling tours in Mallorca are either at the tour operator's office or a central location near the beach.
How long do snorkeling tours in Mallorca last?
Typically, snorkeling excursions in Mallorca last between three and four hours. Excellent snorkeling spots are found just a few minutes away from the mainland by boat. This leaves plenty of time to explore the abundant marine life and coral reefs that lurk beneath the surface of the water.
When is the best time for a snorkeling tour in Mallorca?
The summer months are hot and sunny on the island of Mallorca. The seas are also calm and the water temperature warms to a mild 26 degrees Celsius in August. This combination of factors makes the height of summer the perfect time to go on a snorkeling trip in Mallorca.
Snorkeling tours are both exciting and relaxing, and will be a memorable highlight of your vacation. For this reason, consider booking a tour for your last day.
Are there any combo available with snorkeling tours in Mallorca?
Off-road quad biking, snorkeling and cliff-jumping tour
This tour is full of rip-roaring adventures and you'll begin by cruising over rough terrain on a quad bike to reach a hidden snorkeling spot. You'll have the opportunity to experience an exhilarating jump into the ocean from a clifftop. You can also swim in the azure waters and see which creatures call the seabed home.
Sailing adventure in Palma de Mallorca with snorkeling and paddle boarding
This snorkeling tour in Mallorca combines relaxation with thrilling activities. You can laze around on deck sipping sparkling wine and enjoying tapas, before taking part in a spot of snorkeling, and swimming. If you wish to test your balance skills, you can try out a stand-up paddle board and cruise along the still seas.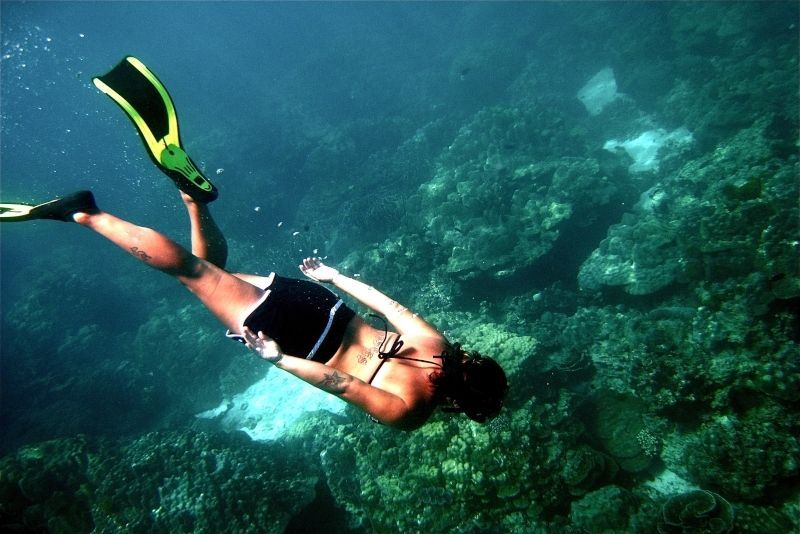 Is it safe to take a snorkeling tour in Mallorca?
Snorkeling is a safe activity, even if you've never done it before. Most tours provide insurance that will cover you in the unlikely event of an accident. It is not recommended for pregnant travelers or those with back problems to participate in a snorkeling excursion.
What happens in case of bad weather?
Snorkeling tours in Mallorca require good weather in order to operate. If the conditions are poor, your tour will be rebooked for another day or you'll be offered a full refund.
Which other outdoor activities can be done in Mallorca?
Travel tips
Ensure your sunscreen is reef-friendly before you go on a snorkeling tour in Mallorca. This will protect the coral reefs which are especially sensitive to the chemicals used in sun protection products.
Take a t-shirt with you on your snorkeling excursion to prevent your back from getting burnt while you're swimming face-down in the water.
If you have an underwater camera, bring it with you on your trip to capture the colorful marine life living under the waves.