If you want to feel the adrenaline rushing through your veins on the open sea, you should consider taking a jet ski tour in Mallorca.
A fun and exhilarating adventure, jet skiing is a fantastic way to see the jewels that line the coast of the largest Balearic Island.
Jet skis can reach rip-roaring speeds of over 100 kilometers per hour. However, if you're not a thrill seeker, you can glide along the water at your own pace, enjoying the peaceful feeling the ocean provides.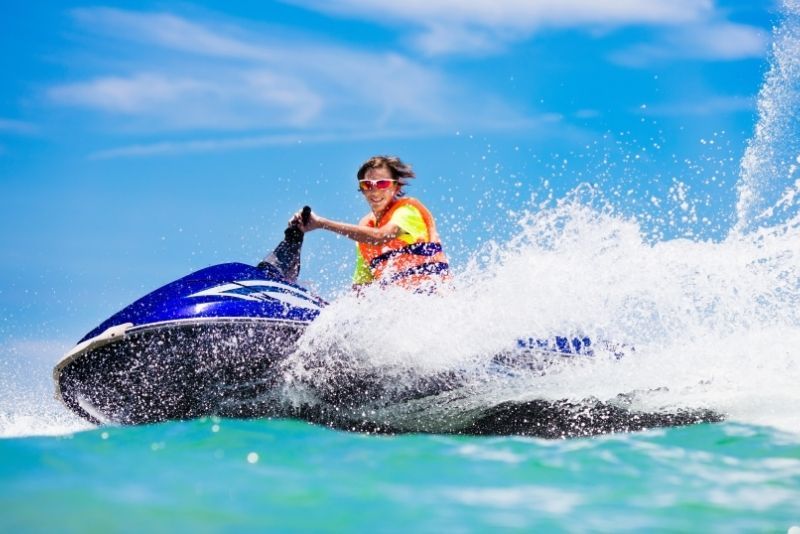 You will find below everything you need to know about jet ski tours, one of the most fun outdoor adventure sports in Mallorca.
What are the best jet ski tours in Mallorca?
Jet ski tour to Los Deltas Natural Reserve
This jet ski tour travels to the protected area of Los Deltas, which is known for its abundance of caves and flawless beaches. One such beach is Cala Vella, which boasts vibrant turquoise waters.
You can take a break from jet skiing to bathe or snorkel in its vibrant waters, before climbing back onto your vehicle. On the way back to Palma, you'll pass by the unrivaled scenery of the Cala Blava region.
Jet ski tour to Palma Cathedral
Starting at Palma Bay, you'll whip through the waters towards the city's most iconic monument — La Seu Cathedral. You'll gain a unique perspective of its Gothic architecture and lofty spirals from the water, and have ample opportunities to take photos. You'll also ride by the 14th-century Bellver Castle which is completely circular and was originally built for King James II of Mallorca.
Alcudia jet ski tour
Alcudia Bay sits on the opposite side of the island to the city of Palma. This jet skiing tour explores the picturesque region, including Coll Baix Cove. The cove is engulfed by tall cliffs and has remained unspoiled despite the fact it's no longer a secret spot.
You'll have the opportunity to leap off your jet ski and explore the mild waters that surround Coll Baix by snorkel, before heading back to Alcudia.
Sunset jet ski tour
This jet ski tour combines adrenaline-pumping adventure with romance as you travel along Mallorca's northern shore to catch the sunset. You can toast your loved one with a glass of Cava as the sun fills the sky with pastel hues.
You'll have the opportunity to snorkel in the dusky glow and see the awakening of the ocean's nocturnal creatures. The tour takes place on a two-seater jet ski, which allows you to get close and cuddle up with your significant other.
Jet ski excursion from Cala d'Or
There are many sights to see along the Cala d'Or coast, including jagged coves and a medieval castle. You'll take to the water on your jet ski to embark upon a whirlwind tour of the area by sea. You'll be able to feel the wind rushing through your hair and the splash of the waves as you zoom through the ocean at speed.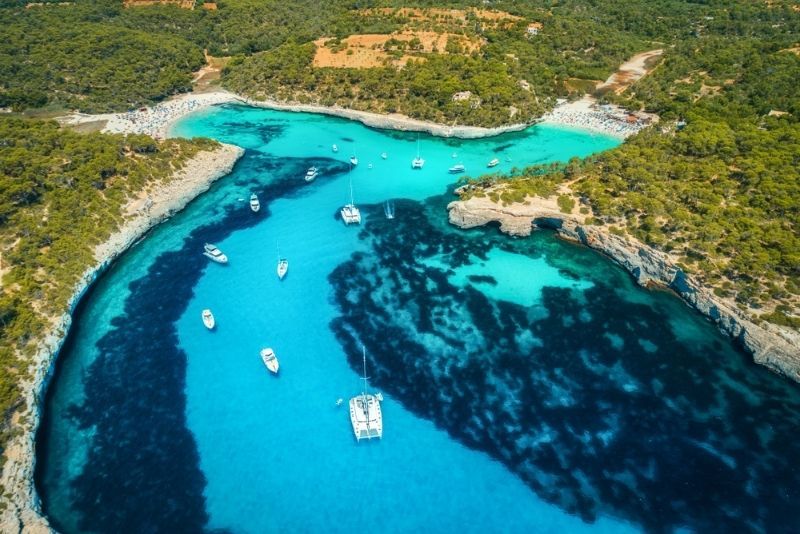 How much do jet ski tours in Mallorca cost?
The cost of jet ski tours in Mallorca varies depending on location. Jet ski is guaranteed to be a fun outdoor experience in Mallorca!
If you wish to visit the Los Deltas Natural Reserve by jet ski, you can expect to pay around €160. Jet ski excursions that take place in the Palma region and travel to the cathedral cost between €90 and €100.
Jet skiing tours that roam the opposite side of the isle — around Alcudia — tend to cost approximately €160. Those looking for a romantic sunset jet ski trip will pay around €170. Cala d'Or tours are usually shorter in duration and cost between €100 and €120.
Alternatively, if you want to make the most of your time in Mallorca, consider a combination tour that includes snorkeling. You can expect to pay between €200 and €230 for a tour of this nature, which is often cheaper than booking two separate excursions.
What is included in a jet ski tour in Mallorca?
All necessary equipment is provided on jet ski tours in Mallorca. This includes the jet ski itself, as well as a life jacket and in some instances, a wet suit too.
You'll often have a guide to escort you to the most dazzling spots in the area, and most tours also include insurance in the cost.
If there is the opportunity to snorkel on your tour, snorkeling equipment will be provided.
Where do jet ski tours in Mallorca start?
Many jet ski tours in Mallorca take place around the coastal city of Palma. If this is the case with your tour, you'll meet at one of the harbors close to the city center.
Tours that begin elsewhere on the island depart from the nearest port or harbor.
How long do jet ski tours in Mallorca last?
Typically, jet ski excursions in Mallorca last between 30 minutes and an hour. Jet skis are quick and you can cover a large distance in a short amount of time.
Combination jet ski and snorkeling tours usually last around 1.5 hours. If you wish to participate in a more extended tour, you can arrange one that lasts up to four hours.
When is the best time for a jet ski tour in Mallorca?
The best time to go on a jet skiing trip in Mallorca is during the summer when the seas are calm. The weather reaches its highest temperatures from May to September, which is good news for sun worshippers.
Alternatively, if you prefer milder conditions, visit during September when temperatures range between 18 and 27 degrees Celsius. If possible, participate in a jet skiing tour outside of the hottest hours of the day — between 11 AM and 3 PM.
Book a jet ski adventure for when you've planned to have a beach day on vacation.
Are there any combo available with jet ski tours in Mallorca?
Caló des Moro jet ski, caves and snorkeling tour
This jet ski tour starts at Cala d'Or and speeds down the coast towards the picturesque beach of Caló des Moro. Along the way, you'll see dramatic coastlines, staggering mountains and secret caves. You can stop for a snorkel in the tranquil sea at your leisure, and witness the abundant marine life that thrives close to the island.
Is it safe to take a jet ski tour in Mallorca?
Jet ski tours in Mallorca are safe and fun, and most tourists can participate. However, it's not recommended for those with back problems or pregnant persons to engage in this activity.
Are children allowed on a jet ski tour in Mallorca?
Children between the ages of 5 and 15 are welcome to sit on the back of a parent or caregiver's jet ski.
Young adults (16+) are permitted to drive their own jet skis with written permission from their caregivers.
Do I need a driving license to take a jet ski tour in Mallorca?
Jet ski tours in Mallorca do not require you to have a driving license in order to participate.
What happens in case of bad weather?
Jet ski tours require good weather and calm seas in order to operate. If the conditions aren't right on your chosen day, you'll be offered the opportunity to rebook your tour for another date. Alternatively, you can choose to be issued a full refund.
Travel tips
Be sure to cover yourself in reef-safe sunscreen before a jet skiing tour in Mallorca, as it is easy to become sunburned.
Wear a sunhat that is unlikely to blow off in the wind, to shield your face from the sun.
If possible, participate in an early morning or evening jet ski excursion to avoid the extremely hot weather.