Exploring the dramatic coastline of Mallorca by boat is one of the most popular ways to get beneath the skin of this beautiful Balearic island. There are plenty of hidden bays and pristine beaches to enjoy, as well as snorkeling around islands and lunch stops overlooking scenic lagoons.
These are the best Mallorca boat trips on offer – which will you choose to include in your vacation itinerary?
What are the most popular boat tours in Mallorca?
There is a range of different Mallorca boat tours catering to all travelers, with options for short scenic excursions and longer all-inclusive cruises.
Scenic sightseeing cruises
Take in some of Mallorca's most impressive coastal landmarks on a relaxing catamaran, yacht, or glass-bottomed boat excursion. Speedboat jaunts are available too.
Stop at dramatic bays and secluded beaches for swimming and snorkeling, then soak up the sun on deck. Lunches are included on longer Mallorca boat trips.
Sunset sailing trips
Watch as the evening light dances on the cliff faces, before fading away and leaving romantic dashes of orange and red splashed across the horizon. Sunset is one of the best times to enjoy a boat tour in Mallorca, and some excursions offer dinner on board too.
Dolphin watching tours
The early morning start is worth it when you catch a glimpse of dolphins leaping through the waves alongside the boat. Sailing into the deep blue ocean at this time of day is magical, with the light at its best and the chance to see some magnificent marine mammals up close.
Party boat excursions
Let your hair down and dance the day away on board a yacht or pirate ship, admiring the spectacular scenery and enjoying the open bar to help get you in the mood.
Private boat charters
Visit hidden coves and pretty beaches away from the crowds on an exclusive private charter with your friends. Anchor in blue lagoons for swimming and snorkeling, and enjoy delicious local cuisine back on board as you dry off in the sun.
Boat rentals
Want to explore independently? Then hire a boat and chug off around the coast, stopping anywhere you fancy along the way. This is a great way to discover the sights at your own pace, with no prior experience required.
How much do boat tours in Mallorca cost?
Mallorca boat trips range in price depending on the length of tour and the vessel capacity.
Short scenic jaunts cost from €12 for a 1-hour trip, to €100 for 8 hours at sea. The popular half-day tours range from €26 - €88 per person.
For a private charter expect to pay between €121 - €590 for a full day cruise.
Sunset sailing trips start at €19 for a short 1-hour excursion, rising to €59 for 4 hours, and €150 for 6 hours. The latter includes a barbecue dinner on board.
Sunrise dolphin cruises range from €49 - €52 for a 4-hour ride.
Party boat excursions are €45 per person for a 3-hour tour, or €49 for 4 hours.
Self-drive boat rental costs €185 - €226 for 4 hour hires, and can be extended if required.
Which places are visited with a boat tour in Mallorca?
Es Trenc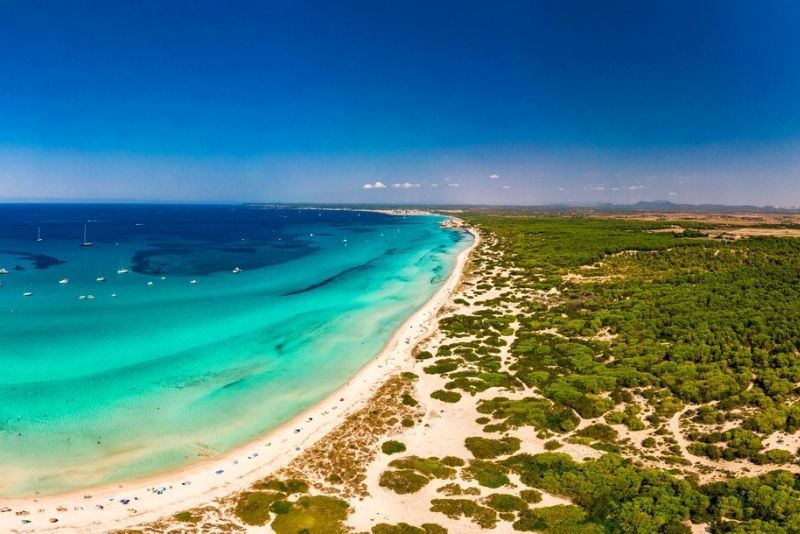 Es Trench bay in southern Mallorca, with soft dunes and dazzling blue water is one of the most famous spots on the island. Feel like you are in the Caribbean as you stroll along the sand and snorkel in the sea, enjoying the remote wilderness at this quiet beach.
Sa Calobra
This hidden cove at the end of a gorge in the foothills of the Sierra de Tramontana has inspired artists from all over the world through the centuries. Flanked by high cliffs and dramatic mountains, the tiny beach is a real gem and a favorite stop on Mallorca boat trips.
Palma
Did you know you can see some of Palma's top sights by boat? From the comfort of your seat on deck admire iconic landmarks like the Cathedral, Bellver Castle, and the Marina as well as the bustling fishing wharf and the shipyards.
Cabrera Island
This enchanting uninhabited island off the south coast of Mallorca is a haven of secluded coves, clear waters, and photogenic craggy coastlines.
Characterized by barren rocky hills and sprawling green bushes, Cabrera Island is a natural playground for adventurous explorers. Make sure you stop at the magical blue grotto before leaving.
Dragonera Island
Lying off the southwestern coast of Mallorca, Dragonera Island is part of a natural park famous for its indigenous lizards. This wild islet is shaped like a dragon – hence the name – and over the years has been home to an impressive array of plants, birds, and pirates!
The snorkeling here is superb and there are hiking trails with spectacular views out across the sea.
How long does a boat trip last?
Sightseeing boat tours in Mallorca last between 1 – 9 hours, with half-day and full-day trips being the most popular. Party boat excursions are generally around 3-4 hours long, giving you plenty of time to see the sights as you boogie on deck.
Dolphin watching cruises depart during the morning and last 4 hours, while sunset trips range between 1 and 6 hours.
For private charters and independent boat rentals expect to spend 3 – 8 hours at sea depending on your requirements.
Where do boat tours leave from?
Hotel transfers are not generally included in Mallorca boat trip prices, but some offer it on request for an extra fee so do enquire at time of booking.
Many trips depart from Puerto Pollença on the north coast, or at various points along the Port of Palma in the southwest. The meeting points for other tours include the pier beside the Hotel Marqués del Palmer in Colonia de Sant Jordi in southern Mallorca.
Meanwhile, boat rentals can be hired at various locations all around the island, so choose one near to where you are staying.
When is the best time for a boat trip in Mallorca?
Summer weather in Mallorca offers the best conditions for a boat excursion, with the months between June and September being the most popular. During this time the water temperatures are ideal for swimming and snorkeling, and you can relax on deck in the sun.
It can get quite busy in the summer, so if you want to come at a quieter time, consider taking a vacation during May or October, when the weather is still mild.
Mallorca boat trips run throughout the day, with special sunset cruises departing during the early evening.  
Which other outdoor activities can be done in Mallorca?
Travel tips
Plan ahead and book your Mallorca boat tour online to secure the best deals for your chosen date.
Make sure you pack a light jacket to ward off the sea breeze, as well as sunscreen and sunglasses to protect you from the heat.
Charge your camera batteries before the tour – you will be taking lots of photos!
Double-check your joining details so you know where the tour starts if hotel pick-ups are not included.