Overflowing with character, seaside Palermo isn't just Sicily's capital – it's a treasure trove of ancient museums,  historic churches, bustling markets and lip-smacking street food!
Just a few hours away from the hustle and bustle of Palermo lies a plethora of Sicilian towns beckoning with stunning views and rich cultural history of their own, arguably none more attractive than Taormina — the Pearl of the Ionian Sea.
On a Taormina day trip from Palermo, prepare to be mesmerized by the sight of Mount Etna, Europe's tallest active volcano, which majestically dominates the skyline. Immerse yourself in the ancient world as you wander through the ruins of the grand Greek Theater.
Stroll along the charming Corso Umberto, lined with delightful shops, cafes (don't forget to try the arancini and famous cannoli) and local artisans, or soak up the glorious Sicilian sun on the pristine beaches of Isola Bella.
Here's all you need to know about Taormina, one of the most exciting day trips from Palermo.
How to get to Taormina from Palermo?
Taormina is located on the eastern coast of Sicily, Italy. Situated approximately 275 kilometers (170 miles) southeast of Palermo, the island's capital. It sits about halfway between Catania to the south and Messini, the gateway to the Italian mainland, to the north.
From Palermo to Taormina by car
To reach Taormina from Palermo by car, take the A19 highway southbound towards Catania. Then, merge onto the A18 highway and continue eastbound. The journey typically takes around 3 hours, covering a distance of approximately 270 kilometers through the island's rugged interior.
Alternatively, take the coastal tour (A20 onto E90). While only a few minutes extra, you'll be rewarded with stunning views of the Mediterranean Sea along the way.
From Palermo to Taormina by bus
Traveling from Palermo to Taormina by bus is a convenient option. First, take the Sais Autolinee 117006 from Palermo to Catania. This usually takes around 2 and a half hours. From Catania, you can then catch a connecting bus – such as Etna Trasporti ET07 – to Taormina, which takes about 1 hour more.
The entire journey will take around 4 hours and costs roughly €20.
Guided tour to Taormina from Palermo
The most popular and hassle-free way of visiting Taormina from Palermo is to join a guided tour. On this full-day trip, you'll be picked up and dropped off at your hotel in Palermo and taken on an unforgettable journey through some of Sicily's most beautiful towns and landscapes.
Every tour is different in terms of specific stops. However, you can be sure that you'll have a knowledgeable guide with you all day to share valuable insights into the region's history, culture and attractions. Choose from small group or private tours, with options for every budget.
What is the typical itinerary?
While every Taormina guided tour from Palermo is slightly different, they do have similar itinerary structures.
Typically, a Taormina day trip begins with convenient pickup directly from your hotel. Once in the air-conditioned vehicle, you'll leave Palermo behind and head off of the scenic drive toward Taormina.
Enjoy picturesque views of the Sicilian countryside, rolling hills and charming coastal vistas along the way as your knowledgeable guide waxes fascinating facts and stories about the region.
When you get to Taormina, your first stop is often the world-renowned Greek Theater. From here, the views of the surrounding landscape are divine, as you overlook the majestic Mount Etna and the Mediterranean Sea.
Depending on your tour, the next stop could be Taormina's main thoroughfare, Corso Umberto. You'll have free time to meander through its narrow streets lined with boutique shops, local crafts and inviting cafes. Indulge in some retail therapy, pick up souvenirs or savor a traditional Sicilian snack.
No trip to Taormina is complete without a visit to the enchanting Isola Bella. This small island nature reserve boasts pristine beaches and crystal-clear waters, perfect for a refreshing swim or a leisurely stroll along the shoreline. Take a moment to bask in the beauty of this hidden gem and capture some memorable photographs.
Some tours will also make a stop at Castelmola, up the hill from Taormina, or Cefalù, the bustling beach town. If you opt for a longer tour, expect time to visit Mount Etna as well.
What kinds of tours are available to go to Taormina?
There are a few different kinds of tours available to go to Taormina from Palermo, including small group tours, private day trips and combination excursions that allow you to visit multiple towns and destinations in Sicily. Let's take a look at the most popular tours to choose from.
Small-group Mount Etna, Taormina and Castelmola day trip
This comprehensive, small-group day trip combines the best of Sicily's natural and cultural wonders into one day. Departing from Palermo, you'll first visit the majestic Mount Etna, Europe's tallest active volcano, where you can explore its lunar-like landscapes and learn about its geological significance.
Next, it's off to Taormina, known for its ancient Greek Theater and charming streets. Last but not least, your guide will take you up the hill to the village of Castelmola, where panoramic views of the coast and Mount Etna await.
Private tour to Mount Etna and Taormina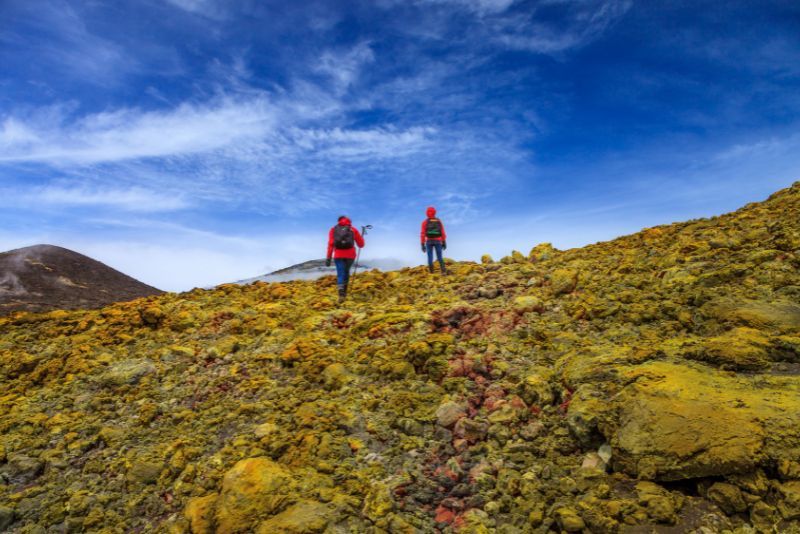 Ideal for those seeking a more personalized and exclusive experience, this Palermo day trip allows you to explore two of Sicily's most iconic destinations back to back. With a private guide, you'll explore Mount Etna, hiking through lava fields and witnessing the incredible power of volcanic nature.
Afterward, you'll journey to Taormina with free time to explore its charming streets and historic attractions. Being a private tour, you can customize the itinerary to include other sites, such as Castelmola and Isola Bella, and spend more or less time at each attraction.
Private Villa Romana del Casale & Taormina tour
This exclusive experience allows you to discover the remarkable Villa Romana del Casale, a UNESCO World Heritage Site known for its well-preserved Roman mosaics. Led by your own independent guide, you'll get to explore the ancient ruins and witness the intricate designs that depict scenes from daily life in ancient times.
Then, it's off to Taormina, where you'll have some time to shop, eat and soak up the atmosphere of this timeless seaside town. From here, you may opt to visit other nearby sights, such as the medieval village of Castelmola or the island Isola Bella.
3-day tour of Sicily from Palermo to Taormina, Mount Etna and Agrigento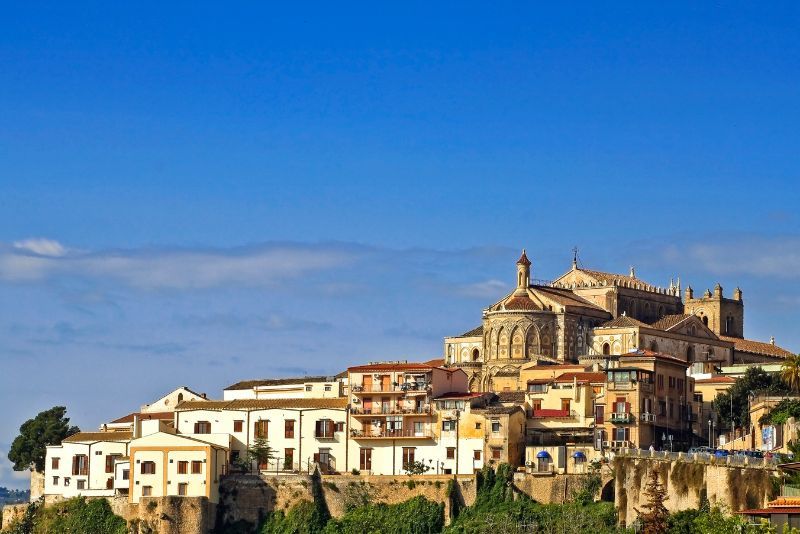 This comprehensive journey showcases the best of the island's rich history, stunning landscapes and vibrant culture across three days, with accommodation included. You'll start by exploring the charming streets of Palermo, visiting historic sites, such as Monreale Cathedral and indulging in Sicilian cuisine at the Mercato Ballaro.
Then, on day two, you'll head via Mount Etna – where you can ride the cable car – to Taormina. On day three, you'll head to the Agrigento area, where you'll visit the famous Temples Valley and the Sambuca di Sicilia (once voted the most beautiful village in Italy).
How much does a day trip to Taormina from Palermo cost?
Guided tours to Taormina can vary in cost depending on what kind of tour you choose but typically start at around €150.
Small group tours that visit Mount Etna and Taormina generally cost €150 per adult or €100 per child, while private tours that visit iconic destinations in Taormina can range from around €250 to €400 per person. If you opt for a Villa Romana del Casale and Taormina combo tour, expect to pay around €280 per adult.
Finally, 3-day tours of Sicily can cost around €950, however, prices may change depending on your group size.
What will you see and do?
On a day trip to Taormina from Palermo, you will have the opportunity to explore a variety of captivating attractions. Here are just a few highlights that await you.
Ancient Greek Theater in Taormina
Perched on a hillside with breathtaking views, the ruins of the Ancient Greek Theater date back to the 3rd century BC. Take in a live concert or join a walking tour to learn all about its fascinating history.
Isola Bella in Taormina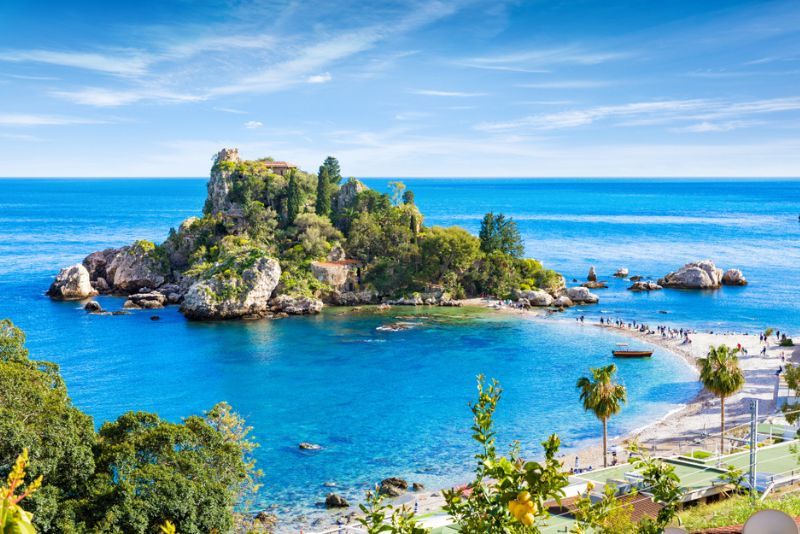 This small nature reserve, located just off Taormina's coast, is renowned for its stunning beaches and crystal-clear waters. Isola Bela is connected to the mainland by a causeway and boasts lush vegetation and soft sands, making it the perfect spot for a refreshing swim or leisurely stroll.
Corso Umberto in Taormina
Lined with dozens of delightful shops, cafes and local artisans, Corso Umberto is Taormina's main thoroughfare. Take an exploratory stroll down its quaint alleyways, stopping to check out the goods and sample some delicious snacks along the way.
Mount Etna
Looming ominously at a whopping  3,320 meters (10,900 feet), Mount Etna is Europe's tallest active volcano. Hiking and mountain bike trails, a cable car and plenty of lookout points offer something for visitors of all fitness levels.
When is the best time to visit Taormina?
The best time to visit Taormina is during the spring (April to June) and fall (September to October) when the weather is pleasant. These seasons offer comfortable temperatures for exploring the town without the peak summer crowds.
As for the time of day, because it takes a few hours to drive from Palermo to Taormina, you should try to start as early as possible.
Are there any tours to Taormina from other cities in Sicily, Italy?
Yes, there are tours departing from other cities in Sicily, Italy:
Travel tips
Wear comfortable shoes as you'll be doing a fair amount of walking, especially when exploring the ancient, cobblestoned sites.
Don't forget to bring sunscreen, sunglasses and a hat, as the Sicilian sun can be quite strong, especially during summer.
Consider booking your day trip or tour in advance to secure your spot and ensure a smooth travel experience.
For the best bang for your buck, opt for a combination tour that takes in multiple cities and attractions.