Towering over Sicily at nearly 3,350 meters (10,990 feet) tall, the ominous and awe-inspiring Mount Etna reigns as Europe's tallest volcano, enticing nature-loving travelers from across the globe.
But not only is it Europe's tallest, it's also one of its most active. Mount Etna is constantly exhaling, spewing out smoke and ash into the air. Its first recorded eruption dates back to around 1500 BC, and it has had hundreds of eruptions ever since.
As a UNESCO World Heritage Site, Mount Etna welcomes adventurers from Palermo and beyond to explore its rugged landscape. From the four summit craters (Voragine, Bocca Nuova, Northeast Crater, and Southeast Crater), you can admire impressive views of the island and the town of Catania. Or, for something more active, take part in some exciting activities like skiing in winter and hiking in summer.
Despite its volcanic nature, Mount Etna still boasts a wide diversity of plant and animal species, which you'll no doubt witness on your Etna day trip from Palermo. Due to its constantly changing landscape, it's highly recommended to book a tour with an experienced and knowledgeable guide to avoid any dangerous situations.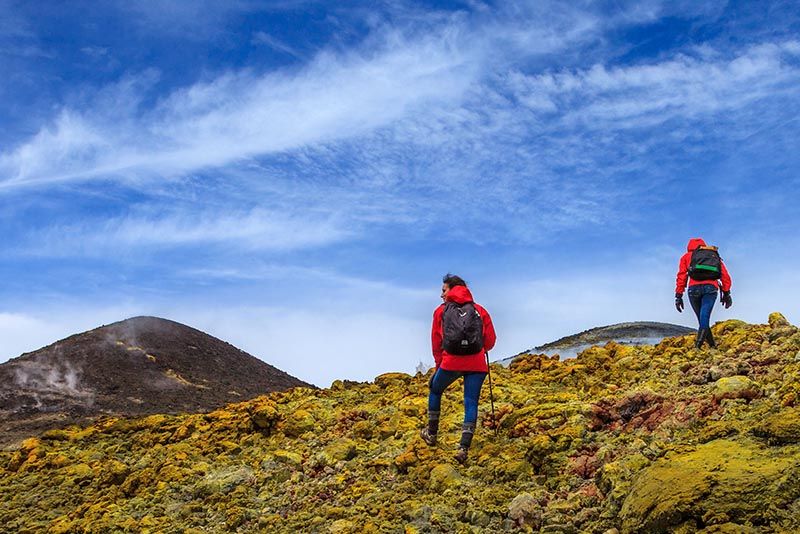 Here's all you need to know about Etna, one of the most breathtaking day trips from Palermo.
How to get to Etna from Palermo?
Mount Etna rises majestically over Sicily's eastern coast, about 170 kilometers (100 miles) away from Palermo. The volcano casts a shadow over Catania, as well as the tourist-friendly seaside town of Taormina.
From Palermo to Etna by car
To get from Palermo to Etna by car, set out on the A19 highway heading east towards Catania. The drive is approximately 170 kilometers (100 miles), which should take about two hours – depending on which part of the volcano you're going to.
As the highway unfolds, picturesque landscapes and charming towns dot the route, offering delightful glimpses of the Sicilian countryside.
From Palermo to Etna by bus
There is no direct bus from Palermo to Etna, so the best option is to take a bus to Catania first. From there, you can catch a local bus or taxi towards several towns on the slopes of Mount Etna.
Guided tour to Etna from Palermo
Opting for a guided tour to Etna from Palermo is the most convenient option. Many tours provide hotel pickup as well as expert guides primed to enhance your experience with their in-depth knowledge of Etna's geology and history.
Take your pick from small-group tours, private tours, and private transfers — all of which allow you to explore Mount Etna in all its glory.
What is the typical itinerary?
While each tour is slightly different depending on the operator, time of year and your particular interests, a typical itinerary for a guided tour to Etna from Palermo starts with hotel pickup in the morning, providing a hassle-free start to the adventure.
After a comfortable journey from Palermo in an air-conditioned car or bus, the tour unfolds with a series of memorable stops and activities that vary depending on your tour.
The tour often begins with a ride up the cable car (at Montagnola) or visit to the Silvestri Craters, located at around 1,900 meters (6,200 feet) above sea level. Here, you can witness the remnants of past volcanic eruptions and learn about the otherworldly landscapes shaped by Etna's power.
From there, the tour will venture deeper into the volcanic terrain, exploring ancient lava fields and volcanic caves. For those seeking an even more elevated experience, some tours offer the option to ascend higher up the mountain via buggies or hiking trails, reaching the panoramic viewpoints at around 2,900 meters (9,500 feet) above sea level.
The majority of Etna tours venture to the seaside town of Taormina or the city of Catania afterwards for lunch or dinner (including local wine) and some sightseeing. The tour usually ends with a drop-off at your hotel in Palermo, leaving you with memories that will last a lifetime.
What kinds of tours are available to go to Etna?
Several different tours are available for going to Etna from Palermo. These include small group tours, private day trips and combination excursions that let you visit multiple attractions in one go. Here's a quick overview of the most popular tours.
Etna Volcano and Taormina small group tour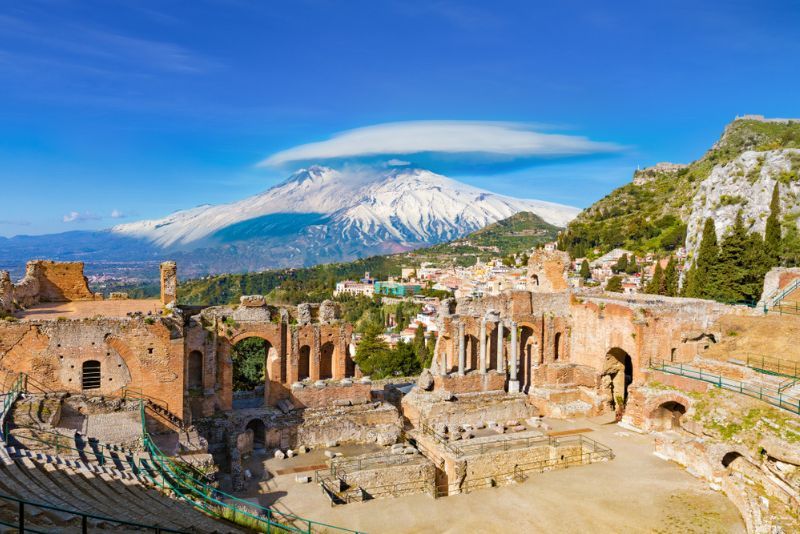 Checking off two of Sicily's top draws, this full-day excursion from Palermo offers a fantastic overview of the island's incredible history and landscapes. You'll explore Mount Etna with an experienced guide, witnessing the lava fields and craters firsthand. Then, on your way back to Palermo, you'll stop at Taormina for some sightseeing at the famous Greek Theatre, Piazza IX Aprile and much more.
This tour is a great option for those looking to meet fellow travelers, as you'll be in the company of a small group of like-minded tourists. Sometimes, this type of tour will add on an extra stop at Castelmola, the hilltop village next to Taormina known for its dramatic views over the Bay of Giardini-Naxos.
Private tour to Etna and Taormina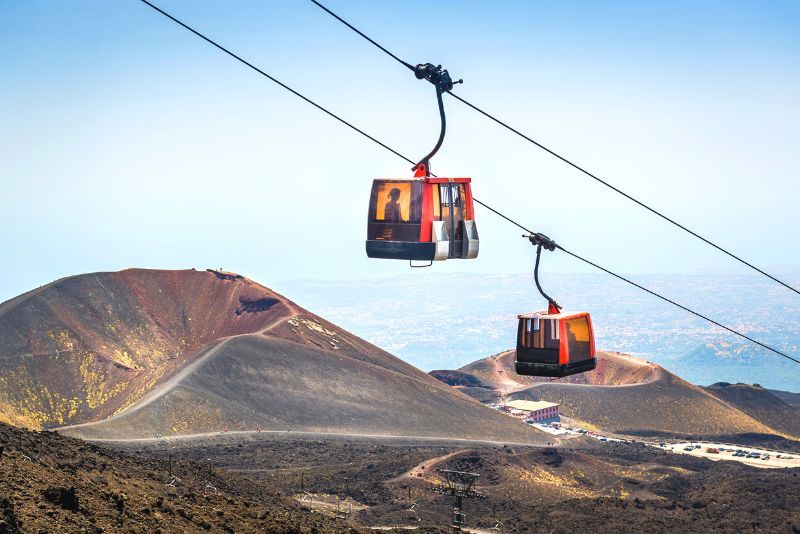 Ideal for those who prefer a more intimate travel experience, this private excursion provides a comprehensive overview of Etna and Taormina in one go. Highlights include cable car rides to the summit craters, exploring ancient volcanic caves and learning all about Europe's most active volcano as you hike along its craters.
Afterward, your guide will escort you to the postcard-perfect sights of Taormina, including its Greco-Roman theater, Isola Bella and the bustling town center. The tour offers round-trip transport from Palermo in an air-conditioned vehicle, with a knowledgeable driver to make sure your journey is as safe and comfortable as possible.
3-day private tour from Palermo to Monreale, Etna, Taormina and Agrigento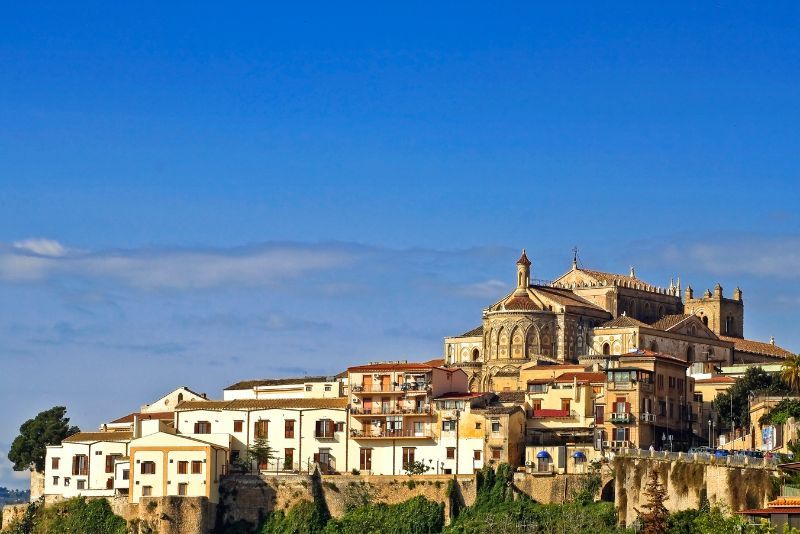 This comprehensive island excursion showcases some of the best Sicilian sights in one go — you'll tour cathedrals and temples in Palermo and Monreale, ascend to incredible heights aboard a cable car at Mount Etna, explore charming town squares in Catania and Taormina and admire the Valley of the Temples in Agrigento.
Of course, there'll be plenty of local cuisine and hidden gems along the way. Being a private tour, you have the extra benefit of personalized attention and itinerary flexibility, allowing you to tinker your trip to suit your interests.
How much does a day trip to Etna from Palermo cost?
Guided tours to Etna can vary in cost depending on the type of tour and start at around €100 to €150. Full-day excursions to Etna from Palermo can range from €115 per person all the way up to €300 for a private tour.
An Etna Volcano and Taormina small group tour will typically cost between €115 and €150 for adults and €100 for kids. Private tours, meanwhile, will set you back around €250 to €400 per adult, with prices becoming cheaper when you have more people in your group.
Finally, a 3-day private tour is understandably more expensive at around €900 to €1,000 but can be more affordable when booking with a group.
What will you see and do?
When embarking on a guided tour to Etna from Palermo, an array of captivating sights and activities await. Here are a few of the key attractions in further detail.
Spend time at the Silvestri Craters
The Silvestri Craters, located at an elevation of around 1,900 meters (6,200 feet), provide a glimpse into Etna's very active volcanic activity. The volcanic cones are always impressive, as are the views from the craters themselves. These particular craters are inactive, so you can stroll along the paths that wind through the cavities.
See lava fields and caves
All over Mount Etna, you'll find unique natural formations, including its craggy lava fields and mysterious caves. With the help of an expert guide, you'll be able to explore some of these regions as you climb higher up the mountain.
Trek along the craters
For the more adventurous, guided tours often offer the opportunity to trek along Etna's trails and ascend to higher altitudes. The Sapienza Refuge to Etna Central Crater is a long and hard 15-kilometer trek, while the Monte Nero to Giardino Botanico Nuova Gussonea trail takes just 90 minutes and is suitable for all ages.
Visit the nearby town of Taormina
Steeped with history and culture, Taormina is one of Sicily's most popular tourist destinations. Located about an hour from Etna, this charming seaside town offers a range of attractions to explore — from its Greek Theater to the breathtaking Isola Bella natural reserve. This town is often combined with Etna for a more comprehensive Palermo day trip.
When is the best time to visit Etna?
The best time to visit Etna is during the spring (April to June) and fall (September to October) seasons. The weather is pleasant, with milder temperatures and fewer crowds. It's advisable to check the local conditions and volcanic activity beforehand to ensure that you're trip is as safe as possible, due to the active nature of the volcano.
Are there any tours to Etna from other cities in Italy?
Yes, there are tours departing from other cities in Italy:
Travel tips
Dress in layers to adapt to changing weather conditions as you move higher up the volcano.
Wear sturdy footwear for navigating the uneven, cooled lava terrain.
Book your tour online and in advance. Mount Etna is a popular destination and tour spots fill up quickly.
Always travel with an experienced guide who knows the terrain. As a bonus, guides are usually experts on Mount Etna's geology and history, making your experience even more educational.