Although Osaka was officially established in the 19th century, this fascinating city boasts over 1,400 years of history. Today, Osaka is known primarily for its energetic street food scene, with foodies wandering its streets trying a range of exotic delicacies.
From deep-fried octopus balls to fragrant noodle soups and rich beef stews, food tours in Osaka enable you to experience the rich history of the city through its centuries-old recipes.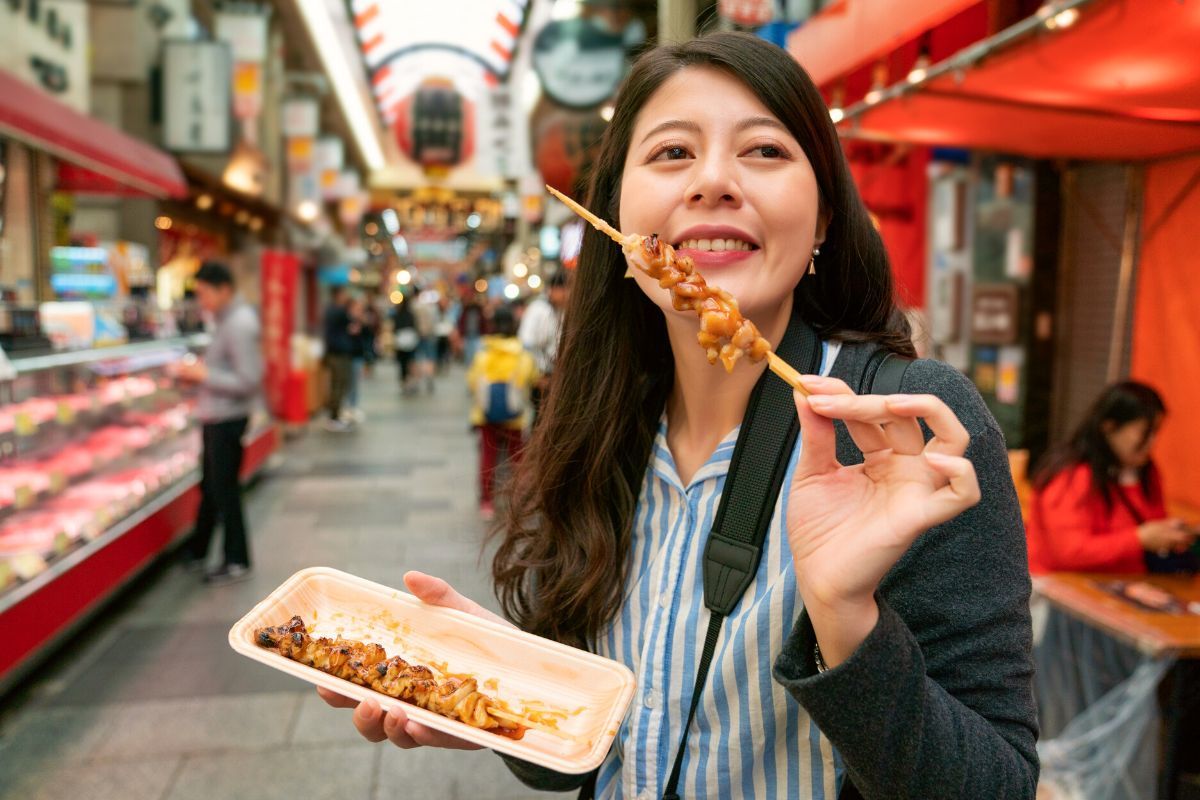 Here's all you need to know about food tours, one of the most captivating gastronomic experiences in Osaka.
What are the best food tours in Osaka?
Kuromon Market tour in Osaka
If you prefer the hustle and bustle of a street food market, opt for this Kuromon Market tour. On this Osaka food tour, you'll pass by some of the most renowned districts in the city, including Dotonbori and Namba to reach the Kuromon Market.
Once at this local food hangout, you'll hop between stalls trying mouthwatering cuisine, including takoyaki. Eager cooks will enjoy browsing Doguyasuji street where you can purchase kitchenware fit for a professional chef.
Shinsekai food tour in Osaka
Discover the best of local cuisine in this Shinsekai food tour. Wandering through the Shinsekai district with your guide, you'll explore the history of food in Osaka through your tastebuds.
Try some of the most famous delicacies, from Japanese chicken wings to kushikatsu and takoyaki, a deep-fried octopus ball. Enjoy slurping up kitsune udon — noodle soup topped with a fish cake, fried tofu and scallions.
Other dishes on the menu include traditional skewered beef, a pork omelet and a tofu and beef stew. Finish your tour off with a little something sweet — castella cake.
Personalized street food tour
Those looking for a more personal experience can't go wrong with this adaptable street food tour in Osaka. After discussing your likes and dislikes, your guide will tailor the tour to your tastebuds, ensuring you get the most out of this deep dive into Japanese cuisine.
You'll discover modern-day dishes that have scored a place in the hearts of locals, as well as time-honored recipes that were created centuries ago. Meandering through a host of street food stalls, you'll stop to sample Japanese staples, which include yakisoba, okonomiyaki and kushikatsu.
Nightlife Osaka food tour
Journey through the city after dark to watch how Osaka comes to life once the sun sets. Head to the liveliest part of the city where your food tour kicks off amidst the thriving nightlife scene of Dotonbori.
With your guide, you'll travel past the crowded tourist food spots to the back alleys and side streets where the locals roam, and learn where to find the most delicious local dishes.
Make stops at four different venues, sampling regional cuisine from Osaka and the wider Kansai area, including kushikatsu — a deep-fried dish of succulent meat and vibrant vegetables.
Which places are visited?
Shinsekai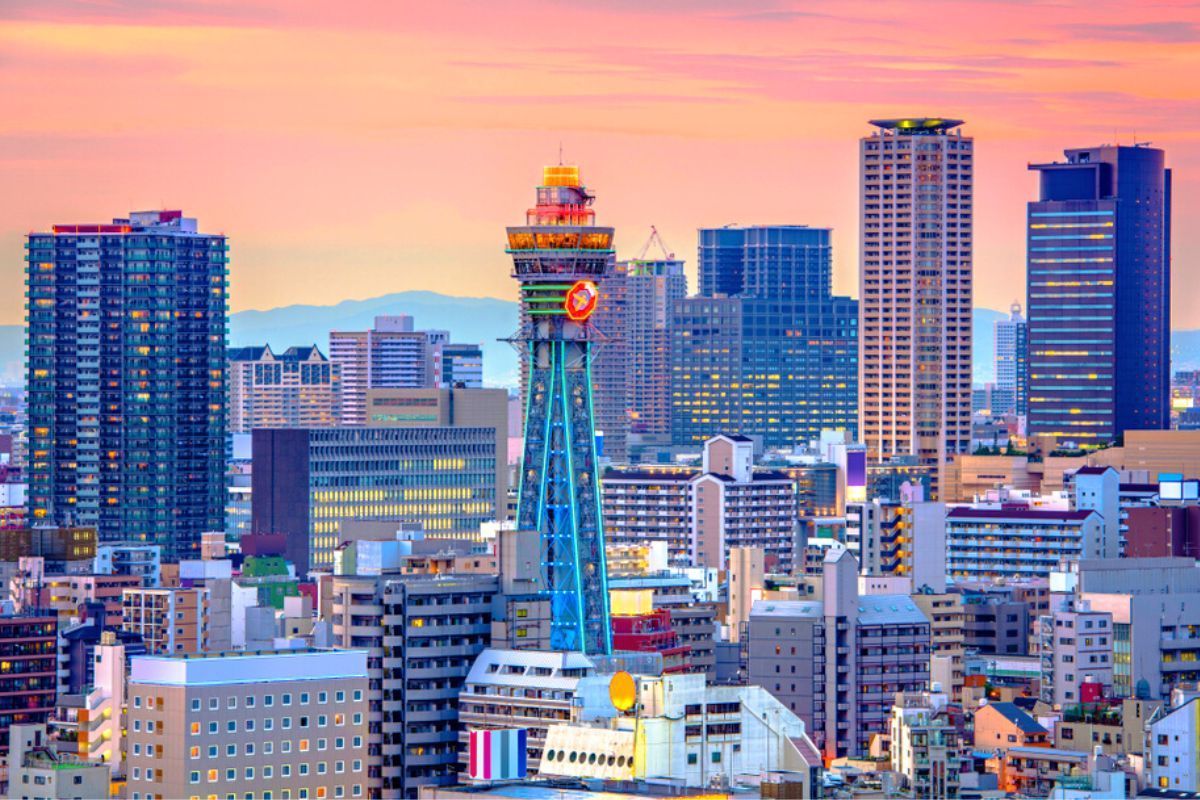 The Shinsekai neighborhood is located on the southern side of downtown Osaka and is famed for its Tsutenkaku Tower, as well as its quirky giant blowfish lantern. However, alongside its spectacular tourist attractions, Shinsekai is also home to some of the best dishes in the city.
The main specialty in this corner of Osaka is kushikatsu. This dish enables you to select skewers of your favorite meat and vegetables, which are battered and deep-fried to perfection. Beef, pork, mackerel and shrimp are all popular choices, and your dish may be served with a local tonkatsu dipping sauce.
Dotonbori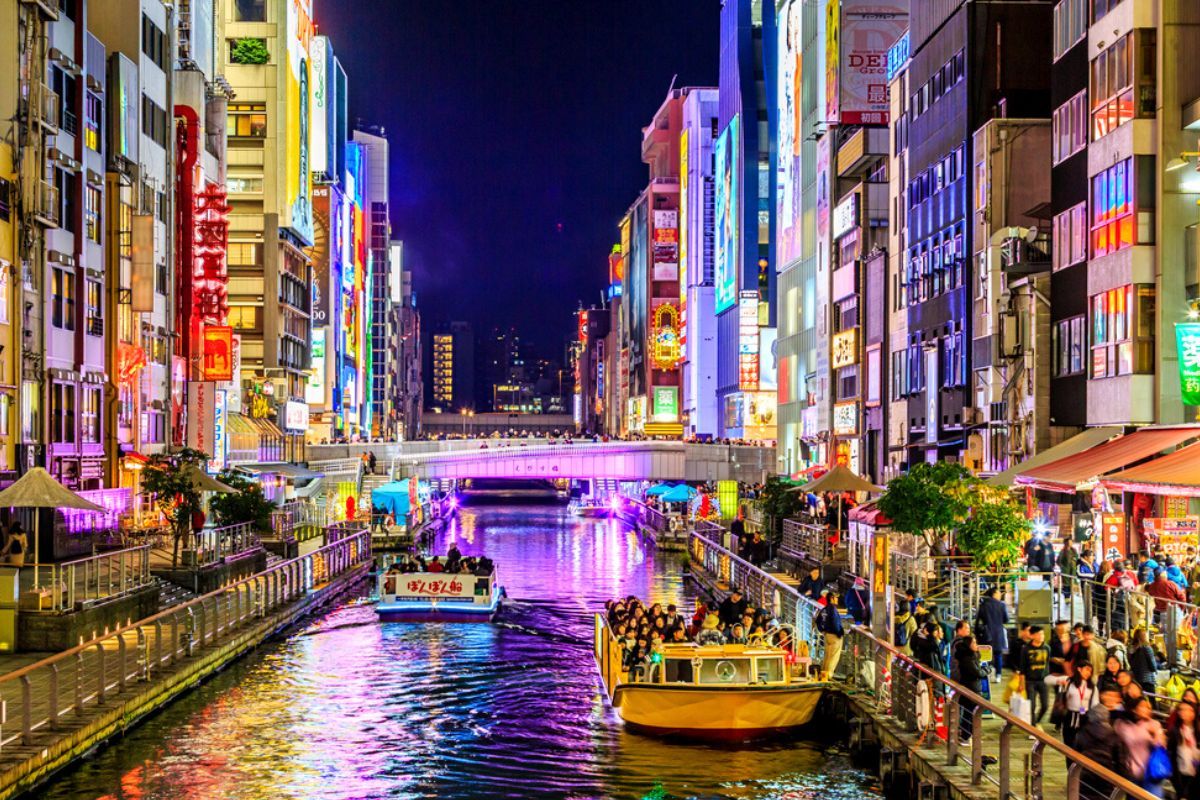 Dotonbori is known for its thriving nightlife scene, full of clubs blaring local music and bars where you can grab a drink with a friend. Alongside these hangouts, there are a number of restaurants and street food stalls serving up local Kansai cuisine.
A dish you'll find everywhere in Dotonbori is takoyaki. This delicacy is formed of octopus meat that has been rounded and deep-fried. You may find these sumptuous balls topped with a variety of different flavors, the most popular of which is tuna flakes.
How much do food tours in Osaka cost?
Food tours in Osaka that take place at the Kuromon Market are the most budget-friendly option and cost around US$40 per person.
For a food tour of Shinsekai in Osaka, expect to pay approximately US$90 per person.
The more personalized street food tours cost US$190 each, while an exciting nighttime tour of the Dotonbori neighborhood costs around US$200 per person.
What is included?
Food tours in Osaka range in the variety of tastings they offer. For the most part, you'll have the opportunity to try between four and six local dishes, selected by a local guide who will lead you to the best food venues in the city.
However, true foodies may wish to opt for a Shinsekai walking tour in Osaka, which enables you to try 10 Japanese favorites. Most excursions also include one or two alcoholic or non-alcoholic beverages.
Where does it start?
Culinary tours in Osaka begin in a variety of destinations, depending on which part of the city you'll be exploring. These are usually easy-to-reach landmarks where your guide will be easily recognizable.
You can view the meeting point of each tour before booking to ensure it aligns with your itinerary and arrange any transportation ahead of time.
How long does it last?
Food tours in Osaka typically last around 3 hours, which is plenty of time to explore some of the city and sample a variety of its most delicious delicacies. However, if you're short on time, you can opt for a 2-hour Osaka walking tour of Kuromon Market.
When is the best time for a food tour in Osaka?
One of the best ways to get to know a new destination is through its cuisine, so book your food tour for your first day or two in the city.
There is no wrong time of day for a food tour in Osaka. Simply book one of these excursions for when you're likely to be hungry and let your tastebuds be led by a local foodie.
Are there any combos available with food tours in Osaka?
Osaka food and bike tour
Fuel yourself with a local snack before hopping on a bike tour in the Shinsekai district and exploring the city on two wheels.
Stop at some of the city's most celebrated monuments, including Shitennoji Temple before journeying to Tsuruhashi Fish Market to sample some of the city's greatest delicacies.
Before ending your Osaka food tour, you'll learn all about how the professionals prepare their dishes with a knife-making expert.
What other gastronomic experiences can you enjoy in Osaka?
Travel tips
Check how many tastings are included in each Osaka food tour before booking so that you can gain a well-rounded view of the city through its cuisine.
Most tours take place on foot, so ensure you're wearing comfortable shoes.
Have a last meal a few hours before your excursion so you can truly enjoy each dish as you hop between food vendors.