If you're looking for a budget-friendly way to discover Nice through the eyes of a local, then a free walking tour is the perfect option for you.
With a rich history dating back over 3,000 years, Nice is a fascinating city to wander through. From the Old Town to the Castle, there is a lot to see and do in the city. Join one of the free walking tours in Nice and get exploring!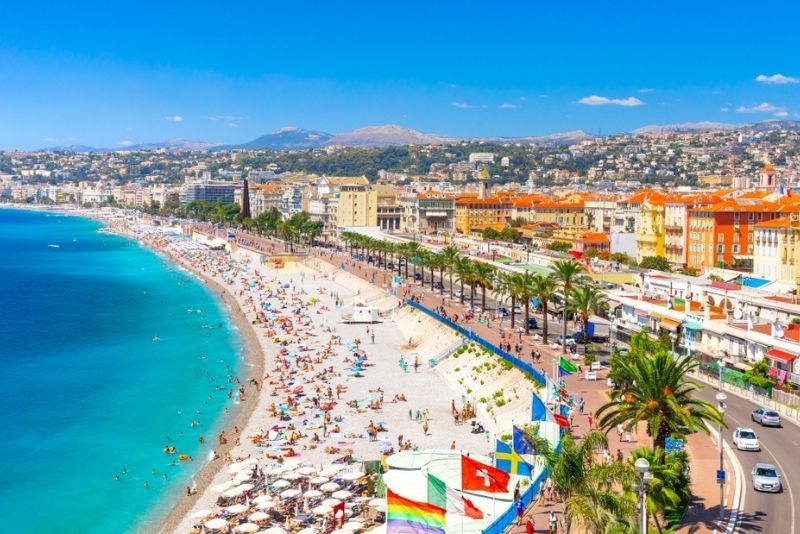 You will find below all the details about embarking on a free walking tour, one of the most cost-effective options for sightseeing in Nice.
How do free walking tours in Nice work?
You might be wondering whether a free walking tour is actually free. These tours work on a "pay as you wish" basis, which means it's free to book and join a tour.
After you've enjoyed your guided walk around the city of Nice, you'll be expected to tip your guide for their services. There is no set minimum amount to pay, so you can choose how much to tip.
How much should you tip for a free walking tour in Nice?
It's up to you to decide on the worth of your tour. You should take into account the knowledge of your guide and the length of your tour, when working out how much to tip.
You should also factor in your overall enjoyment. If your guide was exceptionally good, you may consider tipping them a little more.
All travelers tip differently. Some pay €5, while others may tip €20 or even €50 for the same tour. However, most participants tend to tip between €10 and €15 per person on a free tour in Nice.
What are the best free walking tours in Nice?
Free Nice walking tour
This walking tour enables you to step back in time and discover the ancient Greek heritage of Nice.
Itinerary
After meeting at Place Masséna, you'll learn about its statue of Apollo and the qualities of the ancient Greek god. You'll discover the origins of the city as you wander to the Belle Epoque Opera.
You'll then continue on to the Old Quarter, which is brimming with history. In the center is the Cours Saleya, which hosts four different markets throughout the week. These include a flower market, a fruit and vegetable market, a flea market, and a craft market.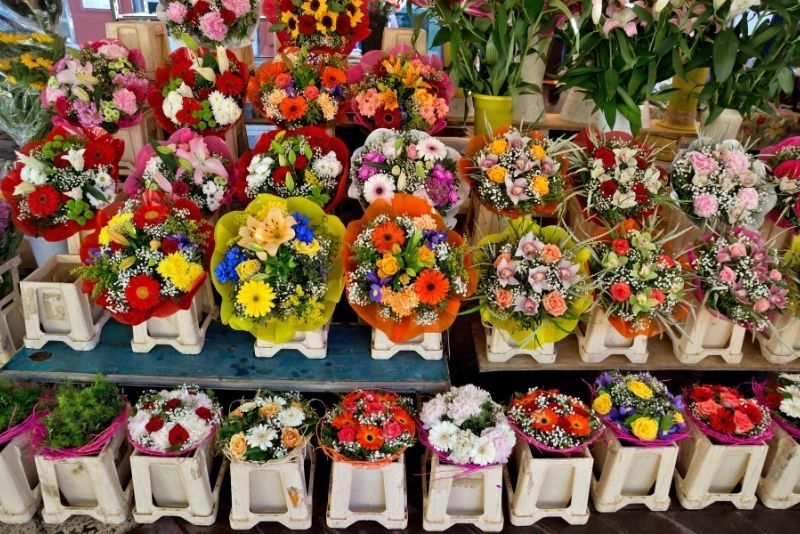 No matter which day you travel to this thriving hub in the center of Nice, you can expect it to be bustling with tourists and locals alike.
At this point in your tour, you'll take a break from walking to enjoy the baroque style of architecture that forms the city. You'll check out Galerie des Ponchettes, which displays the artwork of Adrien Vescovi.
Finally, you'll end your tour at La Cathédrale Sainte Réparate. The cathedral was built in the 17th century and was erected on the site of an older church dedicated to St. Reparata. It is designed in a classic baroque style, which is befitting of its age.
Nice free walking tour
This free walking tour in Nice allows you to see different attractions of the city, including its magnificent castle.
Itinerary
Starting at Place Masséna, you'll stroll along the streets of Vieux Nice, passing by its colorful buildings. You'll wind your way to Cours Saleya, where you can see what the market of the day is. As you pass by the stalls of fresh fruit or artisanal goods, you may stop to make a purchase.
Continuing on, you'll reach Colline du Chateau, which is undoubtedly the jewel of the city. The castle sits on top of a hill, towering over the city of Nice, and was built as a military citadel in the 11th century. While it was attacked several times over the centuries, the castle is now a green haven for tourists and locals in the city.
Visitors can enjoy the panoramic views from the castle grounds, as well as its flowing water features. Along your route, you'll also walk down the Promenade des Anglais, which stretches for 7 kilometers and is the location of the famous annual Nice Carnival.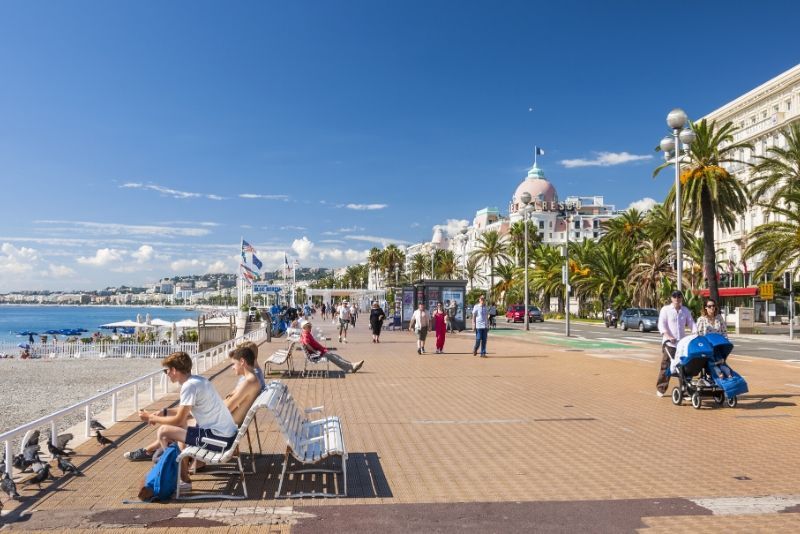 In which languages are free walking tours in Nice operated?
Generally, free walking tours in Nice operate in English or Spanish, and there are several to choose from in each language. Occasionally, tours are also available in French.
As the popularity of free walking tours grows, you may see an increase in the number of languages on offer.
Where do free walking tours in Nice start?
Free walking tours in Nice usually begin at Place Masséna, which is a large square in the center of the city. You can catch the Line 1 tram and depart at Masséna, where you'll walk for 2 minutes to reach the square.
Regardless of where your tour starts, you'll be informed of the meeting point before booking, so that you can arrange appropriate transportation.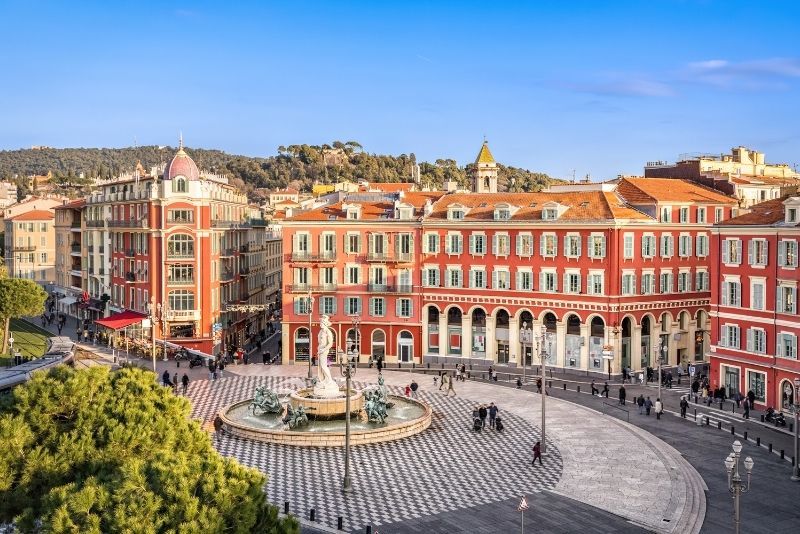 How long do free walking tours in Nice last?
Free walking tours in Nice last between 2 and 2.5 hours. Although this is the fifth largest city in France, you can see many of Nice's attractions within this time slot.
When is the best time to join a free walking tour in Nice?
Most free walking tours in Nice begin between 10 AM and 11 AM, and end around 2 hours later. This gives you the perfect opportunity to work up an appetite before enjoying lunch in one of the city's cafés.
A walking tour is an ideal way to become acquainted with a new city through the eyes of a local. For this reason, you should consider booking your tour for the first day you arrive in Nice.
Should Nice free walking tours be booked online?
The best way to arrange a free walking tour in Nice is by booking online in advance. While you can find a tour guide once you reach the city, you may struggle to do so and waste valuable vacation time.
By booking online, you can secure the date and time slot you want, and read reviews on each tour to ensure you'll be satisfied.
It's free to book a tour and you won't need to input your credit card details. It's also easy to do and takes just over a minute.