The Yucatán Peninsula is rife with remarkably preserved Mayan ruins, and Uxmal is one of the most impressive.
On a day tour to Uxmal from Merida, you will get to explore the ancient pathways winding between temples and grand structures, while learning about this fascinating period in history that laid the foundations for modern-day Mexico.
These thrilling excursions can also be combined with other adventures like visiting a chocolate factory or diving into one of the region's famous cenotes. Let the echoes of the past inspire your present, as you journey through a land where history, culture, and nature blend seamlessly.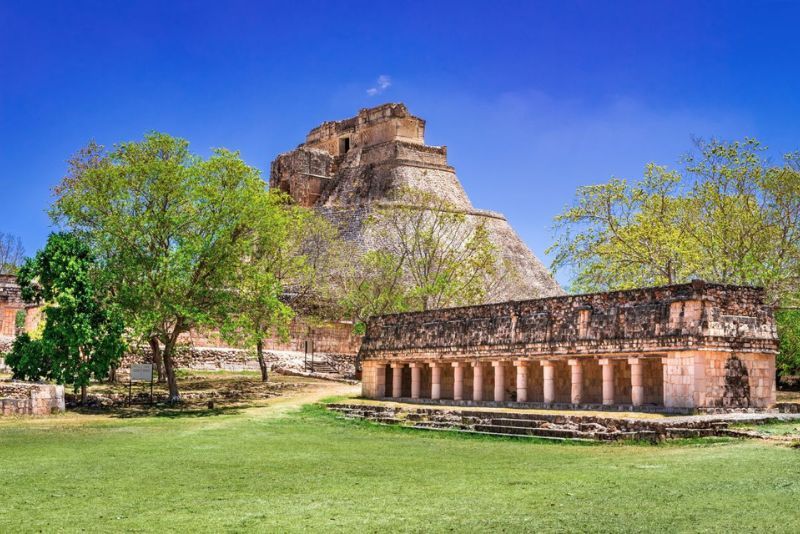 Here's all you need to know about Uxmal, one of the most exciting day trips from Merida.
How to get to Uxmal from Merida?
Uxmal is just over an hour south of Merida, a journey of around 80 kilometers.
From Merida to Uxmal by car
Drive from Merida along the Federal Highway 261 toward Santa Elena. Nine kilometers after the town of Muna, you will reach Lázaro Cárdenas. Continue for another 3 kilometers along the same route to arrive at the archaeological site.
Guided tour to Uxmal from Merida
The best way to visit Uxmal from Merida is with a guided tour. These tours add a few extra stops along the way, offering excellent value for money and unbeatable adventure and comfort.
How much does the entrance ticket to Uxmal cost?
The entry fee to Uxmal is Mex$466 (US$27) per person. Mexican citizens and Yucatán residents get free entry on Sundays.
What is the typical itinerary?
A typical day tour to Uxmal starts with an early pickup from your hotel and you will set off on your adventure before 8 AM. The most popular tours first stop at the colonial site Hacienda Yaxcopoil to explore the more recent past of the Yucatán, taking you back to the 17th century.
Next, Uxmal awaits to transport you to pre-Hispanic times. You will climb the Pyramid of Wealth and visit several structures around the archeological complex. Stop at a local restaurant to explore the delectable flavors of Mexican cuisine and refuel for the second half of the day.
The last stop is Cenote Peba, one of the most beautiful in the area. Here you can enjoy swimming in the impossibly clear water and learn about the cultural significance of these intriguing caverns.
Alternative itineraries will visit a chocolate museum or the Kabah archeological site instead of Hacienda Yaxcopoil.
What kinds of tours are available to go to Uxmal?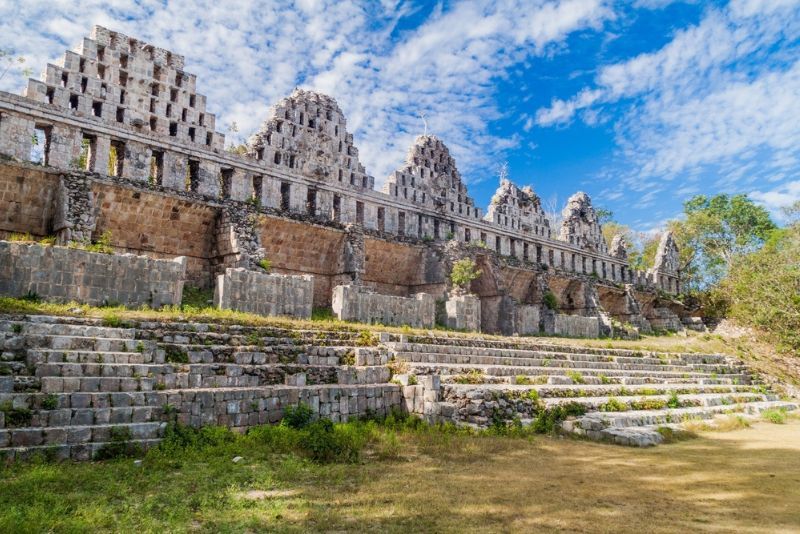 Day tour to Uxmal plus Kabah and cenote from Merida
Visit two of the most prolific archaeological sites in the region, Uxmal and Kabah, to learn about the fascinating progression of Mayan civilization. You will also stop for lunch and end the day with a refreshing swim at a tranquil cenote.
Day tour to Uxmal plus a hacienda and cenote from Merida
This tour takes you on a journey through the various eras of Mexico as you visit a colonial-era hacienda before reaching further back in history to visit Uxmal. You will also go to a cenote at the end of the tour to splash around in the tranquil waters of the cavernous structures.
Private tour to Uxmal from Merida
Private tours are the most immersive way to delve into this profound archeological site. You will be picked up from your hotel and enjoy the undivided attention of a bilingual guide all day.
You can also choose from tours that include a buffet lunch or a trip to a local restaurant. There are also several itineraries you can choose from, including a visit to the chocolate museum, a hacienda and a cenote.
How much does a day trip to Uxmal from Merida cost?
A day tour to Uxmal and Kabah starts from US$110 per person, which includes lunch and a stop for a swim at a cenote at the end of the day, however, entry fees are not covered.
Uxmal excursions from Merida that include a hacienda visit and cenote stop usually also include lunch and your entry fees, all for around US$180 per person. To book this as a private experience costs around US$400 per person.
Private day tours to Uxmal and the chocolate factory cost US$245 per person and include entry fees, but not lunch. Alternatively, you could pay US$250 for the same tour that includes a cenote swim stop.
What will you see and do?
Excursions to Uxmal take you to multiple fascinating stops, exploring both the historic and the natural wonders of the Yucatán peninsula.
Mayan Ruins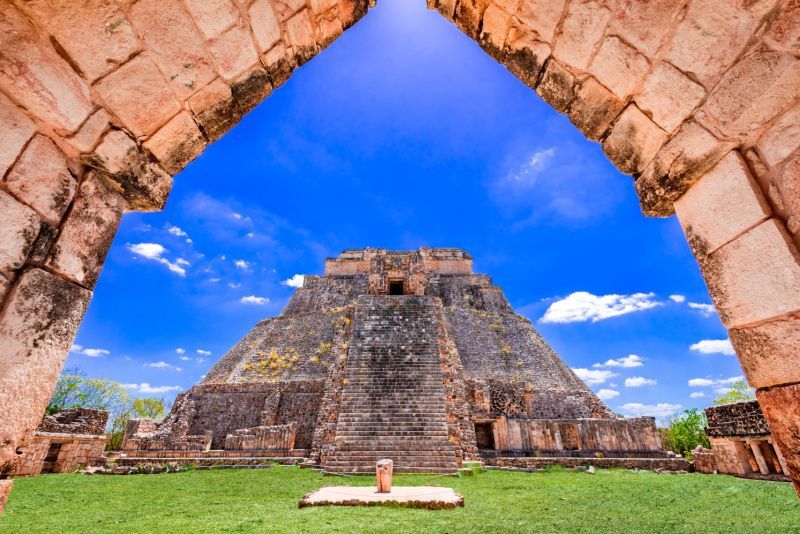 A day tour to Uxmal from Merida unveils the awe-inspiring Mayan ruins of Uxmal and Kabah. Uxmal, a UNESCO World Heritage Site, showcases magnificent pyramids and intricate architecture that tell the story of an ancient civilization. Nearby, the lesser-known Kabah offers a glimpse into Mayan history with its stunning Palace of the Masks and Codz Poop.
Cenotes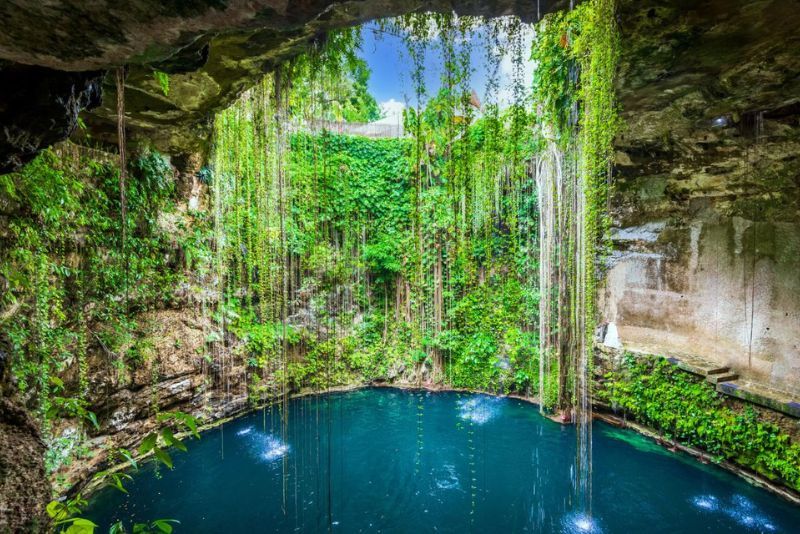 As part of the tour, you'll have the chance to cool off in a cenote nestled close to Uxmal. Cenotes are natural sinkholes, unique to the Yucatán Peninsula, offering crystal-clear waters for a refreshing swim. Immerse yourself in the tranquil beauty of these underground pools, a perfect respite from the day's exploration.
Haciendas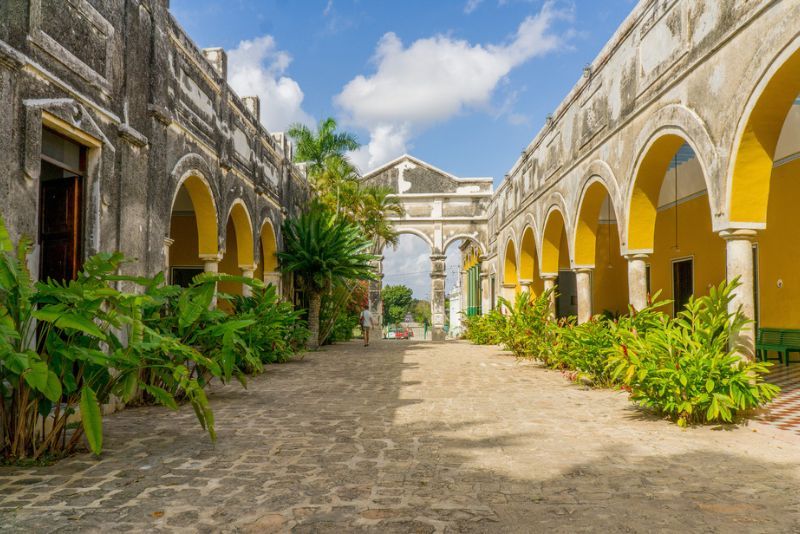 Explore the charm of historic haciendas on your tour. Haciendas are grand estates that played a significant role in Yucatán's henequen industry during the 19th and early 20th centuries. Some noteworthy haciendas to visit near Uxmal include Hacienda Yaxcopoil, Hacienda Santa Rosa, and Hacienda Ochil, each showcasing unique architectural and cultural aspects of the region's past.
What are the opening times?
Uxmal opening hours are from 8 AM to 5 PM daily. The last entry is an hour before closing time.
When is the best time to visit Uxmal?
The best time to visit Uxmal is during the dry season, from November to April, when you'll encounter less rainfall and more moderate temperatures, ideal for exploring the ruins. Tourist crowds peak between December and March, so visit in November or April for a quieter experience.
Aim to arrive early in the morning or late in the afternoon to avoid the midday sun and to experience the site in its most mystical light.
Are there any tours to Uxmal from other cities in Mexico?
Yes, there are tours departing from other cities in Mexico:
Travel tips
Wear comfortable walking shoes, light breathable clothing, a hat, and sunglasses. Don't forget to pack eco-friendly sunscreen and insect repellent.
Bring plenty of water with you. Exploring archaeological sites can be dehydrating, especially under the Yucatán sun.
There are limited food options at the site. Consider packing snacks or a light lunch.
Remember that Uxmal is a significant cultural and historical site. Stick to designated paths, avoid climbing on fragile structures, and be respectful.