Celestun is a small fishing village on Mexico's Yucatán Peninsula. Renowned for its remote beaches and laid-back vibe, this sleepy backwater is the jumping-off point for forays into the nearby Celestun Biosphere Reserve.
Most people take a day trip from Merida to Celestun to see the vast flocks of pink flamingos that strut around the protected lagoons. This wildlife-rich reserve is truly a nature lover's paradise.
How to get to Celestun from Merida?
Celestun lies west of Merida on northern Yucatán's Gulf Coast. You can visit on a self-drive adventure, by public transport, or on a guided day tour.
From Merida to Celestun by car
It's easy to travel to Celestun independently, and there are several agencies in Merida if you want to rent a vehicle.
To reach the reserve, head west on Highway 281. The journey from Merida to Celestun takes 90 minutes.
From Merida to Celestun by bus
If you want to explore using local public transport, you can visit Celestun by bus.
Departures are hourly from Merida's Noreste terminal, and the driver will drop you at the reserve. You can then walk or take a taxi 1.5 miles to the beach afterward.
Guided tour to Celestun from Merida
Taking an organized day trip to Celestun from Merida is the simplest option, with transport and boat tour logistics all taken care of.
Tours last a full day and include time in the reserve as well as at the beach. Hotel pick-ups make for a stress-free journey.
What is the typical itinerary of a day tour to Celestun from Merida?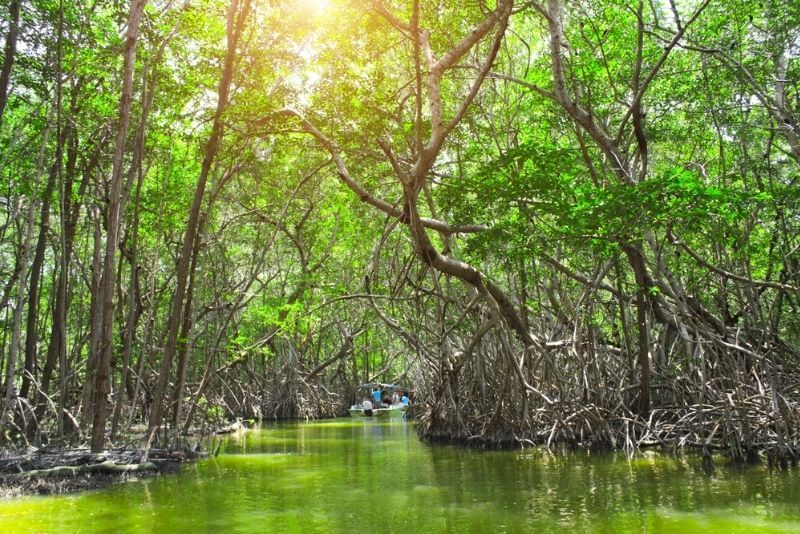 After you've rolled out of bed and tucked into an indulgent vacation breakfast, you'll be picked up from your hotel and driven to Celestun by minivan.
On arrival, you'll board a boat for a foray into the mangroves for wildlife viewing and bird watching. Then there will be some free time to explore the boardwalks, dunes, and forests of the reserve.
Next up on your day trip from Merida to Celestun is a stop at one of the white sand beaches for swimming and chilling. Enjoy a meal in a local restaurant before being transferred back to your hotel.
What kind of tours are available to go to Celestun?
All day tours to Celestun from Merida visit the Biosphere Reserve to check out the flamingos. You just need to decide whether to join a small-group excursion or go on a private trip.
Guided day tour to Celestun from Merida
This shared group tour is the most popular Celestun jaunt on offer and is a good choice if you want to keep costs down. You'll get to travel with like-minded adventurers, and you might even make some new friends.
Round-trip transport by mini-coach with hotel pick-ups and drop-offs makes your day relaxing and hassle-free.
Private tour to Celestun from Merida
Private Celestun excursions from Merida are the way to go if you'd rather not share your experience with strangers. If you want to go flamingo watching in style, this is the way to do it!
You'll enjoy exclusive use of the air-conditioned transfer vehicle, as well as a private boat ride in the Celestun Biosphere Reserve. Door-to-door transfers are included, plus a buffet lunch and your own personal guide.
How much does a tour to Celestun from Merida cost?
Small-group Celestun day trips from Merida start at $84 per traveler. Shared transfers, hotel pick-ups, and lunch are provided.
A private day tour from Merida to Celestun costs $113 per person and includes exclusive transportation by land and lagoon, lunch, and a guide. Water is provided, and soft drinks and alcoholic beverages can be purchased separately.
What will you see and do in Celestun?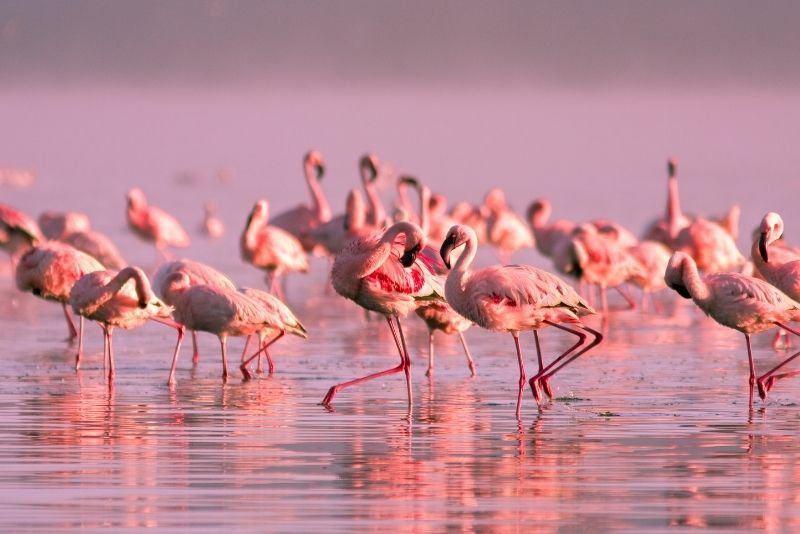 The Biosphere Reserve is the highlight of any Celestun day trip from Merida. Here's what you will experience during your visit:
Boat tour
The best way to discover the Celestun Biosphere Reserve is by boat. You'll glide stealthily into the heart of the wilderness, exploring the mysterious mangroves in search of adventure.
Listen to the sounds of the rainforest symphony as your skipper expertly navigates the waterways, giving you front-row seats to one of nature's best shows.
Flamingos
The stars of the show are the famous flamingos, which can be seen all year round in the Celestun Biosphere Reserve. The best time to spot them is between November and March when numbers swell at the end of their winter migration.
These preening pink birds congregate in larger groups both first thing in the morning and during the early evening after feeding. There can be up to 23,000 individuals here!
Wildlife
As well as flamingos, the wetlands are home to an eye-popping 300 bird species. Common sightings include the Yucatán wren, kingfishers, and hummingbirds. Pelicans and herons often make an appearance too.
Yet it's not all about the birds. You'll sometimes see crocodiles lurking in the shallows, or iguanas and snakes sunbathing on tree branches. Keep your eyes peeled for a boa constrictor!
Playa Norte
Many tours finish the day with some sunbathing and swimming at the white sand beach of Playa Norte. The seashell-strewn shore is quiet and undeveloped, with a few thatched restaurants offering fresh fish dishes to hungry explorers.
When is the best time to visit Celestun?
The optimum time for a day trip to Celestun is between November and March if seeing masses of flamingos is your priority. January and February are the best months for viewing.
Flamingos aside, Celestun is a year-round sunny destination, although do expect some rain between June and October.
Travel tips
Book your Celestun day tour from Merida well ahead of your visit as places can sell out on this popular excursion.
Gratuities are not mandatory but are appreciated if you think your guide and driver have provided a great service.
Remember to slap on the sunscreen and wear caps and sunglasses to protect from the heat.
Take some insect repellant to ward off those pesky mangrove mosquitos.
Most tours include lunch and water but carry some cash if you want to purchase additional drinks.
Pack spare camera batteries so you can capture the flamingos in all their poses.