Take on the mighty Andes mountains with an unforgettable horseback riding tour in Mendoza, Argentina's formidable wine country.
Exploring Mendoza's scenic trails and vineyard-covered hills on horseback provides an unparalleled connection to the land and its history, creating an experience that blends the region's rustic terrain with its proud ranch tradition.
Whether you're an experienced rider or a novice eager to discover this exhilarating pursuit, Mendoza's horseback riding adventures promise a memorable adventure in the heart of Argentina's wine country.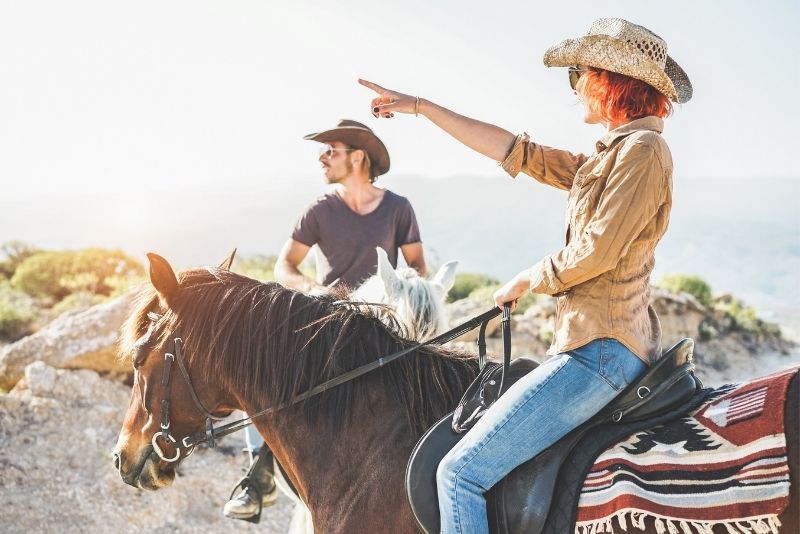 Here's all you need to know about horseback riding, one of the most exhilarating outdoor activities in Mendoza.
What are the best horseback riding tours in Mendoza?
Mendoza Horseback Riding Tour with BBQ feast
This horseback riding tour in Mendoza is a favorite among visitors, combining the thrill of an equestrian adventure and the exciting ranch culture that is alive and thriving in Mendoza. You can take a morning ride and enjoy a BBQ lunch, or take a sunset ride and indulge in a BBQ dinner.
Lunch is served in the mountains, while dinner is served at the ranch and accompanied by live guitar music. The horse ride is 1.5 hours long, and the tour also includes pickup and drop-off from select hotels in Mendoza.
Full-day Horseback Riding Tour and Gaucho Experience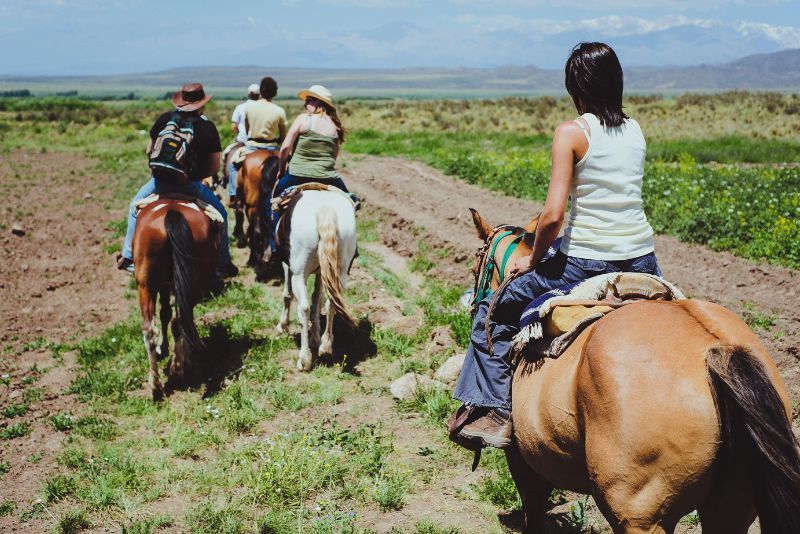 More confident riders who want to spend more time in the saddle can opt for a horseback riding tour of 3 hours with a BBQ lunch afterward. Although you don't need previous riding experience, this can be a more daunting undertaking.
You will be welcomed at the ranch with a pastry breakfast before meeting your trusty steed. From there, you will head into the mountains to explore the wilderness through the eyes of the local gauchos before returning to the ranch for a hearty BBQ lunch.
3-Day Horseback Riding Tour in the Andes
If you are seeking a robust adventure, 3 days on horseback in the rugged Andes Mountains will deliver just that. This private tour is led by an expert guide who will lead you deep into the mountains, hundreds of miles from civilization.
Here you will cook traditional food around a campfire, camp under the starry sky and learn about the fauna and flora of this remote corner of the globe.
How much do horseback riding tours in Mendoza cost?
Morning horseback riding tours in Mendoza cost a little as US$60 per person. If you want to enjoy a BBQ lunch or dinner after your ride, it will cost between US$85 and US$100 per person.
Full-day horse-riding tours cost US$220 per person and take you on a 3-hour journey into the mountains, with plenty of time spent at the ranch.
3-day horseback riding tours cost US$430 per person, which includes food and snacks, but you will need to provide your own personal equipment for sleeping.
What is included?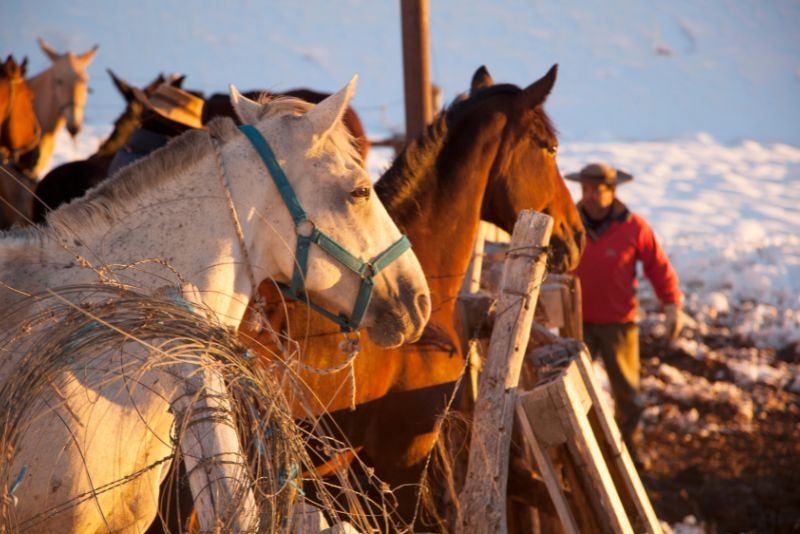 Most horseback riding tours in Mendoza start with pickup from your hotel and will end with drop-off back in town. They are also usually followed by an extravagant BBQ lunch (or dinner) comprising multiple courses of traditional food. You can look forward to asado, grilled vegetables, salads, desserts and in some cases, wine.
Your tour will be covered by insurance and you will be equipped with safety gear for the ride. Some tours allow you to opt out of the BBQ lunch if you only want to try horseback riding.
Where does it start?
Horseback riding tours in Mendoza usually include pickup and drop-off from certain hotels in town. You will arrange the pickup point upon booking your trip, and the tour operator will reach out 24 hours before your experience to confirm.
How long does it last?
Horseback tours can last as little as 1.5 hours, making them ideal for novices, while 3-hour tours are more suitable for more experienced riders. There are also multi-day horseback tours lasting 2 or 3 days for intrepid travelers.
When is the best time for a horseback riding tour in Mendoza?
The best time for a horseback riding tour in Mendoza is during the spring (September to November) and fall (March to May). These seasons offer mild temperatures, fewer crowds, and the chance to witness the vineyards in bloom or the vibrant autumn colors. Riding amidst the vineyards and the Andes Mountains backdrop is an unforgettable experience.
Is it safe?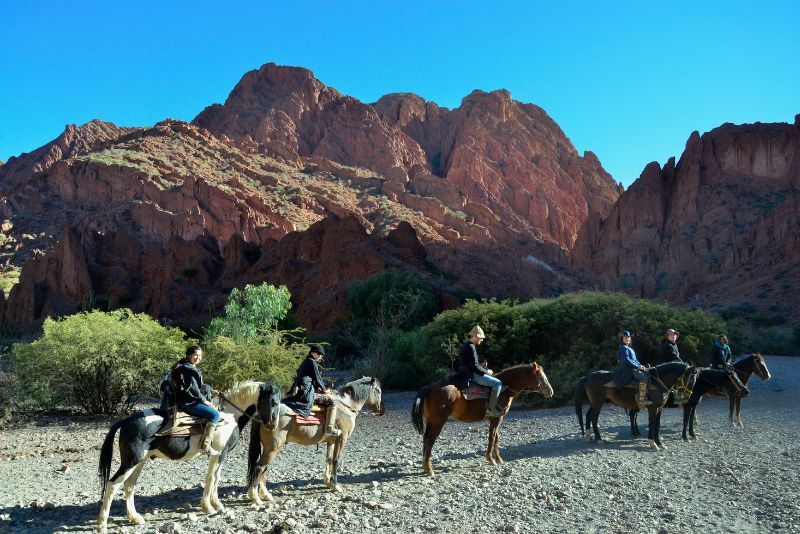 Yes, horseback riding tours in Mendoza are generally safe and operated by experienced professional guides. That said, riders should have a moderate physical fitness level, so these tours should be avoided by pregnant travelers and people with back and heart problems, or other serious medical conditions.
Are children allowed?
Yes, children are generally allowed to join horseback riding tours in Mendoza, provided they are accompanied by an adult. Keep in mind though that some tours may have a minimum age requirement, so confirm the details before booking if traveling with your family.
What happens in case of bad weather?
Horseback riding tours in Mendoza require good weather, so if conditions are bad, your excursion might be canceled. In this case, you can reschedule or request a full refund.
Which other outdoor activities can be done in Mendoza?
Travel tips
Wear long pants, preferably jeans or riding pants, to prevent chafing. Bring a wide-brimmed hat for sun protection and sturdy closed-toe shoes.
The sun in Mendoza can be strong. Apply sunscreen and consider wearing sunglasses.
Mendoza can be dry, so drink plenty of water. Some tours might include wine tasting, so moderate your consumption if you'll be riding afterward.
Follow guidelines given by your guide on how to interact with and treat the horse.