Affectionately known as the "Yellow City", Izamal is a bit of a hidden gem when it comes to exploring Mexico's Yucatán Peninsula.
With a long history, colorful architecture, and even some Mayan ruins, Izamal is a fun and photogenic destination for curious travelers.
You can take a day trip to Izamal from Merida and discover this ancient settlement for yourself. Here's how to make it happen!
How to get to Izamal from Merida?
You'll find the colorful town of Izamal 45 miles east of the Yucatán Capital, Merida. It makes an easy side trip, either independently or on a guided tour.
From Merida to Izamal by car
It is possible to drive between Merida and Izamal by using highway 180 and turning off at Hoctun onto route 11.
The journey to Izamal from Merida takes an hour.
From Merida to Izamal by minibus
The cheapest way to get to Izamal using public transport is on the colectivos, which are local minibuses that depart from Calle 65 when the seats are full.
From Merida to Izamal by bus
If you prefer to travel on a larger bus, head to Merida's Noreste Terminal. Departures are regular, and the trip takes 1.5 hours as there are several stops along the way.
Guided tour to Izamal from Merida
Taking a day trip to Izamal from Merida is the easiest and most relaxing way to experience the yellow city. All transport is taken care of so you can just sit back and enjoy the ride.
Some organized tours include a guide and hotel pick-ups.
What is the typical itinerary of a day tour to Izamal from Merida?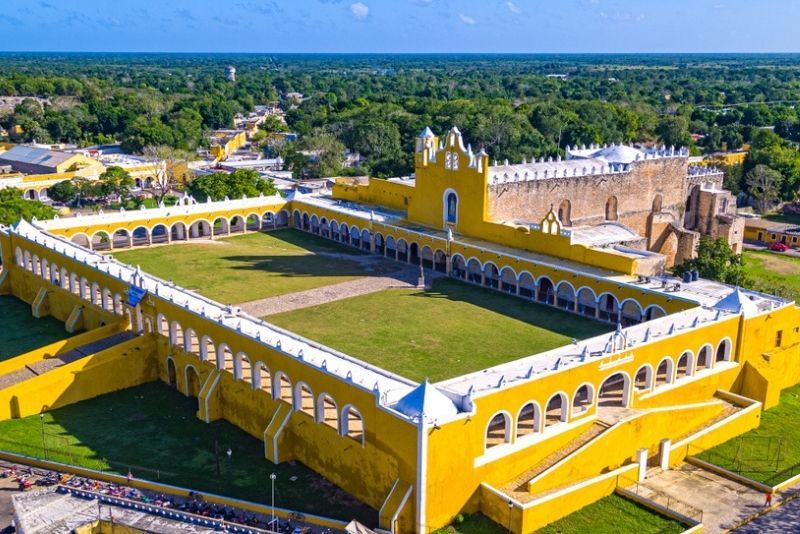 Depending on your trip, you'll either be picked up from your Merida hotel or met at a central departure point in town. Travel is usually by air-conditioned minivan or coach.
Enjoy a scenic hour-long drive through the Yucatán countryside before arriving at Izamal. You will have free time to explore the archaeological site and the historic center – some excursions offer a guided visit.
Several day tours to Izamal from Merida also include a swimming stop at a local cenote, and visits to Chichen Itza, Valladolid, or Santa Barbara.
After your adventure, you'll be returned to Merida in the early evening.
What kind of tours are available to go to Izamal?
You have several different options for day trips to Izamal from Merida. Here are the main choices:
Guided tour to Izamal from Merida
This popular shared tour of Izamel is led by an experienced guide and is suitable for all ages. Hotel pick-ups are often offered for a seamless journey.
If you want to keep costs down, this is the ideal way to explore.
Private tour to Izamal from Merida
Venture out in style on a private Izamal excursion from Merida. You will have an exclusive vehicle and guide, with lunch and a horse carriage ride around town also included in some tours.
Door-to-door hotel transfers make this a stress-free way to visit Izamal.
Day trip to Izamal plus Chichen Itza from Merida
Combine some of the most memorable sites on the Yucatán Peninsula on this fun day tour to Izamal from Merida.
You will visit the famous Mayan ruins at Chichen Itza and have the opportunity to swim in a cenote too. Round-trip transport makes this a convenient way to explore the area.
Day tour to Izamal plus Valladolid from Merida
This excursion takes in the beautiful colonial town of Valladolid as well as Izamal.
You will be collected from your hotel and chauffeured around with guided walks in both towns. There will be plenty of free time to explore at your own pace too.
Enjoy a buffet lunch at a local restaurant and cool off with a dip in a cenote.
How much does a tour to Izamal from Merida cost?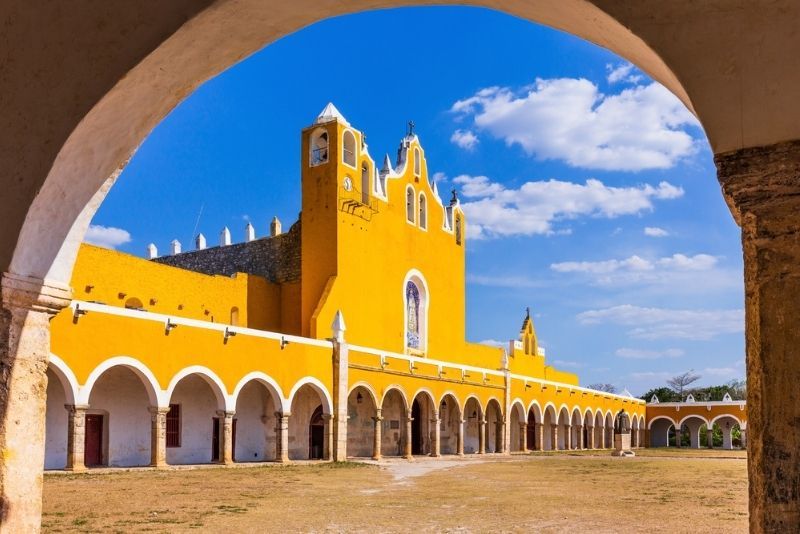 Guided small-group day trips to Izamal from Merida start at $55 per person and include hotel transfers and a local guide.
For a private Izamal jaunt, expect to pay from $80 per traveler with lunch, guide, and pick-ups provided. Drinks are extra. More expensive tours include a ride around town in a colonial-style horse carriage.
A day trip from Merida to Izamal with visits to Chichen Itza and a local cenote is priced at $74. Entrance fees to Chichen Itza are at your own expense.
The excursion to Izamal and Valladolid is $149 per person, including transfers, guide, buffet lunch, and cenote entry.
What will you see and do in Izamal?
Colonial in appearance but with a heritage dating back to 750 B. C., Izamal is an architectural treasure trove. The buildings are painted yellow, and the wide cobbled streets lead you on adventures, deep into the heart of the town.
Here's what not to miss on your Izamal day trip from Merida.
Mayan ruins
Izamal was once an important pilgrimage site that was just as famous as nearby Chichen Itza. Built as a place of worship for ancient gods, this alluring Mayan settlement was home to several large pyramids.
You can see lots of these pre-Hispanic structures as you wander around the archaeological site. The most notable is the Kinich Kak Moo Pyramid, which was named for the sun god. You can walk right up to the top.
Colonial architecture
When the Spanish arrived in Mexico during the 16th century, they built their own colonial city right on top of the Mayan site. Yet they left many of the existing structures intact which is why today you'll see a glorious blend of Mayan and Colonial design.
Don't miss the Franciscan monastery which sits up on the acropolis or the Convento de San Antonio near the main square.
Yellow buildings
All the buildings in Izamal are painted yellow, which makes it a stunning destination for photos!
Nobody is entirely sure why yellow was chosen. Some believe it relates to worshiping the Mayan sun god, while others say the town was painted to honor Pope John Paul during his 1993 visit.
Whatever the reason, the result is striking.
When is the best time to visit Izamal?
Izamal is at its hottest between April and June, so visit outside these months if you're not a fan of the heat.
November through March is a great time to explore Izamal when the weather is pleasant, and the chance of rain is minimal.
Travel tips
The Izamal archaeological site is free to enter so you can just wander in.
It's a good idea to book your day trip from Merida to Izamal online so you can bag the best deals. Don't leave it until the last minute – slots do fill up quickly.
Comfortable footwear is advisable for walking around the uneven cobbled streets and pyramid sites.
Some Izamal day tours include a stop at a cenote, so remember to take your swimming gear if you want a dip.
You can buy lunch at a local restaurant in Izamal if it isn't included in your tour.