Located on the historic site of Thebes and inhabited over 5,000 years ago, the city of Luxor is home to some of the best-preserved evidence of ancient Egyptian rule.
Whether in the villages or the more natural areas of this region, there are plenty of landmarks to admire while in this buzzing hub of culture.
One of the best ways to discover this renowned Egyptian destination is by participating in a camel riding tour in Luxor. Suitable for beginners, these excursions are a fun way to see Luxor's unparalleled sights.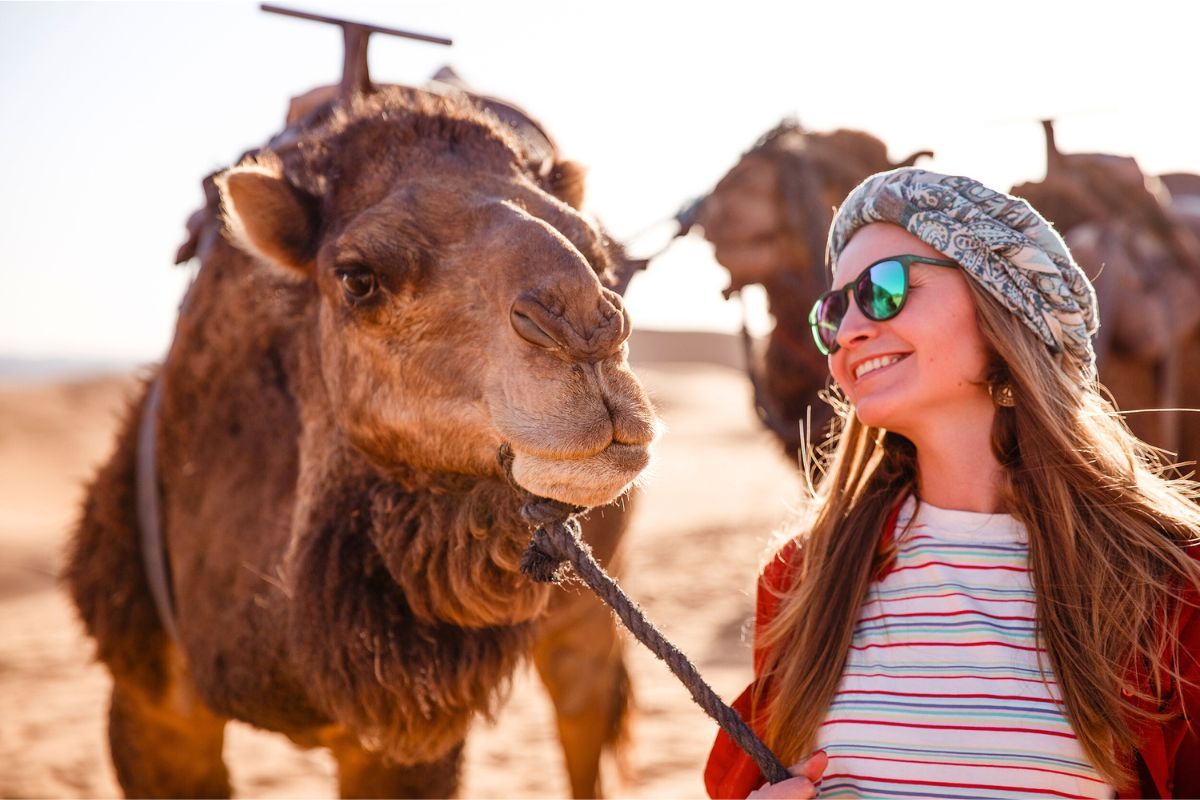 Here's all you need to know about camel riding tours, one of the most exhilarating outdoor activities in Luxor.
What are the best camel riding tours in Luxor?
West Bank camel riding tour in Luxor
If you wish to step away from the ancient ruins and explore the natural side of Luxor, you can do so on this camel-riding tour.
After a convenient hotel pickup, you'll be transported to Luxor's West Bank where you'll mount your four-legged friend and get accustomed to the strange sensation of riding atop a camel. As you move leisurely through the landscape, you'll see a side of Egypt you never knew existed, passing by date palm groves and sugar cane fields.
Gain an education on this corner of the world from your insightful guide who will lead you through charming villages to show you the traditional Egyptian lifestyle. If climbing on the back of a camel isn't for you, you can choose to participate in this excursion by riding a horse or donkey instead.
Sunset camel ride and tea in Luxor
Gain a deeper insight into the traditions of southern Egypt on this Luxor camel riding excursion.
Start your camel ride in Luxor with a scenic boat tour across the Nile. Once you reach the West Bank, you'll hop on the back of the camel and explore the villages surrounding Luxor from an elevated height as the sun sinks lower in the sky, washing your surroundings in a golden hue.
Watch the locals go about their daily routines as you navigate the streets. When you're ready to return to steady ground, you'll relax with a cup of traditional tea. Join in with Egyptian customs as you sip on this black beverage, sweetened with either cane sugar or mint leaves, for a unique twist.
Are there any combos available with camel riding tours in Luxor?
Luxor camel riding tour plus hot air balloon ride and felucca sailing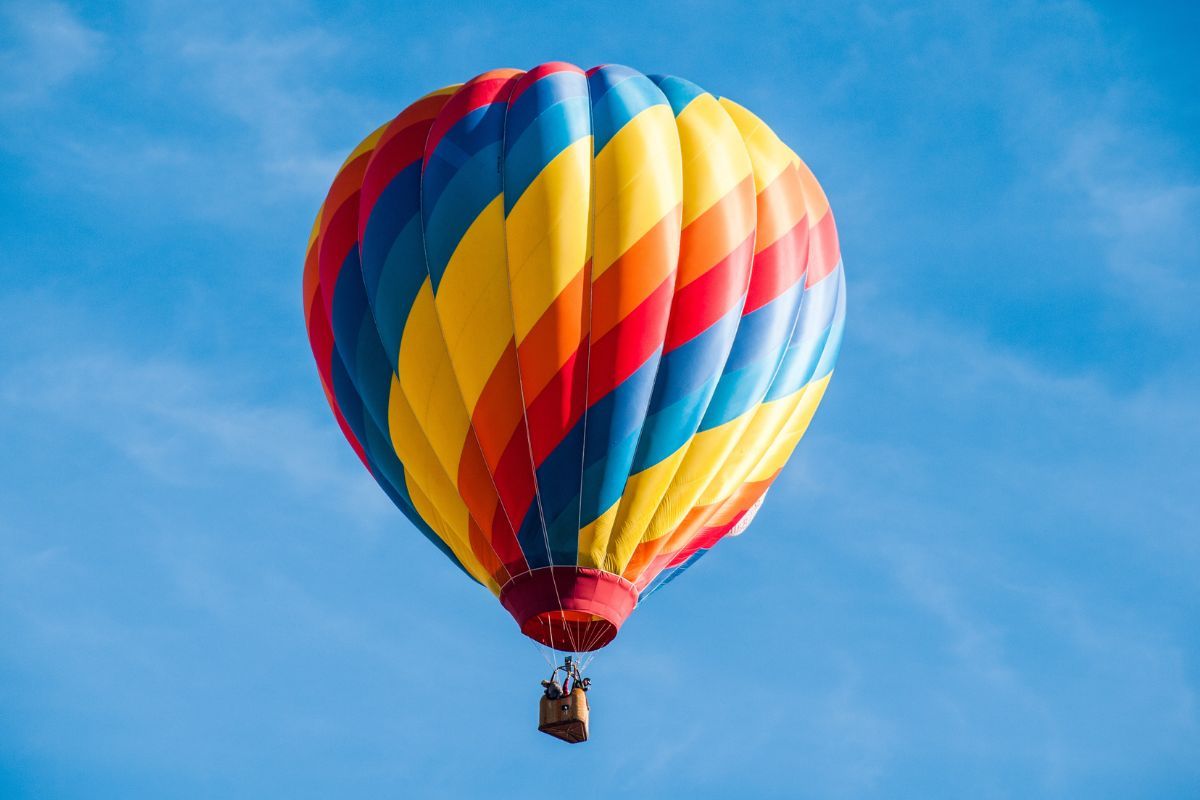 If you have a limited time in Egypt, consider opting for a combination camel riding tour in Luxor that showcases many of the city's highlights in just a few short hours. Starting early, you'll watch the sunrise during a hot air balloon ride as you drift across the skies, enjoying a unique view of Luxor's ancient landmarks.
You'll have the opportunity to sail along the Nile on a traditional felucca boat to reach the palm-studded Banana Island. Explore historic temples, discover Egyptian traditions from the back of a camel and sample authentic cuisine on this day trip in Luxor.
How much do camel riding tours in Luxor cost?
All camel riding tours in Luxor vary in price, depending on their destinations. You can expect most of these excursions to be private, making them an ideal activity for your group.
Those that travel along the West Bank cost approximately US$20 per person. You can book this activity for a group of up to 15 participants and children aged 6, and over pay the same rate as adults.
Sunset camel rides cost approximately US$40 each if you select a shared excursion. Alternatively, you can choose to embark on this tour privately. This costs between US$80 and US$90 if you choose to travel solo, while the price per head reduces with each guest added. If you travel in a group of six or more, you'll each pay just over US$40.
A combination day tour costs around US$230 per adult and US$140 for children between the ages of 5 and 11. The price per head decreases with each member added to your party, with up to a maximum of 15 guests. With this number of participants, the price per adult reduces to US$160 each.
What is included in a camel riding tour in Luxor?
Camel riding tours in Luxor typically include the services of a professional guide who will help you to mount your magnificent creature and lead you through the area surrounding Luxor.
If you opt for a combination day trip, you'll enjoy having a tour guide trained in Egyptology at your side and all entrance fees are covered. You'll be provided with a traditional Egyptian lunch, as well as refreshments throughout the day. Once you've completed your hot air balloon ride, you'll be presented with a certificate to commemorate this thrilling activity and show your loved ones at home.
Where do camel riding tours in Luxor start?
The majority of Luxor camel tours include a complimentary accommodation pickup from hotels across the city. You'll simply select yours from a dropdown list and on the day await collection from your friendly guide at a predetermined time in the lobby. This service enables you to focus on your enjoyment of the tour, rather than getting wrapped up in the transportation details.
How long do camel riding tours in Luxor last?
Camel riding tours usually last between 2 and 3 hours. However, it's worth noting that this includes transfer time, and the camel ride itself tends to last an hour.
When is the best time for a camel riding tour in Luxor?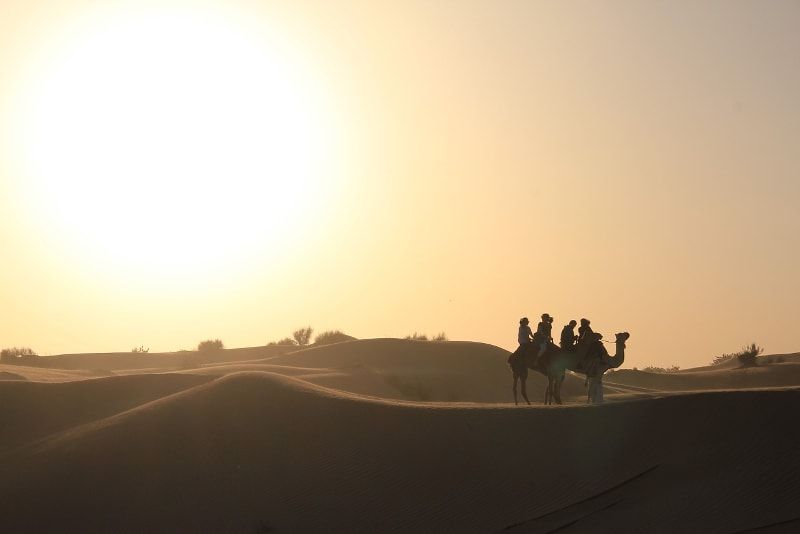 The best time to enjoy a camel ride is in the cooler months, typically from October to April. During this period, the daytime temperatures are more moderate compared to the extremely hot summer months.
Many camel tours happen either early in the morning or late in the afternoon to avoid the peak heat of the day. A sunrise or sunset camel ride provides not only cooler temperatures, but also a beautiful experience of Luxor!
Is it safe?
Camel rides are safe, and your tour will be led by a professional guide who will support you in ensuring proper handling with your companion.
Are children allowed?
Children are allowed on camel riders, but there may be age restrictions. Check with your tour provider beforehand to ensure the whole family can participate.
What happens in case of bad weather?
If the weather proves unsuitable on the day of your tour, you can request an alternate date or a full refund.
What other popular outdoor activities can you enjoy in Luxor?
Travel tips
Wear long, comfortable trousers to avoid chafing during the ride. Closed-toe shoes are also recommended for safety, as well as wearing a hat, sunglasses, and sunscreen.
Your guide will give instructions on how to mount, dismount, and behave while riding the camel. It's important to pay attention and follow these directions for your safety and the comfort of the camel.
Carry water with you, especially for longer rides, as temperatures can get high in Luxor.