The stark desert near Luxor seems uninviting at first glance. Despite its austerity, Egypt's arid terrain holds charms that are not glaringly obvious. Striking rock formations, multicolored sands and craggy mountains stand out against cobalt skies. Occasional trees flourish miraculously, and Red Sea views astound.
Accessing this remote region can be uncomfortable and even risky. Yet, the sandy expanses have supported cultures for millennia. Book an ATV and quad tour in Luxor for a safe and thrilling way to explore this ancient land.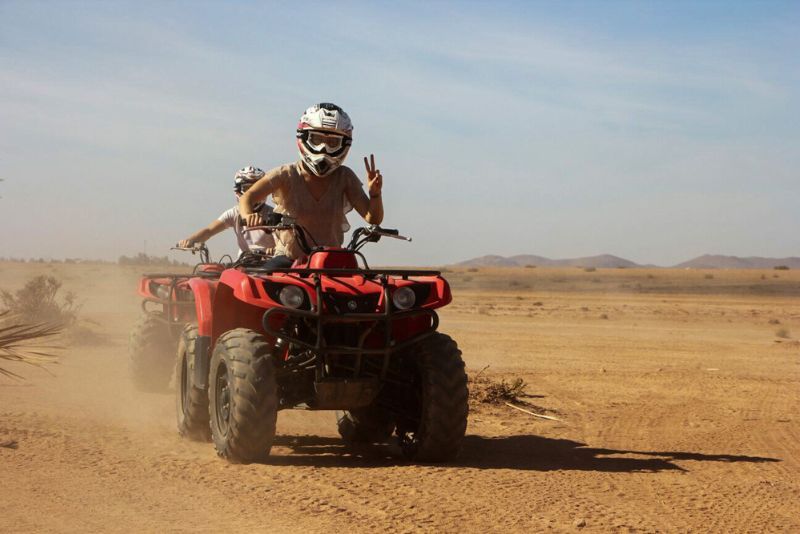 Here's all you need to know about quad tours, one of the most exhilarating outdoor activities in Luxor.
What are the best ATV and quad tours in Luxor?
Small group ATV tours in Luxor
Speed off on an ATV to Wadi Ziad, a desert plain studded with rock formations, stony ridges and dunes in the "Land of the Pharaohs." Drivers escort you from your hotel to a dock on the Nile, where you'll board a speed boat. Reach the west bank of the Nile after a short but memorable ride, where you'll begin your tour.
Starting in the quintessential desert village of Qurna, you will make your way to a valley filled with fossils before feeling some adrenaline on the dunes. Pause for Bedouin tea with your English-speaking guide, and hear fascinating commentary about your surroundings.
Sunrise/sunset quad tours in Luxor
Add ambiance and cooler temps to your tour by booking a sunrise or sunset ATV ride. You'll never forget watching the sun touch the sandy horizon after you've motored to a prime viewpoint.
Get a better chance of spotting hardy desert wildlife without the baking sun. Egypt's southwestern deserts are home to a variety of mammals. Keep your eyes out for foxes, hares, hyraxes and lynxes. Don't forget to scan the skies for doves, swifts, martins and bats.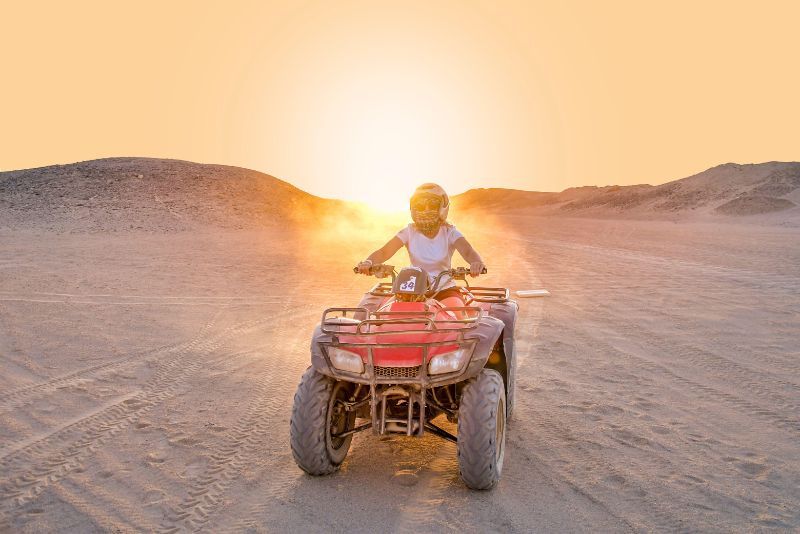 Private quad bike tours in Luxor
For an even more intimate adventure in the desert, consider booking a private quad tour in Luxor. These tours largely follow similar itineraries to small group options, however they are more customizable and exclusive to your group.
Along the way, you will ride through the desert dunes and take in the breathtaking views of the mountains and the sea. Your knowledgeable and experienced guide is flexible with time and the destinations you visit, for an ever more intimate and experience in Luxor.
How much do ATV and quad tours in Luxor cost?
Small-group ATV safaris cost from €45 per person to €65 per person, depending on group size. Sunrise or sunset ATV tours cost €70 per person, while private ATV tours cost €55 per person. Price differences depend on the length of the tour and group size.
What is included?
An ATV or quad tour in Luxor includes round-trip transportation between city hotels and the starting point, offering air-conditioned vans and boat transportation over the Nile. ATV tours provide gear and instruction, a bottle of water and a guided ride filled with facts about your desert surroundings.
Where does it start?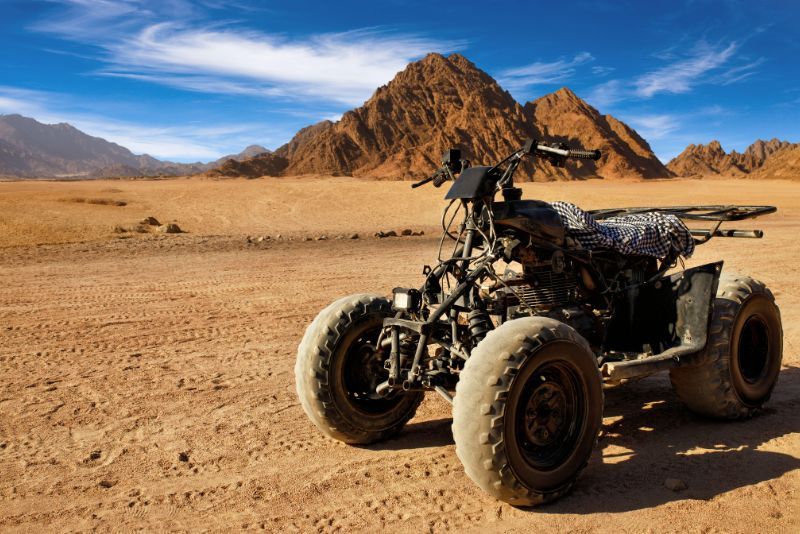 ATV tours in Luxor make your experience trouble-free, as all outings offer door-to-door service and transportation over the Nile in a speed boat. Your excursion starts at a camp outside of Luxor in Wadi Ziad, a picturesque stretch of desert with vistas of mountains and the Red Sea.
How long does it last?
ATV tours in Luxor last 2 to 3 hours. Familiarize yourself with the vehicle during a 10-minute lesson before a 60- to 90-minute ride over the sands. Expect up to 90 minutes for van and boat travel round-trip between Luxor and the starting point. Tour providers ask that you arrive at your meeting point 15 minutes before your pickup time.
When is the best time for a quad tour in Luxor?
The best time for a quad tour in Luxor is during the cooler months, from October to April, when the desert heat is more manageable. For a less crowded experience, avoid visiting in December or January, which are the peak tourist season. Early morning or late afternoon are ideal times for quad tours to avoid the intense heat of the day and to enjoy the stunning desert sunset or sunrise.
Is it safe?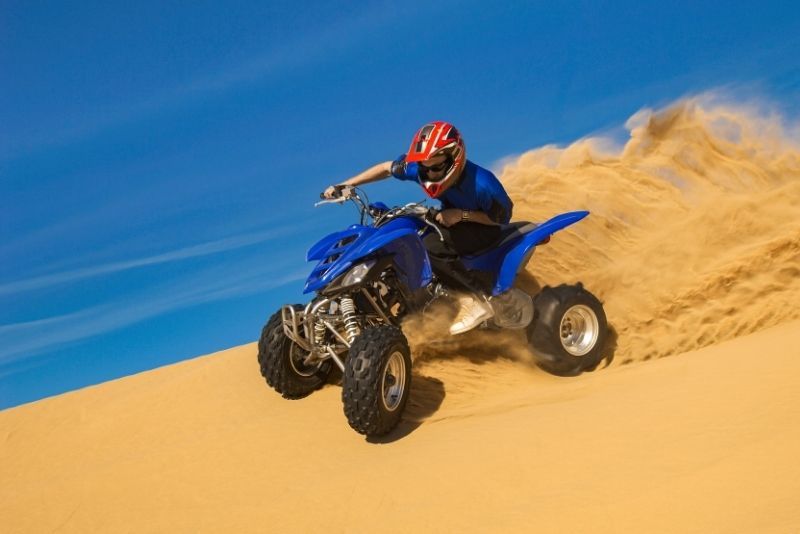 Quad tours in Luxor are generally safe, however a moderate level of fitness is required to participate. They are not suitable for pregnant travelers and people with back and heart problems or other serious medical conditions.
Are children allowed?
Yes, children are generally allowed to join ATV and quad tours in Luxor, but they must be accompanied by an adult.
Do I need a driving license?
No, a driving license is not necessary to participate in a quad tour in Luxor. Before you begin, you will typically be given a safety briefing and go on a short test drive to familiarize yourself with the ATV or quad bike.
Which other outdoor activities can be done in Luxor?
Travel Tips
If you do not have any experience riding ATVs and quad bikes, pay special attention to the safety briefing before the tour in Luxor begins.
It is important to ride within your ability and comfort level - never try to race or show off. Always stick to the trail and follow the guide's instructions.
Be prepared to get dusty, so wear comfortable clothing and closed-toe shoes suitable for riding and for the weather conditions.
Quad bike tours can be physically demanding, so get a good night's sleep before your adventure in Luxor, to ensure you have ample energy.