While the Egyptian city of Luxor is best known for being home to a number of imposing temples, ancient monuments and the royal tombs of well-known pharaohs, there are many natural wonders on Luxor's doorstep—just waiting to be explored.
Snorkeling tours fromm Luxor provide an opportunity for you to step away from the hustle and bustle of the city and discover an incredible underwater wonderland—teeming with fish, coral and other sea life. Experience the warm waters of Egypt's famous Red Sea for yourself!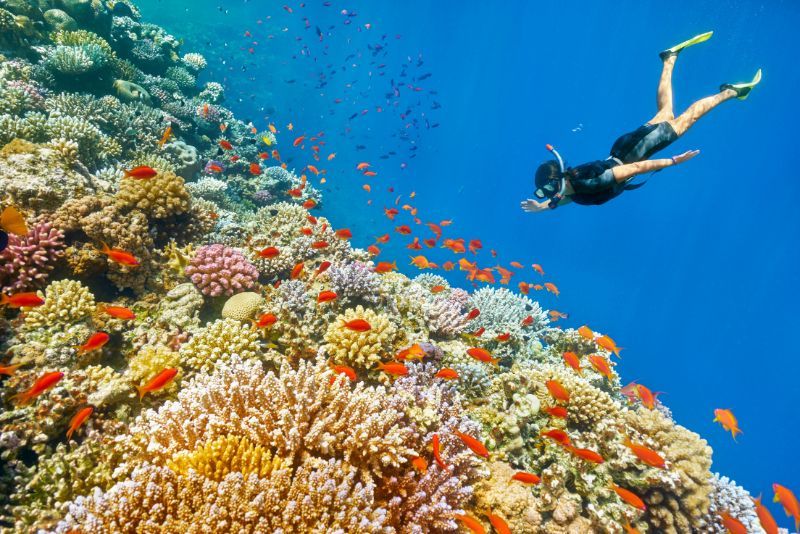 Here's all you need to know about snorkeling, one of the most exhilarating outdoor activities in Luxor.
What are the best snorkeling tours in Luxor?
Snorkeling trip to Utopia Island from Luxor
Enjoy a relaxing day spent exploring the turquoise water of the Red Sea on this enjoyable snorkeling trip from Luxor. A comfortable glass-bottom boat will act as your base for the day and will transport you to various coral reefs, picturesque islands and snorkeling hotspots.
Begin your adventure with a convenient hotel pickup from your accommodation in Luxor. From here, you'll make your way to your boat, which will take you to your first snorkeling destination. Prepare yourself for a fun-filled day, including a thrilling banana boat ride and relaxing on Utopia Island.
You'll also be treated to a delicious lunch onboard the boat, alongside soft drinks and bottled water. Your guide will ensure that you feel comfortable when using the snorkeling gear and provide instruction if needed.
Hurghada snorkeling adventure from Luxor
From your hotel in Luxor, you'll drive through the desert and make your way to Hurghada—a town located on the shores of the Red Sea and that is known for having some of the most beautiful beaches in all of Egypt.
In Hurghada, you'll board a boat and cruise toward Giftun Island—enjoying a tasty lunch onboard. Giftun Island is the perfect destination for snorkeling, swimming, sunbathing and simply relaxing.
Keep a lookout for colorful fish, stunning coral gardens and even dolphins if you are lucky! At the end of a busy day exploring the Red Sea with your guide, you'll be taken back to Luxor and dropped off at your hotel.
How much do snorkeling tours from Luxor cost?
There are a wide variety of snorkeling trips from Luxor available, and there is an excursion to suit most budgets. Snorkeling trips from Luxor to Utopia Island, typically cost anywhere between US$140 and US$160 per person, including transport, snorkeling gear and lunch.
Snorkeling trips from Luxor to Hurghada and its nearby islands are usually more expensive—costing around US$200 per person, including hotel transfers, masks, fins and an onboard lunch.
Keep in mind that the prices of snorkeling tours from Luxor can fluctuate depending on how many people are on your tour. Most tours are group tours, although there are a few private snorkeling tours available.
What is included?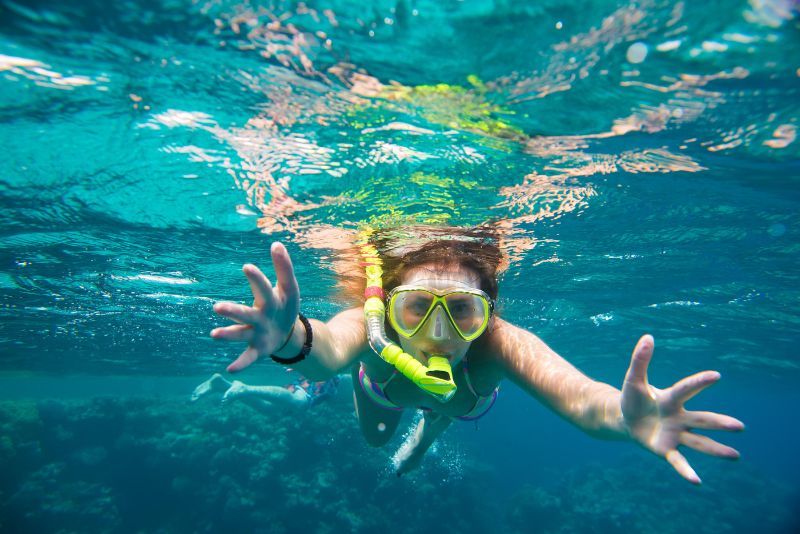 When you book a snorkeling tour from Luxor, you can rest assured that everything will be taken care of for you. You'll enjoy a convenient hotel pickup service from your tour operator, and you'll also be taken back to your hotel at the end of the day.
All the gear that you'll need for your snorkeling excursion, including masks and fins, will be provided for you. Life jackets are also supplied to keep you safe during the boat ride to the snorkeling destination.
All snorkeling tours are led by an English-speaking guide, who will be there to answer any questions that you may have, provide instruction when it comes to snorkeling, assist you with the snorkeling equipment and ensure that everyone is kept safe.
In most cases, a buffet-style lunch is also included in the cost of the tour. You'll enjoy this lunch, as well as a selection of beverages, alongside the other tour participants. Gratuities are not included, but you are welcome to tip your guide/driver at the end of the tour.
Where does it start?
While most other tours in Luxor may ask you to meet at an easy-to-find monument, snorkeling tours from Luxor provide you with a convenient hotel pickup service, eliminating the need for you to make your way through the city. If you are staying at an outlying hotel, you may need to meet your guide at a hotel in central Luxor.
How long does it last?
Snorkeling tours from Luxor are typically full-day excursions, lasting anywhere between 8 and 14 hours, depending on the tour that you decide to book. Keep in mind that a large portion of this time is spent traveling toward the Red Sea, which is roughly 4 hours one way.
The time that you'll actually spend snorkeling and relaxing on the islands is around 3 or 4 hours. Whichever snorkeling tour you book, expect to be out of Luxor for the entire day, so pack everything that you may need.
Is it wheelchair friendly?
There are a few tour operators that offer wheelchair-friendly snorkeling excursions from Luxor. For further information, consult your tour operator before booking.
When is the best time for a snorkeling tour from Luxor?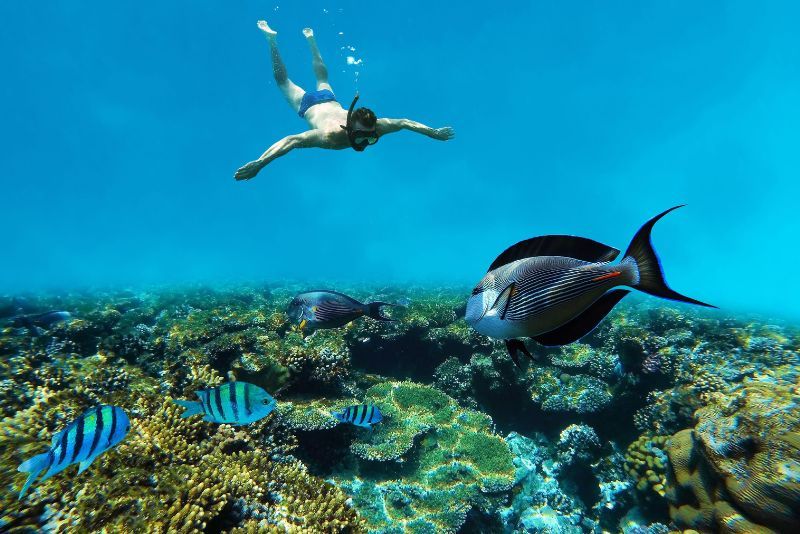 The best time to go on a snorkeling tour from Luxor is between April and October, when the sea conditions are calm, and underwater visibility is excellent. Although this period is warm, the Red Sea remains pleasantly cool. Given that it can take a few hours of travel from Luxor to the coast, start early to make the most of the daylight.
Are children allowed?
Yes, children are generally allowed to join snorkeling tours from Luxor, provided they are accompanied by an adult.
What happens in case of bad weather?
Snorkeling tours from Luxor depend on good weather, so if the conditions at sea are bad, it will be rescheduled for a later date. If that is not convenient, you can request a refund.
Which other water activities can be done in Luxor?
Travel tips
The Egyptian climate can be extremely hot, especially in summer, so carry plenty of water and stay hydrated.
The drive from Luxor will take a few hours, so pack some light snacks for the ride.
Don't forget to bring along a hat, sunglasses and sunscreen to protect against the intense sun.
Bring along a dry bag to keep your electronics and other essentials safe from water damage.