The beating heart of the American west coast, Los Angeles is a melting pot of food, nightlife, art and, of course, entertainment — looking at you, Hollywood. From street level, the City of Angels is busy, glitzy and grungy all at once.
From the skies, it's an entirely new perspective: vistas of jagged coastline, rolling hills and valleys, golden beaches, towering skyscrapers and the infamous Hollywood sign — best experienced on a Los Angeles helicopter tour — make this birds-eye view quintessential.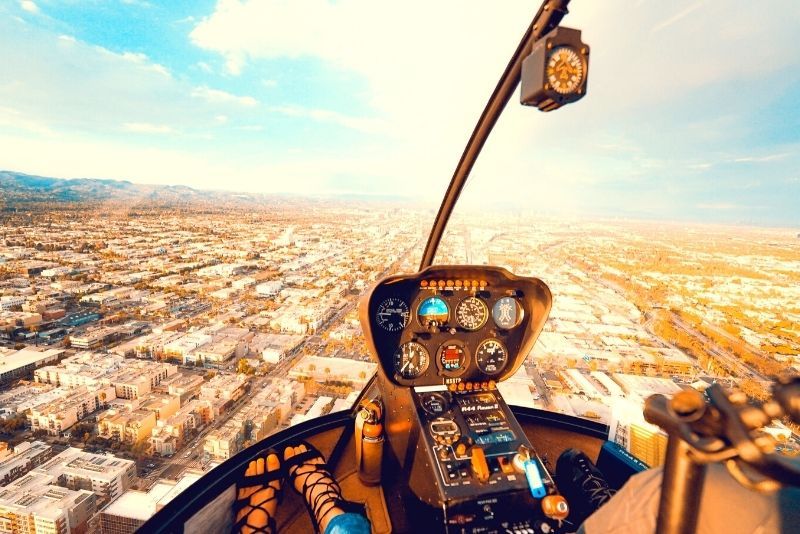 Here's all you need to know about helicopter tours, one of the most quintessential outdoor activities in Los Angeles.
What are the best helicopter tours in Los Angeles?
Hollywood Sign helicopter tour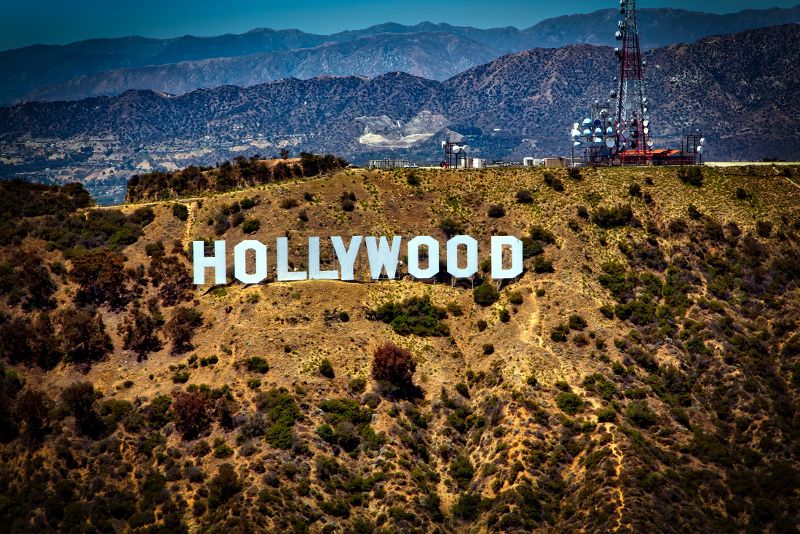 Arguably Los Angeles' most famous landmark, the Hollywood sign overlooks the city from the heights of the Hollywood Hills. Surrounding it, the lush greenery of Griffith Park contrast the built-up suburbs and sparkling Pacific Ocean in the distance, providing a wonderful aerial image.
A Hollywood helicopter tour gives you unparalleled access to this iconic symbol of stardom, right alongside all of L.A.'s other famous sights, including the Beverly Hills mansions, Universal Studios and the Hollywood Bowl.
Los Angeles helicopter tour at night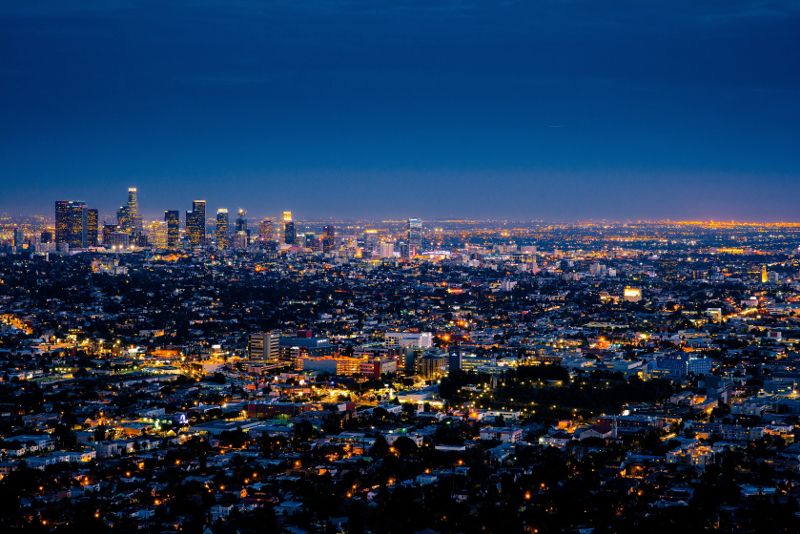 The iconic LA skyline — as well as the Hollywood sign — is illuminated with thousands of twinkling lights after sunset. This helicopter tour takes you over the downtown skyline at twilight, giving you the perfect view of the city as it starts to come alive.
You can witness the Staples Center, Dodger Stadium, the iconic Hollywood Sign and more, learning all about the history of L.A.'s most famous sights from your expert pilot as you fly high above it all. Some champagne and chocolates make it all the more romantic.
California coastline helicopter tour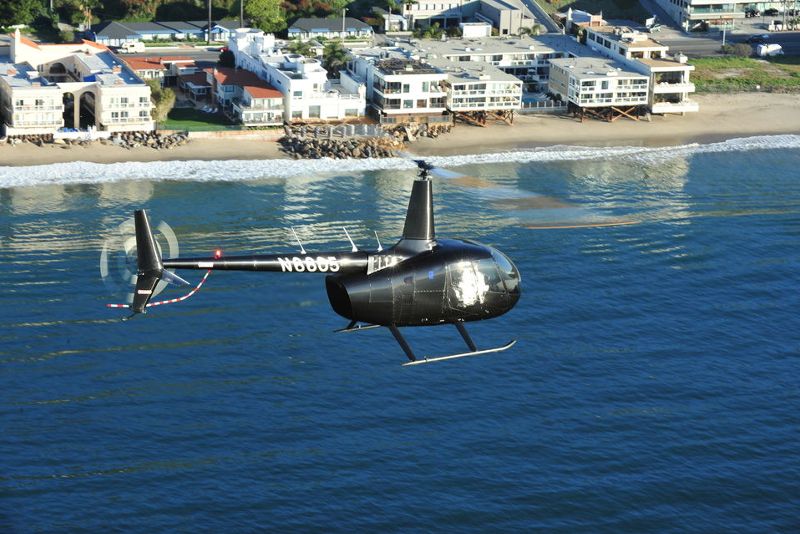 Taking the coastal route, this popular tour flies along the shoreline, usually from Long Beach in the south of LA all the way up to Malibu in the north.
As you soar over the golden beaches — where you can see surfers catching waves — you can witness Santa Monica and its iconic pier, Venice Beach and the spectacular Pacific Palisades homes.
As you fly, learning all about the different pockets of the city, you'll also pass by Marina del Rey, the brand new Getty Center and Topanga Canyon, to name just a few noteworthy sites.
Helicopter flight lesson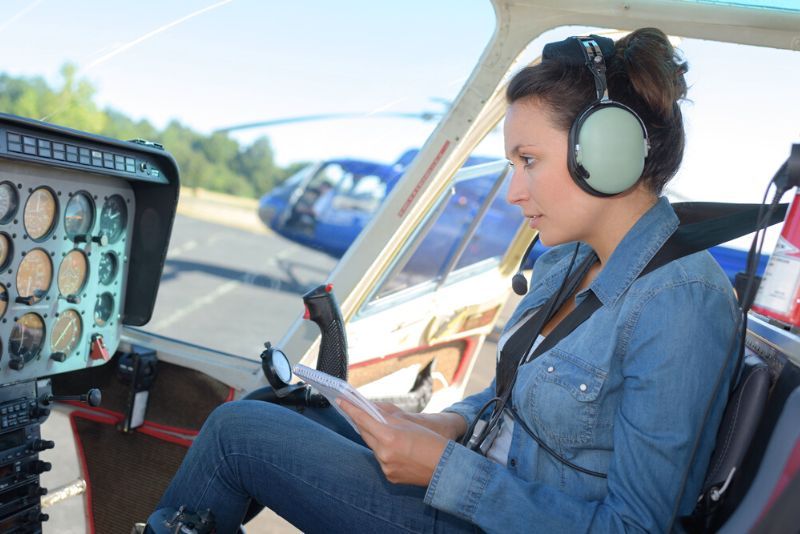 Ideal for thrill seekers wanting to get their hands on the controls, this Los Angeles helicopter tour gives you a taste of what it's like to be a pilot. During your lesson, you'll be able to take the reins and fly your chopper over some of the most famous L.A.'s attractions.
Even if you've never flown before, this helicopter tour will give you a taste of what it takes to be in the pilot's seat — and you'll get some amazing photos from up there too! You'll also learn how to conduct a pre-flight inspection, how to read the gauges and basic aircraft aerodynamics.
Romantic Los Angeles helicopter tour with special landing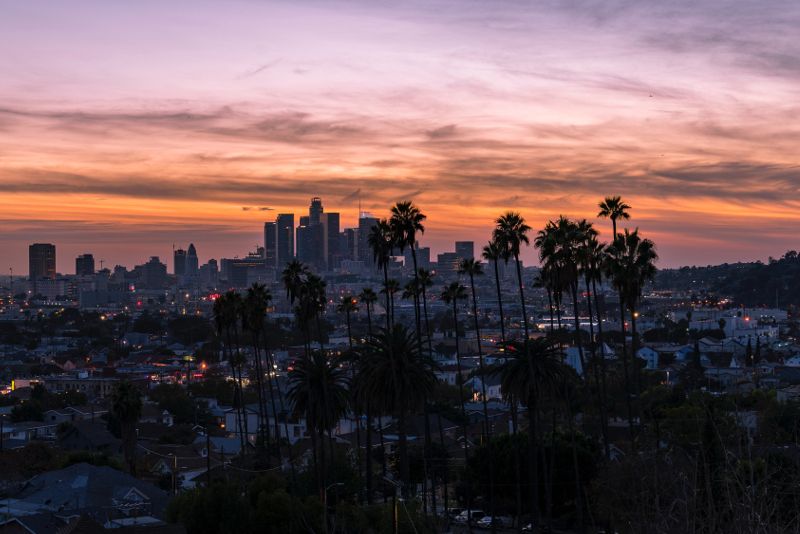 Perfect for couples, this romantic tour has all the bells and whistles of a helicopter adventure plus the chance to land on either a quiet hotel rooftop, a Malibu field, or a mountaintop.
After flying over and learning about each Los Angeles landmark, you touch down at your temporary landing and are treated to a glass of champagne, chocolates and wonderful photo opportunities.
This is the ultimate way to experience Los Angeles in style, beyond the quick highlight-reel flight.
How much do helicopter tours in Los Angeles cost?
Short helicopter tours in Los Angeles start at US$130, depending on the type of tour you choose and the company offering it. Longer tours that include stops, lessons or extra amenities can go up to US$700.
Hollywood Sign helicopter tour
10-minute flight: around US$135 per person
20-minute flight: around US$225 per person
30-minute flight: around US$395 per person
Los Angeles helicopter tour at night
25-minute flight (Long Beach): around US$130 per person
30-minute flight: between US$180 and US$320 per person
1-hour flight: around US$400 per person
California coastline helicopter tour
From US$200 to US$400 per person
Helicopter flight lesson
From US$140 to US$375 per person
Romantic Los Angeles helicopter tour with special landing
Between US$500 and US$700 per person
What is included?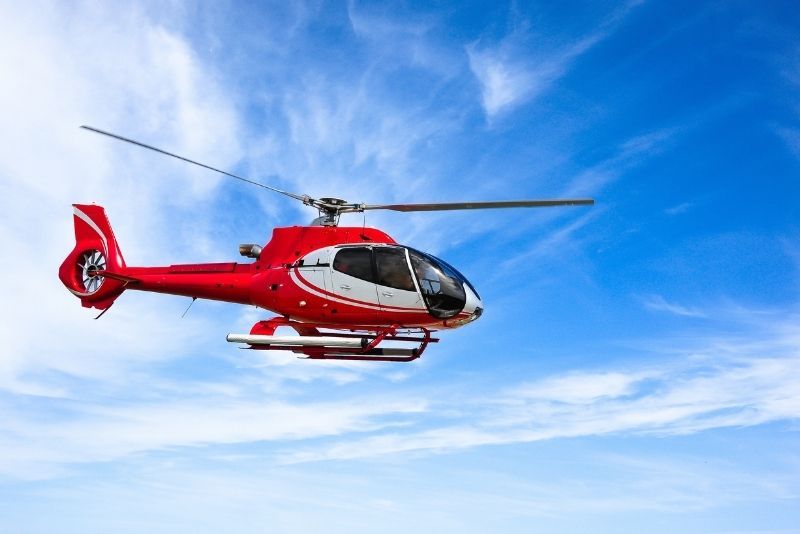 All Los Angeles helicopter tours include a professional pilot who will guide you through the experience and provide expert commentary on all of the sights you see.
Depending on the tour, some may also include champagne, chocolates, or even a rooftop landing with views of the city skyline. Some tours even include roses for a romantic ambience. Pickup from your hotel is generally not included.
Where does it start?
Most Los Angeles helicopter flights depart from one of the city's airstrips, such as Bob Hope Airport in Burbank, Long Beach Airport in the south of the city, or Hawthorne Municipal Airport near LAX.
Some flights may also depart from outskirt locations such as Fullerton Municipal Airport in Orange County. Pickup is generally not included in the price but can be arranged in some cases — contact your tour company beforehand to inquire.
How long does it last?
Los Angeles helicopter tours typically last anywhere from 15 minutes to 2 hours, depending on the style and location of tour you choose.
Longer flights often include multiple stops for scenic views and/or rooftop landings, while shorter flights tend to focus purely on the highlights of the city.
When is the best time for a helicopter tour in Los Angeles?
By day, Los Angeles offers spectacular views of its iconic landmarks and cityscape, making it a great destination for helicopter flights. However, many people also choose to take helicopter tours at twilight or at night in order to admire the glittering lights of the city from above. There's no bad time to take flight!
Which other outdoor activities can be done in Los Angeles?
Travel tips
Book your flight well in advance to ensure that you get the date and time that you want, especially if you are planning a romantic Los Angeles helicopter tour at sunset.
Bring a camera! The views from above are simply breathtaking and you will want to capture them for posterity.
Aim to arrive at the departure point at least 30 minutes before your trip. Los Angeles traffic is notoriously busy so always allow extra time.