Glitz, glamor and entertainment are just some of the words that come to mind when thinking about Hollywood, the entertainment capital of Los Angeles. At Universal Studios, you will step into a family-friendly world of excitement and action.
Book your ticket to Universal Studios and get the most of the top of Los Angeles' to-do list, from thrilling theme park rides to behind-the-scenes film lots.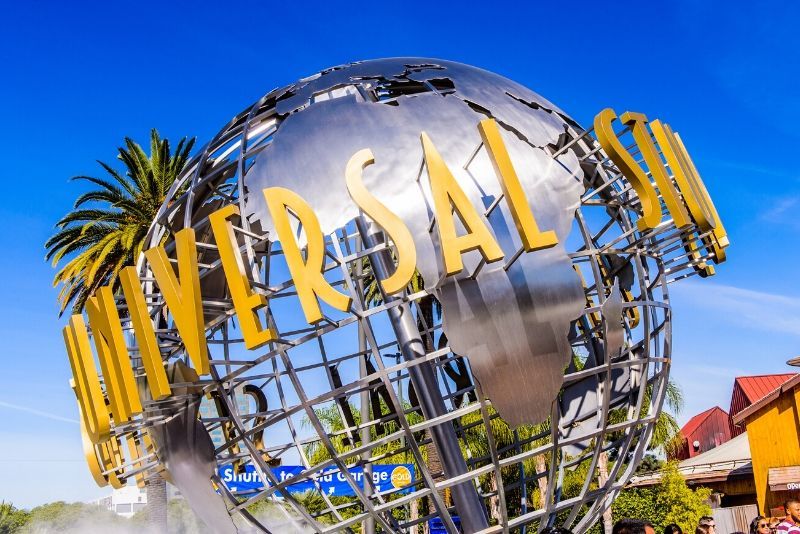 Here's all you need to know about Universal Studios Hollywood, one of the best choices for theme parks in Los Angeles.
How much do Universal Studios Hollywood tickets cost?
Advance online bookings for Universal Studios cost less than buying your tickets at the front gate, and various types of tickets are available. Tickets prices include all rides, attractions and shows and are emailed directly to you upon booking.
Online ticket prices do vary by day and season. Here is a summary of the different ticket types:
1-Day General Admission ticket
Adults (Age 10+): from US$109 per person
Children (Age 3-9): from US$103 per person
Infants (Age 0-2): Free of charge
1-Day Universal Express ticket
You can upgrade your General Admission ticket to a Universal Express ticket at an additional cost. This will give you one-time express access to each ride, attraction and seated show. A limited number of express tickets are available per day.
Adults (Age 10+): from US$189 per person
Children (Age 3-9): from US$183 per person
Infants (Age 0-2): Free of charge
Buy one day, get a 2nd day free
If you buy a General Admission ticket, you can get access to the park on a second day for free. Your first visit is valid on your selected day only and certain black-out dates apply for return visits. These 2-day passes are only valid until a specified date after which unused visits will be forfeited.
VIP Experience at Universal Studios Hollywood
VIP tickets include your 1-day park admission, unlimited express access to rides, attractions and shows (on the day), an expert guided tour, snacks and refreshments, a gourmet meal and valet parking.
The VIP Experience costs from US$380 per person.
Only children over the age of 5 can join this tour and must be over the age of 17 to join without and accompanying adult.
2-Day General Admission ticket
Adults (Age 10+): from US$149 per person
Children (Age 3-9): from US$143 per person
Infants (Age 0-2): Free of charge
With this 2-day ticket, you can enter the park twice within a 7-day period.
Who is eligible for discounts?
There are slightly discounted tickets available for California residents, and if you are planning on being a regular visitor, then an annual or season pass might also offer better value for money.
Is the VIP Experience pass worth it?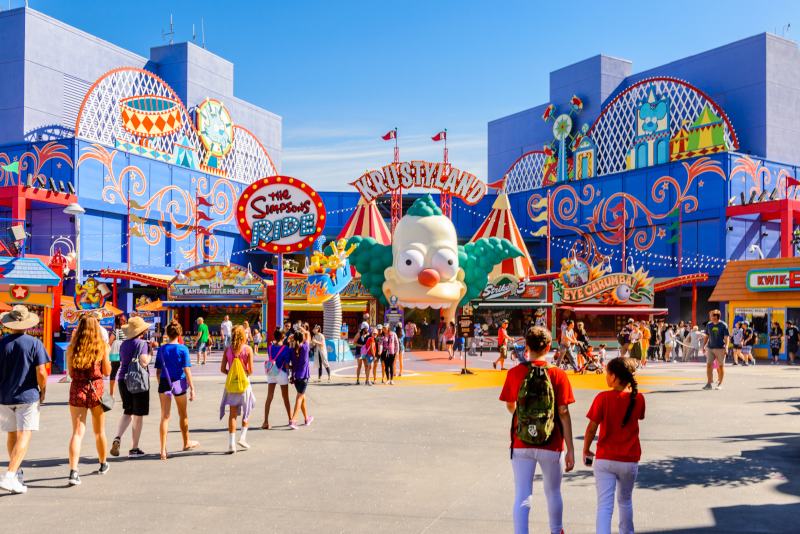 Most visitors to Universal Tours see the park at their leisure. If you would like a more exclusive experience you can book VIP tickets, which include your park admission, unlimited express access to rides, attractions and shows (on the day), an expert guided tour, including the studio backlot, a gourmet meal, snacks and refreshments.
Should you book the tickets in advance?
Booking your Universal Studio tickets in advance is an excellent idea. Not only do you get a better price when making an advance booking online, you also beat the front-gate queues, and are more likely to be able to reserve a Universal Express ticket which will allow you one-time express access to each of the rides, shows and park attractions.
What will you see inside Universal Studios?
Universal Studios offers a combination of adventure park rides, shows and cinema themed attractions. Some of the top attractions and activities at Universal Studios include:
The Wizarding World of Harry Potter
In this section of the park, you can explore the mysteries of Hogwarts, enjoy food from some of the wizarding world's finest establishments, and enjoy a magical ride or procession or show.
Jurassic World – The Ride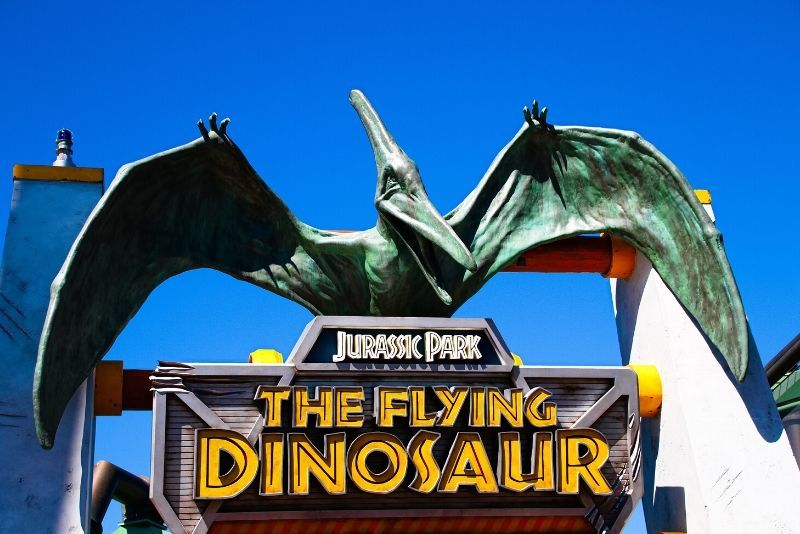 On this ride, you will cruise through the dense jungles of Jurassic World to see amazing dinosaurs. When something goes wrong, you will have first-hand experience of what makes this an edge-of-your-seat adventure.
In Jurassic World, you can also get up close and personal with Blue the Velociraptor and meet a friendly triceratops and baby Raptor.
DinoPlay and Super Silly Fun Land
These kid-friendly areas include interactive play spaces and are fun for visitors of all ages. Silly fun land has water-play features while at DinoPlay, kids can excavate fossils and explore a full size T. Rex skull.
The World-Famous Studio Tour
On this one-hour tour, you visit 13 city blocks on this historic studio lot. "The Tonight Show" host Jimmy Fallon, augments the live studio guide on your HD tram screens.
You get a behind the scenes look at one of the world's busiest movie and television lots and can expect to experience a heart-stopping encounter with a monster from the deep, a face to face moment with King Kong, a bypass of smouldering plane wreckage and an adrenaline rush with the supercharged tour finale.
Special Effects Show
At this show, you will join some of Hollywood's best stunt performers as they recreate some of the most unforgettable movie moments. You will get a glimpse into the secrets of realistic physical combat and horror scenes. The show runs on weekends and select dates, so check before you go.
Water World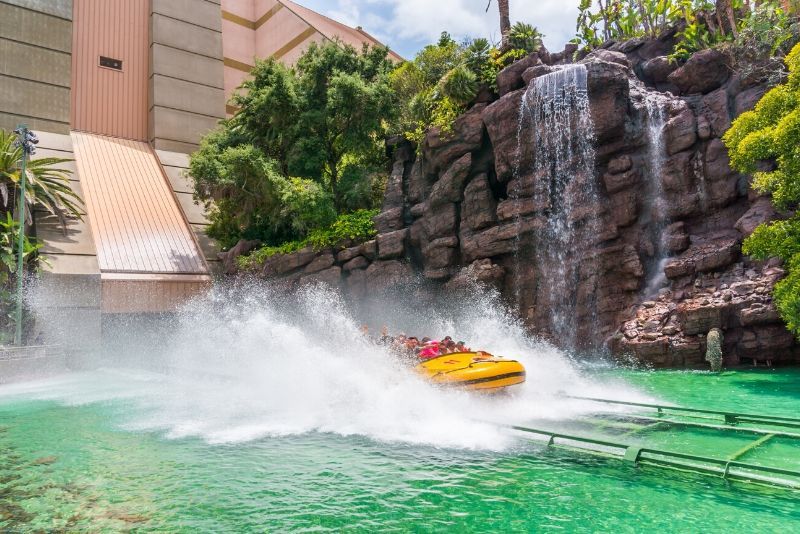 Rated Universal Studio's number 1 show, the Water World show keeps you captivated from start to finish with perilous water stunts, explosions, and a plane crash you need to see to believe.
How to get to Universal Studios?
If you don't want to drive or use public transport to reach Universal Studios, you can book a private transfer from Orange County or select cities for US$190 one way for up to 6 people.
You can also take a train from Union Station using the Metrolink ticket to transfer to the Red Line Metro rail subway, exiting at Universal City/Studio City. From here, you can catch a free shuttle directly to the front gate of the studios. The shuttle runs daily from 7 AM until two hours after the park closes.
If you would like to drive, you will travel along the 101 Hollywood Freeway to Universal Studios Boulevard and the follow the signs to Universal Studios.
Parking is not included in your ticket price and you can expect to pay anything from US$30 for standard parking to US$50 for preferred paring. Valet parking is also available from US$25 for the first 2 hours, and then US$45 for the time thereafter.
When is the best time to visit it?
Peak season and holidays are the busiest time at Universal Studios. You can combat the crowds by purchasing an express or VIP Universal Studios ticket and making sure that you arrive early.
It can also get very hot during the summer months and so you might like to consider visiting during the spring or autumn instead.
Which other theme parks can be visited in Los Angeles?
Travel tips
Book in advance to skip the queues and get a better deal.
Remember that parking is not included in the process of your ticket (except for VIP tickets).
Download the Universal Studios app for free before you arrive to check wait times, show times, and interactive maps.
Queues can be long. Make sure you have plenty of water.
Parking is limited, so consider using a Metro train or bus to travel to the park.