The Hurghada Grand Aquarium is a fascinating window into the Red Sea marine world. Darting around in a million gallons of water, over 1200 creatures call this aquarium home.
See if you can spot the shovel nose guitar shark gliding along the reef and watch for stingrays and turtles feeding on the surface.
Your Hurghada Grand Aquarium tickets give you access to 24 marine galleries, as well as the mini zoo.
How much do Hurghada Grand Aquarium tickets cost?
The Hurghada Grand Aquarium entrance fee varies according to visitor age and includes access to the marine exhibits, mini zoo, rainforest area, and fossil museum. This is a fun half-day out for the whole family that doesn't cost the earth.
Hurghada Grand Aquarium ticket prices are as follows:
Adult: $32
Child (aged 3 – 10 years): $16
Infant (under 3 years): free
Shark diving experiences are not included in the Hurghada Grand Aquarium rate. Tickets for this cost $100 per person, with complimentary entry to the aquarium and zoo.
Who is eligible for discounts?
Discounted Hurghada Grand Aquarium tickets are available for active members of the military. Just show your ID at the door and receive 10% off.
Should you book Hurghada Grand Aquarium tickets in advance?
Yes! Booking your Hurghada Grand Aquarium tickets ahead of your visit is highly recommended. It's a popular attraction and visitor numbers are limited each day, so you don't want to miss out.
Reserving ahead also means you can compare deals, find the cheapest prices, and book skip-the-line tickets if you don't fancy queueing.
What will you see inside the Hurghada Grand Aquarium?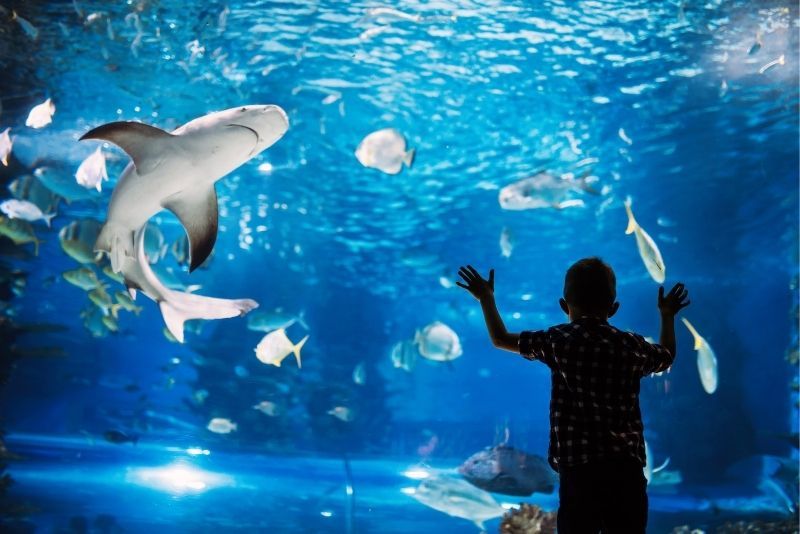 Marine exhibits
The Hurghada Grand Aquarium is one of the largest underwater exhibits in Africa! Over 100 different species can be observed here, and there's a special focus on the Red Sea reef system.
The underwater tunnel is the star of the show, giving you a unique perspective of the tiger sharks, spinner dolphins, and manta rays that come swimming past.
Shark feeding and diving
A real highlight of your Hurghada Grand Aquarium visit will be the shark feeding sessions which are held every day in both the morning and afternoon.
For the ultimate thrill, book a shark diving session and come face-to-face with these predators of the deep. Diving experience is not required.
Mini Zoo
It's not all about marine life here. Your Hurghada Grand Aquarium tickets also include entry into the mini zoo and rainforest area. Here, you'll discover animals that have been rescued from all over Egypt, from flamingos and falcons to crocodiles and even ostriches.
Whales Valley
This unusual museum centers on ancient whale fossils found out in the Western Desert, at the Wadi Al Hitan UNESCO World Heritage Site. At the aquarium museum, you can see an incredible collection of fossils and discover creatures that became extinct millions of years ago.
Where is the Hurghada Grand Aquarium located?
You will find the aquarium just opposite the Magawish Village Resort and Mercure Hotel on Safaga Road in the south of Hurghada.
Taking a taxi from your hotel is the quickest and easiest way to get there.
When is the best time to visit the Hurghada Grand Aquarium?
Hurghada Grand Aquarium entry is between 9 AM and 7 PM daily. The last entry is at 6 PM.
It's a good idea to be there when the doors open first thing in the morning or visit later in the afternoon to avoid the crowds. For a quieter experience, come during the week when the aquarium is less busy.
If you want to see the shark feeding spectacle, sessions are held at 11 AM and 3 PM daily. Shark dives take place at the same time so you can get up close to the feeding frenzy.
Which other theme parks can be visited in Hurghada?
Travel tips
Book your Hurghada Grand Aquarium tickets online to find the cheapest deals – use TourScanner to compare prices.
You can take pictures but don't use your camera flash as the fish are sensitive to changes in lighting conditions.
Food and drink are not allowed inside the aquarium but there is a café where you can purchase refreshments.
Luggage storage is available if you are traveling to or from the airport with large bags.
The Hurghada Grand Aquarium tickets price includes access to all attractions so allow up to two hours if you want to see everything in the aquarium.