Officially founded as Heraklion in the 9th century, the port city has been known under many names throughout the ages and originates back to the Minoan era. While the city is endlessly fascinating, those wanting to explore further afield can do so on the back of a quad bike.
Quad tours in Heraklion show you another side to Crete, full of enchanting olive groves, towering mountains and traditional villages. So, grab your license, don your helmet and get ready for a bumpy ride!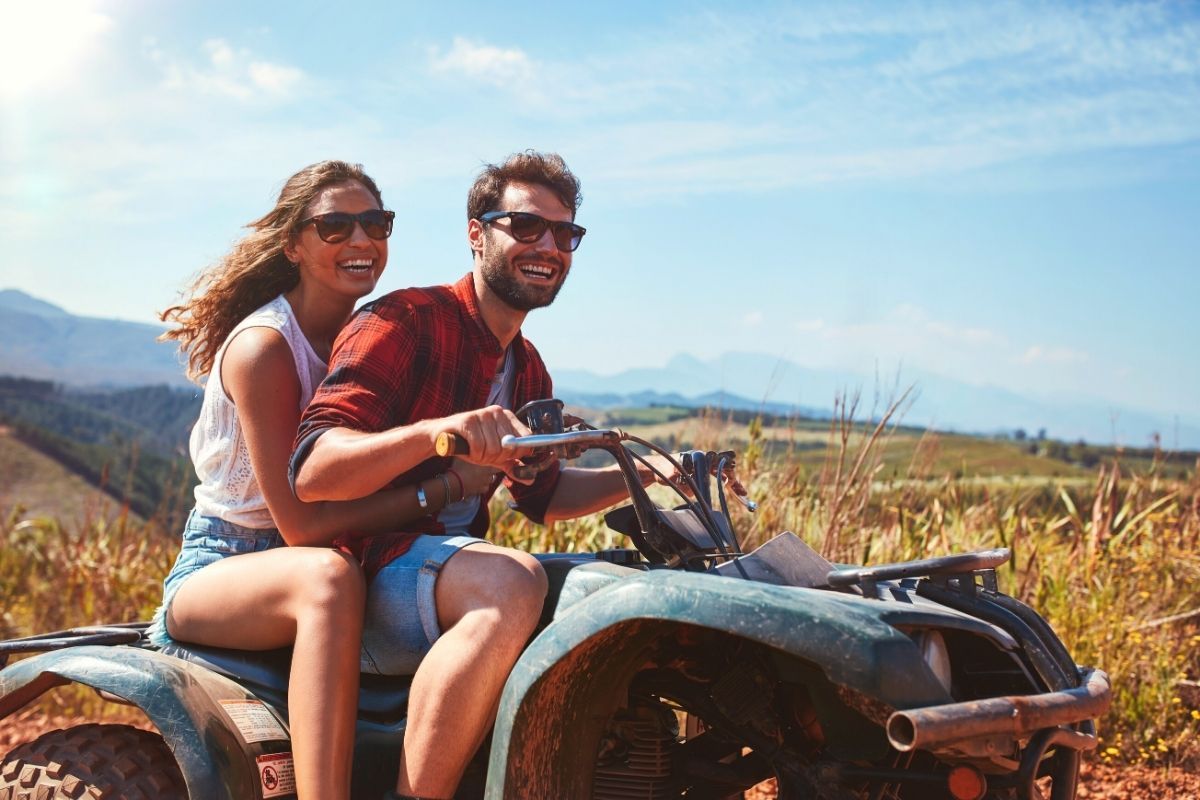 Here's all you need to know about quad tours, one of the most exhilarating outdoor activities in Heraklion.
What are the best quad tours in Heraklion?
Agia Pelagia guided quad bike tour
Jump behind the wheel and discover the ghost towns and mountainous terrain of Crete for yourself on this quad biking experience.
After grasping the basics of quad biking, you'll set off toward an abandoned village to learn its history. Here, you can wander down silent alleys and imagine the streets buzzing with life. Continuing on, you'll navigate your way through the mountains, enjoying enchanting views over the island as you go.
Discover the origins of the famed Renaissance painter, El Greco, as you explore Fodele, stopping for a bite to eat before traveling back to your starting point along the scenic route.
Double adrenaline ATV tour
Thrill seekers can clamber through underground caves on this ATV adventure through Crete.
As part of a small group, you'll bump your way along dirt tracks and through narrow ravines to reach Skotino Cave, where artifacts have been found from the Minoan Age. Explore the cave for yourself by throwing on a helmet and heading underground.
Here, you'll discover the history of several time periods alongside the Minoan Age, as Skotino Cave was used during the ancient Greek and Roman periods too.
Continuing on, you'll travel through a spectacular landscape to reach Gouves where you can relax on the beach's silky sands or take a refreshing dip before refueling with a lunch in a traditional taverna.
Mountain quad bike safari from Hersonissos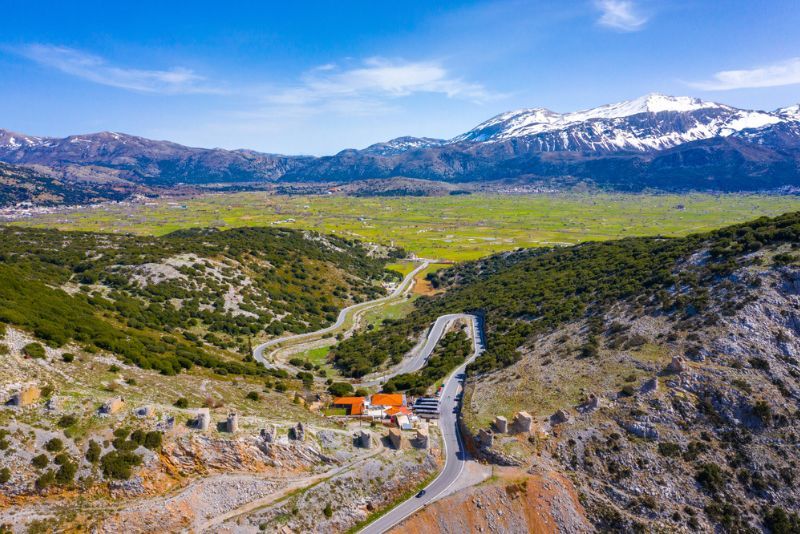 On this Crete ATV tour, you'll hop on board your quad bike and set off through the Greek wilderness to discover the island beyond its tourist attractions.
Driving away from the bustling streets, you'll journey toward a collection of mountainside villages, bursting with history — Koutouloufari, Piskopiano and Old Hersonissos. From here, you'll make your way further inland to the fertile lands of the Lasithi Plateau, where much of the island's produce is grown, including potatoes, beans and watermelons.
Continuing on through traditional villages, you'll discover the charms of the Cretan countryside with its fascinating churches and sheep-studded farmlands. Stop for local refreshments along the way before heading to the man-made Aposelemis Dam, which has a capacity of 23 million square meters of water.
See what remains of the 16th-century Sfentili village, which has been submerged underwater since 2003, before ending your tour with a trip to a classic Cretan monastery.
How much do quad tours in Heraklion cost?
Quad tours in Heraklion range in price depending on what is included.
If you're joining an Agia Pelagia tour, prices start between €80 and €90 per group of 2, which breaks down to just over €40 per head.
You can expect to pay €100 each for a tour that includes Skotino Cave, while mountain quad bike safaris cost between €100 and €110 per person.
What is included in a quad tour in Heraklion?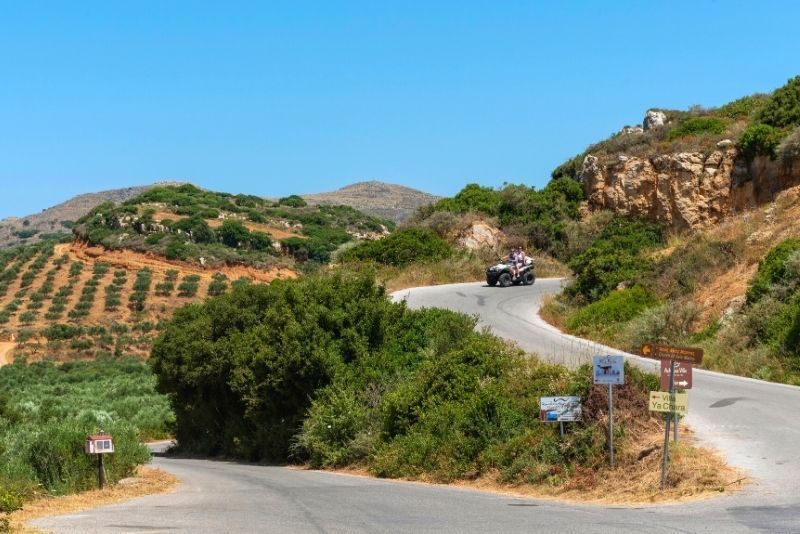 Quad tours in Heraklion all include the use of the vehicle for the duration of your excursion. They also usually provide insurance, as well as any necessary safety gear.
Some tours take you to a local restaurant for an inclusive lunch while others offer simple refreshments along the route.
At the end of your trip, you may be provided with photos to look back on and show your loved ones at home.
Where do quad tours in Heraklion start?
Many Heraklion quad bike tours begin just outside the city, in the neighboring town of Hersonissos. However, several operators provide a convenient pickup service from hotels across the island.
How long do quad tours in Heraklion last?
The majority of quad tours in Heraklion last between 3 and 5 hours, which gives you plenty of time to explore part of the island in your vehicle.
However, if you're looking for a more in-depth experience, you can opt for a 7-hour adrenaline-filled excursion that travels to Skotino Cave.
When is the best time for a quad tour in Heraklion?
Heraklion quad biking tours generally run throughout the summer season between April and October. However, some are not bookable until June.
In the summer months, temperatures range from 26 to 29 degrees Celsius, which makes the perfect conditions for exploring the island on an ATV.
You can typically choose from several time slots throughout the day, which makes these tours easy to fit in around your itinerary.
Is it safe to take a quad tour in Heraklion?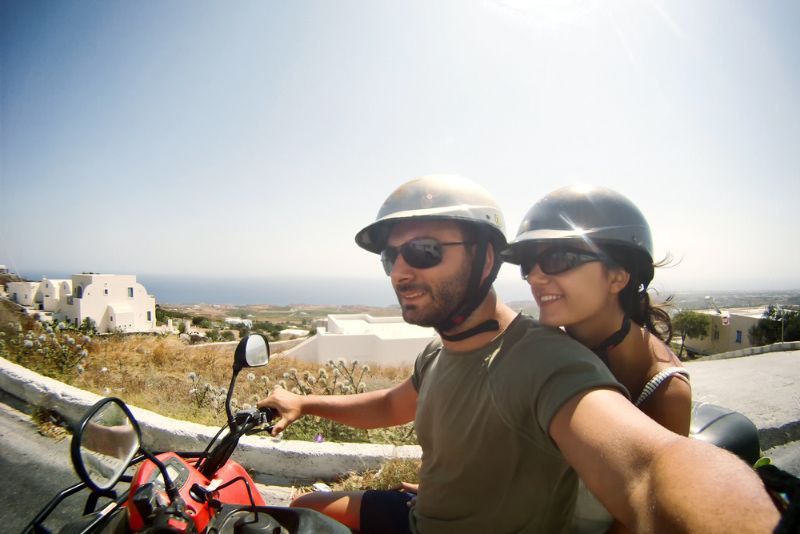 Quad tours in Heraklion are safe and fun for most participants. You'll be under the watchful eye of a professional at all times and you'll be covered by insurance in the unlikely event of an accident.
However, because of the rough nature of the activity, those with back conditions, as well as pregnant women and people with serious medical issues are not advised to participate.
Are children allowed on a quad tour in Heraklion?
Typically, quad tours in Heraklion are a family-friendly affair and children of all ages are welcome to participate.
However, some excursions prohibit anyone under the age of 18 from joining in, so consult the booking page of your selected tour to see if it's suitable for your party.
Do I need a driving license to take a quad tour in Heraklion?
You must be in possession of a full driving license in order to participate in an ATV tour in Heraklion. The vehicles are designed to hold two people, so those in your party who are not drivers can join in as passengers.
What other outdoor activities can you do in Heraklion?
Travel tips
Quad bikes are designed for a certain weight range, so check your chosen tour to see whether the provider enforces weight restrictions on its guests.
If participating in a quad safari in Heraklion during the summer months, be prepared for the heat with plenty of water and sunscreen.
Remember to take your driver's license to show your tour operator in order to participate in your excursion.