3-Day trips from Dublin: Blarney Castle, the Ring of Kerry and the Cliffs of Moher
If you want to delve deep into rural Ireland, these 3-day trips from Dublin are the real deal. You'll be exploring some of the country's most scenic spots and learning about the heritage of the Emerald Isle.
The Cliffs of Moher will blow your mind, while the strange landscapes of The Burren have to be seen to be believed. Castles and cathedrals also feature on the itinerary, with a hearty dose of history thrown in for good measure.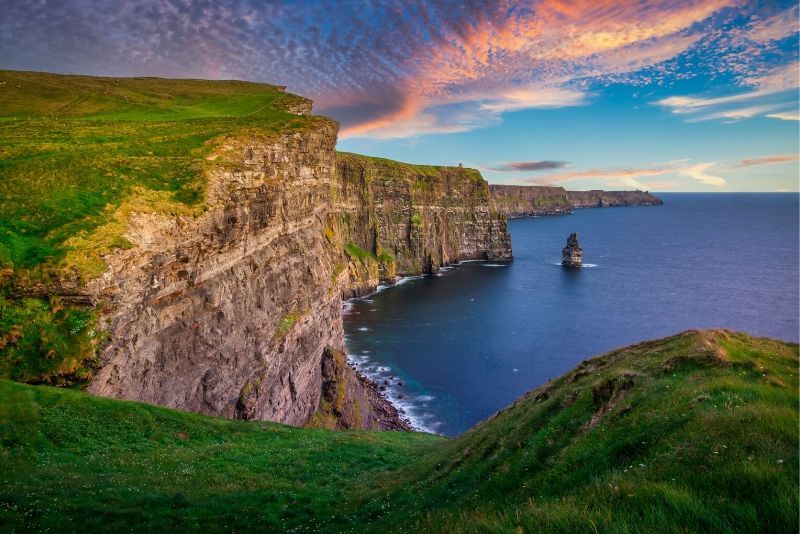 What is the typical itinerary of a 3-day trip to Blarney Castle, the Ring of Kerry and the Cliffs of Moher from Dublin?
Day 1 – Blarney Castle, Cobh and Killarney
After arriving in Cork by either train or coach, you'll head to Blarney Castle, one of the most popular stops on multi-day tours of Ireland, to explore the fortress and gardens. Kiss the stone if you wish, before doing some souvenir shopping in the village. This is also where you'll have lunch.
Spend the afternoon in Cobh, first visiting St. Colman's Cathedral and then The Queenstown Story at the Heritage Centre. Cobh was the final stop on the fateful Titanic voyage, and you'll pass the former White Star Line offices during your 3-day tour from Dublin.
In the evening, you will transfer to Killarney for a night in a bed and breakfast or hotel.
Day 2 – The Ring of Kerry
Today is all about the Ring of Kerry. This scenic drive takes you through Ireland's wildest landscapes, with precipitous peaks and natural lakes punctuating the journey. There will be stops for photos and lunch along the way.
Highlights include the MacGillycuddy Reeks, which are some of the most imposing mountains in the country. You'll travel over passes and through valleys, before meandering along the coast beside Dingle Bay and Kenmare Bay.
Keep your camera handy as you drive through traditional villages and save some battery for Killarney National Park. You'll return to Killarney for the night.
Day 3 – Cliffs of Moher, The Burren and Bunratty Castle
After breakfast, it's back on the road with a trip to Limerick for a short city tour. The excursion then heads to Bunratty Castle and Folk Park, where you can explore the fortress and its grounds.
Next up are the Cliffs of Moher. Walk along the clifftop trails and see this impressive natural landmark from all angles. It's the second most visited attraction in Ireland!
Your final point of call is the surreal landscape of The Burren, where rocky escarpments and wildflowers paint a pretty picture. Continuing along the coast, you'll pass through charming villages like Ballyvaughan and Kinvara en route to Galway. At the end of your adventure, you'll return to Dublin by train or coach.
Which places are seen during a 3-day tour to Blarney Castle, the Ring of Kerry and the Cliffs of Moher from Dublin?
Cliffs of Moher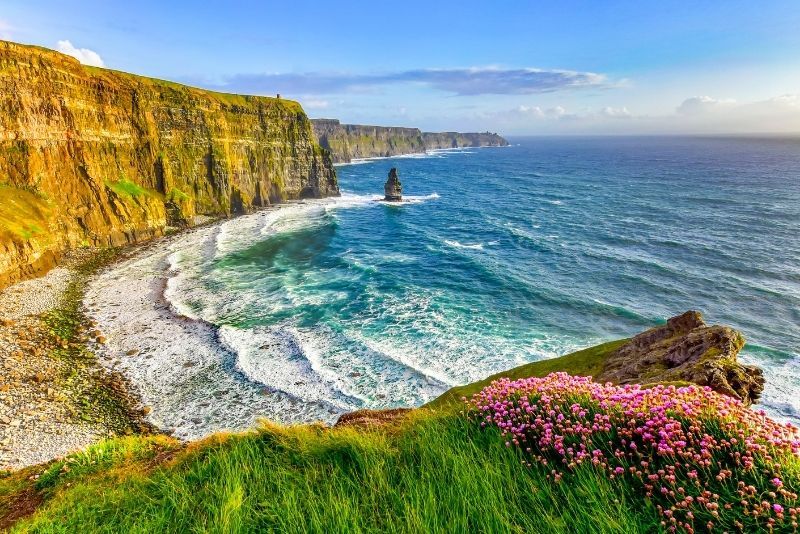 Famed for being the highest sea cliffs in the country, this dramatic natural site will take your breath away. It's the most coveted destination on all 3-day trips from Dublin!
Thrusting down into the churning waves below, the Cliffs of Moher are home to seabird colonies in season. You can walk along the paths to scenic viewpoints for enviable vacation photos.
Blarney Castle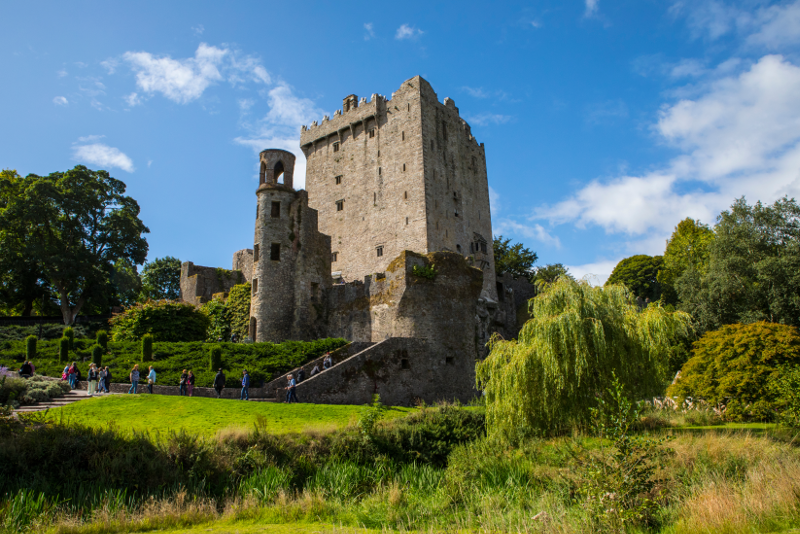 Blarney Castle is a medieval fortress just outside Cork and is a top attraction in Ireland. It was built by a powerful clan chief over six centuries ago and has survived its fair share of turmoil over the years.
Today, you can stroll around the grounds, explore the tower, and of course, kiss the famous Blarney Stone.
The Burren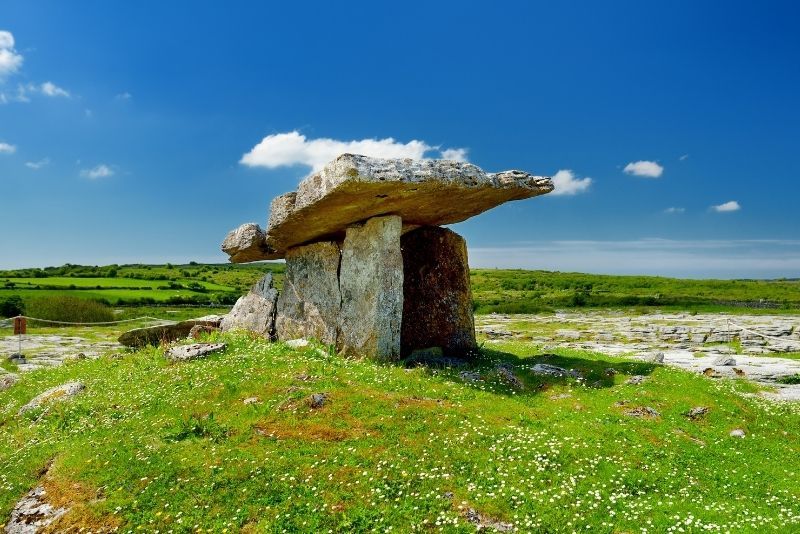 This strange and otherworldly landscape looks like it would be at home on the moon! Vast limestone outcrops hide secret caves and archaeological sites, while an astonishing array of wildflowers bring a pop of color. Exploring the Burren feels like a true adventure.
Ring of Kerry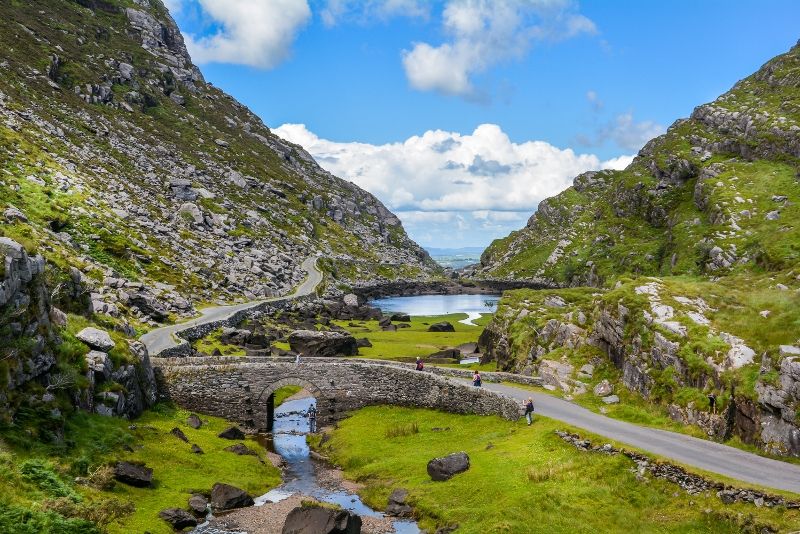 This panoramic drive around County Kerry shows off natural Ireland at her finest. During your jaunt along the Ring of Kerry, you'll take in mountainous landscapes and seaside villages. There's everything from coves to cattle to admire on this section of your 3-day trip from Dublin.
Cobh Heritage Centre
At the Cobh Heritage Centre, you'll learn about the intricate history of this coastal town.
Cobh was the embarkation point for many Irish emigrants who sailed off to seek better lives in the United States or British overseas territories. It wasn't all plain sailing, and this exhibition spills the beans on the realities of the infamous transatlantic crossings.
Bunratty Castle and Folk Park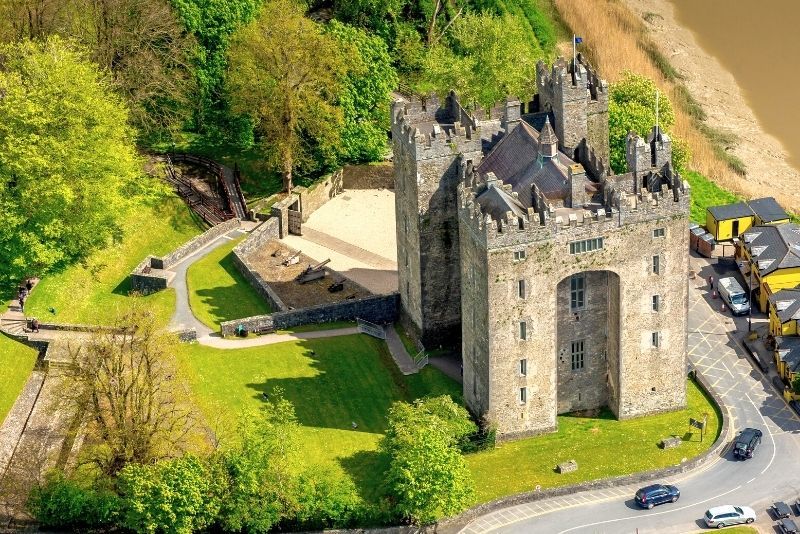 Bunratty Castle is one of Ireland's most intact fortresses. It was constructed back in the 15th century and is surrounded by 26 acres of undulating parkland.
The castle was the seat of power for several clans and today gives a glimpse into ancient Irish heritage. Stroll around the Folk Park after your visit to see a replica 19th-century village in action.
Which types of 3-day trips to Blarney Castle, the Ring of Kerry and the Cliffs of Moher are available?
Combined rail and coach excursions: These 3-day tours from Dublin start with a train ride over to Cork. Then you'll hop on a coach for a few days of sightseeing before returning to Dublin by rail.
Coach tours: Some overnight trips from Dublin are enjoyed solely by coach for a smooth travel experience. You'll have to make your own way to the meeting point in Dublin.
Group trips: Most 3-day trips from Dublin to the Ring of Kerry and beyond are enjoyed in a group setting. This is a cost-effective and convivial way to travel.
Private tours: For a more independent and exclusive experience, private tours from Dublin are available. Transportation is by car, and you'll have a personal guide.
What is the price of a 3-day tour to Blarney Castle, the Ring of Kerry and the Cliffs of Moher from Dublin?
Combined rail and coach tours from Dublin range from €580 to €700 per passenger on a group basis. Travel, accommodation and breakfast are all included. Hotel transfers are at your own expense.
Coach-only tours can be enjoyed from €370, with a guide, transport, accommodation and entrance fees covered.
Private 3-day tours from Dublin cost €3,240 per person and take in some additional locations for a fully rounded experience. The price includes hotel pickups and luxury transportation in an air-conditioned vehicle.
3-Day trips from Dublin: Northern Ireland including the Giant's Causeway and Belfast
This 3-day itinerary from Dublin checks off some of the top sights in Northern Ireland. Prepare to be awed by the Giant's Causeway and test your courage on the Carrick-a-Rede Rope Bridge. Then visit some "Game of Thrones" filming locations and enjoy a walking excursion around medieval Derry.
Castles and abbeys are also on the agenda, as well as a bit of time travel at Belfast's Titanic Experience. Here's what to expect on your Northern Ireland coach adventure.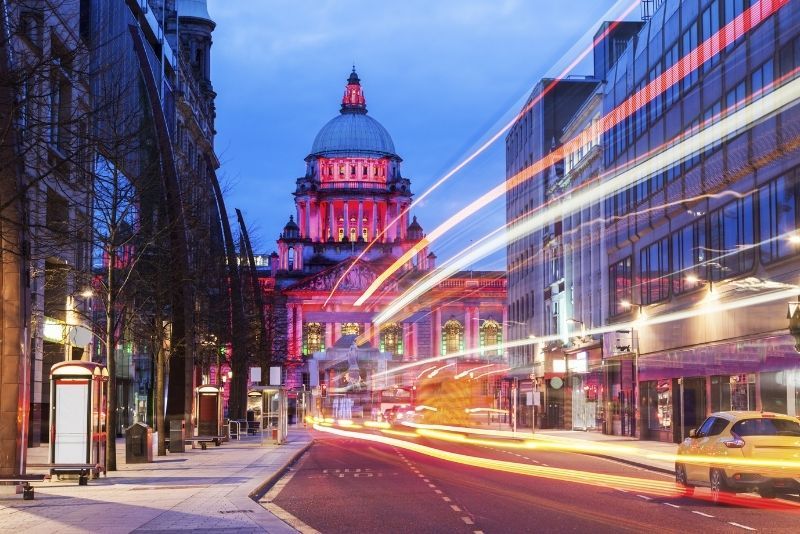 What is the typical itinerary of a 3-day trip to Northern Ireland from Dublin?
Day 1 – Monasterboice and Belfast
Board your coach at the pre-arranged meeting point in Dublin and settle in for three days of spectacular sightseeing. First up on the itinerary is the monastic settlement of Monasterboice, which has been around for over 500 years.
Later in the morning, you'll arrive in Belfast, which is the capital of Northern Ireland. Enjoy a visit to the Titanic Experience before exploring the city on your own terms. You could take a "Black Taxi" tour of famous sights like the Peace Wall, or perhaps visit Crumlin Road Gaol or Belfast Cathedral.
Eat dinner in a local restaurant and soak up the music scene in a downtown bar before heading to your hotel.
Day 2 – Dark Hedges, Giant's Causeway and Derry
After breakfast, you'll drive up through rural Northern Ireland to the Dark Hedges site. Famed for being a "Game of Thrones" filming location, this atmospheric avenue enjoys top billing on many 3-day trips from Dublin.
The Carrick-a-Rede Rope Bridge is up next, shortly followed by the Giant's Causeway. Walk down to the shore to admire the unusual rock formations and coastal scenery.
Continue to Derry and spend the afternoon exploring at leisure. You can stroll along the city walls on a guided tour and learn about the region's troubled past. History buffs might like to visit the site of the Bloody Sunday massacre.
You'll spend the night in Letterkenny which is just across the border in Ireland.
Day 3 – Wild Atlantic Way and Galway
The final day on this overnight tour from Dublin takes you along a scenic stretch of the Wild Atlantic Way. Popular stops include Drumcliffe Church and Strandhill Beach, which is a favorite with surfers.
After lunch, there's time for a quick stop in Galway for independent sightseeing and a pint in one of the local pubs. Then you'll head back to Dublin, driving through the heart of rural Ireland.
Which places are seen during a 3-day tour to Northern Ireland from Dublin?
Monasterboice
The ruins of this early Christian monastery make for an intriguing stop on 3-day tours to Northern Ireland from Dublin. Here, you'll discover one of the most pristine Celtic crosses in the country. There's a well-preserved tower too, which was used to keep watch for invading Vikings.
Dark Hedges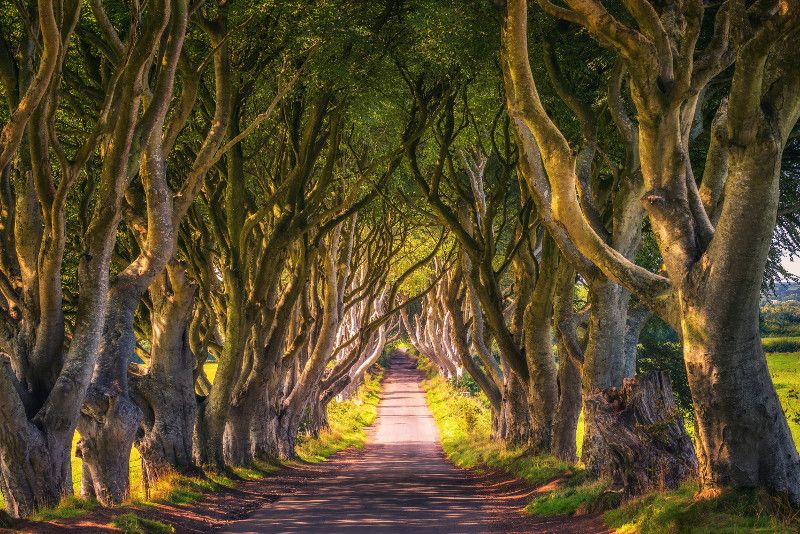 "Game of Thrones" fans will recognize the Dark Hedges as King's Road in all its eerie glory. However, you don't need to have seen the TV drama to appreciate the scene. This eye-catching avenue of beech trees has been here since the 18th century. It's one of Europe's most photographed sights.
Belfast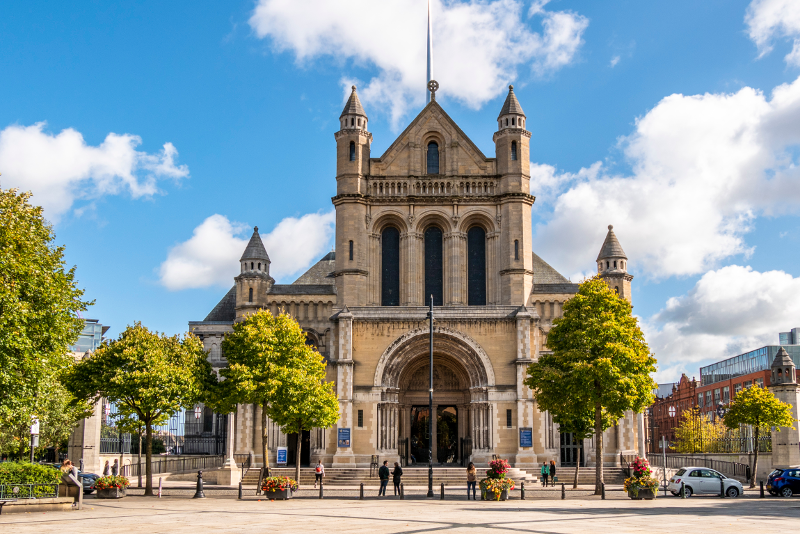 Known as the birthplace of the Titanic, Belfast is a city with bags of heritage and a troubled past. During your free time, you can take a walking tour to explore City Hall and the Botanic Gardens. Or enjoy a "Black Taxi" excursion to see the Peace Wall and the political street art murals.
The Titanic Experience is the true highlight. This interactive exhibition charts the story of the fateful ship, from its construction to the tragic sinking in 1912.
Giant's Causeway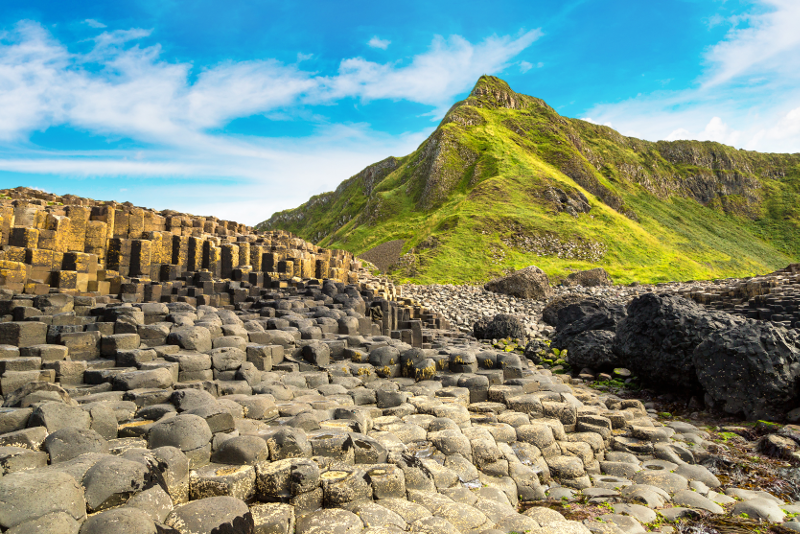 Legend has it that a giant built this coastal causeway of immaculately shaped basalt columns. It's easy to believe, given the sheer scale of the Giant's Causeway.
You can scramble around the rocks and take photos up close. Whether you choose to believe in geology or giants is up to you!
Carrick-a-Rede Rope Bridge
The Carrick-a-Rede Rope Bridge will bring out your inner explorer as you wobble across the rocky chasm. Suspended over a 30-meter-deep abyss, the bridge connects the islet of Carrickarede to the mainland. It's a fun diversion and makes for epic photos.
Derry
Londonderry is one of Northern Ireland's most recognizable cities and is known for its turbulent history. It was here that the Bloody Sunday massacre took place in 1972 during a protest march. Today, the city is peaceful and welcoming, while remaining true to its roots.
The highlight of your visit is a tour with a local guide to see key historic sites and walk along the city walls.
What is the price of a 3-day tour to Northern Ireland from Dublin?
3-day trips from Dublin to Northern Ireland range from €349 to €579 per person. All excursions include coach transport, a driver-guide and accommodation. The more expensive trips also cover entrance fees and guided tours, plus the hotel will be of a higher quality.