Sivota, also spelled Syvota, is a hidden gem on the western coast of Greece. Over the years, the town transformed from a quaint fishing village to a bustling tourist destination. It boasts pristine beaches with some of the bluest water you will ever see, as well as stunning mountains surrounding the area. You can take in all that the city has to offer on your next day trip to Sivota from Corfu!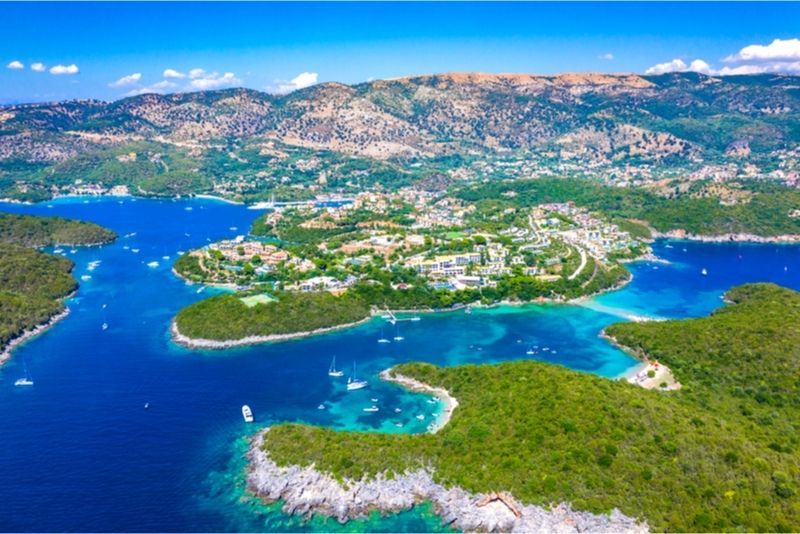 How to get to Sivota from Corfu?
Sivota sits just over 80 kilometers southeast of Corfu on the coast of mainland Greece. While you can reach the city using multiple forms of transportation, they all involve taking a ferry across the water.
From Corfu to Sivota by car
If you choose to drive to Sivota yourself for a day trip, budget about two and a half hours each way to reach the city. You must drive from Corfu to either the Port of Corfu or Lefkimmi to catch the ferry to the Port of Igoumenitsa. From there, you will drive along the coast until you reach Sivota.
From Corfu to Sivota by taxi
Unfortunately, you don't have any options to take public transportation from Corfu to Sivota. If you want to take a taxi, you still need to reach the Port of Corfu or Lefkimmi to take the ferry to the Port of Igoumenitsa. You can then flag down a taxi driver to take you about 30 minutes south to Sivota.
Guided tour to Sivota from Corfu
You can simplify your travel logistics by signing up for a guided tour from Corfu to Sivota. Some tours provide hotel drop-off and pickup, while others require you to gather at a common meeting point. From there, they provide transportation to and from Sivota.
How much does the entrance ticket to Sivota cost?
You do not have to pay anything to visit Sivota. Some attractions and tours may have entrance fees, but you can enter the city itself for free!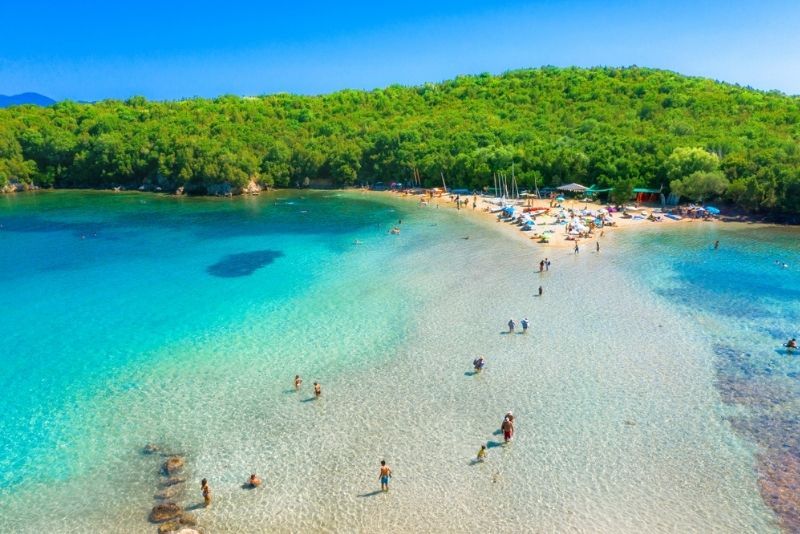 What is the typical itinerary of a day tour to Sivota from Corfu?
All Corfu to Sivota tours begin with pickup in Corfu or meeting at a common location. From there, you will travel to the next destination by boat. Some tours head directly to Sivota, while others make stops in the Blue Lagoon.
In Sivota, most tours give you free time to explore the city. You can spend your time on the picturesque beaches, exploring the nearby caves or stroll in the village. If your tour went straight to Sivota, you can then plan to head to Parga if it is included.
After a day of exploring the Greek cities and waters, you will then return to Corfu by boat. Make sure to arrange pickups and drop-offs directly with your tour operator.
What kinds of tours are available to go to Sivota?
Making the jaunt from Corfu to Sivota becomes simple if you choose to take a tour. Tour operators offer something for everyone, and the choices available to you vary based on your budget.
Day tour to Sivota plus the Blue Lagoon from Corfu
This day trip transports you by boat to Sivota and the Blue Lagoon. You can spend your time swimming and snorkeling in the beautiful waters of the Blue Lagoon, and then make your way to the mainland to visit Sivota. Some of these tours include a guide to provide historical information along the way, but they all include transportation expenses.
Day trip to Sivota plus Parga and the Blue Lagoon from Corfu
Other tours allow you to experience more of Greece by building in an additional stop to the idyllic town of Parga. These day trips also depart Corfu by boat, allow you to swim and snorkel in the Blue Lagoon and make stops in both Sivota and Parga.
Day trip to Sivota plus snorkeling and stand-up paddleboarding
These tours are great for water lovers! They transport you from Corfu to Sivota by boat, but they stop along the way to let you snorkel and stand-up paddleboard. All equipment is included, as well as a guide to help you along the way. Spend your day basking in the Grecian sun and making your way through the breathtaking waters.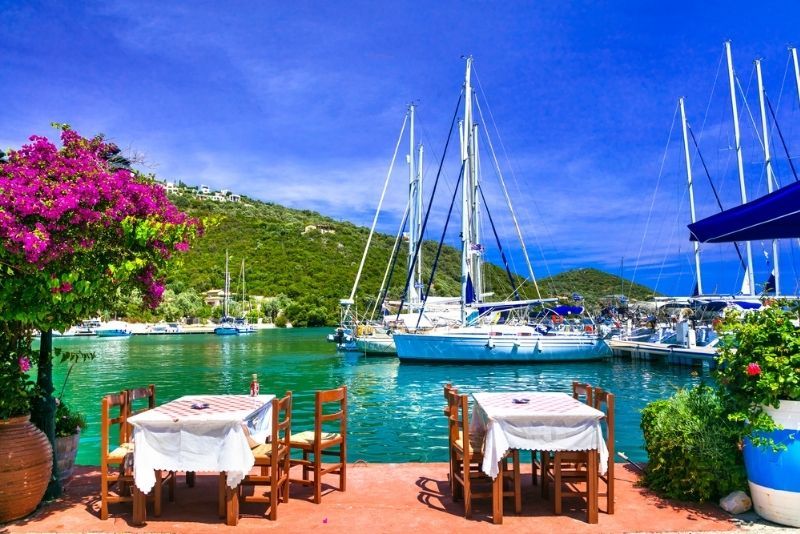 How much does a tour to Sivota from Corfu cost?
Day trips from Corfu to Sivota vary in cost — they start as low as US$37 and go upwards to US$76. Tour operators provide something for every budget that allows you to experience the natural beauty of Sivota and the surrounding areas.
What will you see and do in Sivota?
Sivota is a nature lover's paradise and boasts some of the best water activities. You can take advantage of the beautiful blue waters and go swimming, snorkeling or book a glass-bottom boat tour. Some famous beaches include Zavia, Mega Ammos, Bella Vraka, Ziri, DEI and Gallikos Molos. You can also visit the Cave of Sivota by boat.
If you prefer land-based activities, you can spend the day hiking in the nearby Pindos Mountains. You can also stroll along the harbor, see the countless fishing boats, enjoy some of the best Greek food and shop at the numerous small boutiques.
When is Sivota open over the year?
Sivota remains open year-round to visitors and locals alike. Some months are better to visit than others, depending on your weather preferences.
When is the best time to visit Sivota?
While there is no bad time to take in the stunning views of Sivota, some months have better weather than others. You may want to plan your journey to Sivota according to your preferred climate.
Sivota sits in the northern hemisphere and follows the same seasonal pattern as many other northern destinations. Summer in Sivota varies between 21 and 29 degrees Celsius on average, but the water reaches the perfect swimming temperature (26 degrees Celsius) in August.
The temperatures slowly drop after September. By December, temperatures in Sivota drop to low double-digits. January is the coldest month to visit, but temperatures begin to rise after March.
The Sivota spring is the perfect time to visit if you enjoy warm, not high, temperatures. The average temperatures range from 17 to 21 degrees Celsius during these months.
Sivota boasts overall moderate temperatures, but if you're looking to take a dip in the blue waters, August is the best time for you to go!
Travel tips
Dress your best for water activities.
Pack your hiking shoes to explore the nearby mountains.
Bring lots of sunscreen because you will spend most of your time outside.
Confirm with your tour operator if they offer hotel pickups and/or drop-offs.