If you are looking for a day trip from Corfu with unique island vibes, look no further. Parga is calling!
Located on the northwestern coast of Greece, Parga is surrounded by sparkling blue water and sprawling hillsides. Colorful houses line the shoreline and create a scene straight out of a movie.
Parga has something for everyone — anything from wining and dining to exploring historical sites and landmarks. It is easily accessible, making it an excellent day trip from Corfu.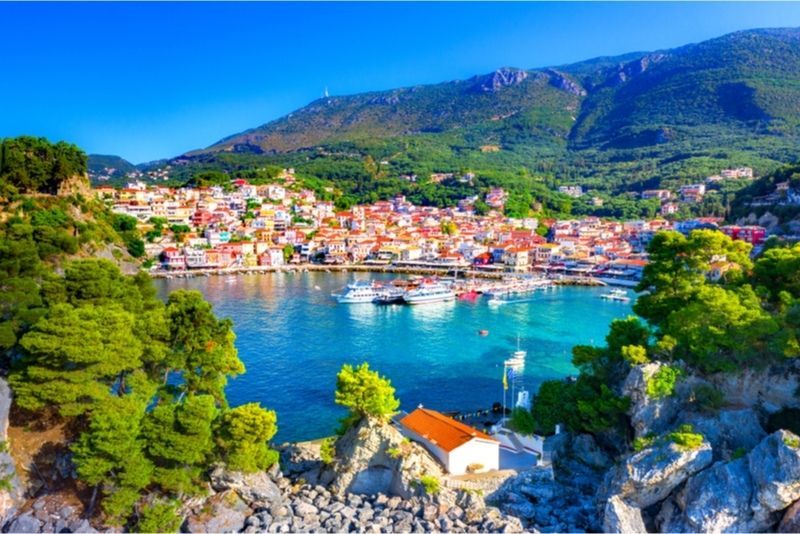 How to get to Parga from Corfu?
Parga lies just about 90 kilometers southeast of Corfu on the mainland of Greece. Since Corfu is an island, the only way to travel to and from either place is by boat.
From Corfu to Parga by car
Driving from Corfu to Parga for a day trip can take two to three hours each way, depending on your route. Both driving routes require ferrying across the water through the Port of Igoumenitsa.
From Corfu to Parga by bus/public transport
Traveling from Corfu to Parga via public transportation involves a few extra steps. The journey still requires taking a ferry on your own to the Port of Igoumenitsa for roughly 1.5 hours. From there, travelers can catch a bus that takes them directly to Parga. The bus journey takes about 45 minutes.
Tour to Parga from Corfu
If you don't want to arrange your transportation, taking a day tour from Corfu to Parga is the way to go. Some tours provide optional pickup and drop-off services that must be arranged ahead of time. Others depart from a common meeting place, such as the Main Port of Corfu.
Most tours take care of ferry and land travel arrangements to get you from Corfu to Parga.
How much does the entrance ticket to Parga cost?
Do you know the best part about Parga? It is FREE to visit.
The town is full of free or low-cost activities that you can partake in, breathtaking beaches, delicious dining options with a view and unique shopping experiences.
Some of the attractions may have entrance fees, but the town is a sight to see without a fee.
What is the typical itinerary of a day tour to Parga from Corfu?
All Parga to Corfu tours begin with pickup in Corfu or meeting at a common location.
Tours by boat depart Corfu and head directly for their next destination (Parga, Sivota, Blue Lagoon or Paxos). The other tours or transfers take you across the water by ferry to the Port of Igoumenitsa. From there, they make their way on land to Parga.
In Parga, most tours give you free time to explore the city. They then depart and head back to Corfu or on to their next destination after a few hours in Parga.
Some tours stop at the city of Paxos, the caves in Sivota or the Blue Lagoon. The itinerary for these tours varies. Some may first visit Parga and then move on to the other locations, while others may visit the other places first and then move on to Parga.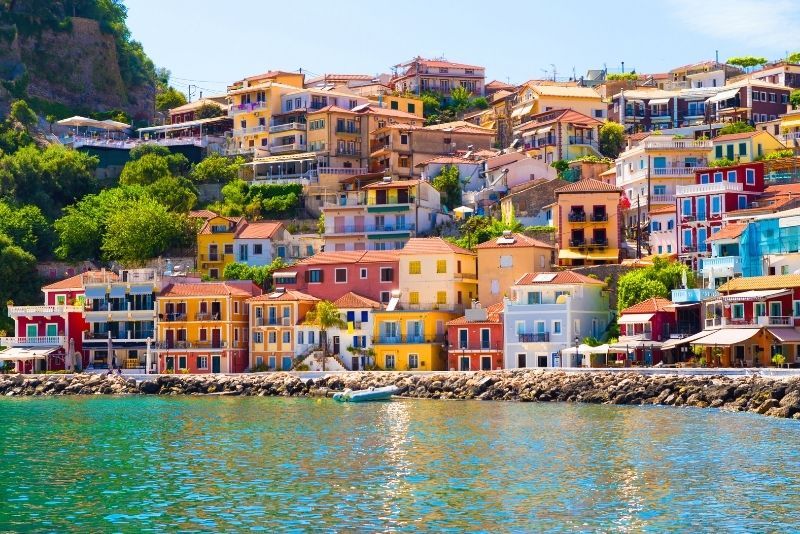 What kinds of tours are available to go to Parga?
Regardless of what kind of tour you want to take, there is no shortage of options to make the journey from Corfu to Parga. You can choose between private transfers, private tours or day trips with additional stops. The following list includes the most common day tours to Parga from Corfu.
Corfu to Parga private luxury transfer
If you are just looking for transportation from Corfu to Parga, this is the way to go. These transfers include door-to-door service, operate 24/7 and build all transportation expenses into the overall price. You must book transfers in advance so the drivers have time to add them to their schedule.
Private tour to Parga from Corfu
Private tours offer you more privacy while still having the opportunity to visit picturesque Parga. These are great options for people who want free time to explore the town.
These excursions may not include a tour guide, but some companies have them available upon request. The price includes all transportation expenses, a driver and direct transfers to/from your lodging.
Day tour to Parga plus Paxos from Corfu
Day tours from Parga to Paxos also offer you ample time to explore each city on your own. These trips usually include transportation to/from Corfu and free time in each city. Most of these tours do not include guides.
Day trip to Parga plus Sivota and the Blue Lagoon from Corfu
One of the best ways to see the natural diversity of Greece is through a day tour to Parga, Sivota and the Blue Lagoon. These tours give you free time to explore Parga, a cave tour by boat in Sivota, and time to swim in the Blue Lagoon.
How much does a tour to Parga from Corfu cost?
Most of the day tours from Corfu to Parga cost anywhere between US$40 and US$70 per person. These excursions typically include all of your transportation (some may not offer pickup or drop-off options).
If you are interested in private tours, those cost upwards of US$400. The price of the private tours may fluctuate depending on the number of people in your group.
You can also take a private luxury transfer for the journey from Corfu to Parga for just shy of US$500 for a group of up to four people.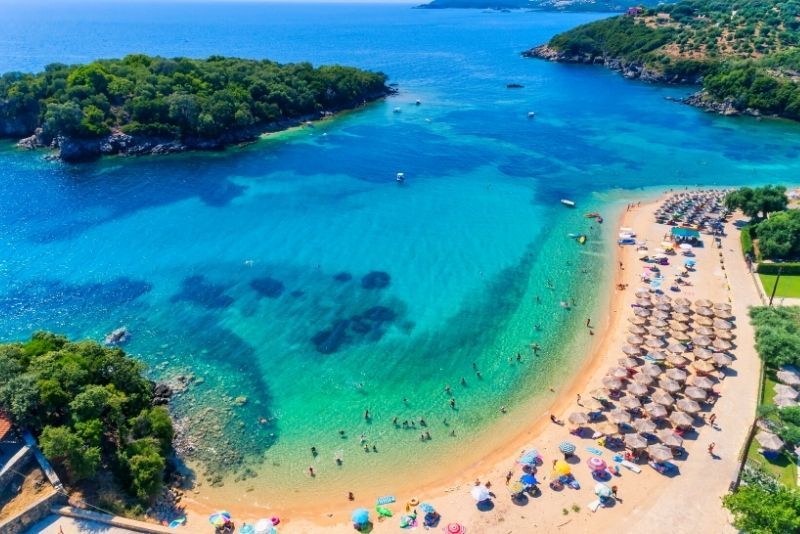 What will you see and do in Parga?
Most, if not all, of the excursions to Parga from Corfu do not include a guided tour of the city. You have plenty of time to explore on your own and discover Parga's hidden gems.
Parga is home to some of the most beautiful beaches on earth, so you can take advantage of the warm weather and soak up some sun. Sit back and relax at one of the following beaches: Valtos, Lichnos, Alonaki Fanariou, Piso Krioneri, Sarakiniko, Agios Sostis, Agios Ioannis, or Town Beach.
You can also take part in activities, like horse riding or river rafting near the Acheron River.
Due to its coastal location, Parga also boasts impressive caves that you can reach by boat. Aphrodite's Cave is one of the most famous, but your tour may also stop at the Sivota Blue Lagoon caves.
Travelers also like to visit the Venetian Castle of Parga. The castle itself is a great stop to make, but you can also take in stunning views of the city during the journey there. You can end your day in Parga by checking out the city's eateries and bars and shopping along the water.
When is the best time to visit Parga?
Parga is open year-round, so you can make the jaunt there any time of the year. Depending on your preferred climate, some months are better to visit than others.
Located in the northern hemisphere, Parga's seasons follow the same pattern as many European and American destinations. December and January are typically the coldest months to visit, as temperatures fluctuate between 6 and 13 degrees Celsius.
For sunseekers, the best time of the year to visit is from June to August — the hottest month on average, with temperatures crossing 30 degrees Celsius. Parga has more rainy days on average from November to March.
There is no bad time to visit Parga because the picturesque views will sweep you off your feet any time of the year!
Travel tips
Pack beach items so you can visit one of the world-renowned beaches.
Book your private transfer or day tour in advance.
Bring comfortable shoes to walk around Parga.
Wear lots of sunscreen, especially during the Grecian summers!